Revel Bars are an easy dessert for all your favorite moments! Thick, chewy, chocolatey, and buttery, they're a dessert you just can't resist!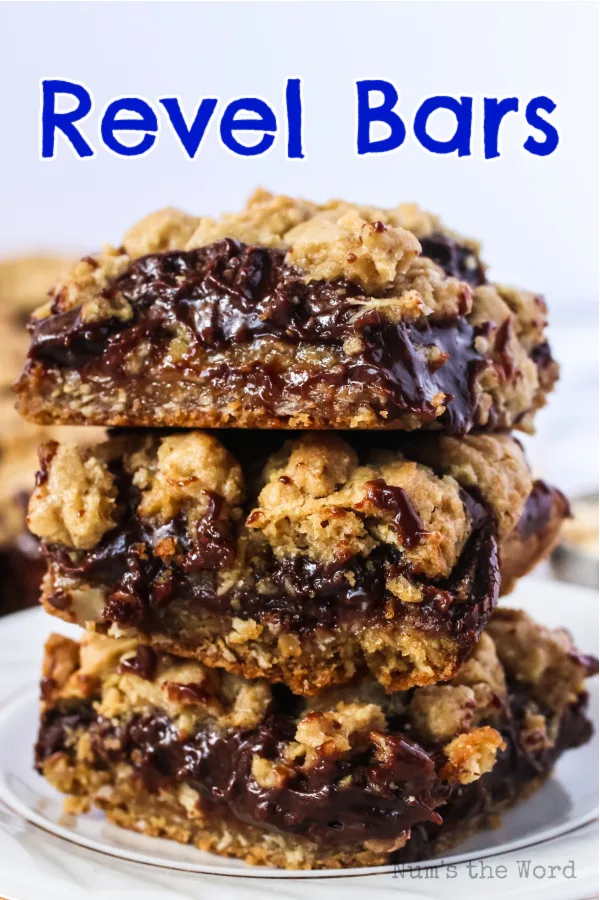 I love bars! Blueberry Cheesecake Bars, Raspberry Bars, Strawberry Crumb Bars… I could dedicate a large portion of my website to bars.
So of course, I need to do a Revel Bar recipe!
It's like eating an oatmeal chocolate chip cookie but in bar form, which is so much easier than cookies! And they take less time too! Plus a yummy chocolate filling!
Chocolate Revel Bars are also a thick dessert which is rich and filling. Perfect for when you need a late night sweet treat!
And you're really going to love the chocolate fudge bars center. It's gooey and delicious, and absolutely the best part.
Oatmeal Chocolate Chip Bars are a crowd favorite every time I serve them. Which is good because then I don't go home and eat the whole pan! Know what I mean?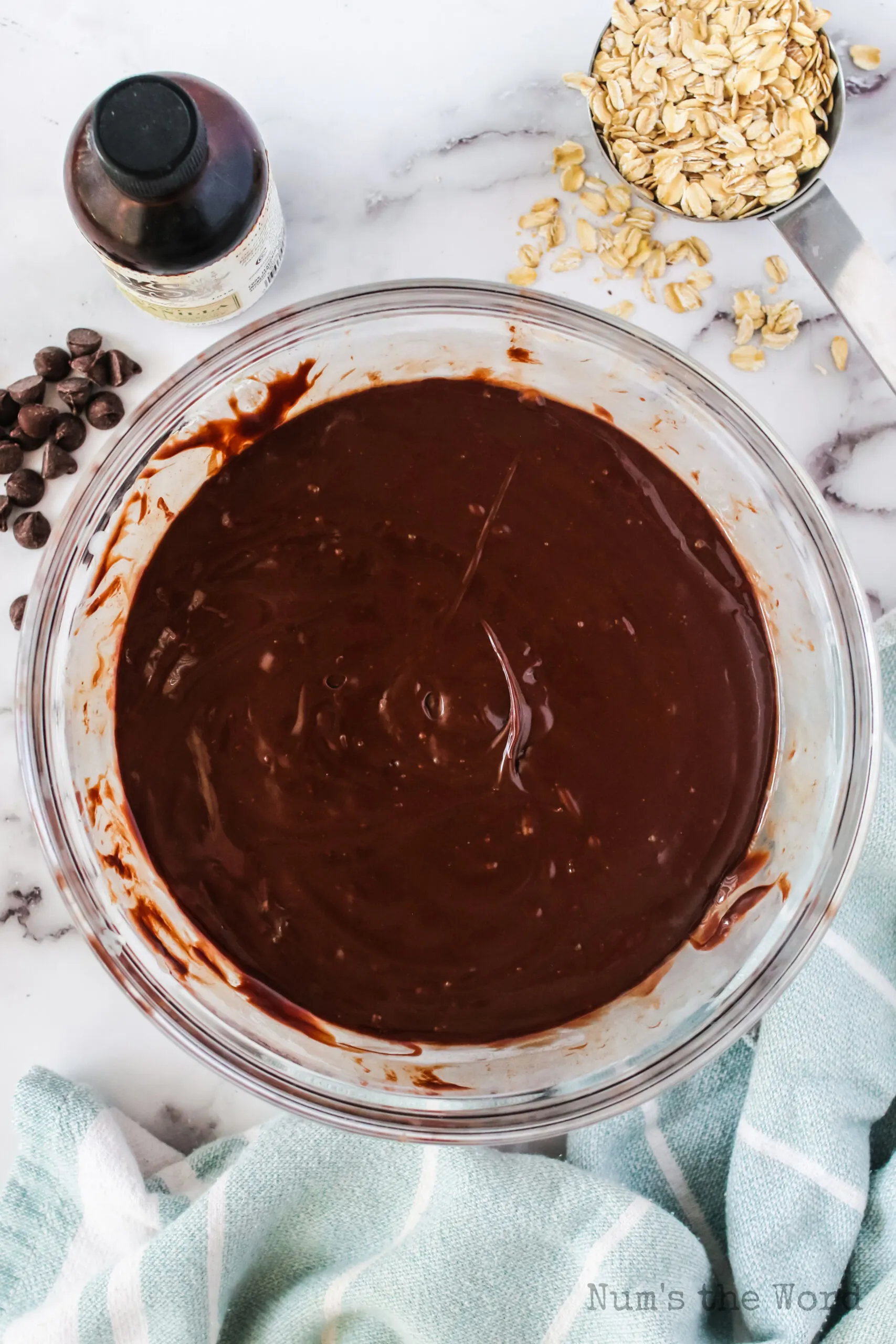 What are Revel Bars?
Revel Bars are hands down your new favorite dessert. Think oatmeal cookie bar base, chocolate fudge center and more oatmeal cookie placed on top of the chocolate layer.
Is your mouth watering yet? Mine is. Think gooey bars with a chewy texture and melt in your mouth chocolate fudge layer. The first time you try these, you'll wonder where they've been all your life.
Hands down the recipe you must make for any chocolate lover.
Bar desserts are a perfect food for taking to potlucks, dinners or game night with friends. Easy to make and split into whatever sizes you want.
Some say that you should always cut them with distinct diamond shapes. I say, who has time for that. Simply cut and serve.
Keep in mind, I've never taken them somewhere and not come home with the pan completely empty.
What Ingredients are in Revel Bars?
Here's the simple ingredients you'll need to make this great recipe! You've probably got most of them in your cupboards.
Semi-Sweet Chocolate Chips: You could also use milk chocolate, dark chocolate, or white chocolate chips.
Sweetened Condensed Milk: This will mix with the chocolate to create a rich filling.
Butter: Make sure your butter is room temperature for easy mixing.
Vanilla Extract: Spring for the pure vanilla! It really impacts the flavor.
Pecans: Nuts are optional but add a nice crunch in the center of your bars.
Light Brown Sugar: Brown sugar always adds a nice molasses flavor.
Eggs: These bind the bars together and help keep them moist.
Baking Soda: The baking soda lets the bars rise just enough to make them thick.
Salt: The salt adds a very necessary flavor boost.
Flour: The all-purpose flour creates the structure of the revel bars.
Quick Oats: And you can't have revel bars without instant oats! Don't leave them out!
Pro Tips:
Pecans can be substituted for walnuts, almonds, or any other favorite baking nut.
Take the butter out of the fridge and split into parts. Leave it for a half hour and it should be plenty softened!
You can use old-fashioned oats in a pinch, but they will be firmer in texture.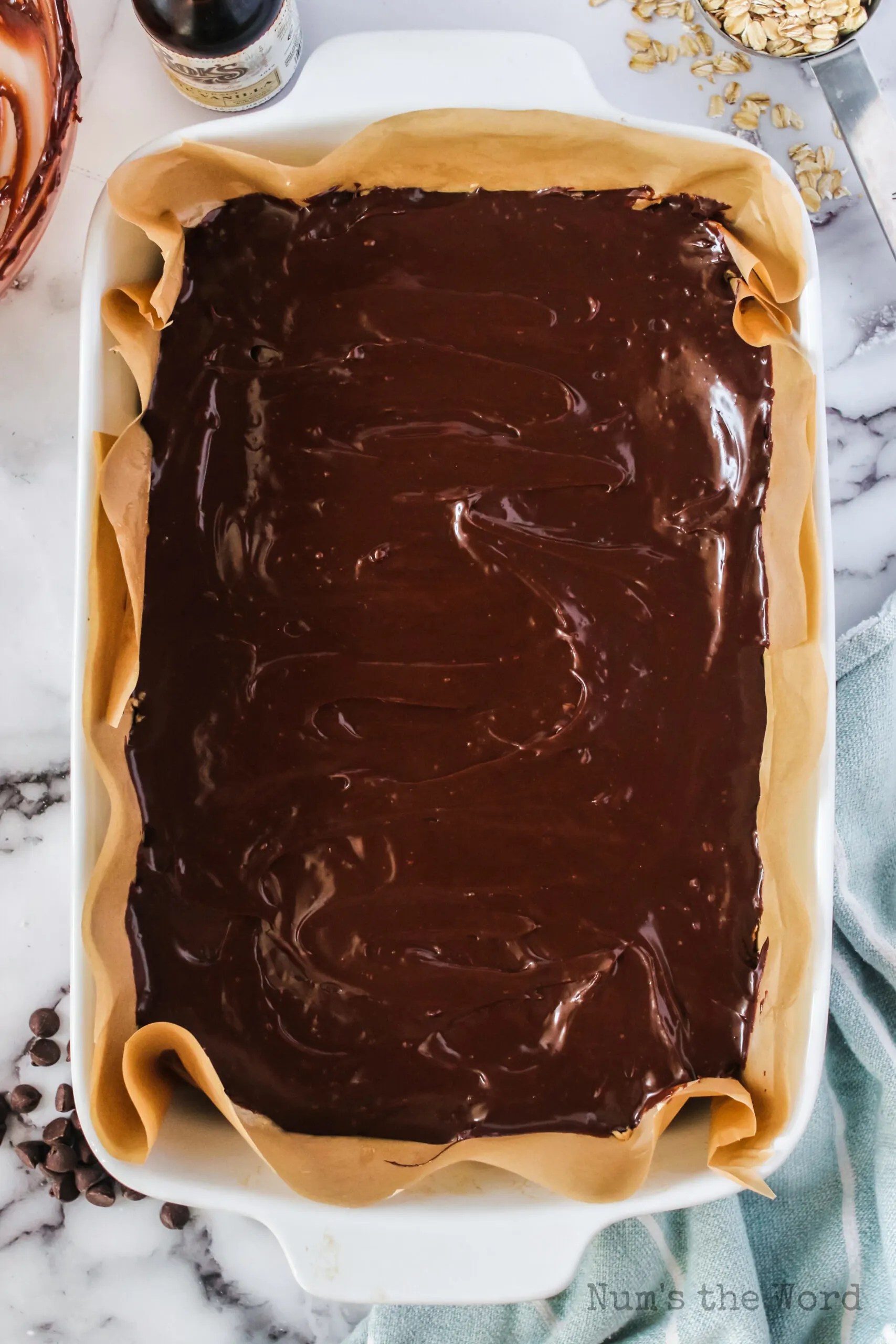 How to Make Revel Bars?
Bar cookies are perfect for a special occasion or just for a special after school snack!
Create the Fudge: You'll microwave the chocolate chips, condensed milk, and butter in small increments until smooth and creamy. Then add in the vanilla and nuts.
Mix wet ingredients: Sugar isn't really wet but it combines with the butter until creamy and then you add the eggs and vanilla. You can use a hand mixer or a stand mixer for this.
Add dry ingredients: Finish it off with the remaining ingredients until the bar cookie dough is stiff and sticky.
Press: Press dough around on all sides, add the fudge layer, and then sprinkle the rest of the dough as a topping.
Bake: You want the bars to be golden brown, but not burnt. So be careful not to overcook.
Pro Tips:
Use a stand mixer like a Bosch with a large mixing bowl to make the dough. It'll save your arm a ton of work.
Add the ingredients slowly to allow them time to incorporate fully.
Line your pan with parchment paper or non-stick foil. Then they won't stick and you can pull them all right out.
Serve with a scoop of vanilla ice cream for an extra sweet treat.
If you're not a fan of using the microwave, you can use a heavy saucepan and cook your fudge layer slowly over low heat
If you think a 9×13 pan is too much for you, feel free to half the recipe and use a square pan.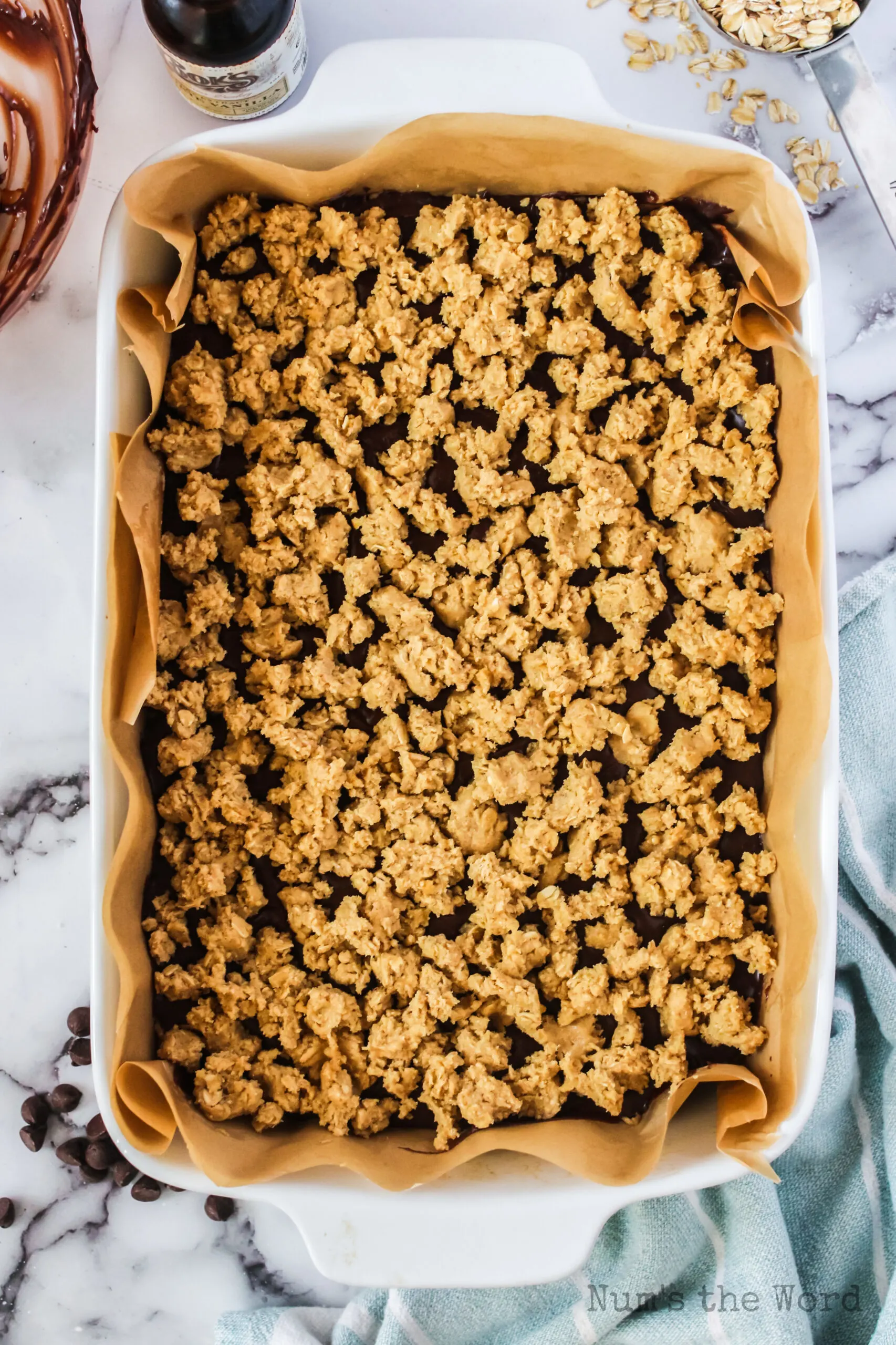 How to Store Revel Bars?
To properly store these rebel bars, first, allow the bars to cool completely. That'll prevent any excess moisture from building on them.
Store leftovers in an airtight container on the counter. I like them best here as they stay really soft. You can also store them in the fridge to prolong their shelf life too.
Can You Freeze Revel Bars?
You absolutely can freeze this classic revel bar recipe! Freezer dessert bars are a great treat for pulling out when you just need one or two at a time.
Allow them to fully cool and then cut them into bar sizes. Wrap each bar tightly with aluminum foil or plastic wrap.
Then place in a freezer safe bag or container.
Pro Tip: Write Revel Bars and the date you made them on your bag so they won't get lost.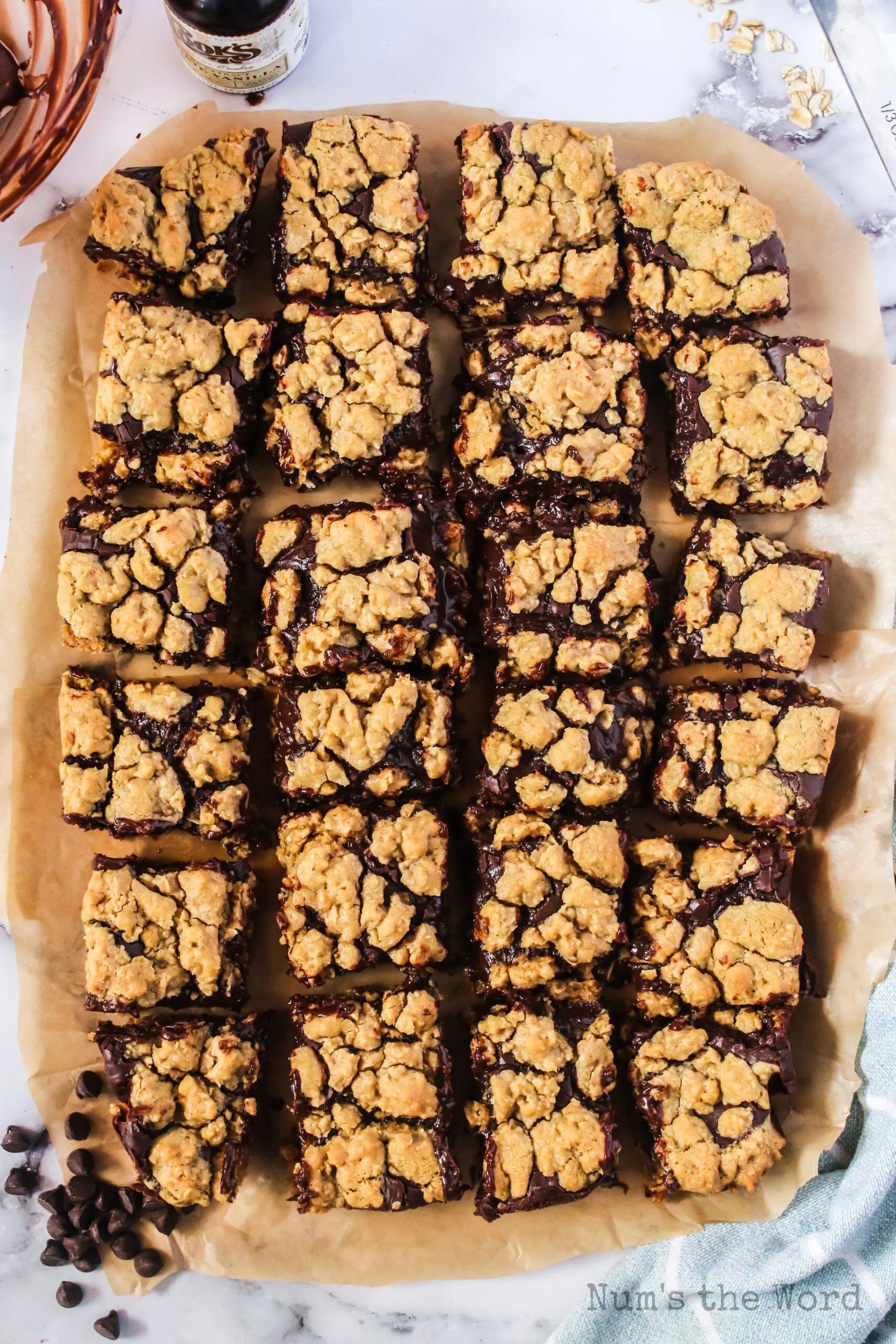 How Long Do Revel Bars Last?
Revel bars will last different amounts of time based on where you store them.
1-4 Days: If you'll be consuming them quickly, store them on the counter.
5-7 Days: To keep them fresh a little longer, store the bars in the fridge.
2 Months: And to enjoy them for a long time, store the bars in your freezer.
Can You Make Revel Bars Ahead of Time?
You can make revel bars ahead of time. These chocolate fudge bars taste great on the day you make them. But they also taste great the next day too.
So feel free to make these delicious bars up to 24 hours in advance.
After that, they can start to dry out, so I recommend serving them within 24 hours for optimal freshness.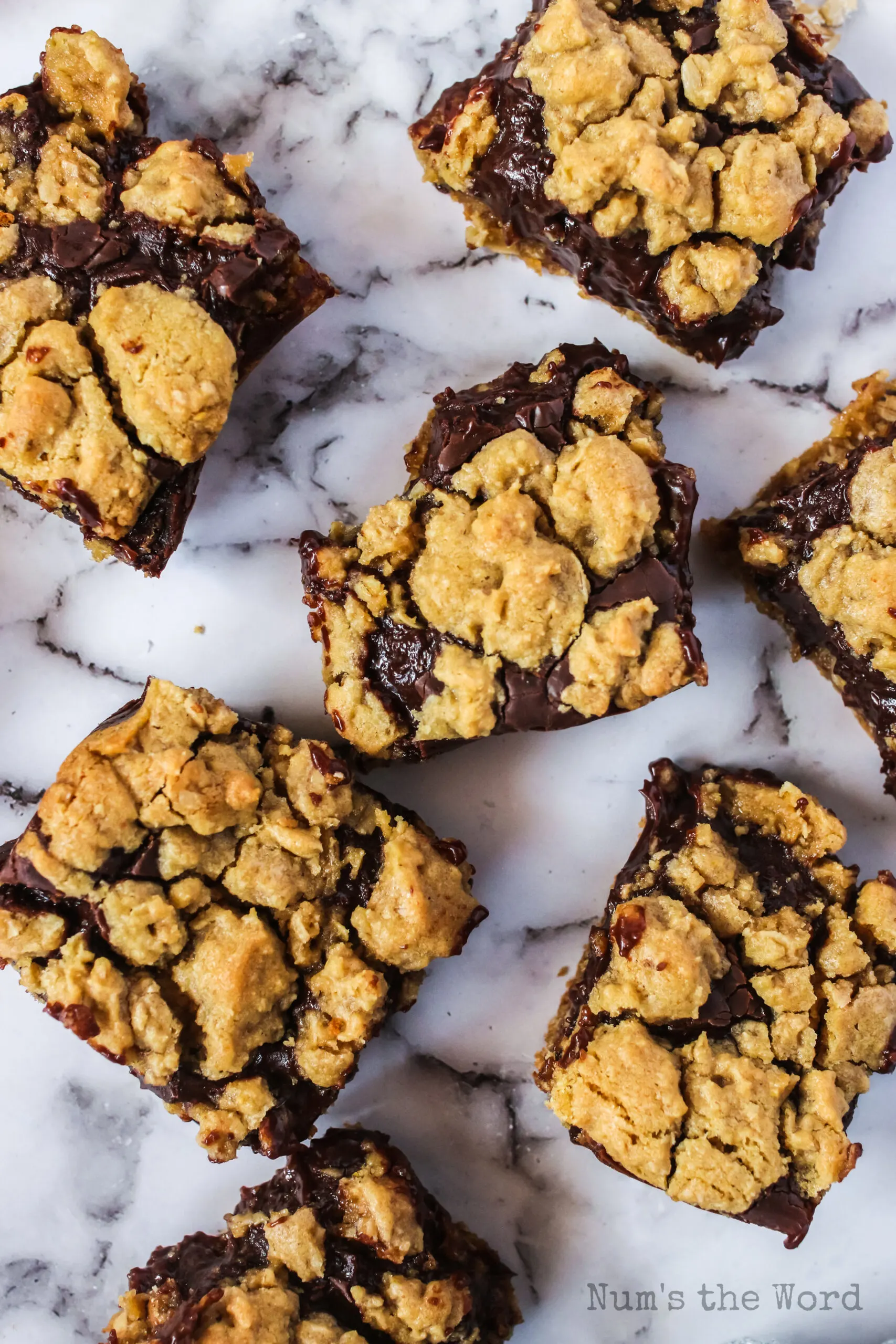 Can Dogs Eat Revel Bars?
Dogs cannot eat revel bars! Dogs are built very differently than humans, and the foods we consume can actually be harmful for them.
While plain oatmeal can be good for them, the added sugars and butters are not. Some dogs can even have reactions to flour, just like some humans.
But the biggest thing you want to avoid is chocolate. Chocolate and raisins are both toxic for dogs.
In small amounts, they should be alright but in large amounts they can be very harmful. So avoid giving revel bars to your pups.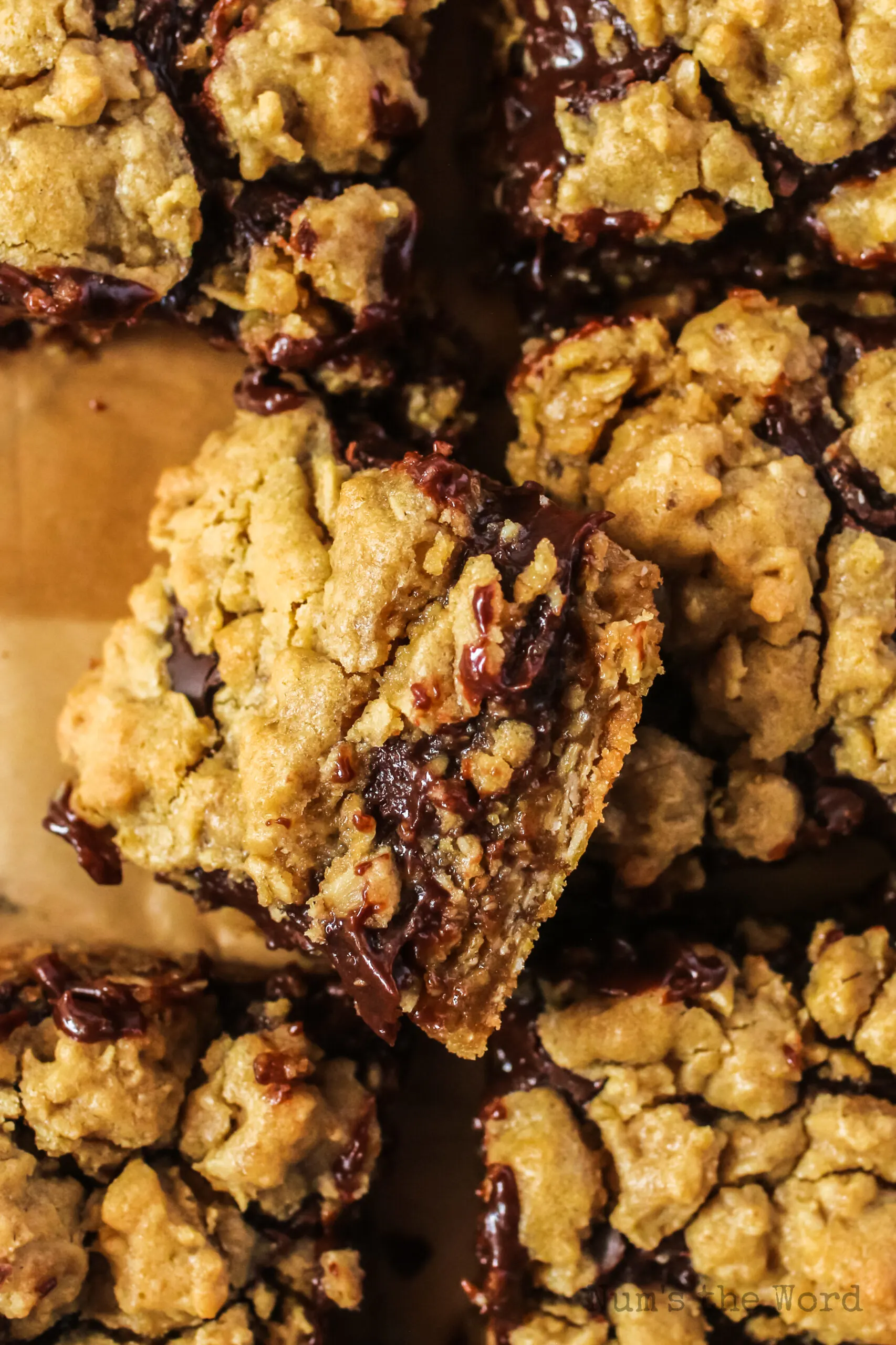 More Chocolate Recipes You'll Love…
Revel Bars are an easy treat! They're delicious, full of fudgy goodness, and a family favorite! Enjoy these at your next party or whenever you need a pick me up!
Yield: 24 Bars
Revel Bars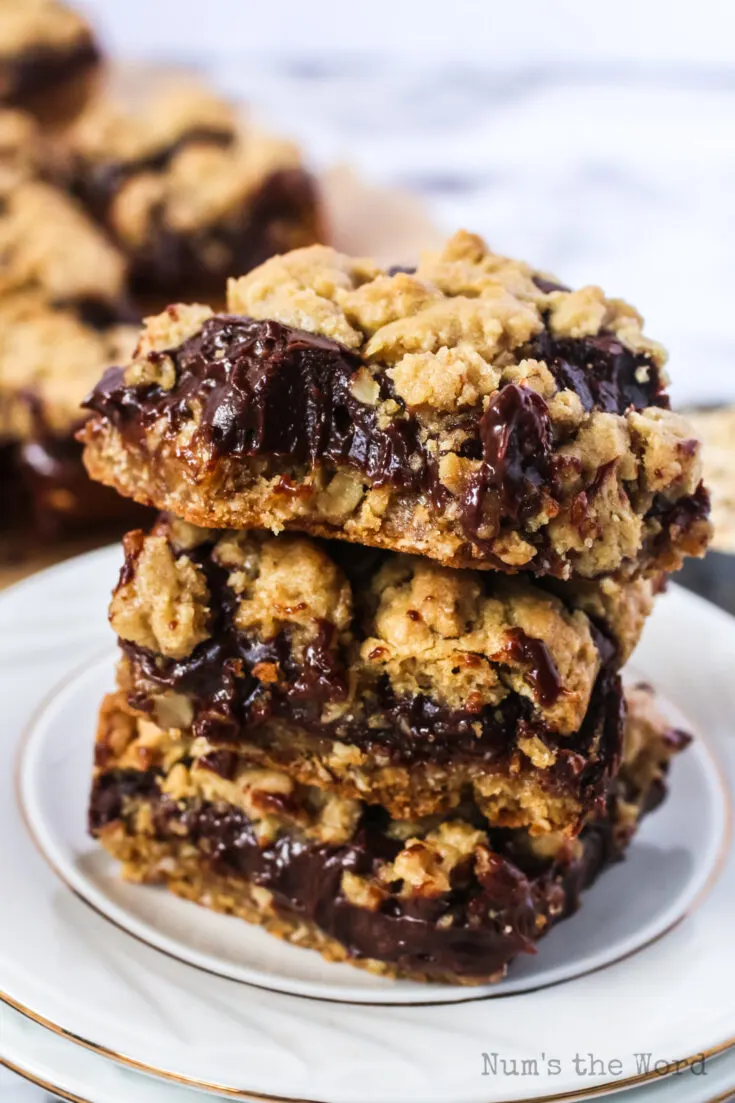 Revel Bars are an easy dessert for all your favorite moments! Thick, chewy, chocolatey, and buttery, they're a dessert you just can't resist!
Ingredients
1 (12 ounce) package semi-sweet chocolate chips
1 (15 ounce) can sweetened condensed milk
3 Tablespoons butter
1 teaspoon vanilla extract
3/4 cups pecans (optional)
1 cup butter
2 cups light brown sugar
2 eggs
1 teaspoon vanilla extract
1 teaspoon baking soda
1 teaspoon salt
2 1/2 cups all-purpose flour
2 cups quick oatmeal
Instructions
Preheat oven to 350*F
Line a 9x13 casserole dish with parchment paper or non-stick foil and set aside.
In a microwave safe bowl, mix together chocolate chips, condensed milk, and 3 Tablespoons butter.
Cook in the microwave in 30 second intervals, stirring in between, until the mixture is smooth and creamy.
Add 1 teaspoon vanilla extract and nuts (if adding) and mix well. Set aside.
In a mixing bowl, mix 1 cup butter and brown sugar until nice and creamy.
Add eggs and 1 teaspoon vanilla extract. Mix well, scraping sides of bowl as needed.
Add baking soda and salt. Mix well.
Add 1 cup flour and 1 cup of oatmeal. Mix well.
Add remaining 1 ½ cups flour, mix well.
Add remaining 1 cup of oatmeal, mix well.
Dough will be stiff and sticky.
Press ⅔ of the dough in the bottom of your casserole dish.
Gently pour chocolate fudge filling over cookie dough.
Sprinkle remaining dough over the top of the fudge filling.
Bake for 20-25 minutes or until golden brown (not burnt). My oven needed the full 25 minutes.
Let cool then cut into 1 ½ inch bars.
Nutrition Information:
Yield:
24
Serving Size:
1
Amount Per Serving:
Calories:

243
Total Fat:

13g
Saturated Fat:

7g
Trans Fat:

0g
Unsaturated Fat:

5g
Cholesterol:

40mg
Sodium:

226mg
Carbohydrates:

30g
Fiber:

1g
Sugar:

17g
Protein:

3g