Looking for soft, buttery, and delicious Chocolate Chip Cookie Bars? Look no further! These cookie bars are enough to satisfy any sweet tooth.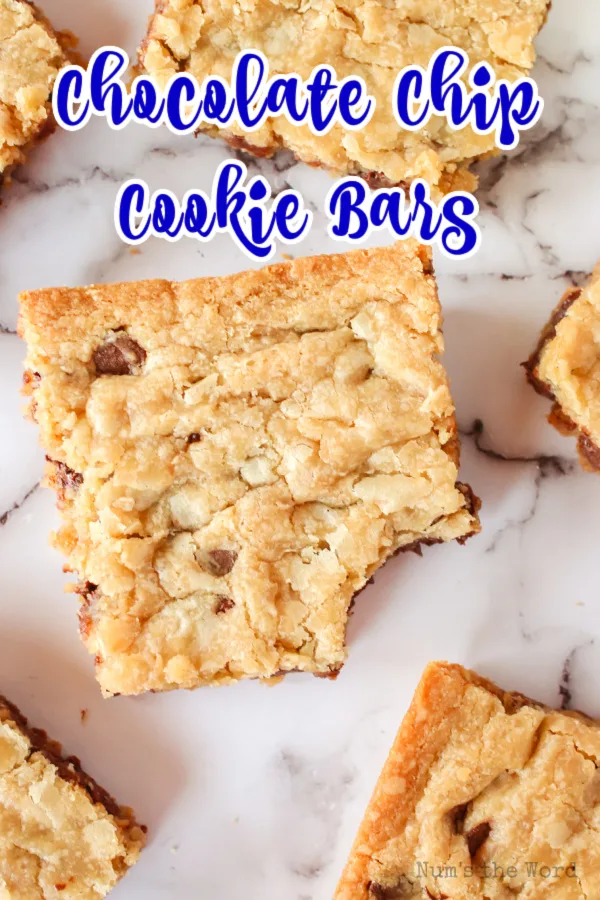 You are going to absolutely love making these cookie bars. Made with only six pantry ingredients, you probably don't even need to run to the store!
And I should tell you one of the best parts… These are eggless chocolate chip cookie bars! That means you can gobble down the dough or bake the bars! Your choice!
I love that they are also so soft and moist. Don't give me any of that dry crumbly stuff. This is a super fast recipe that can be made in a pinch. It's going to quickly become a new favorite, just like it did for us!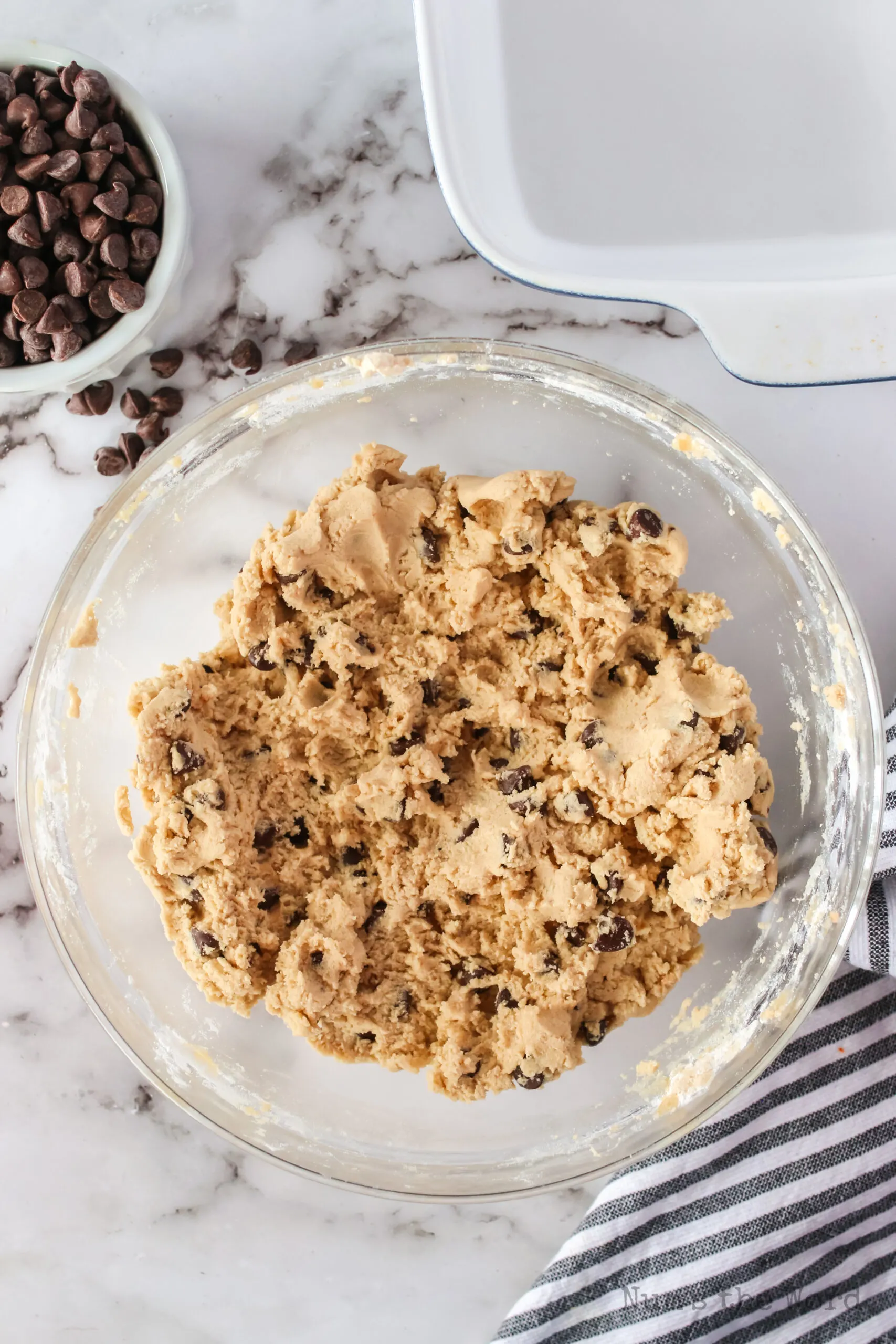 What Are Chocolate Chip Cookie Bars?
Chocolate chip cookie bars are chocolate chip cookies but in bar form. You're probably already familiar with other famous bars like Fudgy Brownie Bars.
Maybe you've made some lesser well known bars like Sugar Cookie Bars or Scotcharoos. If you love chocolate chip cookies, you'll love these cookie bars.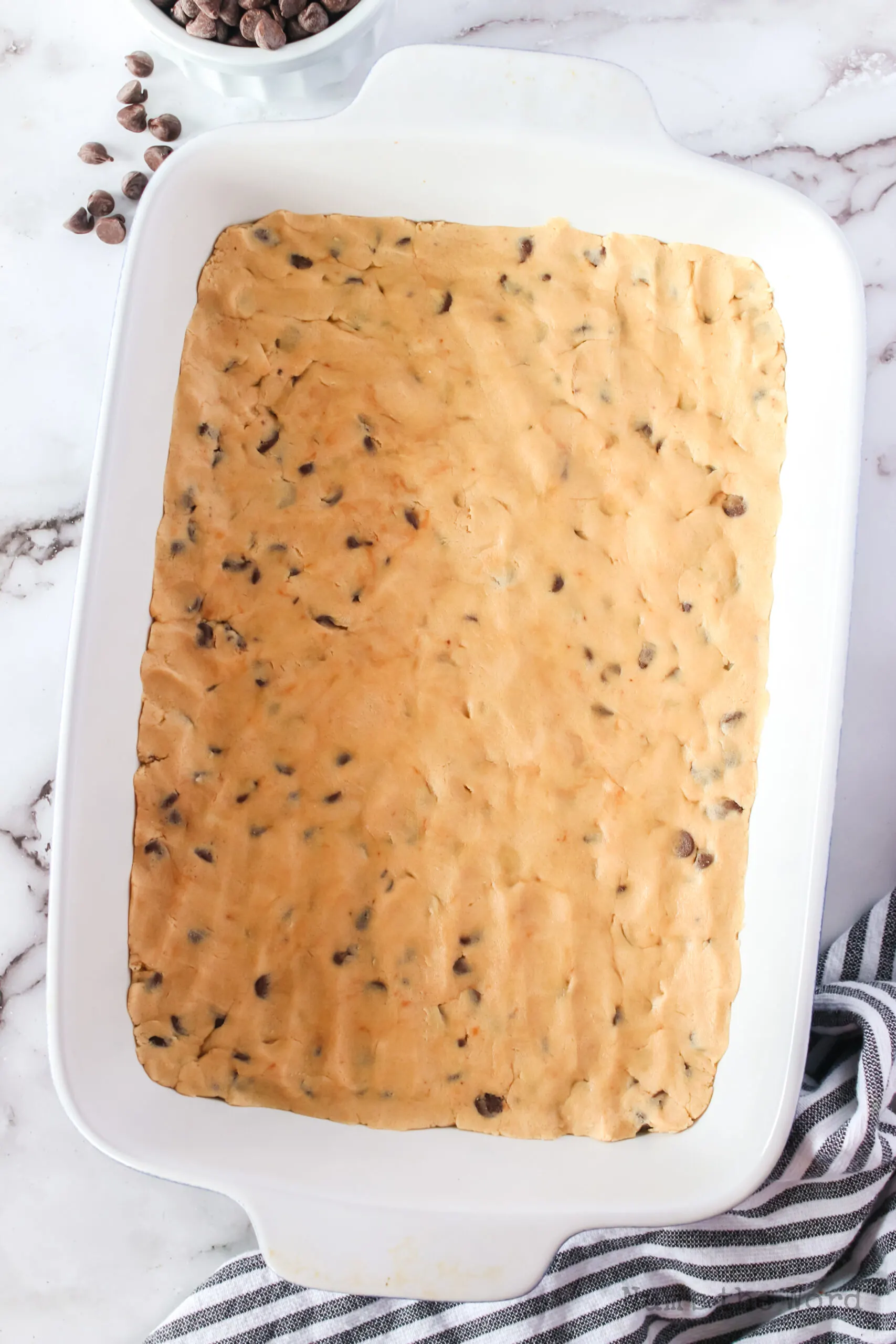 What Ingredients Are in Chocolate Chip Cookie Bars?
Here's the six quick ingredients you're going to need.
Butter:

I use salted butter in all of my baking but you can use unsalted too.

Brown Sugar:

Make sure to firmly pack the brown sugar down to get an accurate amount.

Salt:

Sea salt, table salt, Himalayan salt. They all work in these cookie bars.

Flour:

Use all purpose flour. Another flour will change the texture and flavor of the cookie bars.

Vanilla:

Real vanilla gives real flavor. Fake vanilla can't measure up. Use real whenever possible.

Chocolate Chips:

I use semi sweet but you could use milk or dark chocolate based on your preference.
Pro Tips:
This is one recipe where you don't have to let the butter come to room temperature before mixing.

To keep the bars from being too dry, measure the flour and don't eyeball it.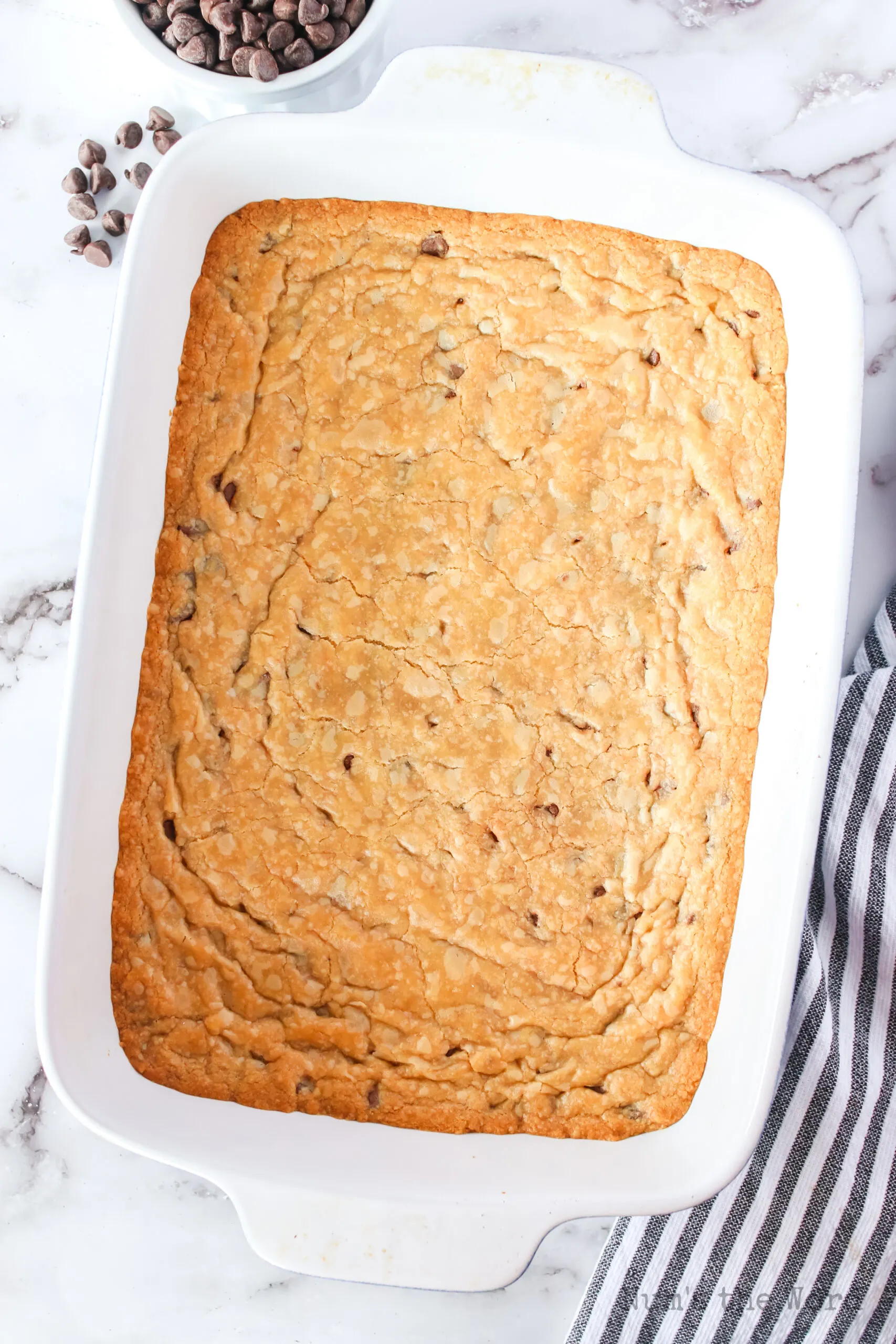 Do I Need Raw Eggs for Chocolate Chip Cookie Bars?
Absolutely not! In fact, not using raw eggs allows you to eat the dough! Which is one of my favorite parts.
When you can't eat all the dough you whipped up for Chocolate Chip Cookie Dough, just bake the rest!
It turns into beautiful bars that are tasty and soft and perfect.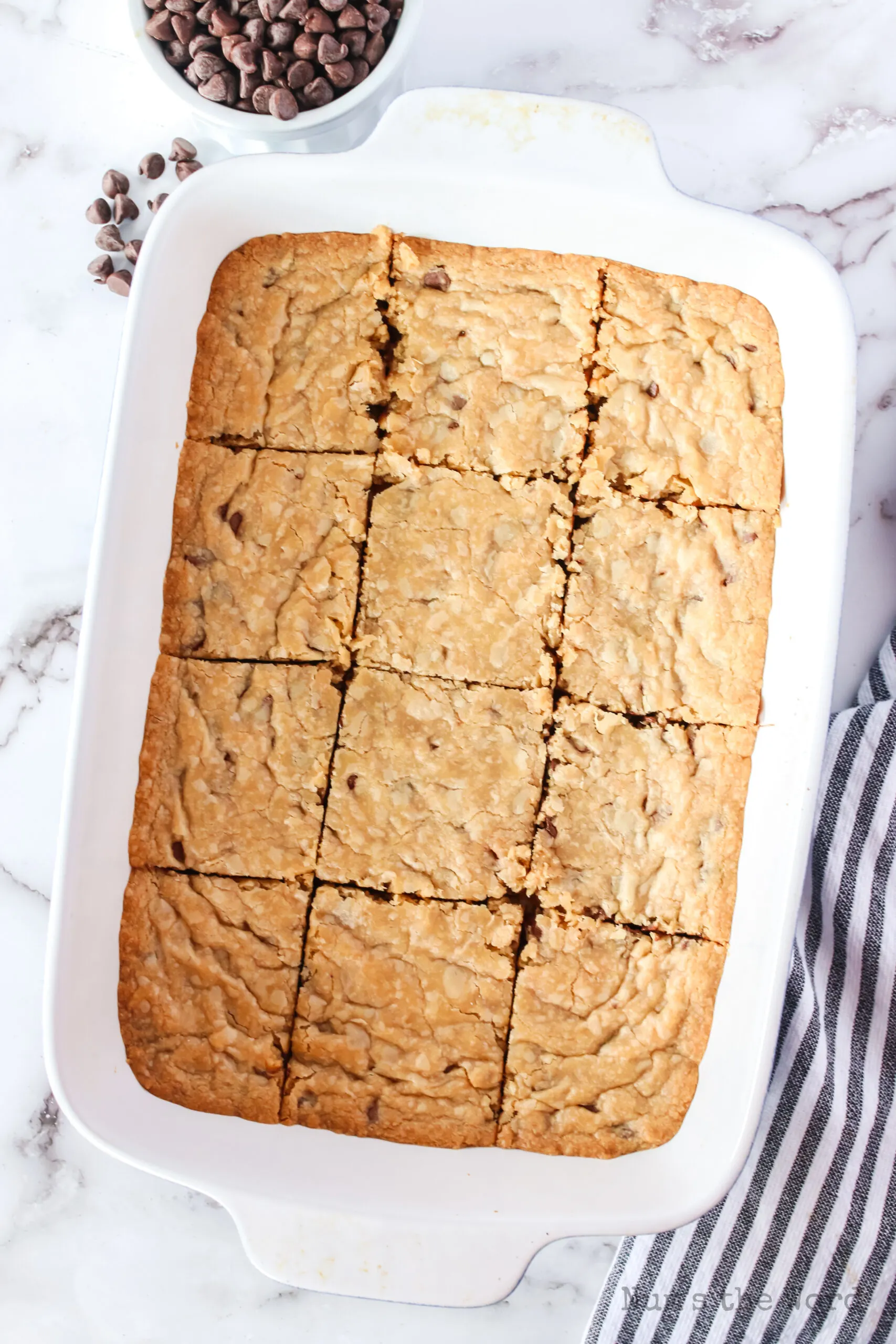 Can I Eat Raw Chocolate Chip Cookie Dough?
Yes! The dough can absolutely be eaten raw. Often it's recommended you not eat raw chocolate chip cookie dough.
The eggs in those recipes can carry salmonella which could potentially make you sick. But sometimes you just need to eat the dough, am I right?
So make the Chocolate Chip Cookie Dough! They can't then be made into cookies because without eggs it just doesn't work right. But they can be made into delicious bars and no one will be the wiser!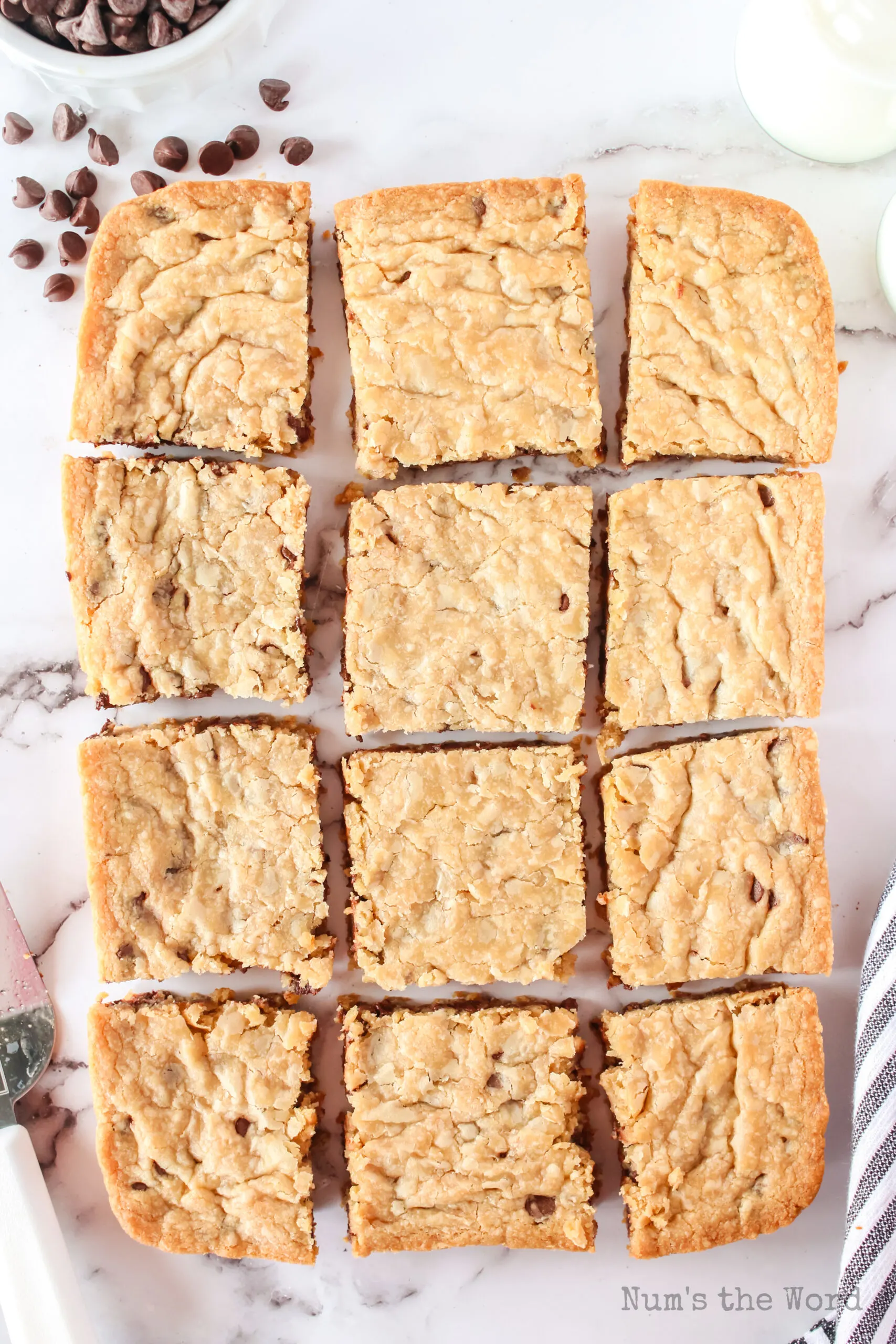 How Do You Make Chocolate Chip Cookie Bars?
Follow these simple steps for chewy chocolate chip cookie bars.
Mix:

Mixing all the ingredients together is a snap when you use a hand mixer!

Bake:

The cookie bars are done when they are golden brown on top.

Eat:

These cookie bars can be eaten warm or let them cool. They taste great either way!
Pro Tip: Try these warm cookie bars with a scoop of vanilla ice cream! It's life changing!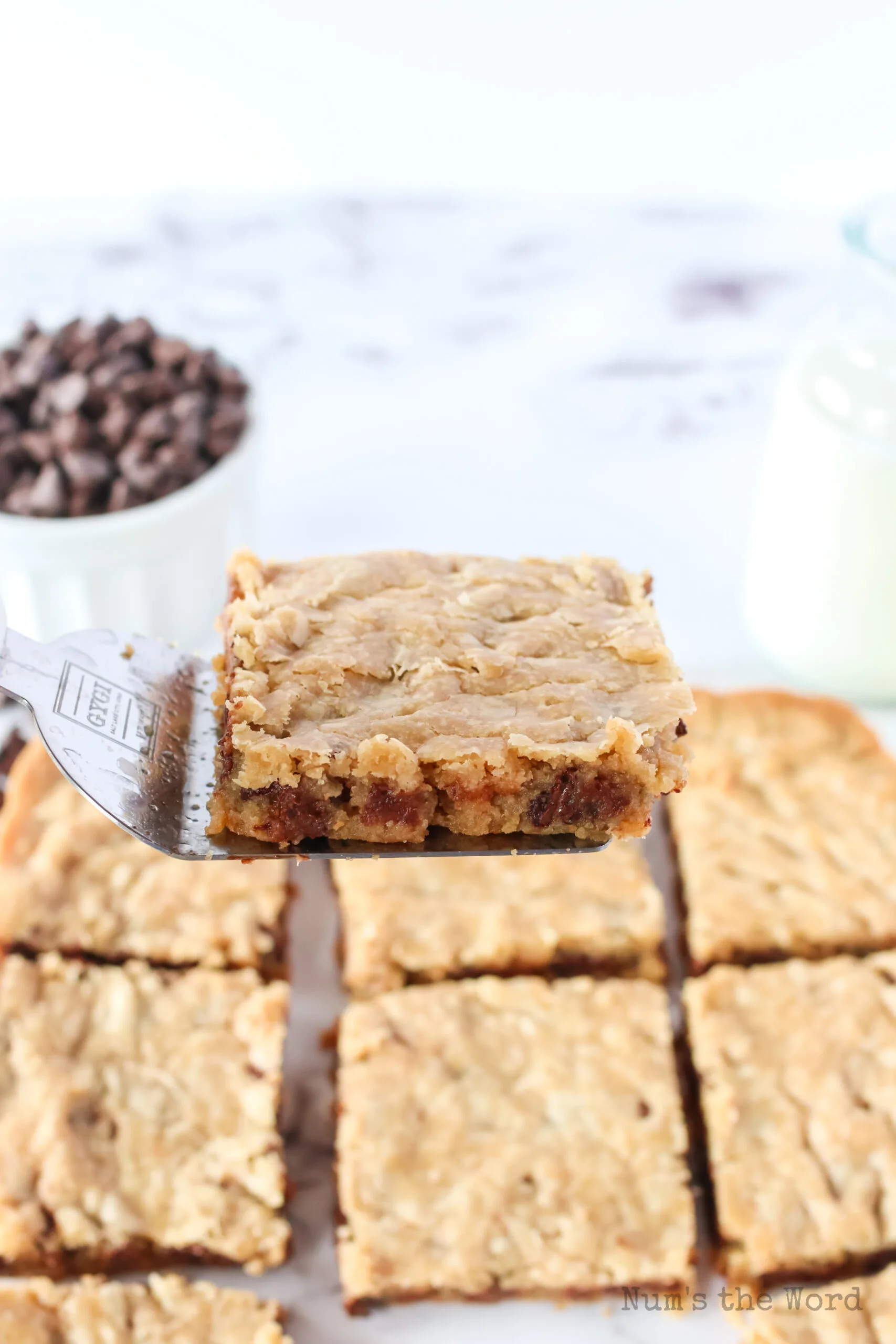 Do You Grease the Pan for Chocolate Chip Cookie Bars?
No! Actually you don't need to grease or line the pan at all for these bars. With many other chocolate chip cookie bar recipes you would need to grease the pan.
Just like with regular cookies, often cookie bars would stick to the bottom of the pan. And no one likes a cookie bar that they can't get out of the pan.
But the alteration in ingredients to make these a dough you can eat, means they also won't stick to the pan. So go ahead and skip that step. Making these easy chocolate chip cookie bars even simpler!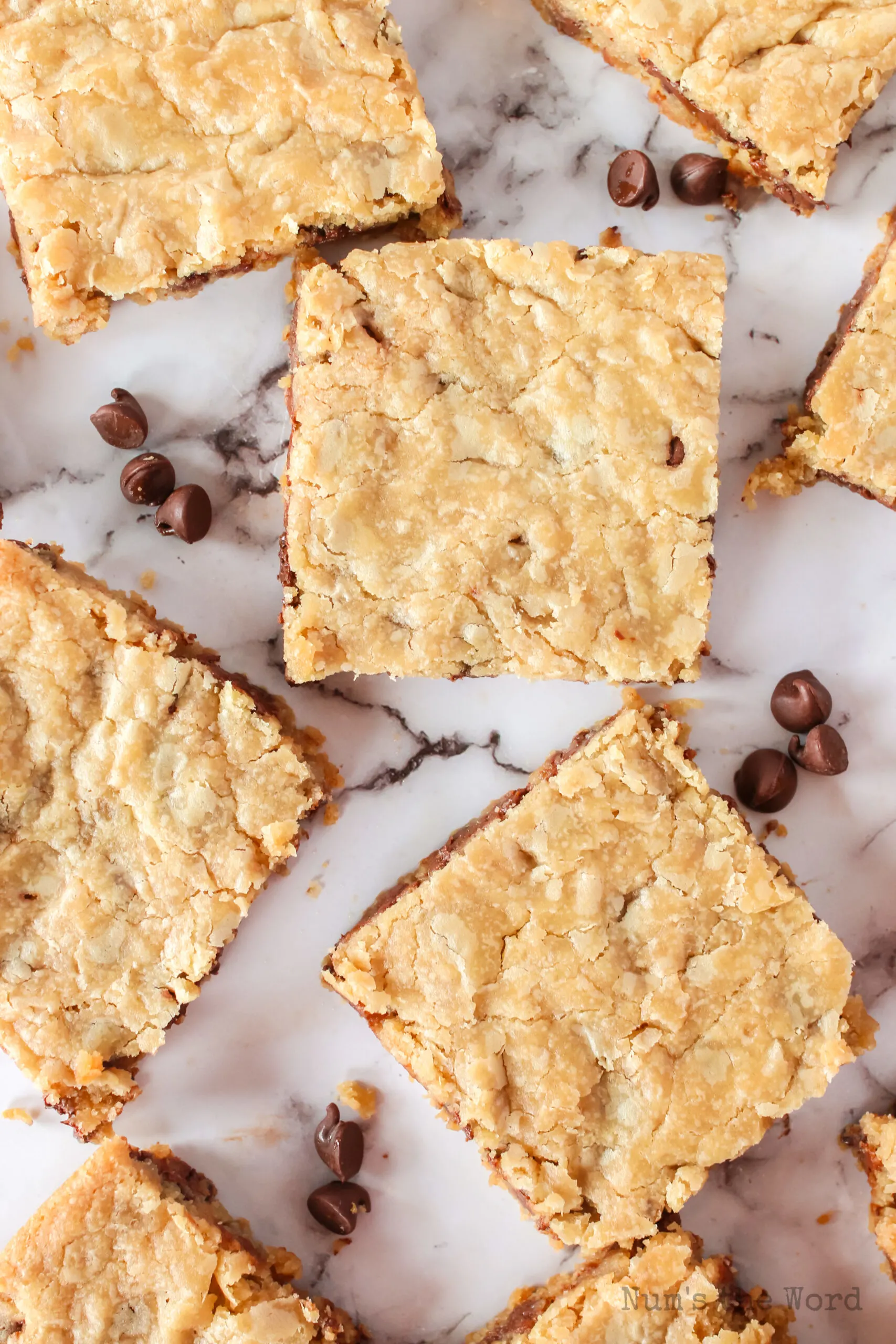 Can You Freeze Chocolate Chip Cookie Bars?
Yes! You can freeze these chocolate chip cookie bars very easily. Either freeze them after they're baked or in dough form for later baking or eating.
Dough:

To freeze the dough, simply mix it, put it in a freezer safe container, and you're good to go!

Baked:

Allow the cookie bars to come to room temperature, slice them into portion sizes, and then freeze in a safe container.
The dough or baked bars should stay good in the freezer for up to three months.
Pro Tips:
I find it best to keep parchment paper between each bar to keep the bars from sticking to each other.

Be sure to write the name and date on the bag or container so you don't forget what they are!

If freezing the dough you later want to bake, also write the baking instructions so you don't have to hunt later.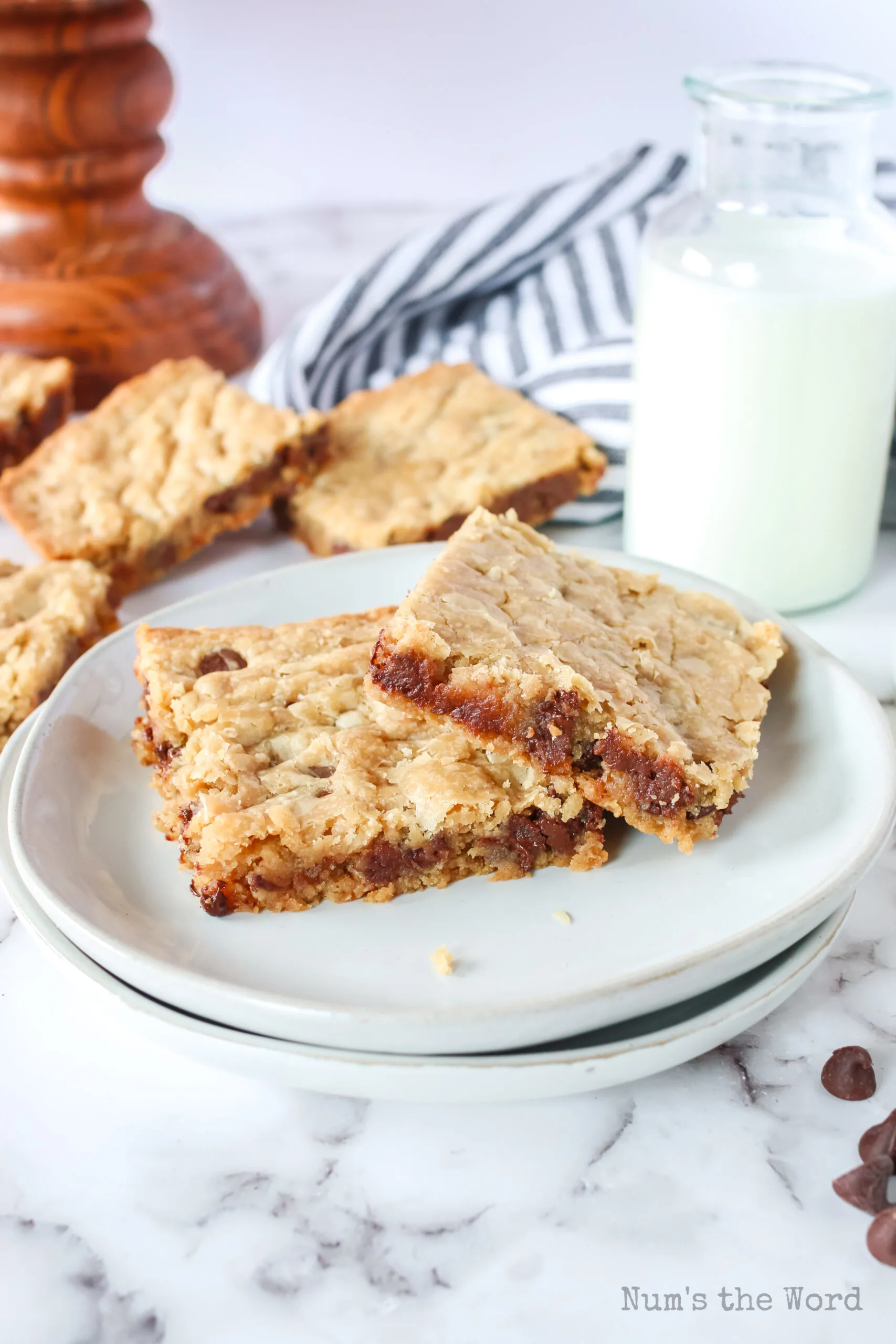 How Long Do Chocolate Chip Cookie Bars Last?
On the counter your chocolate chip cookie bars should stay good for three days if properly sealed.
In the fridge you can plan on them staying nice and tasty for about a week.
And in the freezer you can store them for up to three months.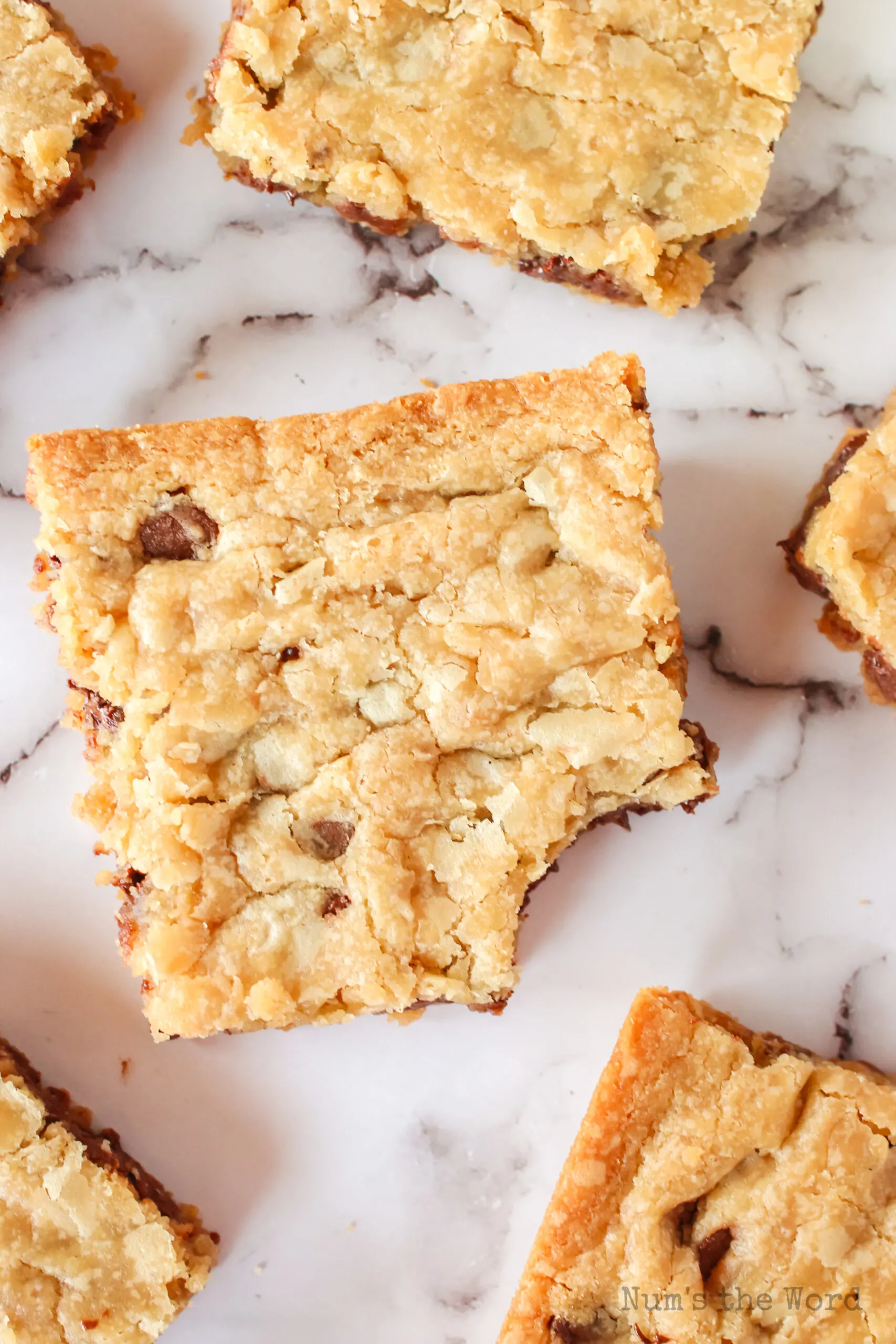 How Do You Keep Chocolate Chip Cookie Bars Soft?
These eggless cookie bars are so soft and chewy, it would be a shame to lose that texture! To keep them soft, always be sure to keep them sealed.
Once they've cooled, if you're not eating them, put them away right away. The reason they become hard is they lose their moisture.
If wrapped up tight, they'll retain the moisture and keep their softness.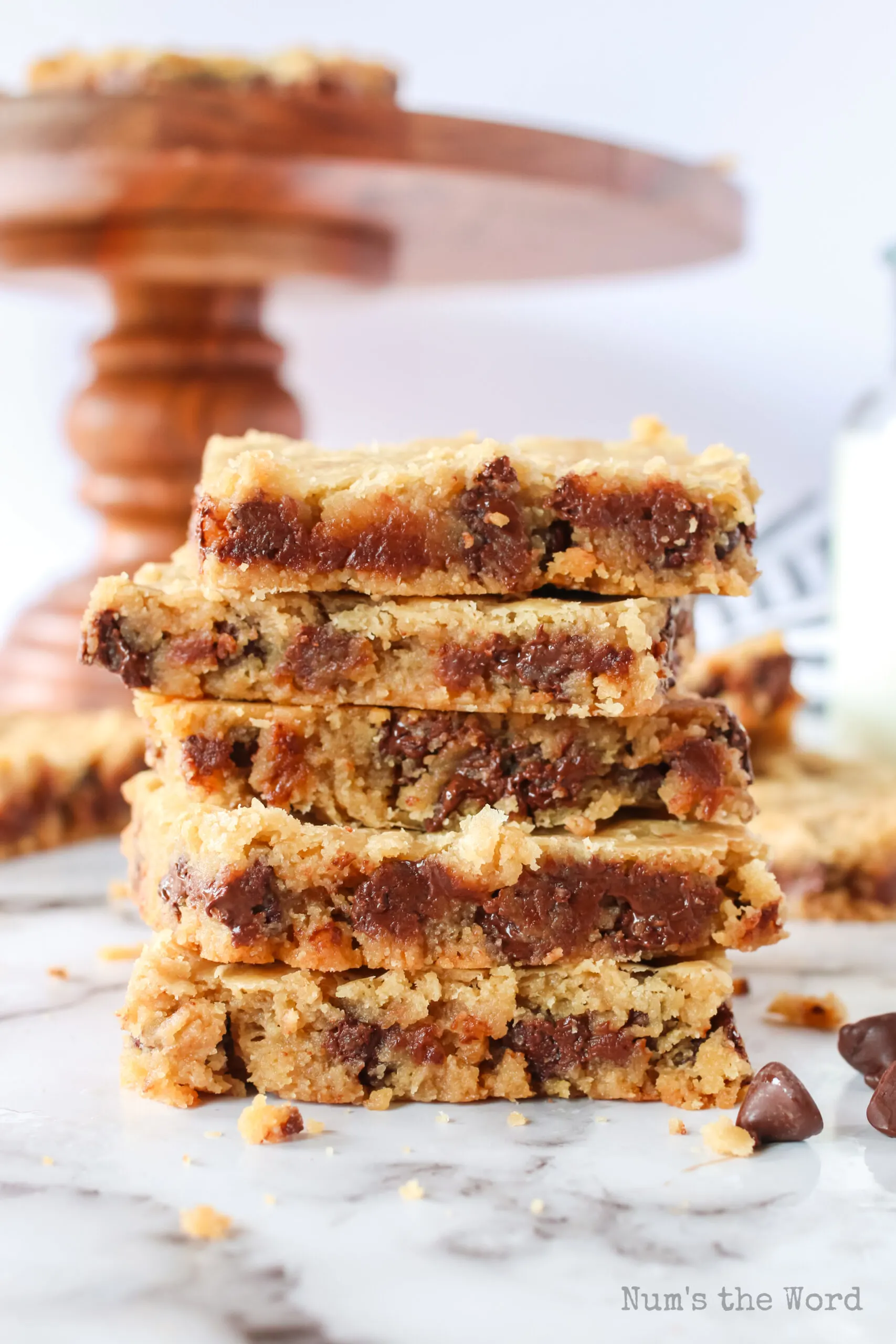 More Chocolate Chip Recipes:
I know you'll enjoy these chocolate chip cookie bars in bar form or dough form!
Serve them to your guests or hide them for your own secret stash! They're that good.
Yield: 12 - 24 Bars
Chocolate Chip Cookie Bars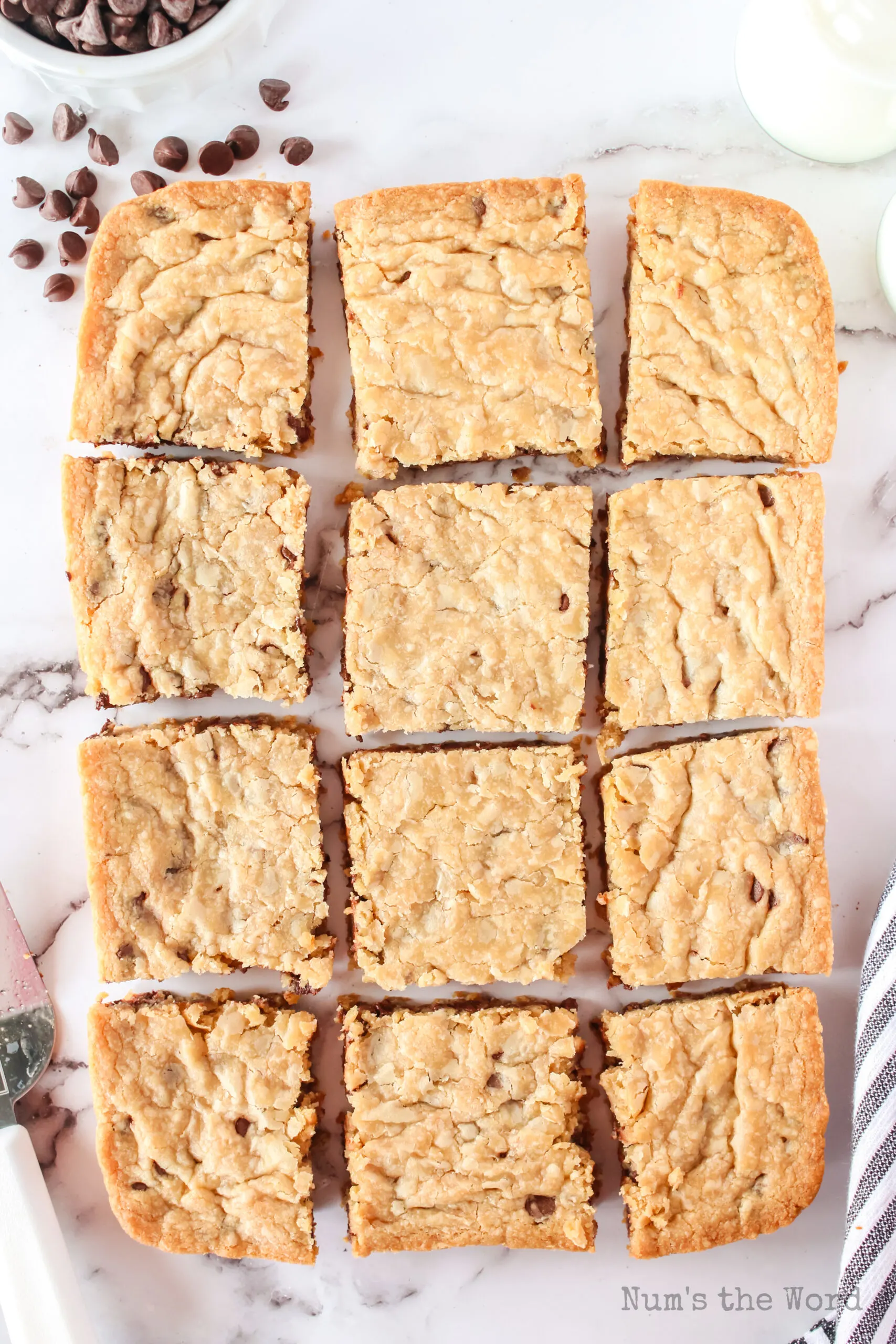 Looking for soft, buttery, and delicious Chocolate Chip Cookie Bars? Look no further! These chocolate chip cookie bars are enough to satisfy any sweet tooth.
Ingredients
1 cup butter, room temperature
1 cup light brown sugar, firmly packed
1 teaspoon salt
2 cups all-purpose flour
1 teaspoon vanilla
6 ounces semi sweet chocolate chips
Instructions
Preheat oven to 350*F
Using a hand mixer, in a medium bowl, mix butter, brown sugar and salt for 3 minutes, until light andfluffy.
Add flour and mix again. Mixture should look somewhere between crumbly and solid.
Add vanilla and chocolate chips and mix again.
Press mixture into an UNGREASED and unlined 9x13 pan.
Bake for 20 minutes.
Remove from the oven and let cool for 5 minutes before cutting into bars.
Serve warm or at room temperature.