Get ready to have restaurant quality Cream Cheese Wontons at home! They are delicious and SO easy to make too!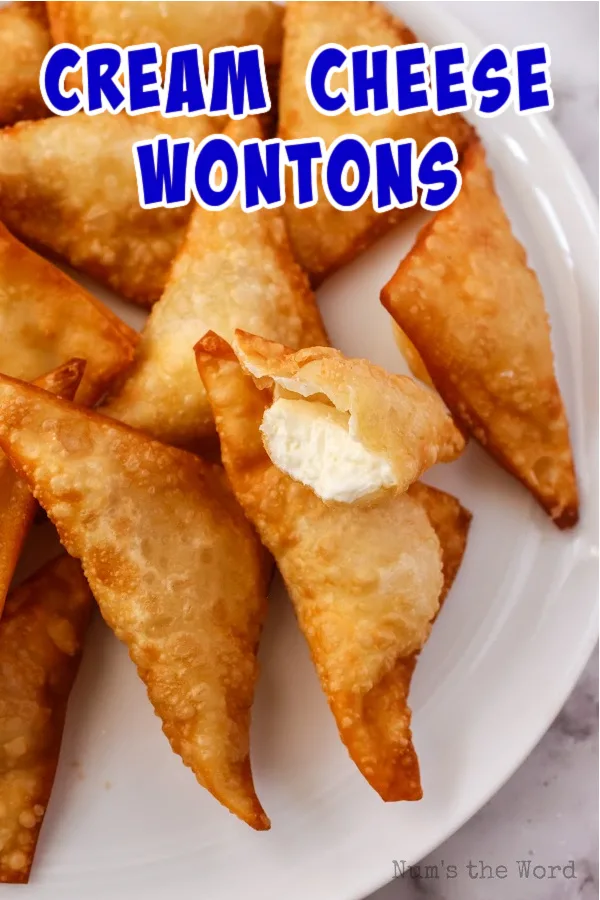 Cream cheese, and wontons. What's not to love about that triple delicious combo!
I might have made 25 of these and eaten 20 of them by myself…Yeah that probably happened. I couldn't help it! These are just that good!
I know you're wondering, are they easy to make? Yes! These are super easy cream cheese wontons!
Homemade wontons also only need a handful of ingredients to make! Yay!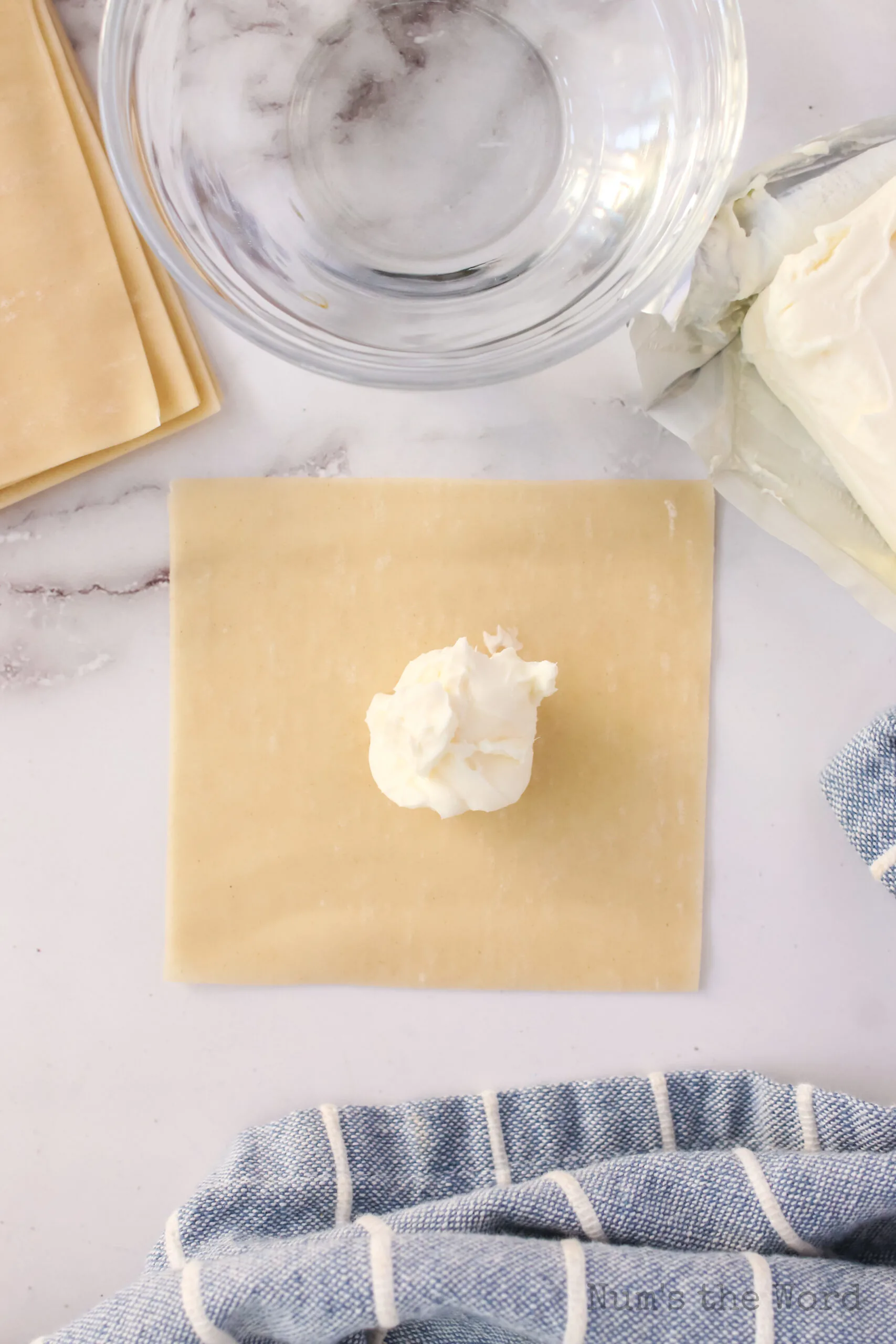 What Ingredients are in Cream Cheese Wontons?
These ingredients should be pretty able to source and are not complicated at all.
Wonton Wrappers:

Find these near the produce section in most stores or a specialty Asian market.

Cream Cheese:

I find it easier to work with if the cream cheese is room temperature.

Water:

This isn't an ingredient you need to run get but you use it for sealing the wontons.

Oil:

We use vegetable oil for frying but you could use peanut oil too.
Pro Tip:
The wonton wrappers dry out quickly so keep them covered in a damp paper towel while using.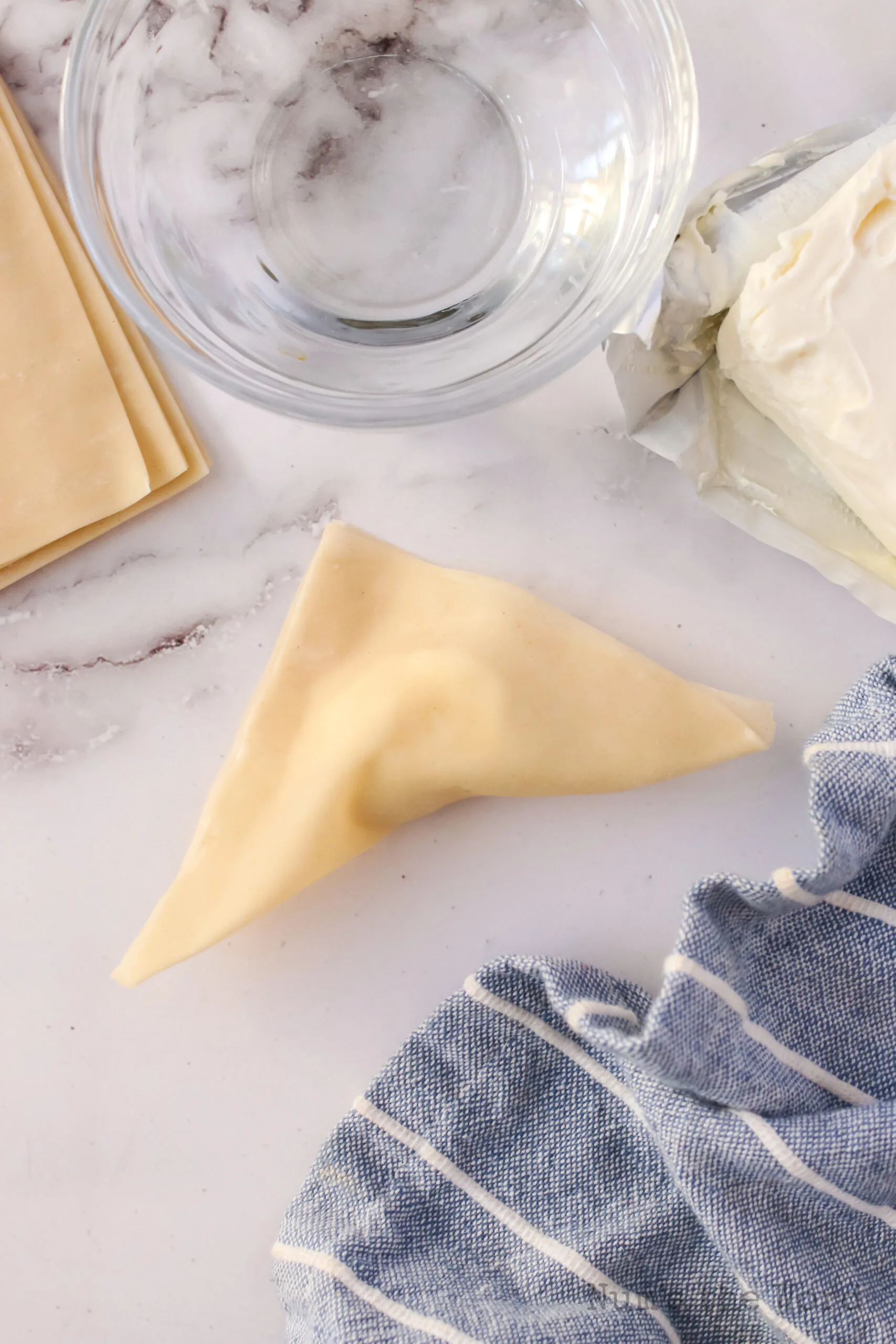 How to Make Cream Cheese Wontons
Follow these simple steps to get amazing wontons.
Add Ingredients:

Put a small amount of cream cheese in each wonton wrapper.

Seal:

Use the water to seal each wonton tightly. You don't want them leaking in the oil.

Fry:

Once the oil is heated up, the wontons should fry very quickly. 1-2 minutes total per wonton.

Serve: We love to eat these with sweet and sour sauce or Thai sweet chili sauce.
Pro Tip:
If the wonton isn't sealed all the way, the ingredients leaking into the oil will cause the oil to spit all over your kitchen.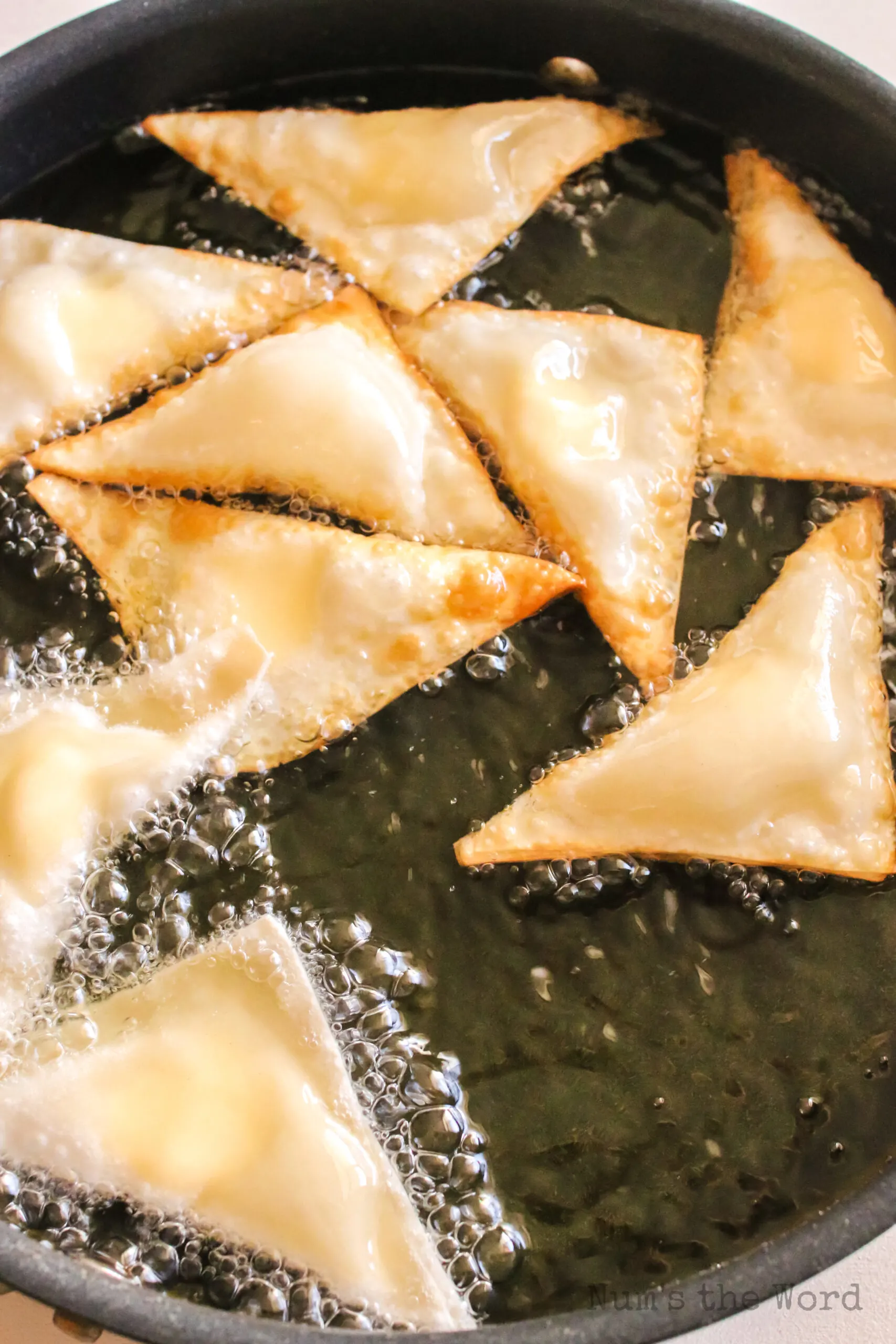 How to Fold Cream Cheese Wontons
Folding wontons can be as simple or as complicated as you want it to be. While there are so many different ways to fold them out there on the internet, I think simple is best.
Simply fold the wonton wrapper over into a triangle. Not only is this simple but it makes it really easy to hold each triangle too when dipping.
A little bit of water will be used to seal it closed.
Pro Tip:
Too much water will cause the wonton wrapper to NOT seal. A little goes a long way.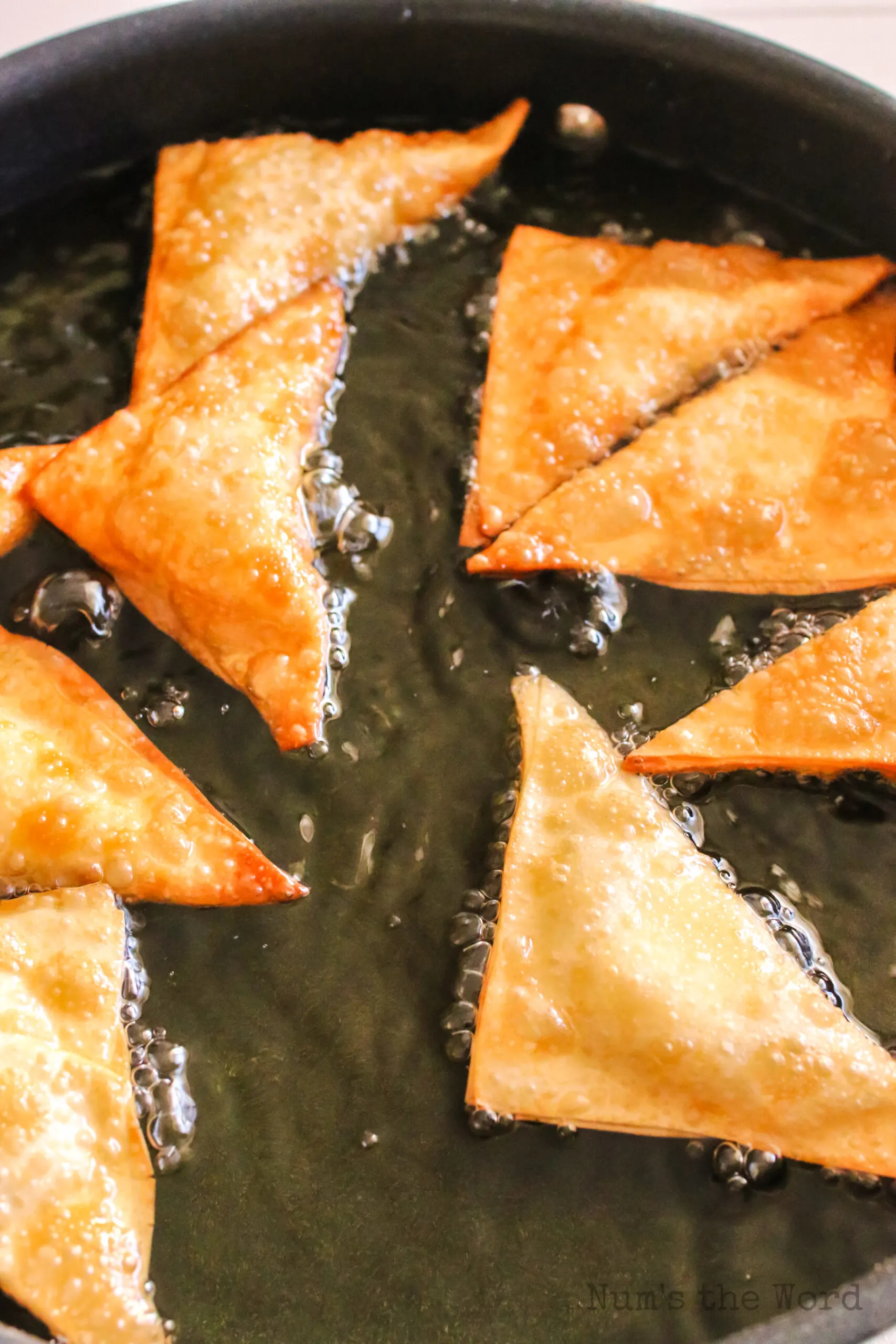 Can You Freeze Homemade Cream Cheese Wontons?
Yes! Homemade cream cheese wontons can easily be frozen.
They can be frozen either before or after frying.
Uncooked:
Follow the directions up to frying.

Place the wontons on a cookie sheet so they aren't touching.

Freeze for one hour.

Remove from the freezer and place wontons into a gallon zipper bag.

Fry them straight from the freezer, adding a bit of time to get them cooked fully.
Cooked:
Follow all of the directions and cook the wontons completely.

Place the wontons on a cookie sheet and flash freeze for one hour.

Remove from the freezer and place wontons into a gallon zipper bag.

Deep fry or air fry them just until heated through. Do not cook them completely again.
Store cooked or uncooked cream cheese wontons in the freezer for up to 3 months.
Pro Tip:
Write the name and date on the zipper bag so you know what it is and when you put it in the freezer.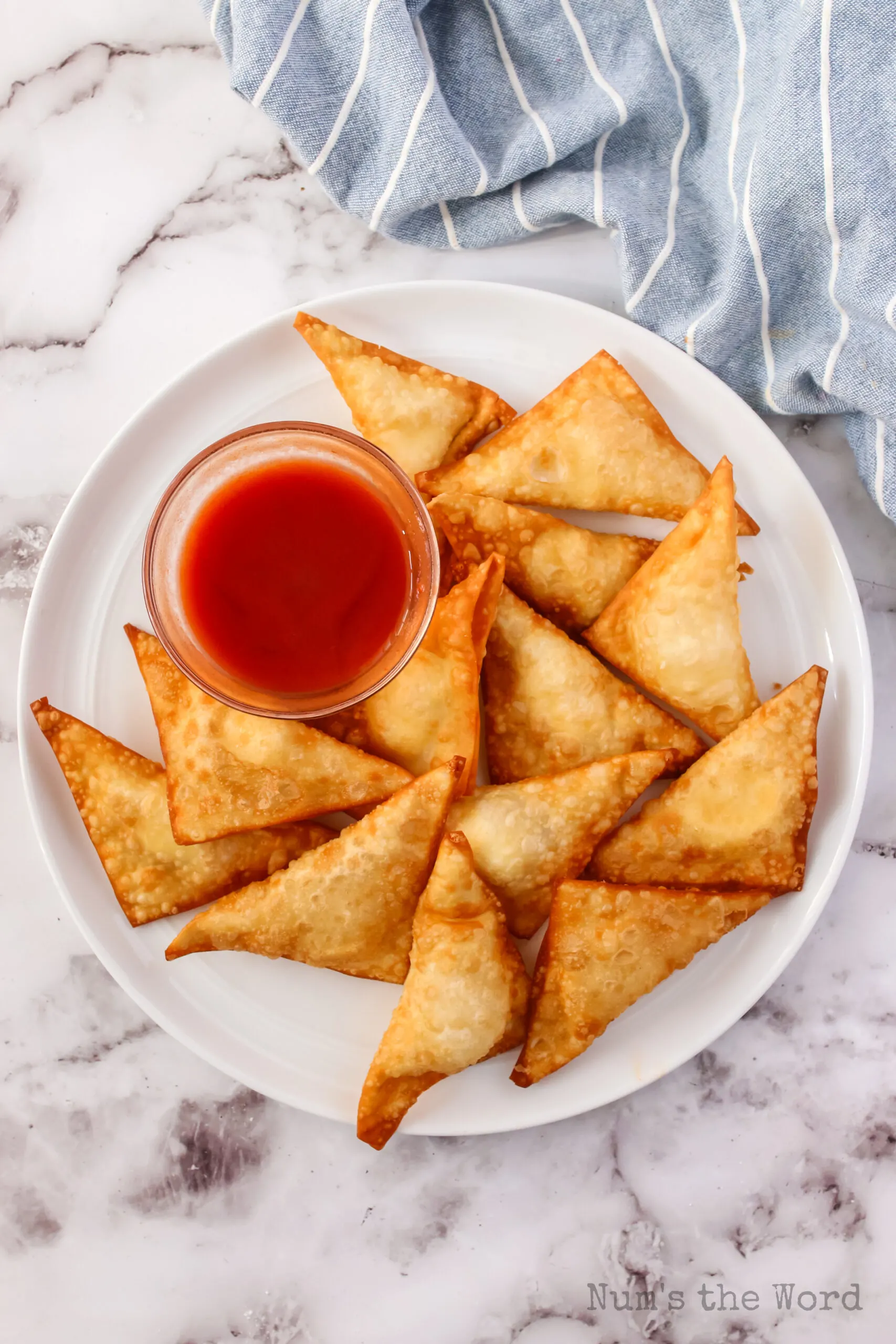 Can You Make Cream Cheese Wontons Ahead of Time?
Yes, cream cheese wontons can easily be made ahead of time. I find it best to leave them uncooked for the best crispiness of the wrappers.
Then simply pull them out of the fridge and fry them when you're ready. They should fry the same when pulled from the fridge.
You could also fry them ahead of time if desired and then reheat them in an air fryer or more oil to keep them crispy.
It's best to serve premade cream cheese wontons within 24 hours for the best texture and flavor. Though they will stay good in the fridge for up to five days.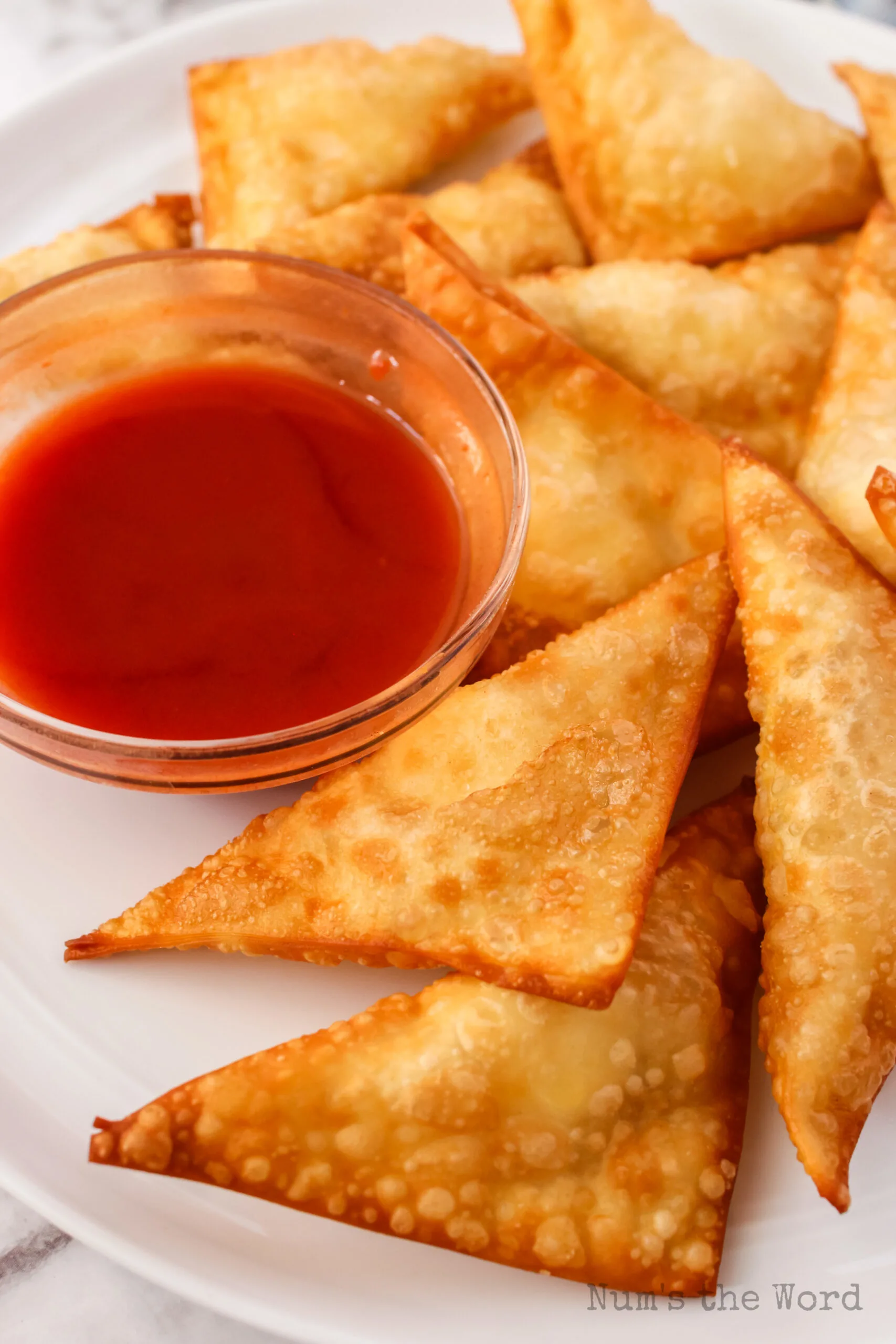 Are Cream Cheese Wontons Gluten Free?
Traditional wonton wrappers are made using a white flour. That means they would not be gluten free for any one with an allergy or intolerance.
I searched and couldn't find any gluten free wrappers. If you do find a gluten free wrapper that works, please let me know because it would be great for anyone else searching.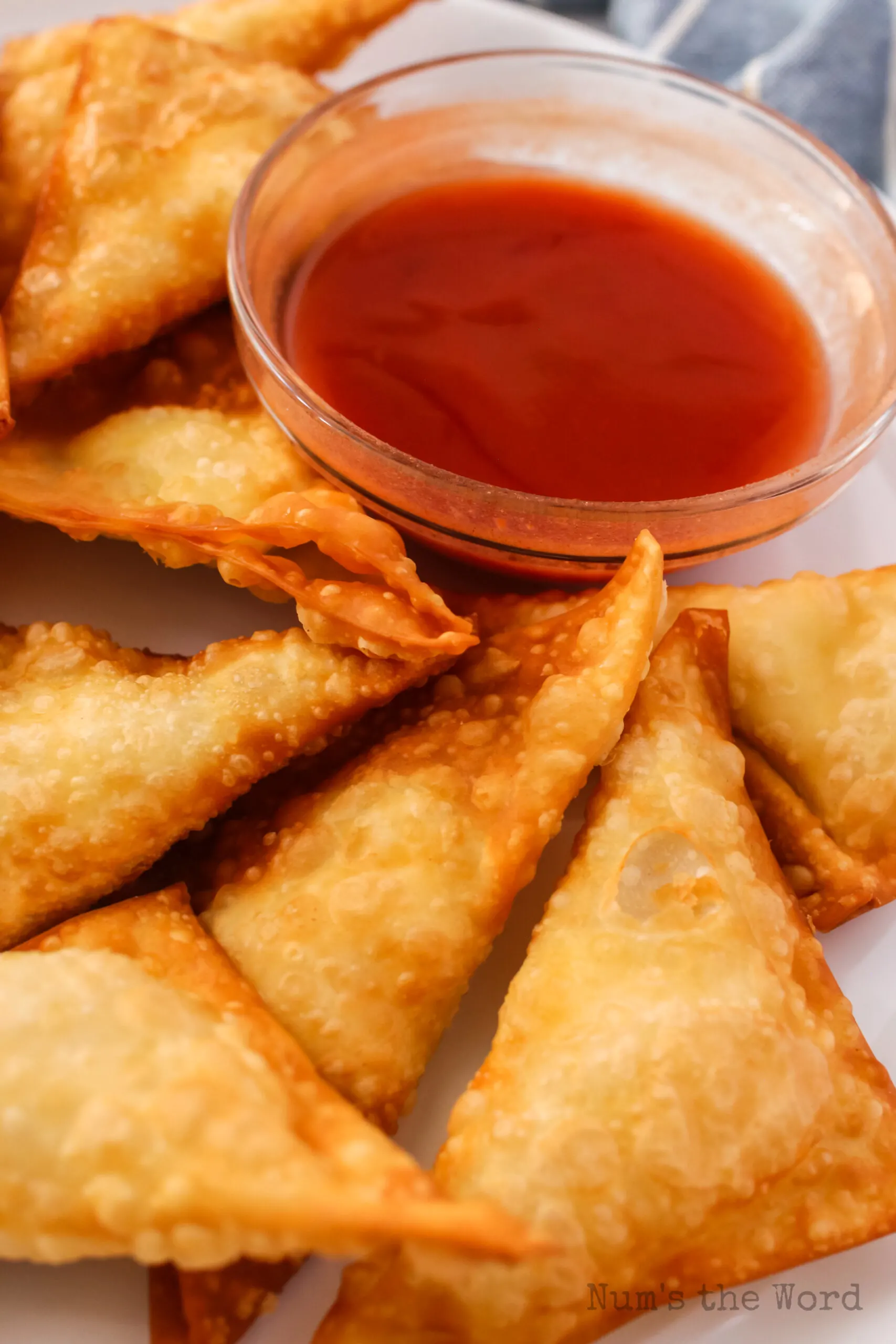 What Other Fillings Can Be Added to Cream Cheese Wontons?
These wontons are great because they're so versatile.
Here's some other ways to serve cream cheese wontons.
Crab meat

Sriracha or other hot sauce

Onions and garlic

Jalapenos

Jam

Strawberries

Bacon and chives

Chocolate Chips
Be creative! What do you like to eat with cream cheese? Try it in your wonton wrapper!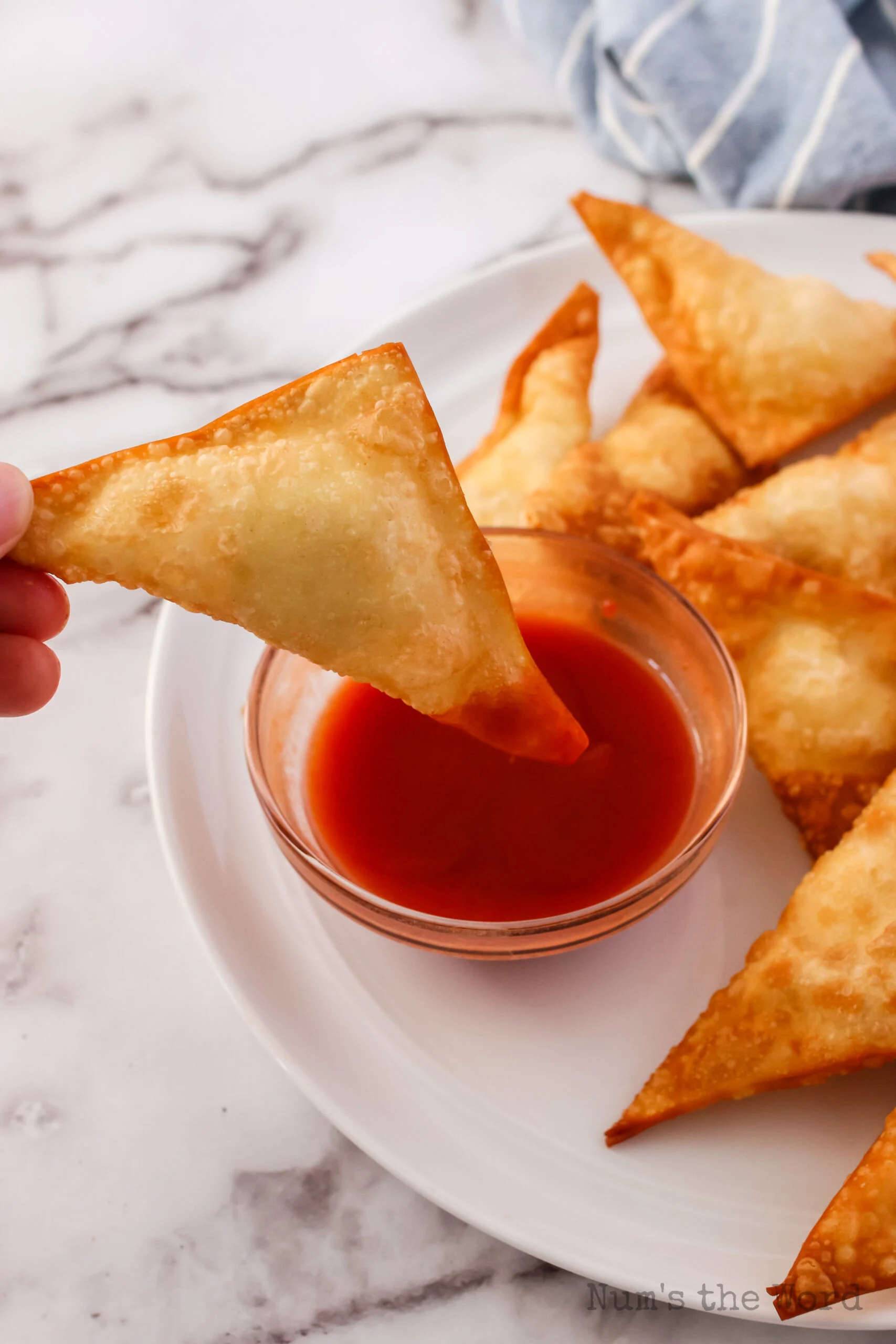 Are Cream Cheese Wontons Healthy?
Cream cheese wontons are definitely considered an appetizer or snack. They are not meant to be eaten as a meal and they should be served as an occasional treat.
That being said… if you indulge in 20 at a time, forgetting about the rest of your family… well…who am I to judge?
Cream Cheese Wontons are a super yummy and super easy appetizer or snack.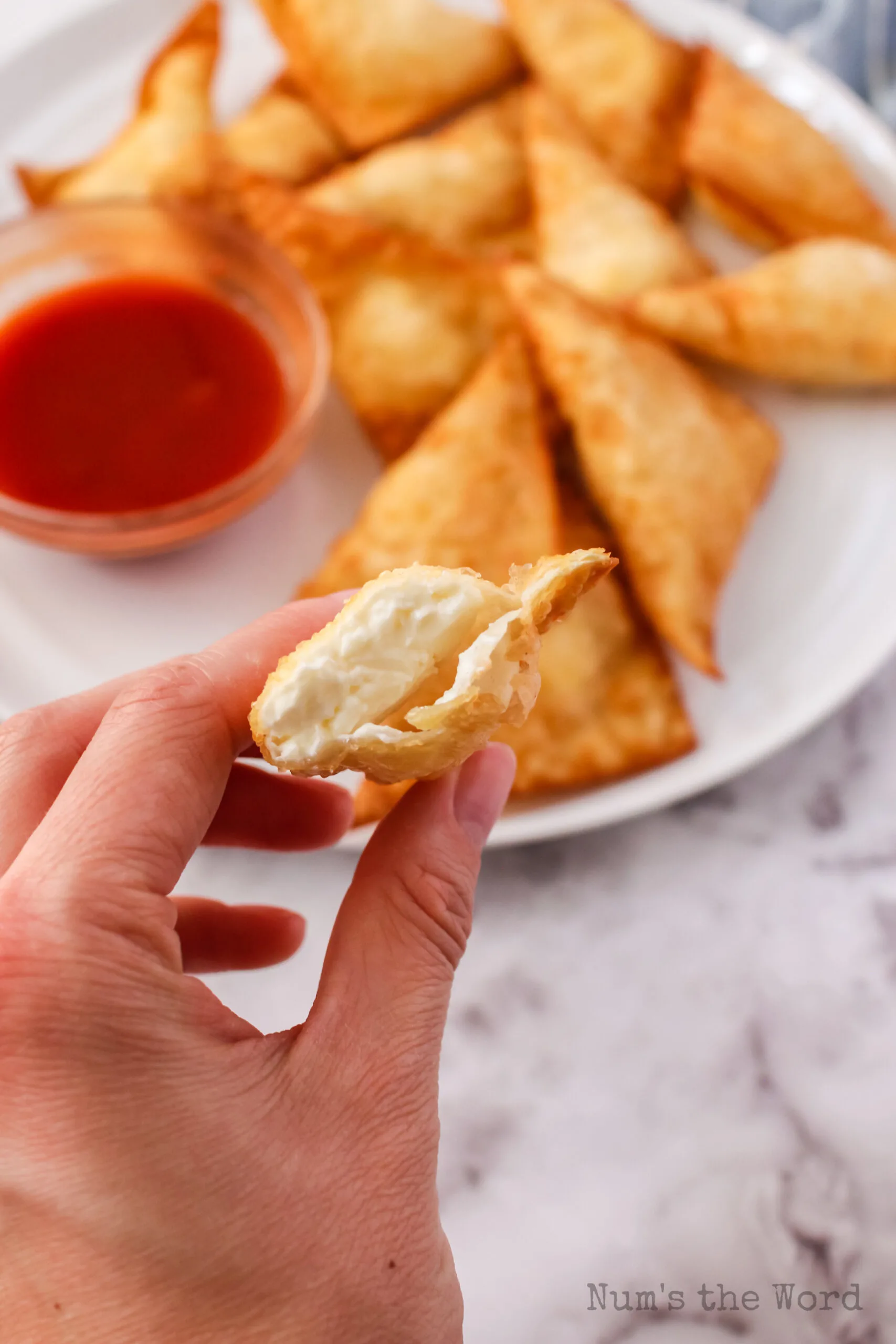 This recipe for homemade cream cheese wontons can be served as part of a traditional Asian inspired meal.
Or you can serve them as part of your pre ball game menu!
Enjoy!
Yield: 12 or more
Cream Cheese Wontons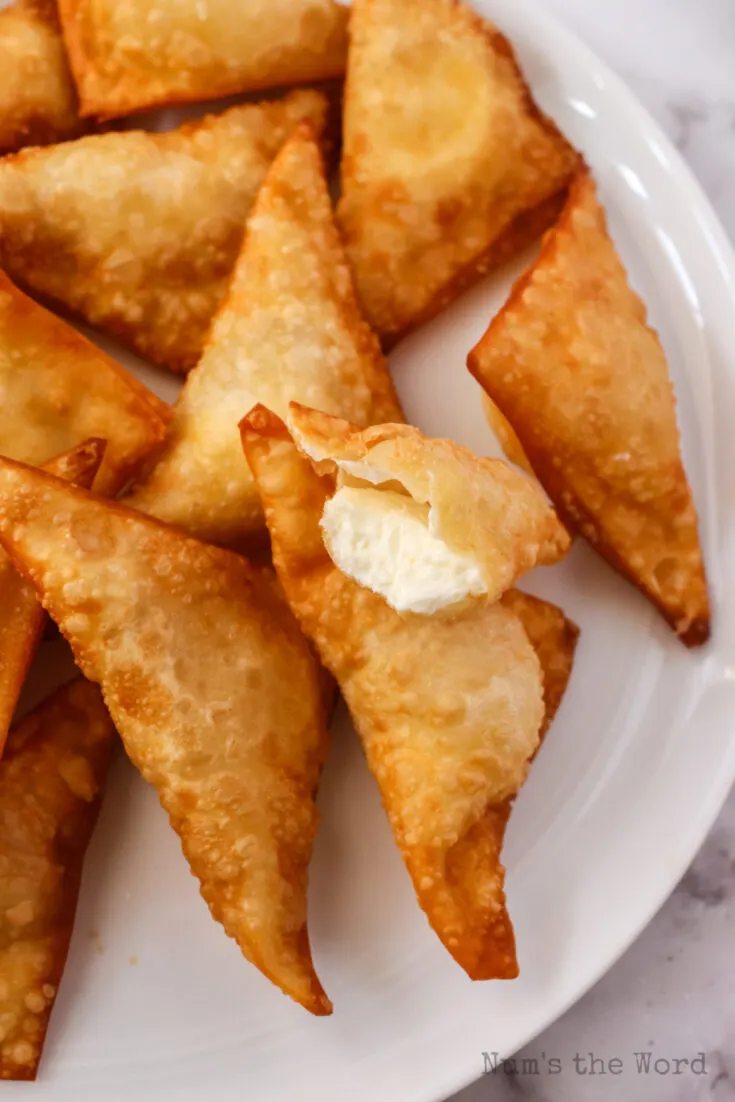 Get ready to have restaurant quality Cream Cheese Wontons at home! They are delicious and SO easy to make too!
Ingredients
Wonton Wrappers
6 ounces Cream Cheese
2 Tablespoons water
4 cups vegetable oil
Sweet & Sour Sauce (optional)
Sweet Thai Chile Sauce (optional)
Instructions
Open package of wonton wrappers
Place one wrapper in front of you and place 1 teaspoon of cream cheese in the middle of the wonton.
Using your finger, wet the edges of the wonton with water.
Fold wonton in half, like a triangle and press endges together to seal.
Repeat with as many wrappers as you want to eat.
Heat oil in a skillet until it reaches 350*F
Gently place each wonton into oil and cook for 30 seconds to 1 minute per side.
Remove from hot oil and place on a paper towel lined plate.
When done cooking, serve with either sweet and sour sauce or Thai Sweet Chile Sauce.