Chocolate Cherry Cookies, also known as Chocolate Covered Cherry Cookies. If you love the flavor of chocolates and cherries, then these are the cookies for you! A tasty chocolate cookie with a cherry center, all covered in a chocolate cherry frosting.
This post contains affiliate links.  If you click on an affiliate link and make a purchase, I will make a small percentage on your purchase. This helps keep this website running! Thank you!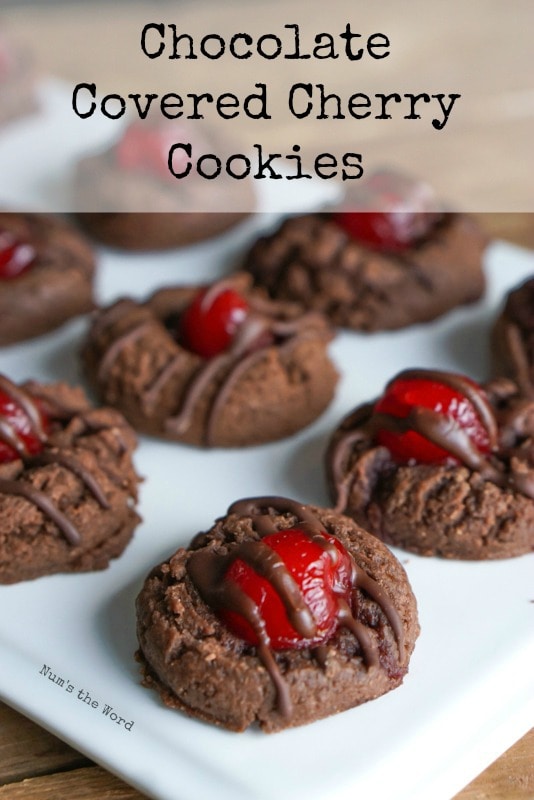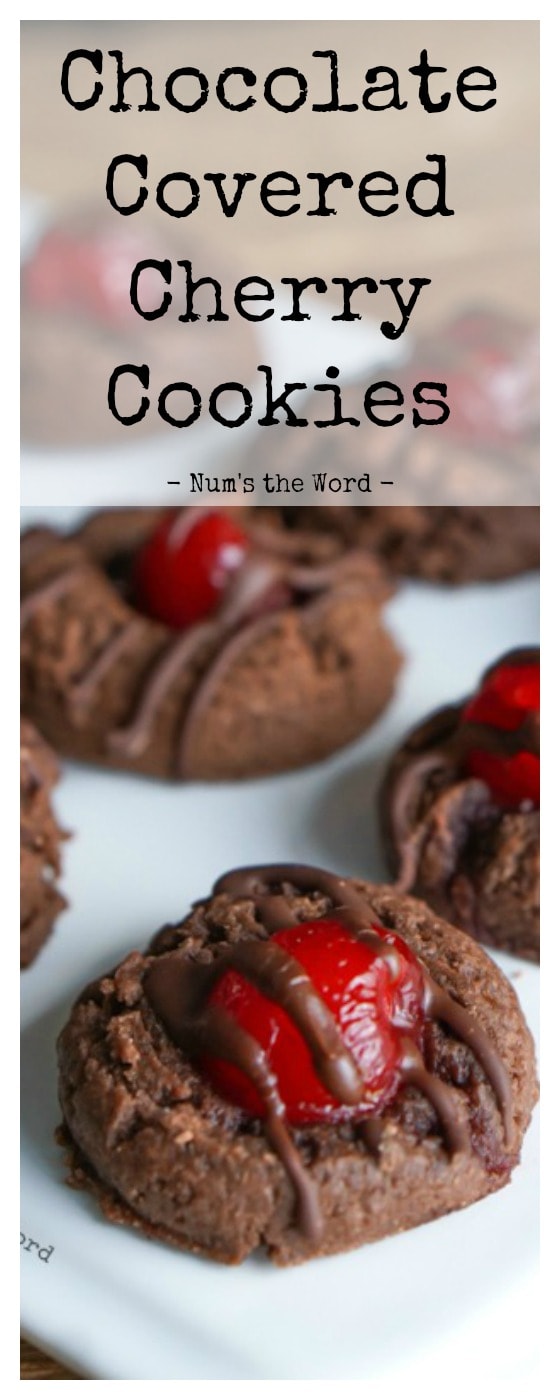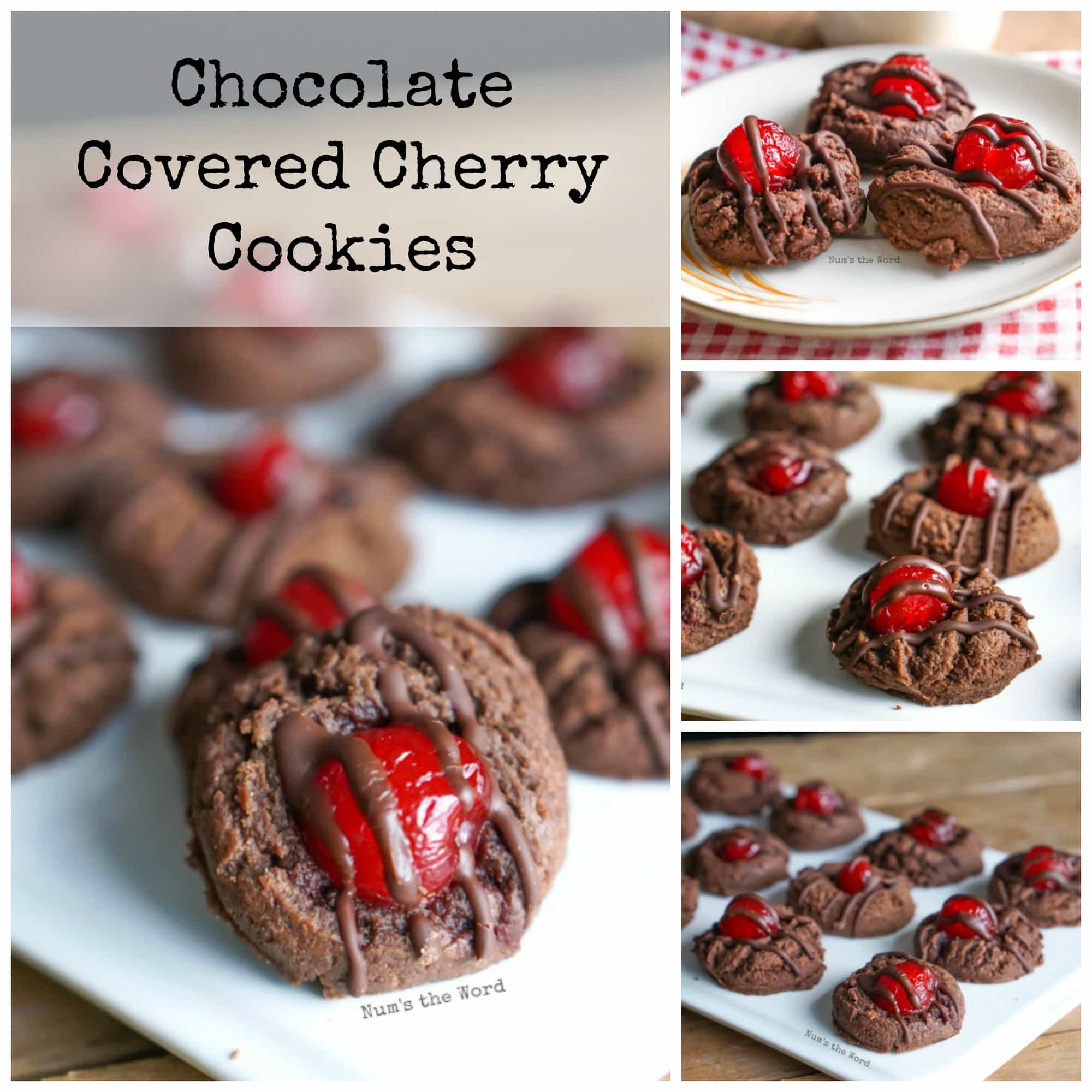 One of my weaknesses in life are really good cookies.
Homemade, fresh out of the oven, still warm cookies are something I cannot resist.
Make those cookies chocolate and add a cherry and I'm putty in your hands.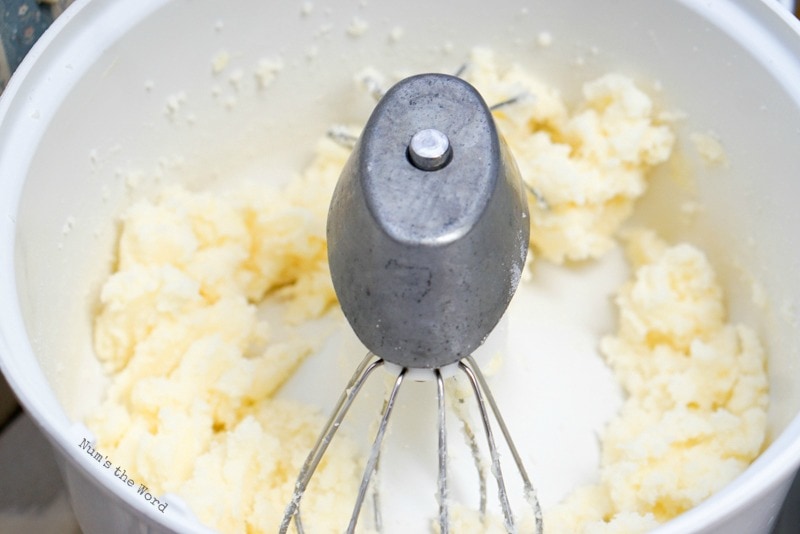 My son and I are obsessed with these Chocolate Cherry Cookies – also known as Chocolate Covered Cherry Cookies.
These Chocolate Cherry Cookies are soft and packed with flavor.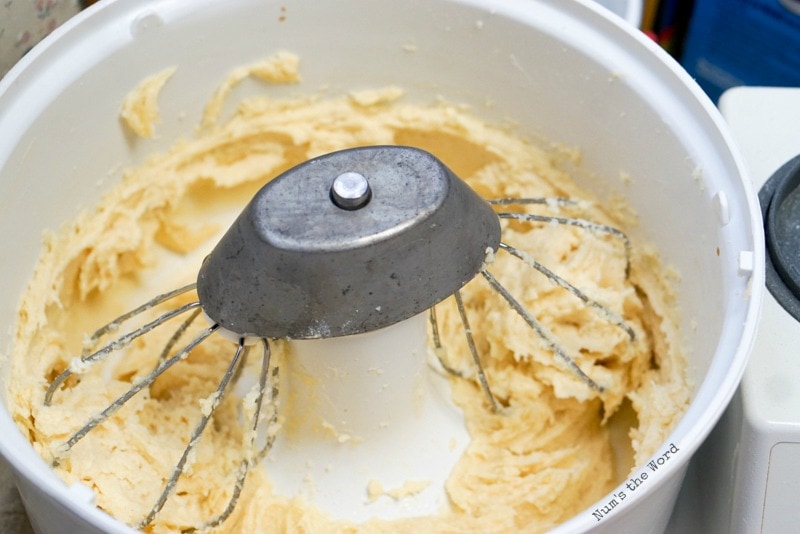 Our favorite part is of course the cherry.
I buy them in bulk and we love to bake with them, as well as add them to our favorite Sundae creations.
And let's not forget the juice!  There are so many tasty ways you can use that too!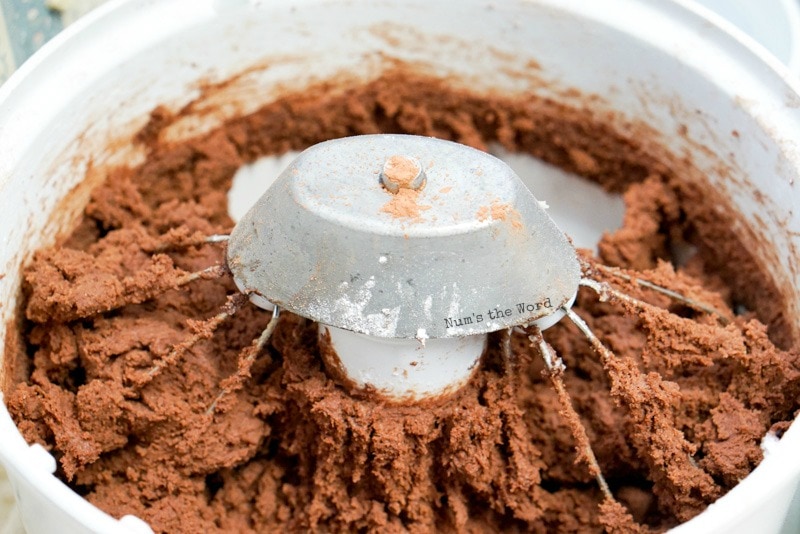 The cherries are the star of these cookies.
Not just for looks, but also for flavor!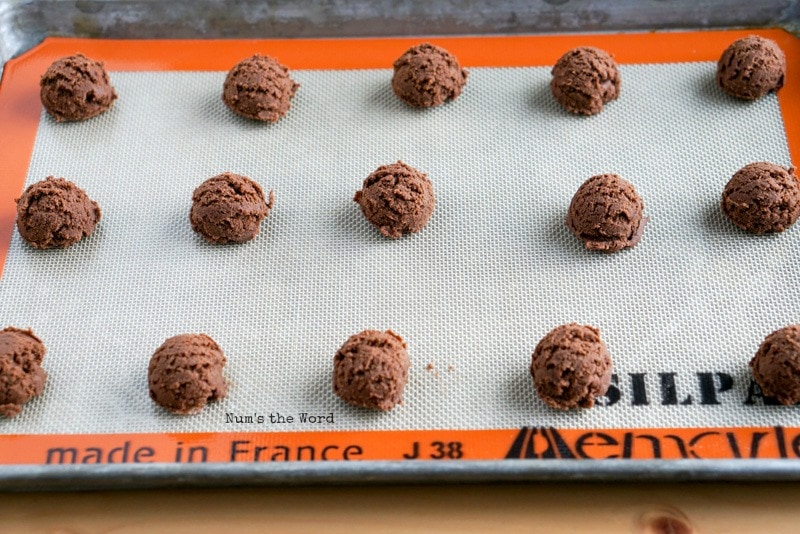 By adding the cherry on top before they are baked, the cherry juices soak into the cookie and add to the overall chocolate cherry flavor.
Then top it with the most amazing chocolate cherry drizzle and it's one very delectable cookie.
Generally speaking, most people look at cookies like this and think Christmas Cookies.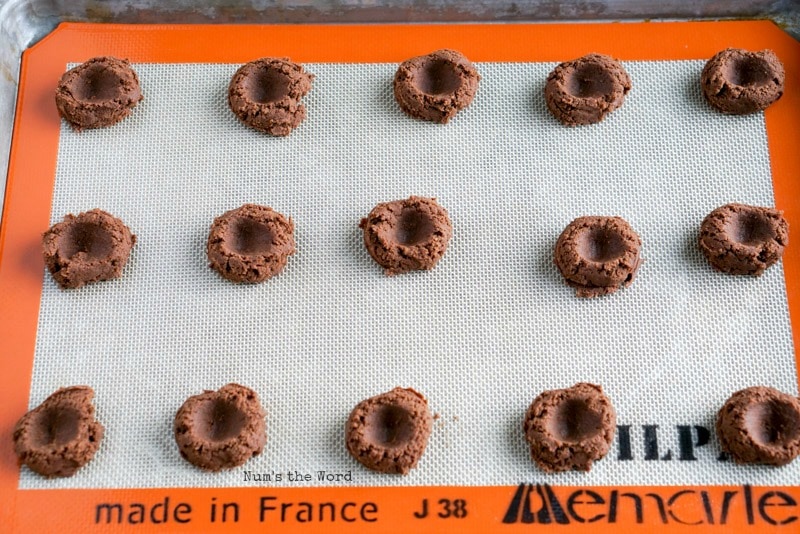 And you are dead on if you did too.
These Chocolate Covered Cherry Cookies make a great addition to your holiday cookie tray.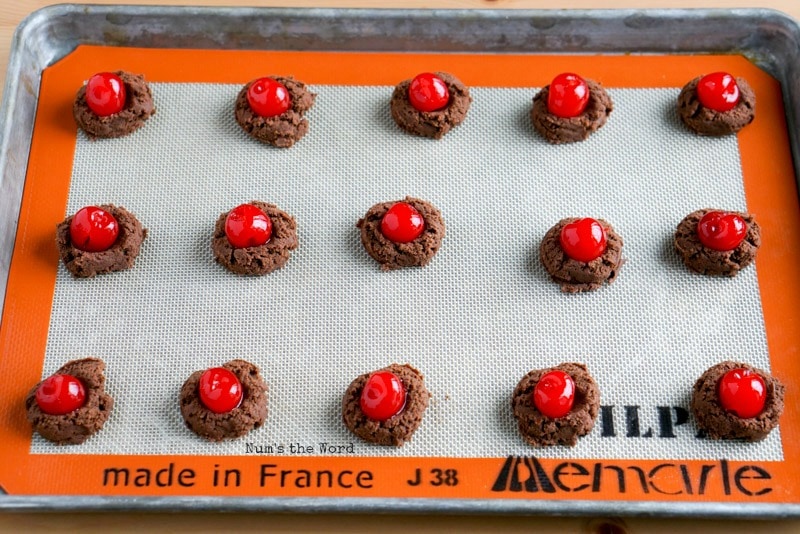 However, there is nothing I hate seeing more than a good cookie only enjoyed once a year.
Why not whip these up in April or August or even October?
Who says you can't make fancy, yet easy, cookies all year round?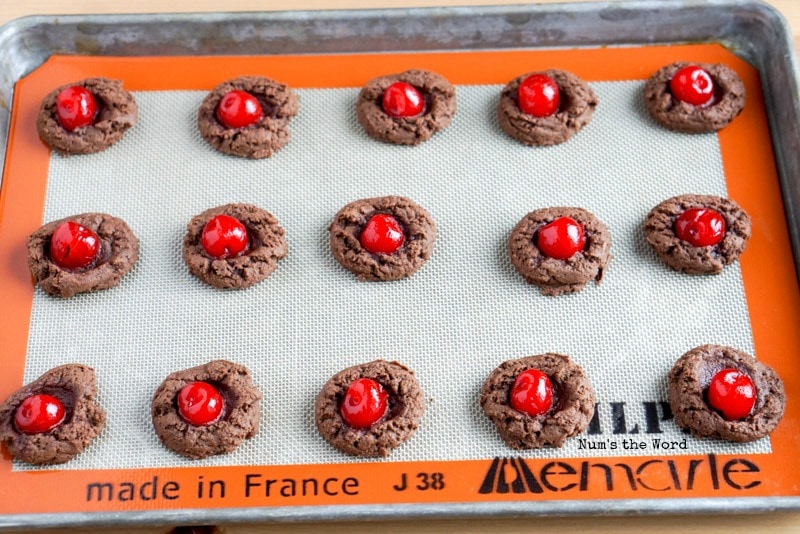 With so many reasons given as to why you need these in your life,  I don't see why you can't whip up a batch today!
Take them to your next potluck or picnic.
Give a basket full to your teachers at the end of the year to say Thank you!
We all have that one friend who has everything and wants nothing, so whip her up some tasty goodies and include these cookies!
These Chocolate Cherry Cookies also make a great PMS cookie.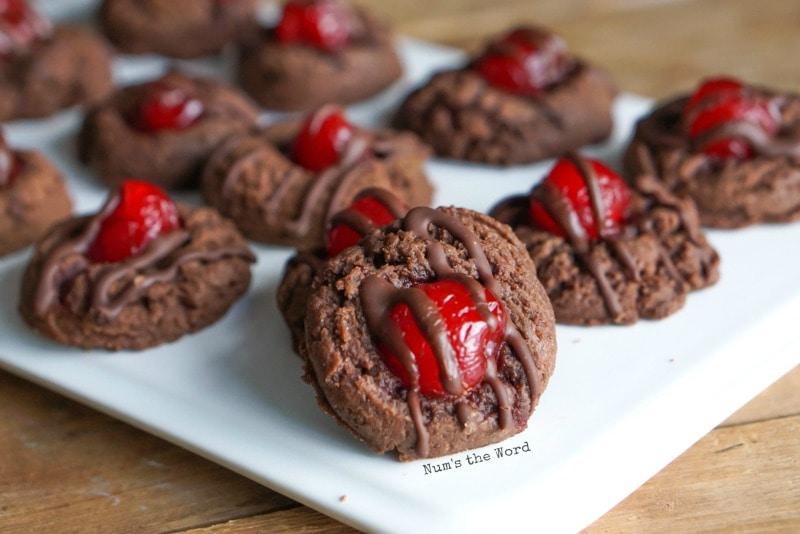 I certainly need a little extra sugar and chocolate at that time and know a few of my friends who would enjoy a few too!
Whatever your reason for loving the flavor combination of chocolate and cherries, you'll undoubtedly love these too!
And if you really want to go all out on these cookies, then make a double batch and freeze them.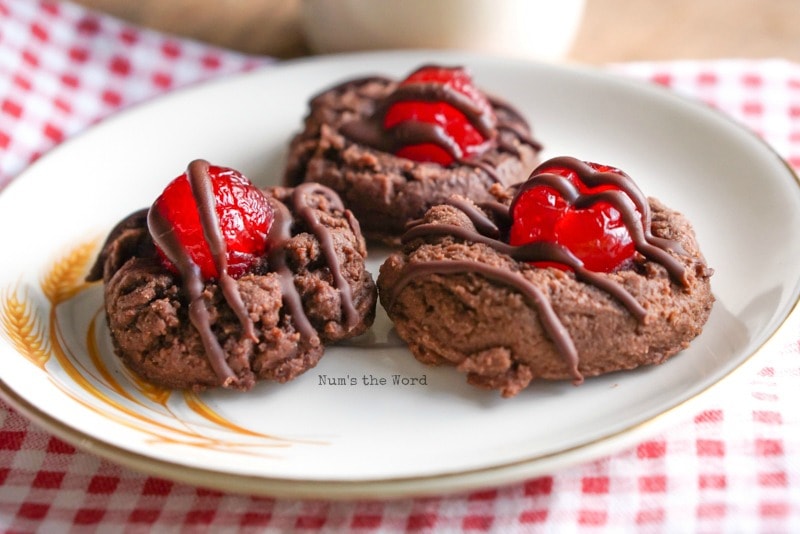 There is nothing quite like knowing you have fresh baked cookies in the freezer just waiting to be eaten!
These Chocolate Cherry Cookies are a hit in my house and I know they will be in your house too!
Yield: 2 Dozen Cookies
Chocolate Cherry Cookies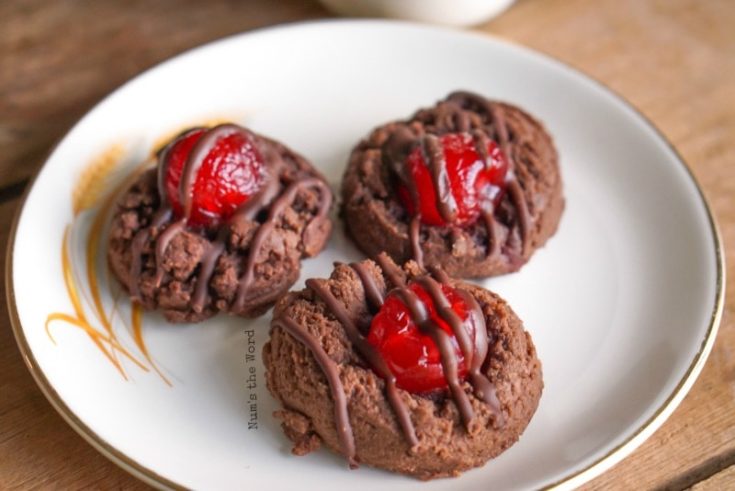 Ingredients
1/2 cup butter
1 cup white sugar
1 egg
1 1/2 teaspoons vanilla extract
1 1/2 cups all-purpose flour
1/2 cup unsweetened cocoa powder
1/4 teaspoon salt
1/4 teaspoon baking soda
1/4 teaspoon baking powder
1 (10 ounce) jar of maraschino cherries
1/2 cup sweetened condensed milk
1 cup semisweet chocolate chips
Instructions
Preheat oven to 350 degrees F
Beat butter and sugar together in a bowl.
Add egg and vanilla and beat well.
Add the flour, cocoa powder, salt, baking soda, baking powder and stir until smooth.
Roll the mixture into 1 inch balls about the size of a walnut (or larger if desired).
Place on cookie sheet and press thumb into center of each cookie.
Drain cherries and reserve juice.
Place cherry in indentation of each cookie ball.
Bake in preheated oven for 10 minutes.
------------------------
While cookies are baking
------------------------
In a saucepan, combine condensed milk and chocolate chips. Stir until chocolate is melted and mixture is smooth.
Stir in 4 teaspoons of cherry juice. Mix until combined.
Spoon or pipe chocolate over each cookie after they are cooled.
Adapted from All Recipes
Originally Posted: February 6, 2014
Photos & Text Updated: April 4, 2018
Other Cookies You'll Love...