Cheesy Tater Tot Casserole is the easiest dinner you'll make this week! It's fast, full of delicious food, and only needs a few simple ingredients!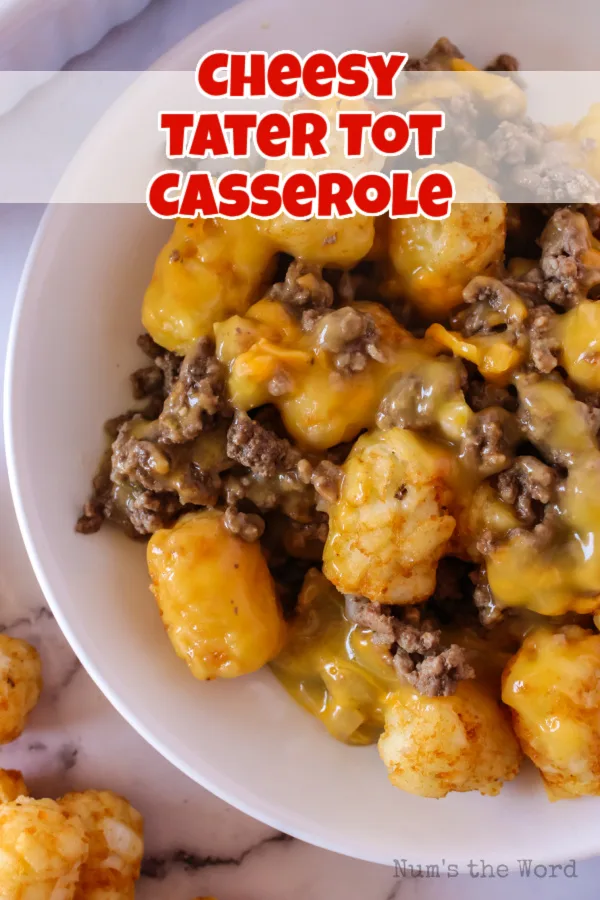 It's hard to resist a hamburger tater tot casserole that's dripping with melty cheese, creamy, and mixed with some delicious beef. So why try? I mean really, let's just get down to the cooking!
I love this tater tot casserole recipe because it only takes a few ingredients that I already have on hand. So it's easy for nights when I don't know what to make.
I also love this recipe for tater tot casserole because it fills you up! A hearty dish that doesn't leave my kids begging for a bedtime snack!
It's also really easy to feed a crowd with easy tater tot casserole because it makes a lot!
But the best part of this easy dinner is definitely that it's one of those kid friendly casseroles. They love it! Which means I love it!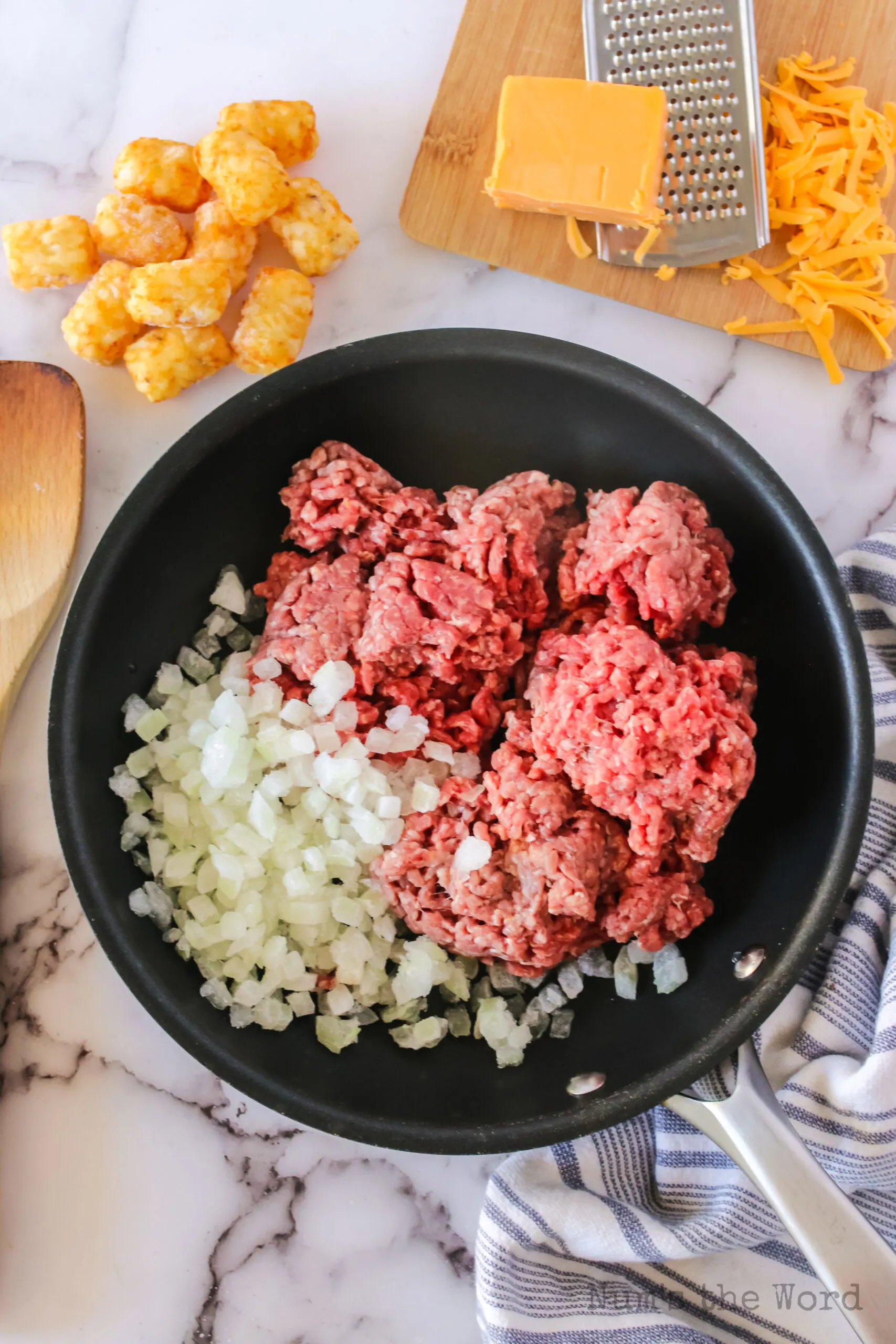 What is Tater Tot Casserole?
Ah the casserole dish! It's useful in making so many wonderful things! Chicken Divan Casserole, Poppy Seed Chicken Casserole, Cheesy Sausage Breakfast Casserole… I could go on!
What makes a casserole a casserole is mostly that it's made in a casserole dish! You know that large dish that feeds the whole family?
Well the best tater tot casserole is made with tater tots, ground beef and is super creamy!
It's easy to serve with lots of different side dishes so it's really a versatile dish.
Of course if you're from a certain part of the country you'd call this a hot dish! Sometimes referred to as tater tot hot dish or 123 hot dish, it's the same idea wherever you go.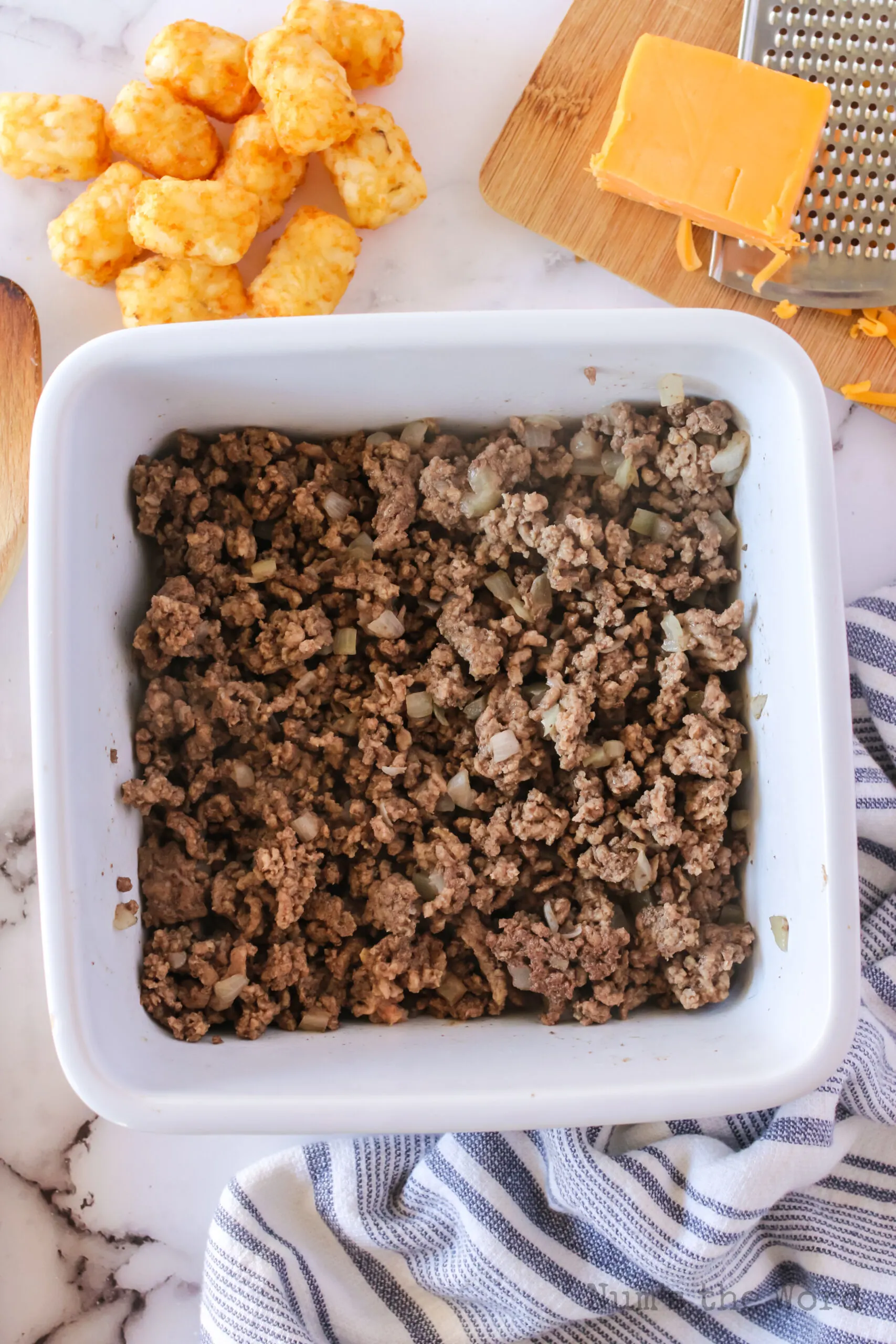 What Ingredients are in Tater Tot Casserole?
This hearty casserole is a family favorite for feeding teenage boys and picky eaters alike! It's a complete meal for any night of the week.
Ground Beef: You'll need quite a bit of ground beef as it's your only protein for the meal.
Onion: Dice this up small. No large chunks of onion required here.
Season Salt: Divide the season salt so you can sprinkle on multiple layers.
Sharp Cheddar Cheese: Mild cheddar cheese would also work.
Cream of Chicken Soup: Cream of mushroom soup could also be substituted if you prefer its flavor.
Frozen Tater Tots: No need to thaw them. They'll cook right in the oven.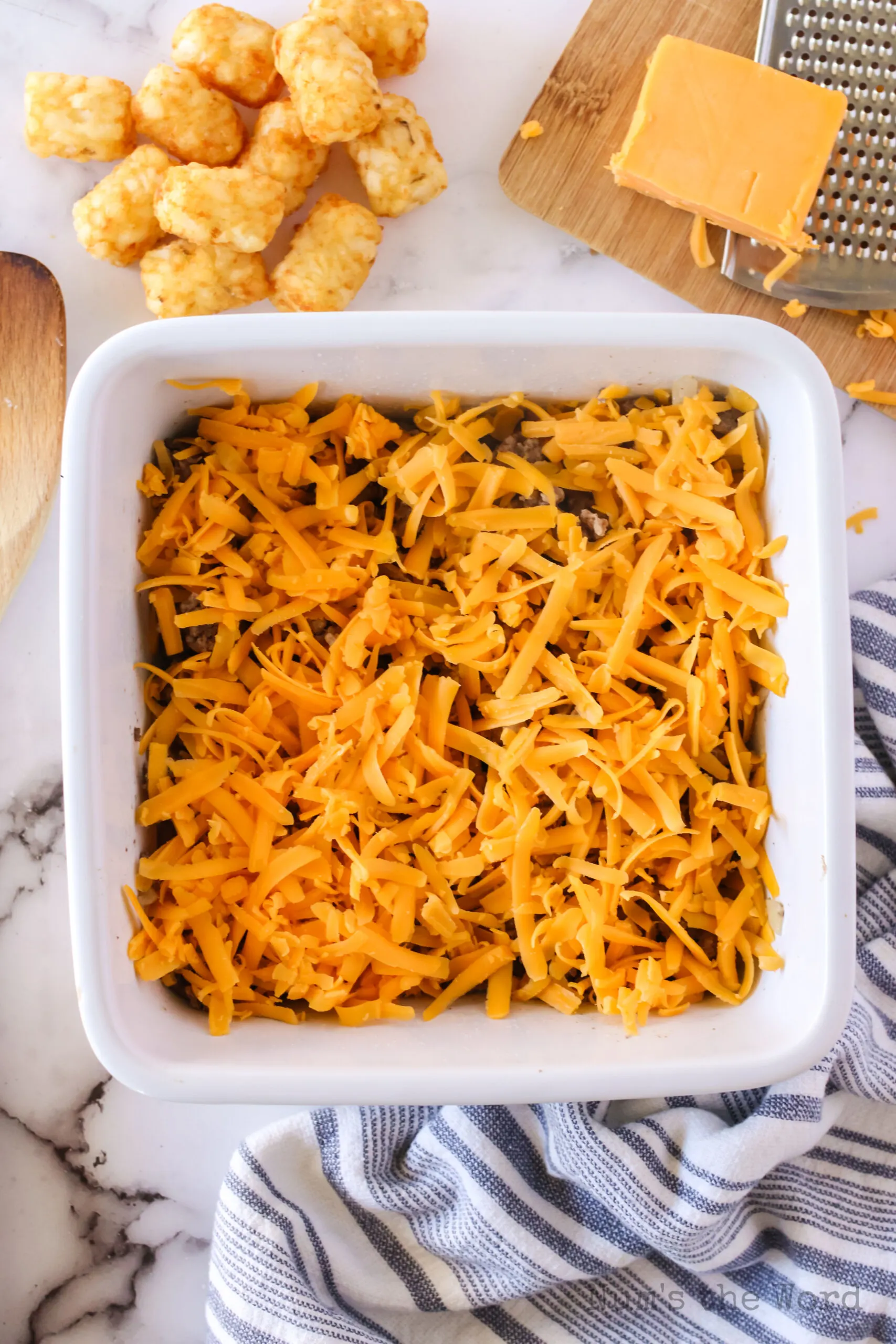 How to Make Tater Tot Casserole
This easy 123 hot dish recipe takes a few minutes of prep and is a great recipe for busy weeknights.
Cook: You'll need to brown ground beef and onion before putting them into the casserole.
Layer: Layer everything in the baking dish and bake it in the oven! So simple!
Enjoy! Your delicious dinner can be served right away!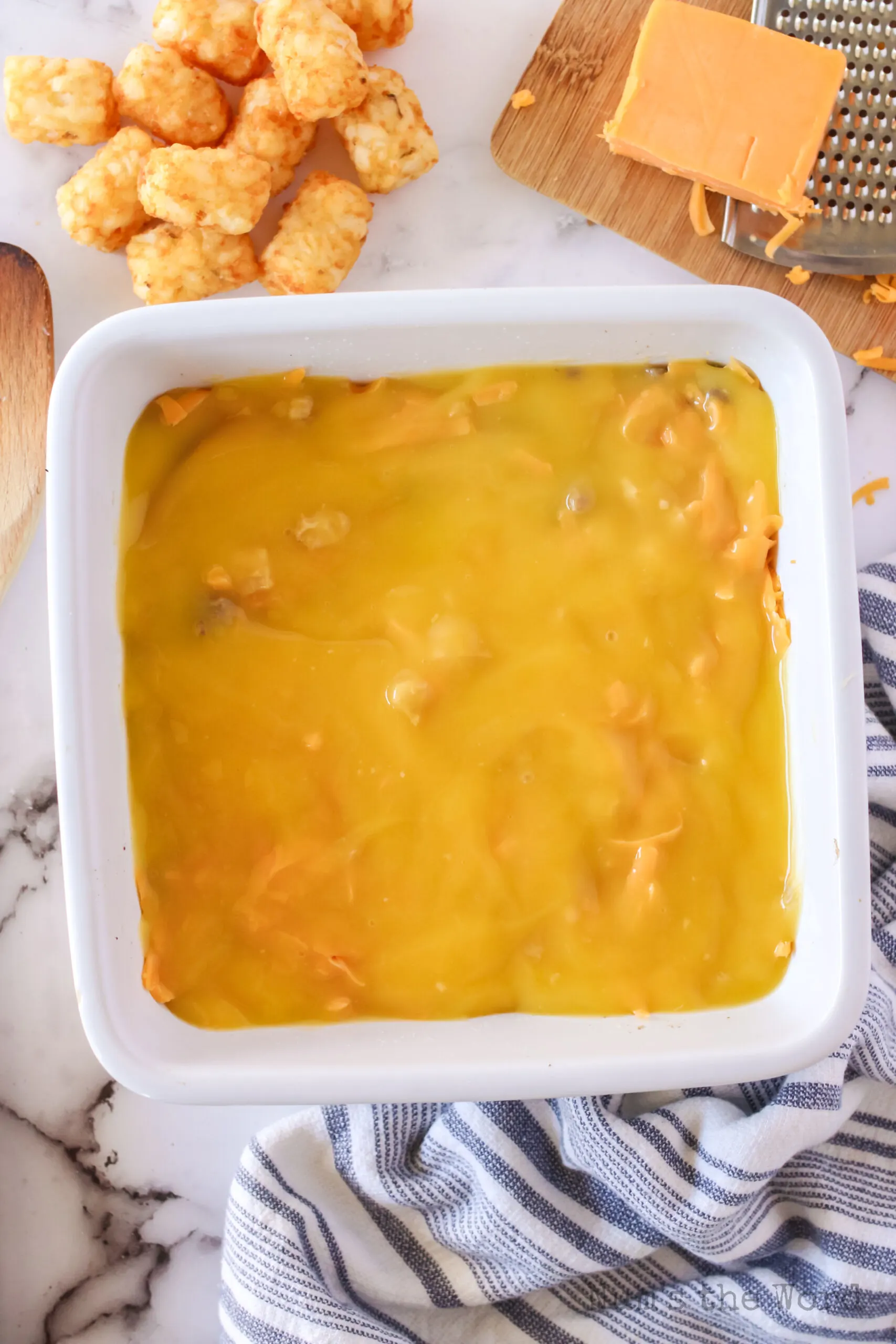 What Goes With Tater Tot Casserole?
Cheesy tater tot casserole has got you covered in the protein and carbs department thanks to the meat and potatoes.
If you choose to serve simple side dishes with your delicious kid friendly casserole, make it something light. Here are some great ideas: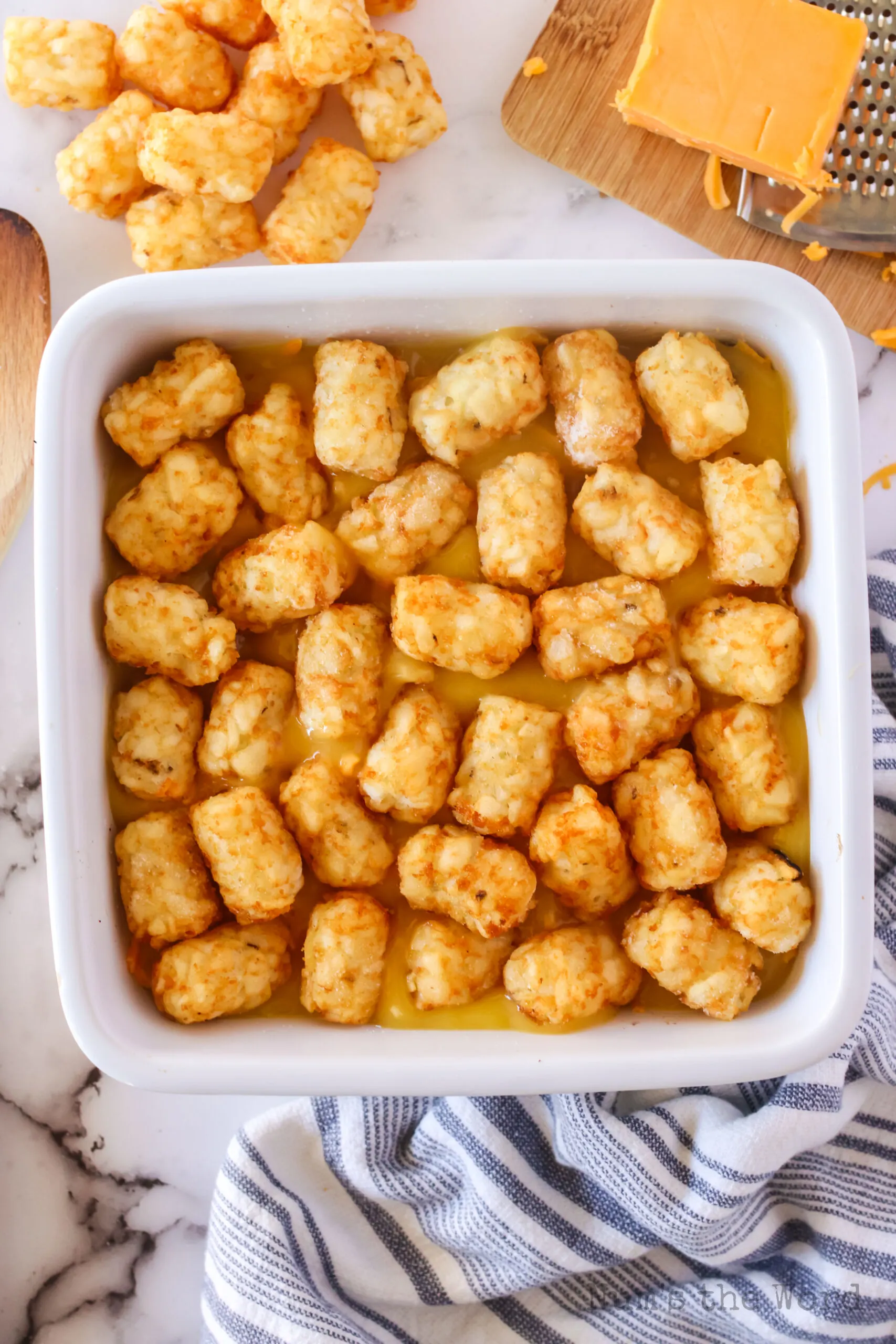 Can You Freeze Tater Tot Hot Dish?
Yes! Cheesy tater tot casserole is a favorite recipe for freezer meals! It's the perfect comfort food and can even be pulled out for an easy weekend breakfast!
It's best to freeze the easy casserole recipe before baking. Then you have your meal ready to go whenever you need it.
Completely assemble the casserole as directed. Before placing in the oven, cover with plastic wrap and then aluminum foil.
When you're ready to bake it, remove the plastic wrap and then place the aluminum foil back on before baking.
You can freeze the casserole in a regular 9×13 pan or you can use a disposable aluminum pan.
Do You Cover Tater Tots Casserole With Foil When Baking?
Yes! The 123 casserole needs to be covered with non-stick foil to prevent the top of the tots from burning.
You'll remove the aluminum foil for the last little bit of cooking time to let the tater tots get crispy and turn golden brown.
This cooks the whole casserole but doesn't burn it.
Can You Make Tater Tot Casserole Ahead of Time?
This cheesy casserole can easily be assembled before you need it.
Create the whole dish, wrap with aluminum foil, and place it in the fridge.
The next day (it's best if you bake it within 24 hours of assembly) bake according to directions.
Store leftovers in an airtight container in the fridge.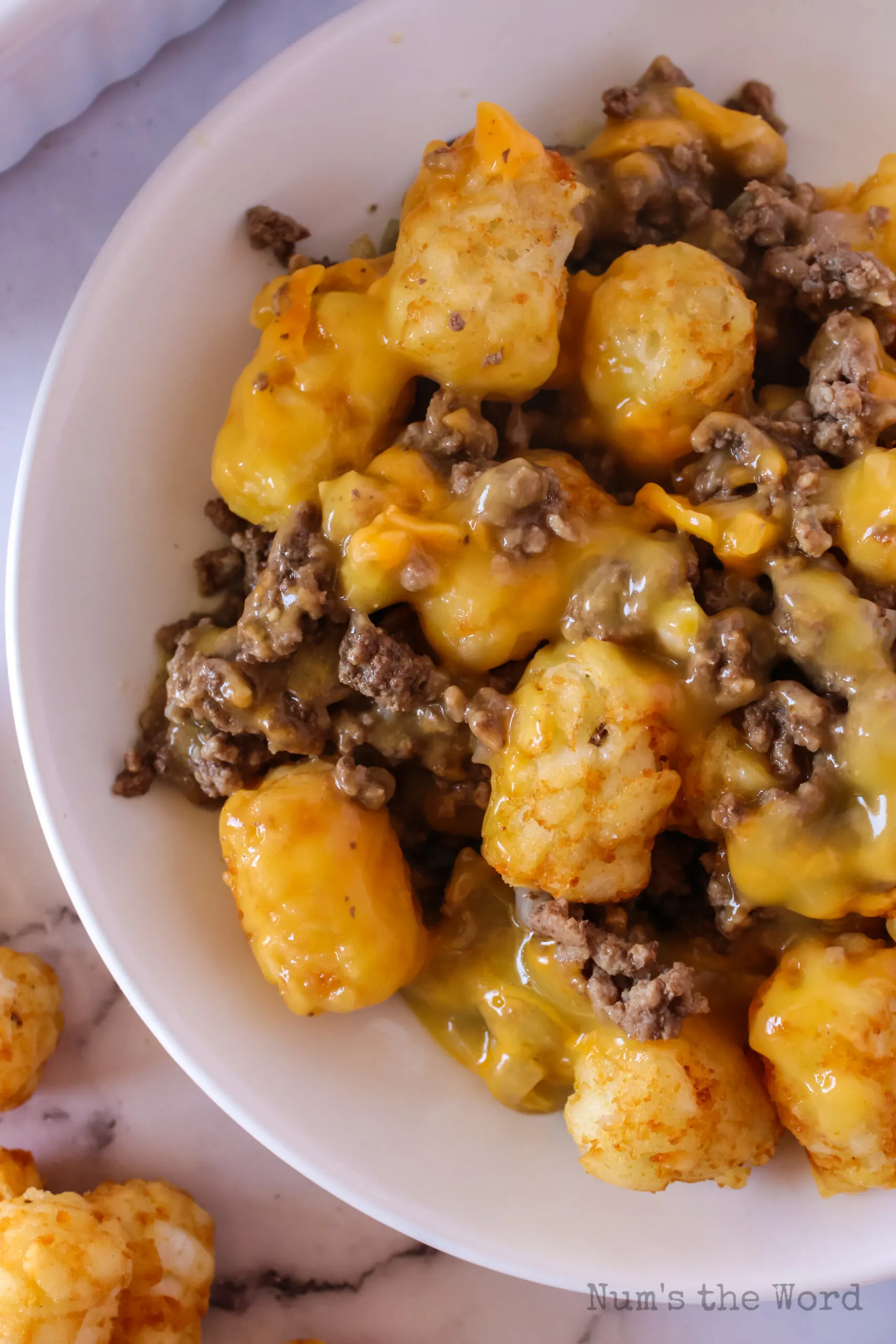 How to Reheat Tater Tot Casserole
If you're reheating a small amount of leftover tater tot casserole, go ahead and reheat it in the microwave.
Be sure to use a microwave safe bowl or plate.
For large amounts of this cheesy tater tot casserole, place the entire casserole dish into a preheated oven.
Then simply heat the casserole until warmed through.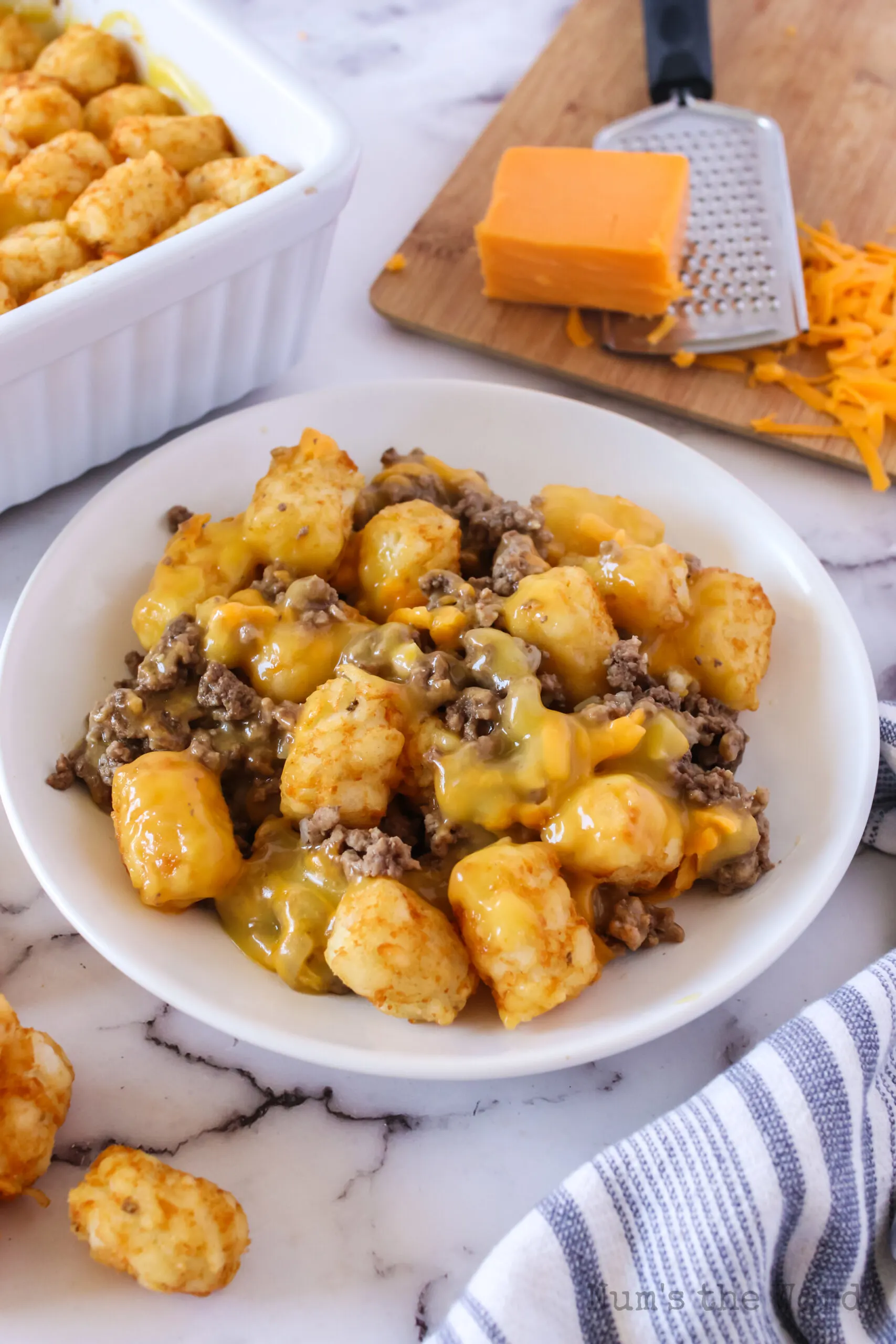 Cheesy Tater Tot Casserole is so simple and easy. It's kid friendly, feeds a crowd, and only takes a few ingredients to make. Enjoy!
Yield: 5 Servings
Cheesy Tater Tot Casserole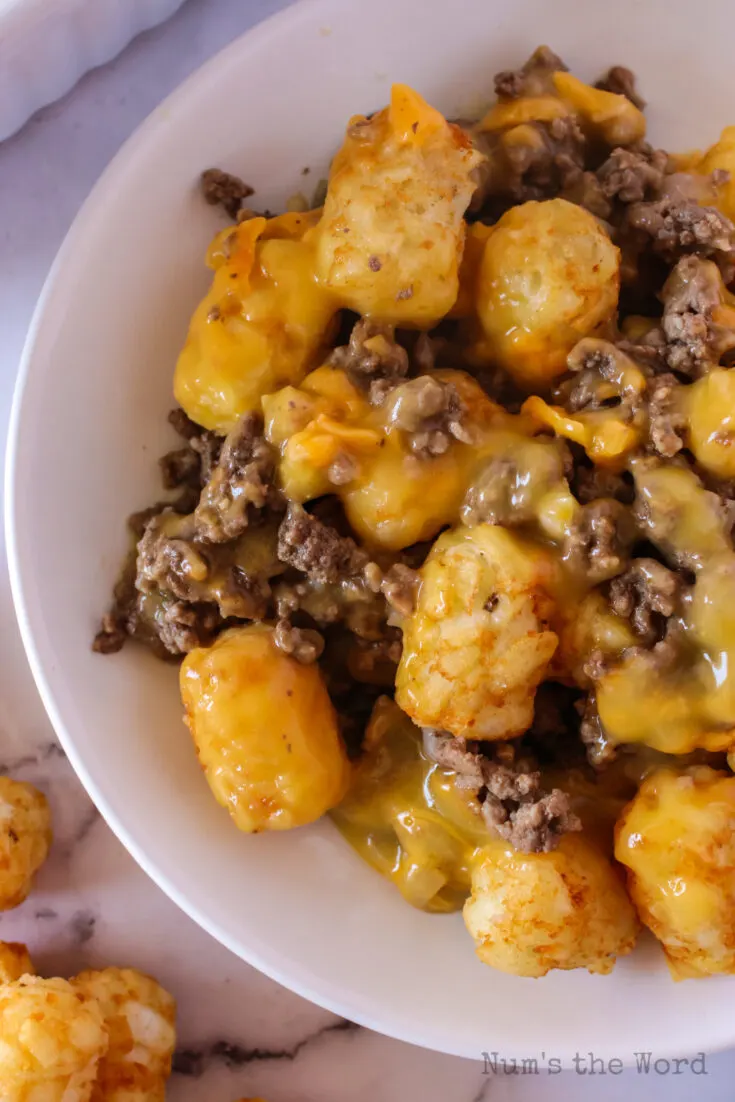 Cheesy Tater Tot Casserole is the easiest dinner you'll make this week! It's fast, full of delicious food, and only needs a few simple ingredients!
Instructions
Preheat oven to 350*F
Cook ground beef and onion until meat is browned and onion is soft and translucent.
In a 9x9 casserole dish, place ground beef and onion on bottom of dish.
Gently sprinkle 1/2 teaspoon season salt over the top of beef.
Sprinkle all of cheese on top of beef mixture.
Spread cream of chicken soup over top of ground beef.
Top with tater tots and sprinkle with remaining season salt.
Cover with foil and bake for 20 minutes.
Remove foil and bake for an additional 5 minutes.
Serve Immediately
Nutrition Information:
Yield:
5
Serving Size:
1
Amount Per Serving:
Calories:

764
Total Fat:

52g
Saturated Fat:

23g
Trans Fat:

2g
Unsaturated Fat:

22g
Cholesterol:

190mg
Sodium:

1372mg
Carbohydrates:

17g
Fiber:

1g
Sugar:

1g
Protein:

55g
Originally Posted: August 25, 2014
Photos & Text Updated: January 30, 2023