This chicken and biscuit casserole has delicious flavors, simple ingredients, and is a great meal for a busy night because you can make it the night before and cook it the next day.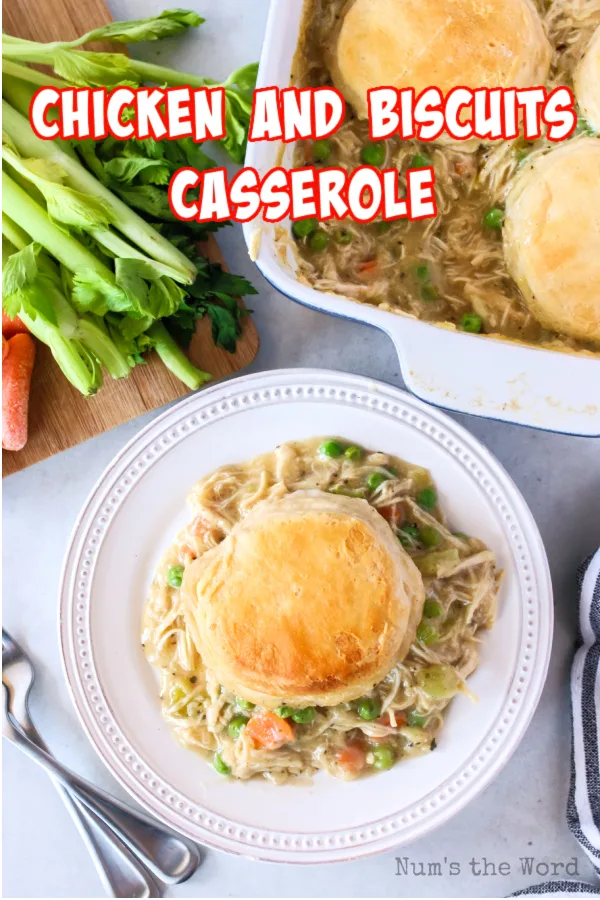 Chicken and biscuit casserole is one of my favorite meals to serve on the dinner table.
It's loaded with vegetables, nutrients, great flavors, and the whole family eats it.
And the best part is, it should really be named easy chicken and biscuits casserole because it is a recipe card that belongs on your easy casseroles list.
But with this classic recipe, you can get a perfectly creamy dish without using the heavy cream or cream of chicken soup that was in grandma's creamy chicken biscuit bake.
The secret is taking your time to add the chicken broth to the veggies as you let it simmer to get thick. That makes it a creamy chicken biscuits and gravy casserole without actually adding cream.
The broth will take on the ingredient flavors of the vegetables and the butter you cooked them in and spread it through the whole dish, making this one of those delicious recipes you love to eat again and again.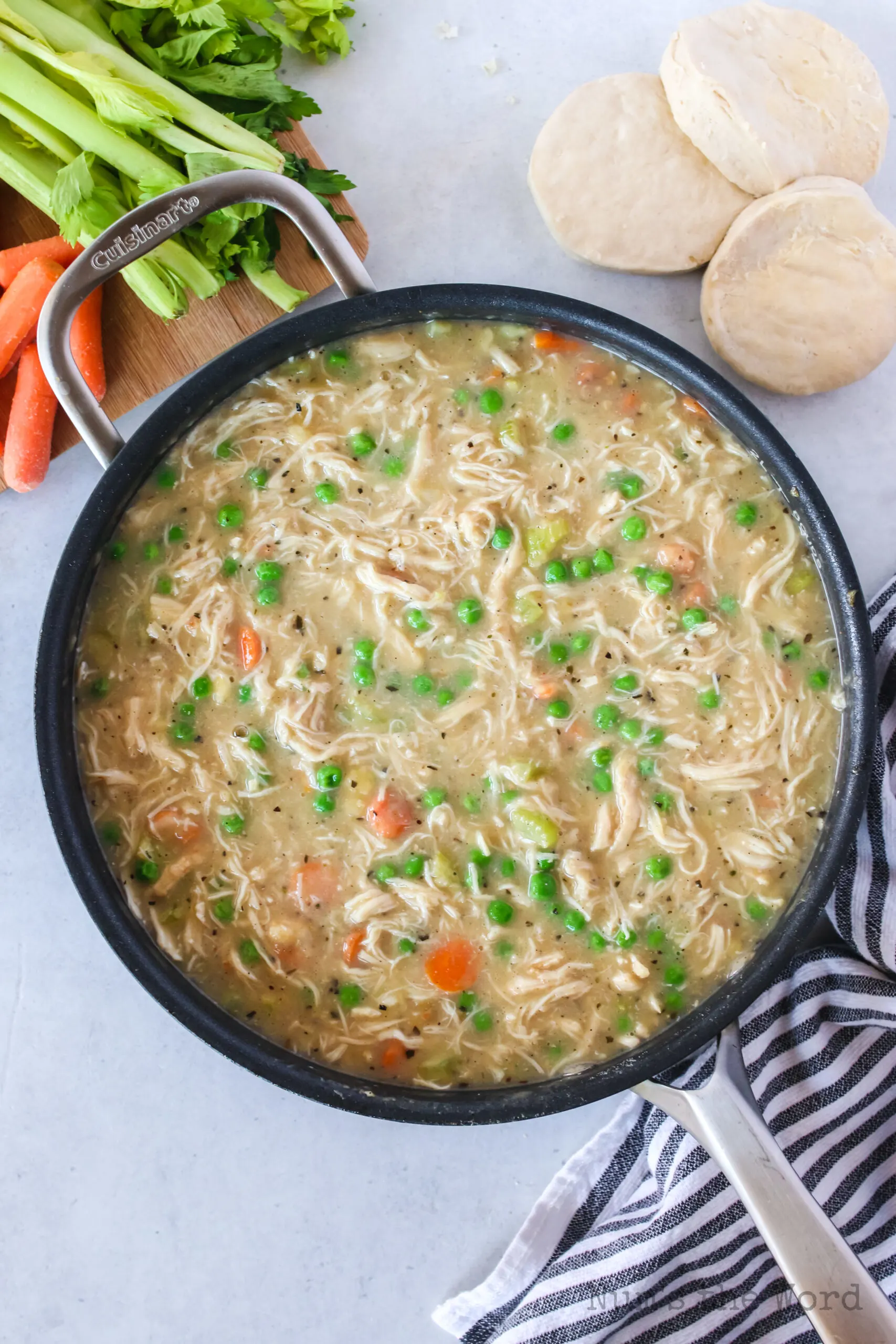 What ingredients are in chicken and biscuit casserole?
Butter: you will cook all the vegetables in butter which is a classic step in all comfort food recipes
Garlic Cloves: you want these minced so either use store bought fresh minced garlic in the produce section or peel and mince your own
Onion: these take on the flavor of the butter and spread it to the other ingredients which makes onions a great way to get more flavor through your dish
Baby Carrots: cut these into coins so they are bite sized like in chicken pot pie
Celery: chopped into small pieces this will disappear into the creamy sauce so you don't get a strong celery flavor, just a nice balanced dish.
All-Purpose Flour: this thickens the sauce making it a creamy gravy instead of a runny chicken soup
White Sugar: this adds a quiet sweetness to each bite
Salt: this makes everything else taste better; you will miss it if you leave it out
Dried Basil: I love seasoning my chicken with basil because it adds a hint of sweetness to the dish
Ground Black Pepper: this classic spice helps your body absorb the nutrients in all the other ingredients as you eat
Chicken Broth: chicken stock is the ingredient in the casserole dish that gives you a perfectly flavored sauce
Cooked Chicken: you want smaller pieces of chicken so everything is bite sized
Frozen Peas: this adds a great flavor and texture to the filling of the hot chicken mixture
Pillsbury Biscuits: any flavor you like works great; just be sure to get an 8 count package so you don't have extra biscuits you didn't use
Pro Tip: You can make your own chicken, but I like using a store-bought rotisserie chicken to make this dish even easier. Just save the shredded or chopped chicken so you can use it in this dish.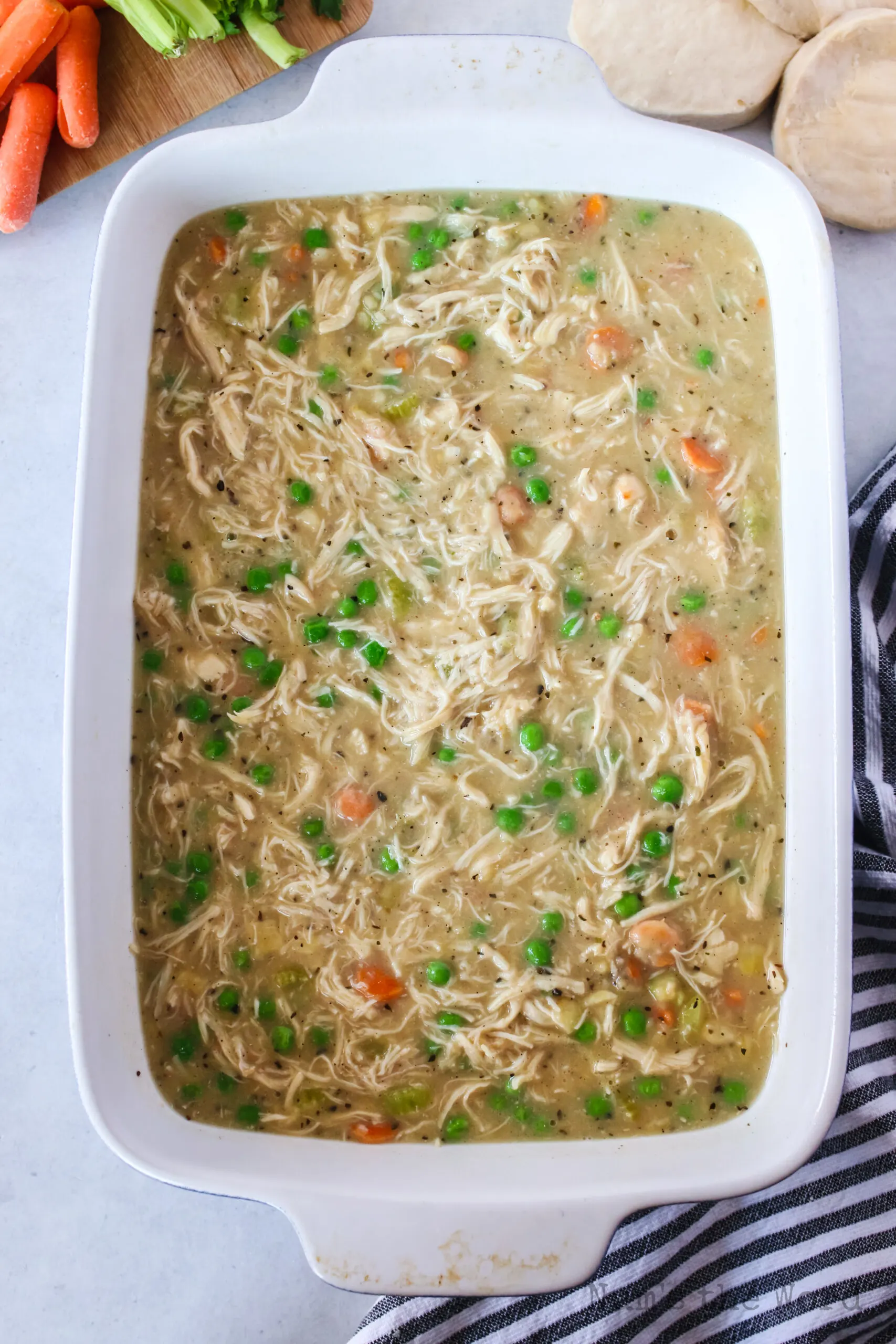 How to make chicken and biscuits casserole:
Melt butter over medium heat.
Add garlic and vegetables to the melted butter and cook until soft.
Next add flour to mixed vegetables and stir well.
Add seasonings and mix well.
Slowly add chicken broth, stirring between each cup.
Add chicken and peas and mix well.
Transfer chicken filling mixture to a prepared baking dish and place uncooked biscuit dough circles on top of the chicken mixture in two rows of four.
Bake in a preheated oven; lay aluminum foil on top of the casserole during the last 10 minutes of cooking.
Remove and serve immediately.
What to serve with chicken and biscuit casserole:
Salads: a simple green salad, fruit salad, or even a jello salad are all great sides to this casserole
Simple Vegetable Sides: green beans, carrots, asparagus, or squash go great next to this chicken dish
Dips and Spreads: a simple cream cheese dip, fruit salsa, or fluff is a nice appetizer or side to this dish
Drinks: my kids love when it's just this casserole and any drink more than just water; go crazy add some lemons to your water or even make lemonade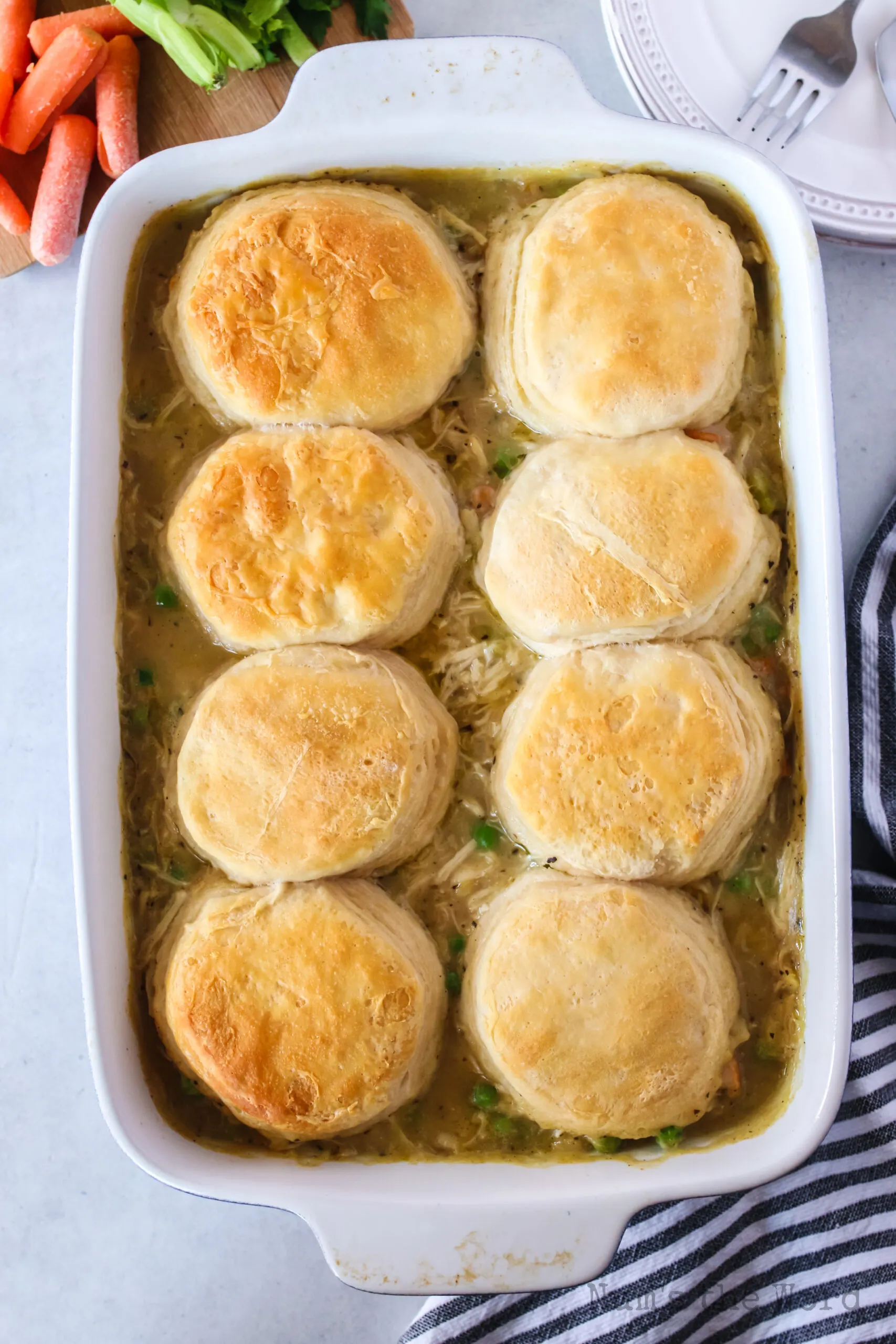 What is the best brand of biscuits to use for chicken and biscuit casserole?
The best brand of biscuits to use for chicken and biscuit casserole is Pillsbury biscuits.
They have something in their biscuits recipe that just tastes better than the grocery store brand.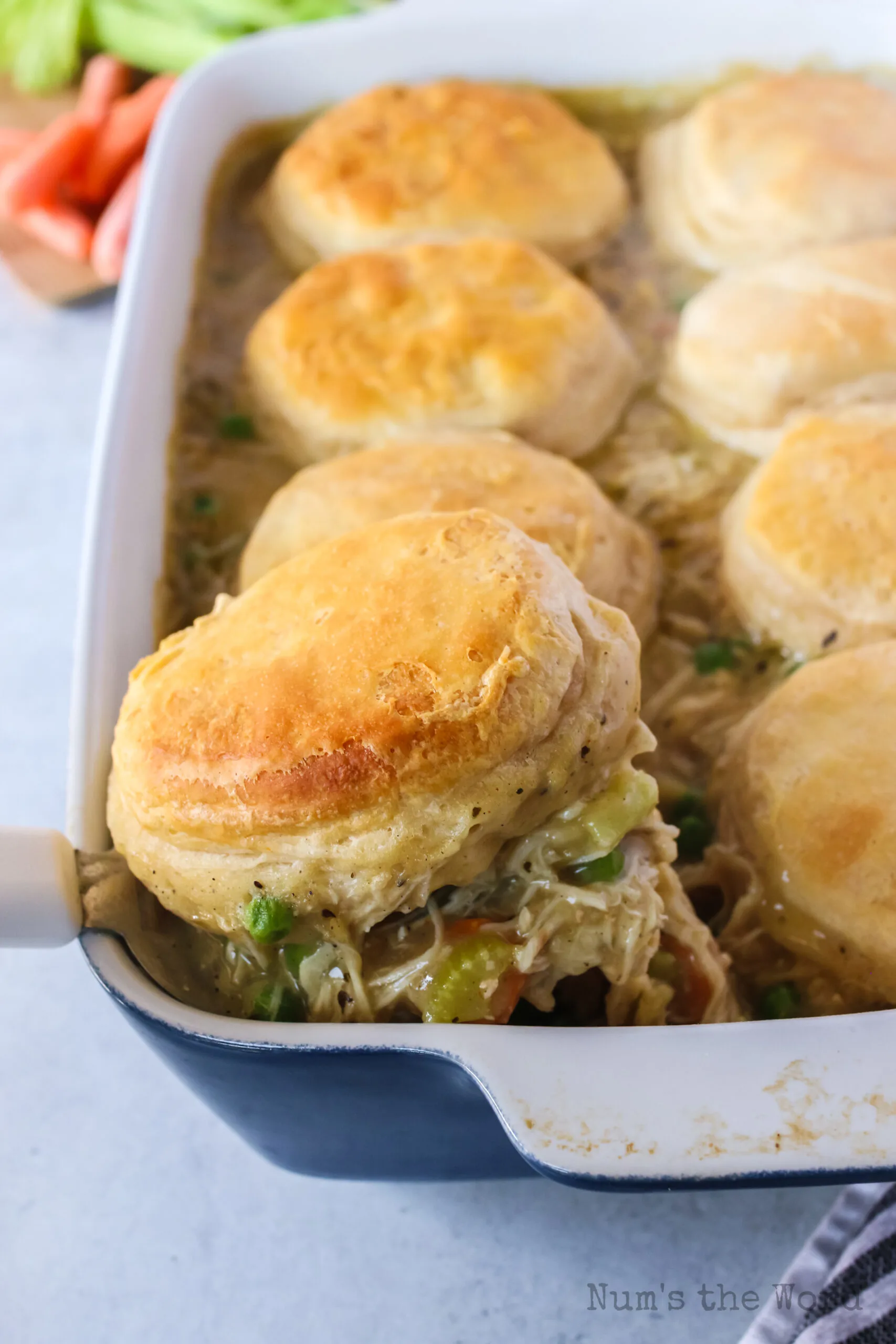 Can you freeze chicken and biscuit casserole?
Yes you can freeze chicken and biscuit casserole! This is one of the easiest dishes to freeze because you can do it so many different ways.
You can just make the filling and let it cool and freeze just the filling. When you are ready to cook, let the filling thaw in the fridge overnight, pour into the prepared casserole dish, add the raw biscuits, and cook as directed.
Freezing the cooked biscuits never gives quite the same results. So I recommend the above for best freezing instructions.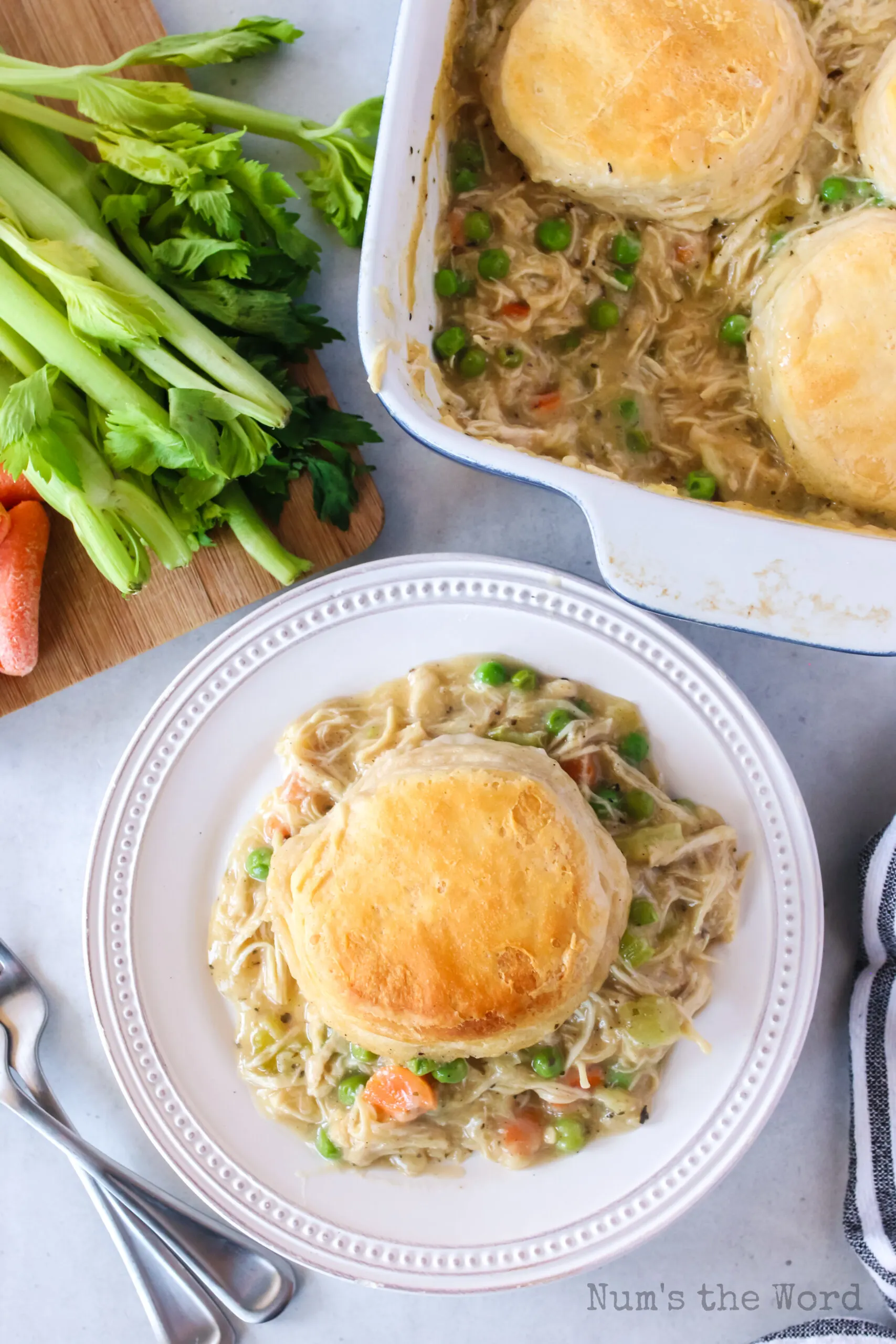 How to store leftover chicken and biscuit casserole:
Store leftover creamed chicken and biscuit casserole in the fridge in an airtight container for up to one week. Or you can freeze it and save it for another day.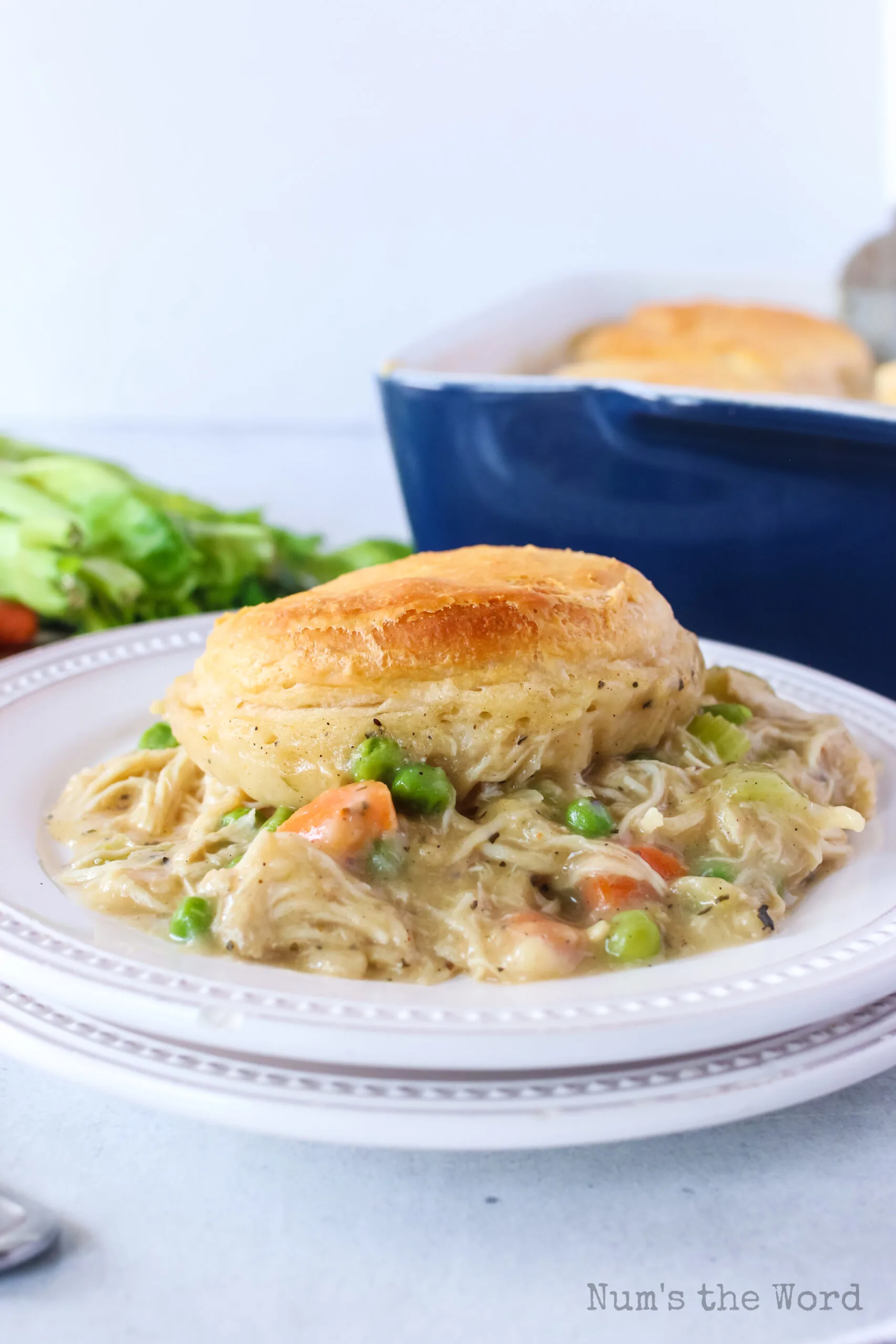 You will love this easy chicken and biscuit casserole; it's a great recipe and a hearty meal that everyone loves.
Yield: 8 Servings
Chicken and Biscuits Casserole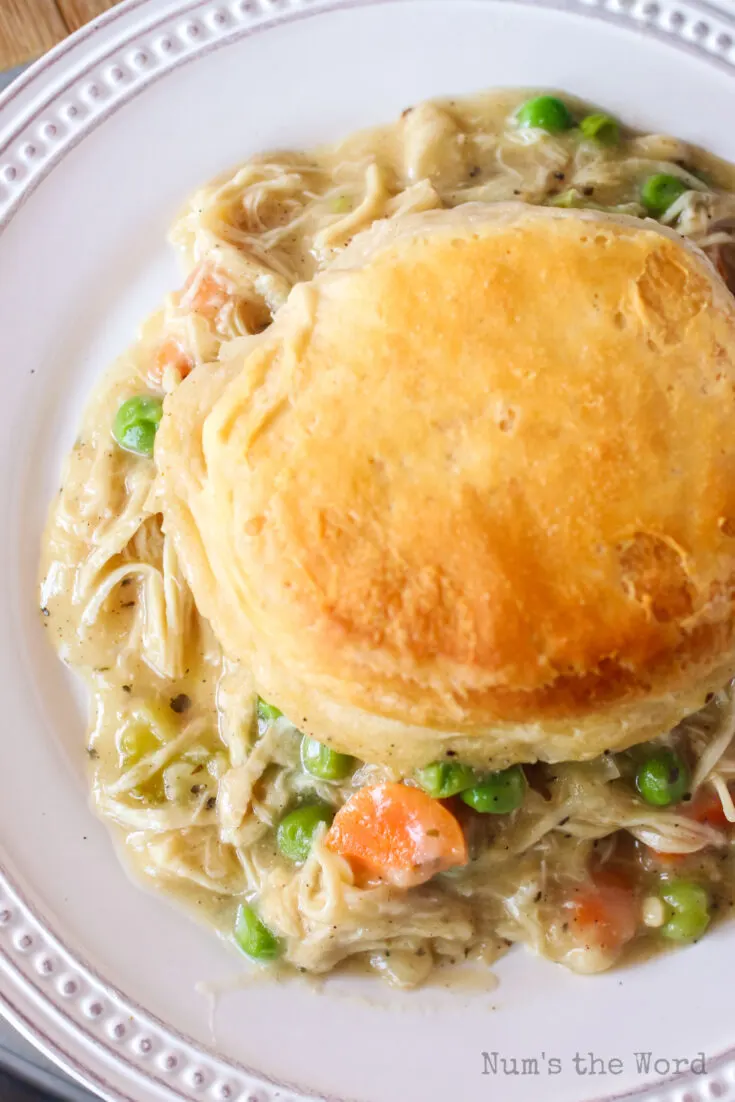 This chicken and biscuit casserole has delicious flavors, simple ingredients, and is a great meal for a busy night because you can make it the night before and cook it the next day.
Total Time
1 hour
10 minutes
Instructions
Preheat oven to 350*F
Prepare a 9x13 casserole dish with cooking spray and set aside.
In a large skillet, melt the butter over medium heat.
Add the garlic, onion, celery and carrots and cook until onion is translucent and vegetables are soft - about 10 minutes.
Add flour and mix well.
Mixture will be very thick.
Add sugar, salt, dried basil, and black pepper. Mix well.
Slowly add chicken broth 1 cup at a time, mixing well after each addition until all 4 cups have been added. Mixture will be thick and slowly thin out.
Add chicken and peas. Mix well.
Gently transfer mixture into a casserole dish.
Open biscuits and place all 8 on top of the casserole in two rows of 4.
Bake in the oven for 20 minutes.
Cover casserole with foil - no need to crimp edges - just lay on topBake for 10 more minutes.
Remove from the oven and serve immediately.
Nutrition Information:
Yield:
8
Serving Size:
1
Amount Per Serving:
Calories:

293
Total Fat:

16g
Saturated Fat:

6g
Trans Fat:

0g
Unsaturated Fat:

8g
Cholesterol:

81mg
Sodium:

892mg
Carbohydrates:

17g
Fiber:

2g
Sugar:

4g
Protein:

20g