Homemade Chicken Noodle Soup is one of the best soups on the planet! It's a down home comfort can't be beat and on a sick day is just what your body needs!
Chicken with veggies in a delicious broth and cooked with perfectly done egg noodles. It's like eating at grandma's house all over again!
I love this chicken noodle soup recipe because it's quick to make. You can have it on the table in 30 minutes! That's my kind of meal.
This easy chicken noodle soup recipe is also super flexible. Want to swap a veggie? Leave out a seasoning? Add more salt? Totally doable.
And this homemade chicken noodle soup recipe is made with simple ingredients that you've probably already got on hand!
I don't mind telling you that this is the BEST chicken noodle soup recipe. You're going to absolutely love it.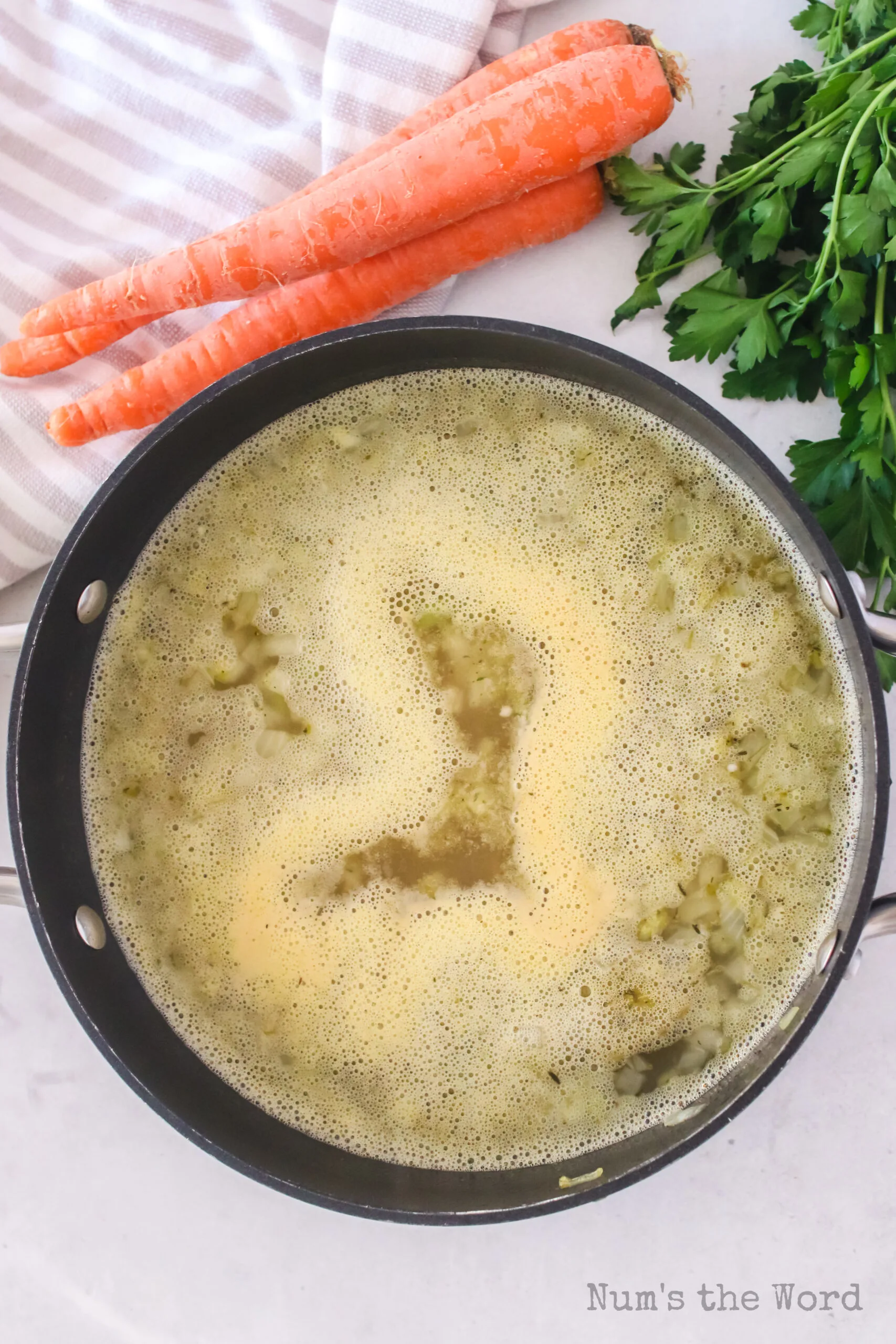 Chicken Noodle Soup Ingredients
This classic chicken noodle soup is an easy recipe that the whole family can enjoy!
Olive Oil: For sauteing the vegetables though you could swap with another cooking oil if preferred.
Onion: White onion or yellow onion. Either will work.
Celery: Be sure to dice the celery into bite-sized pieces.
Carrots: Go traditional and slice the carrots into beautiful rounds.
Garlic: Not only is it packed with flavor but it's good for you too. Mince small.
Chicken Broth: Use homemade stock or store bought chicken broth. Your choice.
Seasonings: Grab out dried thyme, bay leaf, salt, and pepper for your seasonings.
Chicken: Leftover chopped or shredded chicken works best. Use a rotisserie chicken for ease and convenience.
Egg Noodles: Curly egg noodles are a classic. But any type of noodle you want to throw in will work!
Fresh Parsley: Add in freshly chopped parsley for a beautiful garnish.
Pro Tips:
If you don't have garlic cloves use garlic paste instead.
Hold off on adding salt until you've tasted the soup. Chicken broth and the chicken may be salty enough already.
If you're making this around the holidays, you can swap leftover turkey for the chicken.
If you don't have leftover chicken you can cook a whole chicken, chicken thighs, or even chicken breasts.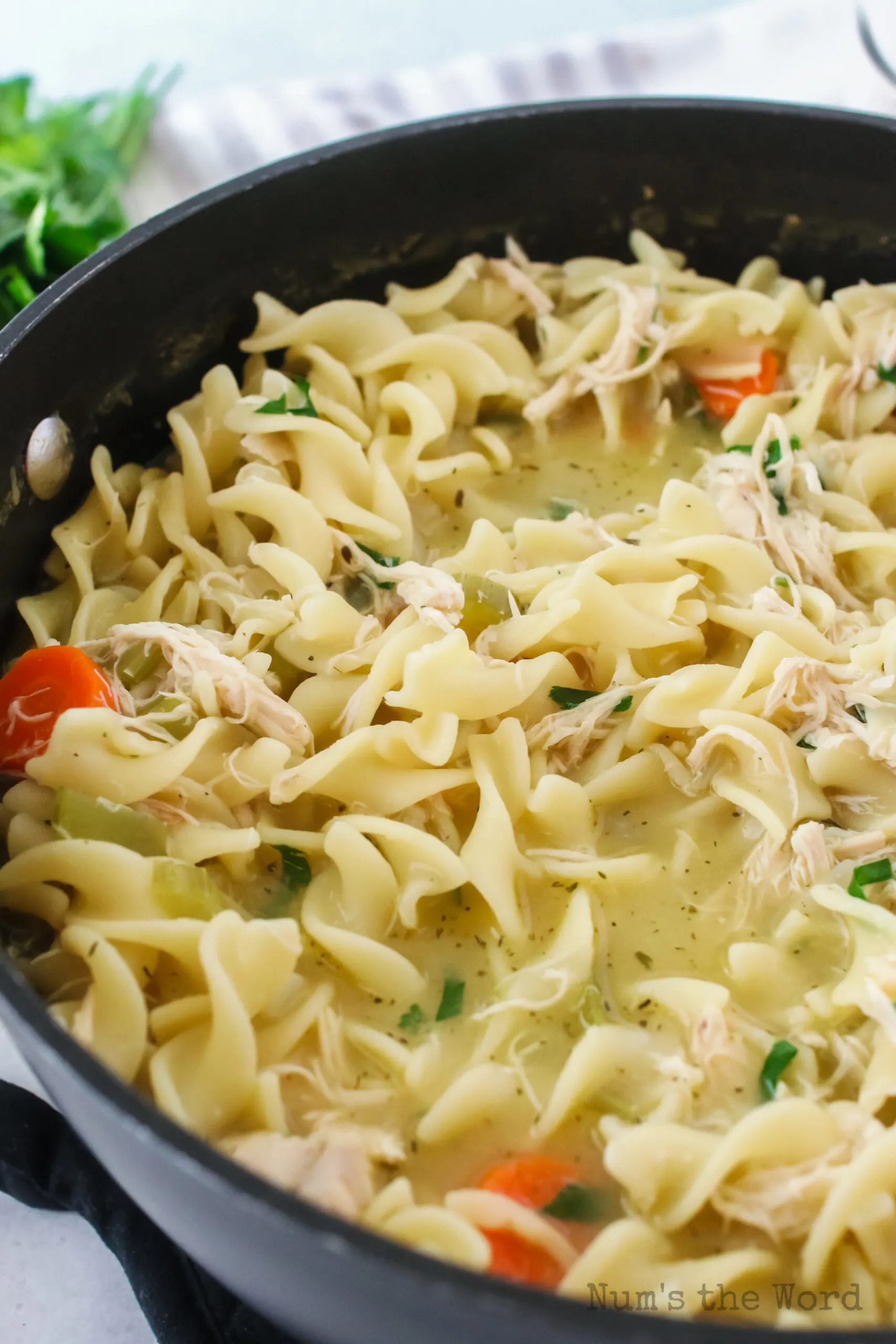 How to Make Homemade Chicken Noodle Soup
This is the best homemade chicken noodle soup and the ultimate comfort food. Here's how to make it.
Saute Veggies: Cook the onion, celery, and carrots until they've begun to soften. Then add the garlic.
Meld Flavors: Let your vegetable mix, bone broth, and seasonings blend flavors.
Cook Noodles: Toss in the meat and noodles and cook until done.
Serve: Toss on the garnish and serve immediately!
Pro Tips:
Cook egg noodles until al dente as they'll continue to soften slightly off the heat.
If bay leaves are floating, remove at the end.
Use a large stockpot to make sure the entire easy chicken soup will fit.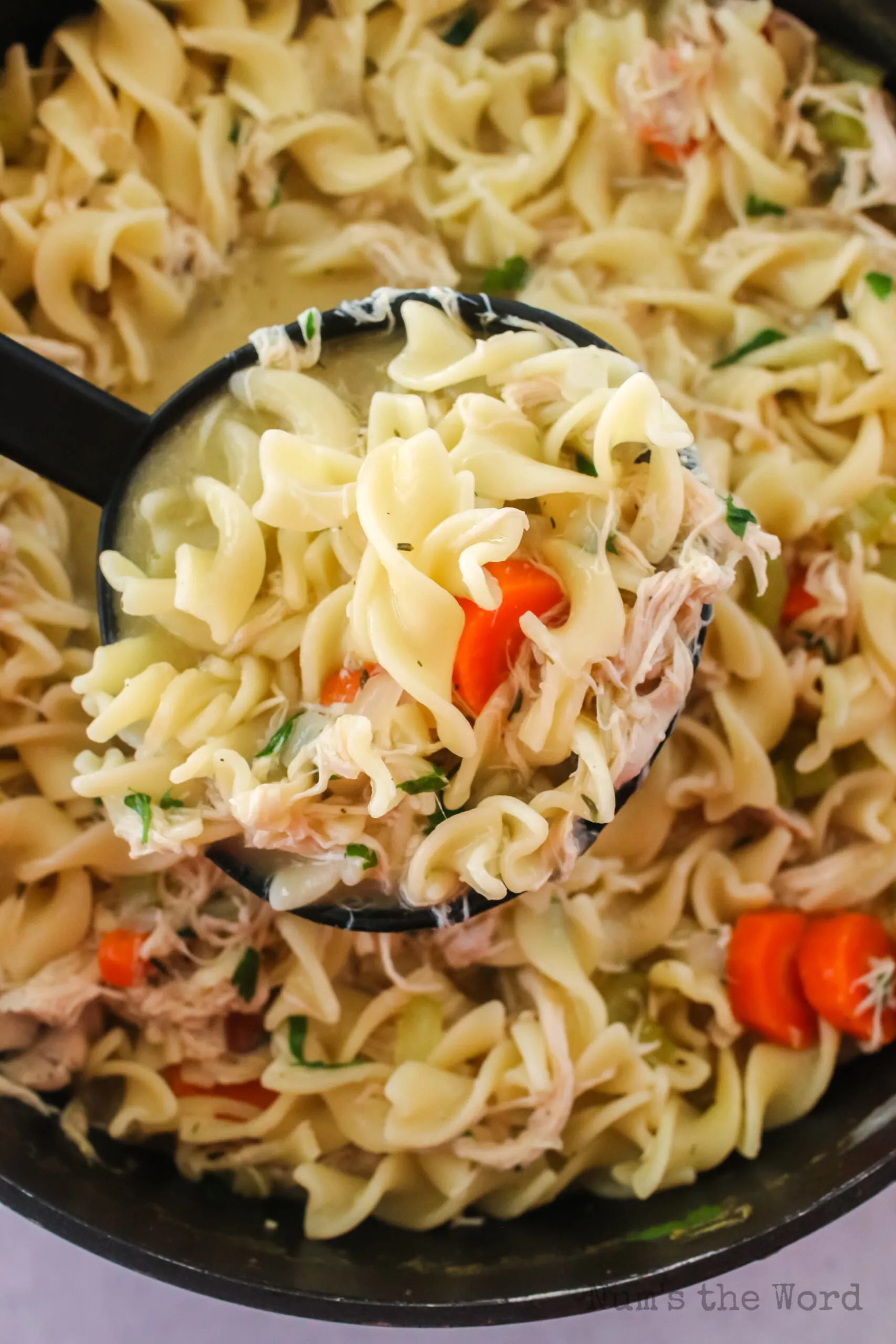 Is Chicken Noodle Soup Healthy?
There's a reason when you're sick, you crave a steaming hot bowl of chicken noodle soup!
Not only is chicken noodle soup delicious, but it's healthy too!
But the canned chicken noodle soup you can buy at the grocery store? That's a big thumbs down!
In order to get the real health benefits, make homemade chicken noodle soup whenever possible.
Loaded with vitamins and minerals, vegetables, and protein that your body really needs, it's perfect for stocking up on during the winter.
For extra healthy benefits be sure to pick a bone broth that is full of flavor and packed with nutrition.
Or make your own homemade chicken stock and then you'll know exactly what when in your homemade broth.
Which is a great thing to know!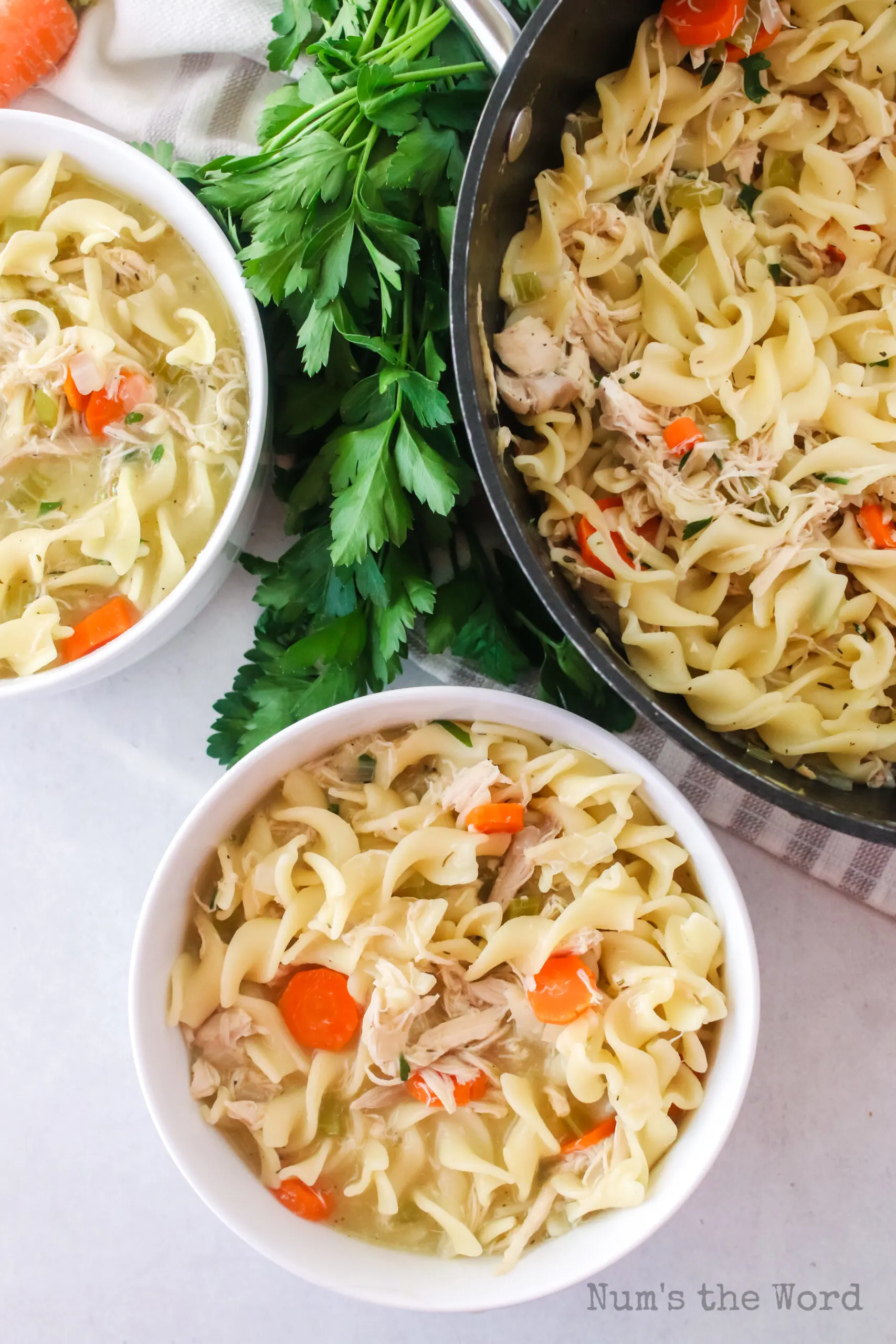 Can You Freeze Chicken Noodle Soup
Definitely! No better way to make sure you've always got chicken noodle on hand during flu season and cold weather than by freezing it for later!
However, the noodles will continue to soak up broth so there are two different ways to handle this.
First, make the chicken noodle soup as is, and when you thaw and reheat it, add some extra broth to help thin it out.
Second, leave the noodles out. Then freeze the rest of the soup and add in the noodles for that 10 minute cook time when reheating.
Frozen chicken noodles soup will stay good in the freezer for up to three months.
Pro Tip:
Always wait for the soup to come to room temperature before transferring.
Use a freezer safe bag or airtight container to keep your soup fresh longer.
Write "Chicken Noodle Soup" and the day you cooked it on your container so it doesn't get lost in the freezer.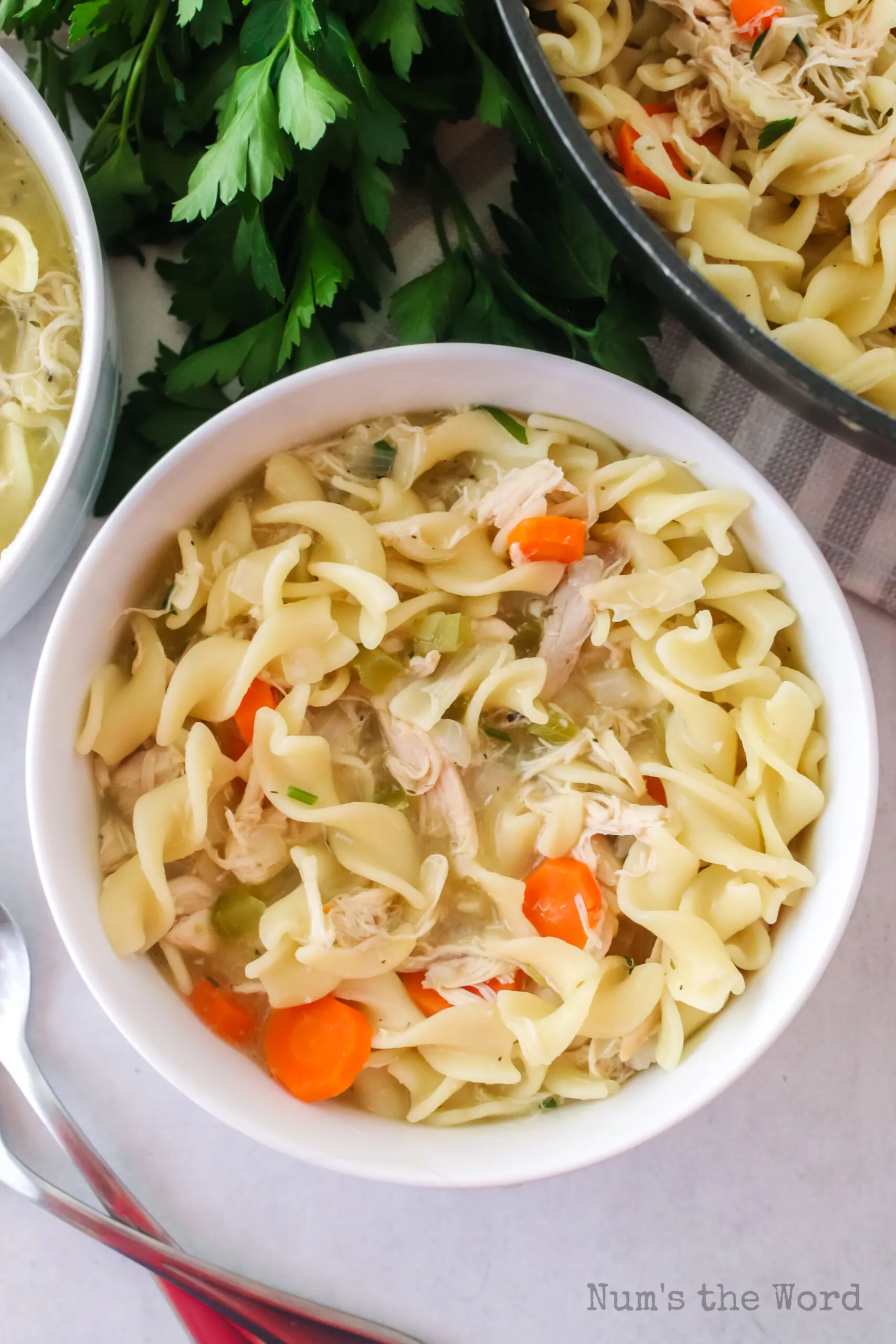 What Goes with Chicken Noodle Soup?
I'm a big fan of making this soup to pass out to the neighbors during the winter months.
I always bring along a loaf of crusty bread. It's a complete meal! Here's some other good side dish ideas: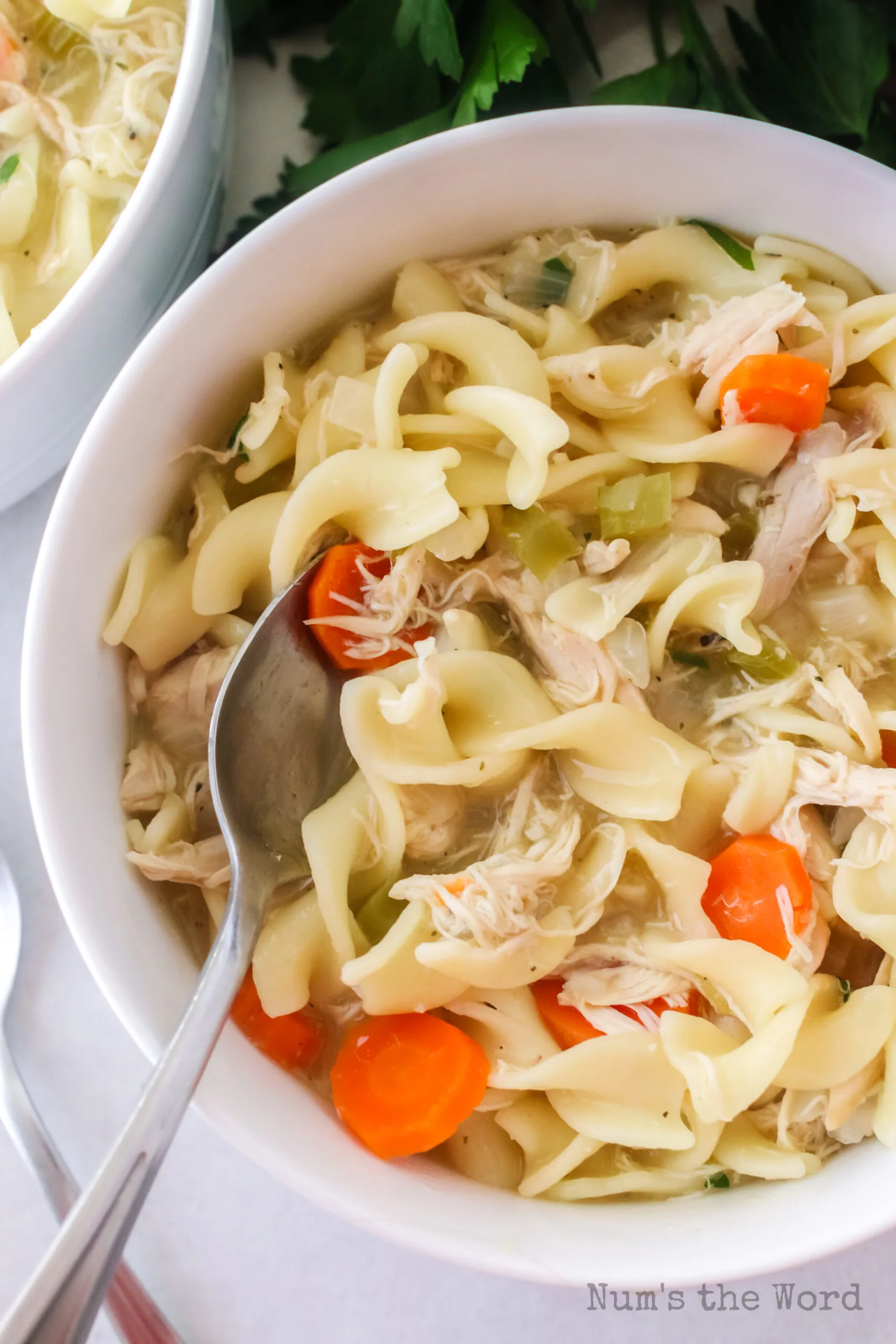 Can Dogs Eat Chicken Noodle Soup?
No, you'll want to avoid giving chicken noodle soup to your dog.
While chicken noodle soup is packed with all good and healthy things for you, it's not for your dog.
Dogs can have extreme reactions to onions and garlic. They're toxic in all forms and should be avoided.
Actually most animals have a harder time with onions and garlic. So it's safest to not feed any foods containing those to any animals.
Plain chicken however, before it goes into the soup and gets seasoned can often be shared with dogs and is good for them.
So you can feed them some of those before cooking.
Just before to remove any chicken bones as the small bones can be hard for them to swallow.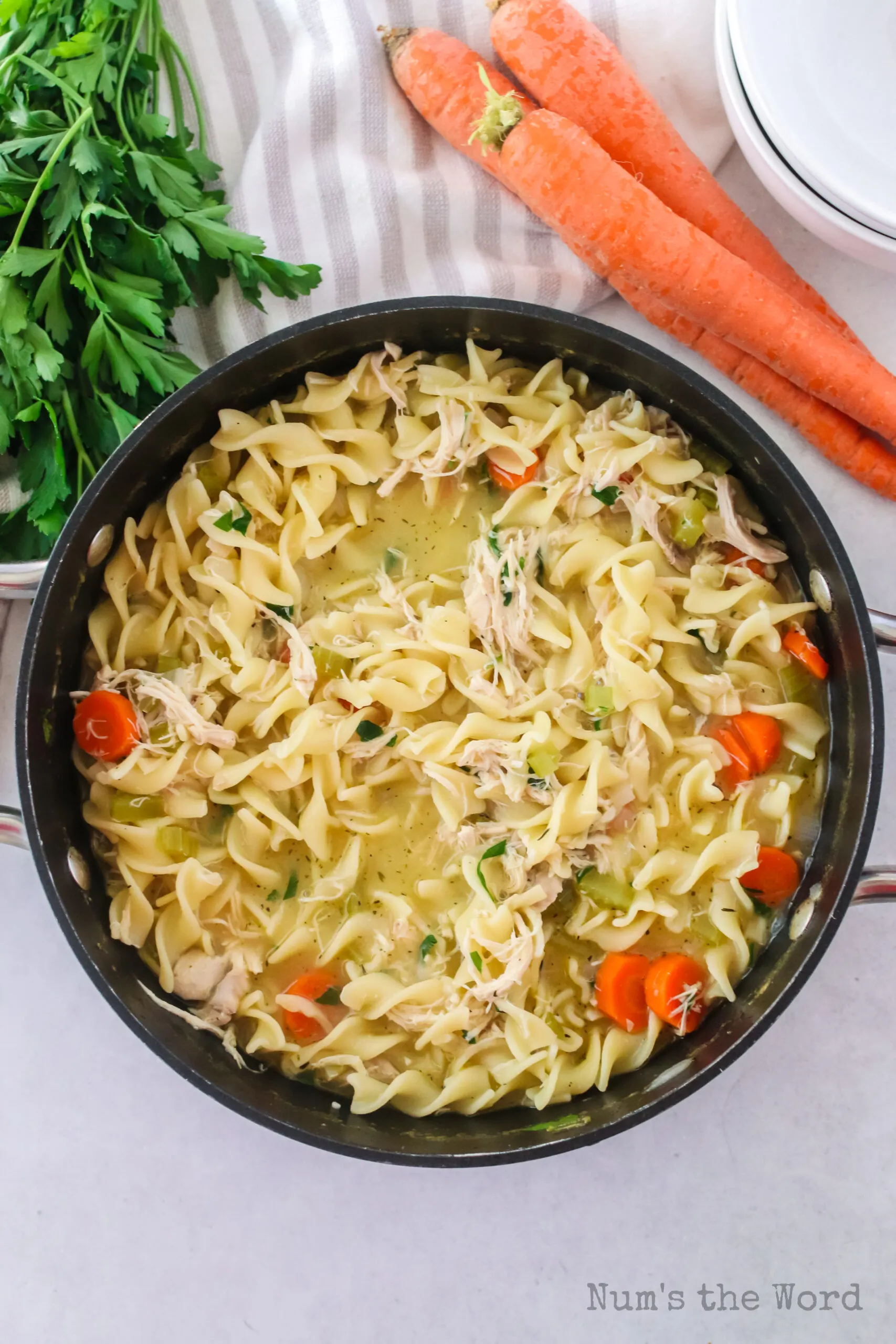 What Goes in Chicken Noodle Soup?
One of the reasons this is my favorite chicken noodle soup recipe is you can change it up in so many ways!
If the seasonings above aren't really your thing or you're just looking for a way to make this recipe your own, try these options.
Remember when you make changes to taste, taste, taste.
I haven't tried all of these options personally so go slowly and taste between any changes.
Squeeze in some lemon juice for extra vitamin c and a lemony flavor.
Add a couple tablespoons of heavy cream or half-and half to make a creamy chicken noodle soup.
Toss in some chopped spinach or kale at the end for extra nutrition and veggies.
Swap the egg noodles for rice, quinoa, potatoes, or tortellini. This will change the cooking time.
Try different seasonings like dried rosemary, dried sage, crushed red pepper flakes (spicy), or dried oregano.
If the chicken flavor isn't strong enough add a bit of chicken bouillon until the depth of flavor is what you want.
During the holidays you can vary the type of noodles to match the holidays. Very kid friendly!
A few dashes of fish sauce will add a very Asian-inspired feel.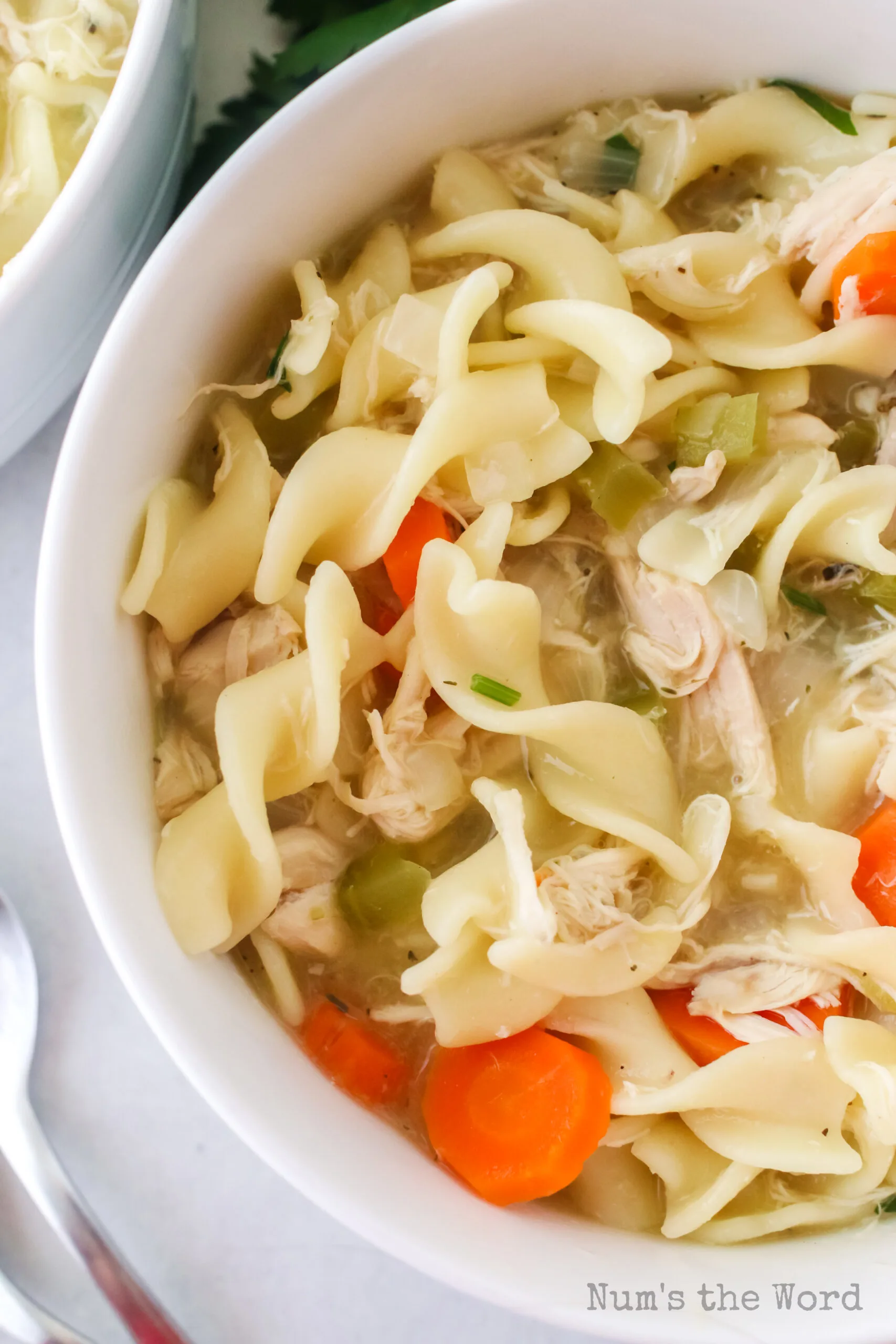 Homemade chicken noodle soup is a healthy and delicious meal that's quick and easy! A family favorite that I'm super happy to share with all of you! Enjoy!
Yield: 8 Bowls
Homemade Chicken Noodle Soup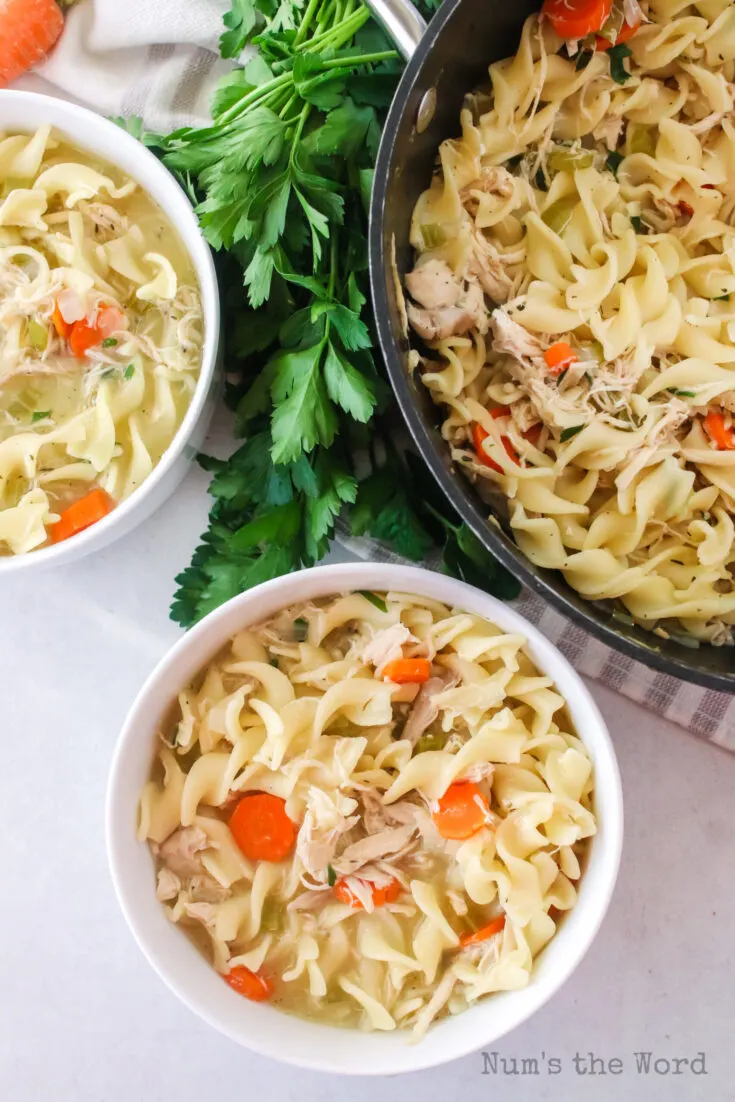 Homemade Chicken Noodle Soup is one of the best soups on the planet! It's a down home comfort can't be beat and on a sick day is just what your body needs!
Ingredients
2 1/2 cups rotisserie chicken, pulled or cut into small pieces
Instructions
Heat olive oil over medium heat in a large soup pot.
add onion, celery and carrots. Cook 5-6 minutes, stirring regularly until onions are cooked through.
Add garlic and cook 1 more minute.
Add chicken broth, thyme, bay leaf, salt and pepper and mix well.
Bring to a boil and cook for 5 minutes.
Add chicken and egg noodles.
Mix well and cook for 10 minutes or until noodles are cooked through.
Serve immediately garnished with fresh parsley.
Nutrition Information:
Yield:
8
Serving Size:
1
Amount Per Serving:
Calories:

560
Total Fat:

31g
Saturated Fat:

8g
Trans Fat:

0g
Unsaturated Fat:

20g
Cholesterol:

227mg
Sodium:

685mg
Carbohydrates:

15g
Fiber:

2g
Sugar:

2g
Protein:

53g