Lentil Salad is taking the world by storm! Yummy, filling, nutritious, and easy meal prep! What more could you ask for in a salad? And it's vegetarian too!
You are going to love the lentils, pomegranate seeds, mint, feta, and tahini! If you're intimidated, don't be! It's so easy to make!
I love that this salad is so nutritious! Fiber? Check! Protein? Check! Vitamins? Check!
I also love that for a salad, it's actually really filling. It's not a weak salad that's gonna leave me hungry 30 minutes later.
It's a break from the regular boring salad. Get ready to add some excitement to your meal prep!
Yeah, it still tastes great on Wednesday, even if I made it the weekend before!
What more can you ask for in a salad?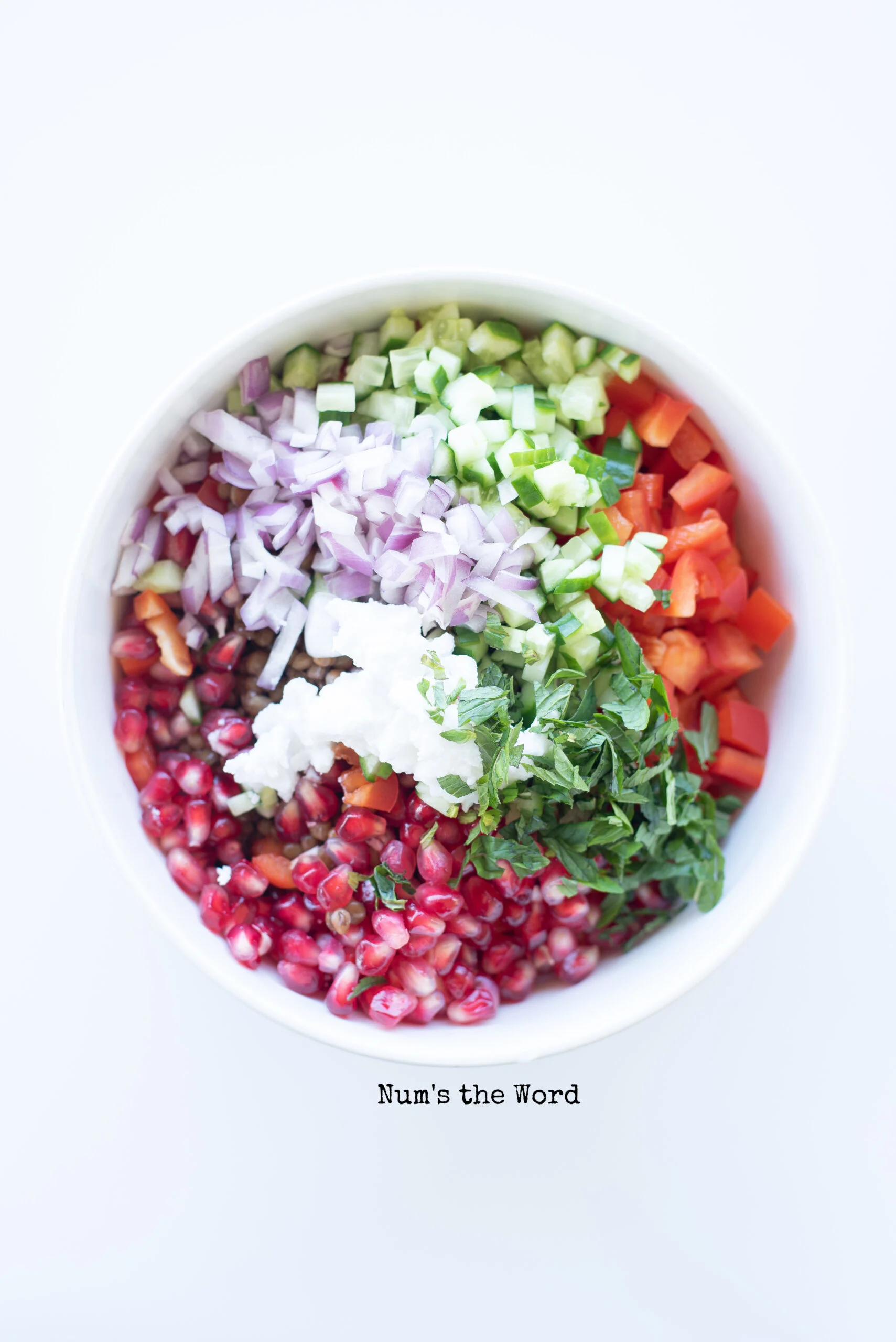 What is In Lentil Salad?
To make a delicious lentil salad, here's what you're going to need:
Lettuce:

Any regular salad or mixed salad greens pack will work.

Lentils:

Packed with iron, fiber, and protein, these lentils have got it all.

Cucumber:

An English cucumber is sweeter than a regular cucumber and tastes great in lentil salad.

Bell Pepper:

I like to use red bell pepper but you could substitute with yellow or orange too.

Pomegranate Seeds:

My mouth waters just thinking of these! Pomegranate seeds are so yummy!

Onion:

A red onion is milder when served raw, which is what you want when serving onion in salad.

Mint Leaves:

Chop these up so you can get that mint flavor spread through the whole salad.

Feta:

You can buy crumbled feta or just crumble it yourself.
And here's what you're going to need for that creamy Tahini Sauce Recipe:
Tahini:

This middle eastern food can be found in most grocery stores.

Lemon Juice:

Fresh squeezed is always best but you can use bottled too.

Honey:

This will give your dressing a perfect sweetness.

Oil:

I use avocado oil but you could substitute with olive oil or a nut oil too.

Water:

Nothing special here! Just some regular tap water will work!

Salt:

You just want salt to taste so use however much you desire.
Pro Tip: If you're in a rush you can use canned lentils. Follow the directions below on how to cook them yourself.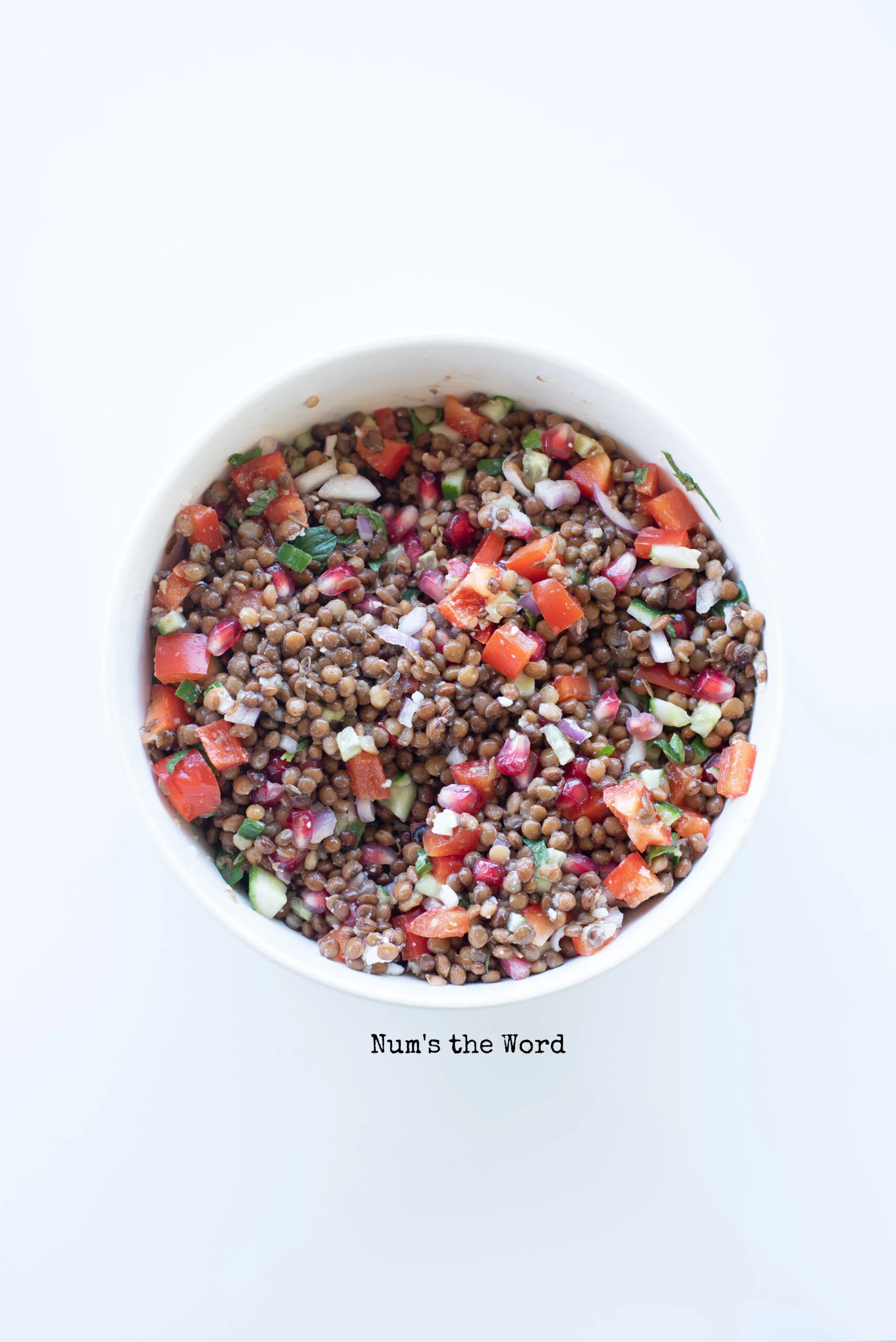 What is Tahini?
It's not peanut butter, it's tahini! Though they do look similar, they don't taste similar.
Tahini is made from ground sesame seeds, oil, and occasionally salt. It's originally from the Middle East and is still quite popular in a lot of Middle Eastern recipes.
You can often find it in hummus or baba ghanoush. Tahini makes a wonderful dressing that's creamy and yummy.
How to Make Lentil Salad
Making lentil salad is super easy! Here's what you need to know!
Really that's it! Mix everything together and you'll have a yummy high protein salad!
I recommend mixing the dressing separately from the salad.
Some people will like more dressing while others will like less.
Pro Tips:
Don't forget to wash the lettuce! You don't want any dirt still hanging onto them.

You can make the dressing in a jar to easily store after you're done using it.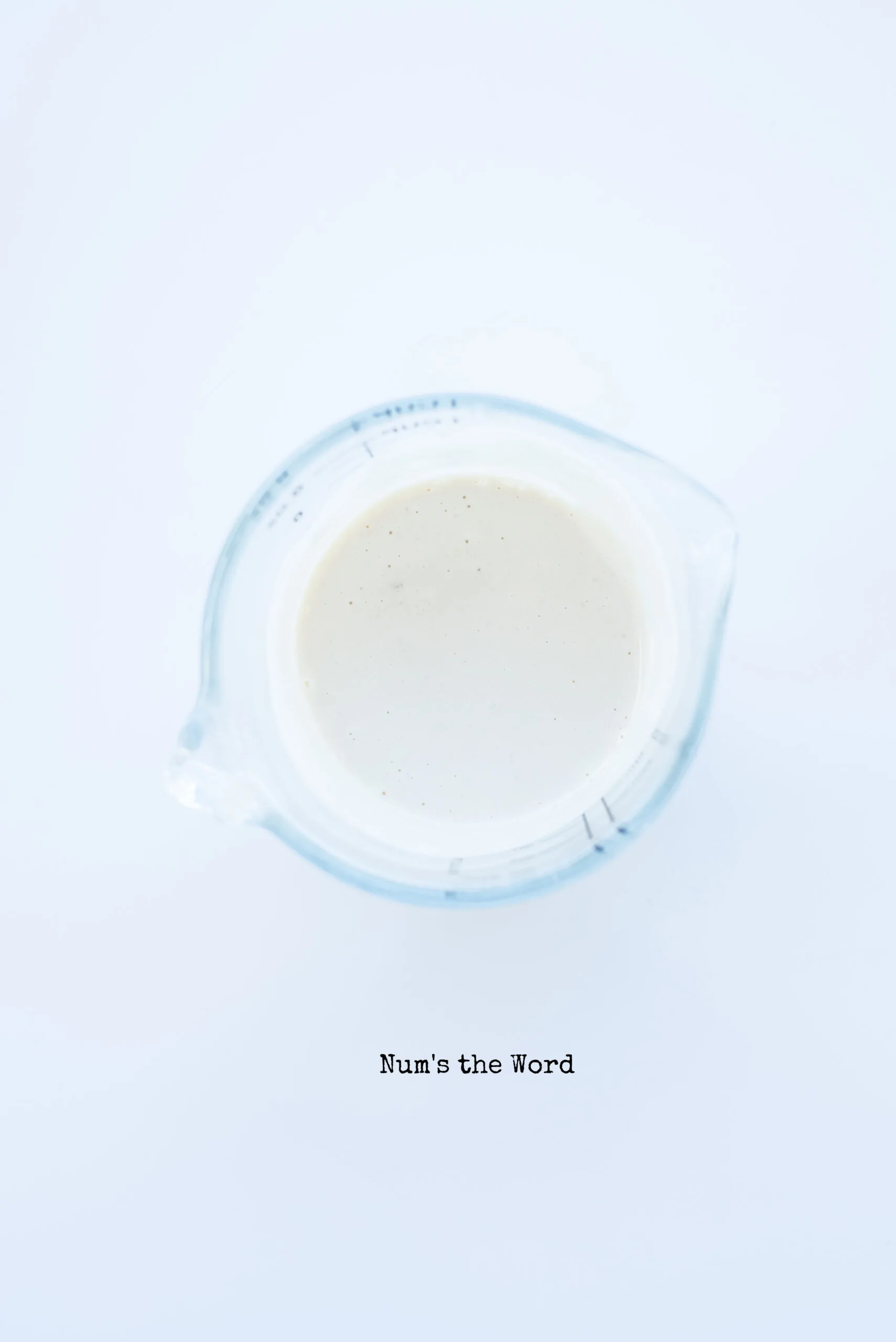 How to Cook Lentils for Salad
Lentils are so easy to cook! That makes them perfect for throwing in a no fuss salad!
To cook lentils:
Rinse:

Dirt, rocks, and shriveled lentils all might be included in your dried lentils. Rinse thoroughly and then check for any stray debris.

Simmer:

The amount of water doesn't really matter. Just simmer the lentils until tender.

Strain:

Drain the lentils well before adding them to the salad.
Pro Tip: Each type of lentil will take a different time to cook. Check your specific lentils for how long they need to be cooked.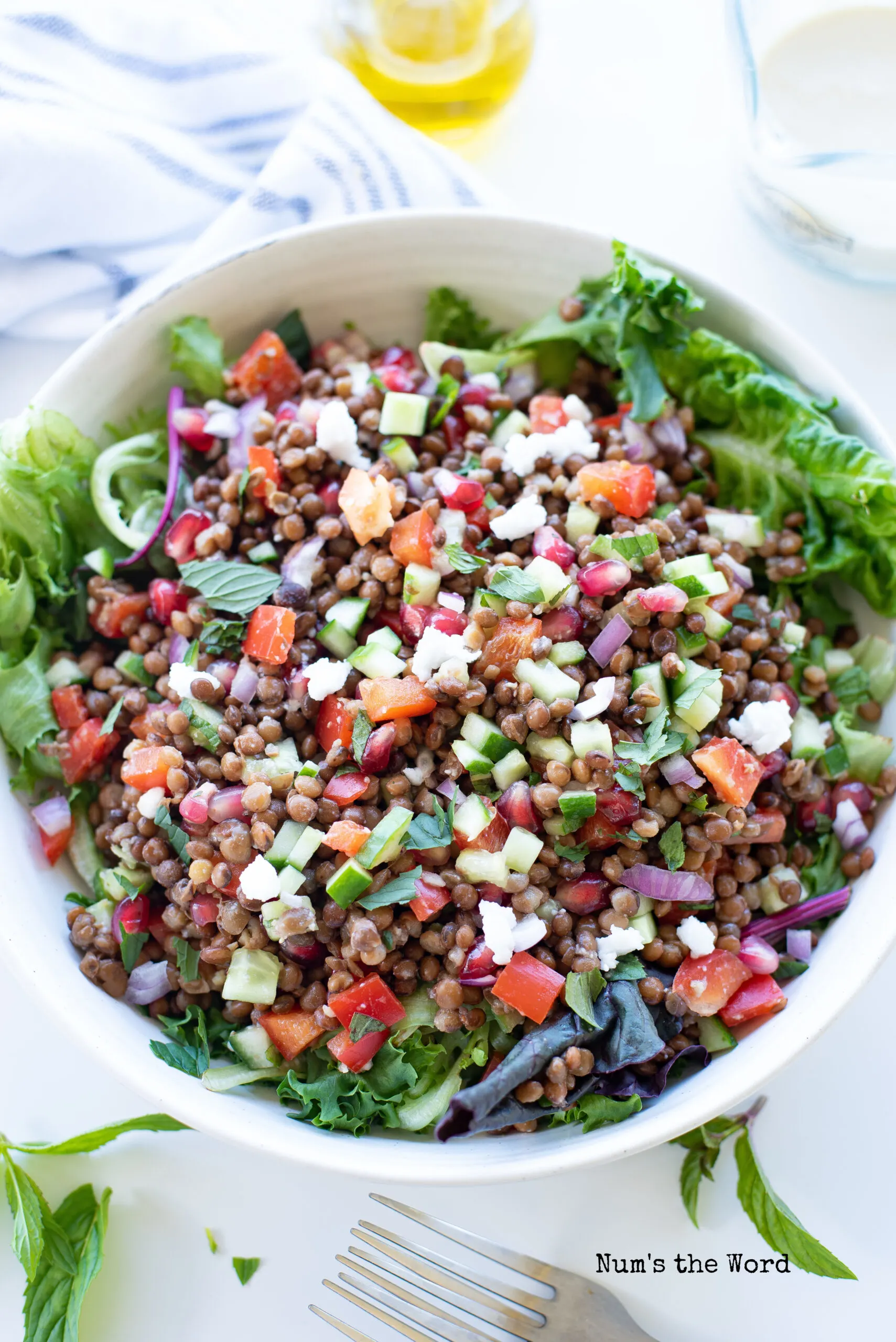 Is Lentil Salad Healthy?
Absolutely!
Here's just some of what you're going to get when you eat lentil salad:
Protein

Fiber

Vitamin A

Vitamin C

Calcium

Iron

Potassium
I mean how can you pass up that list of goodness that actually tastes good too?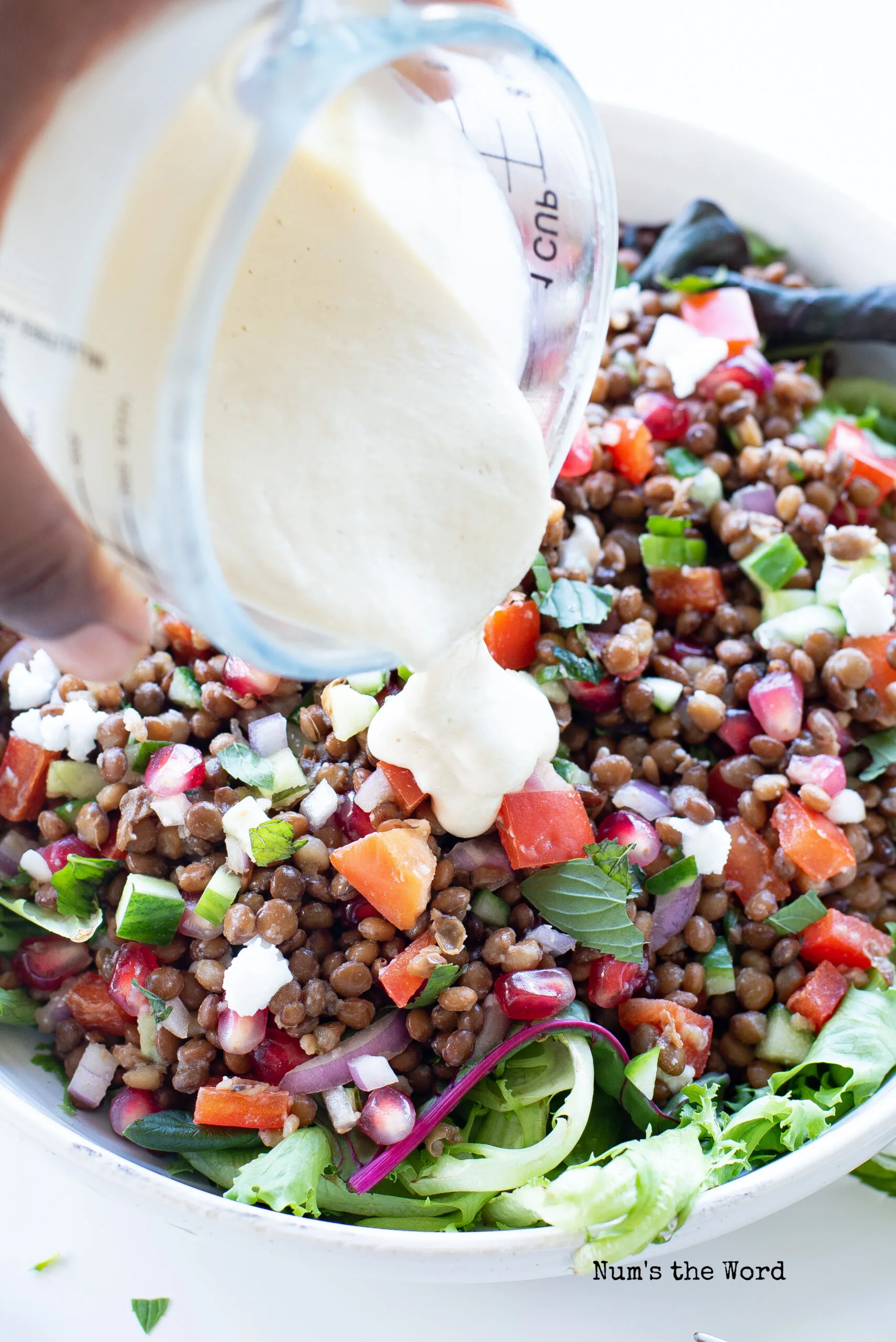 Can Dogs Eat Lentil Salad?
Dog's shouldn't eat lentil salad. There are many salad items that are okay for dogs in moderation: tahini, mint, lentils, etc.
But there are also some not so good things about lentil salad. Pomegranate seeds can make dogs sick. And onions are actually toxic for dogs.
So it's best if you keep the lentil salad away from the dogs and save it for the humans.
How to Store Lentil Salad
Lentil salad can easily be stored in the fridge.
Once you're done eating, lentil salad should be placed in an airtight container.
Be sure to store the dressing separately as the dressing will cause the rest of the salad to become soggy over time.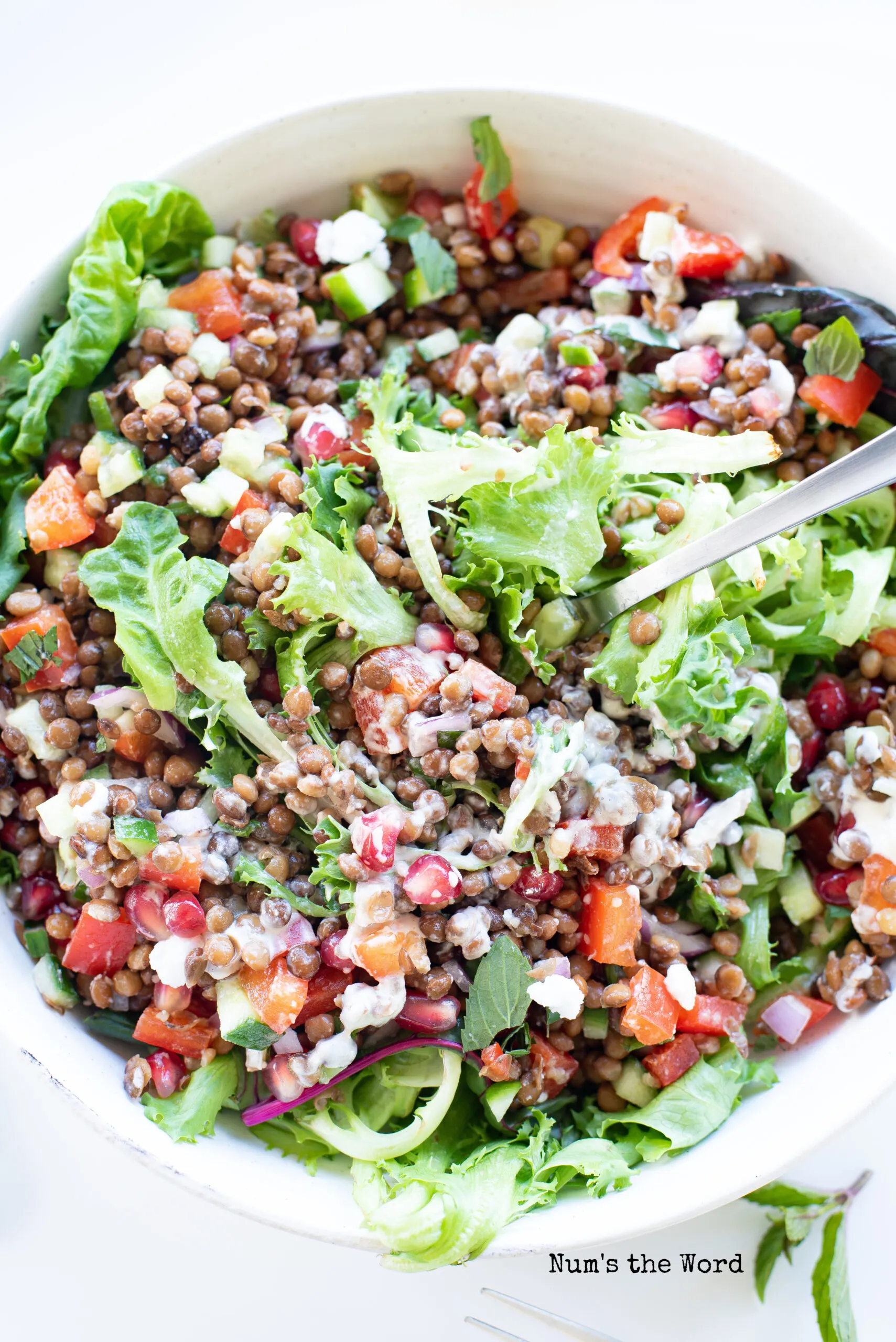 Can You Freeze Lentil Salad?
I don't recommend freezing lentil salad. When you freeze things like lettuce, it tends to wilt. Then when it gets unfrozen the texture just isn't great.
If you want to cook and freeze the lentils though you absolutely can. Since the lentils are the only thing you need to cook, freezing them ahead of time could save you time!
I like to make a big batch of lentils and then save them in portion sizes. Then they are always ready to go into my salad or my soups!
Pro Tip: Label the container of lentils with the name and date. They will stay good for up to three months in the freezer.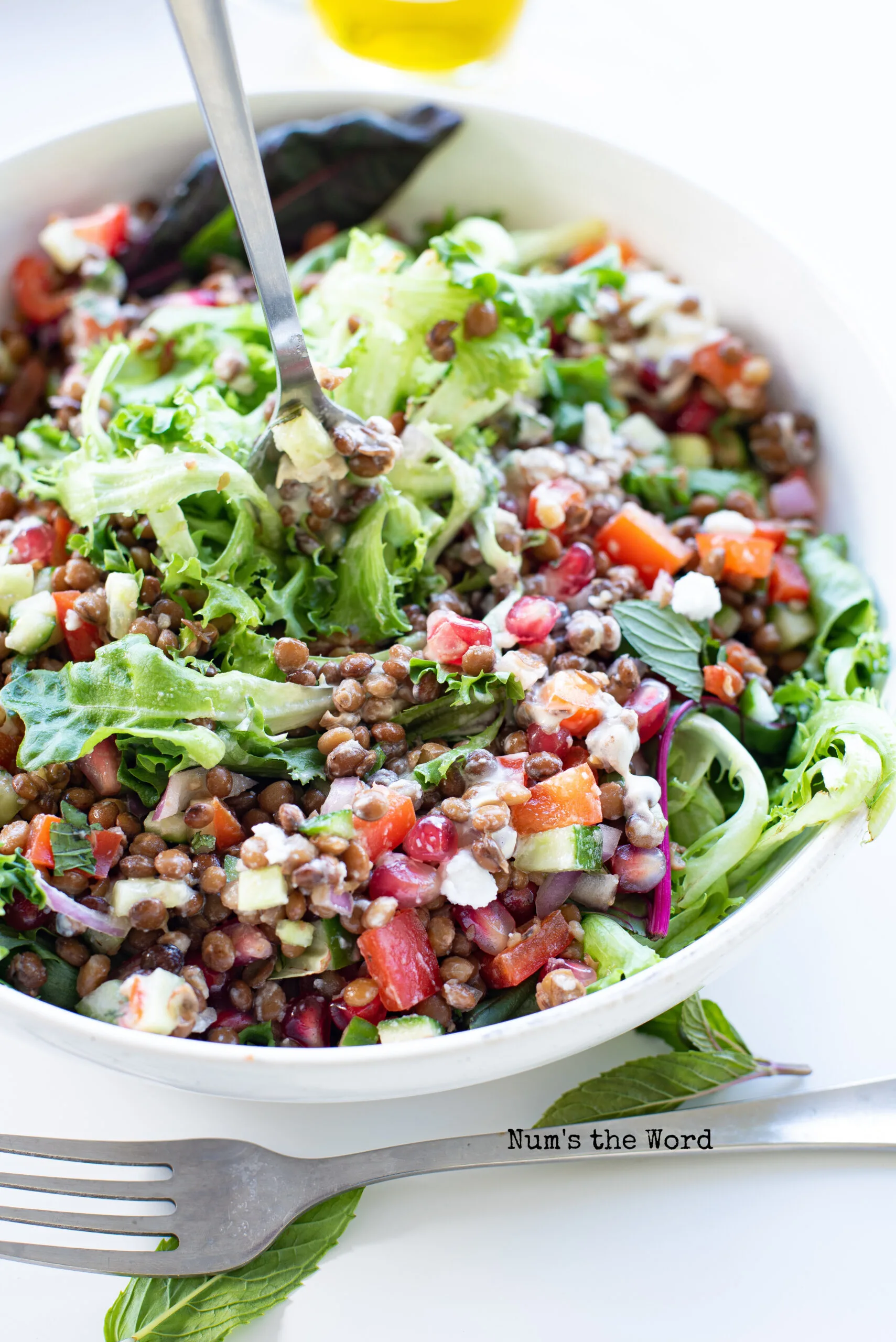 Can You Make Lentil Salad Ahead of Time?
Definitely! Lentil salad only tastes better the next day in my opinion.
It is also perfect for meal prep in that way. It really does taste great days later.
I recommend not making it too far in advance though.
The salad will only stay good for 5-7 days and then will become questionable.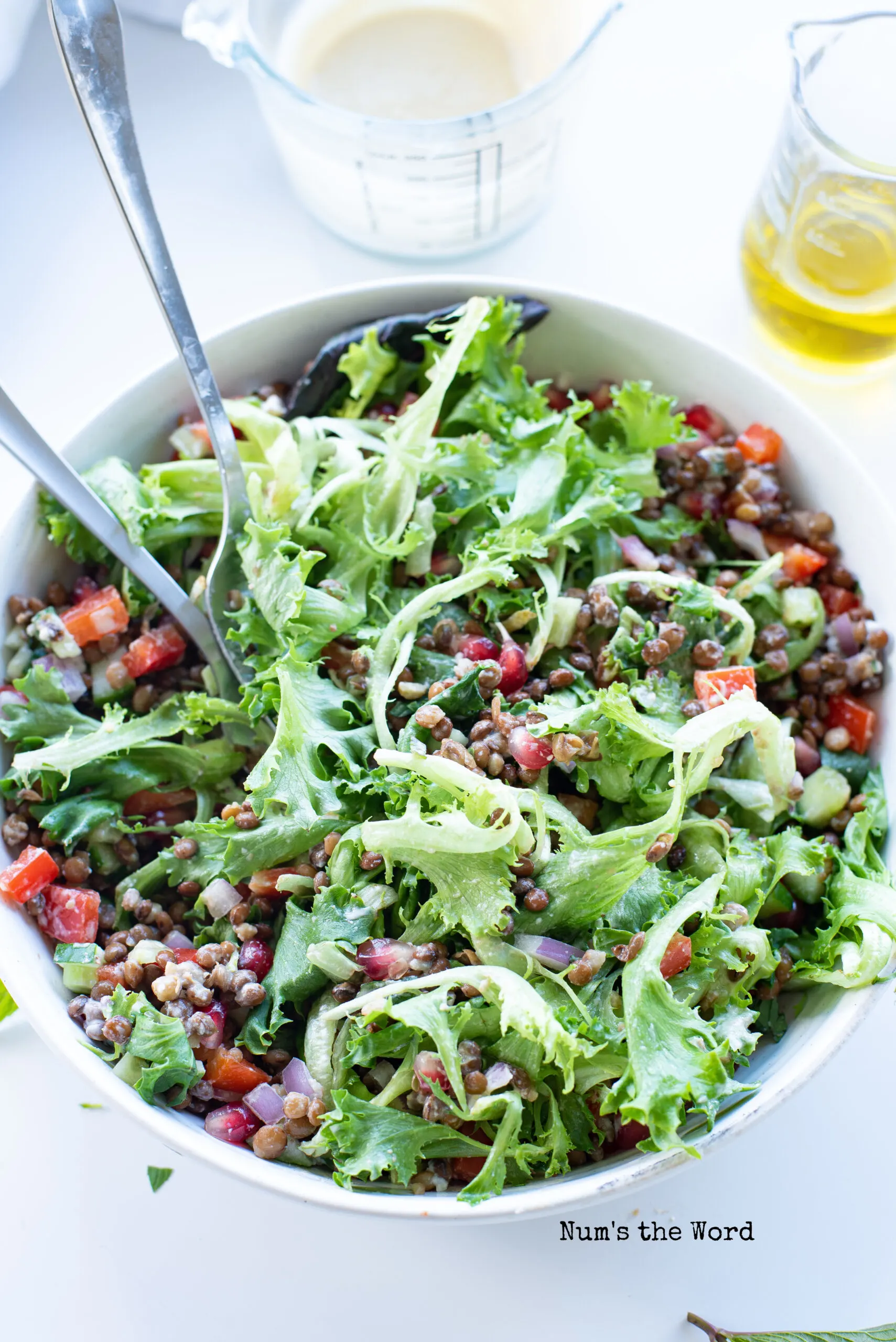 Lentil Salad is a delicious and healthy meal. It can easily help you meet any health goals while still being so yummy. Serve on it's own or with an easy Air Fryer Chicken for some extra protein!
Yield: 6 Servings
Lentil Salad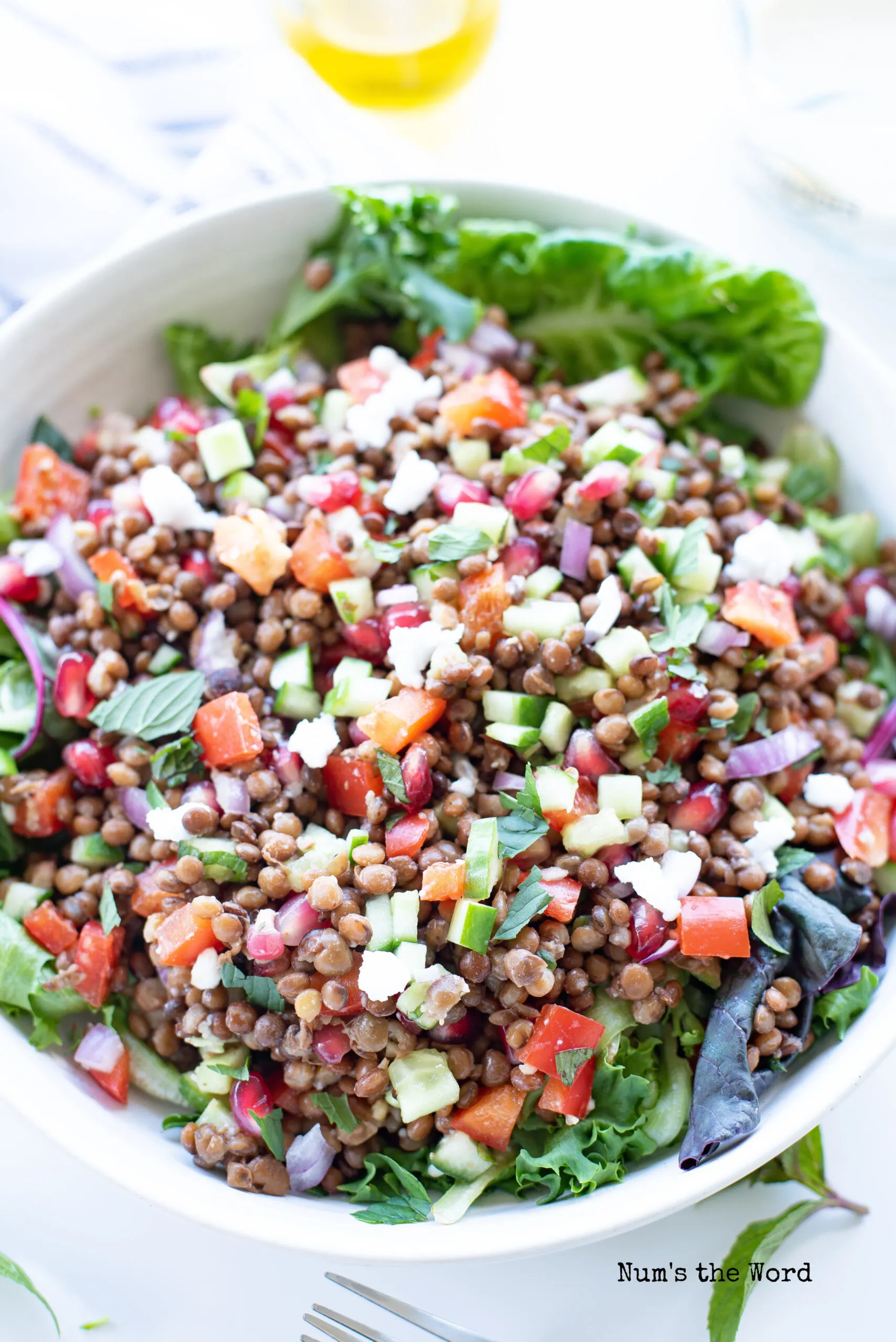 Lentil Salad is taking the world by storm! Yummy, filling, nutritious, and easy meal prep! What more could you ask for in a salad? And it's vegetarian too!
Ingredients
5 ounces lettuce or mixed greens
3 cups cooked lentils, washed and drained
1 English cucumber, finely diced
1 red bell pepper, finely diced
1/4 cup pomegranate seeds
1 small red onion, finely diced
1/4 cup chopped mint leaves
1/2 cup feta, crumbled
Tahini Dressing
1/3 cup tahini
3 Tablespoons lemon juice
2 Tablespoons honey
1 teaspoon avocado oil
5 Tablespoons water
salt to taste
Instructions
Wash and drain lettuce.
Arrange in a large salad bowl.
In another large bowl, add lentils, cucumber, bell pepper, pomegranate, mint and feta.
Toss to combine lentil mixture and lettuce together.
Transfer in the lettuce salad bowl.
To make the tahini dressing, in a medium bowl, add tahini, lemon juice, honey, avocado oil and water.
Whisk to combine.
Adjust the taste with salt.
Serve dressing with salad
Nutrition Information:
Yield:
6
Serving Size:
1
Amount Per Serving:
Calories:

284
Total Fat:

11g
Saturated Fat:

3g
Trans Fat:

0g
Unsaturated Fat:

7g
Cholesterol:

11mg
Sodium:

230mg
Carbohydrates:

36g
Fiber:

10g
Sugar:

12g
Protein:

14g