Balsamic Steak Salad is the ultimate salad! Easy and bursting with flavor it's so much better than a bagged salad and only takes a little bit of time!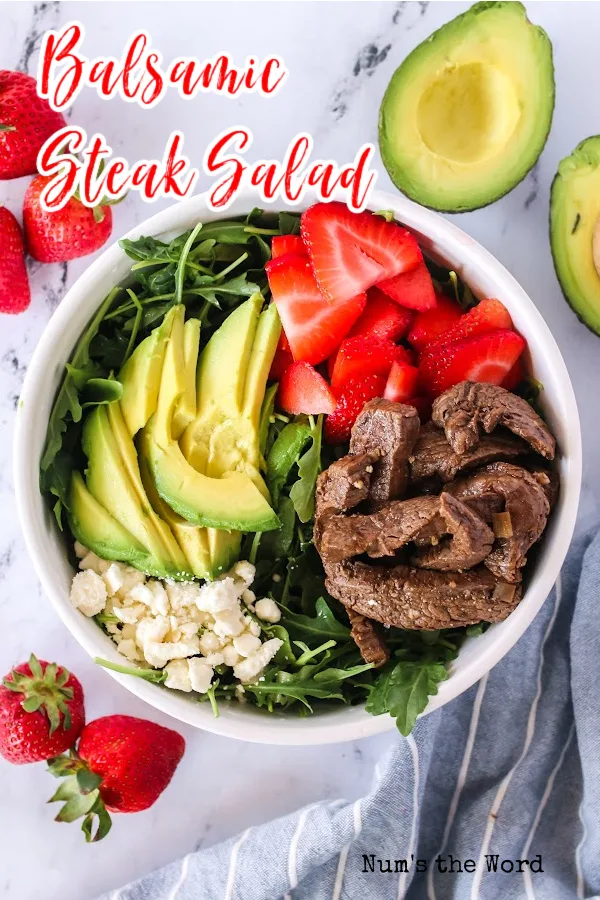 Okay so do I really mean bursting with flavor? I do. Here's what you're gonna get.
Perfectly cooked balsamic steak, sweet strawberries, soft feta cheese, healthy avocados, and delicious arugula lettuce all covered in inviting honey lime vinaigrette. YUM.
I love that this balsamic steak salad recipe is so easy!
Because you're using leftover Balsamic Marinated Flank Steak, it's a cinch to throw together!
And this salad is exciting. You know when you say you're having salad for dinner it can sound kinda boring?
This balsamic steak salad is one you can actually look forward to eating.
And it's a complete meal too! Protein, veggies, fats, and carbs all in one yummy bowl.
Sometimes I can have a hard time convincing the kids to eat salad. But salad with steak and strawberries? Yeah, everyone loves it.
And that makes me super happy.
For a tasty balsamic steak salad, go ahead and make this delicious salad or dinner!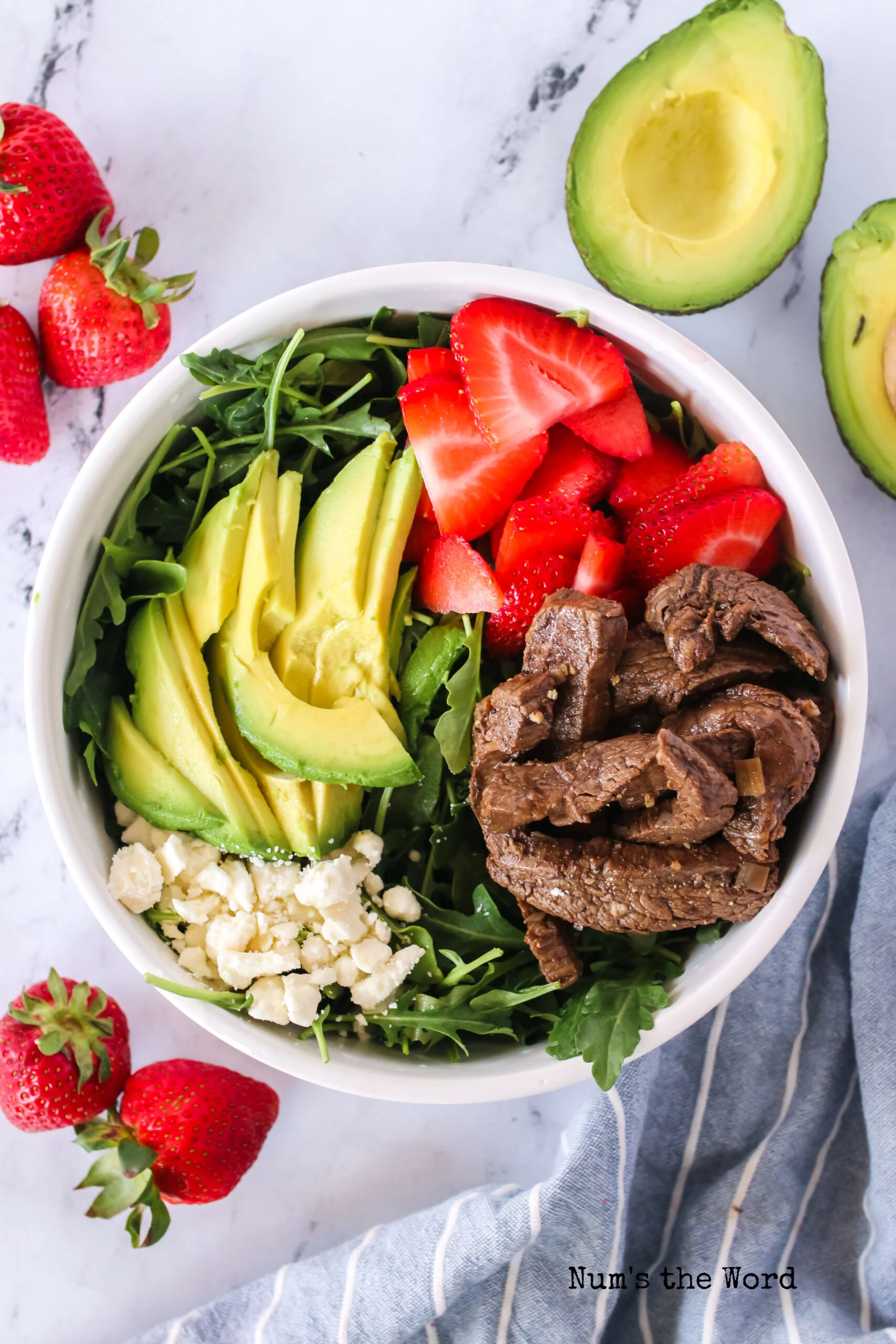 What Goes in A Balsamic Steak Salad
Lettuce:

Use arugula lettuce. It's softer and pairs nicely with the other ingredients.

Avocado:

If you're prepping ahead of time, wait on the avocado so it doesn't go brown.

Strawberries:

Slice these into delicious little mouthfuls of yumminess.

Steak Meat:

Use leftover steak or follow this recipe for

Balsamic Marinated Flank Steak

.

Cheese:

Feta cheese is a soft white cheese that is easy to crumble over the salad.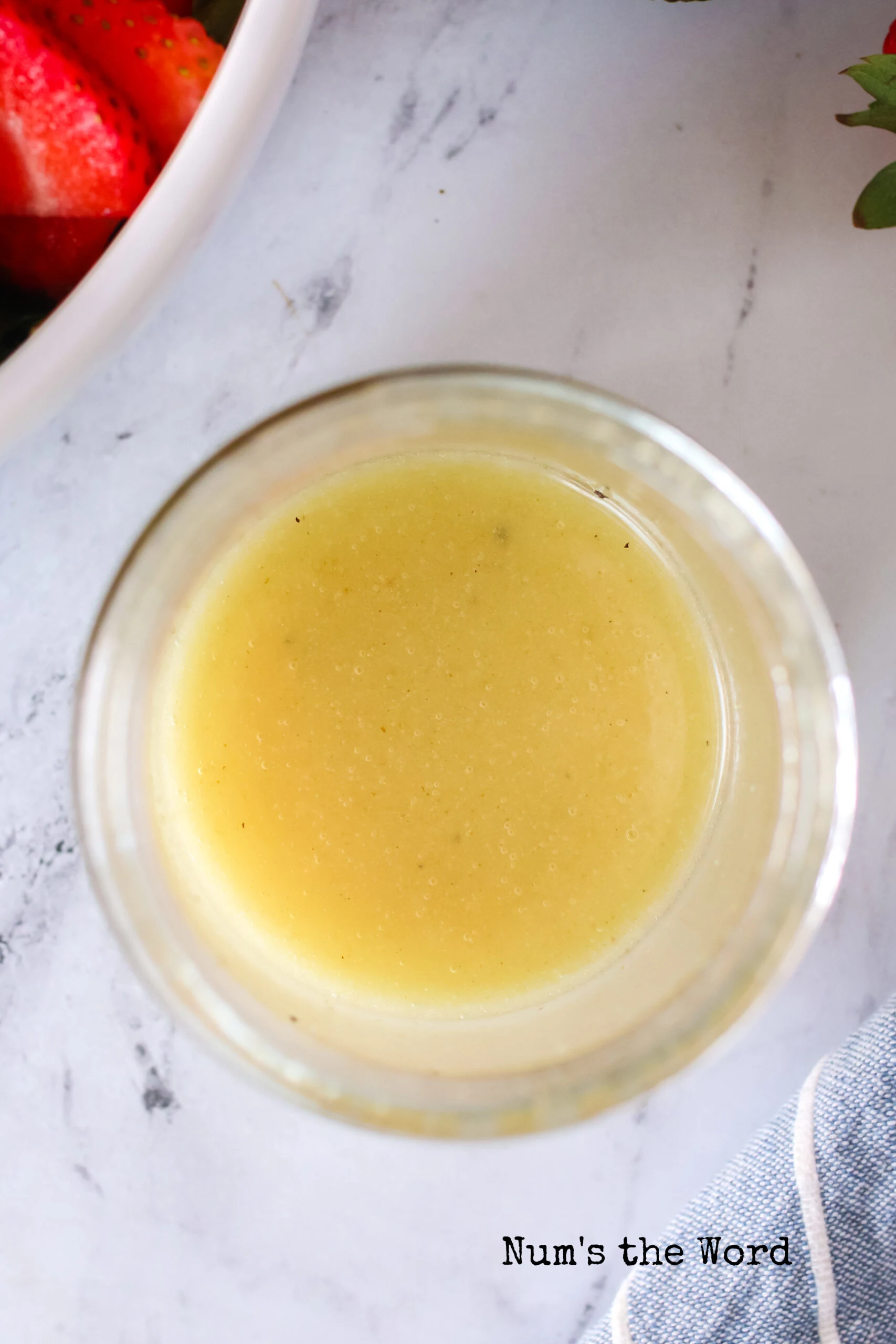 What Dressing Goes Good on a Balsamic Steak Salad
Here's my favorite dressing for balsamic steak salad!
It's a delicious honey lime vinaigrette that's easy to throw together and can be prepared ahead of time.
Lime Juice:

Used fresh squeezed whenever possible for best flavor.

Honey:

This gives your dressing a natural sweetener that's finger licking.

Dijon Mustard:

Creamier than regular mustard and also contains less vinegar.

Garlic Powder:

This gives the balsamic steak salad a small hint of garlic flavor.

Salt and Pepper:

Don't forget these for seasoning.

Cumin:

You'll only need a pinch to reap all the benefits of flavor!

Olive Oil:

This is your base for the dressing.

Vegetable Oil:

I find I like the dual nature of the two oils but you could just use one if desired.
Pro Tip: This dressing can add flavor to even regular boring salad. Keep some in the fridge for a quick and easy salad booster.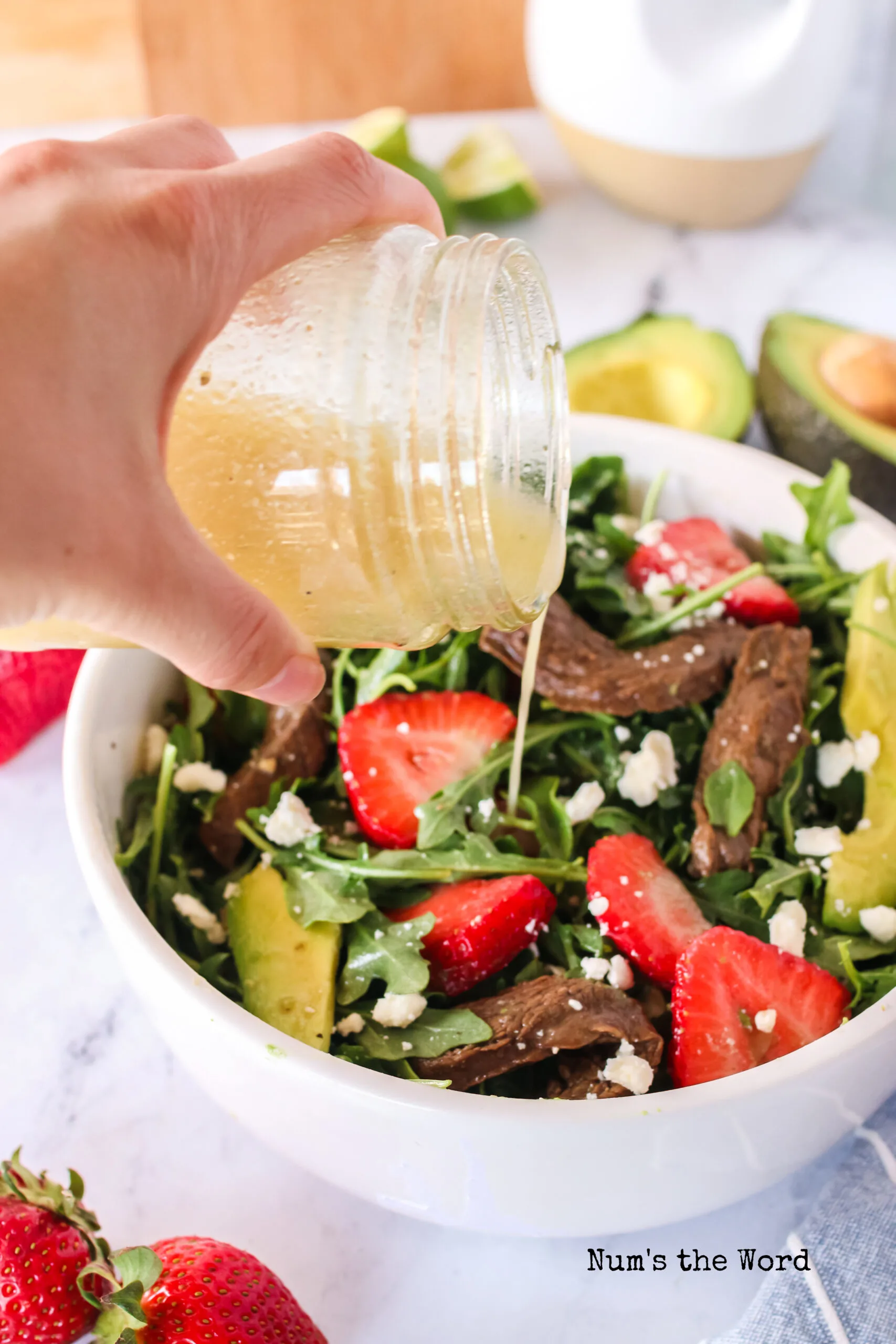 How to Make Balsamic Steak Salad
Balsamic steak salad is such an easy salad it's definitely going to be a favorite this summer!
Mix together the salad ingredients.

In a jar, mix together the dressing ingredients.

Mix them both together!
Super easy salad!
Pro Tip: Let your kids mix the dressing ingredients! They think it's fun and saves you a little effort!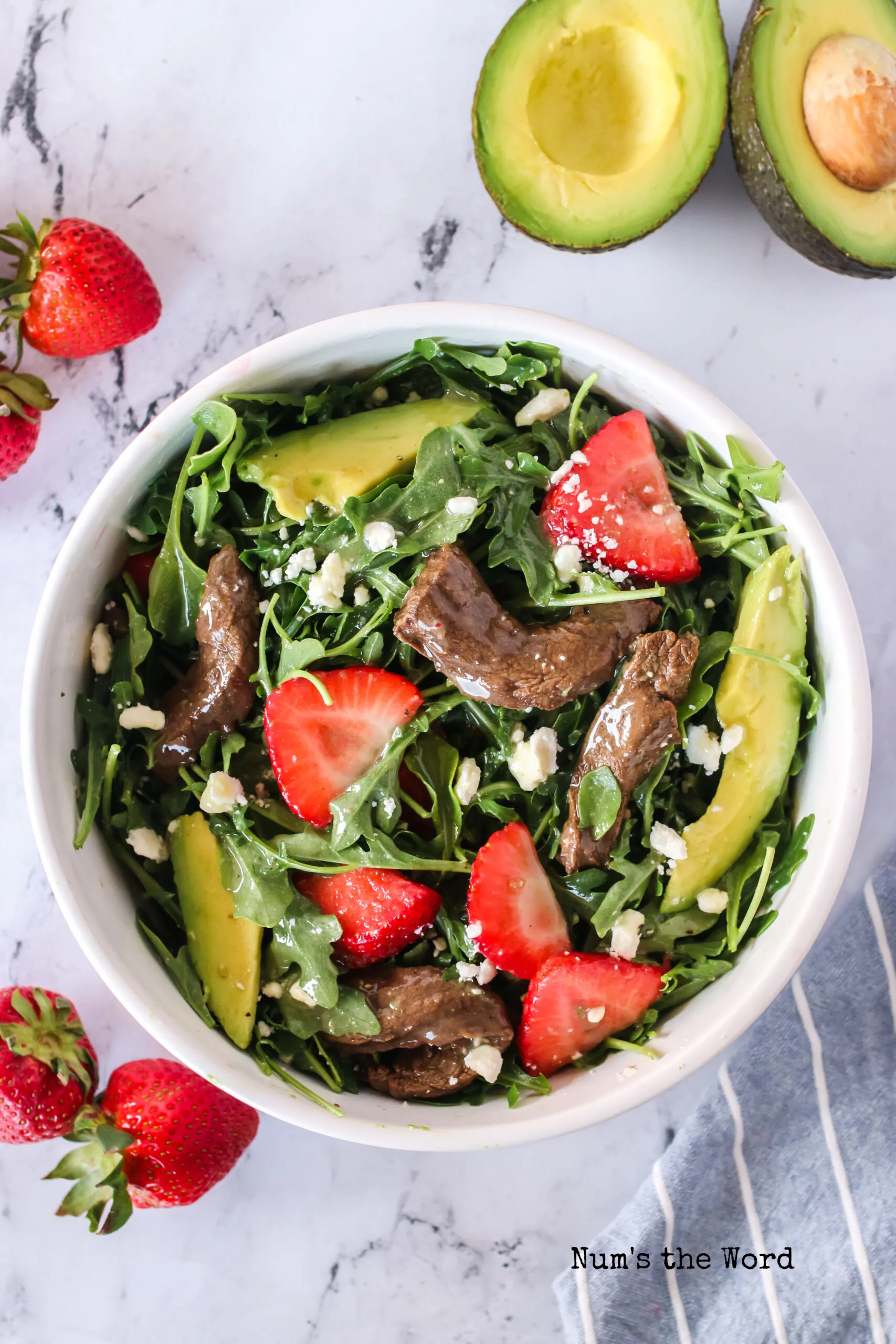 Can You Eat Steak Cold on a Salad?
Yes. Steak can be eaten warm or cold on a salad and it'll taste great either way.
One of the benefits to eating the steak cold is that it won't get overcooked while reheating.
Steak is a notorious meat for easily getting overcooked and becoming tough.
To avoid the steak being overcooked, eat the steak cold on your salad.
If you really want to reheat it, follow these simple steps:
Microwave:

With the steak sliced into small bites so you don't need to wait for the middle to warm, reheat in very small increments of 5-10 seconds until warmed through.

Stove Top:

Heat over medium heat in a pan until steak is warm. Do not heat enough to recook it.
Pro Tip: If you can't stand cold steak, you can cut it smaller and serve with something yummy. That will help hide the dryness of an overcooked steak.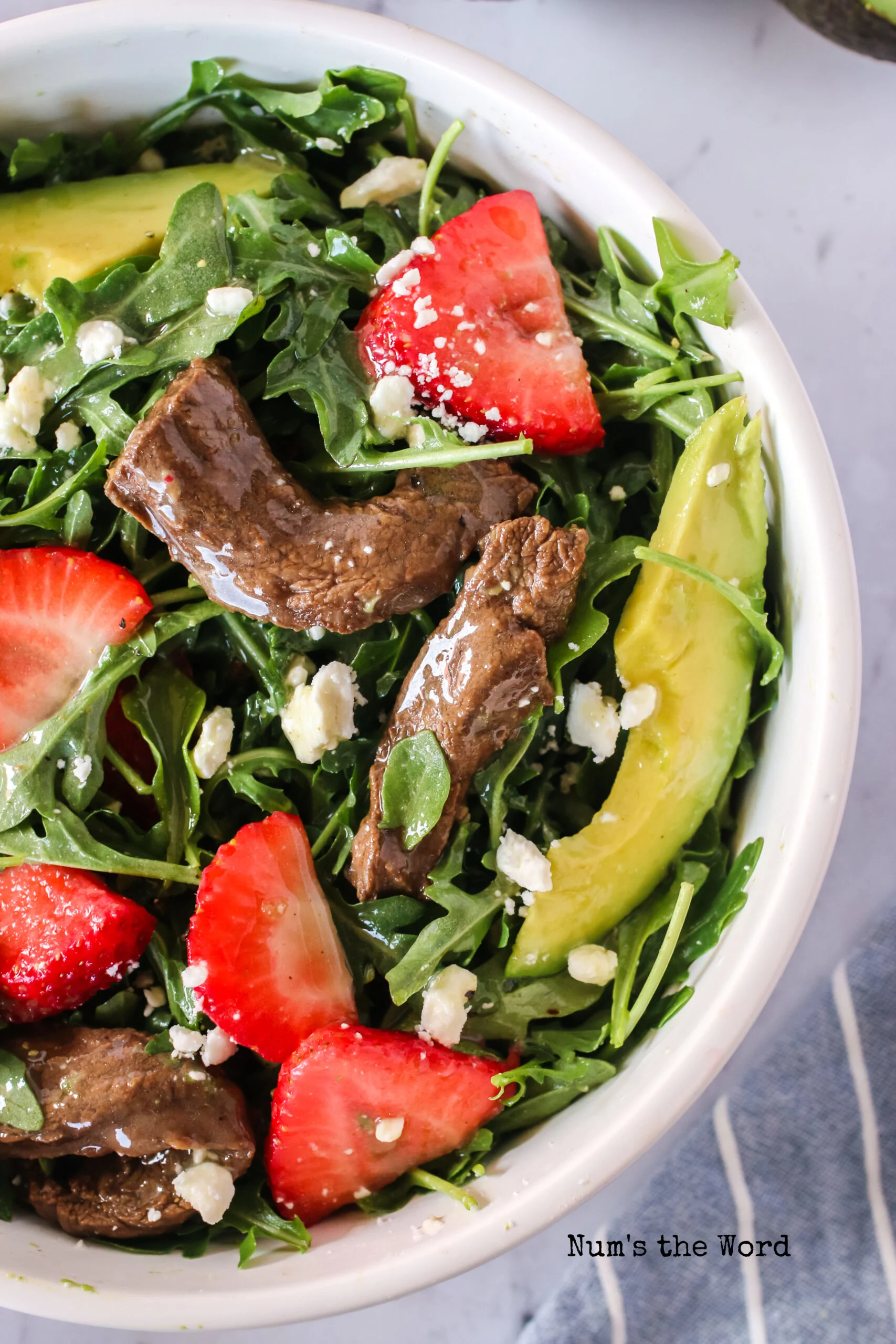 Can Dogs Eat Balsamic Steak?
Dogs should not eat balsamic steak.
First is the balsamic vinegar which is not good for dogs.
And then there's the onions and garlic which not only aren't good for dogs but can actually be toxic to dogs.
Make sure to not feed your dogs balsamic steak or to contact your local vet if they do eat it.
Pro Tip: If you know your dog is one that likes to get into your food, keep them in another room until you're finished to avoid any problems.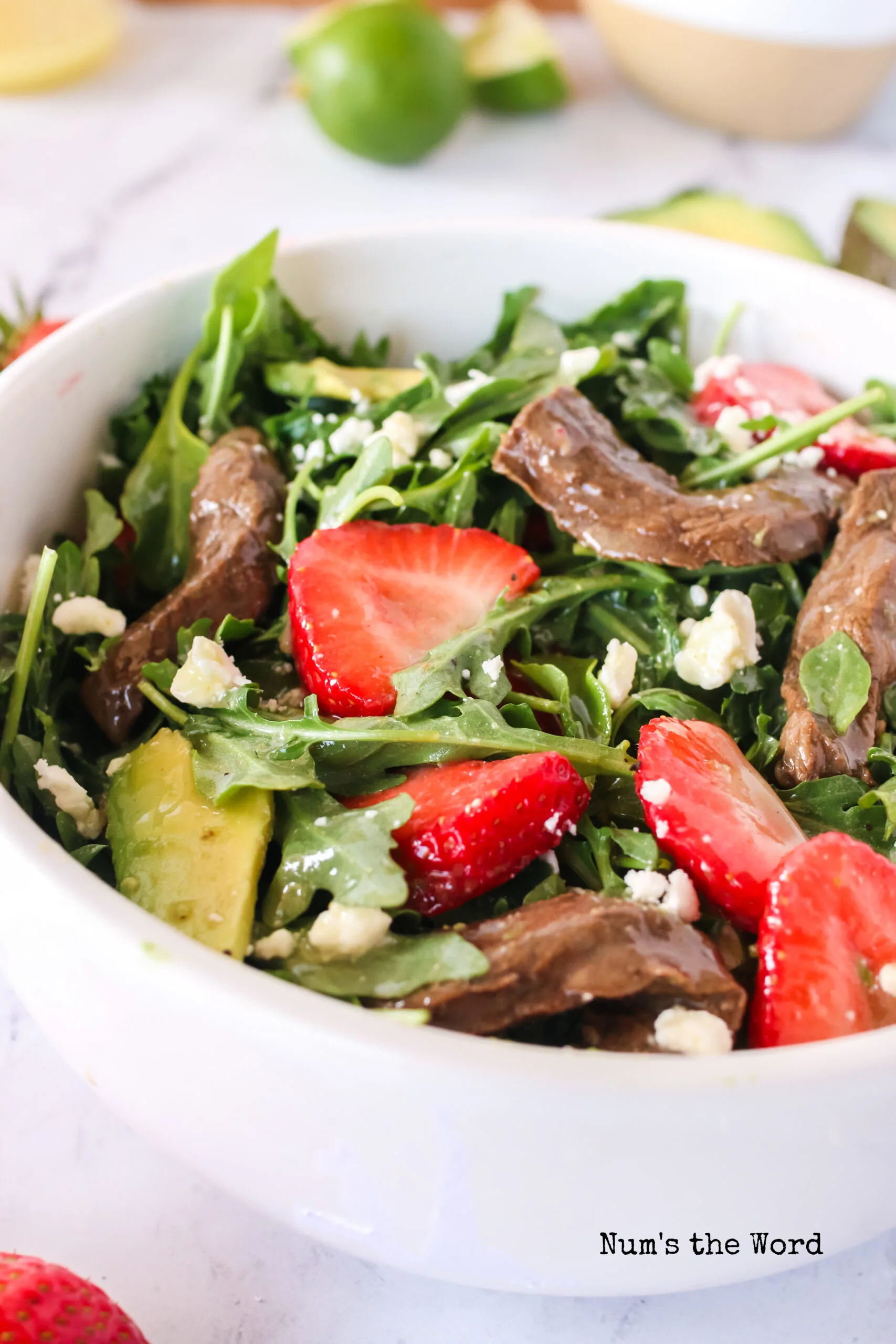 Can You Make Balsamic Steak Salad Ahead of Time?
Yes! Meal prepping is great for salad. Especially one where you're using leftover meat already!
Go ahead first and make your dressing early. That'll stay good in your fridge for up to a week.
Next would be to put the rest of the ingredients together, except the avocado.
Balsamic steak salad can be prepped up to 24 hours ahead of time.
When you're ready to eat, add the avocado and the dressing.
Pro Tip: If you're afraid of the lettuce wilting you can keep everything separate and combine them all at the last minute.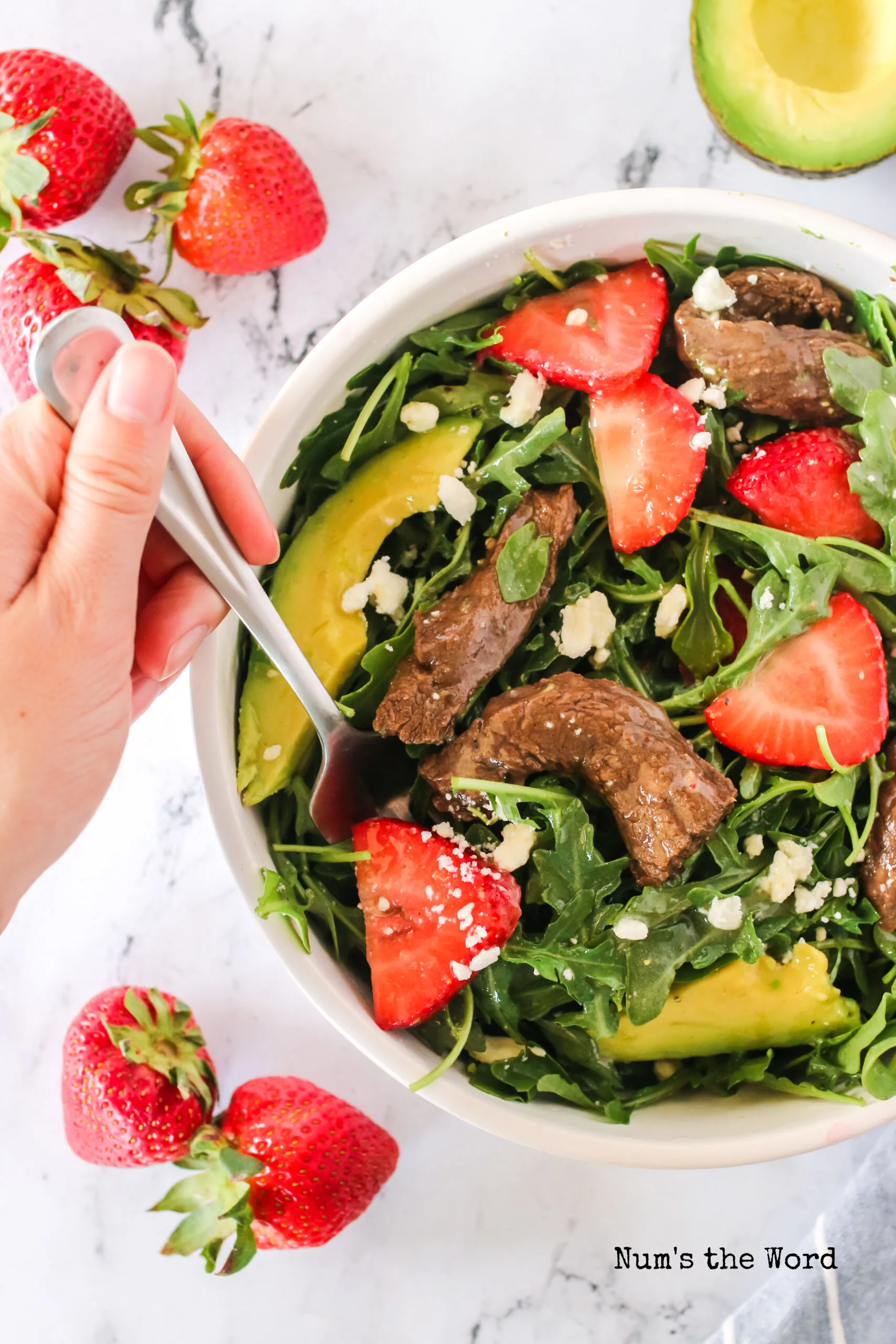 What Goes with Balsamic Steak Salad?
As you've already got all the really essential ingredients for a good meal, there isn't much you really need.
You could serve this salad all on it's own and be full and satisfied, but if you're looking for a little extra, here's some ideas: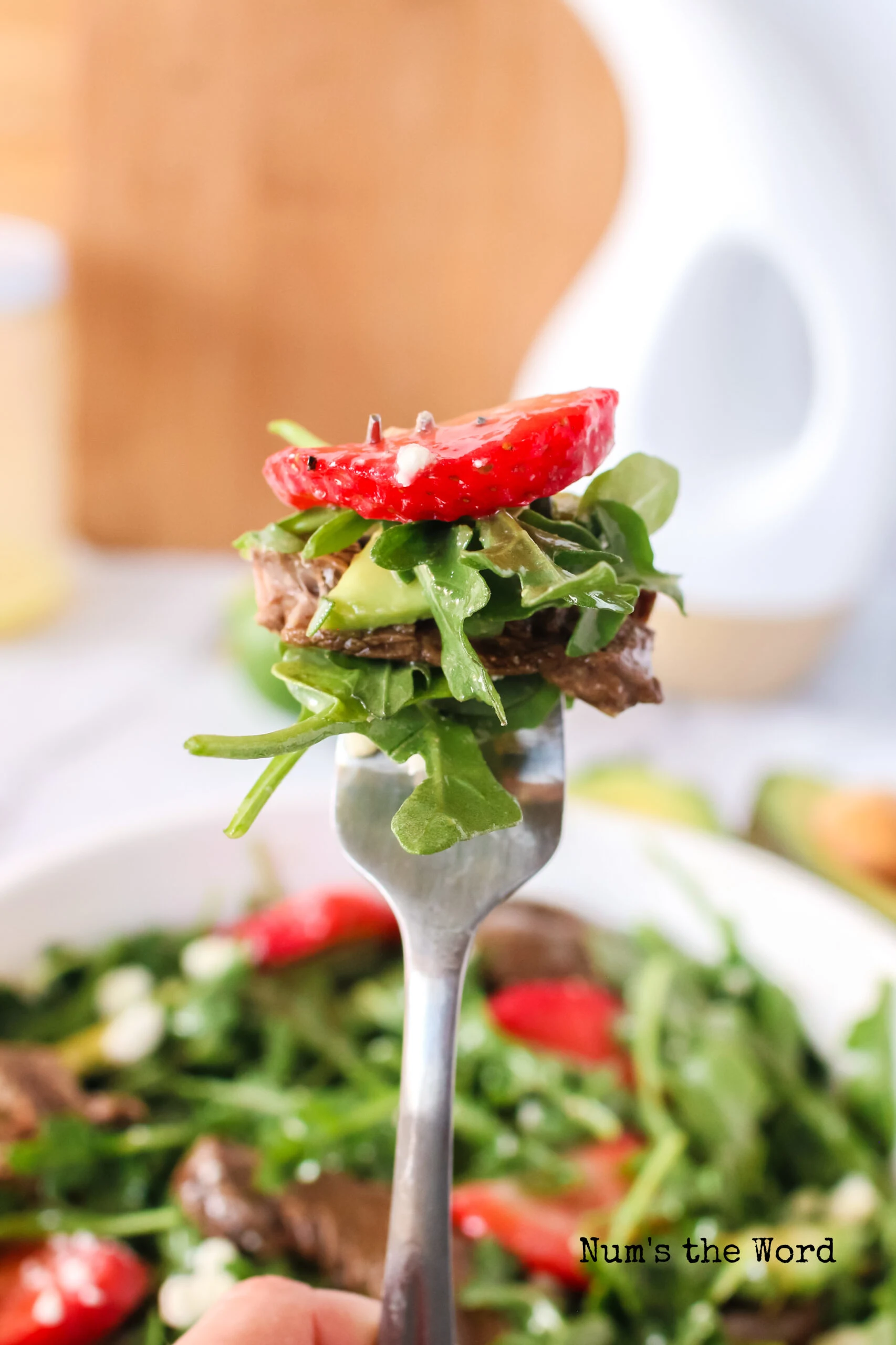 Balsamic Steak Salad is just the thing to brighten up your weeknight meals! It's simple, quick, and has a delightful flavor in every bite.
Let me know in the comments what you think of this tasty balsamic steak salad!
Yield: 4 Servings
Balsamic Steak Salad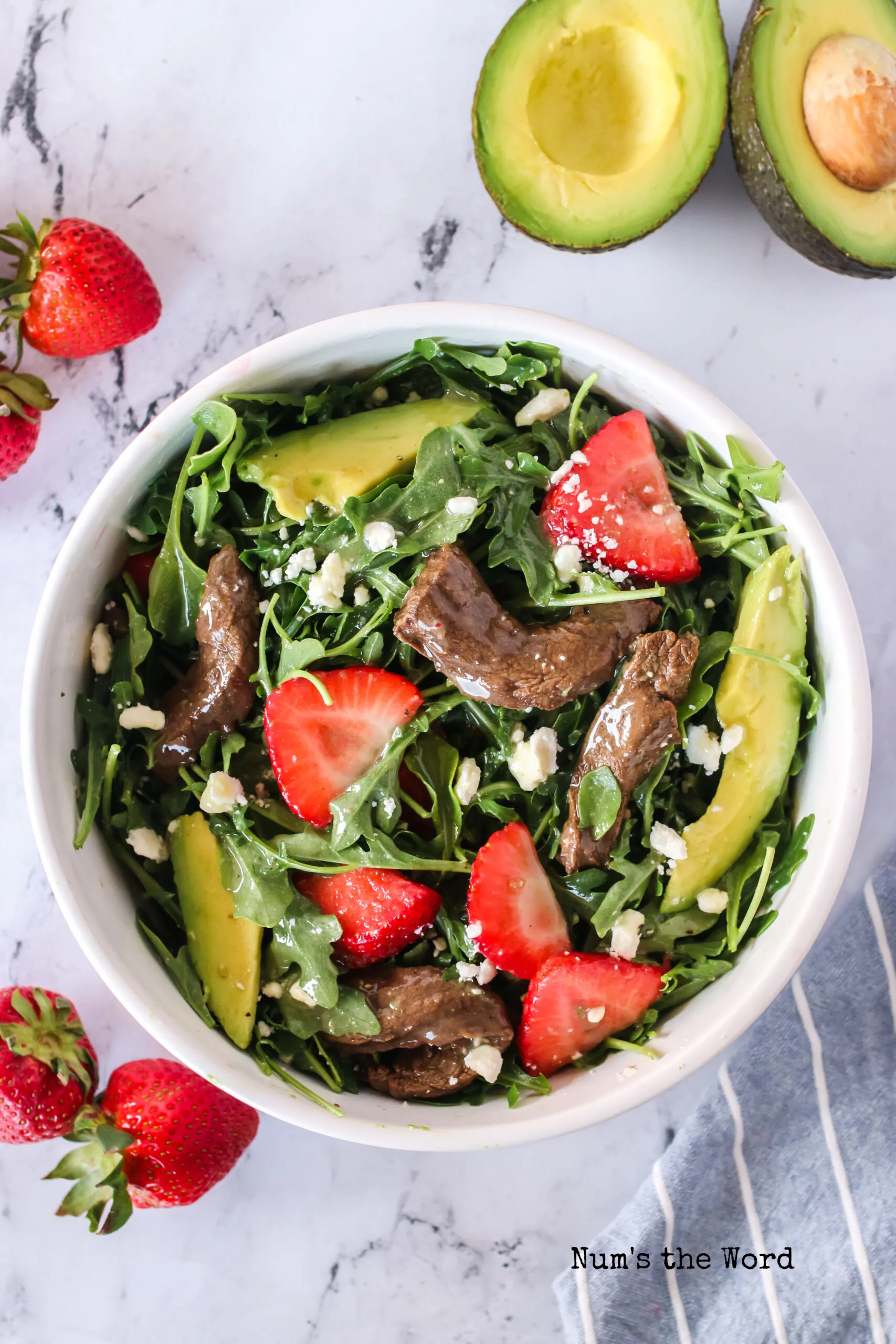 Balsamic Steak Salad is the ultimate salad! Easy and bursting with flavor it's so much better than a bagged salad and only takes a little bit of time!
Ingredients
1 avocado
10 Strawberries
1/4 cup feta cheese
Honey Lime Vinaigrette
2 Tablespoons fresh squeezed lime juice
1 Tablespoon honey
1/2 teaspoon Dijon mustard
1/4 teaspoon garlic powder
1/4 teaspoon salt
1/8 teaspoon black pepper
1/8 teaspoon cumin
2 Tablespoons olive oil
2 Tablespoons vegetable oil
Instructions
Place arugula lettuce in a bowl.
Top with avocado, strawberries, steak and feta cheese.
In a jar with a lid add all vinaigrette ingredients.
Screw lid on and shake well.
Drizzle vinaigrette over salad and enjoy!
Nutrition Information:
Yield:
4
Serving Size:
1
Amount Per Serving:
Calories:

462
Total Fat:

33g
Saturated Fat:

8g
Trans Fat:

0g
Unsaturated Fat:

23g
Cholesterol:

62mg
Sodium:

282mg
Carbohydrates:

23g
Fiber:

4g
Sugar:

16g
Protein:

17g