These Air Fryer Baby Potatoes are soft and fluffy on the inside, golden and crispy on the outside, quick to make, and absolutely irresistible.
They are the perfect side dish for breakfast lunch or dinner. With just a few ingredients, and a little bit of time, you've got the perfect dish for your family today.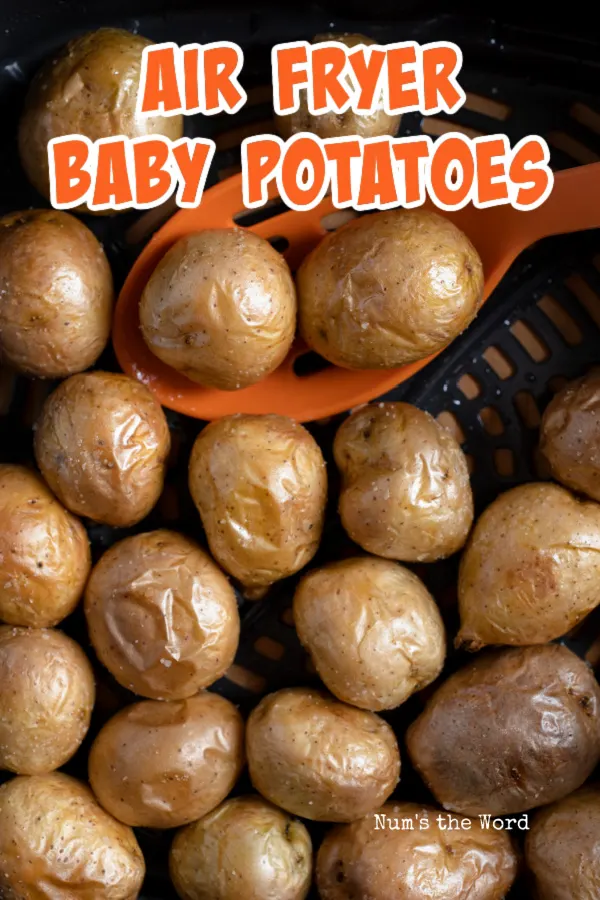 Fried potatoes anyone? If you haven't heard of fried potatoes then I don't know what rock you've been living under but be ready to find your new favorite recipe.
I love that these air fryer whole baby potatoes in air fryer take just a handful of pantry ingredients. The potatoes are also healthier than frying them in a deep fryer.
And they are done in just 15 minutes in the air fryer. That's half the time it would take in your oven and you don't need to heat up your whole kitchen to make them!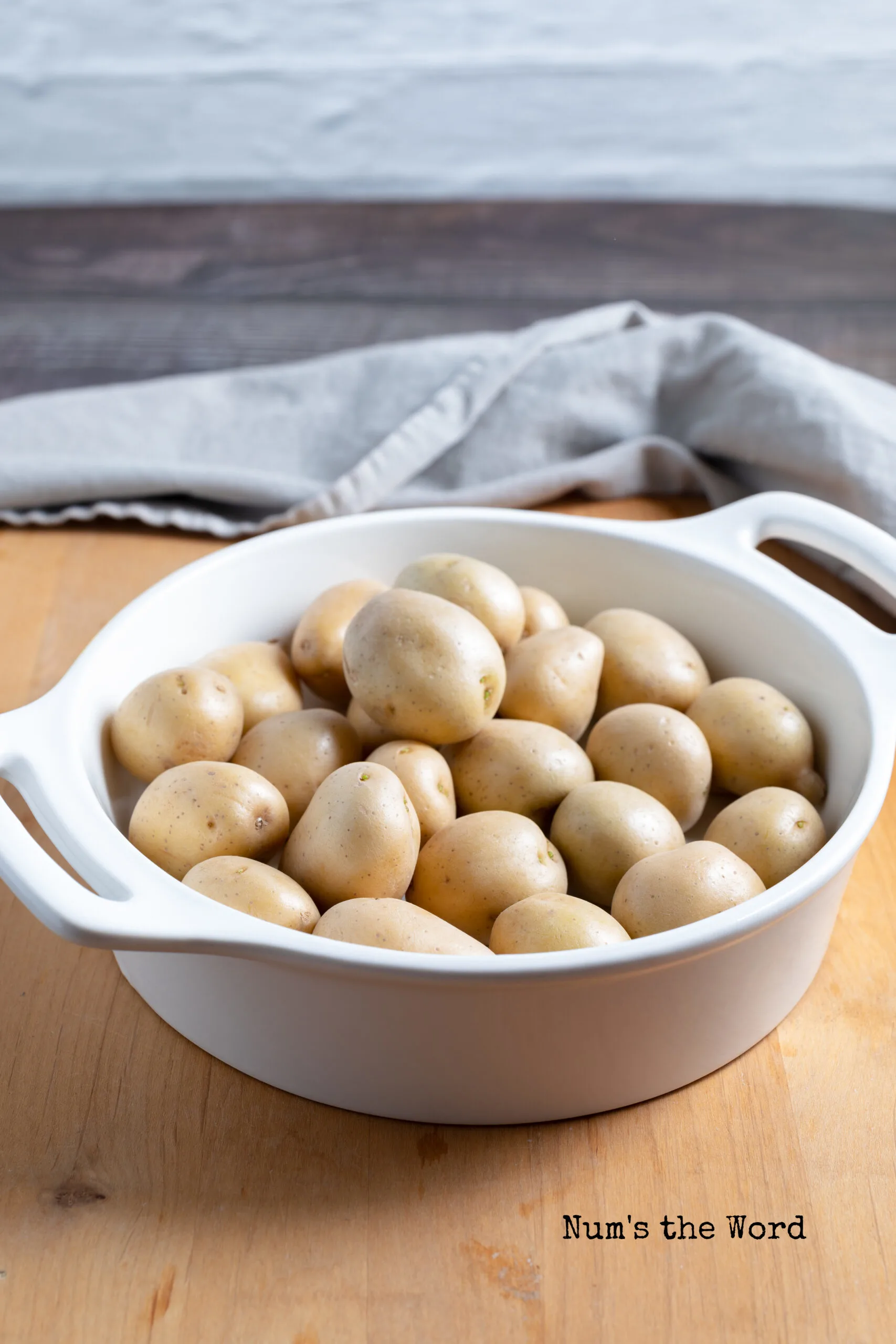 What Goes Into Air Fryer Baby Potatoes?
Potatoes:

Baby Potatoes, also known as creamer potatoes, are meant to be small. They offer a naturally buttery taste and have a creamier texture. They are super simple to prepare and are meant to be eaten with their skins on, meaning no peeling necessary!

Vegetable Oil:

In the US often the vegetable oil we buy at the store is actually soybean oil. But hey, soybeans are vegetables! Other vegetable oils include olive oil, avocado oil, grapeseed oil, and palm oil. I most often use a generic brand of vegetable oil in my cooking, but any vegetable oil you have or love will work here.

Salt and Pepper:

The only spices you need for these potatoes! In this recipe, the potatoes really shine on their own with just the smallest flavoring needed.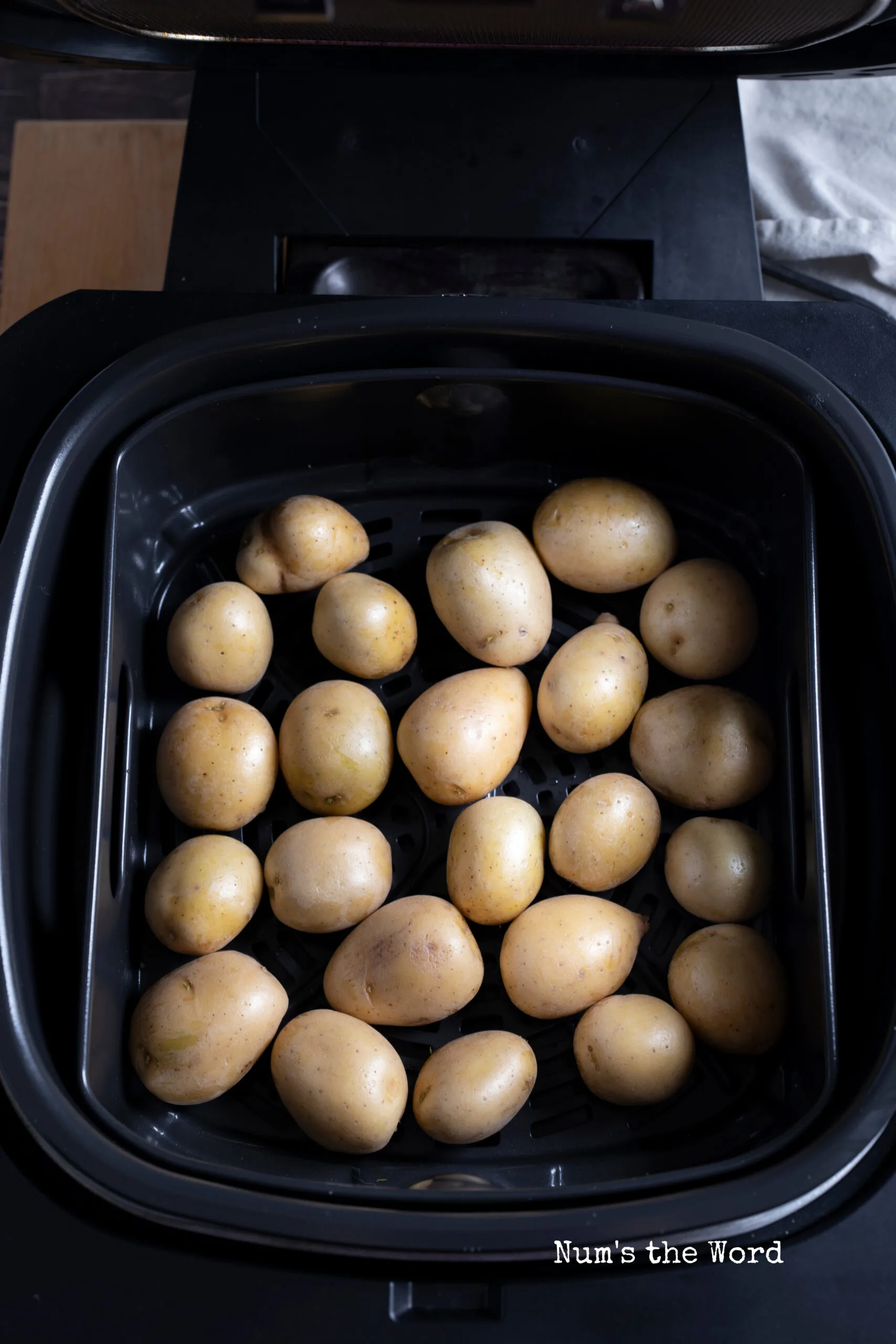 How to Cook Baby Potatoes in the Air Fryer
Prep:

Always wash your potatoes. Here's why. Your potatoes have dirt, bugs, or who knows what else on them from the farm and processing places. That actually bothers me less than everyone in the store who may have touched your potatoes before you bought them. Let's all be on the safe side and wash our potatoes.

Cook:

Once the potatoes are washed, dried, and coated with oil they cook, you mix them, they cook again, and done! Simple! You'll know when they are done when the skin is nice and crispy and the insides are soft.

Season:

I have one kid who LOVES salt. Would extra salt his plate of salt if you know what I'm talking about. I season for everyone in the family but leave the salt and pepper on the table so he can salt his own.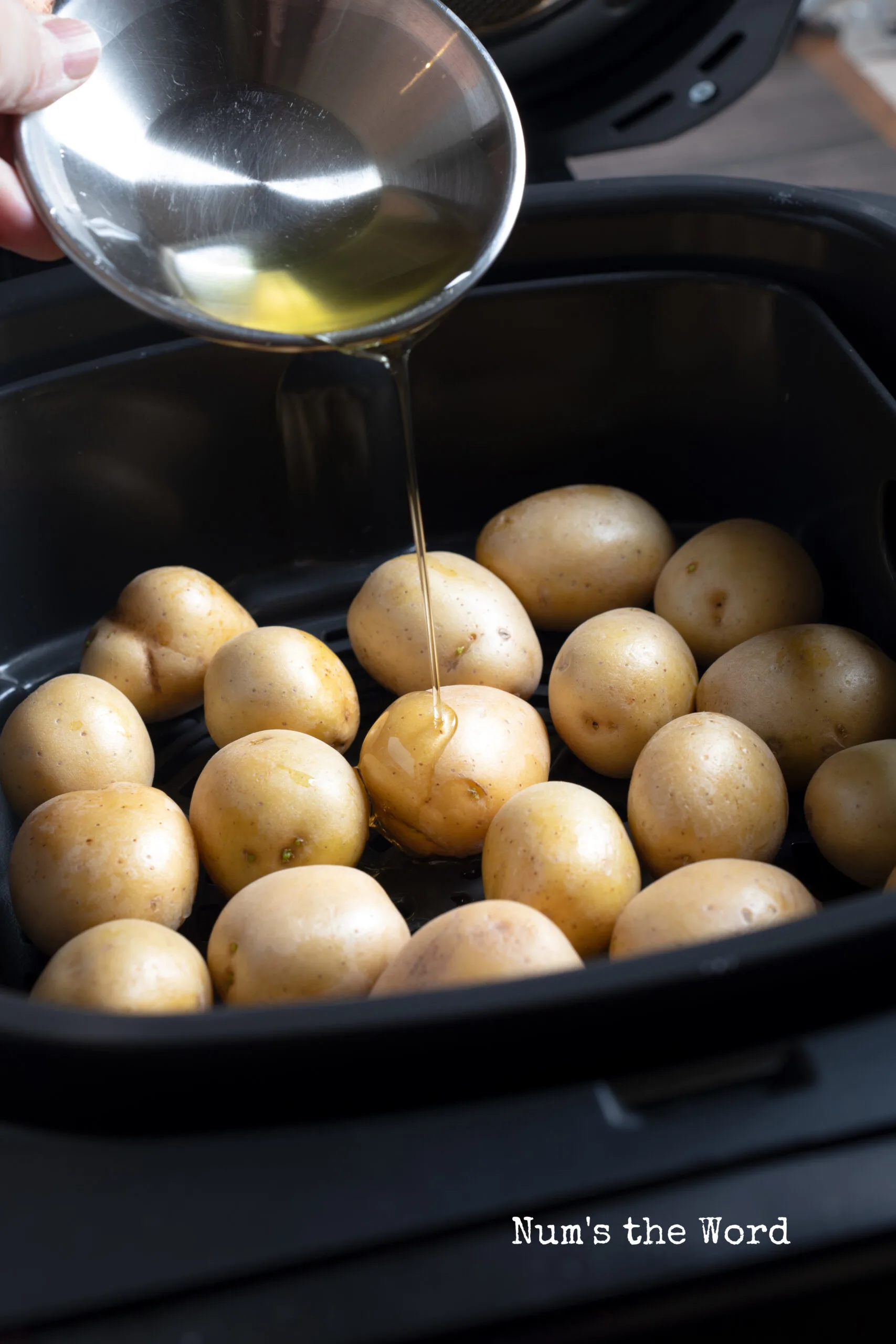 How Long Do Baby Potatoes Last?
Baby Potatoes don't last quite as long as large potatoes but they still last quite some time. Larger potatoes like russet potatoes may last 3-4 weeks at room temperature or 3-4 months at about 50 degrees. Small creamer potatoes though will last about half the time. So plan on 1-2 weeks at room temperature or 1-2 months at 50 degrees.
Pro Tips: Here's how to make your potatoes last longer.
Increase the humidity:

Potatoes have a lot of moisture and when they are stored in a dry place they tend to dry up and become shriveled. If you have a cool, but humid place in your house, that's the place to keep them.

Store them in a cool dark place:

If you don't have a cool, dark place in your house, store them in the fridge. The cool temperatures actually help turn the starch in the potatoes to sugar and make the potatoes sweeter.

Keep them away from onions and fruit:

onions and fruits release something called ethylene gas and it makes your potatoes go bad faster. Keep them away and naturally your potatoes will last longer.

Avoid washing them:

Only wash the potatoes right before cooking. When you wash them and you aren't ready to cook them it can cause mold to begin growing on the potatoes.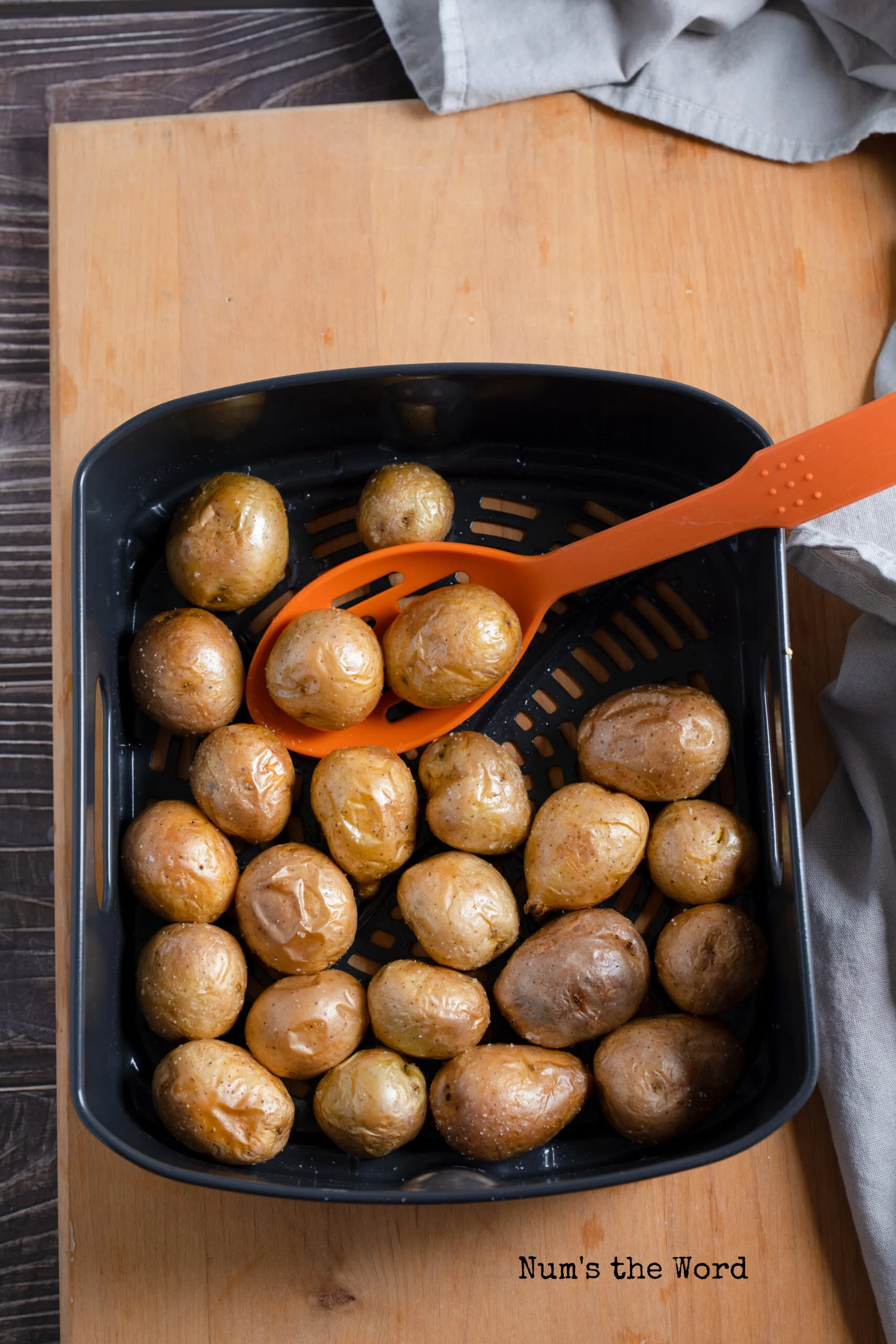 Can You Freeze Baby Potatoes?
You can- but here's the thing. Potatoes are mostly water. Not as much as something like celery, but the percentages are really high.
When you freeze all that moisture into the potatoes and then thaw them they become grainy and mushy. And it's much harder to cook them to perfection when that happens. Here's how to freeze them and still get that perfect crispy skin and soft, fluffy inside.
Blanch:

Boil a pot of water and then toss the baby potatoes into the boiling water whole for 3 – 5 minutes.

Cool:

Quickly remove the potatoes from the boiling water and put them into a bowl of ice water. Let them cool in the water for 3 – 5 minutes.

Drain:

Once the potatoes are thoroughly drained and dried, you're ready to freeze.

Flash Freeze:

Put them on a cookie sheet in a single layer. Freeze for one hour.

Freeze:

Put them in an airtight, freezer safe container. Label so you know the date, and you are good to go!
When you are ready to eat them, defrost and cook as you normally would!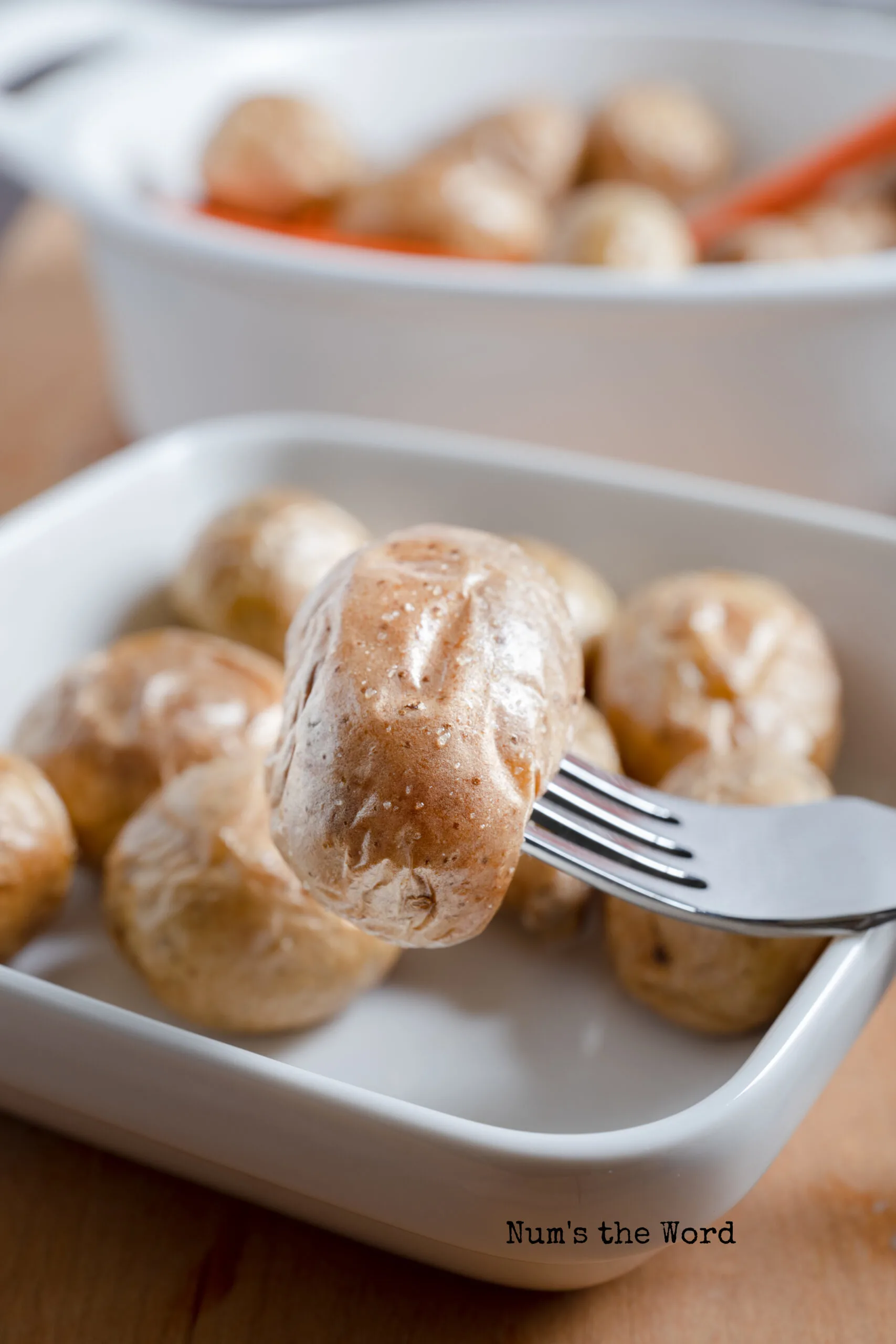 Are Potatoes Healthy?
Potatoes are loaded with
Carbs
Fiber
Protein
Vitamin C
Vitamin B6
Manganese
Potassium
They are actually very good for you but a lot of that also depends on how they are prepared. If they are deep fried, highly processed, etc., they are probably not so great for you.
But in this recipe, covered in a little oil, sprinkled with salt and pepper, and air fried, these little baby potatoes are actually quite good for you.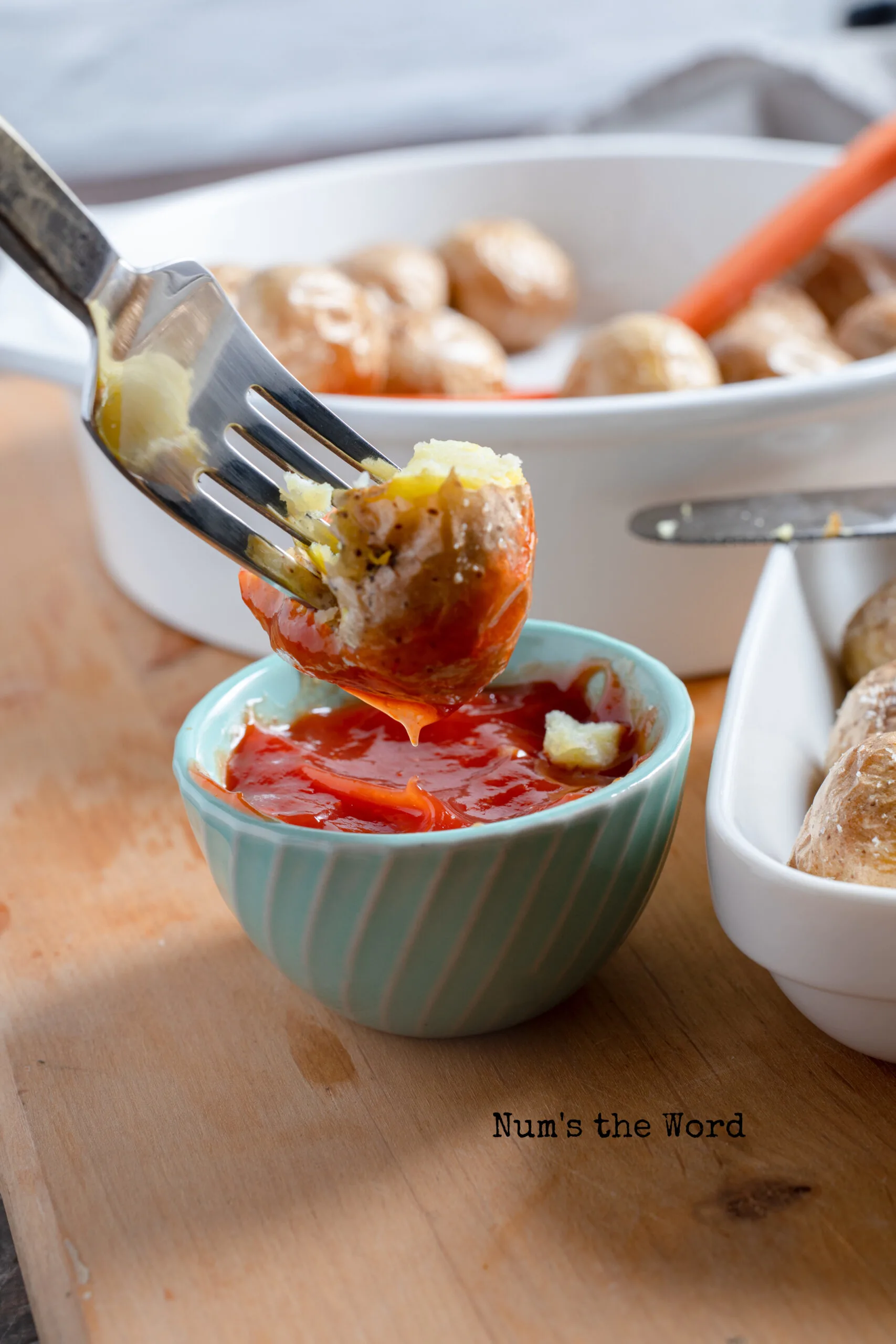 Air Fryer Baby Potatoes are the perfect addition to any meal you are eating. They are perfect for company, don't require heating up the oven, and are super quick and easy to put together.
Their brown, crisp skins, and creamy, soft insides will have everyone asking for seconds!
Yield: 4 Servings
Air Fryer Baby Potatoes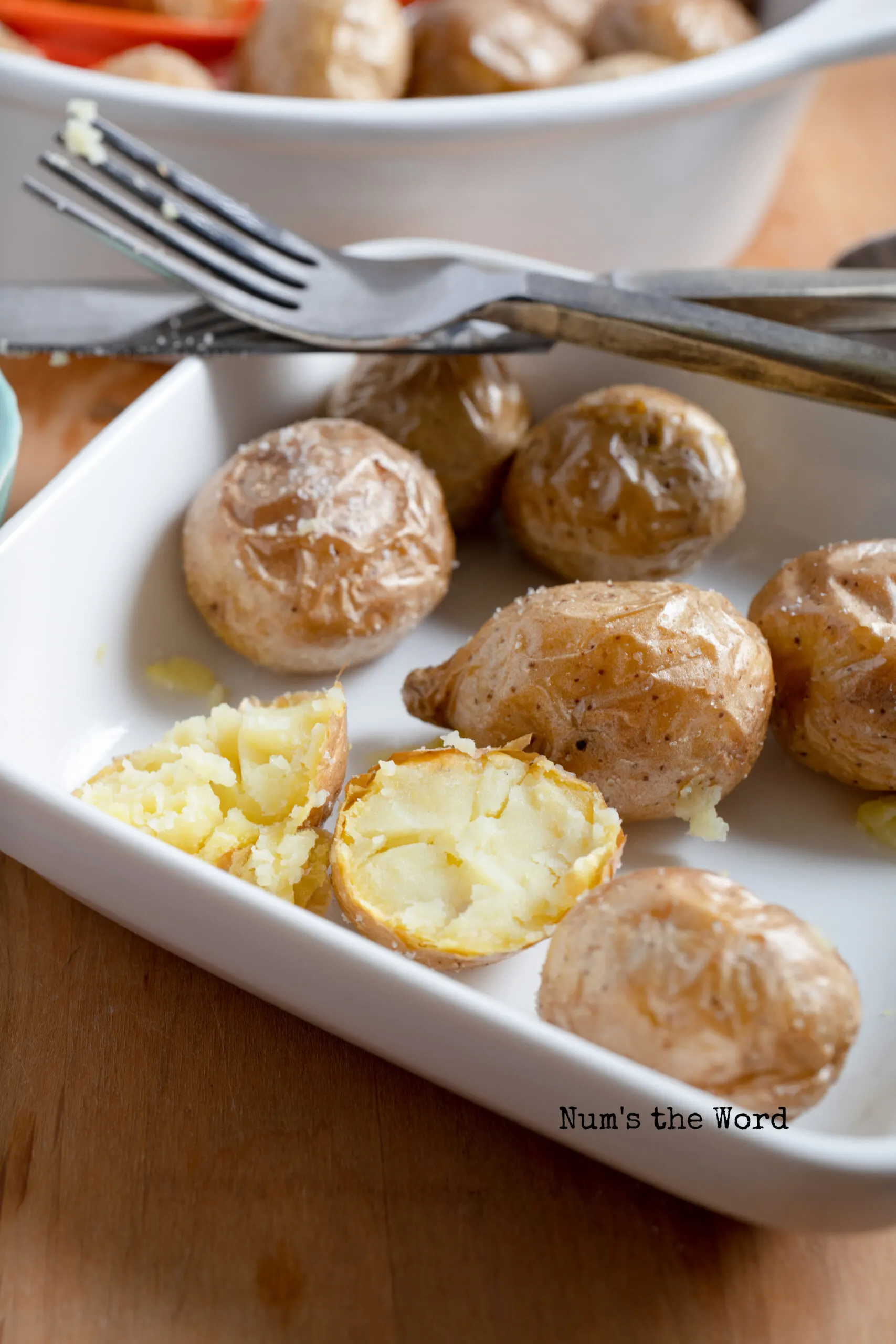 These Air Fryer Baby Potatoes are soft and fluffy on the inside, golden and crispy on the outside, quick to make, and absolutely irresistible.
Ingredients
1 1/2 - 2 pounds of baby (creamer) potatoes
2 Tablespoons vegetable oil
Salt and Pepper to taste
Instructions
Rinse potatoes and pat dry with a paper towel as thoroughly as possible.
Place potatoes in air fryer basket.
Drizzle oil over potaotes and mix well.
Bake at 390F for 7 minutes
Remove basket and turn potatoes.
Bake at 390F for an additional 8 minutes.
Potatoes are finished cooking once the skin is crispy, and flesh is soft.
Remove from air fryer and season with salt and pepper, to taste.
Nutrition Information:
Yield:
4
Serving Size:
1
Amount Per Serving:
Calories:

60
Total Fat:

7g
Saturated Fat:

1g
Trans Fat:

0g
Unsaturated Fat:

6g
Cholesterol:

0mg
Sodium:

74mg
Carbohydrates:

0g
Fiber:

0g
Sugar:

0g
Protein:

0g