Meatloaf without eggs is incredibly moist, easy to make, and finds a place on our table every month! Made with only 8 simple ingredients, this will be one that will quickly find its way into your rotation too!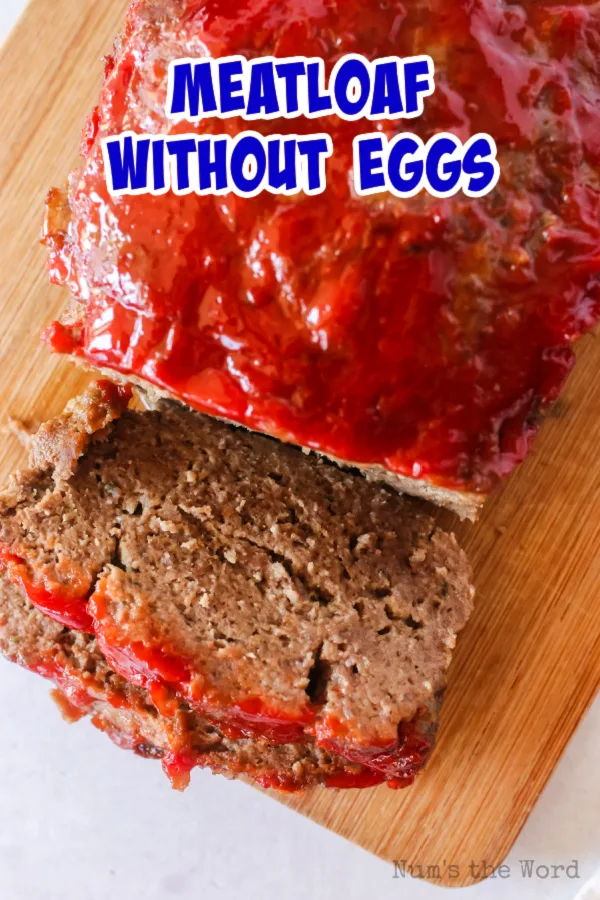 This meatloaf is made with applesauce instead of eggs! Shhh!
When it comes to meatloaf options, we've made this Mini Meatloaf Recipe recipe so many times! But what about when you're dealing with an egg allergy? Or maybe you've run out of eggs?
Welcome to meatloaf without eggs! Applesauce is the binder and the flavor is so subtle no one will know it's there!
It's sweet enough for the kids to love and the Dijon mustard keeps the adults loving it too!
So what do I love about no egg meatloaf?
First of all, the ingredients! They are simple pantry and fridge ingredients you'll probably already have on hand.
Second, it's super easy to throw together! Meatloaf without eggs just requires a few simple steps.
I also love how moist it is! The applesauce keeps it moist no matter the leanness of the beef.
Also, since it's an egg free meatloaf it is very allergy friendly, making it perfect for parties.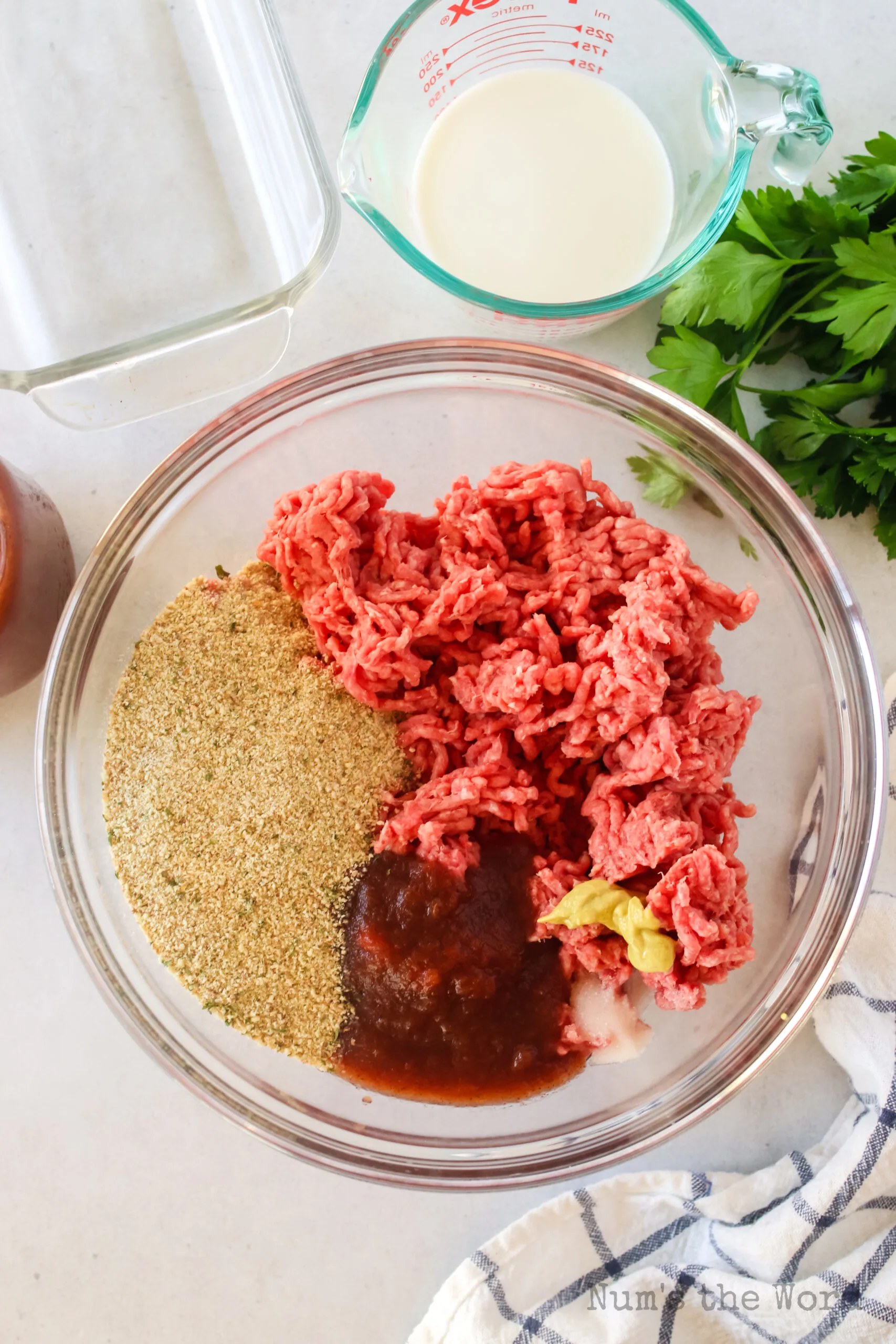 What is Meatloaf?
If you aren't sure what a meatloaf is, let me explain.
I know you're familiar with a bread loaf. Well a meatloaf is a loaf of…meat. It can be made with ground beef, like this recipe, or even ground chicken, turkey, or pork.
The beef is mixed with other ingredients, shaped like a loaf, and then baked or smoked. It is a very meat centered meal.
This particular meatloaf recipe without eggs includes applesauce as it's binder.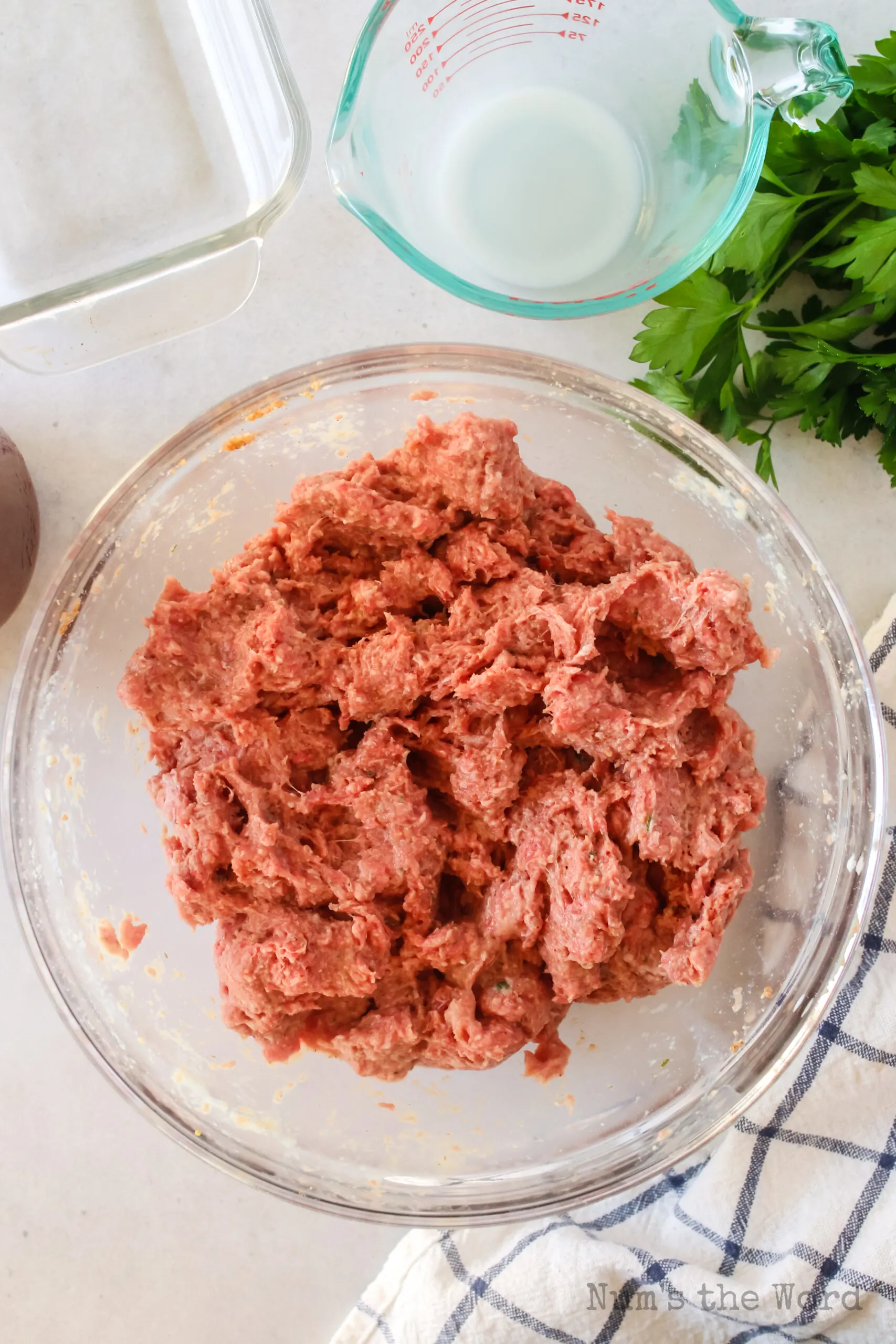 How to Make Meatloaf Without Eggs
Egg Free Meatloaf is super easy to make and you won't miss the eggs at all!
Here's the ingredients you will need.
Ground Beef: It's not meatloaf without the meat. We prefer lean ground beef.
Applesauce:

Don't use flavored applesauce or they'll change the final flavor of the meatloaf.

Italian Bread Crumbs:

The Italian flavor goes really well in this meatloaf recipe.

Salt:

For flavoring! Where would we be without salt?

Dijon Mustard:

This balances out the sweetness of the applesauce.

Milk:

Any regular milk will work. I haven't tried nut or oat milks but if you do, let me know how it turns out.

Brown Sugar:

This offers not just a burst of sweetness but flavor also.

Ketchup:

Combined with the brown sugar, the ketchup will create your topping.
Pro Tip: If you choose to substitute the beef for poultry, your meatloaf will shrink and be less moist.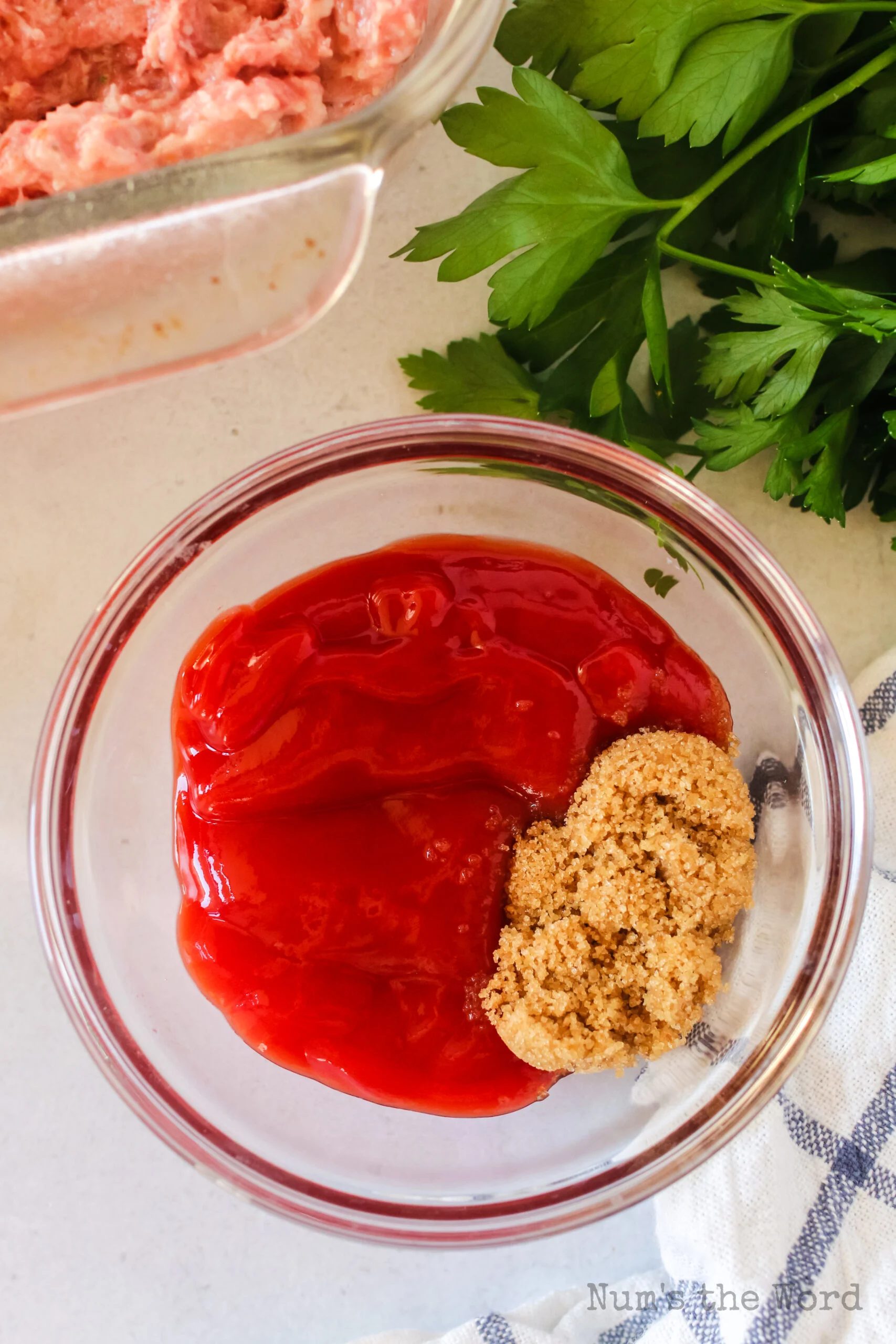 How to Make Meatloaf without Eggs
Here's how to make an easy applesauce meatloaf in three easy steps.
Mix:

Mix slowly and gently, one at a time, all the ingredients except the ketchup and brown sugar.

Top:

Spread the ketchup and brown sugar mixture all over the top, making sure to coat evenly.

Bake:

Put it in the oven and wait for it to be done! Simple as that!
Pro Tips:
Don't push the meatloaf mixture down into the pan or it'll become too dense. Just gently even out the top.

Use a meat thermometer to check for doneness. Beef is done at 160F..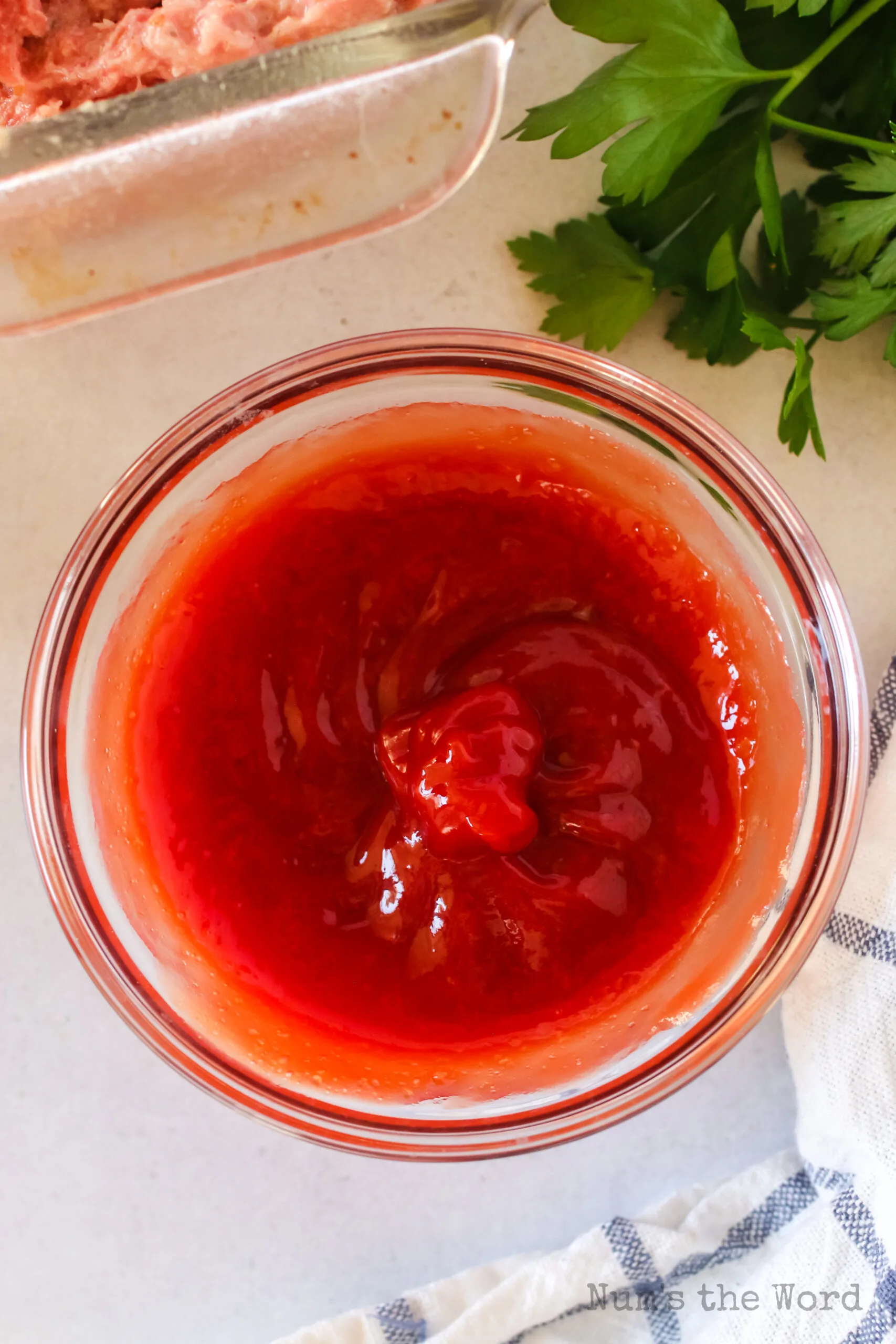 How Long to Cook Meatloaf?
This might surprise you but meatloaf needs to be cooked for a long time!
It takes quite a while for the inside to get to the right temperature.
But the cooking time is a major benefit because it allows the outside to become slightly crisp and delicious.
This no egg meatloaf will need to cook for at least an hour and up to one hour and fifteen minutes.
Be sure to use that meat thermometer to know for certain when it's done.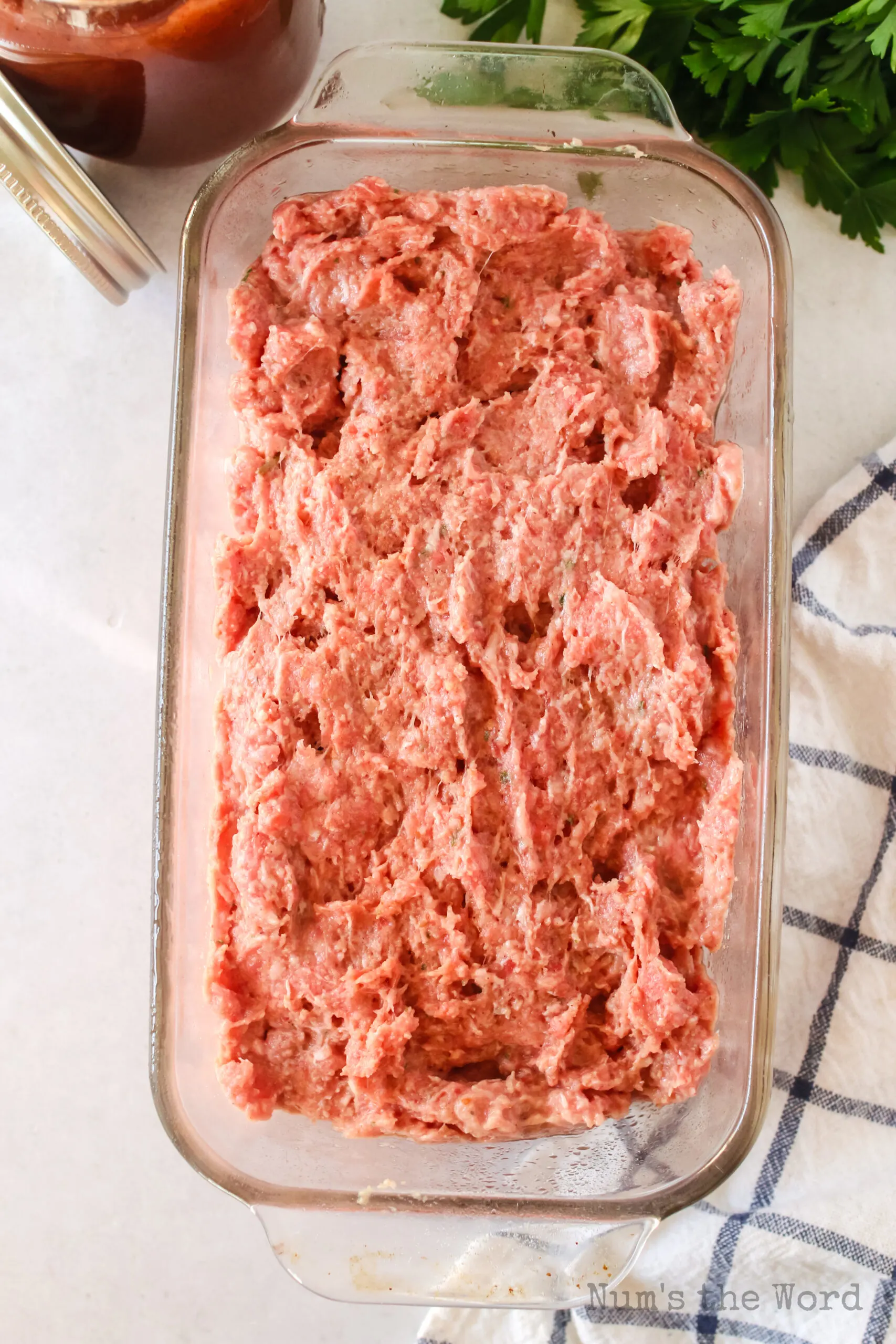 Do You Cover Meatloaf When Baking?
There's no need to cover this meatloaf while baking.
The temperature isn't so high or the cooking time so long that you'll need to worry about burning.
If you find your oven tends to run hot then check it after 40-45 minutes to see if it's getting too crispy and cover if needed.
But for the average oven and baker, you won't have any problems with burning if you follow the recipe as written.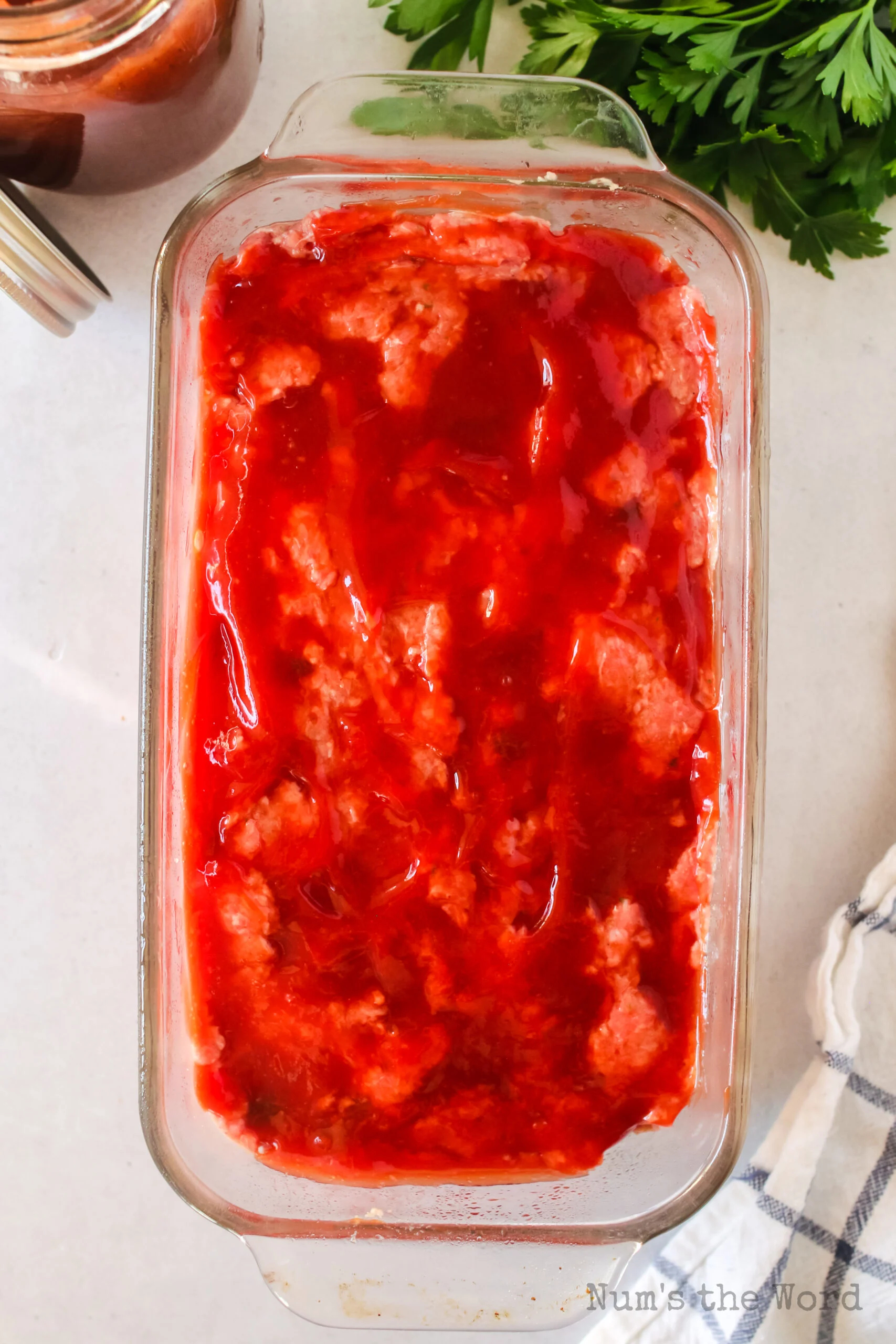 Can You Freeze Meatloaf?
Yes! Meatloaf without eggs can be easily frozen and is a wonderful freezer friendly meal.
I like to double the recipe and make two meatloaf's at the same time.
It's easy and barely takes any extra work at all.
We eat one applesauce meatloaf and freeze the second for later!
Put aluminum foil around the bottom and sides of the pan to make getting the freezer meatloaf out easily.

Let the meatloaf fully cool before freezing.

Wrap the meatloaf tightly and then place in an airtight bag.

Write the name and date and then freeze.
Freezer meatloaf will stay good for up to six months. Though we've always eaten it up well before then!
Cook by reheating in the oven until warmed through.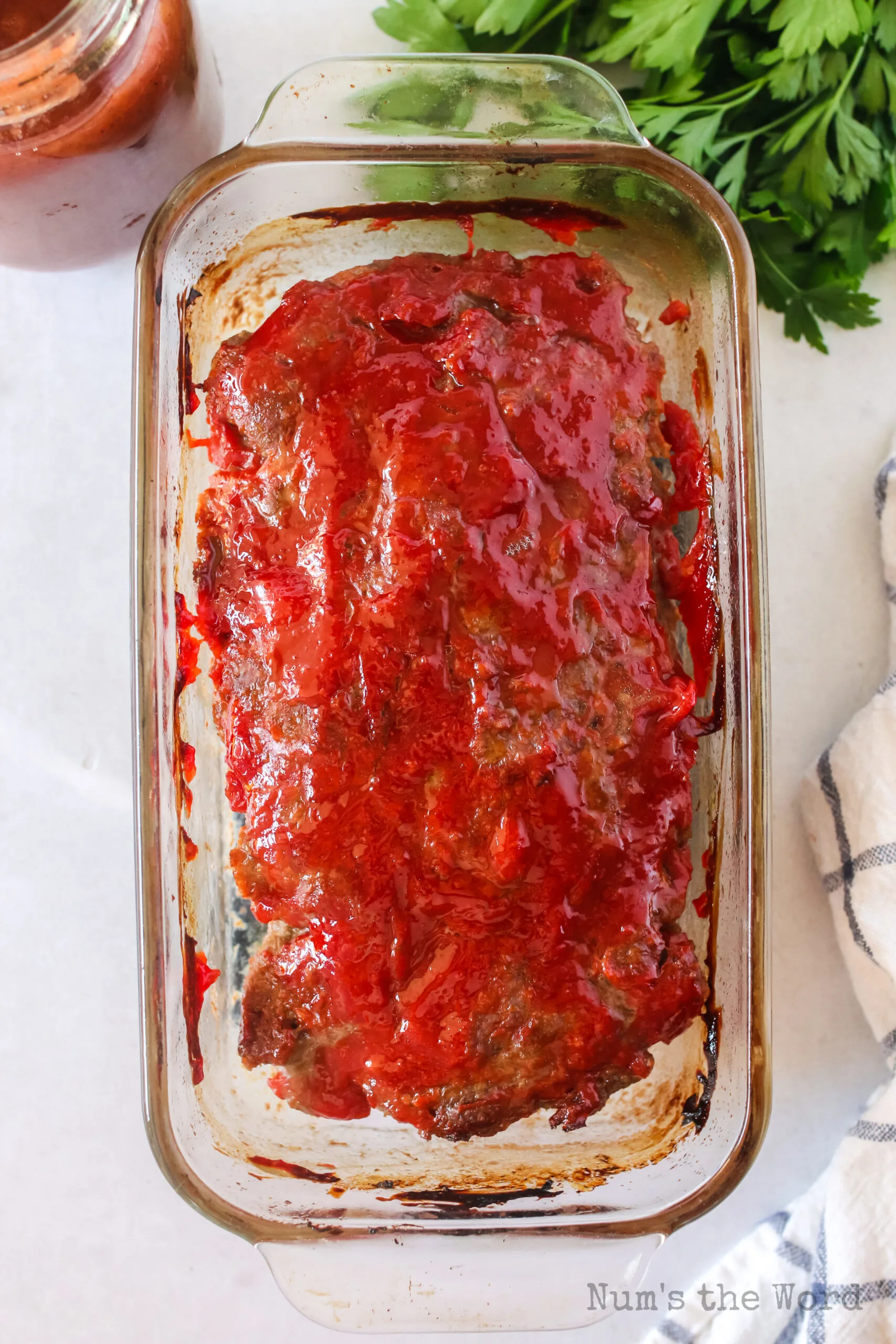 Is Meatloaf Healthy?
Meatloaf is mainly protein, and as anyone knows, protein is essential for muscle building and maintenance.
However, I hardly ever serve meatloaf all on it's own as I find it to be way too heavy of a meal on it's own.
Meatloaf doesn't have any vegetables, fruits, or anything to lighten it up. Though meatloaf does have applesauce, it's protein heavy to eat alone.
Served with a salad or roasted veggies, or mashed potatoes it's a perfect meal.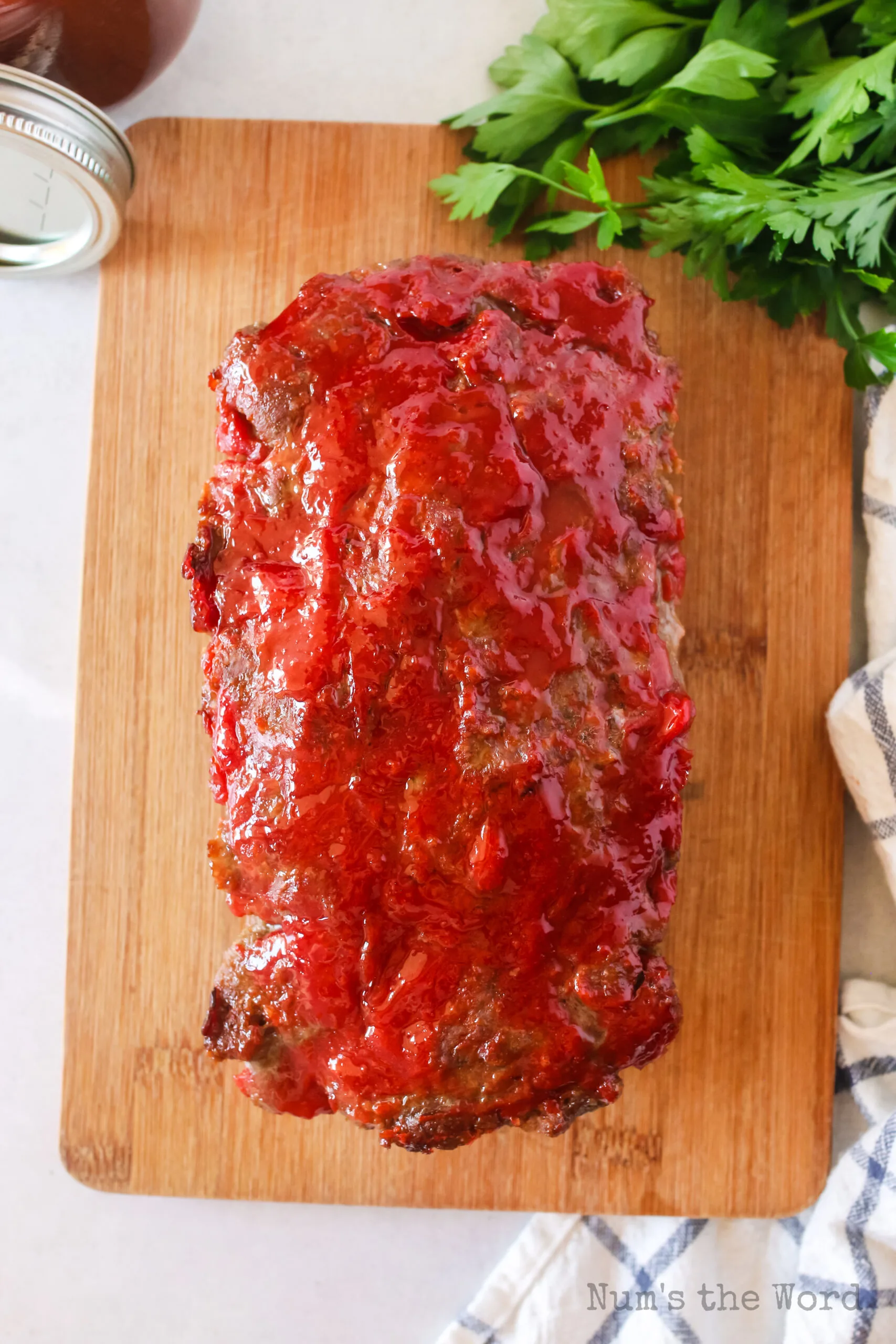 What to Serve with Meatloaf?
Here's some things we love to serve with eggless meatloaf.
Simple Desserts to Serve with Meatloaf…
Meatloaf without eggs is definitely going in your rotation! Easy to bake and moist and delicious, your whole family is going to come back for seconds!
Let me know in the comments what you think! Enjoy!
Yield: 6 Servings
Meatloaf without Eggs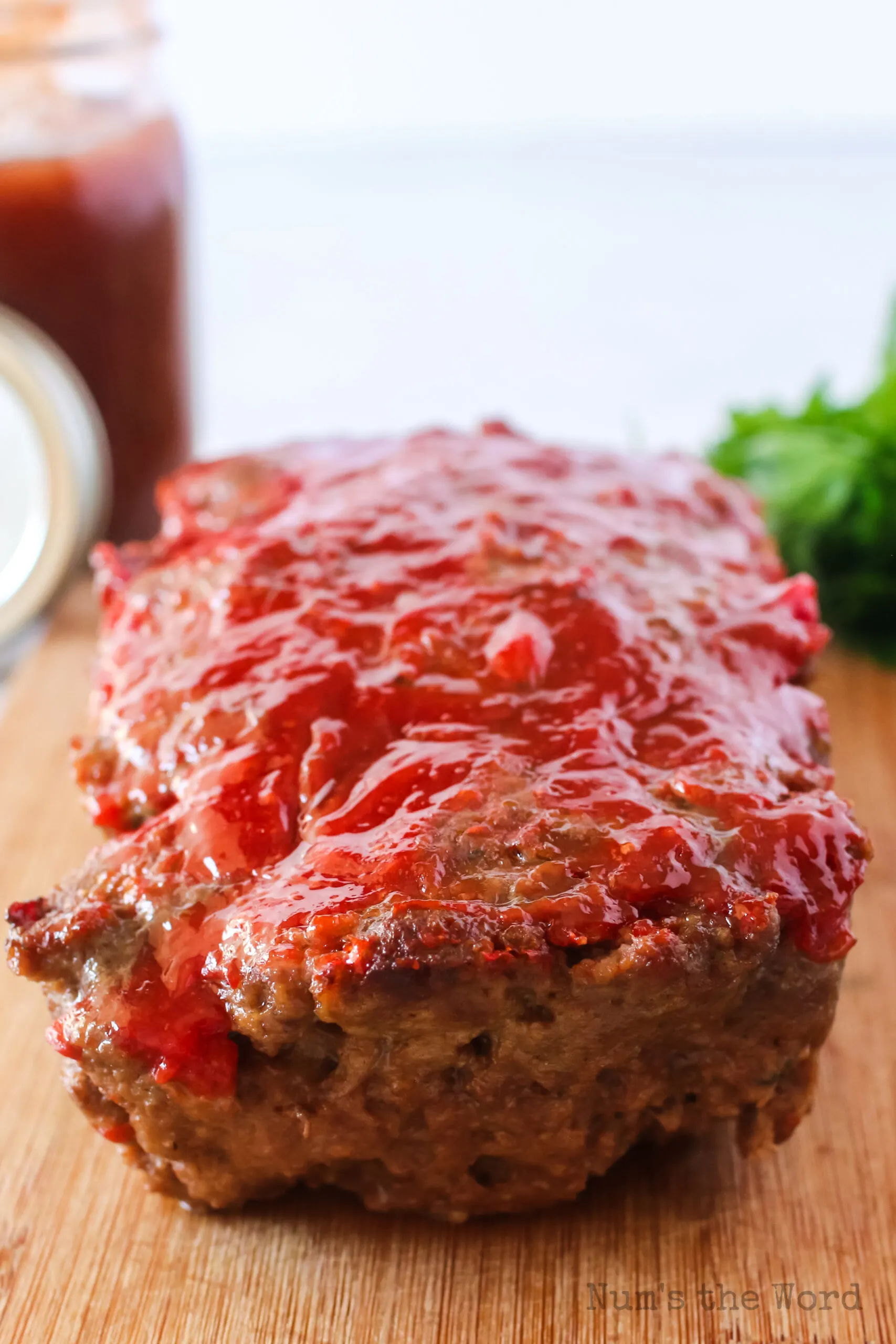 Meatloaf without eggs is incredibly moist, easy to make, and finds a place on our table every month! Made with only 8 simple ingredients, this will be one that will quickly find its way into your rotation too!
Total Time
1 hour
25 minutes
Ingredients
1 1/2 pounds lean ground beef
1/3 cup applesauce
1/2 cup Italian bread crumbs
1 teaspoon salt
1/2 teaspoon Dijon mustard
1/2 cup milk
3 teaspoons brown sugar
1/4 cup ketchup
Instructions
Preheat oven to 350*F
Spray a 9x5" bread pan with nonstick spray. Set aside.
In a bowl combine ground beef, applesauce, bread crumbs, salt and Dijon mustard. Mix well.
Slowly add in milk ¼ cup at a time, mixing well between each addition.
Place ground beef into the bread pan. Gently press it until it's even. DO NOT compact it or you'll get a super dense loaf.
In a small bowl combine brown sugar and ketchup. Mix well and spread over the top of meatloaf.
Bake for 1 hour - 1 hour 15 minutes or until digital thermometer reads 160*F in the center of the loaf.
Remove from the oven and serve immediately.
Nutrition Information:
Yield:
6
Serving Size:
1
Amount Per Serving:
Calories:

336
Total Fat:

15g
Saturated Fat:

6g
Trans Fat:

0g
Unsaturated Fat:

7g
Cholesterol:

103mg
Sodium:

697mg
Carbohydrates:

15g
Fiber:

1g
Sugar:

8g
Protein:

34g