These Instant Pot Mashed Potatoes are easy to make and have great flavor — the perfect side dish to any meal! Whether you're cooking a holiday feast or want a simple and delicious dish for family dinner, this recipe is the one for you.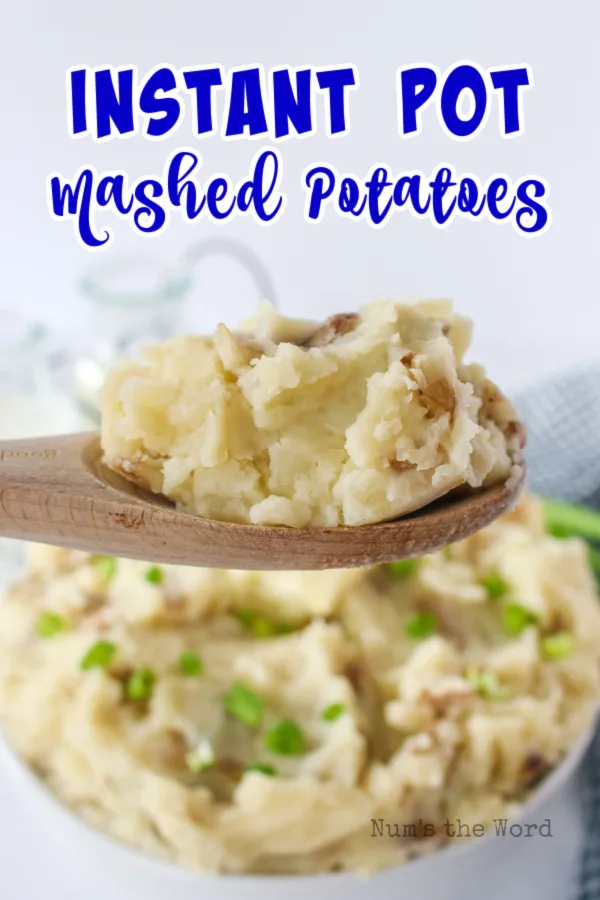 I've always loved making Instant Pot Baked Potatoes, and now I've got another favorite potato cooking method. One of the best things about mashed potatoes in the Instant Pot is that you can set them up and not worry about them while you prepare other parts of the meal! No worrying about a pot bubbling over or running out of water while boiling.
While these mashed potatoes are full of flavor, they're not garlic-y or overly seasoned, which makes them the perfect complement to any main dish! We especially love these mashed potatoes served under our Swedish Meatball recipe.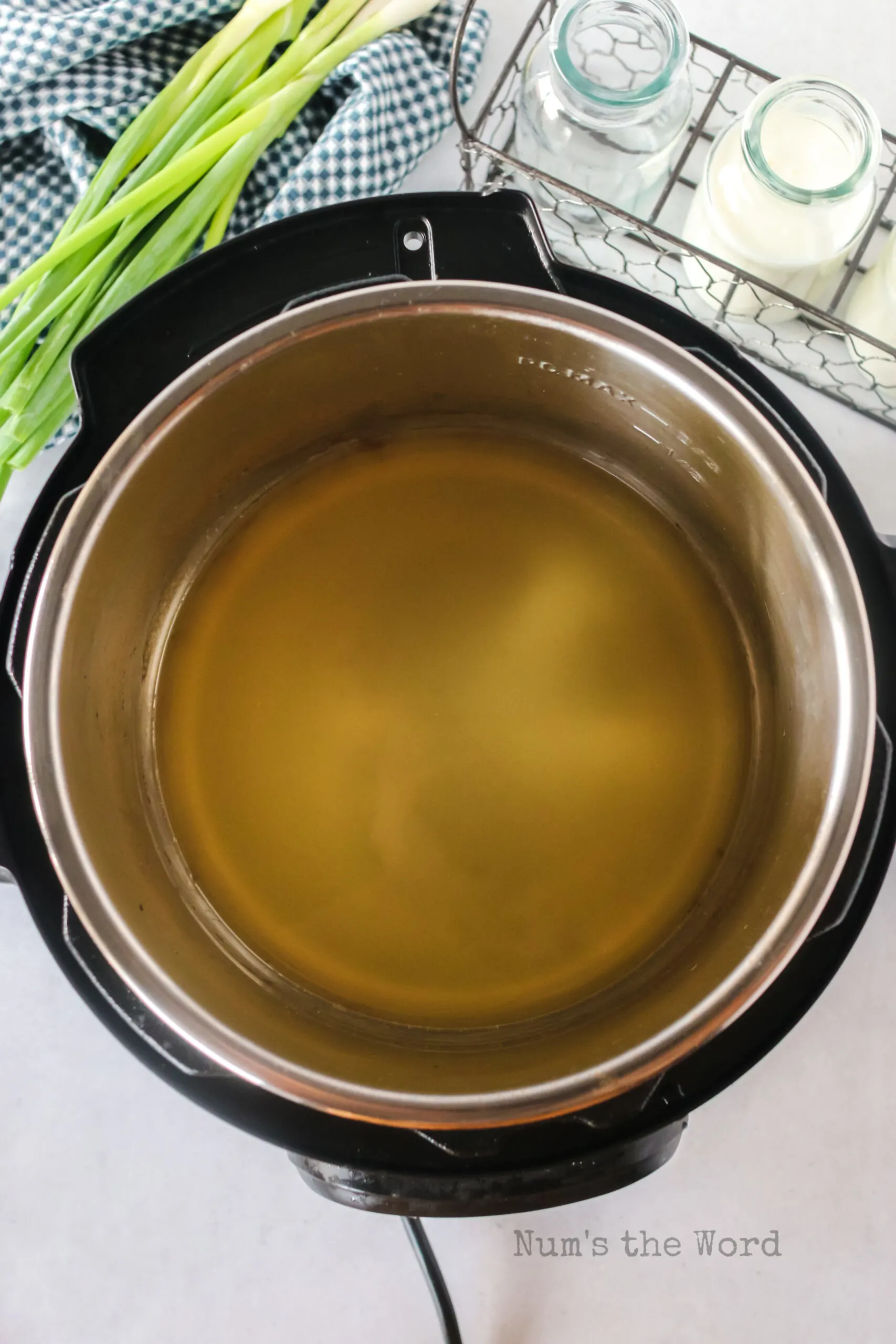 What Ingredients are in Instant Pot Mashed Potatoes
First, you'll need to gather ingredients, which thankfully are very basic and things you likely have in your fridge or pantry!
Potatoes

– I typically use russet potatoes for this recipe, but just about any variety will do! These are instant pot mashed potatoes skin on — they're cooked so perfectly that the skins aren't tough at all! I also love red potatoes with the skins on though you can do skinless too!

Chicken broth

– chicken broth adds great flavor without over seasoning. You can use diluted Better Than Bouillon or regular bouillon as well!

Butter

– butter adds a lot of richness and brings out the great flavor of the potatoes. It's the perfect addition!

Milk

– milk adds just a touch of moisture and richness to keep your mashed potatoes from becoming too dry.

Chives

– chives add a subtle onion flavor and a striking visual contrast to this mashed potato recipe.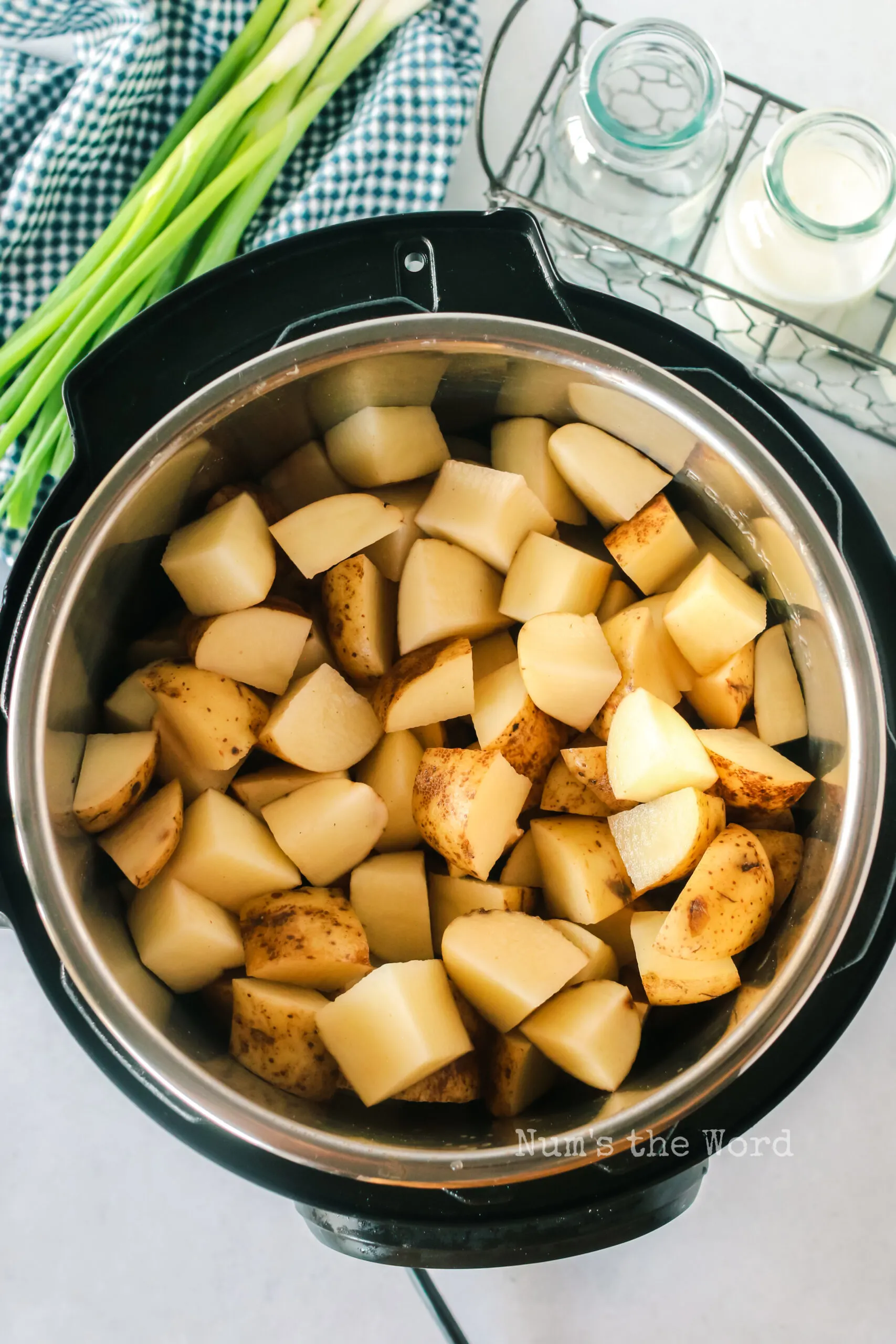 How to make mashed potatoes in instant pot?
Pour

chicken broth into Instant Pot

Add

cubed potatoes

Cook

potatoes

Release

pressure

Mash

with butter

Stir

in milk

Top

with chives

Serve

!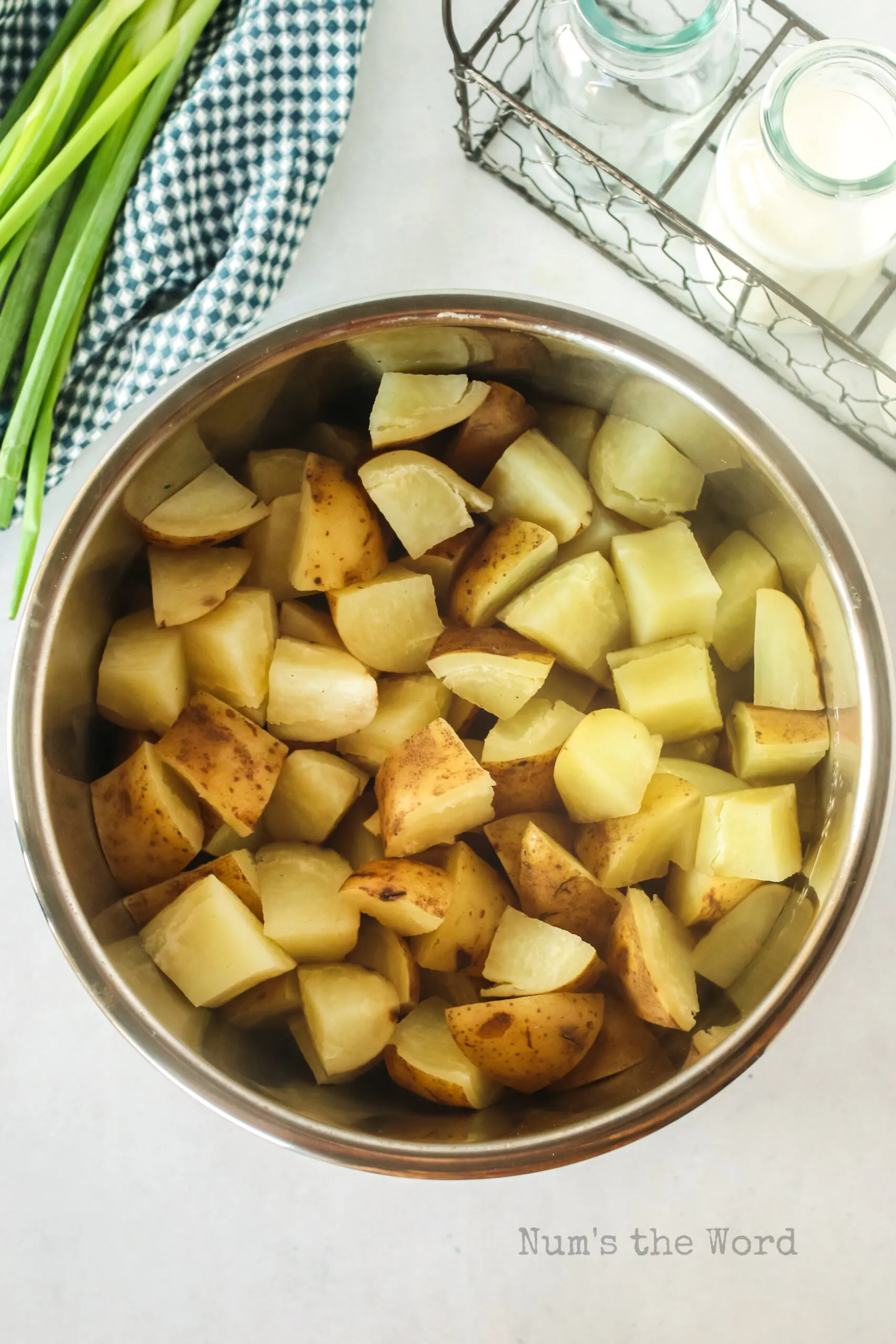 How long to cook mashed potatoes in instant pot?
You'll want to cook the mashed potatoes at high pressure for 10 minutes with a 10 minute natural pressure release. After 10 minutes natural release, quick release the rest of the pressure.
One of the things that first stumped me when I began cooking with the Instant Pot is that sometimes it can take a while for the pot to get up to pressure. I've found that for this recipe, it typically takes about 10-15 minutes to reach pressure and begin the cook-time.
So from start to finish, you can plan on about 30-40 minutes for this recipe. But only a couple of those minutes are spent doing any active work!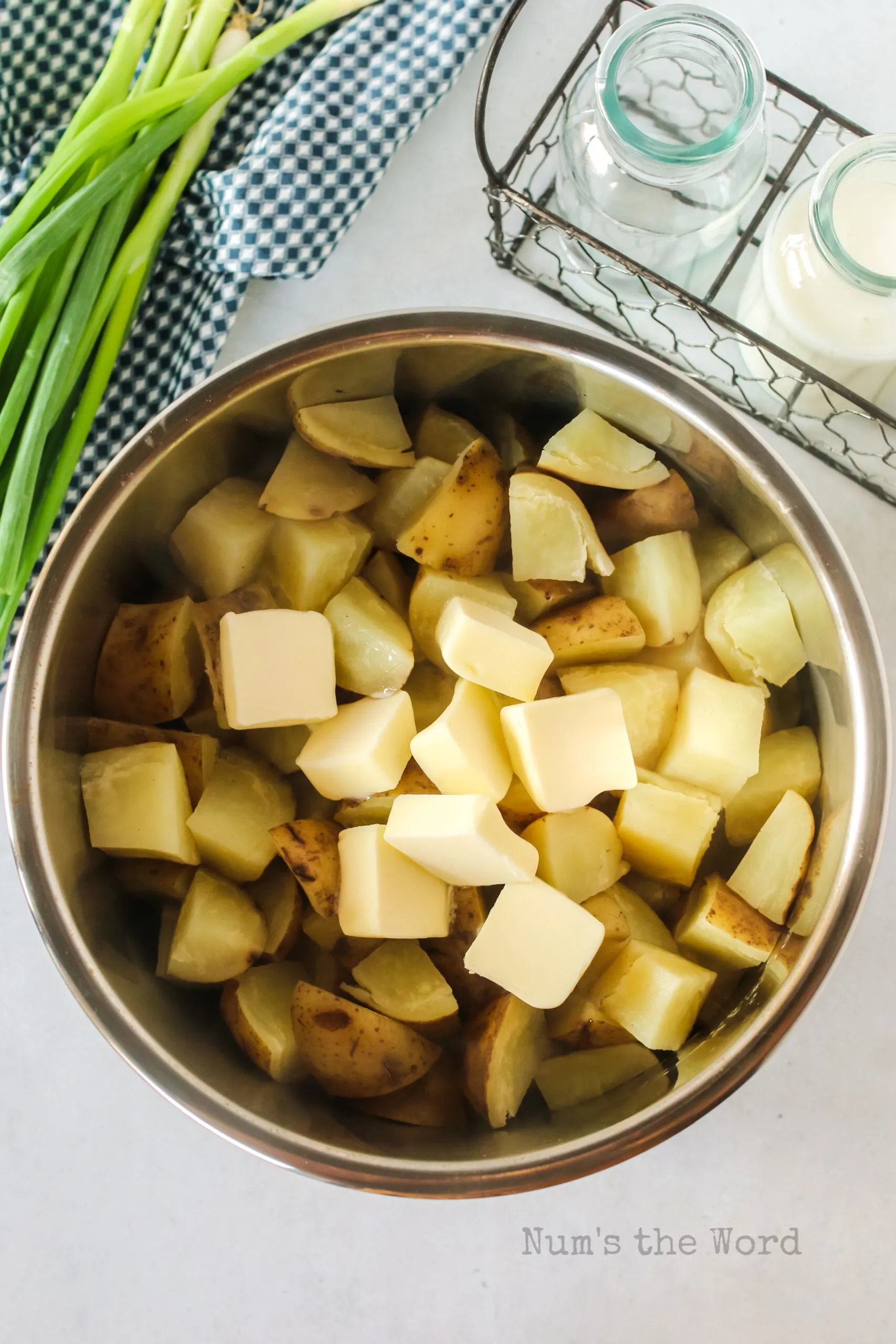 Can I keep mashed potatoes warm in instant pot?
Yes! Part of what makes these the best Instant Pot mashed potatoes is that they're cooked in the Instant Pot! I love the Keep Warm function on my Instant Pot. You can use this function with the lid on (not sealed), to keep the potatoes warm until you're ready to serve them.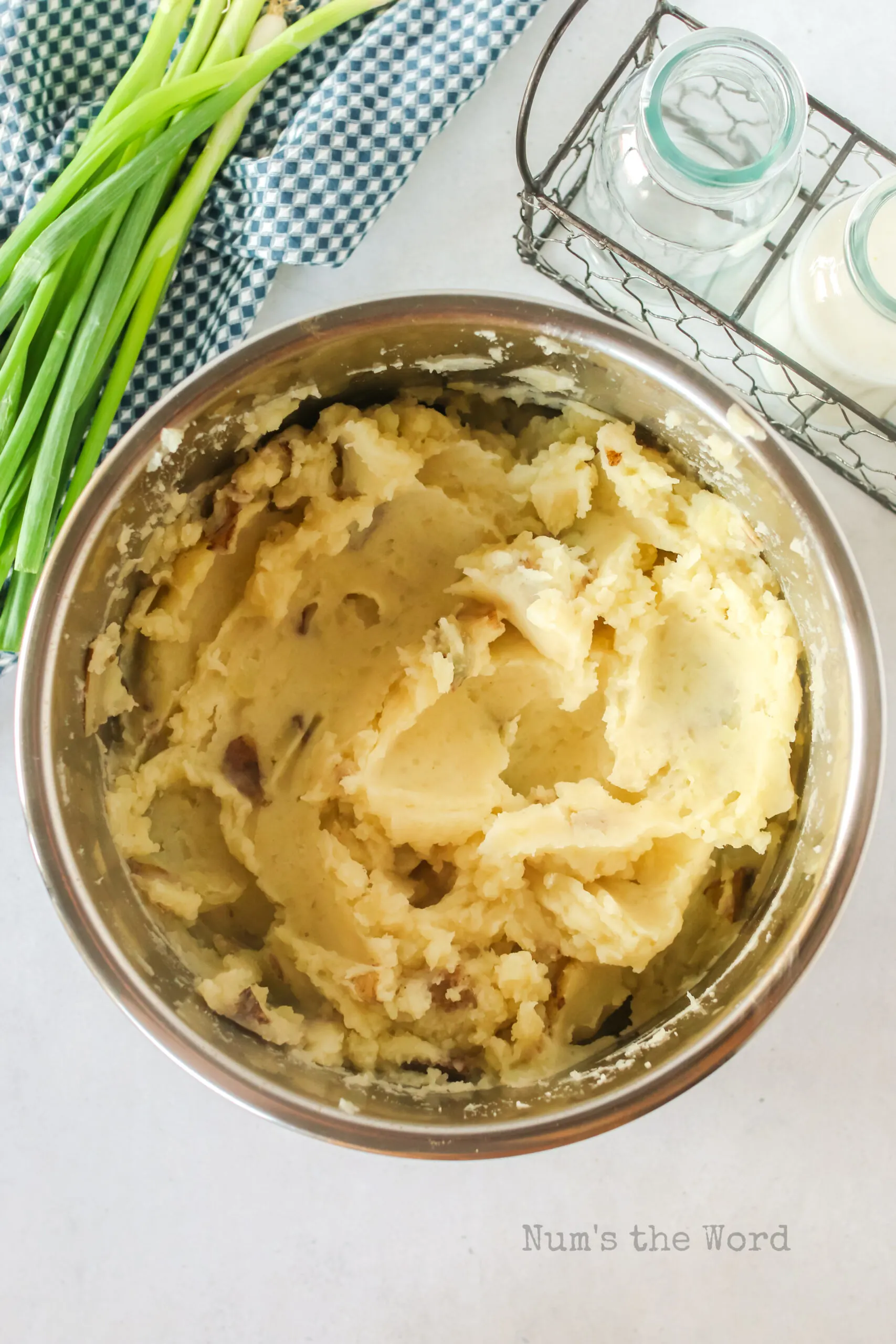 Should you soak potatoes before making instant pot mashed potatoes?
It's not necessary to soak the potatoes before cooking them in the Instant Pot. In fact, over soaking potatoes before boiling and mashing them can make them gluey.
If you want to cut the potatoes ahead of time, I would recommend storing them covered in the broth you'll use to cook them in the fridge for up to a day. If you cook them in the same liquid you used for storing them, you won't lose all the starch and enzymes that keep the potatoes from getting gluey.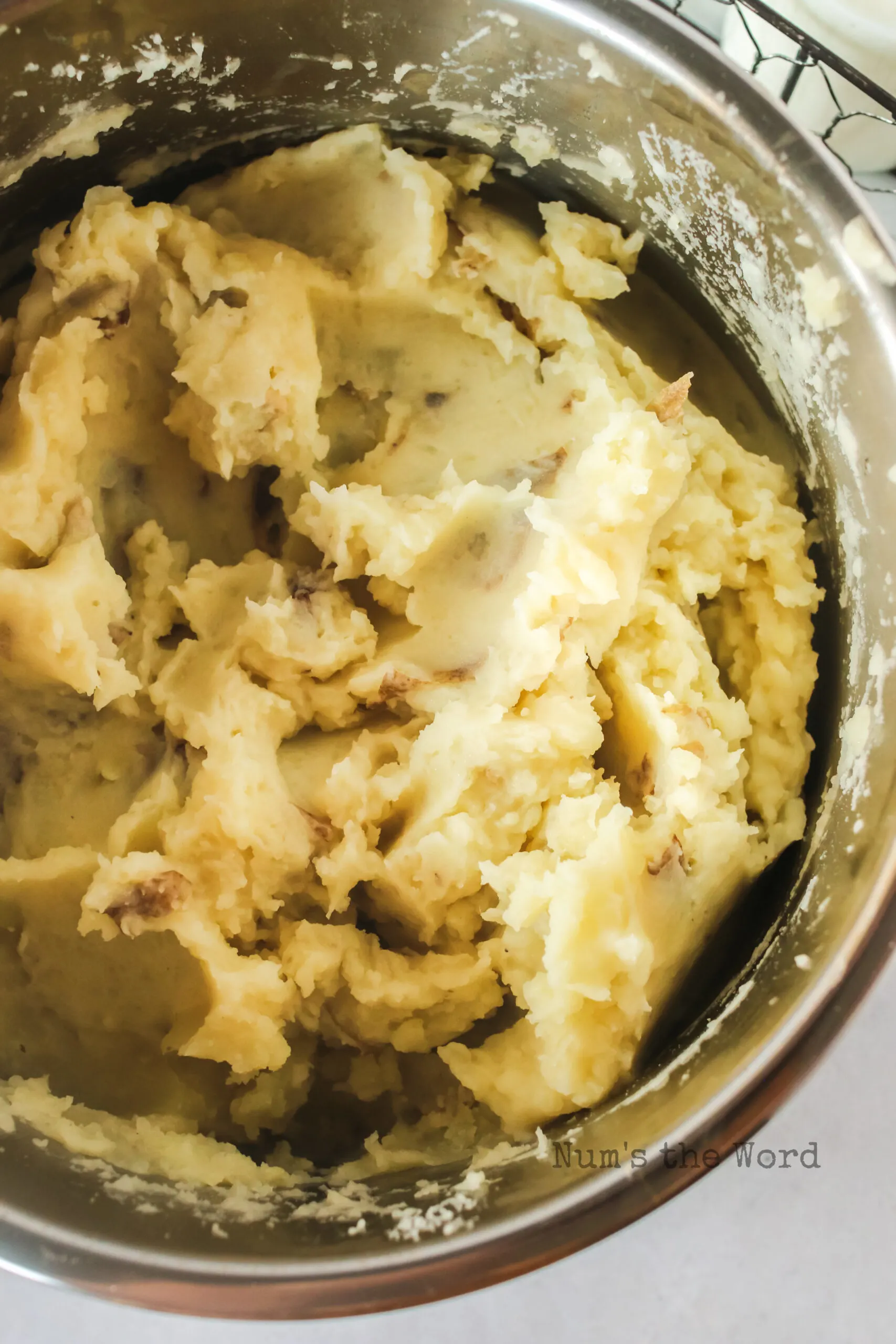 Can you reheat mashed potatoes in an instant pot?
Absolutely! I recommend reheating them using the pot-in-pot method. Use a heat-safe bowl that fits inside the Instant Pot.
Fill the Instant Pot stainless steel bowl with 1 cup of water and then place the pot-in-pot bowl with mashed potatoes inside. Cover and cook using the Steam function for 10 minutes with a natural pressure release.
Reheating in the Instant Pot is a great option because it doesn't dry out the potatoes!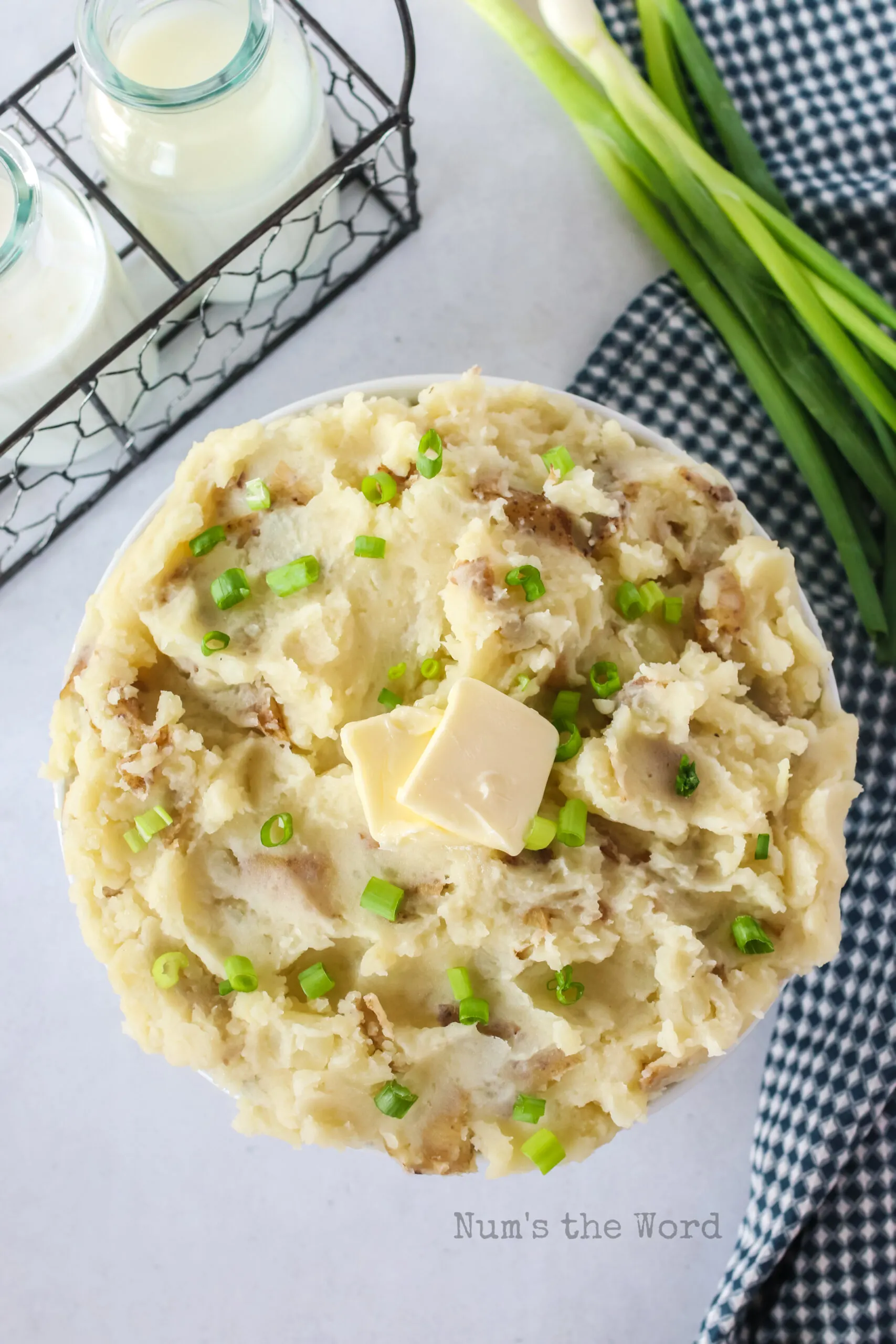 Can you freeze instant pot mashed potatoes?
You can, but keep in mind that frozen potatoes often change in texture. I recommend freezing them on a parchment lined baking sheet in single serving scoops (about 1 cup) and then transferring them to a freezer bag or airtight container.
Because there is a bit of added fat from the butter and the milk in this recipe, they are more likely to hold up when freezing and thawing. When you reheat them, you may find them to be watery. You can add a little bit of baked potato to reduce the wateriness.
If your thawed potatoes are too dry, try adding extra cream or butter a little at a time until the desired consistency is reached.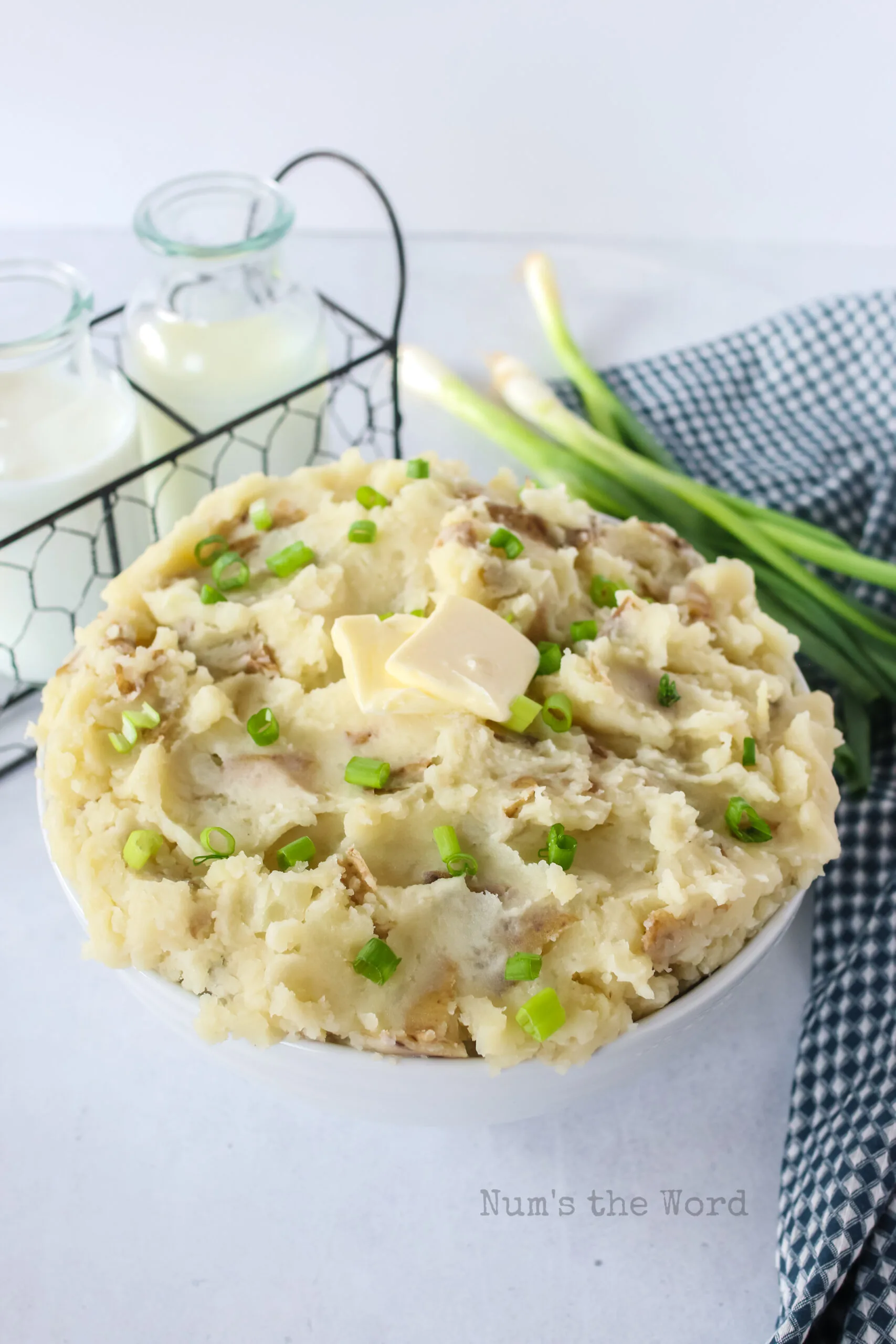 What to do with leftover mashed potatoes?
I LOVE repurposing leftover mashed potatoes and have several great suggestions for you! Check out the following: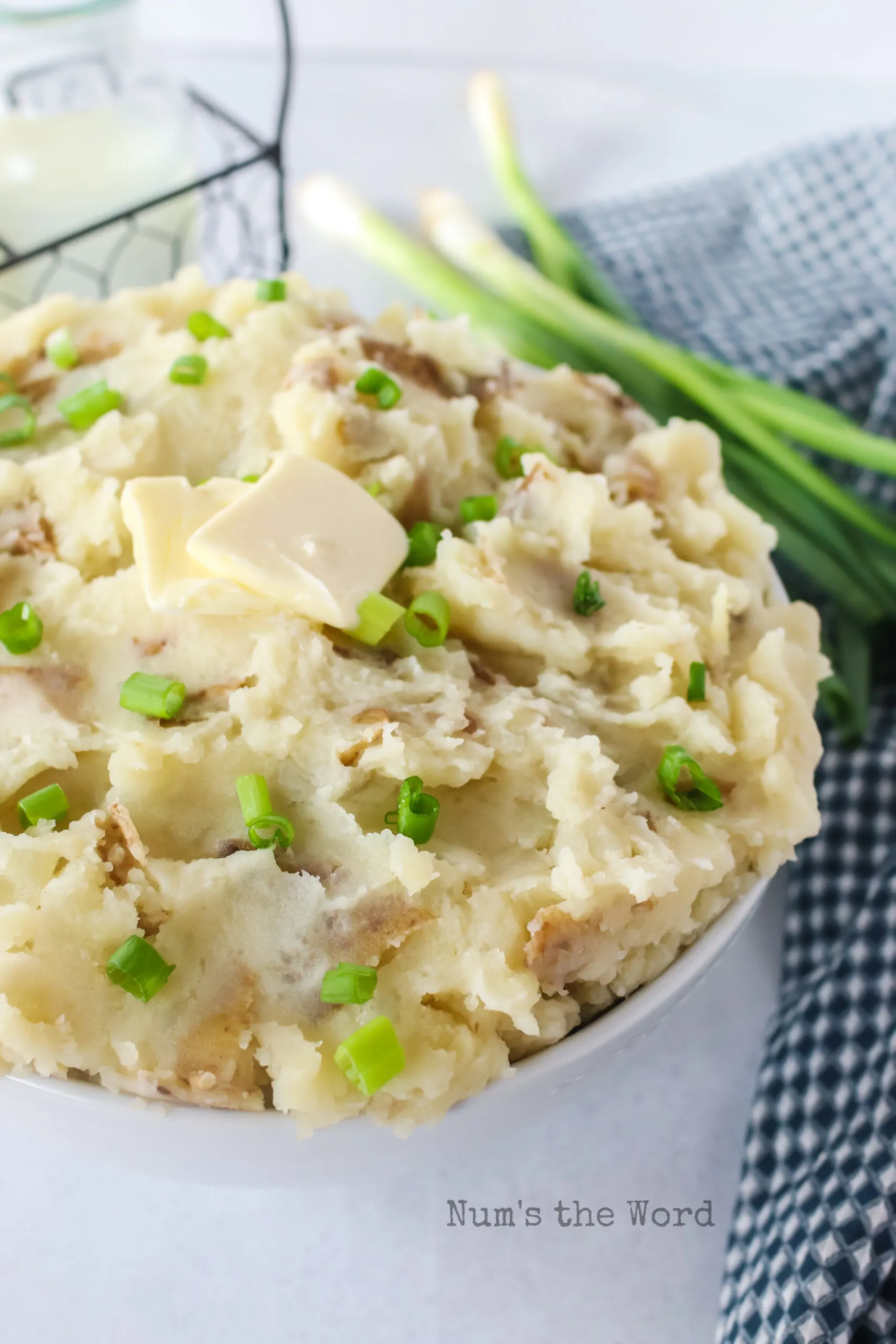 Are instant pot mashed potatoes healthy?
While there are a lot of nutrients in potatoes, these have quite a bit of extra fat from the milk and butter. Moderation is key! Potatoes are a great and inexpensive way to stretch a meal, while providing nutrition as well.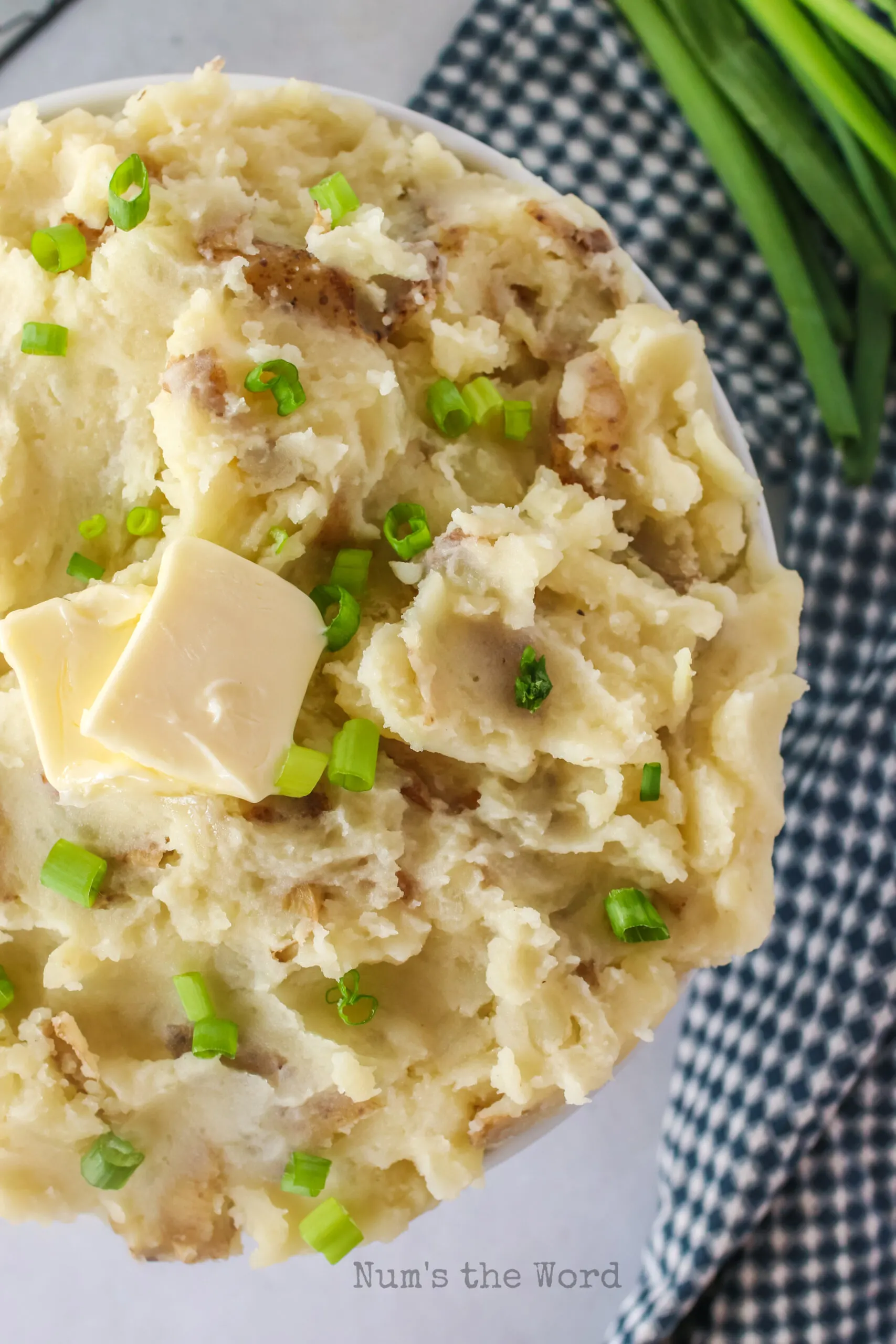 Can dogs eat instant pot mashed potatoes?
Mashed potatoes are safe for dogs to eat and contain a lot of great nutrients. Avoid adding seasonings if you plan to share your instant pot potatoes mashed with your furry friend.
Can cats eat instant pot mashed potatoes?
It's fine to share your mashed potatoes with your kitty as an occasional treat, but it should not be a regular thing.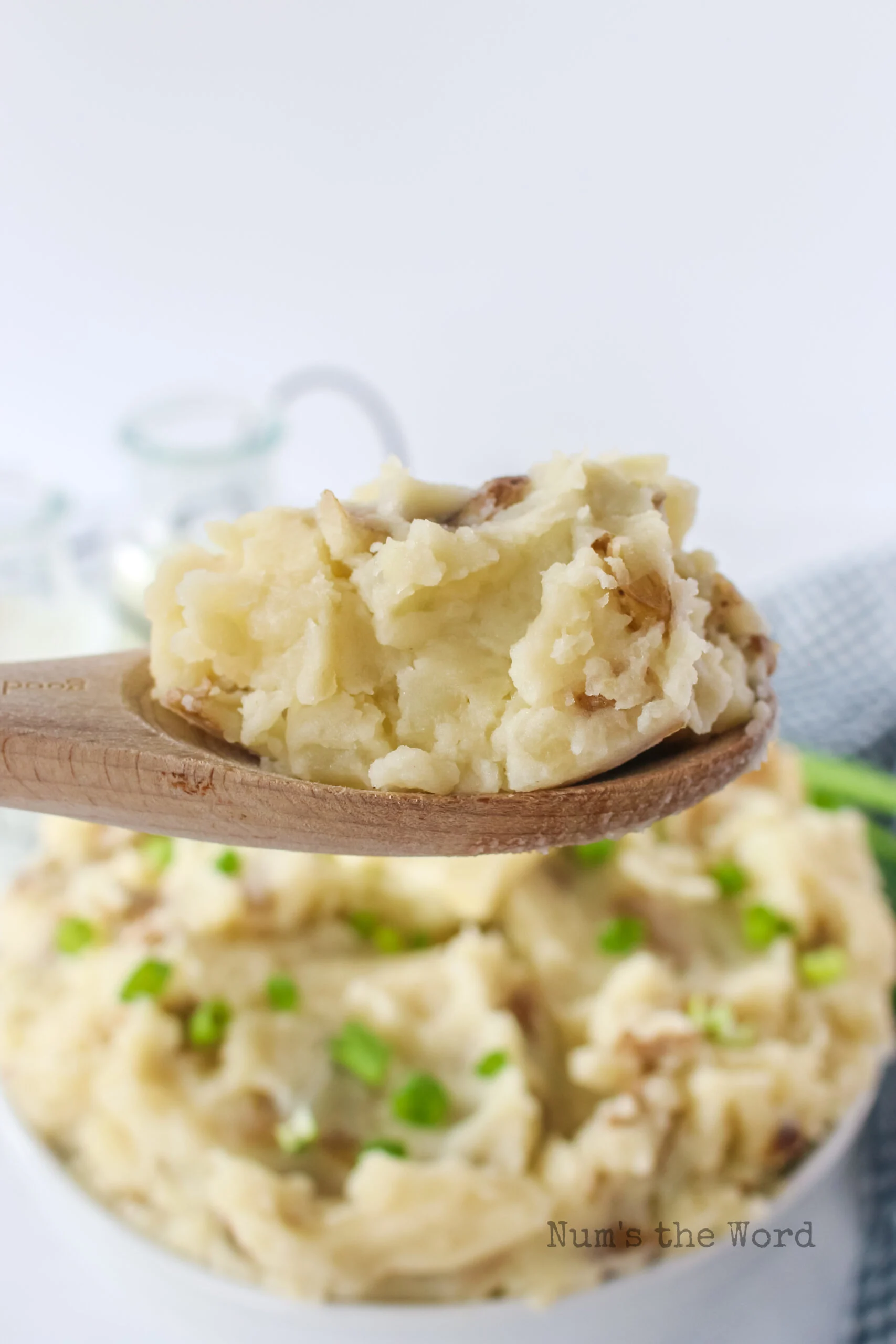 Whether you're looking for a simple side to feed an army or want to save stovetop space while preparing a family holiday feast, these are the perfect mashed potatoes for any occasion! Using the Instant Pot for Thanksgiving or Christmas dinners frees up other appliances for other dishes. Enjoy!
Yield: 10 Servings
Instant Pot Mashed Potatoes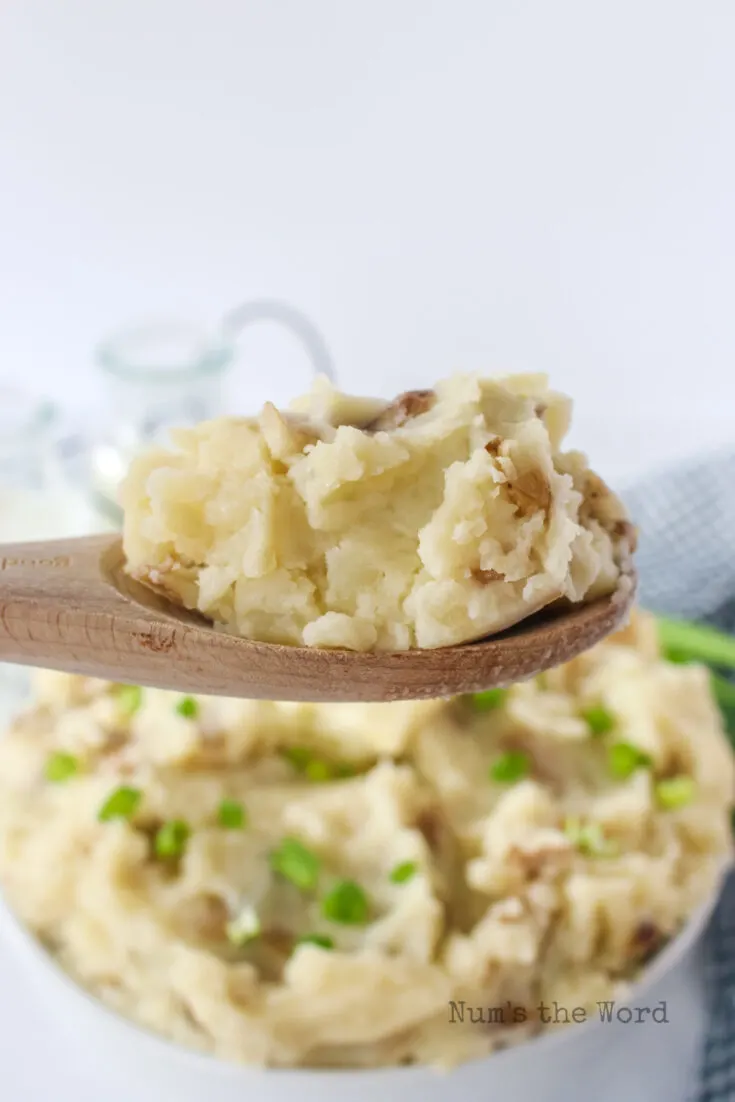 These Instant Pot Mashed Potatoes are easy to make and have great flavor -- the perfect side dish to any meal!
Additional Time
10 minutes
Ingredients
1 (14.5 ounce) can of chicken broth
5 pounds Russet Potatoes, peeled or unpeeled - your choice. Cut into cubes.
3/4 cup butter
1/4 cup milk
chives or green onions
Instructions
Pour chicken broth into an empty instant pot.
Add cubed potatoes into the Instant Pot.
Place the lid on the instant pot and turn the valve to the seal position.
Cook on high pressure for 10 minutes. Instant pot will take 10 minutes to build pressure then cook time will begin.
Once 10 minute cook time has ended, leave potatoes in the instant pot until the screen reads L10, meaning it's a natural release for 10 minutes. After 10 minutes, flip the valve to open and release remaining pressure.
Hit cancel on the instant pot so it no longer cooks.
Open the instant pot and remove the bowl.
Add 1/2 cup butter and mash with a potato masher. Do not over mash. Over mashing makes "gluey" potatoes.
Add milk and mix.
Serve immediately in a serving bowl with salt and pepper and another 4 Tablespoons of butter diced on top.
Top with minced chives or green onions for color.
Nutrition Information:
Yield:
10
Serving Size:
1
Amount Per Serving:
Calories:

347
Total Fat:

14g
Saturated Fat:

9g
Trans Fat:

1g
Unsaturated Fat:

4g
Cholesterol:

38mg
Sodium:

237mg
Carbohydrates:

49g
Fiber:

5g
Sugar:

3g
Protein:

7g