This is the official recipe for Doubletree Chocolate Chip Cookies. So get ready to whip out your mixing bowl because these cookies are out of this world amazing.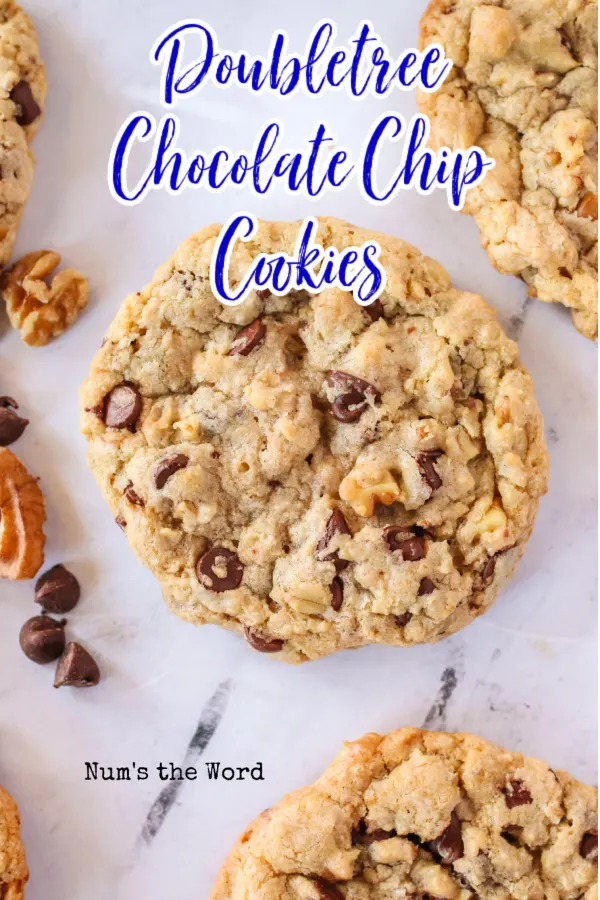 Soft centers, crispy edges, scores of chocolate, nuts, and oats. They are the perfect cookie!
One thing that makes this doubletree chocolate chip cookie recipe so special is their size.
With almost ¼ cup of batter in each cookie, they are massive cookies! And totally tasty through and through!
The doubletree hotel chocolate chip cookies are also super soft in the middle and crispy on the outside.
I love that there is no additional chilling time needed either. When you've finished mixing, you can start baking. Hallelujah!
Add to all this are the rolled oats and lemon juice that give the doubletree cookies a perfectly chewy texture.
And did I mention that hint of cinnamon?
Doubletree chocolate chip cookies, here we come!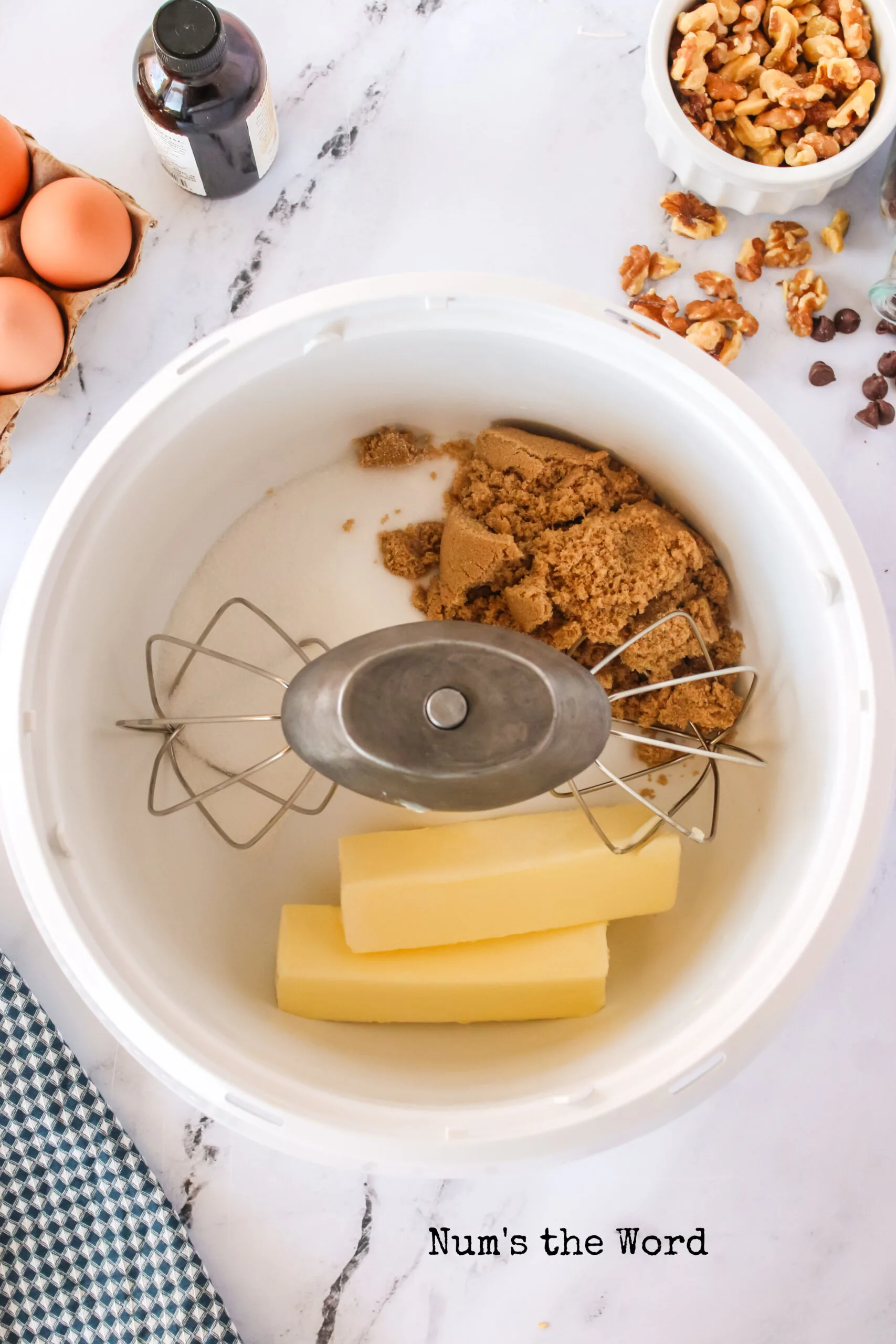 What are the Ingredients for Doubletree Chocolate Chip Cookies?
Butter:

Lots of butter! Maybe that's what makes these cookies so good?

Sugar:

White sugar and brown sugar combined give the cookies a dual flavor.

Eggs:

These are needed to bind the cookies together and help them rise.

Vanilla:

For that sweet vanilla flavor.

Lemon Juice:

This gives your cookies an extra lift and texture.

Flour:

Use all purpose, white flour.

Oats:

Holy texture! Oats are another secret ingredient that really creates the cookie.

Baking Soda:

This reacts with that lemon juice to help those cookies rise.

Salt:

Salt is necessary to bring out the flavors of everything else.

Cinnamon:

Just a hint but so worth it.

Chocolate Chips:

Lots of chocolate chips. And your taste buds will thank you for it.

Walnuts:

The walnuts give the doubletree cookies a slightly nutty flavor.
Pro Tips:
Use Fresh whenever possible. The vanilla, lemon juice, salt, eggs, butter. All of it. If it's fresh and pure, it'll show in your cookies. And vice versa!

Take the butter out of the fridge before you want to cook. Melted butter will make the cookies go flat while cold butter won't let them spread.

Use mini chocolate chips for even more chocolate in every bite!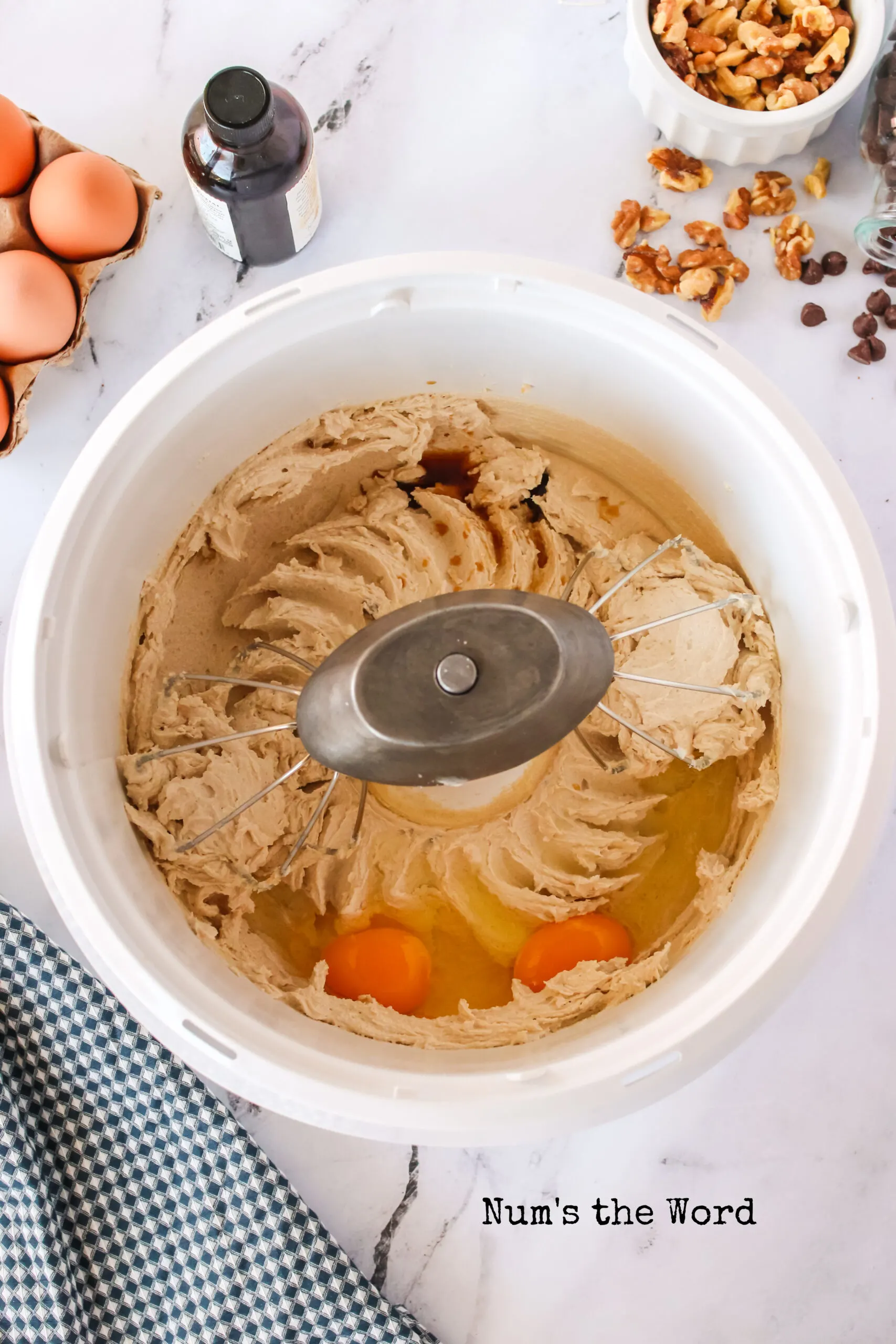 How to Make Doubletree Chocolate Chip Cookies
Cream:

Don't be afraid to really cream the butter and sugar. You don't want any large pieces of butter left.

Add Liquid Ingredients:

Scrape down the sides of the bowl while you add the liquid ingredients to make sure all of the creamed butter and sugar is incorporated.

Add Dry Ingredients:

Here's where you don't want to overmix or your cookies can turn tough. Simply add the dry ingredients and mix until just mixed.

Stir In Mix Ins:

Chocolate chips and walnuts should be added by hand so they don't get crushed by the mixer.

Bake:

Don't forget the big scooper!
Pro Tips:
300 Degrees is not a typo. The temperature may seem lower than normal but it's the perfect temperature for doubletree cookies.

Line your baking sheet with parchment paper to prevent sticking and make clean up easier.

Allow the cookies to rest for one hour after baking. It really melds the flavors into one delightful cookie.

The cookie should still be gooey in the center once done. Don't overcook or the cookies will become hard.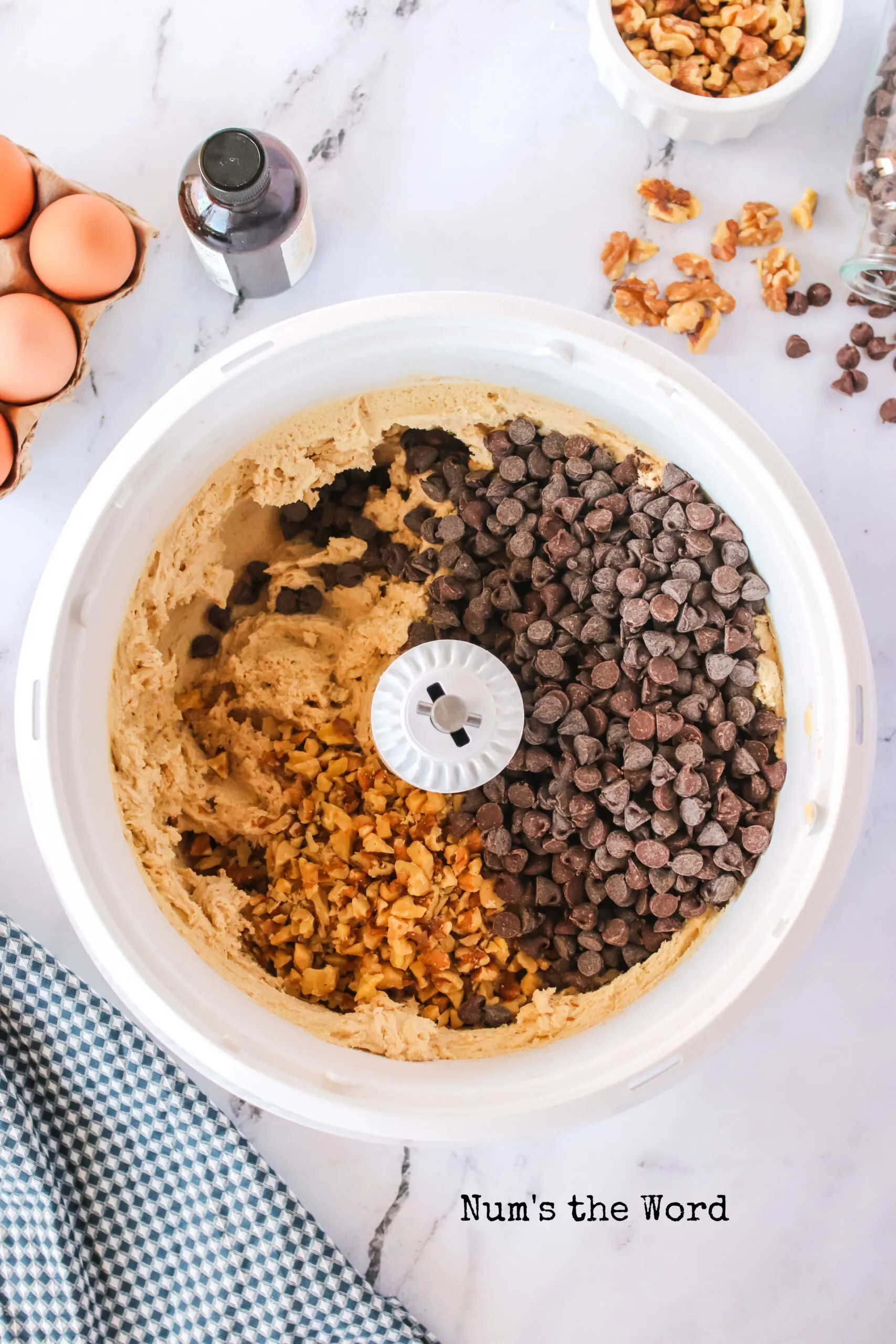 Can You Freeze Doubletree Chocolate Chip Cookies?
Yes! They can be frozen in raw cookie dough form or baked cookie form. And here's a secret: You don't need to thaw the cookie dough either!
Make the dough and then scoop the cookies onto the baking sheet. They can be closer together than if you were baking them as they will be frozen.
Put them in the freezer for 30 minutes. Remove and place them in a zippered bag or container. When you're ready to bake them, take them straight from the freezer to the oven!
If you want to freeze them after you've baked them, simply wait for them to cool completely. Then place parchment paper between each cookie to prevent them from sticking to one another in the freezer.
Doubletree chocolate chip cookies make excellent emergency cookies as they don't need to be thawed. They can be cooked on a moment's notice!
Can You Use a Different Nut in Doubletree Chocolate Chip Cookies?
Walnuts are really good in doubletree chocolate chip cookies because they have a mild and buttery flavor If you can't have walnuts or don't like them, pecans would be a second choice.
The flavor is much richer with pecans and they also tend to be more brittle once baked. I personally haven't tried it with pecans as we love walnuts but if I had to pick a second, it would be pecans.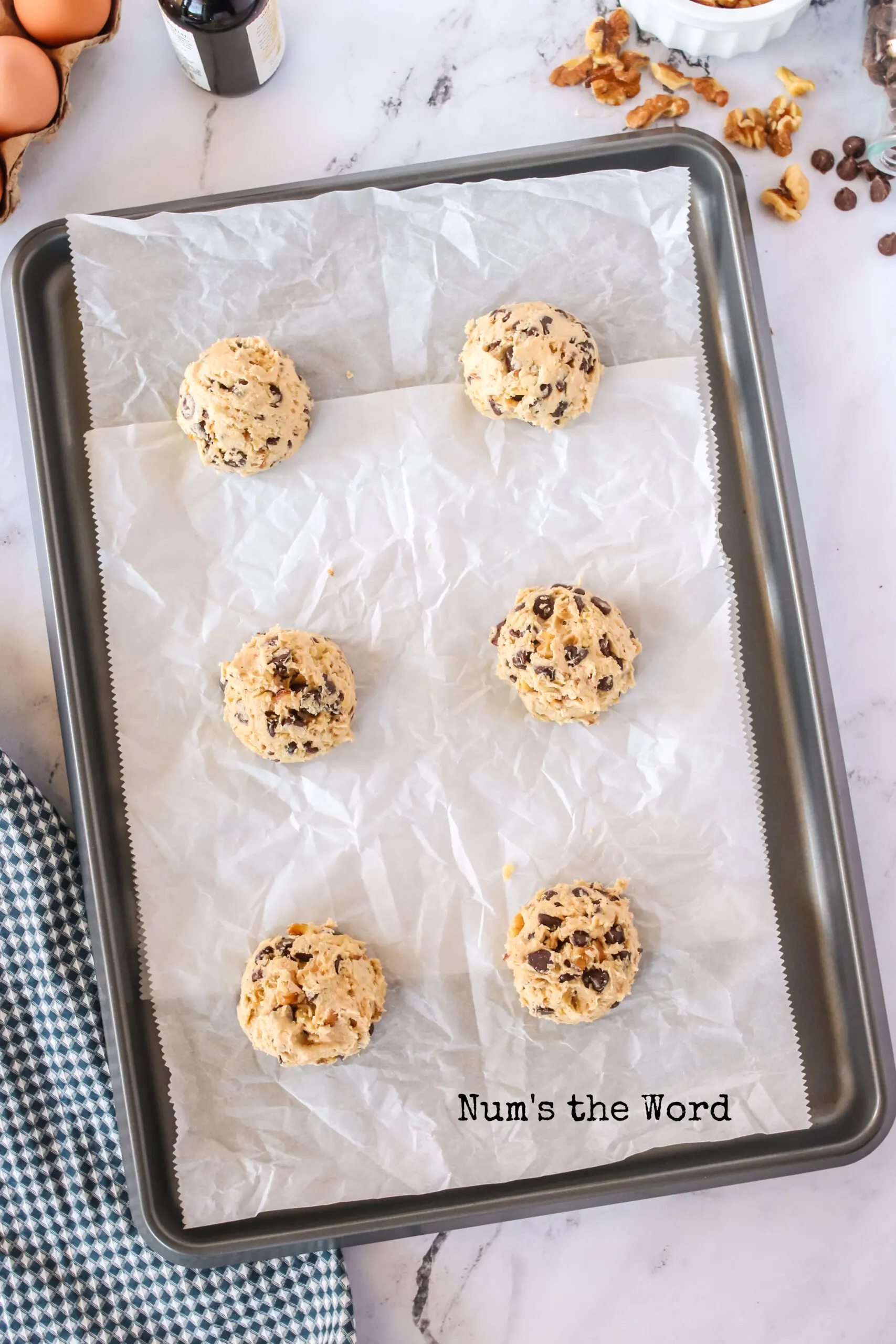 Do I Have to Add Nuts to Doubletree Chocolate Chip Cookies?
You do not. If you have a nut allergy, or just don't like them, it's totally okay to skip the cookies all together.
While your finished cookie will be lacking the signature crunch of the original doubletree chocolate chip cookies, it'll still be very yummy.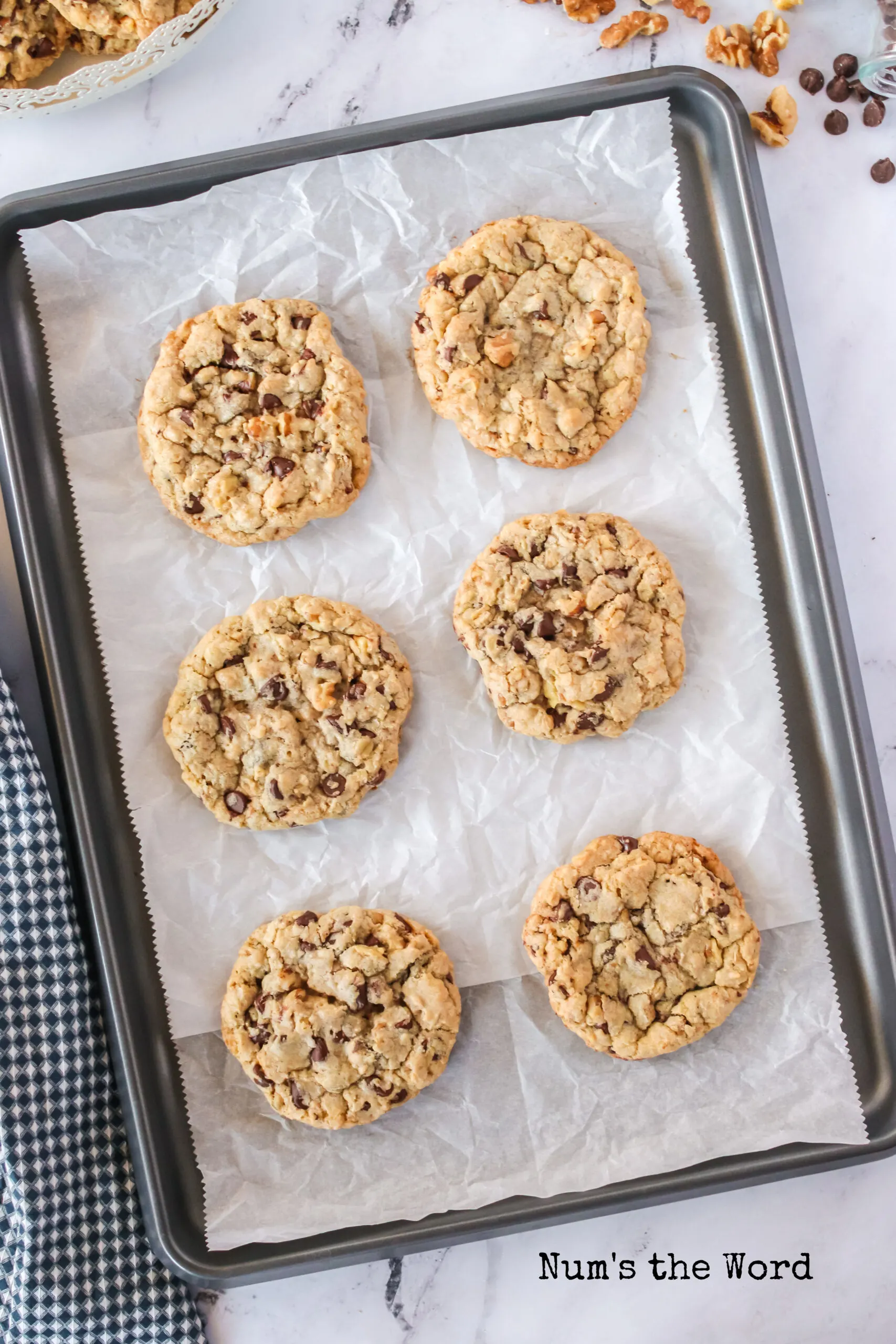 How to Store Doubletree Chocolate Chip Cookies
Cookies should be kept in an airtight container or wrapped tightly.
Stored in this manner, they will stay good on the counter for up to three days.
In the freezer they will last for up to three months.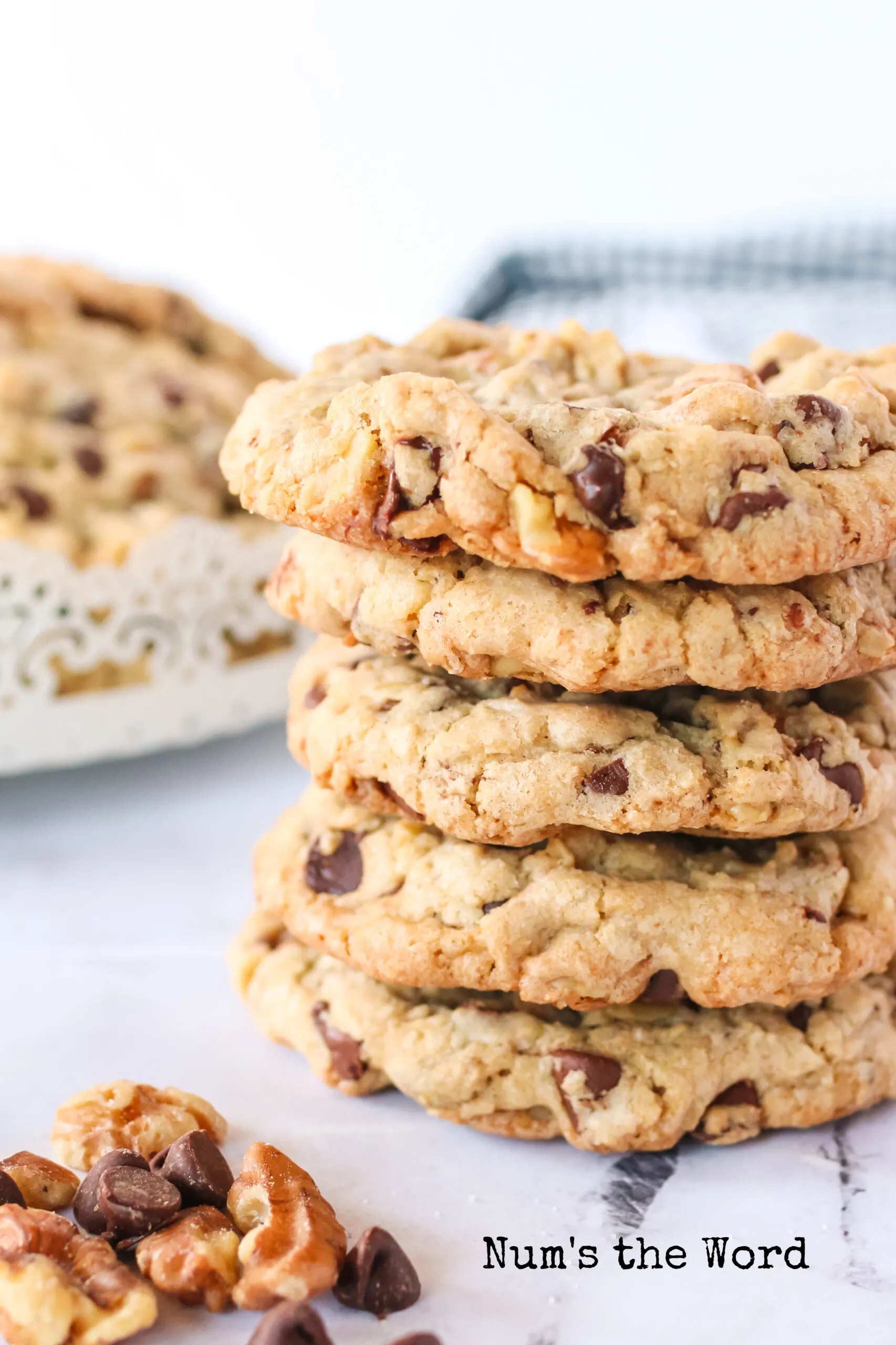 Can I Buy Doubletree Chocolate Chip Cookies?
Yes. Doubletree sells their cookies directly on their website for purchase.
And since they've released their official recipe, many Etsy shop bakers will also make the cookies for you.
But why buy the cookies when you can make them yourself for a fraction of the price and they'll actually be warm when you eat them?
This doubletree chocolate chip cookie recipe is totally worth making at home.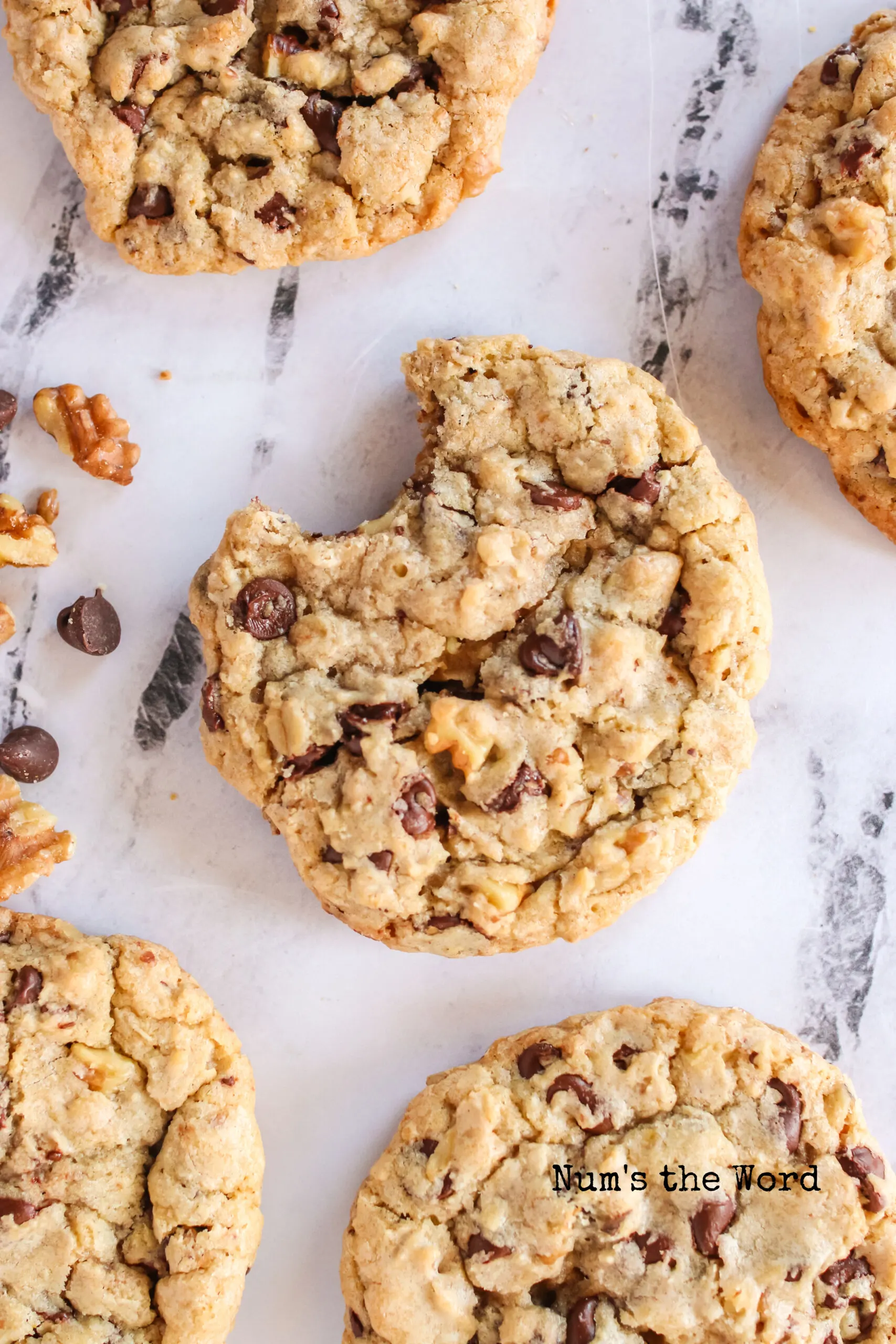 Doubletree Chocolate Chip Cookies are warm, chewy morsels of heaven. They have crisp edges and are loaded with delicious chocolate, soft butter, and crunchy walnuts.
You no longer need to go to a doubletree hotel to get their delicious cookie! Enjoy them right from the comfort of your own home!
Doubletree Chocolate Chip Cookies
This is the official recipe for Doubletree Chocolate Chip Cookies. So get ready to whip out your mixing bowl because these cookies are out of this world amazing.
Ingredients
1 cup butter, room temperature
3/4 cup + 1 Tablespoon white sugar
3/4 cup brown sugar, packed
2 large eggs
1 1/4 teaspoon vanilla extract
1/4 teaspoon fresh squeezed lemon juice
2 1/4 cups all-purpose flour
1/2 cup rolled oats
1 teaspoon baking soda
1 teaspoon salt
1/8 teaspoon cinnamon (pinch)
2 2/3 cup semi-sweet chocolate chips
1 3/4 cups chopped walnuts
Instructions
Preheat oven to 300*F
Line cookie sheets with a baking mat, parchment paper or non-stick foil. Set aside.
Combine butter, sugar and brown sugar in the bowl for 2 minutes. I find it easier to use a stand mixer but a hand mixer will do too.
Add eggs, vanilla and lemon juice to butter mixture. Blend on medium speed for about 2 minutes, or until light and fluffy. Scrape down the bowl after mixing.
Add flour oats, baking soda, salt and cinnamon, Don't overmix.
Remove bowl from mixer and stir in chocolate chips and walnuts by hand.
Using a cookie scoop or two spoons, scoop out cookie dough and place on prepared cookie sheets about 2 inches apart - 12 per sheet.
Bake for 20 to 23 minutes, or until edges are golden brown and the center is still soft.
Typically cookies are done in 12-ish minutes. However this is the low and slow method giving crispy edges and chewy centers.
Remove from oven and let cool before transferring to a cooling rack.
Nutrition Information:
Yield:
36
Serving Size:
1
Amount Per Serving:
Calories:

198
Total Fat:

13g
Saturated Fat:

6g
Trans Fat:

0g
Unsaturated Fat:

6g
Cholesterol:

24mg
Sodium:

141mg
Carbohydrates:

20g
Fiber:

1g
Sugar:

11g
Protein:

3g