Potato Soup is the ultimate comfort food and this one will not disappoint. Warm, creamy, and delicious, make a pot today!
When fall and winter come knocking at the door, this is the one recipe you need bubbling on your stove.
It's the recipe I keep in my back pocket for months because it's so quick and easy but extra tasty too!
So what's so great about this potato soup recipe?
Well for starters, it's quick! Because you can prep the rest of the ingredients while your potatoes boil, it doesn't take much time at all.
I also love that this homemade potato soup doesn't require any messing with my blender! No fuss!
And this easy potato soup is packed full of flavor. I'm not joking. There's nothing worse than bland potato soup.
This is the best potato soup recipe out there and I can't wait for you to try it.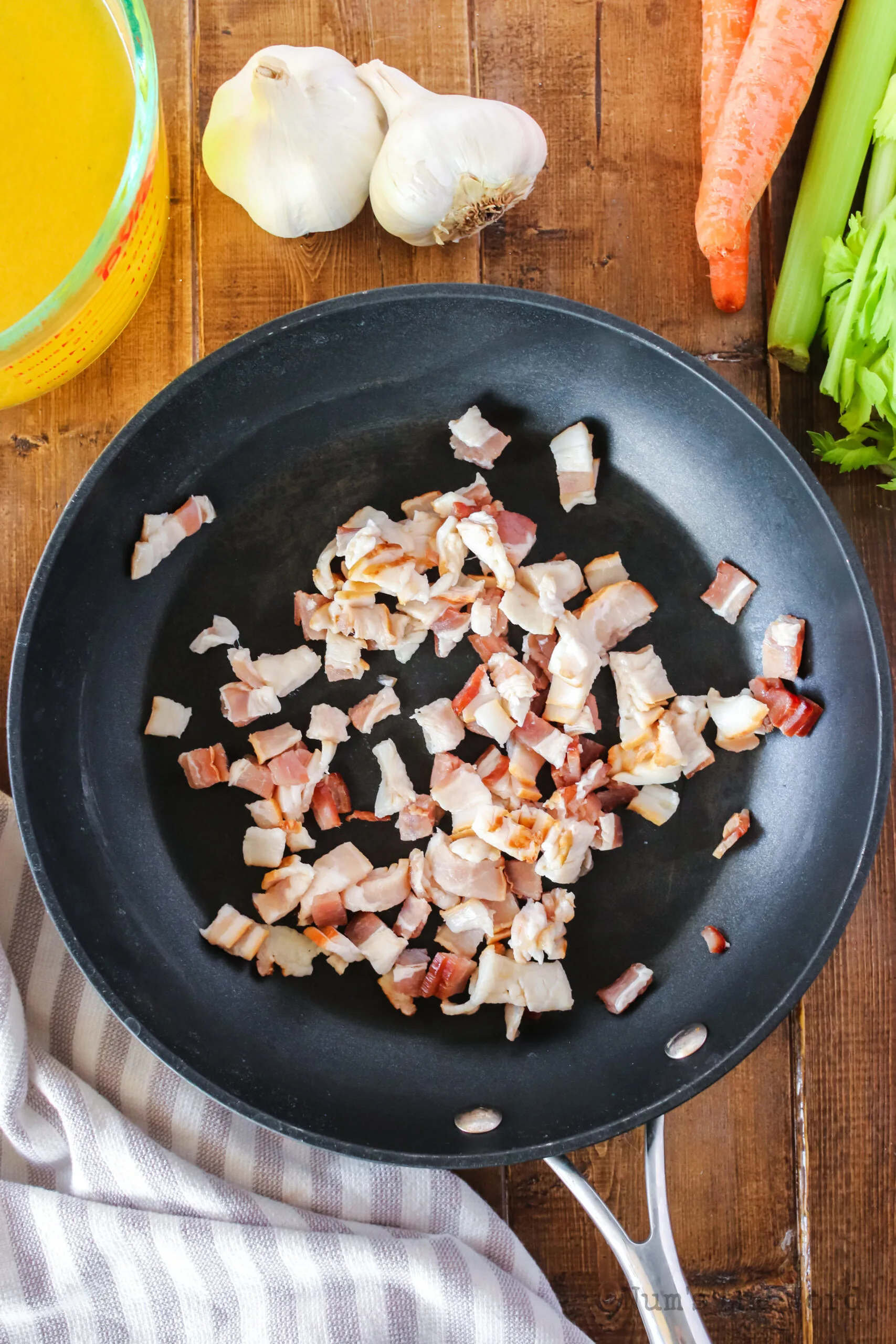 What Ingredients Are in Potato Soup?
Potatoes:

I use russet potatoes peeled and cut into small cubes.

Bacon:

Any type of bacon will work so pick your favorite.

Celery:

These should be biteable sizes when cut.

Carrots:

Bite sized circles of these should work too.

Onion:

This will give the soup a really yummy flavor.

Garlic:

Garlic is always better minced. You don't want a big bite of garlic.

Flour:

Used for thickening the potato bacon soup.

Chicken Broth:

You could also substitute this with veggie broth if needed.

Black Pepper:

Used for seasoning the soup.

Dried Thyme:

If you use fresh thyme be sure to adjust amounts accordingly.

Half and Half:

Creamy, creamy, creamy!
Pro Tips:
A mandolin slicer can save you time and help to cut the veggies the same size.

You could also use a food processor on the slice setting. Just be careful not to puree.

Try to cut the potatoes to about the same size so they will cook evenly.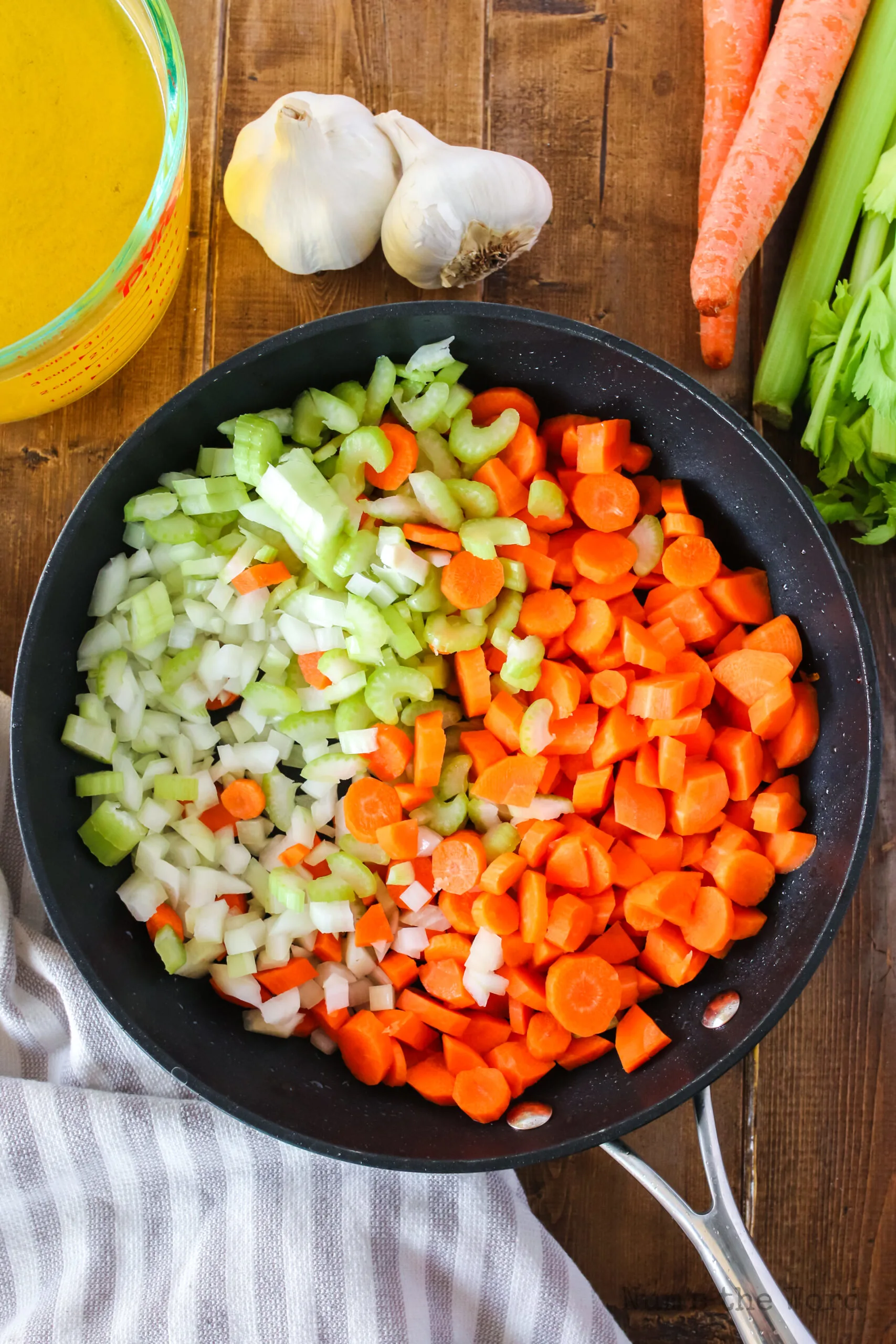 How to Make Potato Soup
Cook Potatoes:

While the potatoes are cooking is your time to cook the bacon and chop the veggies.

Meld:

Once the potatoes are soft and drained, the other veggies need to cook too so toss them all together and let the flavor blend.

Add:

The half and half and bacon don't need to be cooked down like the other things so add them in at the end.

Serve:

The soup will be ready to eat right away! Serve with your favorite crusty bread.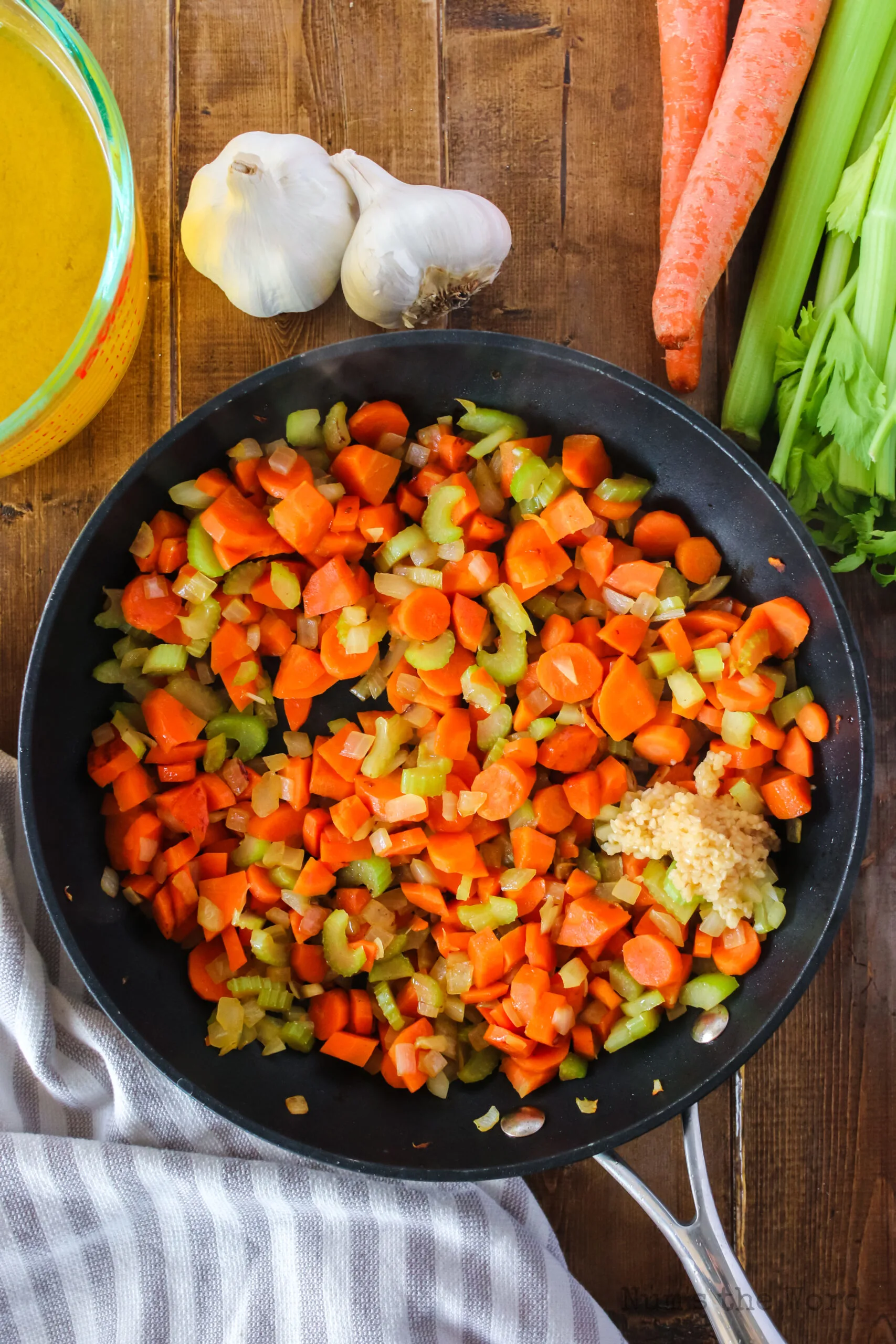 Is Potato Soup Healthy?
There are a lot of really healthy things in this soup!
Carrots, potatoes, celery, onion, garlic, chicken broth all rate as extremely healthy foods.
You've also got to take into account the bacon and half and half though, which are more questionable on their health scale.
While I may not eat this every day, honestly, if it's this or pizza, this would win out every day. Both for flavor and health!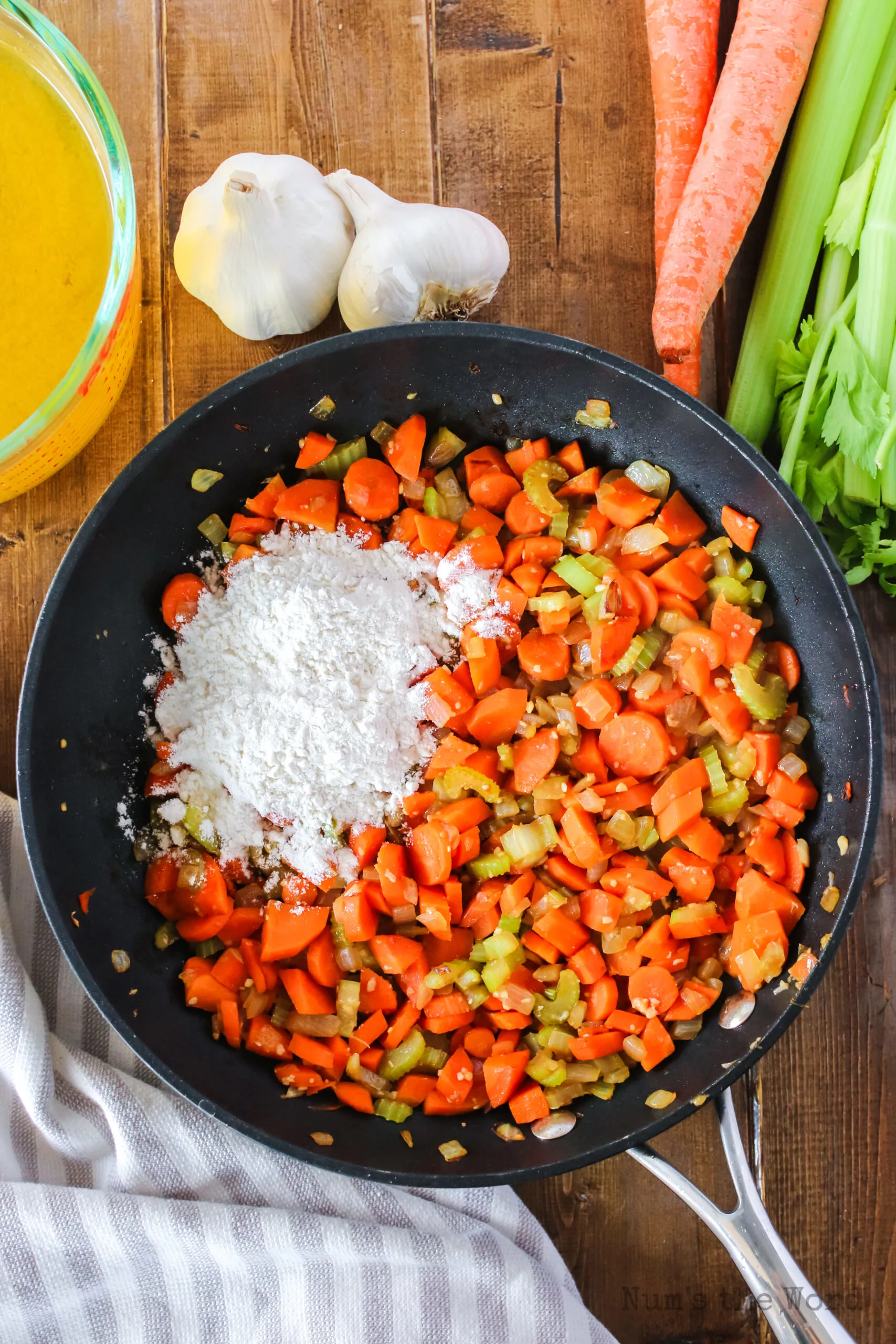 How to Thicken Potato Soup
Potato soup is easily thickened using flour.
The flour combined with the half and half is what gives this soup that delicious creamy texture.
Potato soup can also be thickened by blending the potatoes but I find that it's a rather unnecessary step that can be cut out.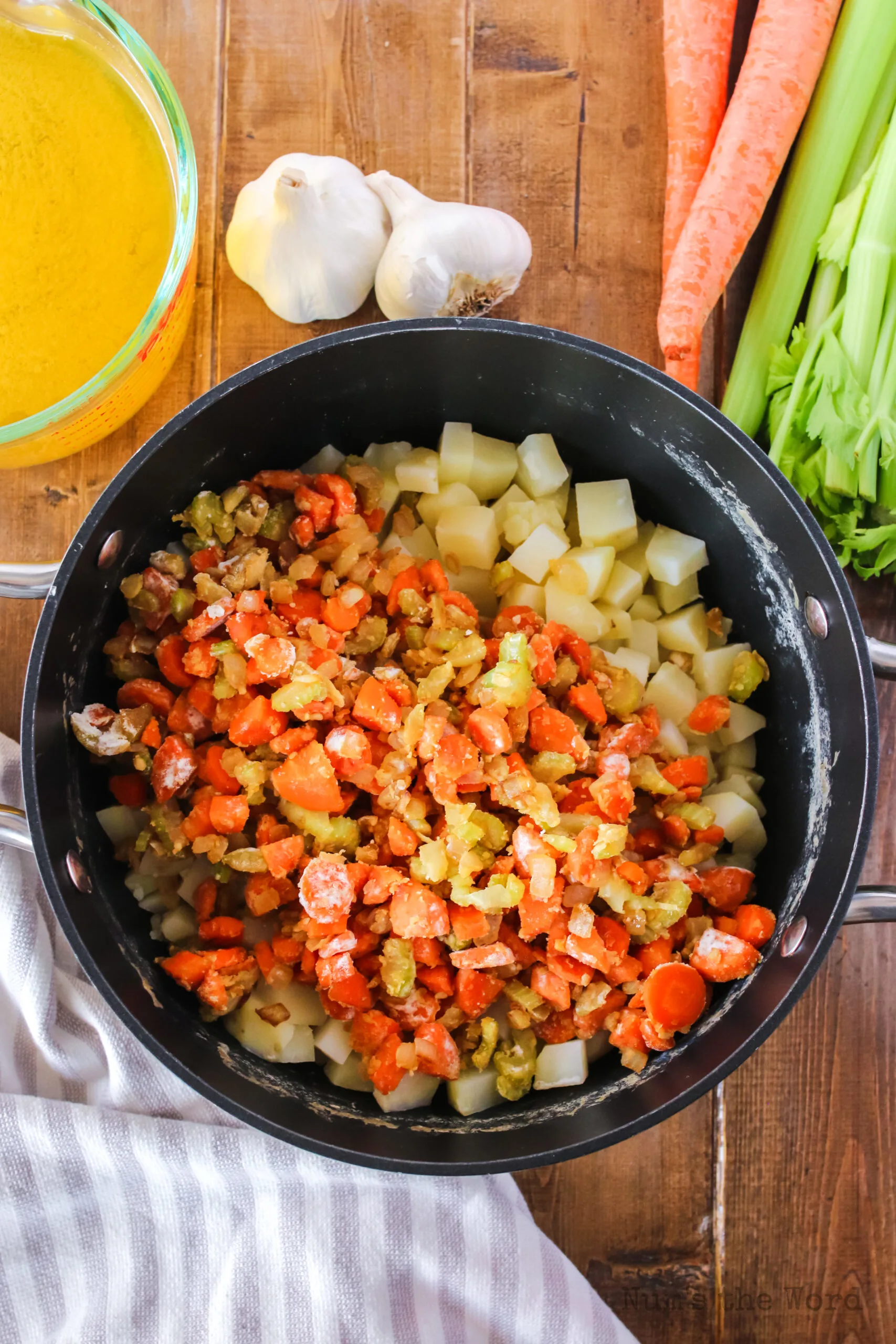 How Long Does Potato Soup Last In the Fridge?
Potato Soup will stay good in the fridge for up to 5 days.
It is a wonderful prep ahead soup as it tastes just as good when reheated and lasts quite a while too.
Be sure that anything going in your fridge is stored in an airtight container to help preserve it and prevent spills.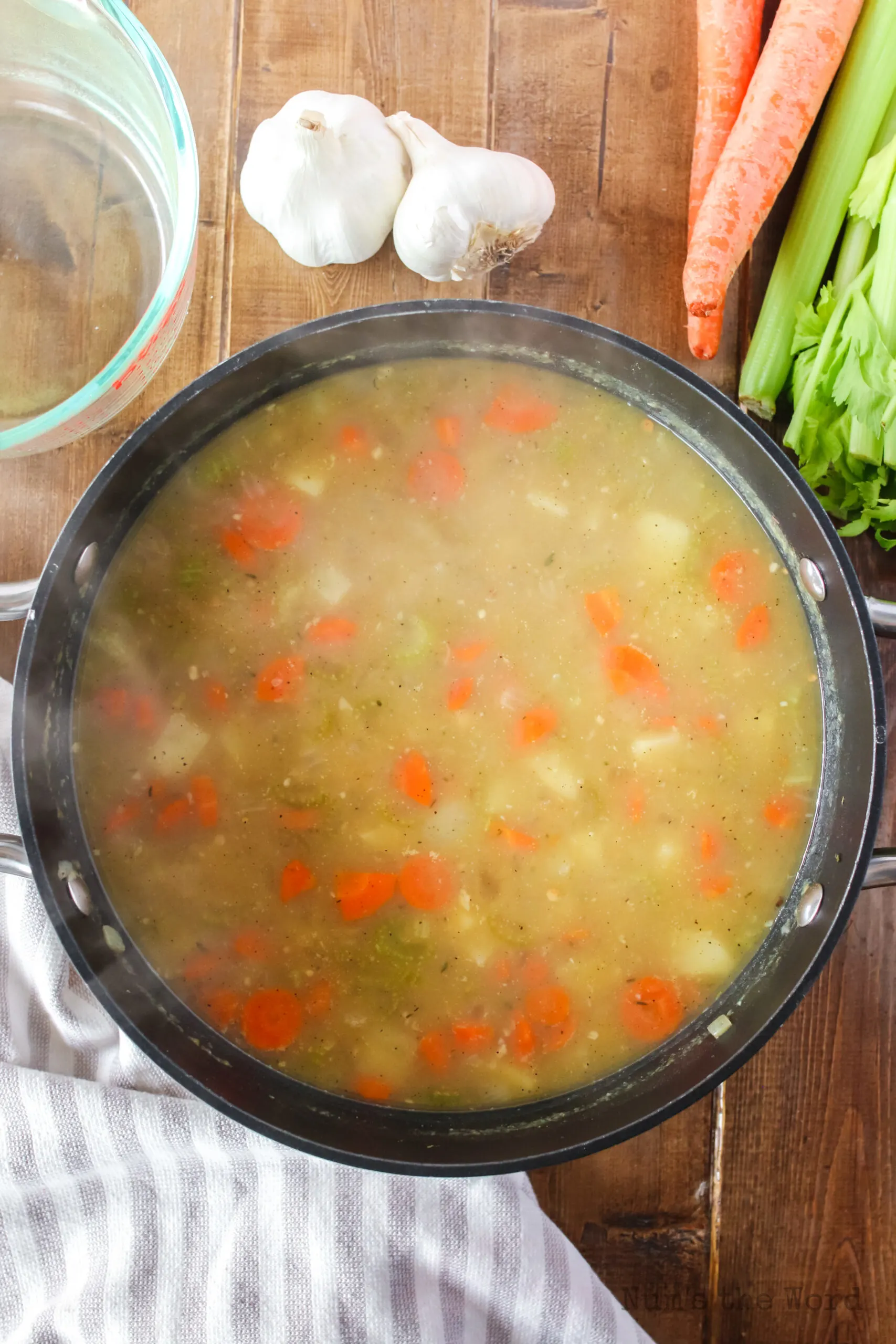 What Kind of Potatoes for Potato Soup?
I like using russet potatoes as they have just the right kind of flavor you would expect from a potato soup.
You could also use red potatoes in a pinch.
Or half and half for a more varied flavor.
I don't recommend using sweet potatoes as those would change the flavor of the dish entirely.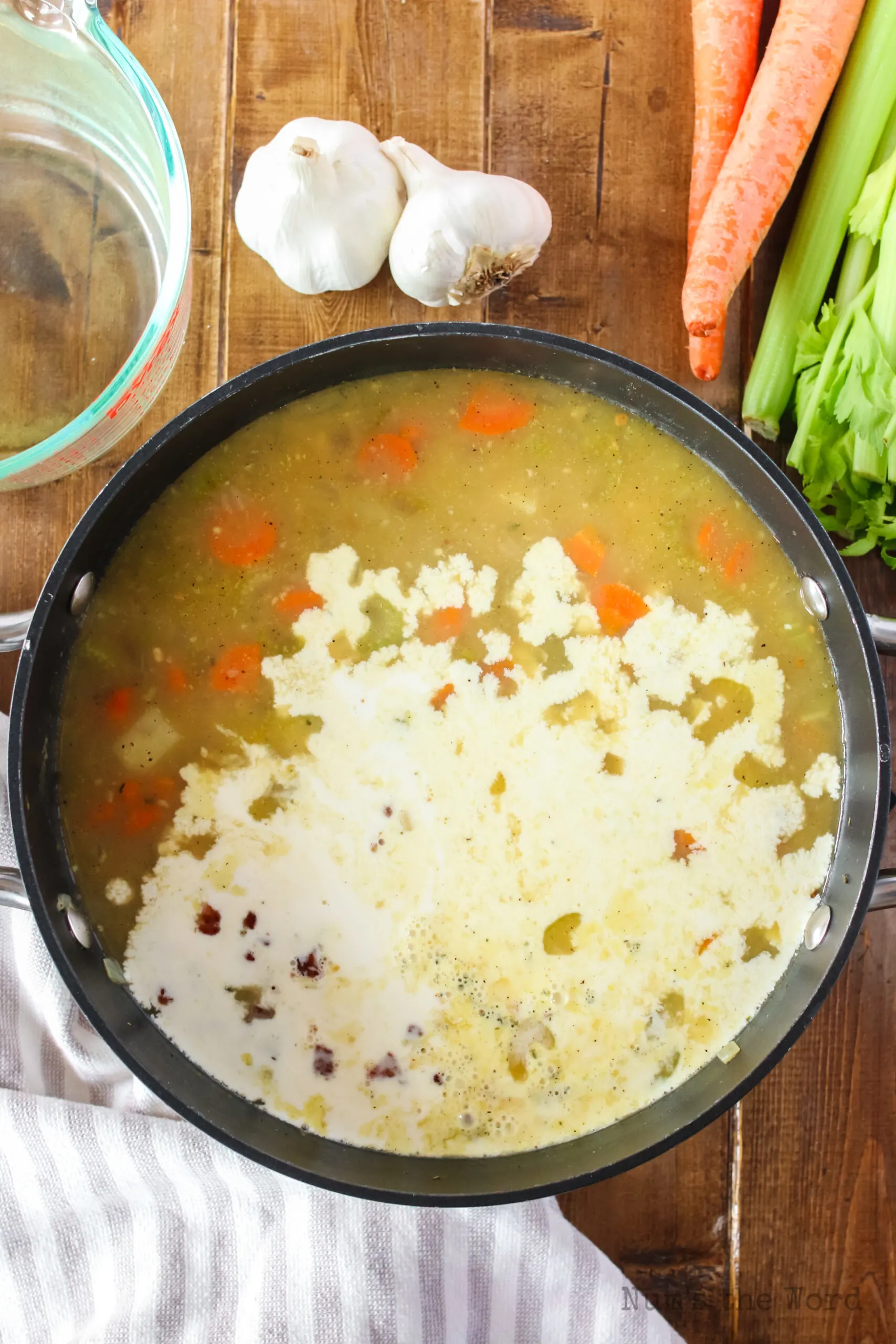 Is Potato Soup Gluten Free?
Potatoes are naturally gluten free, therefore potato soup can be made gluten free.
The only gluten in this potato soup recipe is the flour.
If you remove the flour you'll want to blend up half of the potatoes in order to reach the desired thickness of classic potato soup.
Be sure to blend before adding the bacon because blended bacon is a no go.
Alternatively you could substitute the flour with cornstarch.
Also be sure to check your chicken broth. Sometimes gluten can be hidden in chicken broth unexpectedly.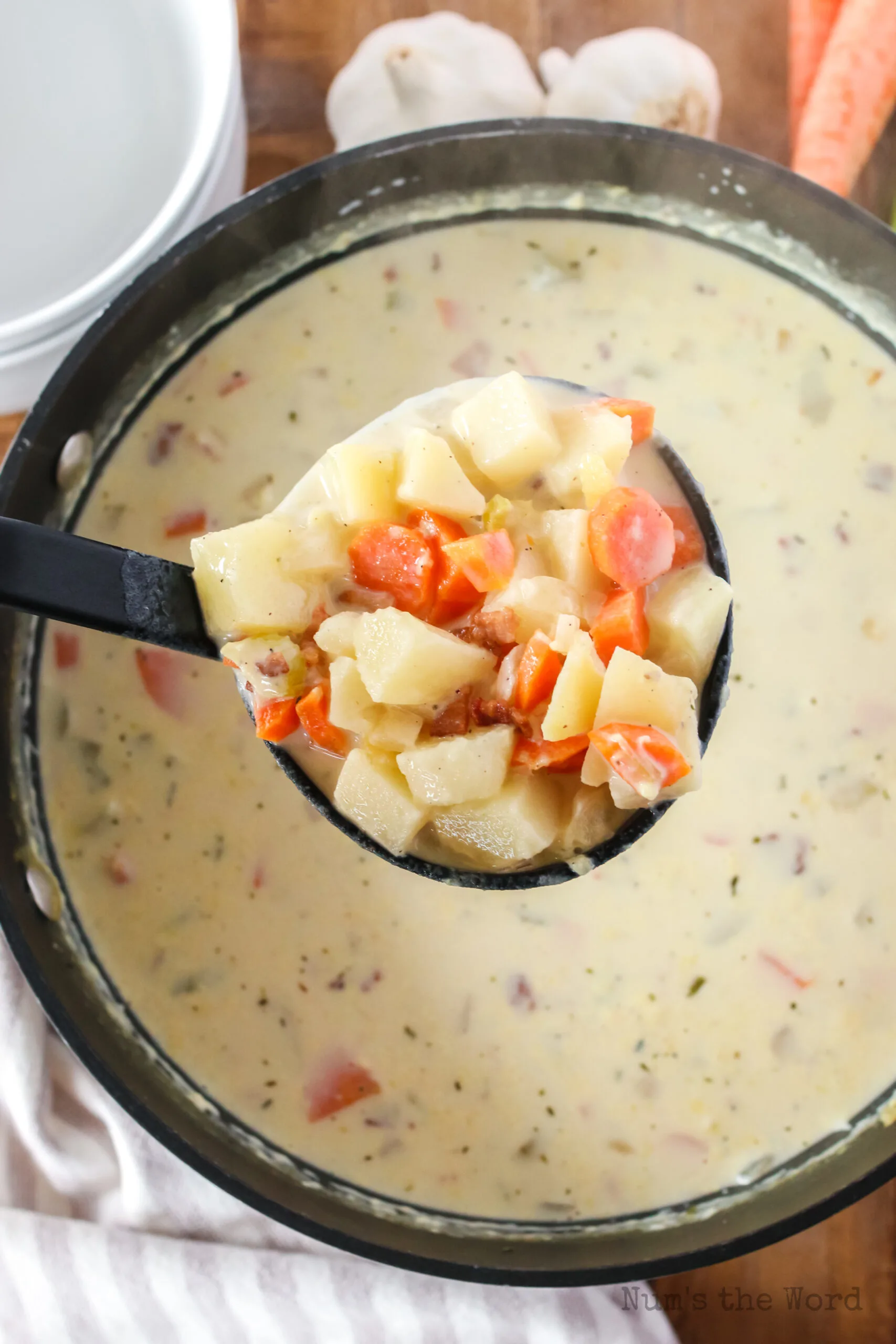 What Goes with Potato Soup?
For toppings you've got lots of options:
Extra Bacon

Cheese

Sour Cream

Fresh Thyme

Green Onions

Chives

Greek Yogurt
Though I find most of the time I don't need extra toppings but just a little something on the side.
If that's the case here's some of my favorite Bread Side Dishes to serve right along side of potato soup:
Soups and Salads. Soups and Breads. The ultimate pairings of comfort and health foods!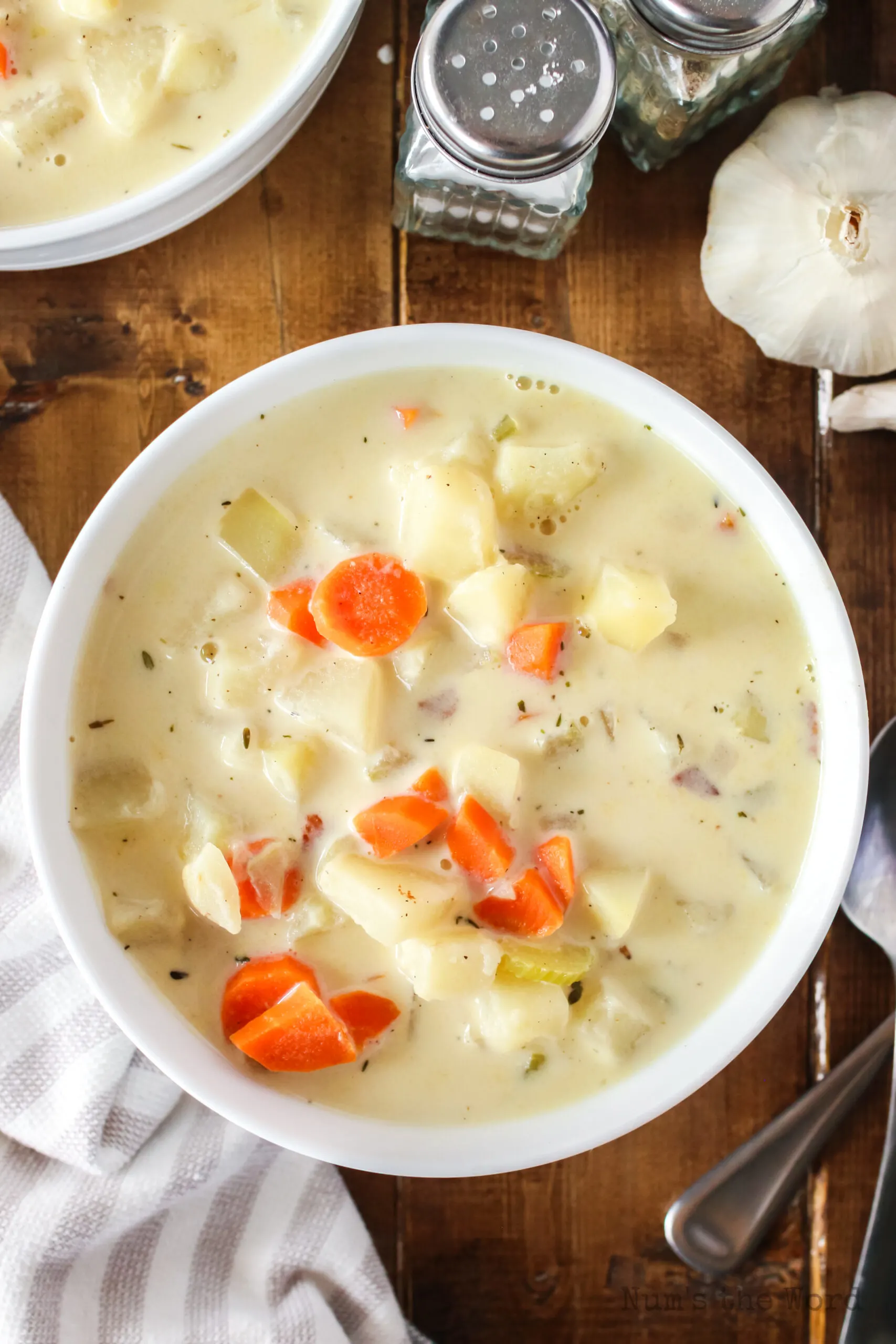 Can You Freeze Potato Soup?
You can freeze potato soup- kinda.
While you can definitely freeze potato soup, dairy does weird things in the freezer.
Most dairy will separate in the freezer and will not come back together well.
If you do choose to freeze potato soup be sure to allow the potato soup to come to room temperature before putting it into a freezer safe container.
When you're ready to eat the soup, allow it to thaw on the counter overnight.
Reheat on the stove until warm.
Pro Tips:
Liquid expands so leave enough room at the top of the container so that it can expand.

Write the date and name of every item you put in your freezer for easy identifying later.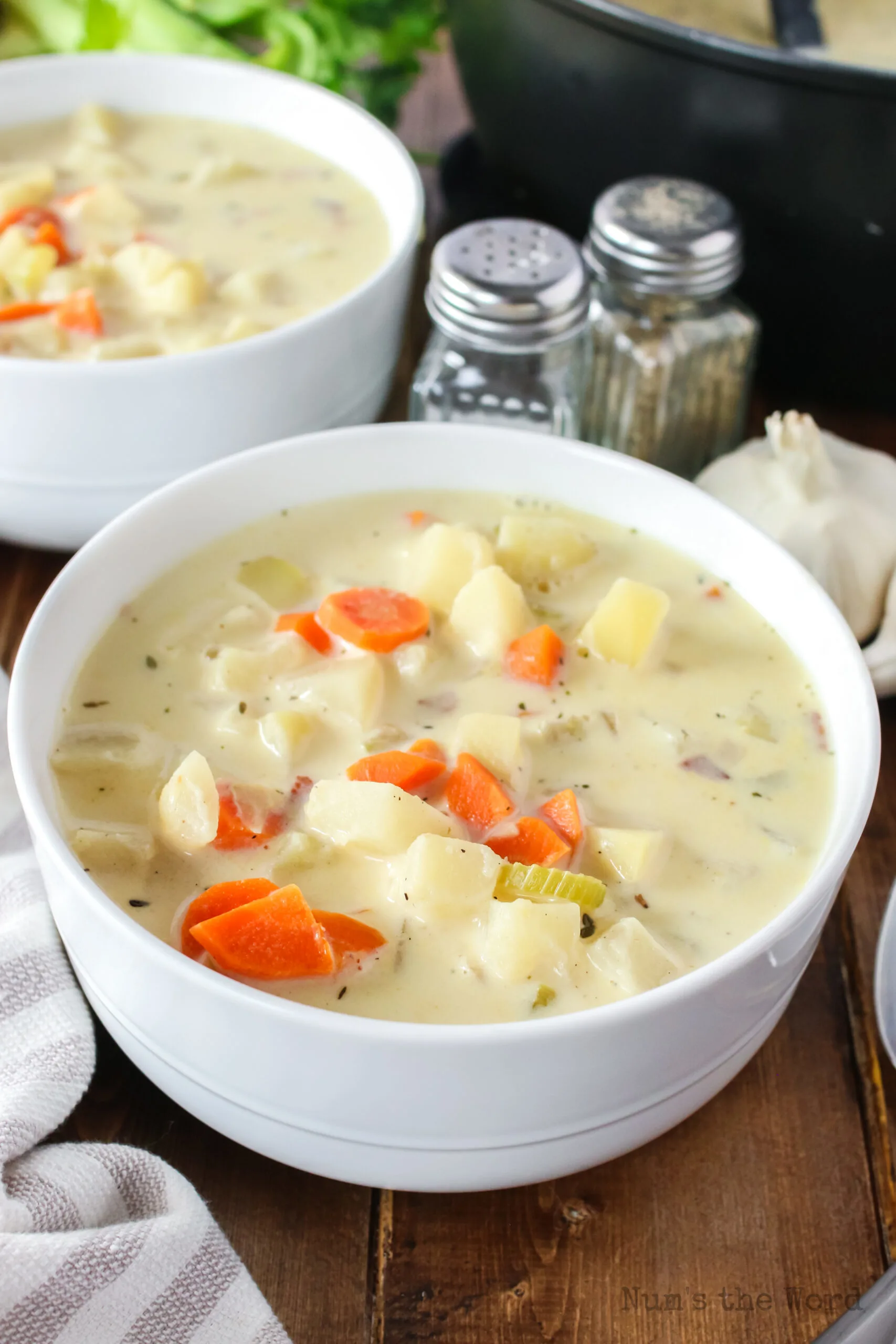 Potato Soup is a comforting, soul food. Warm, creamy and delicious, be sure to keep this on hand for all of the fall and winter months! Your family will thank you!
Yield: 8 Servings
Potato Soup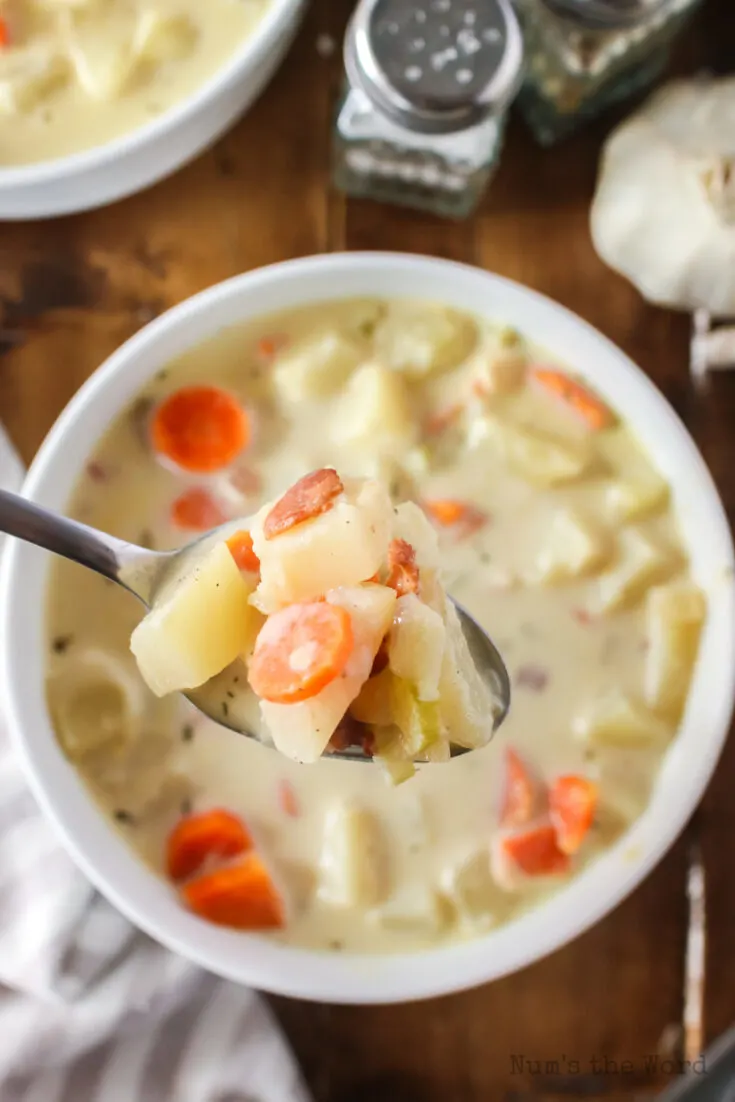 Potato Soup is the ultimate comfort food and this one will not disappoint. Warm, creamy, and delicious, make a pot today!
Ingredients
6 russet potatoes, peeled and cut into 1/2 inch cubes
5 slices of bacon
2 stalks of celery, cut into 1/4 inch bite sized pieces
3 medium carrots, peeled and sliced into bite sized dimes
1/2 yellow onion, diced
3 teaspoons garlic, minced
3 Tablespoons all-purpose flour
32 ounces of chicken broth
1 1/2 teaspoons black pepper
1/4 teaspoon dried thyme
2 cups half and half
Instructions
In a large pot, cover peeled and cubed potatoes with water and bring to a boil.
Cook for approximately 8-10 minutes or until fork tender.
While potatoes are cooking, in a skillet, cook bacon pieces until cooked and crispy.
Once bacon is cooked, set aside on a plate of paper towels for later.
In the same skillet add celery, carrots, and onion to bacon grease.
Cook until onions are translucent and carrots are fork tender.
Add garlic and cook for 1 more minute.
Add flour and cook for one more minute.
Turn off the skillet and set aside.
Once potatoes are cooked, drain and place potatoes back into the same pot.
Add carrot mixture to potatoes.
Add chicken broth, black pepper, and thyme.
Bring to a boil and cook for 10 minutes to allow flavors to meld and mixture to thicken.
After 10 minutes add half and half and bacon pieces. Stir well and cook for 2 minutes.
Serve immediately with your favorite crusty bread.
Nutrition Information:
Yield:
8
Serving Size:
1
Amount Per Serving:
Calories:

265
Total Fat:

9g
Saturated Fat:

5g
Trans Fat:

0g
Unsaturated Fat:

4g
Cholesterol:

31mg
Sodium:

657mg
Carbohydrates:

37g
Fiber:

4g
Sugar:

5g
Protein:

9g