Soft & Chewy Banana Bread Cookies are the perfect Breakfast, Snack or Dessert! It's my favorite Banana Bread Recipe turned into a cookie! Yum!
This post contains affiliate links.  If you click on an affiliate link and make a purchase, I will make a small percentage on your purchase. This helps keep this website running! Thank you!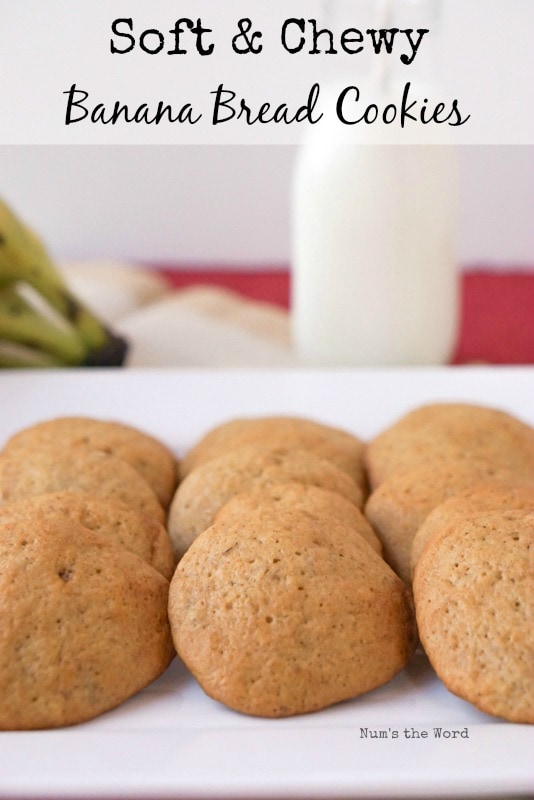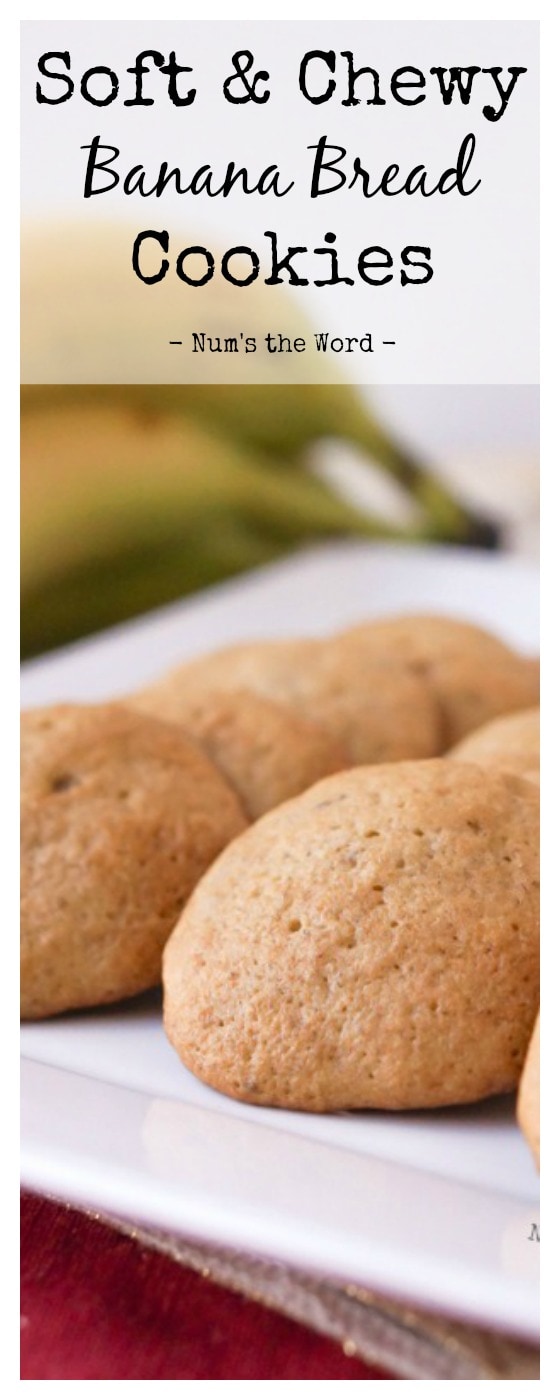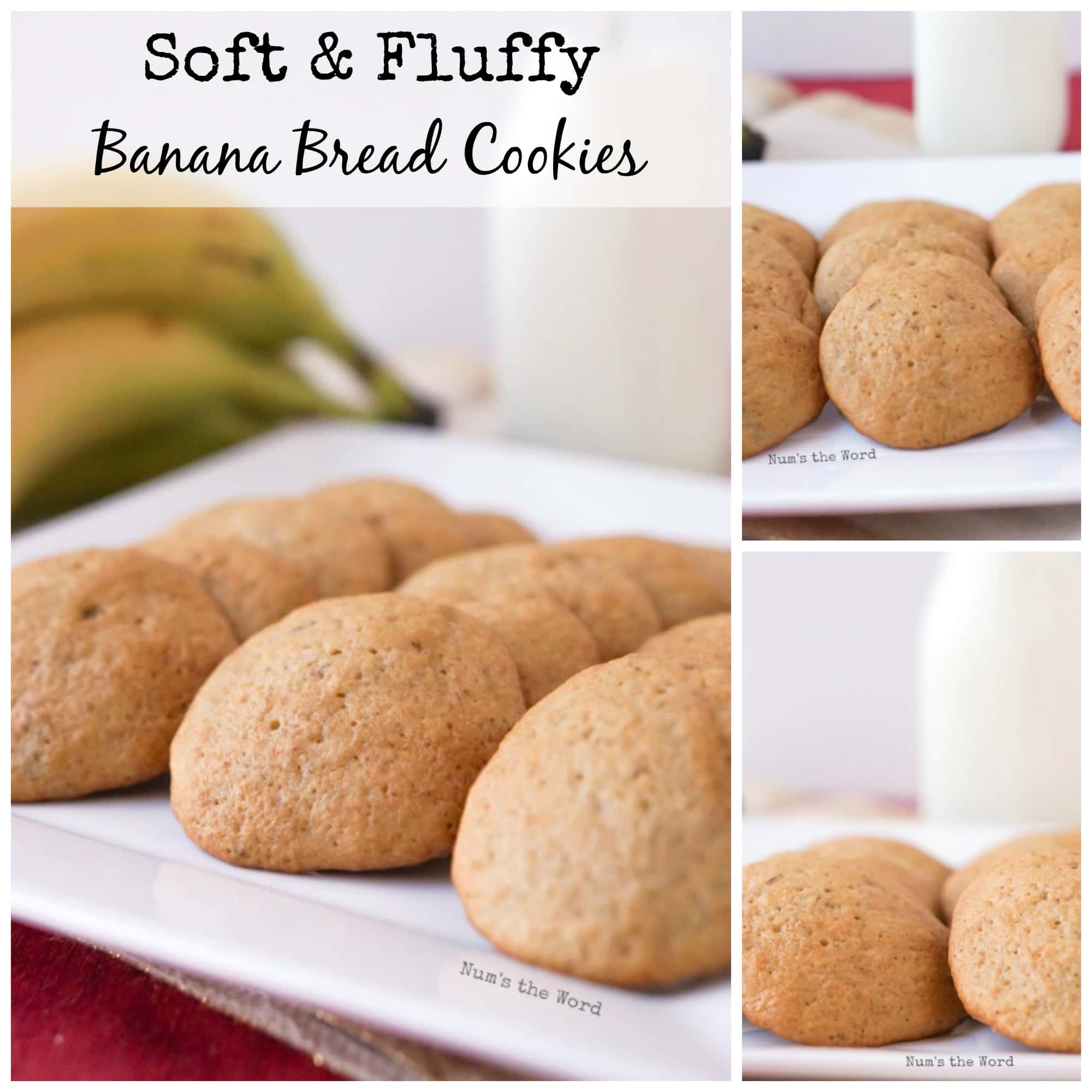 As I sit down to type up this post, I am actually late night snacking on these Soft & Chewy Banana Bread Cookies.
I've made them several times in the last few months as my family can't quite get enough of them.
In fact, they are literally my favorite banana bread recipe, dropped into a cookie.
No changes made at all.
A few months ago, I had a BUNCH of extra ripe bananas and was looking for a way to use them up.
My first thought was to make a loaf or two of my favorite Banana Bread, since my husband enjoys having it around the house to snack on.
However, as I was making the recipe, I decided to experiment and see what would happen if I made drop cookies out of them.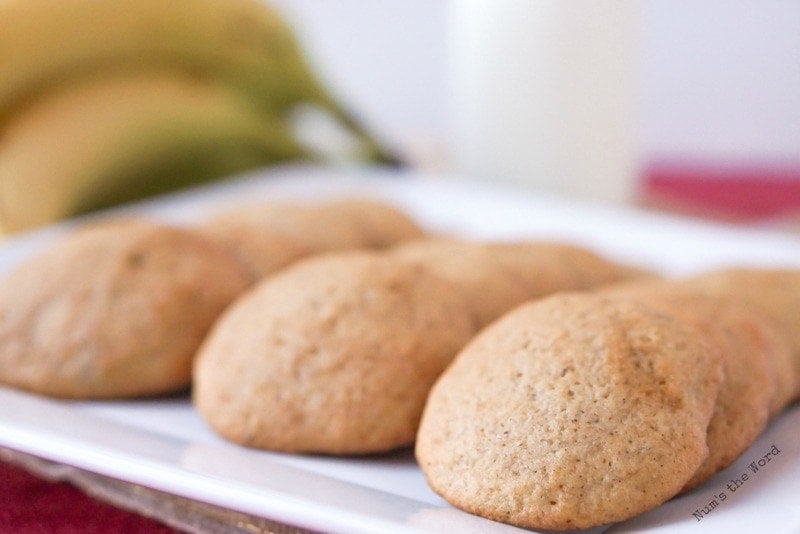 And thus bloomed a new family favorite recipe.
The problem is that my brain is mush.  Literally.
It's something I've struggled with my whole life.
I struggle to memorize and am a VERY forgetful person.
Not normal forgetful but mom brain forgetful.
Except instead of just getting it when I'm pregnant or have an infant, I deal with it on a daily basis and have my entire life.
It is one of my biggest challenges in life, a poor memory.
So a few weeks after I made this the first time I was craving it again, and decided to make these Soft & Chewy Banana Bread Cookies.
The problem was that I legitimately couldn't remember the recipe.
I had completely forgotten that it was just my favorite banana bread recipe.
I began scouring every cookbook I had, every web page I'd visited in the last few months and after not finding the recipe, finally settled on starting from scratch to recreate these cookies.
FAILURE.
Complete and utter failure.
The first batch was too runny and the cookie was to flat.
Plus the cookie was "just ok" and not great.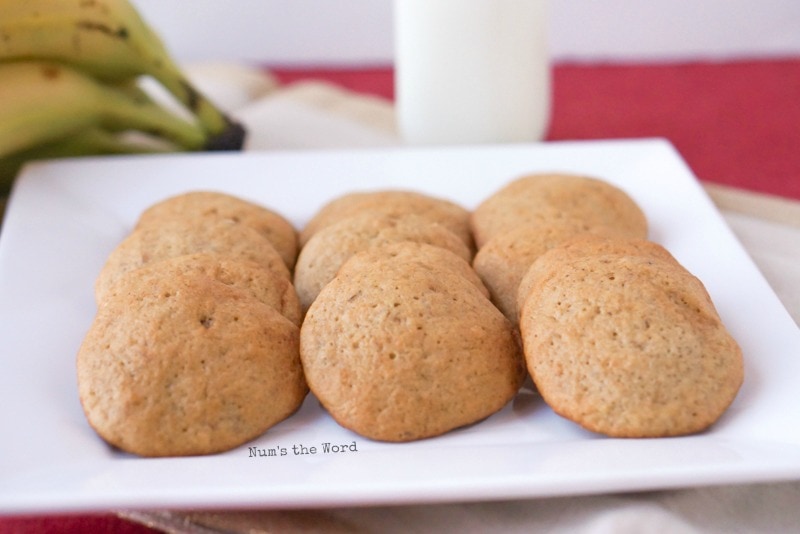 I took this batch to school and passed them out to all the teachers.
They weren't terrible, but they weren't great.
The teachers and staff at my daughters school LOVE reject recipes and are always willing to snack on my good but not great creations!
However the recipe wasn't right so I tried again and failed again.
There was zero moisture to this second batch of cookies, dry and gross.
These landed in the garbage within the hour.
Not even good enough to pass out as rejects.
In complete frustration at myself for not remembering something so easy as a Soft & Chewy Banana Bread Cookie, and for not making a note of what the recipe was, I finally gave up and figured that at some point it would eventually come to me, but for now I was done experimenting.
I then settled on my favorite Banana Bread Recipe.
And there it was, right in the middle of making it, when I added the LAST ingredient, the bread flour, that it hit me.
HOLY SMOKES….There is something very wrong with me since I couldn't even remember that it wasn't a recipe I had tried in a cookbook or a recipe I found on a website.
IT WAS MY RECIPE.
MY FAVORITE RECIPE for Banana Bread.
Good Grief.  I felt like a fool for not remembering!
However I NOW know the recipe and have made it a few times since, and thanks to this new recipe post I can't forget it ever again.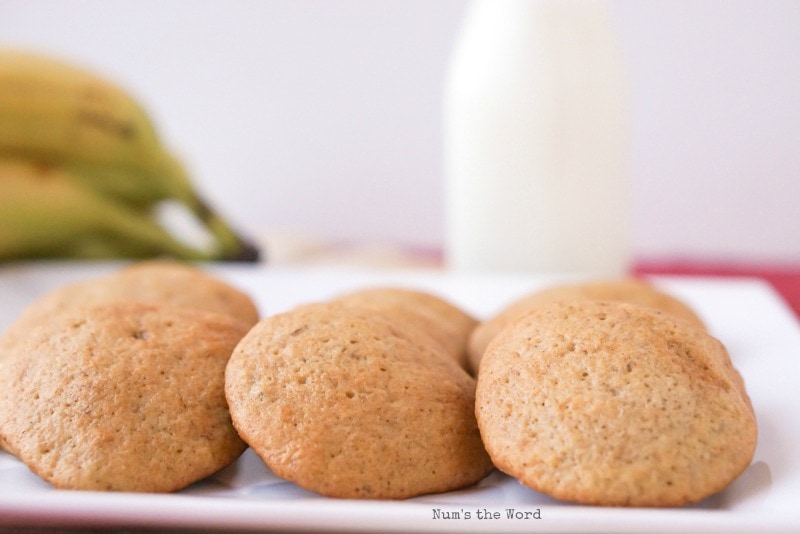 I scrapped the loaf of banana bread I was making and quickly made the entire batter into cookies!
My favorite part of these Soft & Chewy Cookies is that is is LITERALLY banana bread.
And since Banana Bread is considered a breakfast, snack and dessert item, I therefore declared these cookies to also be breakfast, snack and dessert items too!
My daughter LOVES when I send her to school with "cookies" for breakfast.
She has no thought to the fact that they are healthier than a pop tart or the sugary cereal she will occasionally eat.
All she knows is that her mom is cool enough to allow her to eat cookies for breakfast.
If you love banana bread, then I highly recommend these Soft & Chewy Banana Bread Cookies.
They are exactly as I describe.
Soft, Chewy and stay that way for days when stored in an airtight container!
Plus, who doesn't love eating cookies for breakfast?!
Soft & Chewy Banana Bread Cookies
Ingredients
1/2 cup salted butter
1 cup white sugar
2 eggs
pinch of salt
2 very ripe medium bananas
1 teaspoon baking soda
2 cups bread flour
Instructions
Preheat oven to 350*F
Prepare cookie sheets with a baking mat, non-stick foil, greasing them or parchment paper. Set aside.
Blend together butter and sugar for several minutes until fluffy.
Add eggs and salt. Scrape sides of bowl and blend again.
Add bananas and baking soda. Blend again.
Add flour 1/2 cup at a time until well blended.
Using a 2 tablespoon cookie scoop, drop batter onto a prepared cookie sheet.
Bake for 13 - 15 minutes or until edges begin to turn golden.
Allow to cool long enough to devour!
https://numstheword.com/soft-chewy-banana-bread-cookies/
Other Banana Recipes You'll Love...