These Banana Bars are easy and straight forward. Topped with homemade cream cheese frosting and they become irresistible! A perfect, easy kid approved treat!
This post contains affiliate links. If you click on an affiliate link and make a purchase, I will make a small percentage on your purchase, which helps keep this website running! Thank you!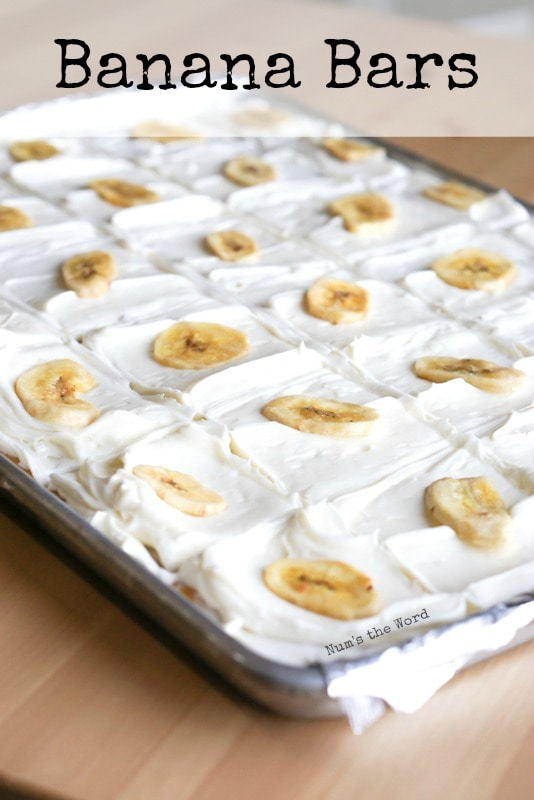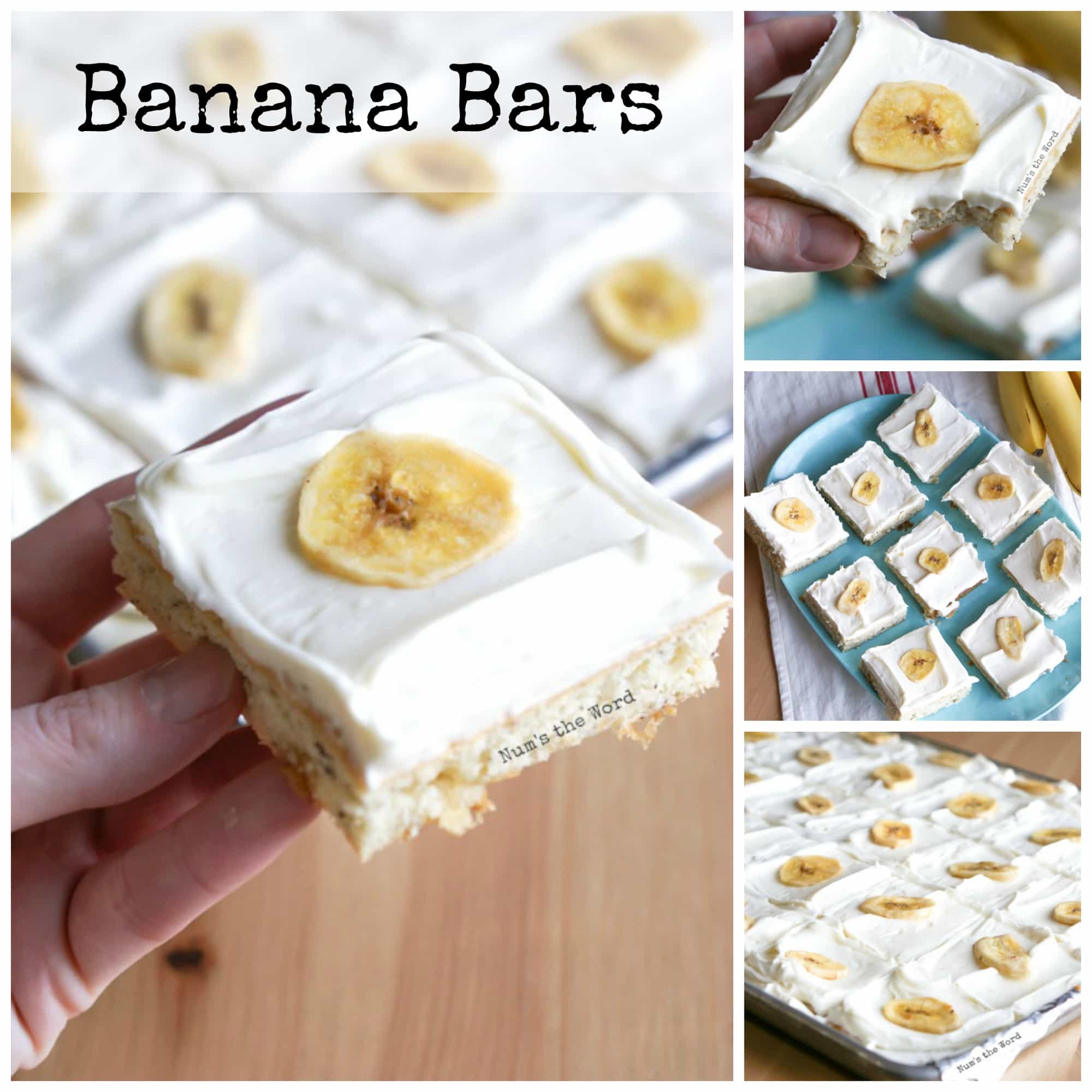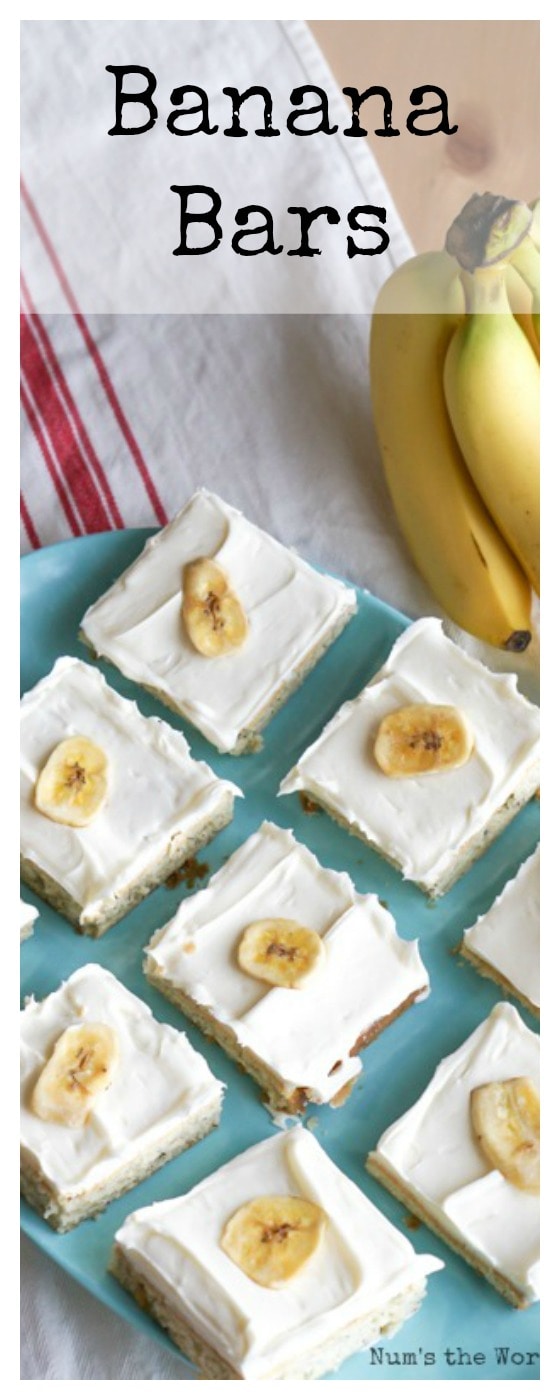 What do you do when you have 20 extra ripe bananas in your kitchen and only 3 days to use them?
Well if you're me, you go banana crazy and make 3 sheet pans of these Banana Bars & 10 loaves of your favorite banana bread. Which leaves you with 2 bananas of which you end up tossing because you're tired of doing dishes!
Call me crazy but what on earth does one person do with 60 banana bars? You become everyone's favorite person at your daughters school.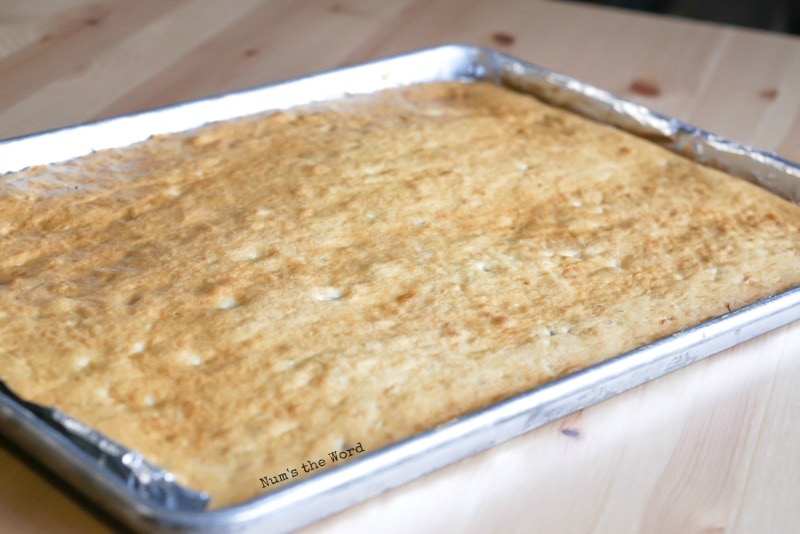 I packaged up two of the sheet pans of bars into a bunch of disposable containers and hauled them all off to school.
My daughter and I then delivered them to EVERY SINGLE school employee we could find. If you worked at the school – teacher, aid, nurse, office worker, principal and even the janitor, you got a banana bar!
It was a Monday and just a few days before the staff and parents had learned that the school would be closing at the end of the year.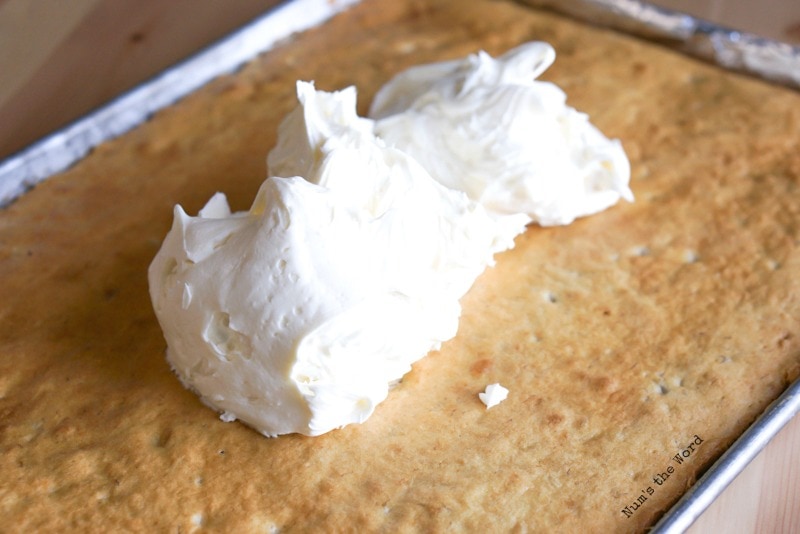 A fact that is still a bit of a shock to us and on we haven't quite come to grips with yet.
One teacher mentioned that the faculty failed the students. I would 100% disagree. In the two years we've gone to this charter school my daughter has excelled and had the most amazing teachers we could have ever asked for.
So as a parent, the best thing, and really the only thing I know how to do, is to show these teachers and staff how much they mean to us and how grateful we are for all they have done and continue to do!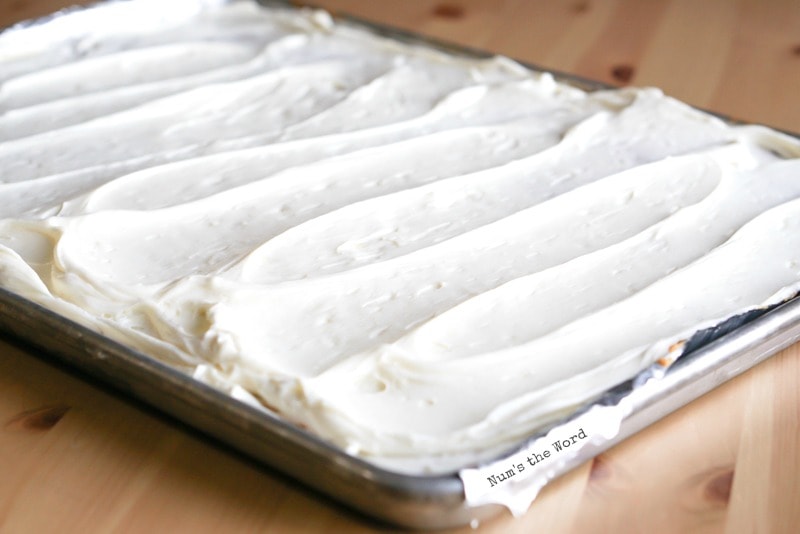 And so we bake!
I'm told I have a bit of a reputation at the school and everyone knows me as Amelie's mom.
Before you go getting crazy ideas in your head, it's not because of some crazy thing my daughter or I did, it's simply because we try really hard to fatten up all the teachers on a very regular basis.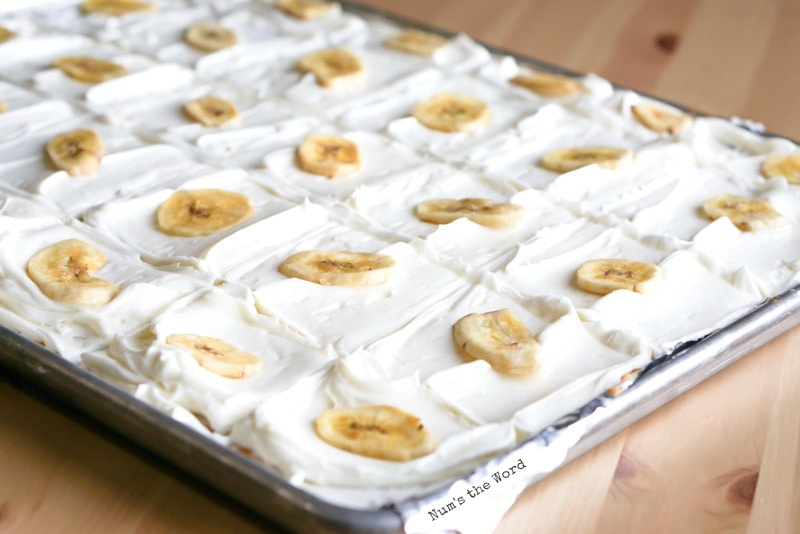 We go all out for EVERY holiday and they get all of my baking experiments and "ugly" food. All of which they happily take!
Fresh baked bread, and rolls and cakes and cookies are all welcome by an over worked under paid, sleep deprived teacher. And so my daughter and I come up with some fun and occasionally crazy ideas of which are always gladly accepted by our teachers!
These banana bars were just what they needed after a stressful Monday!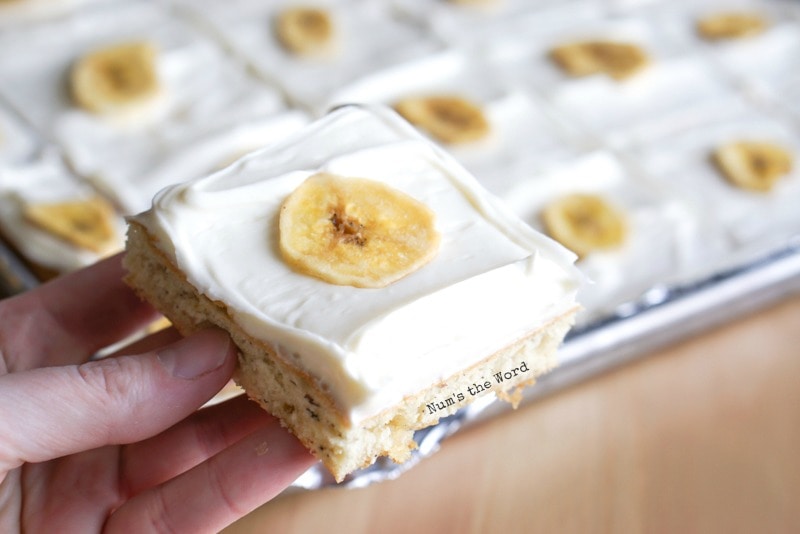 And remember I also made 10 loaves of banana bread?
Technically I made them the next day. And baked them that afternoon. So on Tuesday we delivered WARM, fresh from the oven banana bread to our favorite 1st grade teachers.
We seriously LOVE our teachers and are so sad that we wont get to see them next year!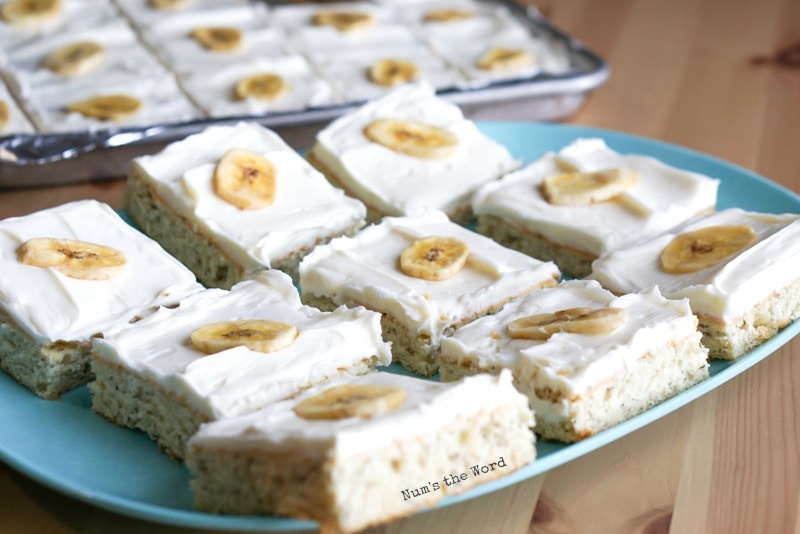 Everyone who tried them, loved them. These Banana Bars were a HUGE hit.
Not only were they simple to make, they were extra tasty with homemade cream cheese frosting!
There is nothing better than from scratch cream cheese frosting which goes on just about everything!
If you have a few bananas sitting around and are looking for an easy dessert, give these Banana Bars a try! So far they have a 100% approval rating!
Ingredients
1/2 cup salted butter
1 1/4 cup white sugar
2 eggs
1 teaspoon vanilla
2 large ripe bananas
8 ounce sour cream
1/4 teaspoon salt
1 teaspoon baking soda
2 cups all-purpose flour
-----------------------------
8 ounces cream cheese, room temperature
1/4 cup salted butter, room temperature
1 teaspoon vanilla extract
2 cups powdered sugar
1 Tablespoon Heavy Cream or milk.
Instructions
Preheat oven to 325*F
Prepare an 10x15 jelly roll pan (cookie sheet with edges) with cooking spray, non stick foil or a baking liner. Set aside.
In a mixer, blend together butter and sugar.
Add eggs one at a time, mixing after each addition.
Add vanilla, bananas and sour cream. Blend well.
Add salt, baking soda and mix well.
Add flour 1/2 cup at a time until completely mixed in.
Pour banana bar batter into prepared jelly roll pan.
Bake for 25 minutes or until a toothpick stuck in the center comes out clean.
Allow bars to cool completely then frost with cream cheese frosting.
For cream cheese frosting, blend cream cheese & butter until smooth. Add vanilla and powdered sugar 1/2 cup at a time until full incorporated. Add heavy cream and blend well.
Spread over cooled banana bars.
Top each bar with a banana chip for decoration.
https://numstheword.com/banana-bars/
Other Banana Recipes You'll Love…