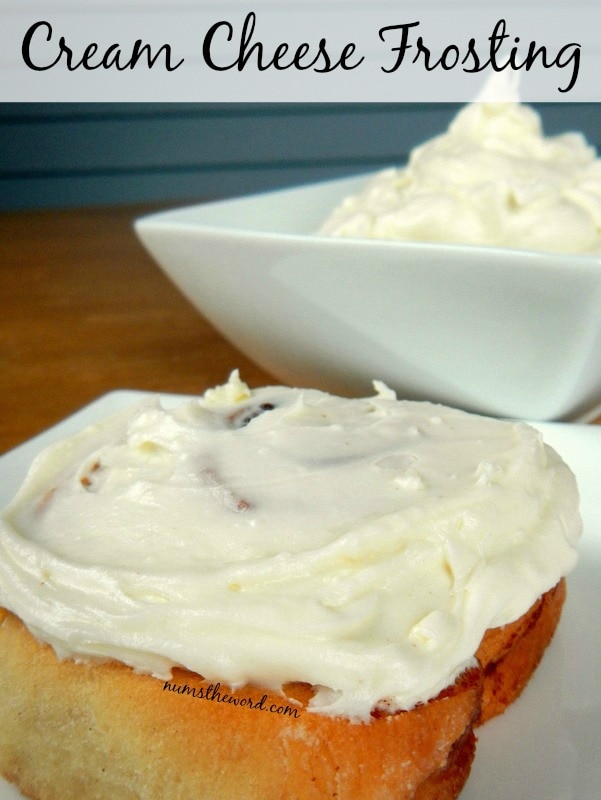 Are you a lover of all things cream cheese?  I sure am.  I love raspberry cheesecake brownies and this chocolate chip cream cheese ball and how about this cream cheese chicken?  All three delicious recipes.
Here on Num's we have a LOT of recipes that use cream cheese, and over the years there will be a LOT more.
Cream cheese is one of those ingredients I just can't live without.
However today, we are getting down to the basics.  Cream Cheese Frosting.
Creamy, sweet, finger licking good frosting.
This cream cheese frosting is great on cupcakes, as a filling between layers on a cake or on top of cinnamon rolls.
It's a basic recipe that doesn't include a lot of fluff but tastes fantastic.  If you love cream cheese frosting, then you must try this recipe!
This post contains Amazon affiliate links as a free service to you!

Ingredients
1 (8 ounce) package of cream cheese, room temperature
1/4 cup butter, room temperature
1 teaspoon vanilla extract
2 cups confectioners sugar
1 Tablespoon heavy whipping cream (or milk) - IF using for cinnamon rolls. If using for cupcakes, do NOT add as you want a stiffer frosting.
Instructions
In a bowl cream together cream cheese & butter.
Add vanilla and confectioners sugar.
Blend until smooth.
If using for cupcakes stop here and frost cupcakes.
If using for cinnamon rolls, add heavy whipping cream and blend well. Spread over cinnamon rolls and serve immediately.
Notes
This should make enough for 12 normal sized cinnamon rolls or cupcakes.
https://numstheword.com/cream-cheese-frosting/
Items recommended for this recipe include…
Another Recipe We Think You'll Love…