Cherry and banana are a match made in heaven, and these Chocolate Cherry Muffins take that pairing to a whole new level of taste bud nirvana with a touch of banana.
If you enjoy banana chocolate chip muffins, then this recipe is for you! This banana muffin recipe takes your classic melty, chocolatey and banana goodness and amplifies it with the sweet zip of cherries.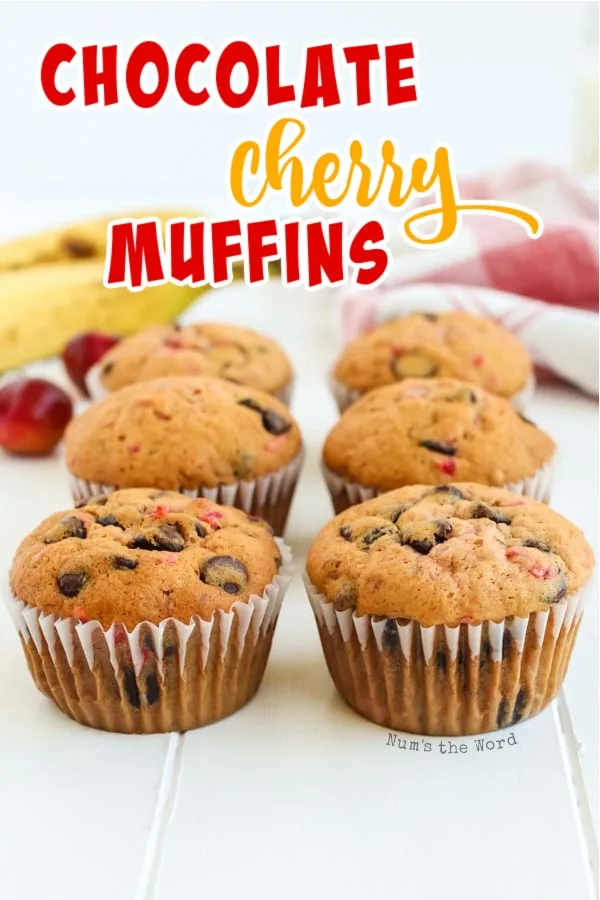 I love making chocolate chip banana bread muffins because it takes so much less time to bake than a loaf of banana bread! Plus muffins are great for sharing; each person can indulge in their own personal Chocolate-Cherry-Banana bliss!
Whip up a batch of these delightful muffins for breakfast, brunch, snack time, or even dessert!
This spin on traditional banana muffins is a fantastic and unique way to use up those too-ripe bananas still sitting on your counter. I'm sure your family will devour them!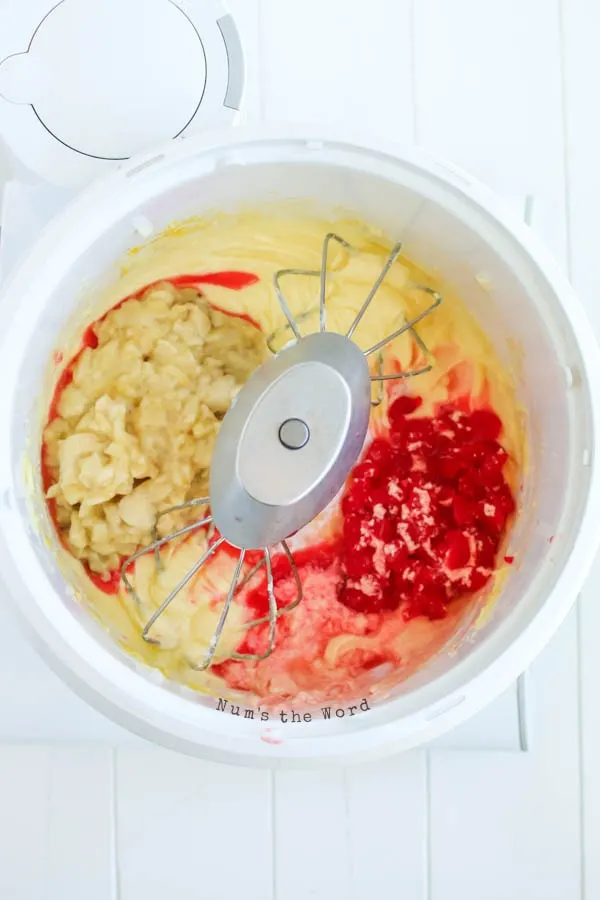 What do you need to make Chocolate Cherry Muffins?
Sugar

– when creamed with the butter, sugar helps give these muffins just the right amount of airiness.

Butter

– the richest and most flavorful way to make these banana bread muffins melt in your mouth.

Eggs

– to help make sure your muffins have the height required for the BEST kind of muffin top.

Cherry juice

– add a hint of pink to your muffins and more flavor!

Baking soda

– neutralizes some of the acidity in the other ingredients and helps your muffins rise!

Flour

– provides the main structure for your Chocolate Cherry Banana Muffins.

Salt

– salt is a flavor enhancer! It helps make all the lovely flavors SING.

Maraschino cherries

– add beautiful color, flavor, and texture to your muffins.

Semi sweet chocolate chips

– debatably the most important ingredient (besides the bananas).

Mashed bananas

– I prefer to use overripe bananas for muffins and breads because they have a more intense flavor and, frankly, are best consumed that way!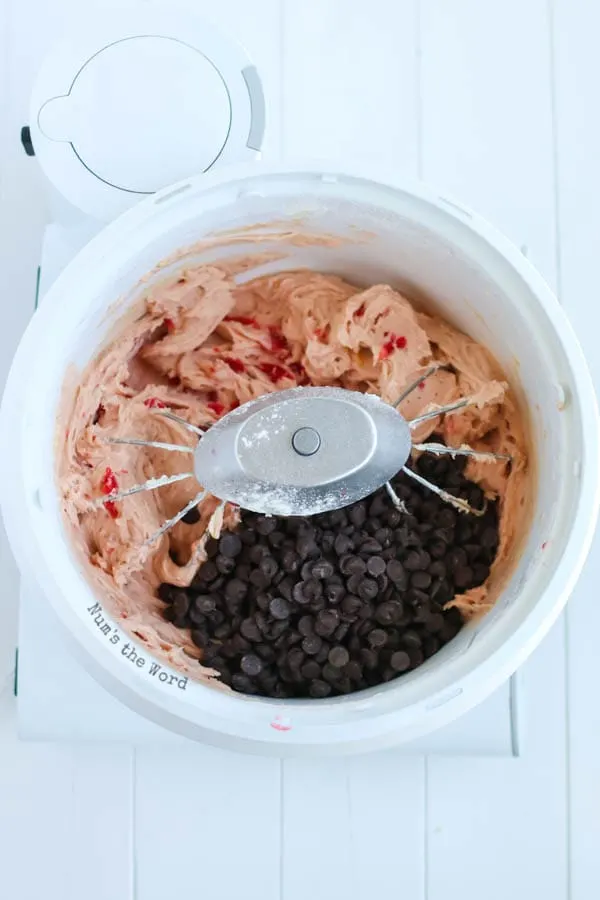 How to make Chocolate Cherry Muffins:
There are three simple steps to creating these Banana Chocolate Chip Cherry Muffins.
Mix it! Whether you use a hand mixer or my favorite Bosch Universal Plus Mixer, these muffins will be blended to perfection!
Bake! Once you get your muffin mix scooped into muffin liners, bake them up!
Devour! I like to have a glass of milk with mine, warm out of the oven!
How long to bake Chocolate Cherry Muffins?
Distribute your batter between your muffin tins, being sure not to fill past ⅔ full. Pop into your preheated oven for about 20 minutes. The tops of the muffins should be springy when fully cooked.
Pro tip: If you're using a dark or non-stick muffin tin, reduce heat to 325 degrees to prevent the outside of your Chocolate Cherry Muffins from overcooking and getting too brown.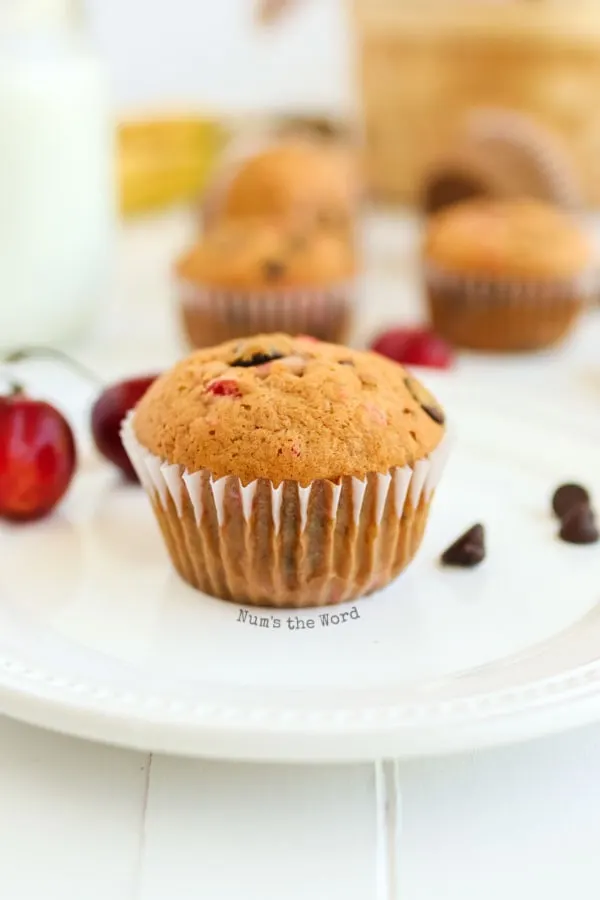 How do you make Chocolate Cherry Muffins moist?
The great thing about this recipe is that your muffins should be moist, provided they are not overbaked! By using a stick of butter in this recipe, you get a delicious, moist muffin.
If you're still finding your muffins are too dry, you may be over mixing when you combine your wet and dry ingredients. Consider only mixing your flour in until just moistened.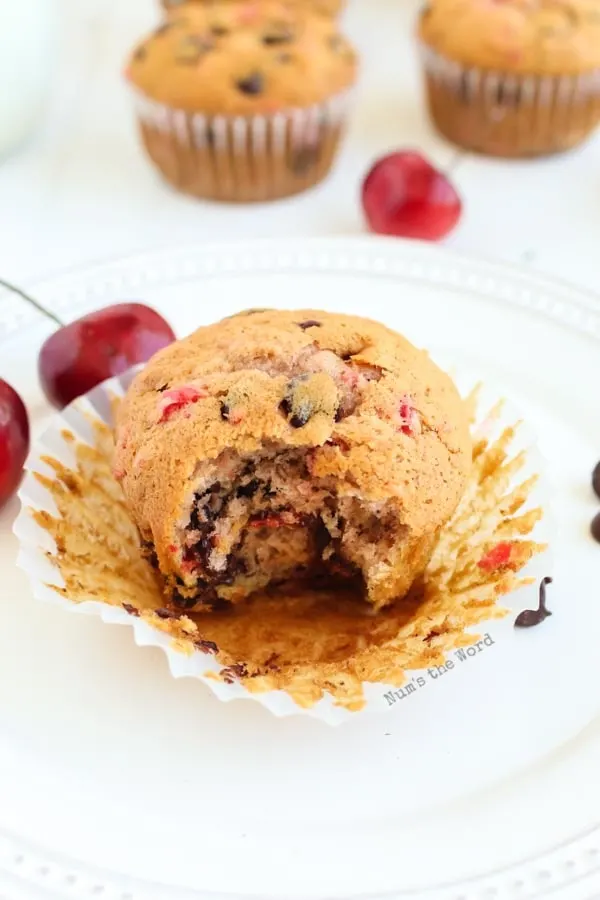 Can Chocolate Cherry Muffins be turned into bread?
Yes, you can absolutely use this recipe to make a banana bread loaf! Most muffin recipes are easily interchangeable with loaf recipes, and this one is no exception.
The significant difference will be cook time — a loaf is going to take much longer to bake than muffins will.
Many loaf recipes cook at the same temperature (350 degrees), so unless you're using a dark or nonstick pan, you should not need to adjust the temperature. But plan on your loaf baking for about 60 minutes.
Again, the top of the loaf should be springy once fully cooked, and a toothpick inserted into the center should come out pretty clean.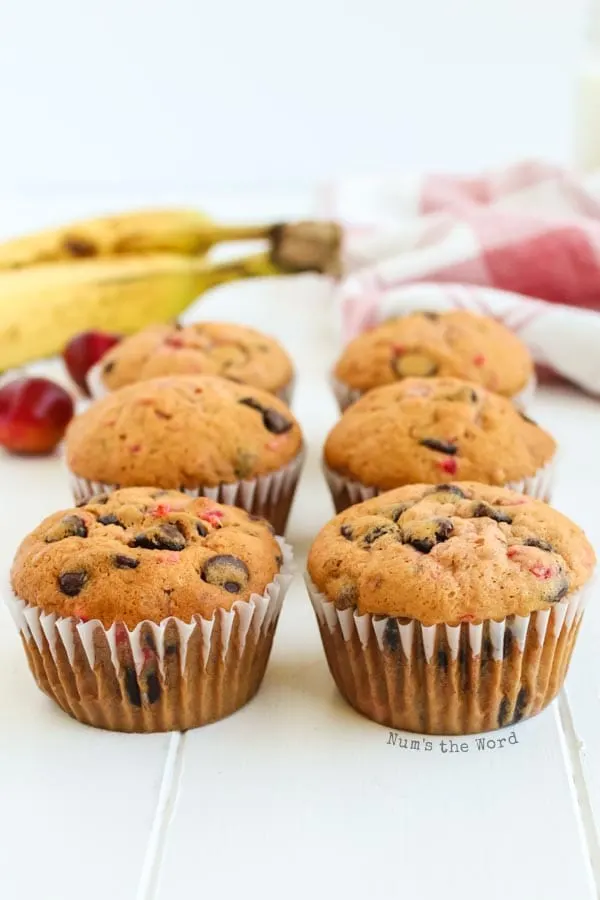 Can you make Chocolate Cherry Muffins without baking soda?
Yes! You can make banana chocolate chip muffins without baking soda. Though baking soda works best since the bananas are acidic and baking soda is alkaline, there are a couple substitutions you can use.
Baking powder

– if you're plum out of baking soda, baking powder can be substituted. The ratio for baking soda to baking powder is 1:4. So since this recipe calls for 1 teaspoon of baking soda, you will need to use 4 teaspoons of baking powder.

Yeast

– using yeast will increase the amount of time it takes to prepare your batter because the little yeast guys need time to eat the sugars in your batter and produce the carbon dioxide that will provide the leavening for your cherry banana muffins. Mix in 1 teaspoon of yeast in place of baking soda, then continue to prepare the batter as normal. Place batter in a loaf pan, then cover and allow the batter to "rise" in a warm place in your kitchen for about an hour, or until doubled in size. This method will work better in a loaf pan because there will be enough room for it to rise.

Nothing

– yes, you can completely omit the baking soda and not substitute anything for it.

HOWEVER

, doing so will greatly change the density of your muffins. As in they will be dense. But it's an option, and you'll still get all the great flavors!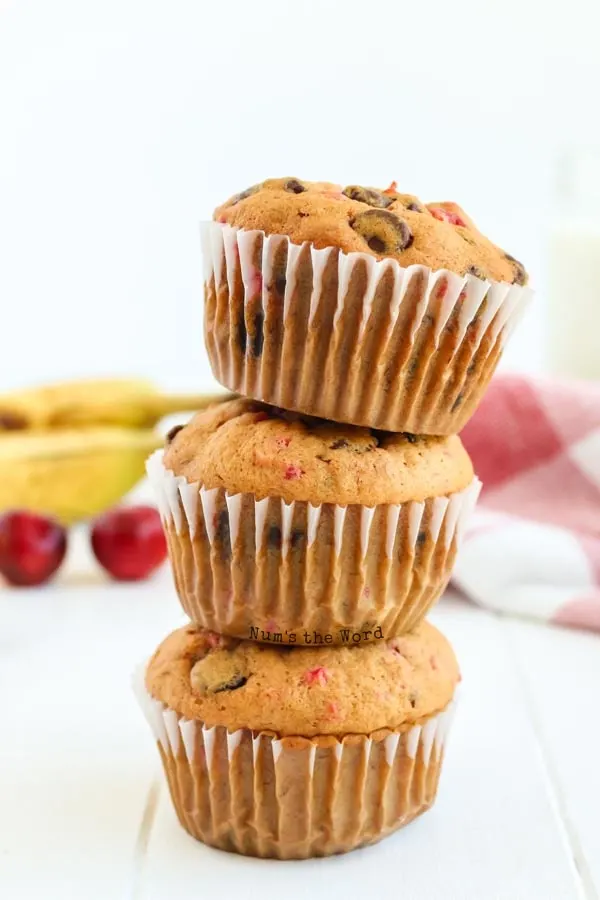 How long are Chocolate Cherry Muffins good for?
It depends where and how you store them! These banana chocolate chip muffins can be out at room temperature (covered or stored in an airtight container) for 1-2 days after baking.
Can I freeze Chocolate Cherry Muffins?
Yes, you can freeze your banana chocolate chip muffins! Allow muffins to cool completely, then place them in an airtight container or freezer bag. Muffins can be frozen for up to 3 months. Just pull them out and let them thaw at room temperature and enjoy!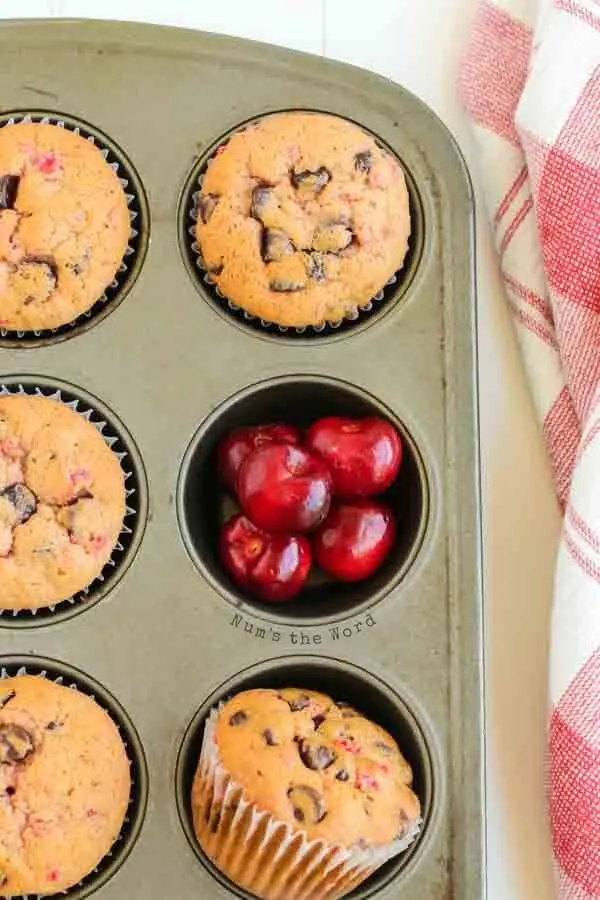 What else can I do with my overripe bananas?
If you're looking for other unique muffin recipes to use those overripe bananas in, check out these:
More Muffin Recipes You'll Love:
These Chocolate Cherry Muffins are sure to make it into your overripe banana baking rotation. By combining cherries, bananas, and — of course — chocolate, you really can't beat or resist these fantastic muffins!
Yield: 18 Muffins
Chocolate Cherry Muffins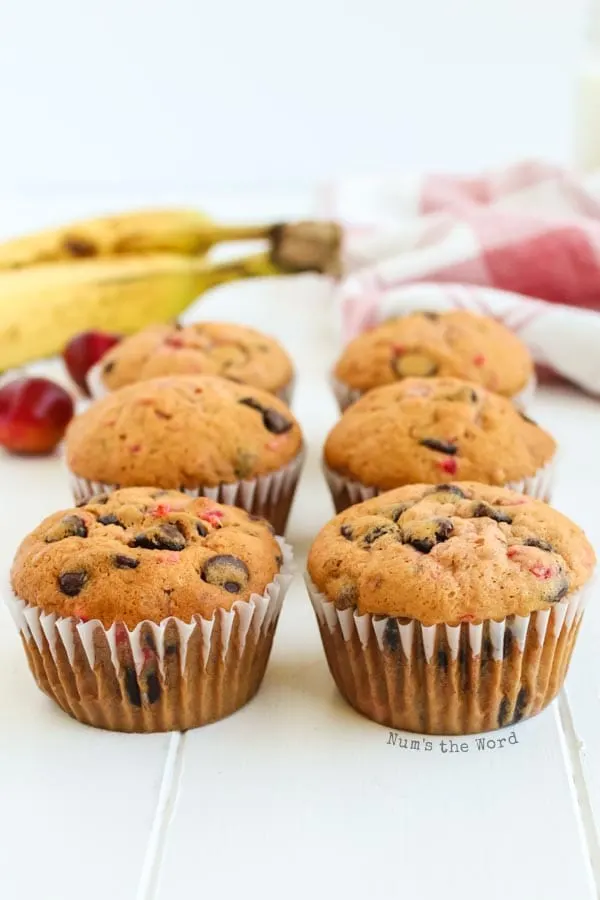 Easy, simple and packed with flavor, these Chocolate Cherry Muffins are a big hit with kids and adults. Make a double batch and freeze some for later!
Ingredients
1 cup sugar
1/2 cup butter
2 eggs
2 Tablespoons cherry juice
1 teaspoon baking soda
2 cups flour
1 teaspoon salt
1/4 cup maraschino cherries
1/2 cup semi sweet chocolate chips
1 1/3 cup mashed bananas
Instructions
Preheat oven to 350*F
Cream sugar and butter until fluffy.
Add eggs, one at a time, mixing between.
Add cherry juice, baking soda and salt.
Add maraschino cherries and bananas.
Add flour 1/2 cup at a time and mix well. Scrape sides of the bowl.
Add chocolate chips and mix.
Bake 18-22 Minutes or until toothpick comes out clean.
Nutrition Information:
Yield:
18
Serving Size:
1
Amount Per Serving:
Calories:

189
Total Fat:

7g
Saturated Fat:

4g
Trans Fat:

0g
Unsaturated Fat:

2g
Cholesterol:

34mg
Sodium:

238mg
Carbohydrates:

30g
Fiber:

1g
Sugar:

17g
Protein:

3g