These Leftover Mashed Potato Cinnamon Rolls are the absolute best! You can't taste the mashed potatoes at all. Sweet, easy and the perfect way to use up leftover mashed potatoes!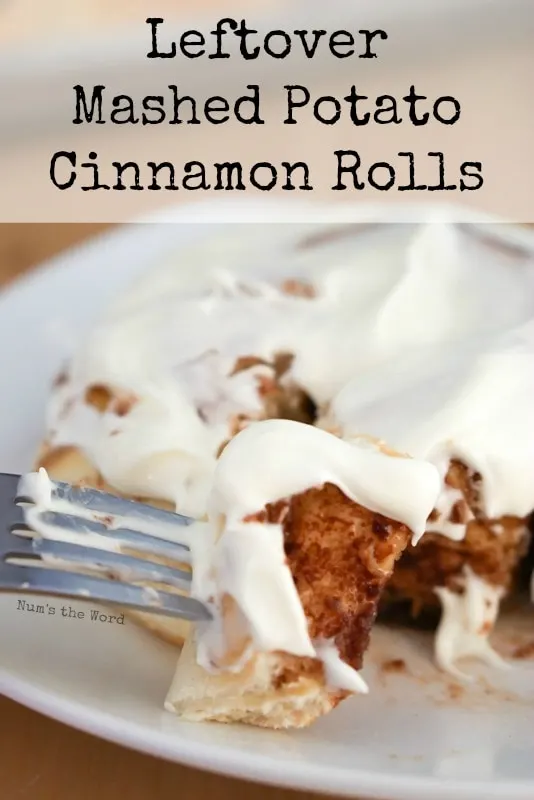 I can only imagine what your first thoughts must be when you read the headline, Leftover Mashed Potato Cinnamon Rolls.
Perhaps it's that they are weird, strange or even gross.
Maybe you are thinking it's a practical joke – like an April Fool's Day recipe.
Or the headline could intrigue you, since you can't imagine that mashed potato cinnamon rolls could be any good – despite how tasty they look photographed.
Well my dear friends, I am here to tell you that these Leftover Mashed Potato Cinnamon Rolls, are hands down the easiest and tastiest cinnamon rolls I've ever had.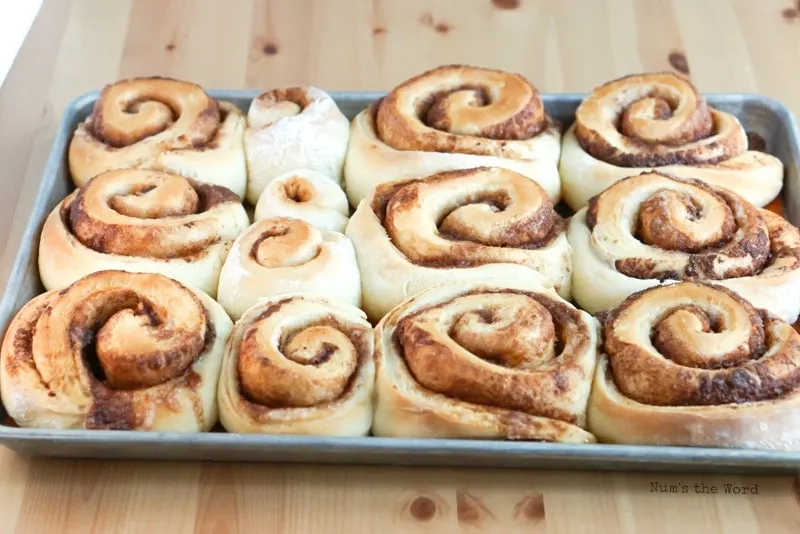 Bar none.
The fabulous thing about these is that you CANNOT taste the mashed potatoes.
I don't care if your mashed potatoes were fully loaded or garlic and herb.
You can't taste them.
In fact my children, who hate mashed potatoes, LOVE these cinnamon rolls.
The staff at my daughters school are also fans.
And ALL OF THEM were shocked when we told them they were made with leftover mashed potatoes.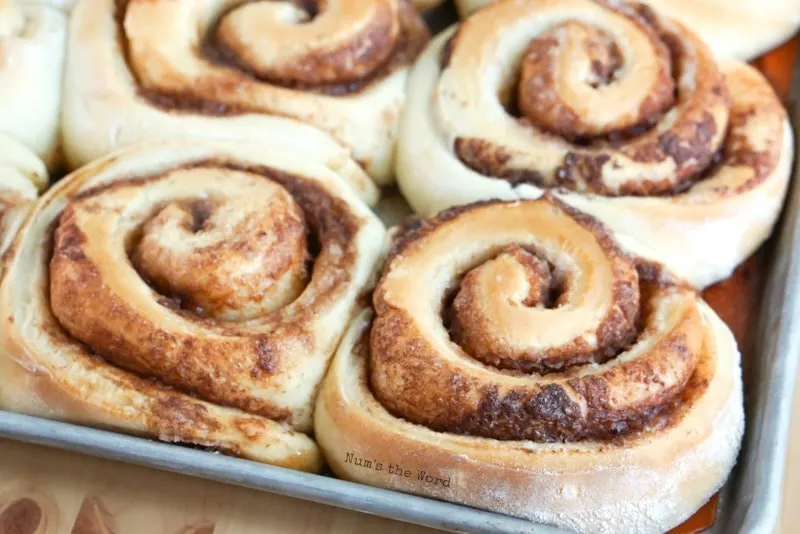 So what made us a bit crazy in thinking this was a good idea?
It all started off with the simple idea of taking leftover mashed potatoes and making dinner rolls.
Potato bread and potato rolls aren't a far fetched thing, so instead of cooking up fresh potatoes, we decided to use leftover mashed potatoes.
Our Leftover Mashed Potato Rolls were an instant hit.
A hit with beginner bakers as well as experienced bakers.
We then branched out and made Leftover Mashed Potato Bread.
Again, a huge hit with everyone who tried it.
Once again, no one could tell there were mashed potatoes in the bread.
Then, my brain started to itch in wondering how these would do as a cinnamon roll.
And so I whipped up another batch of dough, made cinnamon rolls and smothered them in my favorite cream cheese frosting.
As you can expect they were DIVINE.
So easy, so tasty and a massive hit with everyone who tried them.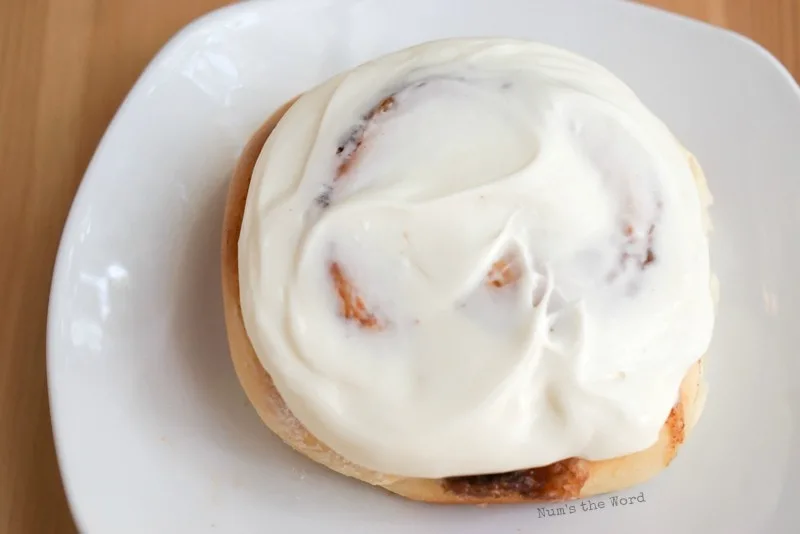 So what's the big idea using leftover mashed potatoes?
Really, it all has to do with the Holidays.
After a large holiday meal like Thanksgiving, Christmas or Easter, we always have leftover mashed potatoes.
This year, on the website, my goal is to roll out several recipes that re-purpose leftovers into something new and fresh.
These Leftover Mashed Potato Cinnamon Rolls are a by product of me trying to re-purpose leftovers into something easy and delicious!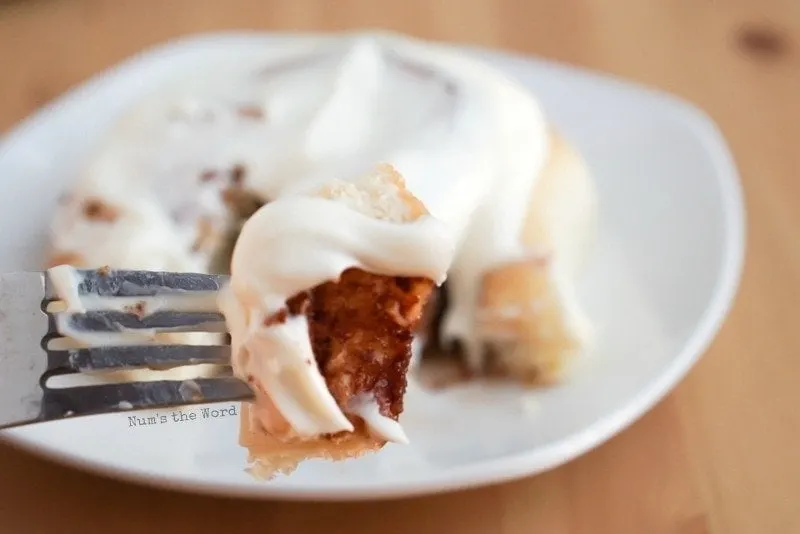 My husband and I are huge fans of mashed potatoes, but we can't eat them day after day in the form of leftovers.
So instead of them going to waste, we now re-purpose them into baked goods – which really is one of my most brilliant ideas ever.
If you love cinnamon rolls, then you really should try these Leftover Mashed Potato Cinnamon Rolls.
They are a favorite of our family and will be with yours too!
Yield: 45 Cinnamon Rolls
Leftover Mashed Potato Cinnamon Rolls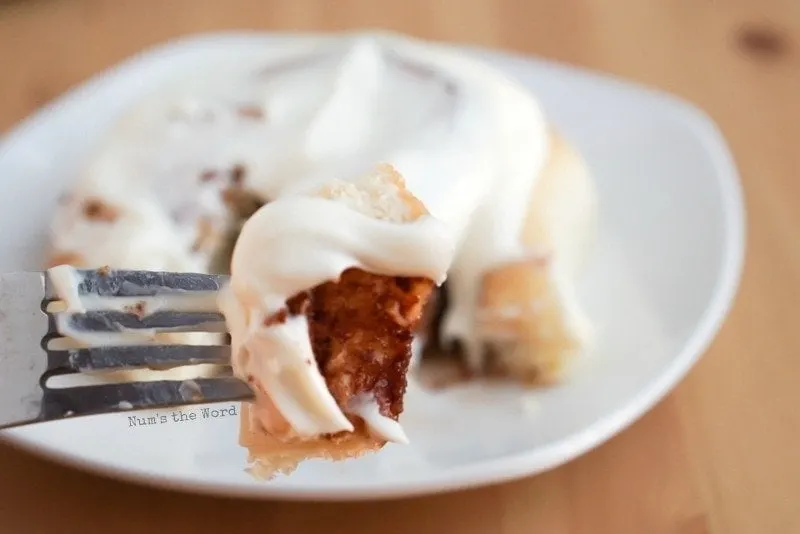 Prep Time
1 hour
30 minutes
Total Time
1 hour
45 minutes
Ingredients
1 cups leftover mashed potatoes (any flavor), hot, cold or luke warm all work!
1/2 cup + 2 Tablespoons hot milk
1 Tablespoons active dry yeast
1/4 cup warm water
2 Tablespoons + 1/2 cup sugar + 2 cups sugar, divided
2 large eggs
1 1/4 teaspoons salt
1/2 cup salted butter, melted
4 1/4 cups flour
2 1/2 cups of melted butter (or more), divided. I use salted
LOTS of cinnamon. You want to be generous.
--------------------------
1 (8 ounce) package of cream cheese, room temperature
1/4 cup butter, room temperature
1 teaspoon vanilla extract
2 cups powdered sugar
1 Tablespoon heavy whipping cream (or milk)
Instructions
In a mixer with a dough hook, blend mashed potatoes and milk.
Let cool to a warm but not hot temperature.
Add yeast, water and 2 Tablespoons of sugar. Mix well and cover with a dish towel. Let mixture sit for 5 - 10 minutes, allowing yeast to poof and activate.
Add eggs, 1/2 cup sugar, salt, and melted butter. Blend well.
Add flour 1/2 cup at a time until all flour has been mixed in or until dough no longer sticks to the sides of bowl.
Coat a large bowl with cooking spray. Add dough and then spray top of dough with cooking spray. Cover with a dish towel and let sit for 1 hour in a draft free spot or until mixture is doubled in size.
After mixture has doubled, take all your anger out on it and punch it a few times.
Preheat oven to 350*F.
Prepare a jelly roll cookie sheet pan by spraying generously with cooking spray or use non-stick foil or a liner.
Grab half the dough and roll out into a rectangle. Dough should be a quarter inch thick. The thicker the dough, the thicker the cinnamon rolls.
Pour 1 1/4 cup melted butter gently over dough. Spread around to cover entire dough.
Sprinkle with 1 cup of sugar and a generous amount of cinnamon.
Using your hands or a spatula, spread cinnamon and sugar around until butter is absorbed into it.
Starting with the long side, roll up gently like a cinnamon log.
Using a knife or dental floss, cut cinnamon rolls into 3/4 inch thick slices.
Place on prepared jelly roll pan.
Once pan is filled, bake for 15 - 18 minutes or until golden. Cinnamon rolls with double or triple in size.
Repeat the same process for the other half of the dough.
--------------------------
In a separate bowl combine cream cheese and butter. Mix well.
Add vanilla and powdered sugar 1/2 cup at a time mixing well after each addition until all sugar is incorporated.
Add whipping cream and blend.
Spread on cooled cinnamon rolls and devour!