Chocolate Crinkle Cookies are the absolute best cookies that you need on your plate this year! Easy, delicious, and covered with sugar, everyone is going to love these cookies!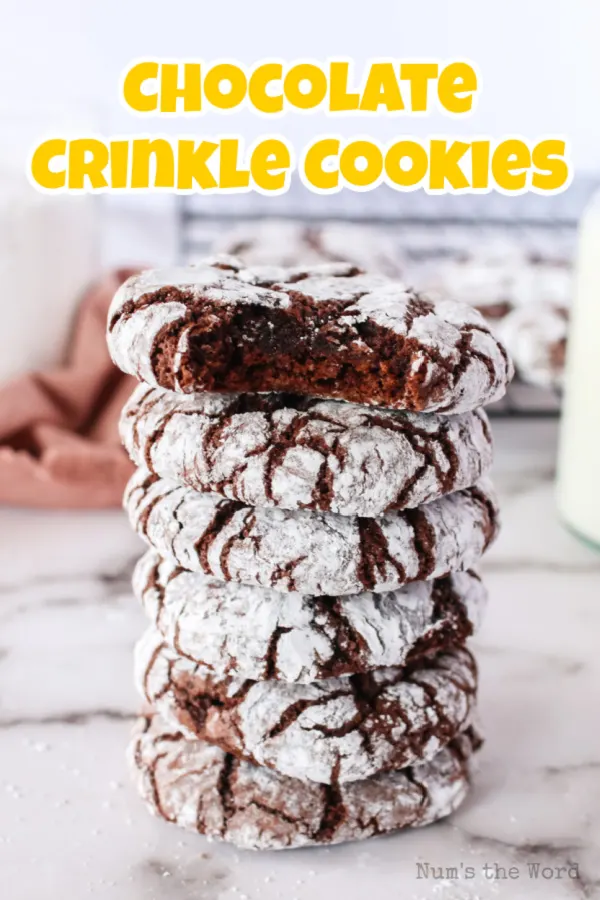 Christmas cookies are all the rage and these cookies are the best chocolate crinkle cookies you're going to find.
Soft, chocolatey centers give way to crispy, sugary edges. They go quickly at my house and I know they'll go quickly at yours too!
I love that this cookie recipe is made with all pantry ingredients. No running to the store required!
And these cookies require zero chilling! No need to wait for hours before you bake them. They're ready right away.
Classic Chocolate crinkle cookies are yummy, fast, easy, and perfect for making for the holidays or all year round!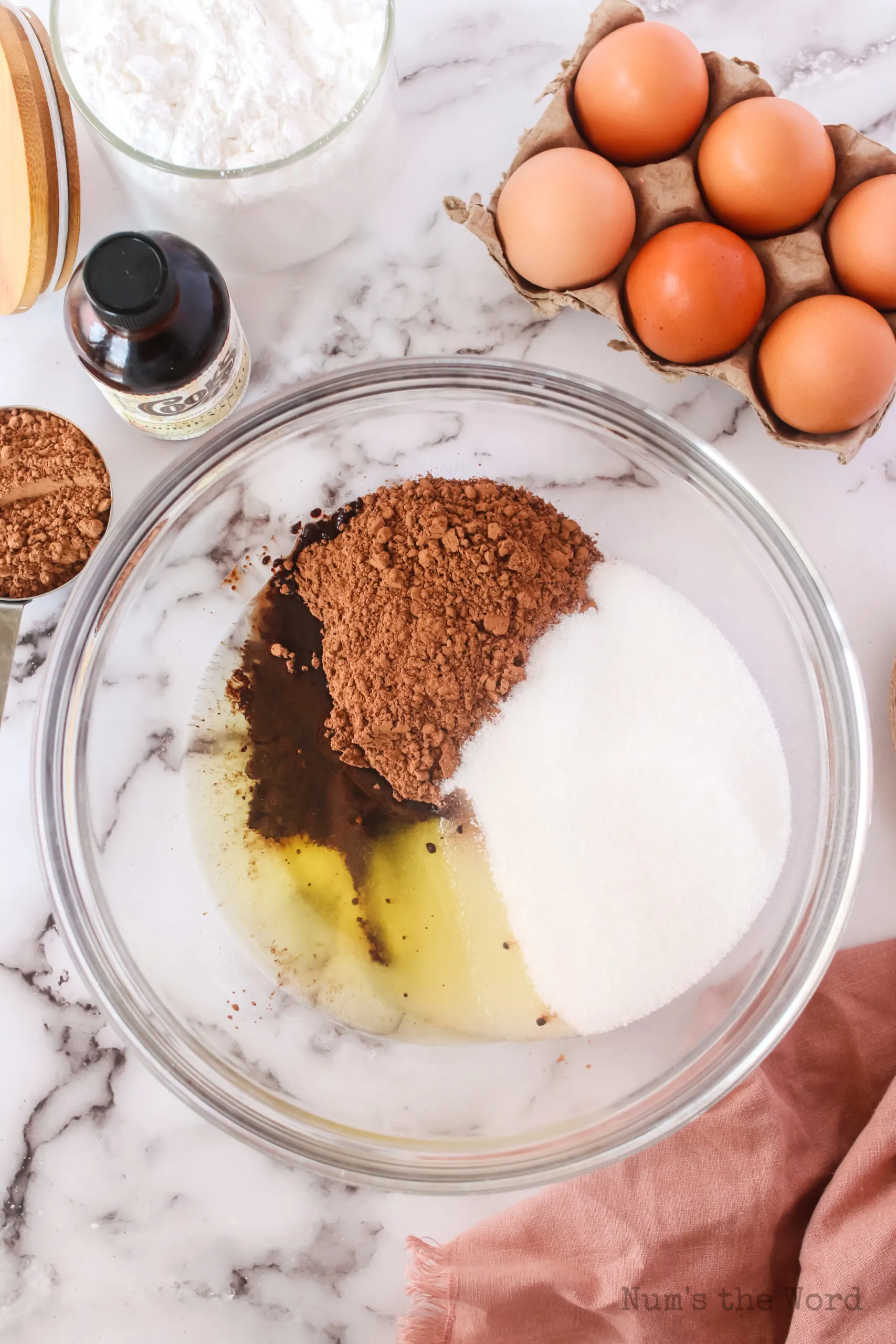 What are Chocolate Crinkle Cookies?
Chocolate crinkle cookies were originally featured in Betty Crocker's Cooky Book.
They are chocolate cookies that taste similar to fudgy brownies. They have big soft centers.
Then they are rolled in powdered sugar or confectioners sugar before baking.
When chocolate crinkle cookies spread as they cook, the sugary coating cracks and looks like little "crinkles", hence the name.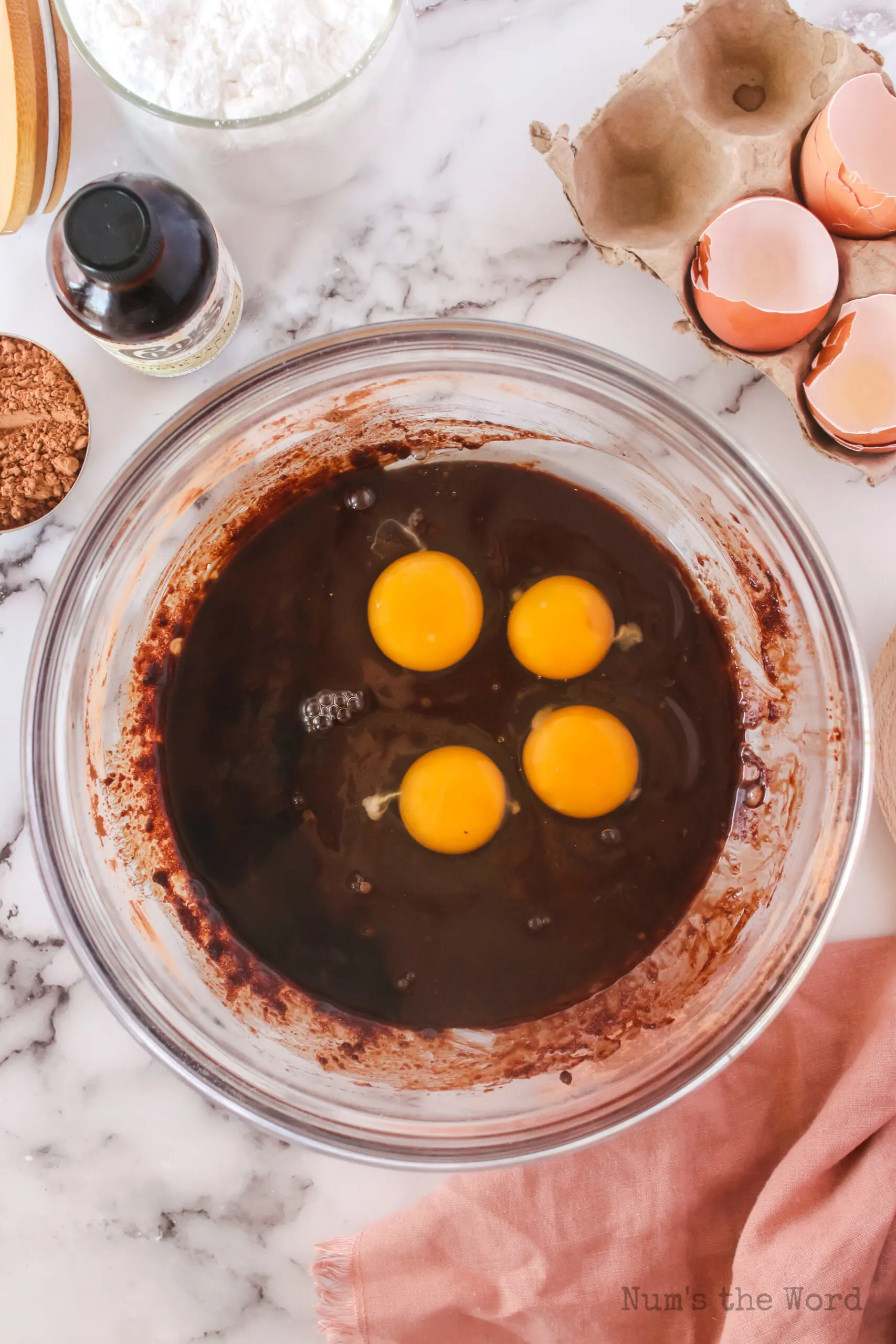 Ingredients in Chocolate Crinkle Cookies
Cocoa Powder:

This is what gives the cookies their chocolatey flavor.

Sugar:

Perfect for sweetening the chocolate cookies!

Oil:

I use vegetable oil but you can substitute with olive or avocado oil.

Eggs:

Used for binding the cookies together.

Vanilla:

Pure vanilla will give you the best flavor of cookies.

Baking Powder:

You need this to help your cookies rise.

Salt:

Salt is necessary in every dessert to help the flavor shine.

Flour:

Use regular, white flour. I haven't tried it with any other flours.

Confectioner's Sugar:

Also known as powdered sugar.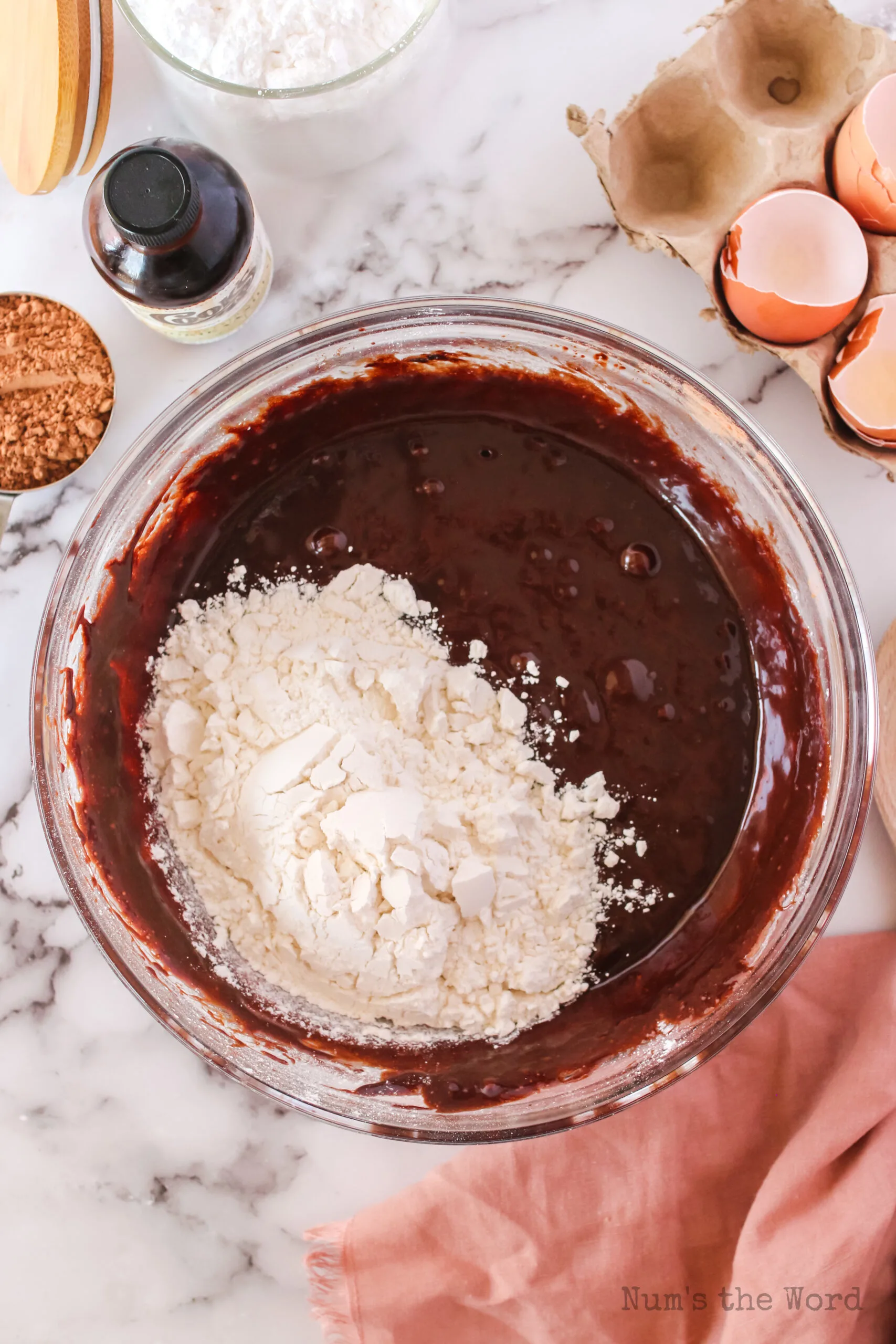 How to Make Chocolate Crinkle Cookies
Blend:

Toss those ingredients in one at a time. That will let all of them combine best.

Mix:

Add in the flour slowly. You don't want to overwhelm all your hard work with the other ingredients.

Roll:

Cover each ball in powdered sugar.

Bake:

Only 10-12 minutes should give your cookies nice crispy outsides and soft, warm insides.

Eat:

Wait 2 minutes before digging in or you'll burn your tongue!
Pro Tips:
This dough is STICKY! Don't try to use a cookie scoop because it won't come out.

Use two spoons and when rolling only touch parts covered in sugar or your hands will get really sticky.

If not comfortable working with a sticky dough you can chill the dough for 45 minutes to firm up.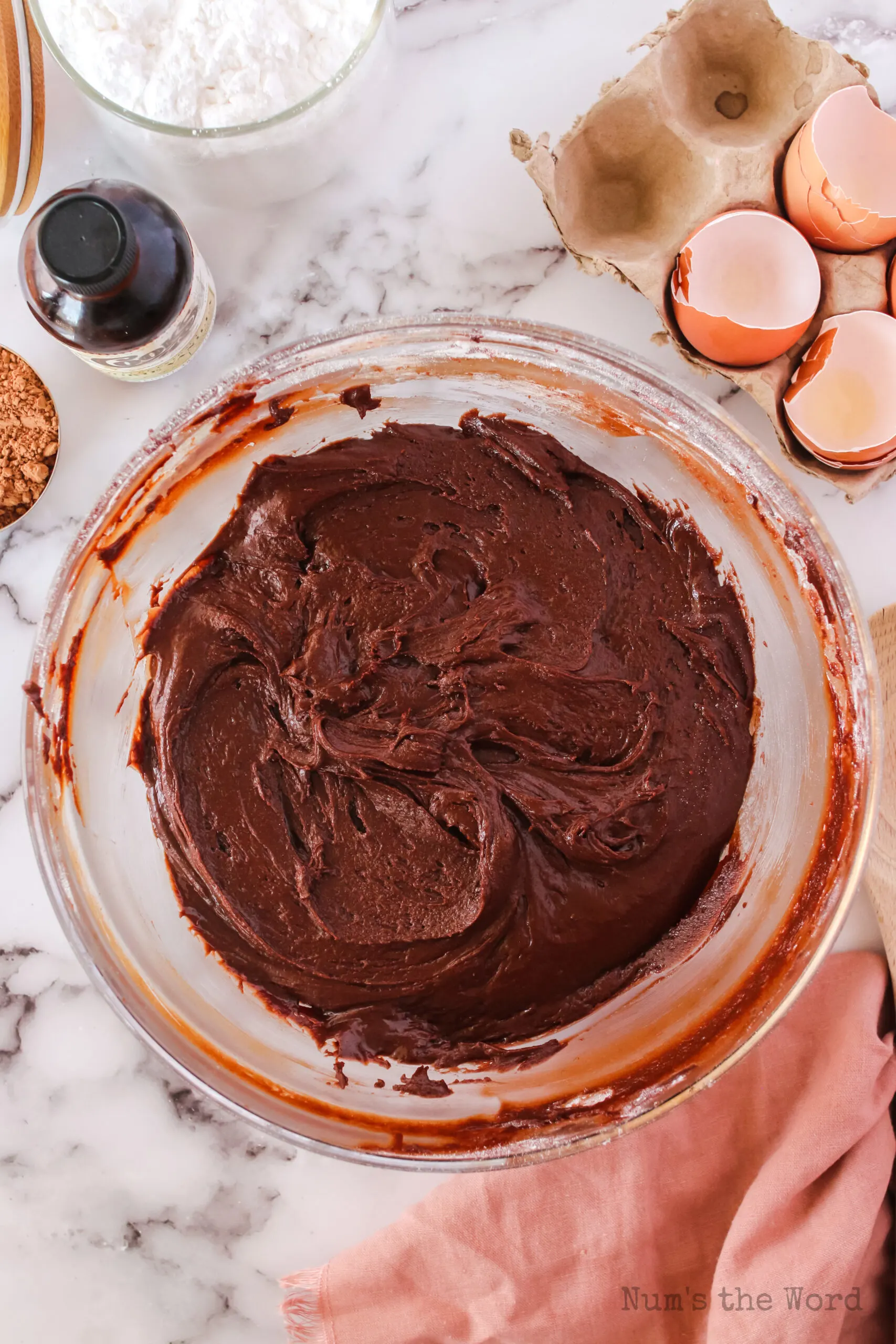 How to Store Chocolate Crinkle Cookies
Chocolate crinkle cookies can be stored on the counter in an airtight container or bag.
To prolong their life you could also store them in the fridge.
Pro Tip: Store cookies in a single layer with parchment paper between each layer to keep them from sticking to each other.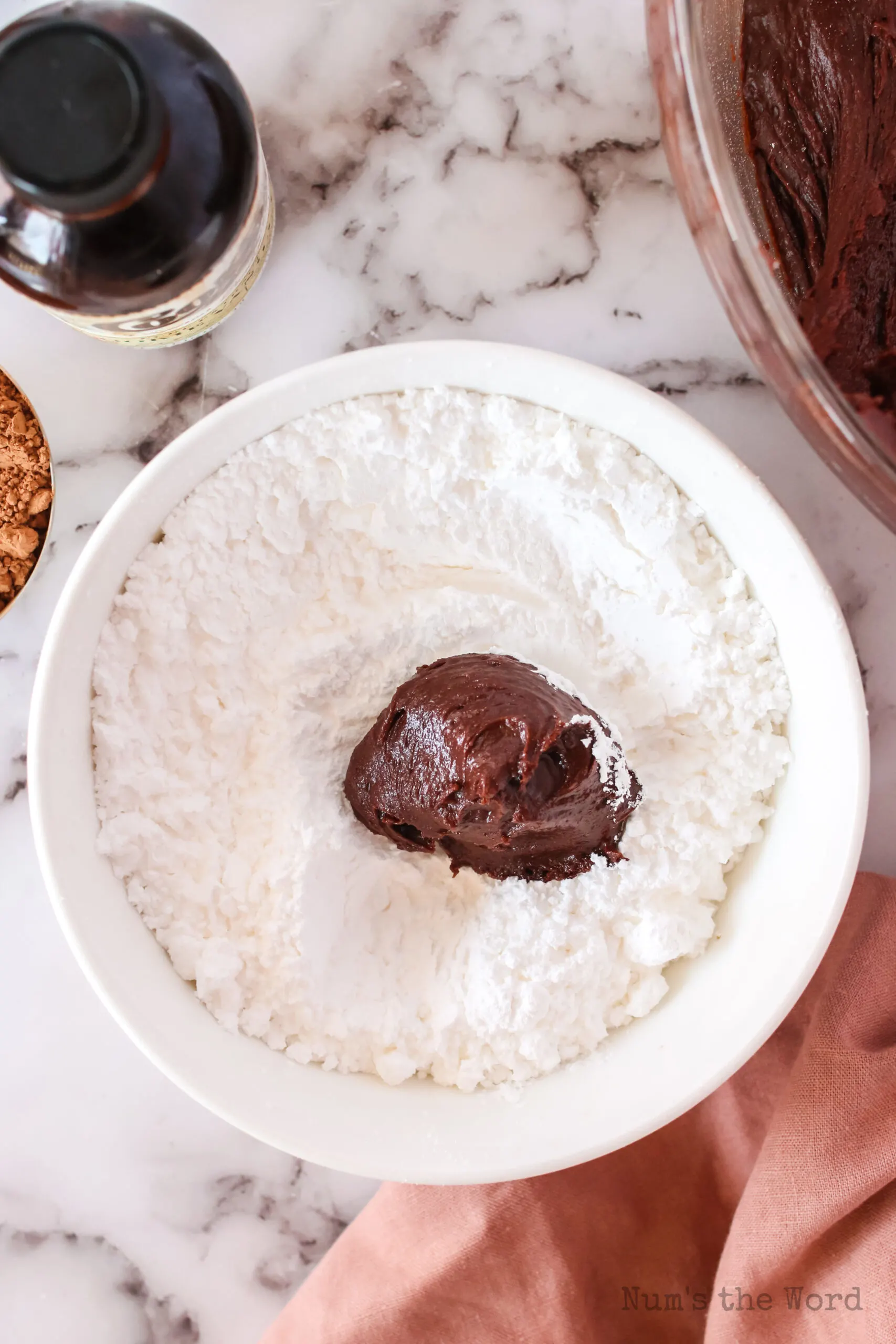 Can I Freeze Chocolate Crinkle Cookies?
Yes! To freeze already baked chocolate crinkle cookies, allow them to cool completely.
Next, place them in an airtight container, making sure to separate with parchment paper.
When you're ready to eat them, thaw on the counter for at least 30 minutes.
These Christmas cookies will stay good in the freezer for up to three months.
Pro Tip: Put the name of the cookies and the date on the container. That way you'll be sure to use them before they expire!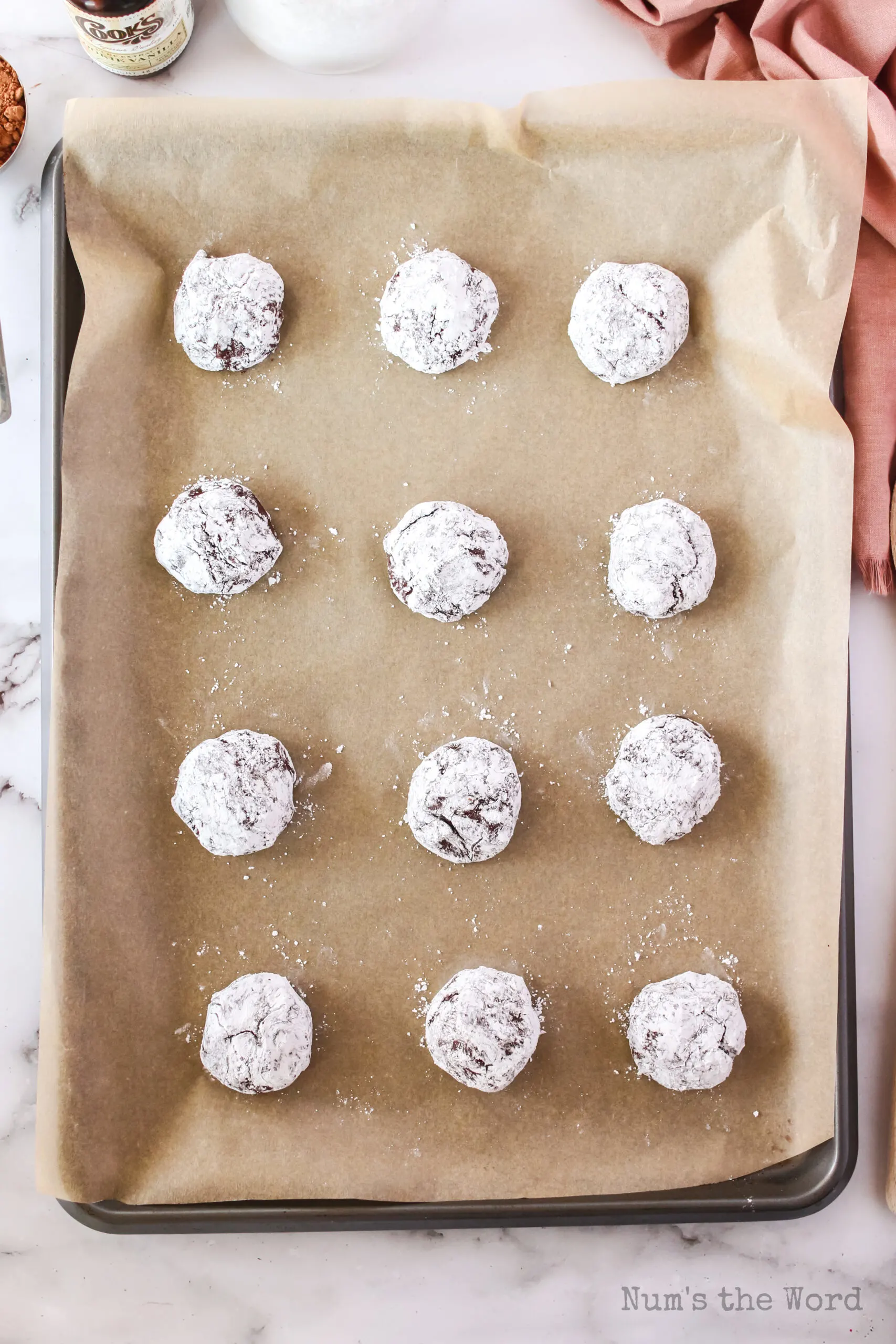 Can You Make Chocolate Crinkle Cookie Dough Ahead of Time?
You can! If making ahead of time, follow all of the directions up to the rolling of the dough.
You can store the dough in the fridge for up to 24 hours before baking.
You can also spoon out each cookie, place it on a cookie sheet , and freeze for 30-60 minutes.
Then remove from the freezer, place the cookie dough balls in an airtight container in the freezer and store for up to three months.
Do not roll the dough in the sugar before you are ready to make.
The sugar will melt, fall off, and not turn out very well once baked.
When ready to bake, allow them to thaw for 30 minutes on the counter before finishing the cookie recipe.
Pro Tip: I always write the recipe on the bag if I've got uncooked foods in the freezer. Then I never have to look for the recipe when it's time to bake.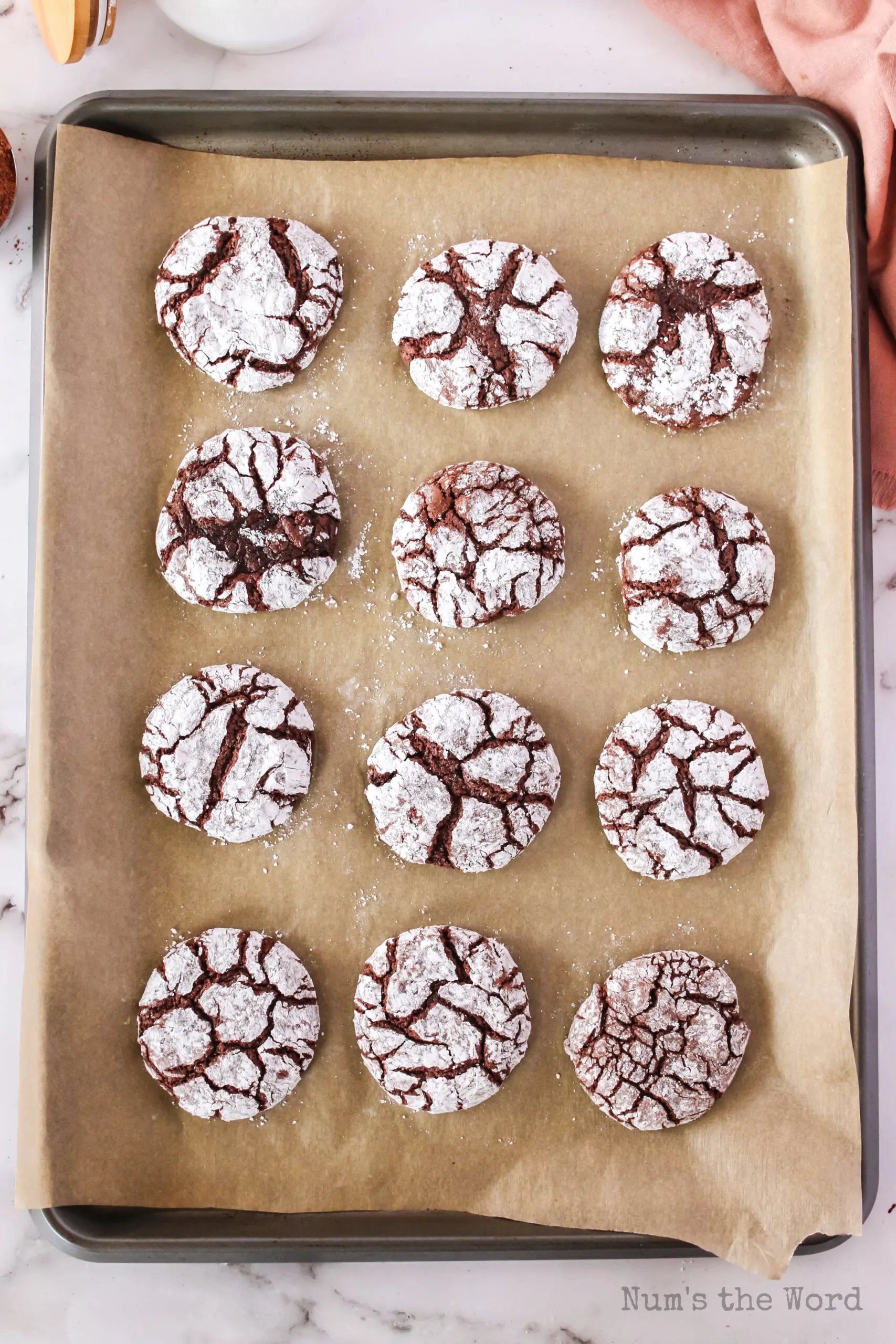 How Do You Know When Chocolate Crinkle Cookies are Done?
It can be really hard to tell when chocolate cookies are done.
Unlike other cookies that often turn golden brown on top when done, chocolate cookies are already brown before baking.
Pay attention to the glossy sheen of the cookies.
You'll notice that chocolate cookies look shiny when they aren't cooked completely and that they lose that shininess once done.
Don't undercook the cookies, but always err on the side of less done than more done.
If you cook them too long they'll get crispy and hard.
Pro Tip: Set the timer for the least amount of time recommended and add time as needed.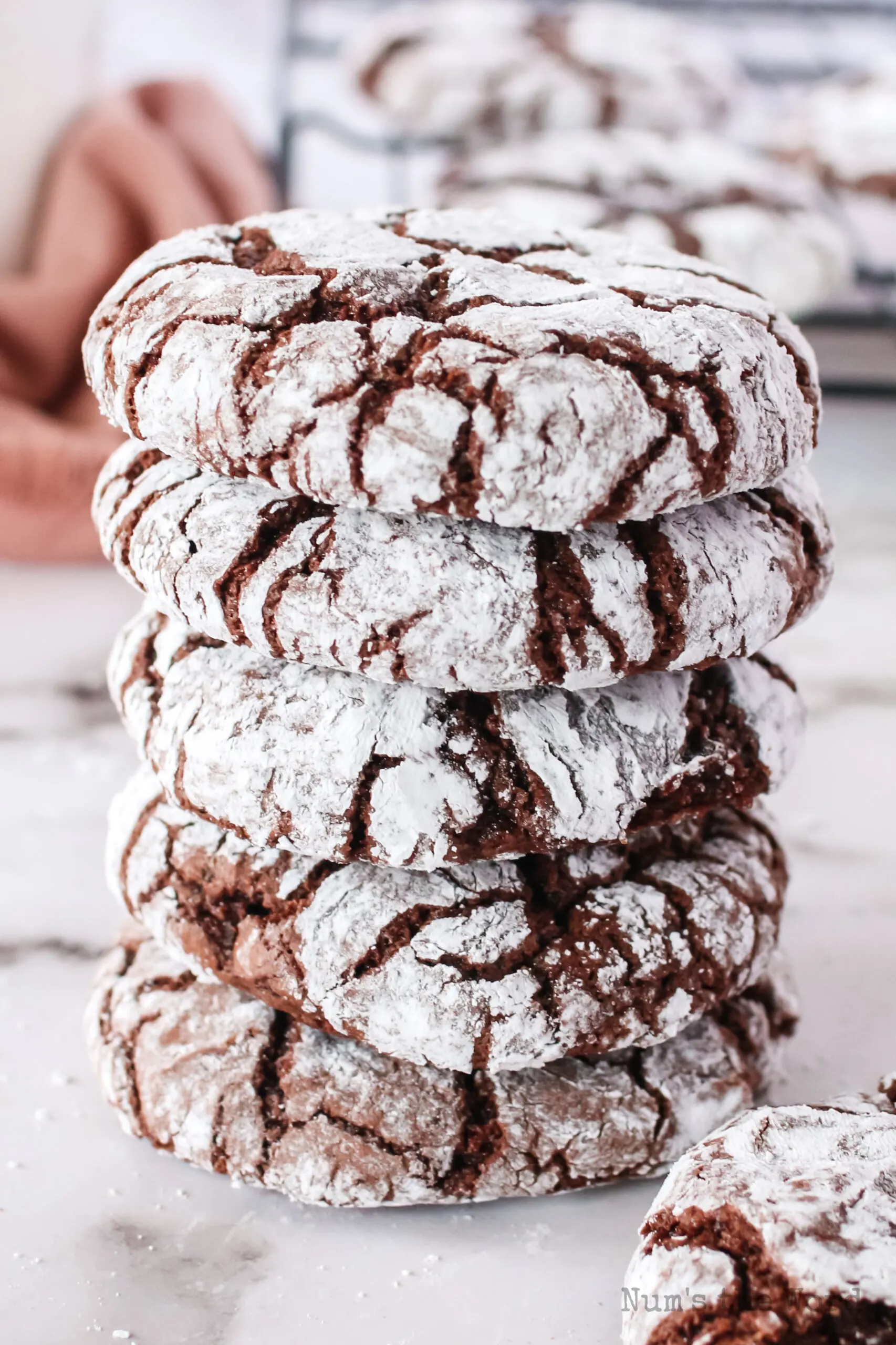 The key to the perfect Christmas cookie tray is to have a variety of cookies.
Typically you'll want a cookie tray to appeal to a wide variety of people and palates.
You can have two or three varieties and up to nine or ten. Here's some of our favorite cookies for a cookie tray.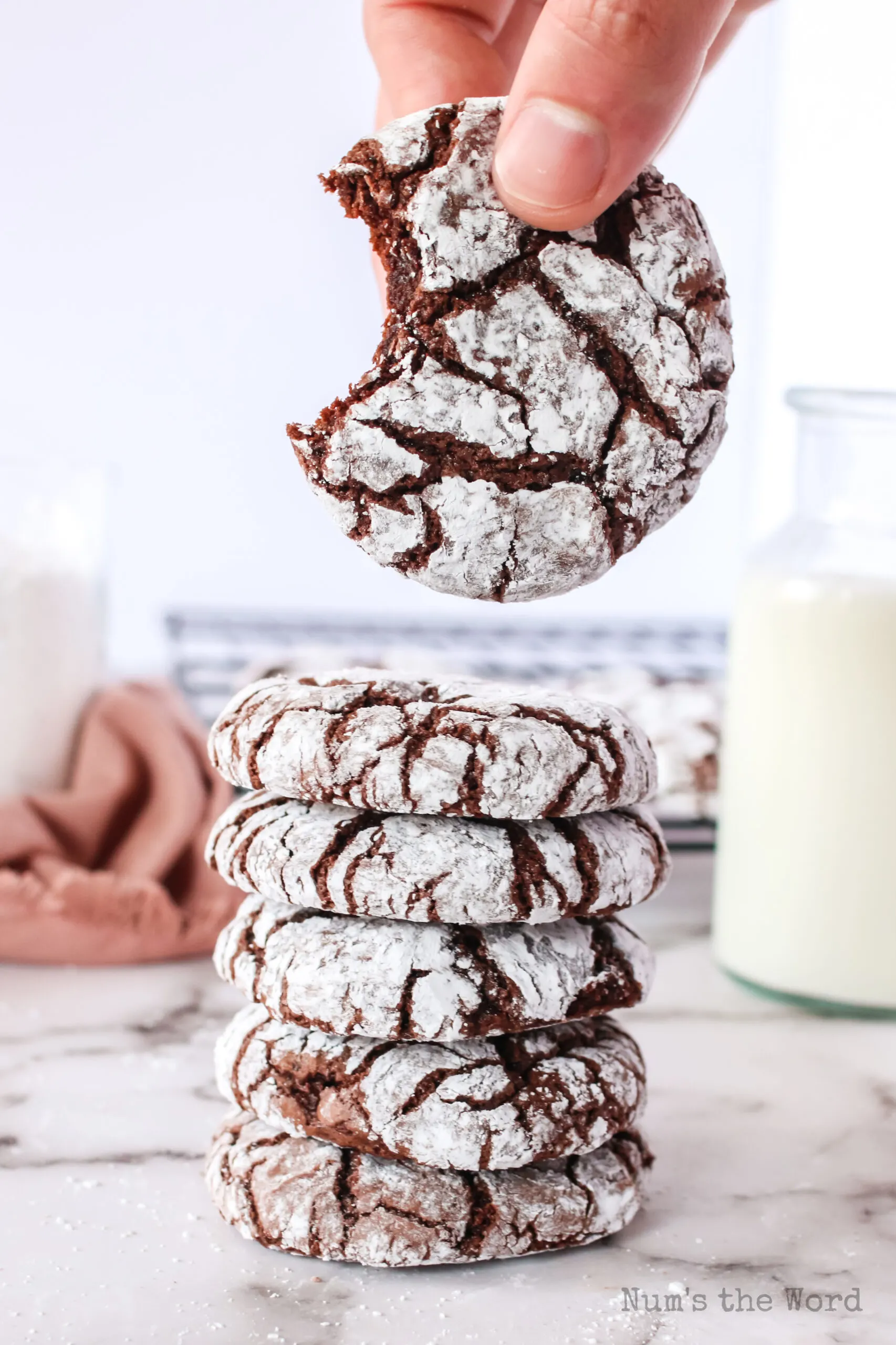 These Chocolate Crinkle Cookies are going to be a showstopper no matter when or how you serve them. Enjoy!
Yield: 36 Cookies
Chocolate Crinkle Cookies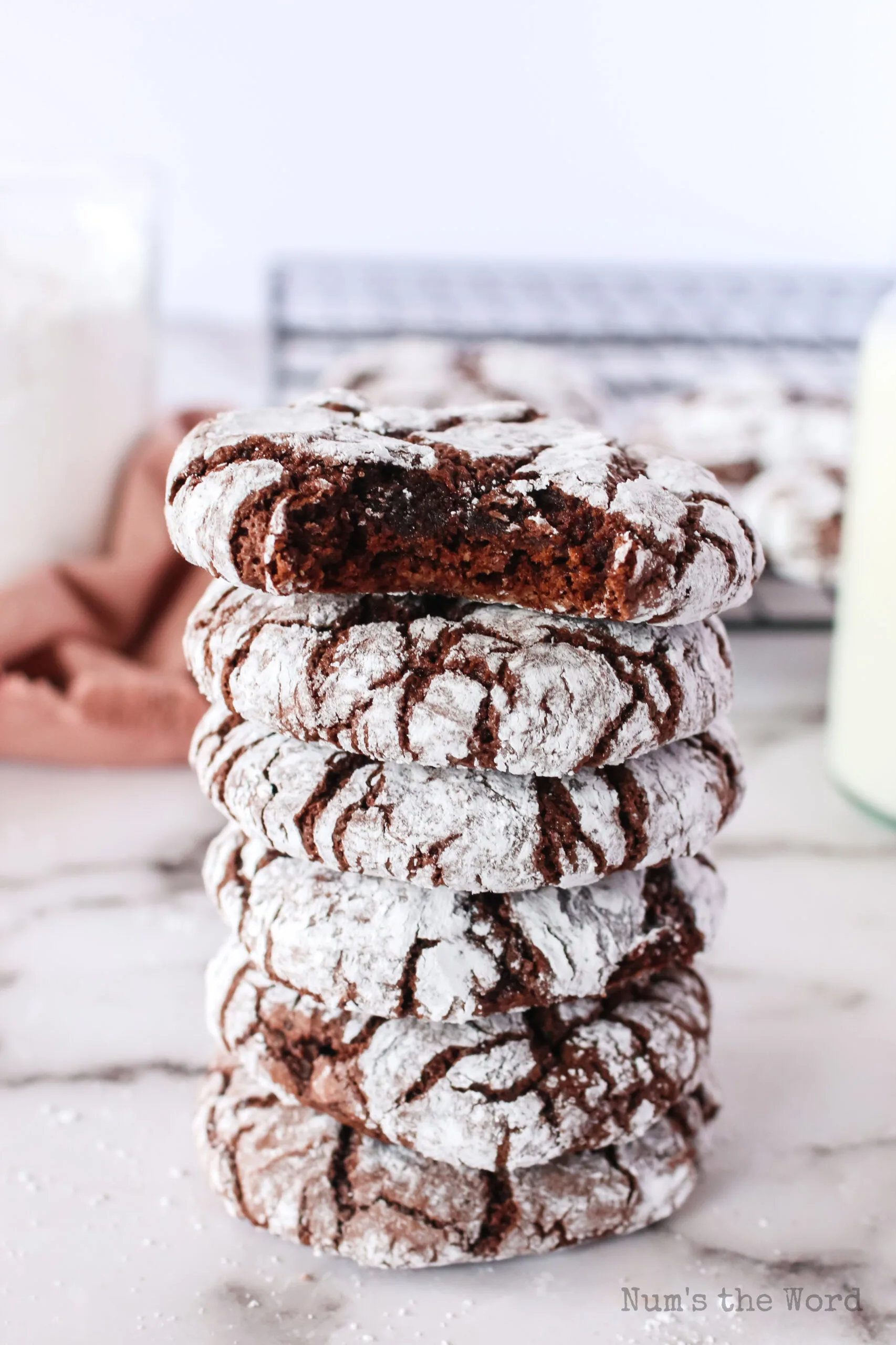 Chocolate Crinkle Cookies are the absolute best holiday cookies that you need on your plate this year! Easy, delicious, and covered with sugar, everyone is going to love these cookies!
Ingredients
1 cup cocoa powder
2 cups white sugar
1/2 cup vegetable oil
4 eggs
1 teaspoon vanilla extract
2 teaspoons baking powder
1/2 teaspoon salt
2 cups all-purpose flour
1/2 cup powdered sugar
Instructions
Preheat oven to 350*F
Line a cookie sheet with a baking mat, non-stick foil or parchment paper. Set aside.
In a bowl combine cocoa powder, sugar and oil.
Add eggs and vanilla and mix well.
Add baking powder and salt, mix well.
Add flour 1 cup at a time and mix between each cup.
In a small bowl add powdered sugar.
Cookie dough will be sticky and I've found a cookie scoop doesn't work well.
If not comfortable working with a stickier dough, then put the dough in the fridge for 45 minutes. Then follow directions below.
If you want to work with a stickier dough (like me), follow the directions below now.
Using two small spoons, scoop out 1 Tablespoon of cookie dough and plop it into powdered sugar.
Sprinkle excess powdered sugar from the bowl over the top of the cookie ball.
Then gently roll the cookie dough ball in powdered sugar touching only the powdered sugar covered parts so you don't get sticky fingers.
Coat a dough ball in a thick layer of powdered sugar..
Transfer coated cookie dough ball to your prepared cookie sheet.
Bake for 10 - 12 minutes.
Let cool on pan for 2 minutes before transferring to a wire rack to cool completely.
Nutrition Information:
Yield:
36
Serving Size:
1
Amount Per Serving:
Calories:

119
Total Fat:

4g
Saturated Fat:

0g
Trans Fat:

0g
Unsaturated Fat:

3g
Cholesterol:

21mg
Sodium:

65mg
Carbohydrates:

19g
Fiber:

1g
Sugar:

13g
Protein:

2g