Balsamic Marinated Flank Steak is an easy, flavorful, cook in the oven steak you never knew you needed. That's right, these are cooked on a sheet pan in the oven! No grilling is required for this delicious steak recipe.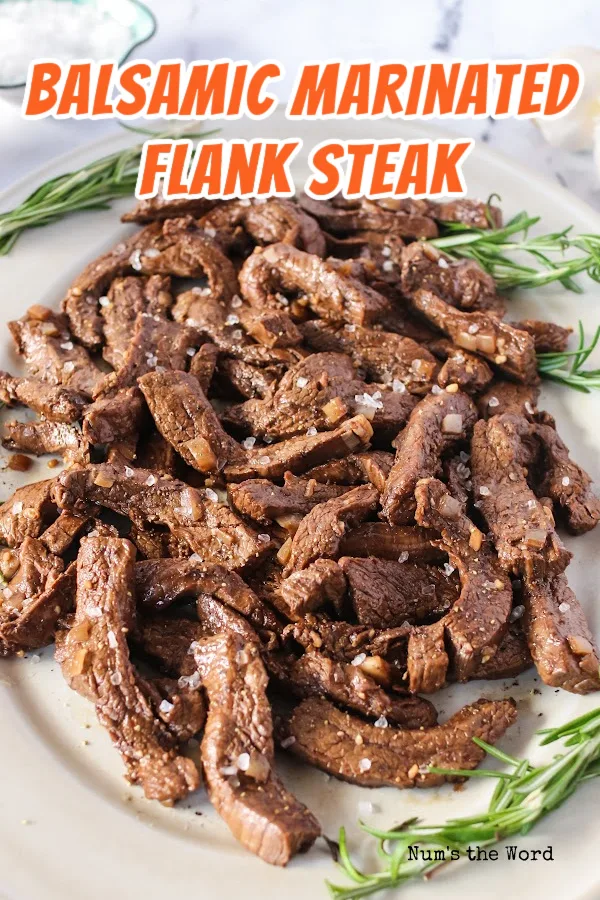 Whether it's too hot or too cold to grill, you don't own one, or you need to free up some grill space for other foods, this is the recipe for you! With a flavorful and tenderizing marinade and a super quick and easy oven-cooking process, you really can't go wrong with this recipe.
It's hard to narrow down my favorite part of this recipe. Is it the marinade? The super quick and easy cooking method? Both? Definitely Both.
I love the rich flavor the marinade gives the meat, and I especially love that this isn't a hard thing to cook!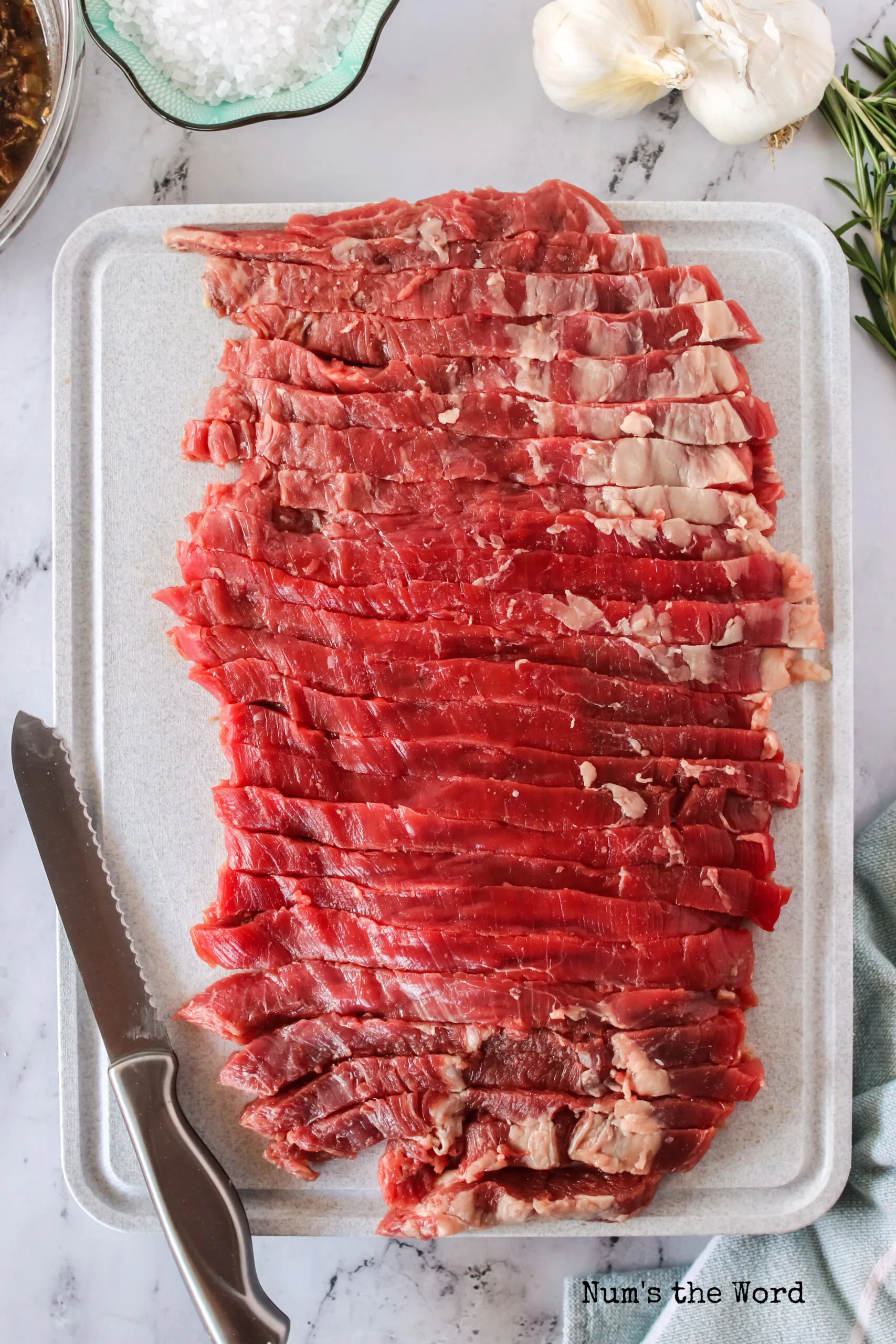 Does flank steak need to be marinated?
Because flank steaks are a very lean cut of meat, it's definitely a good idea to marinate it before cooking. But perhaps even more important than the marinade is making sure you don't overcook it!
Marinades serve a couple purposes:
To add flavor to the meat.

To tenderize the meat by way of acidic marinade ingredients.
This balsamic vinegar flank steak definitely meets both of the points above. With a delicious blend of onion, garlic, herbs, and acids, you'll find this marinade provides you with incredibly flavorful and perfectly tender meat!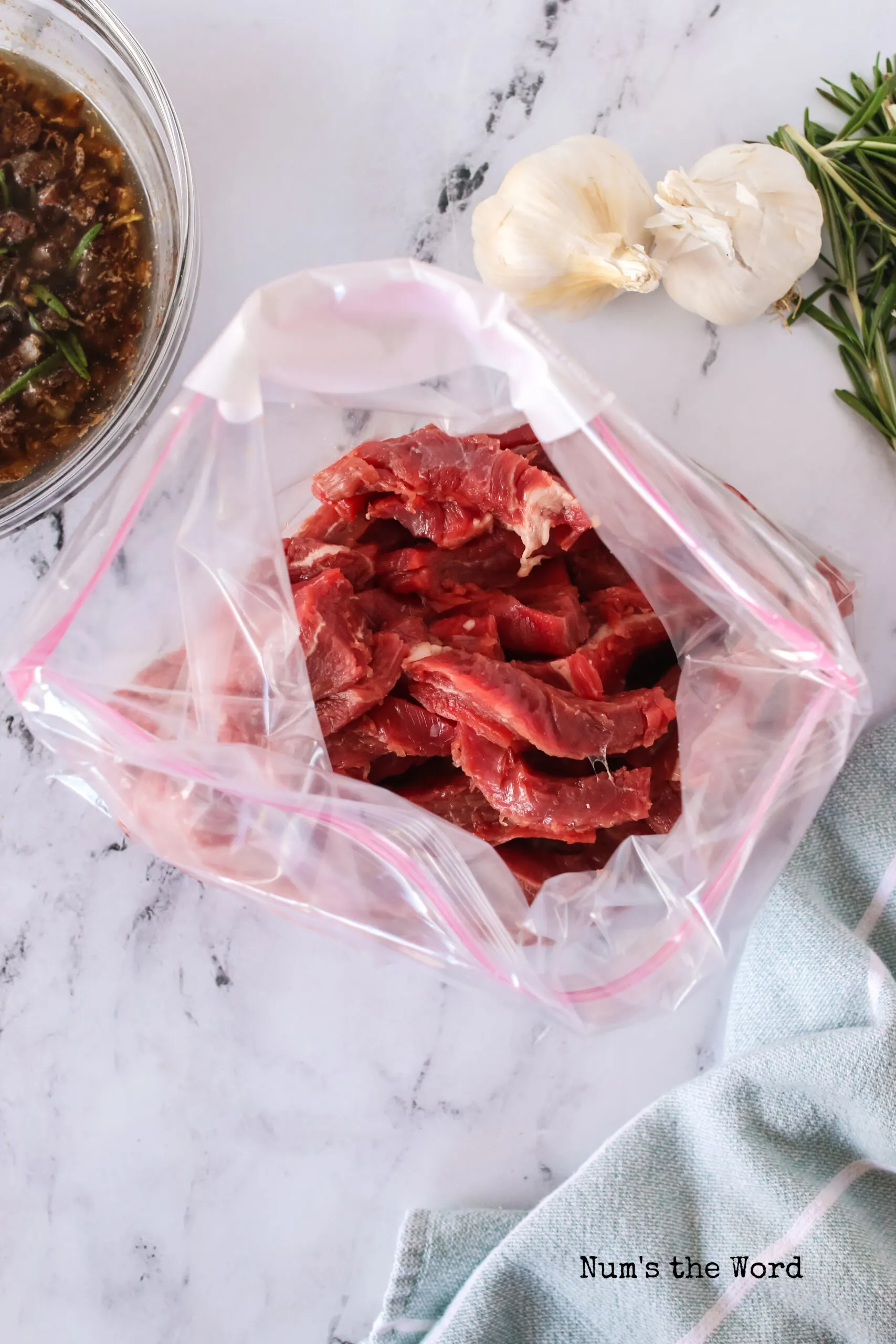 How to marinate flank steak for tenderness?
When you're looking to tenderize a cut of meat using a marinade, it's best to use something acidic rather than a dry rub. Citrus juices and vinegars are some of the most popular go-to marinating liquids.
Marinating is also a great time to infuse your meat with flavor. As the acids work to tenderize the meat by beginning the process of breaking down protein chains, the meat actually absorbs some of the liquid – including the additional flavors you add to the liquid marinade.
As I mentioned above, however, while marinades are important and add a lot of flavor and improve the texture of your meats (especially a lean cut like flank steak), the biggest cause of tough meat is overcooking.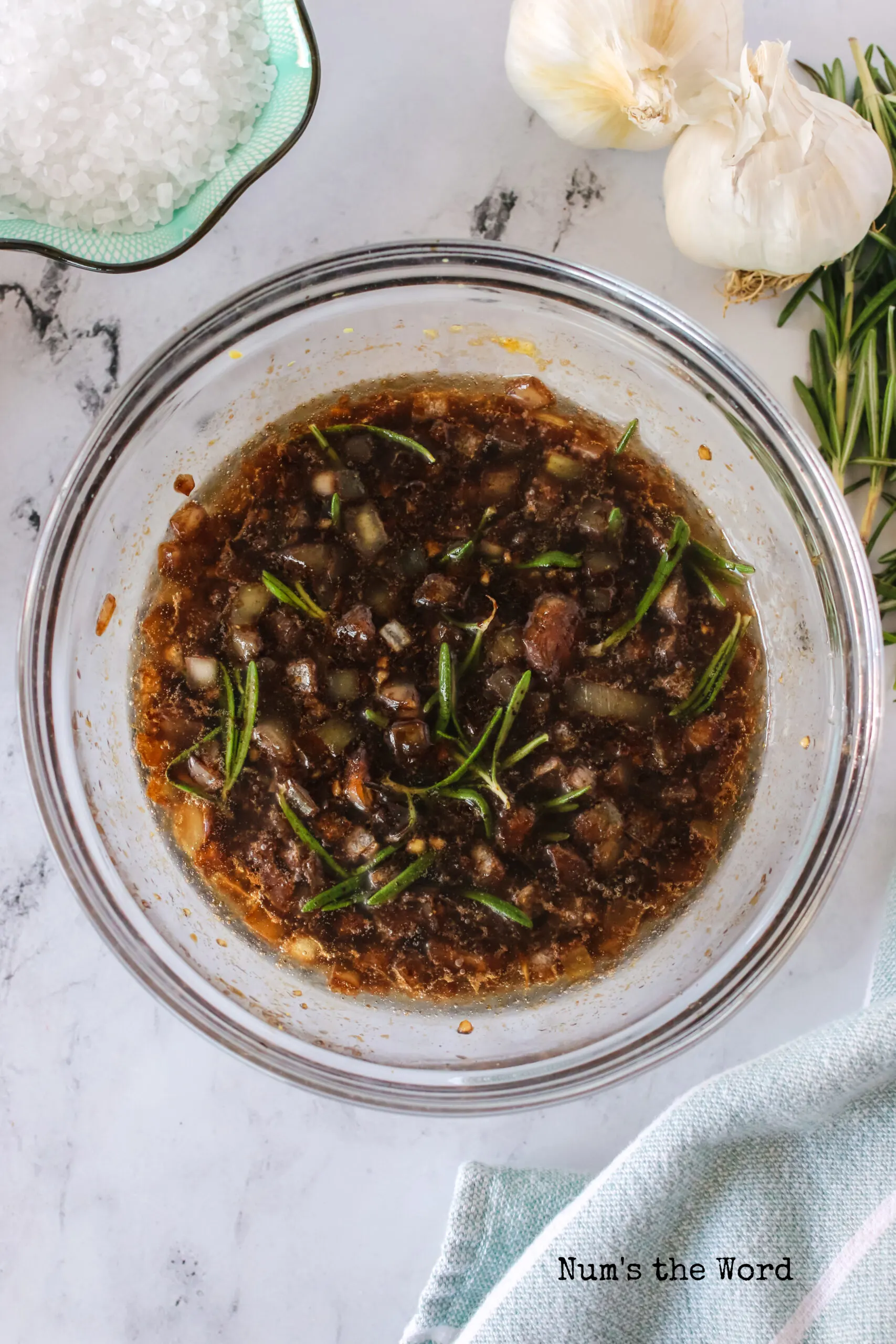 How long to marinate flank steak?
When it comes to marinades, every little bit counts! But that being said, the longer (within 24 hours), the better. Ideally you'd marinate this balsamic flank steak recipe for a minimum of 30 minutes, but up to 24 hours – overnight is ideal.
If you've only got a little bit of time for your flank steaks to marinate before it's cooking time, that's okay! Just 30 minutes of marinating will begin the tenderizing process and also add a lot of great flavor to the outside of your meat. And since flank steaks tend to be quite thin, it works out great!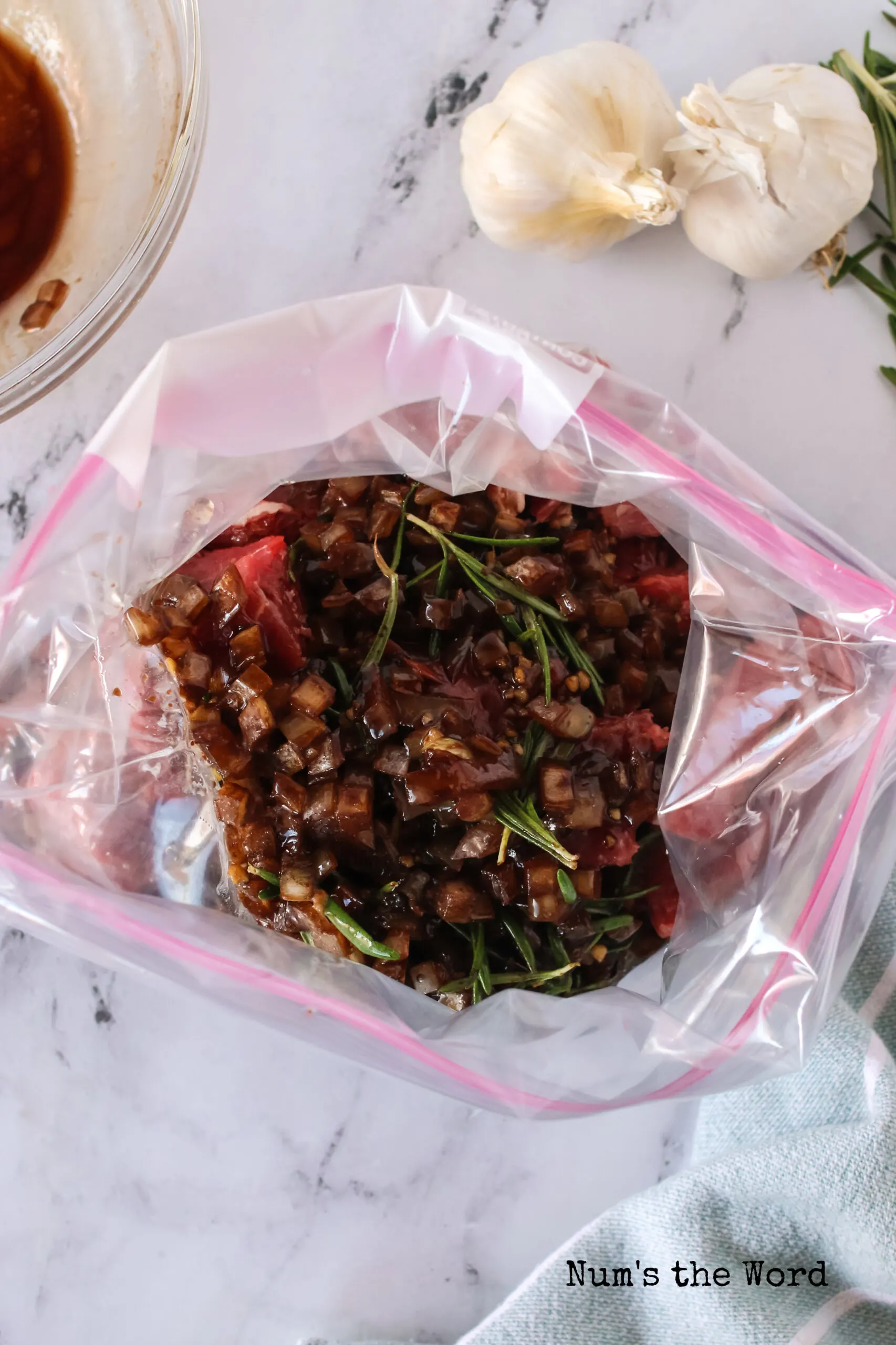 What ingredients do you need for balsamic marinated flank steak?
You'll need the following ingredients for these delicious, quick and easy marinated flank steaks:
Onion

– onion is a wonderful seasoning vegetable that adds nutrients and tons of flavor. For more about onions, check out our info page,

All About Onions

.

Garlic

– another heavy hitter in the flavor department, garlic packs a big punch and really improves the taste of most savory dishes.

Olive oil

– an oil or fat source helps the other marinade ingredients cling to and distribute evenly with the steaks.

Soy sauce

– it might seem strange, but soy sauce is a wonderful addition to marinades, even if you're not looking for Asian inspired flavor. Soy sauce provides some acidity, saltiness, and great umami flavor!

Balsamic vinegar

– it wouldn't be balsamic marinated flank steak without balsamic! Balsamic is a richly flavored acid for tenderizing and flavoring your meat.

Dijon mustard

– Dijon mustard has a great, strong flavor while adding a bit more acidity to your marinade.

Fresh rosemary

– rosemary is a richly aromatic herb with citrusy undertones that pairs wonderfully with the balsamic and garlic flavors!

Flank steak

– flank steaks are great because they are very lean cuts (no trimming!) full of flavor and perfectly tender when prepared correctly! Not to mention, it's an inexpensive cut as well!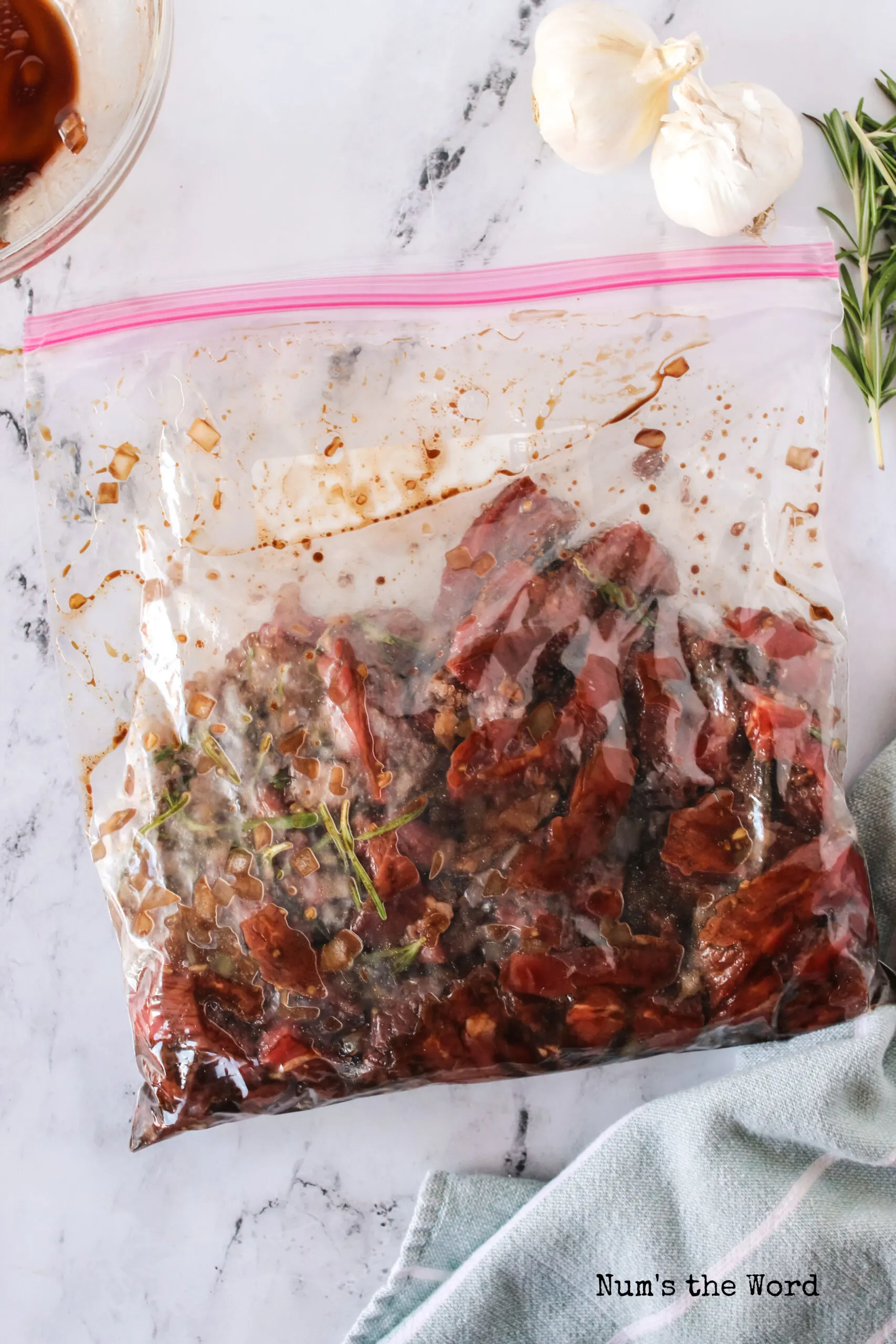 Can you freeze marinated flank steak?
Short answer: yes. But you'll want to make sure you freeze the meat pretty soon after adding the marinade. You'll also want to remove as much air as possible from the freezer bag, or consider vacuum sealing the steaks and marinades together.
The reason why you don't want to freeze the steaks at the end of their 24 hour marinating window is that once you pass 24 hours, the acids can break down the proteins in the meat TOO FAR and you'll have mushy or not as good textured meat. When you freeze, you need to consider that the meats will be in the marinade for the duration of their thawing process as well.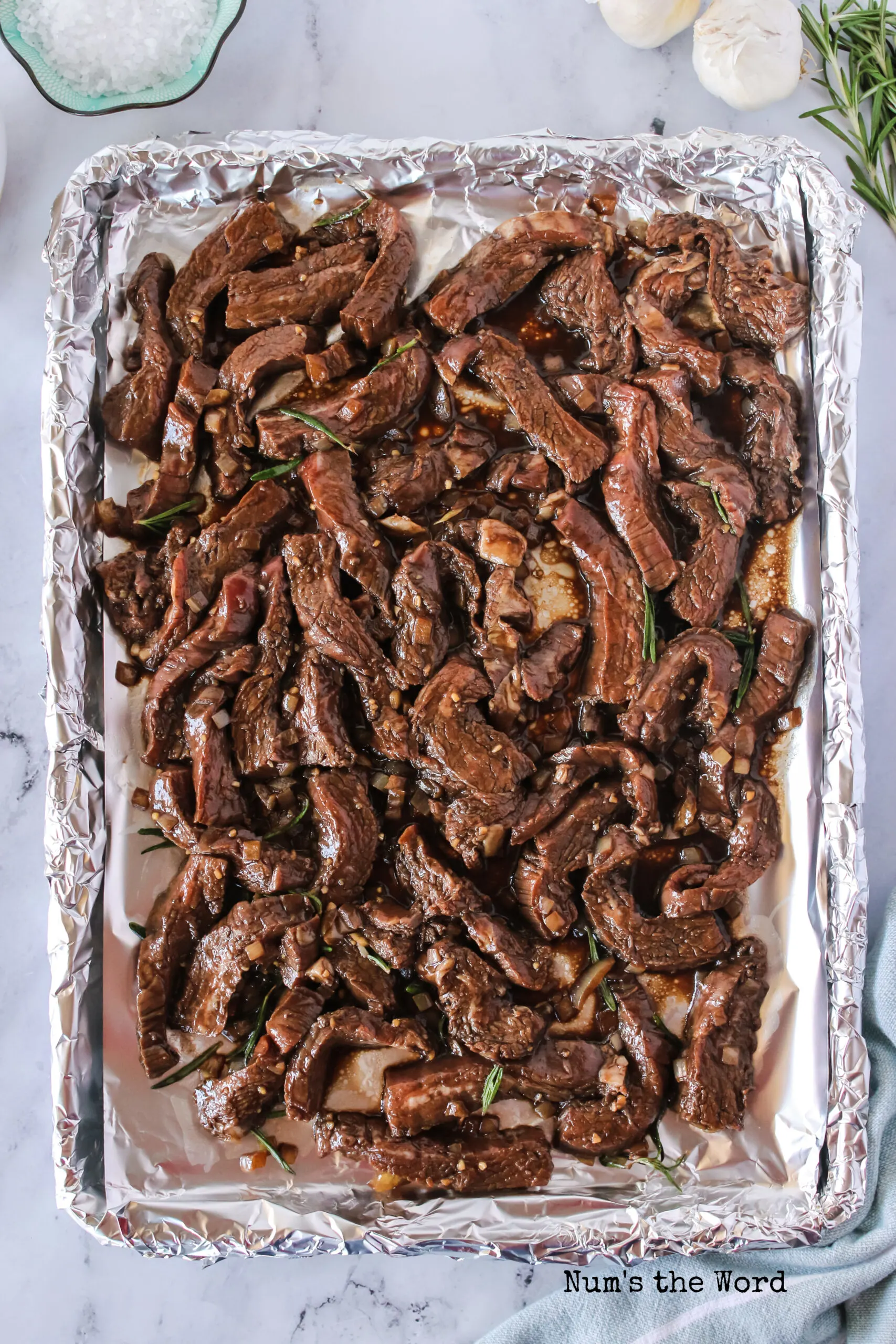 Can you overcook flank steak?
Absolutely, you can overcook flank steak! (I'm fairly certain there is not a thing on this earth that you CANNOT overcook … anybody want to challenge that? Haha).
But it's important NOT to overcook these steaks because that's going to give you tougher meat, even after all your marinating efforts.
These sheet pan flank steaks are cooked in the oven at a high temperature (450 degrees). The cut of meat is thin, so you're looking at a quick cook time. You'll want to keep a close eye on the oven while they're in there, and keep a meat thermometer handy for when you pull them out.
Ideally, you'll cook this balsamic flank steak oven recipe to medium for the best texture and flavor!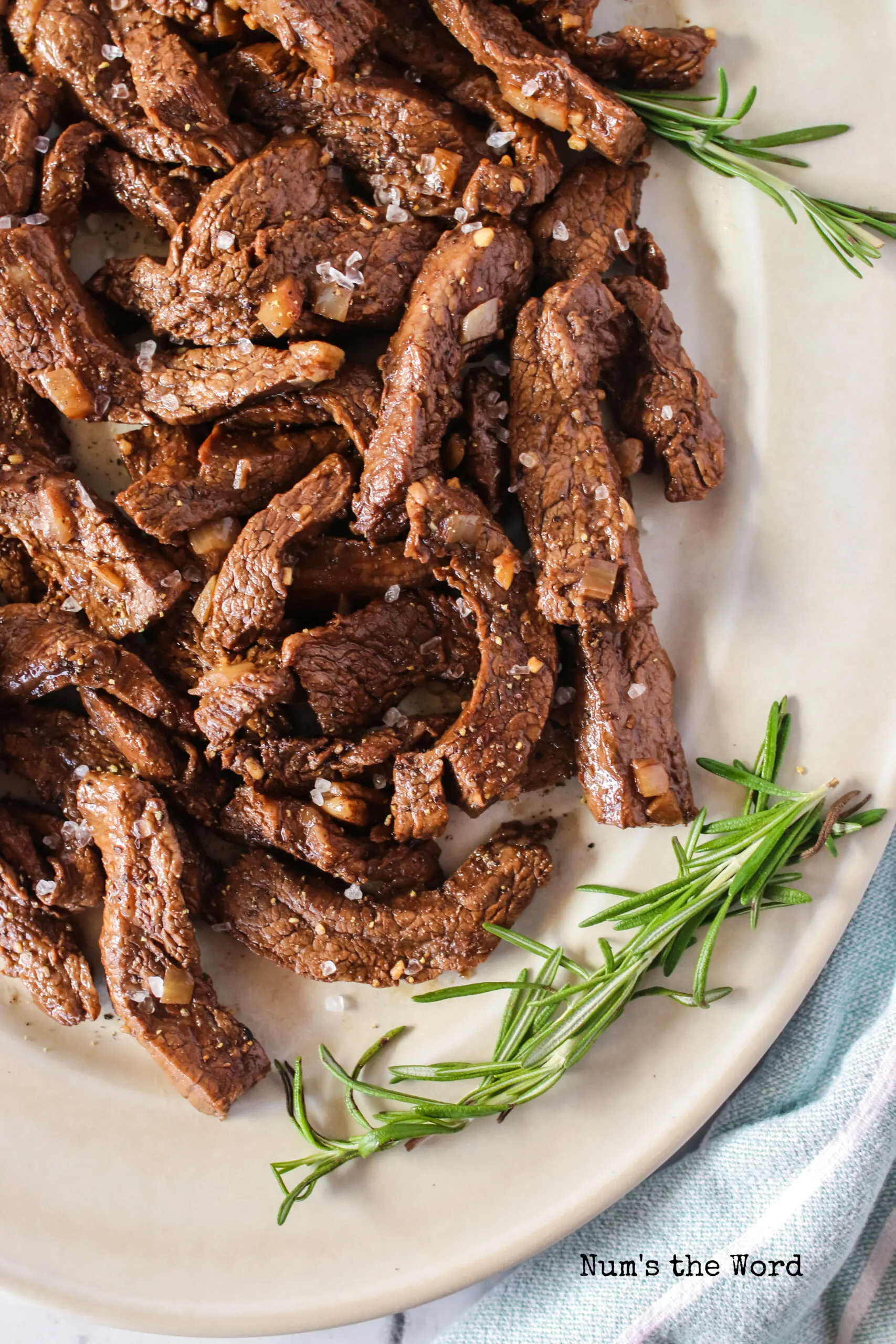 What to serve with balsamic flank steak?
These balsamic marinated flank steaks pair great with all your traditional grilling foods! But since they're made in the oven instead of the grill, they're also a great winter option for when it's too cold to get your grill on.
Here are some of our favorite things to serve with balsamic flank steaks: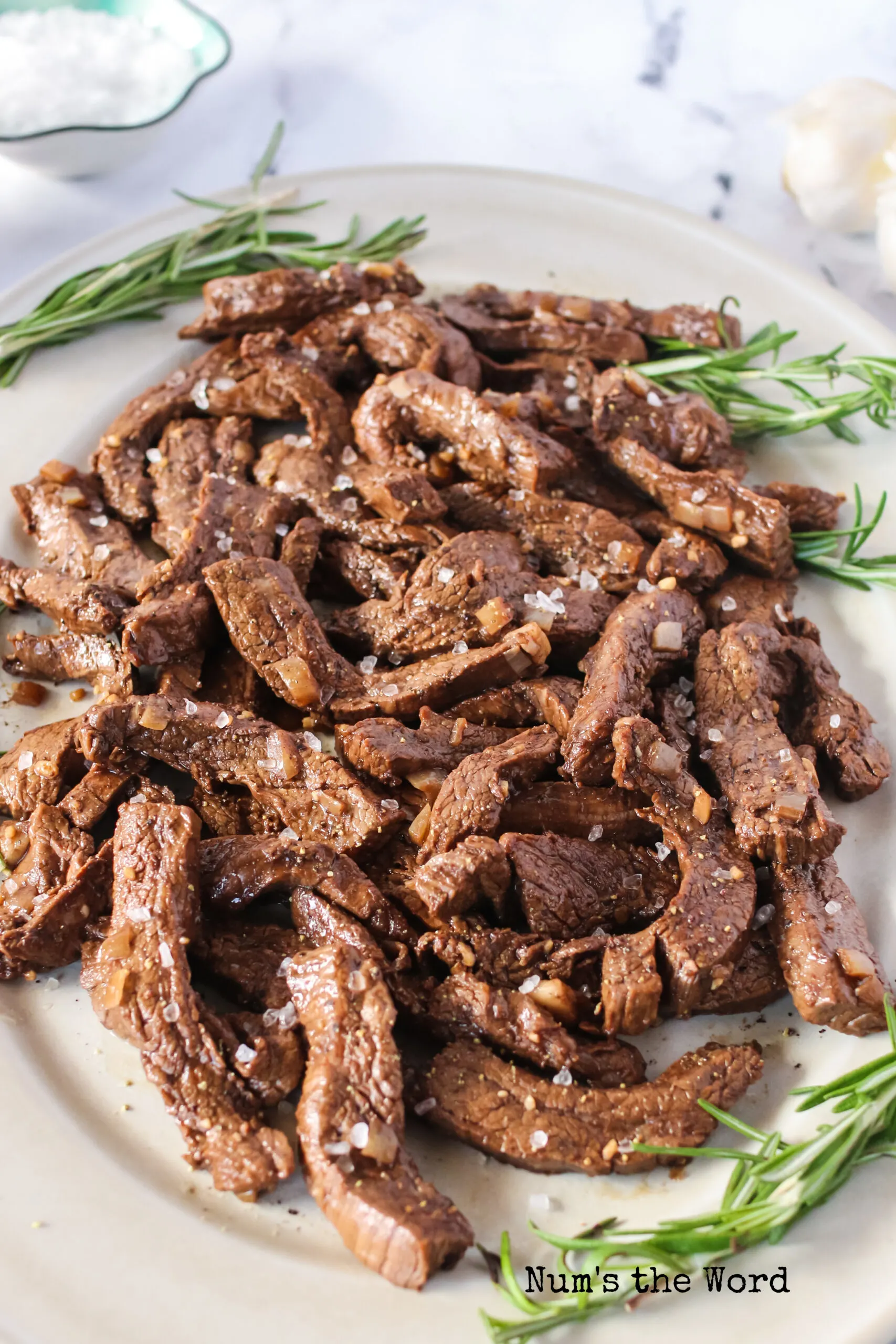 I'm sure you and your family will love this balsamic marinated flank steak recipe. Whether you're sharing a meal with friends or extended family, or just enjoying a night in with your partner and kids, this recipe is sure to be loved by EVERYONE, including the cook!
Yield: 4 Servings
Balsamic Marinated Flank Steak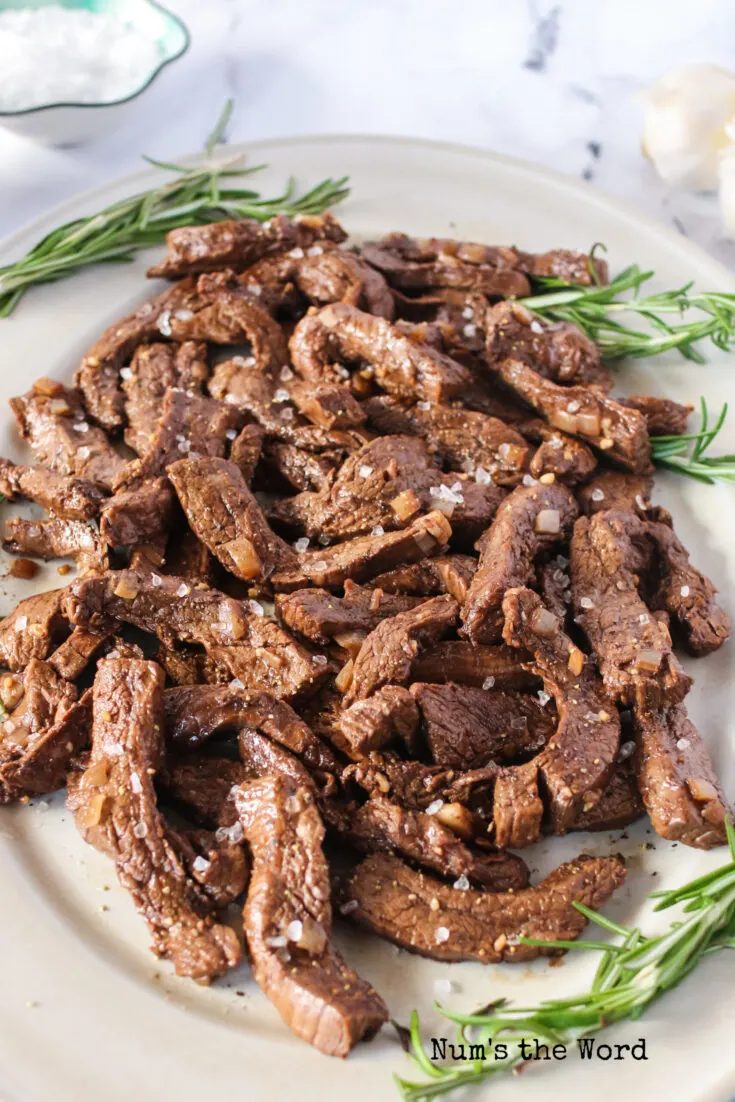 Balsamic Marinated Flank Steak is an easy, flavorful, cook-in-the-oven steak you never knew you needed. That's right, these are cooked on a sheet pan in the oven! No grilling is required for this delicious steak recipe.
Ingredients
1/2 yellow onion, diced
4 cloves garlic, minced
1/4 cup olive oil
1/4 cup soy sauce
1/4 cup balsamic vinegar
1 Tablespoon Dijon mustard
1 Tablespoon fresh rosemary
1 1/2 - 2 pound flank steak
Instructions
In a bowl whisk onion, garlic, olive oil, soy sauce, balsamic vinegar,
Dijon mustard and rosemary. Set aside.
Lay Flank steak flat on a cutting board.
Slice flank steak in ¼ inch slices against the grain.
Place steak slices in a zipper bag and add marinade.
Seal up the bag, removing all air and mix around.
Let sit for 30 minutes - 24 hours.
If using within 2 hours, leave marinating steak on the counter, as flank steak cooks best at room temperature. Flip every hour on the counter and every few hours in the fridge.
If refrigerating, remove steak 2 hours before cooking to bring to room temperature.
Preheat oven to 450*F
Line a rimmed cookie sheet with nonstick foil or a baking mat and spread steak all around.
Cook for 5 - 8 minutes in the oven then remove from the oven. In my oven they were ready in 5 minutes.
Nutrition Information:
Yield:
4
Serving Size:
1
Amount Per Serving:
Calories:

590
Total Fat:

32g
Saturated Fat:

10g
Trans Fat:

0g
Unsaturated Fat:

20g
Cholesterol:

179mg
Sodium:

1109mg
Carbohydrates:

6g
Fiber:

1g
Sugar:

3g
Protein:

65g