Baked Chicken Parmesan is the answer to your weeknight meal needs! Quick to make and absolutely delicious, you're going to want this to be your new staple!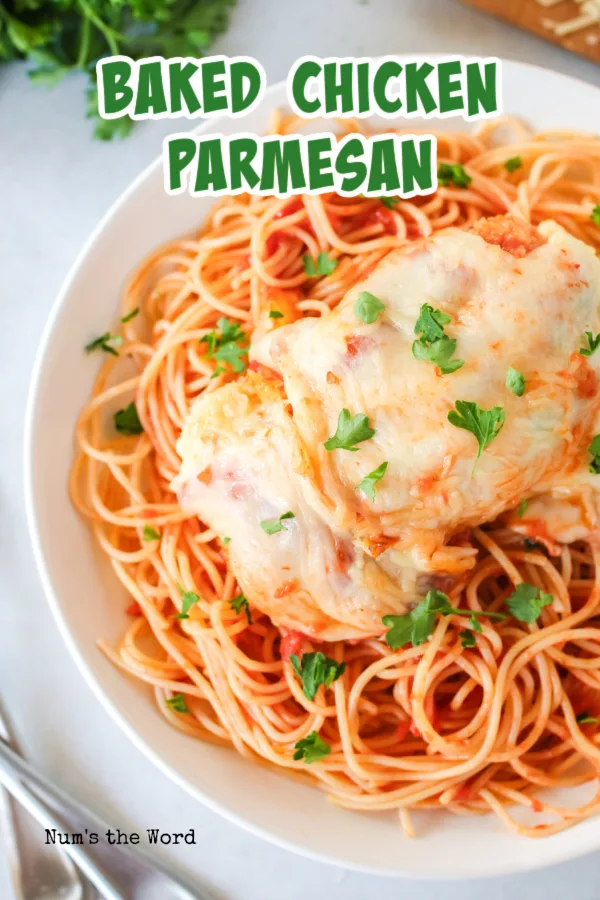 Tender chicken coated with cheesy goodness, crispy breadcrumb coating and served over a delicious bed of angel hair pasta.
So what's so great about this chicken parmesan recipe? Well let me tell you! It's fancy enough to be served at all your best parties but low key enough to be eaten every weeknight too!
And if you're looking for an easy chicken parmesan recipe? This is it! You can even do some meal prepping on this one to make it SUPER easy.
I love how filling a meal of baked parmesan crusted chicken is too! It's a complete meal that leaves the whole family satisfied. And you can start this chicken recipe and have it on your table in under 30 minutes! Score!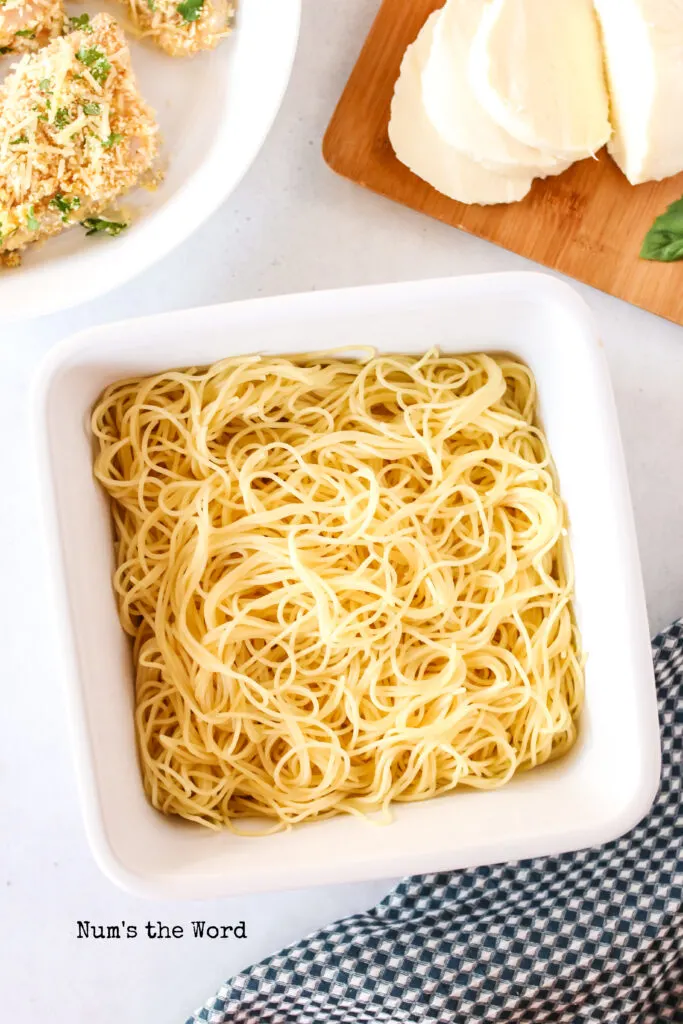 Where Did Chicken Parmesan Originate?
Italy…where else? Of course you'd want to ask for chicken parmigiana in Italy. So many of our yummy meals originate in that fair country of Italy.
Pizza
Pasta
Spaghetti
Prosciutto
Gelato
Tiramisu
Chicken Parmesan
Thank you Italy for sharing your goodness with the rest of the world!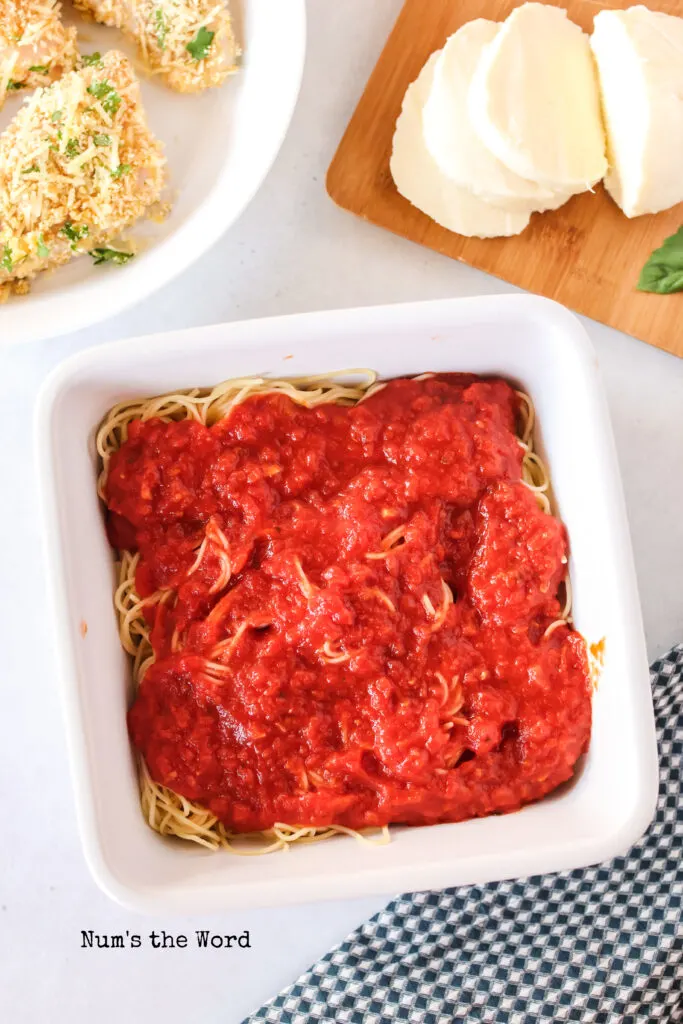 What is Chicken Parmesan?
Chicken Parmesan is a delicious dish of breaded chicken covered in pasta sauce and cheese. You're going to need parmesan for your main cheese (hence the name).
Though sometimes chicken parmesan recipes also include mozzarella or provolone cheeses. This recipe calls for both parmesan and mozzarella. Occasionally they are even served with ham or bacon too!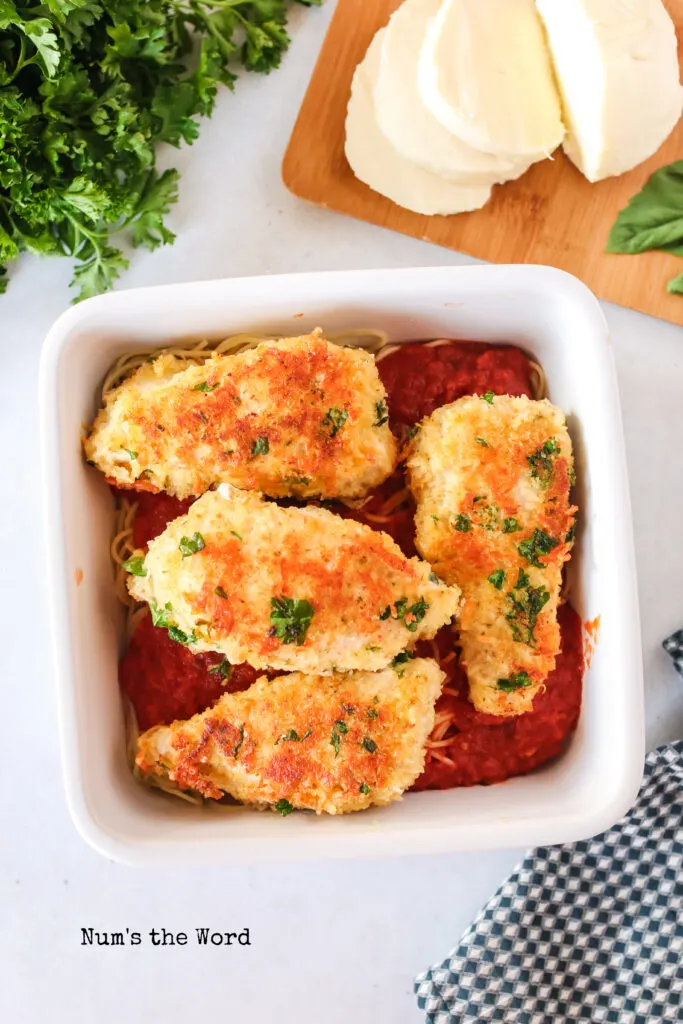 Baked Chicken Parmesan Ingredients
Chicken: Don't pound them! Too much work! Cut them in half and save yourself some time and effort.
Pasta: I use angel hair pasta though you could substitute with another pasta if desired.
Eggs: These are used to give flavor to the chicken and help the cust adhere as well.
Bread Crumbs: Use both Panko bread crumbs and seasoned bread crumbs for dual flavor.
Parmesan Cheese: REAL parmesan cheese. Do not use any powdered parmesan because it's gross and won't turn out well.
Parsley: Fresh tastes best or substitute with dried and adjust the amounts.
Thyme: I use fresh here too but you can do the same as with the parsley.
Garlic Powder: This is used to give the crust a nice garlicky flavor.
Olive Oil: You could also use avocado oil as a substitute.
Butter: The dual fats are heavenly in parmesan crusted chicken.
Marinara Sauce: Go ahead and use your favorite marinara or pasta sauce.
Mozzarella: Don't get shredded but either a round ball of mozzarella or get it pre sliced to save time.
Basil Leaves: These are the best for topping your parmesan chicken after it's cooked!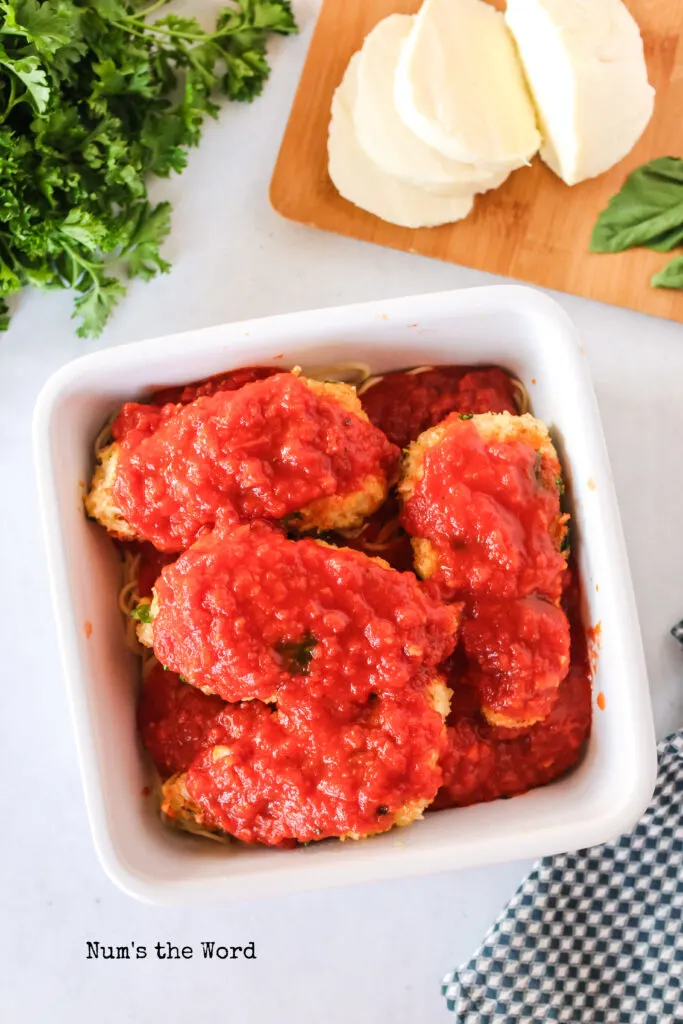 How to Make Baked Chicken Parmesan
Cook: The pasta should be cooked first as you'll want it to go below the chicken breasts in the oven.
Mix: All of the crispy outer layer ingredients need to be mixed before they can go on the chicken.
Crisp: After chicken is coated in egg layer and bread crumb mixture, cook just enough to crisp the outer layer.
Layer: Put each of the ingredients in the pan layering carefully and then it's ready to cook!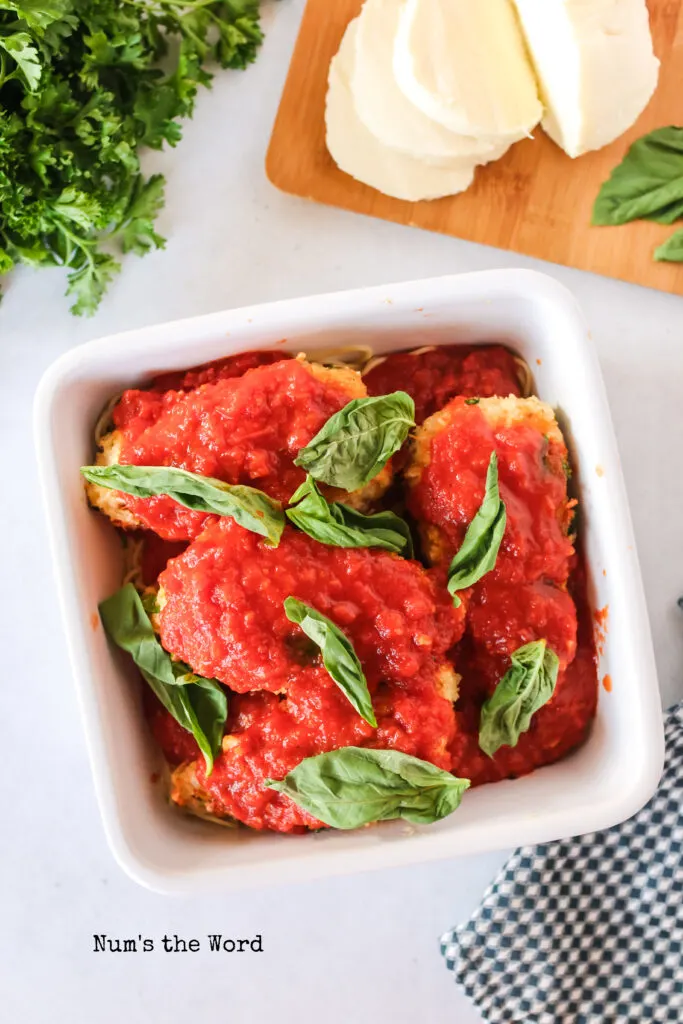 How to Cook Baked Chicken Parmesan
Once you've got the parmesan chicken in the pan you're ready to cook it!
As you've already crusted the outer layer and cooked the chicken slightly, it'll cook really quickly in the oven. Be sure to have your oven preheated and ready to go.
Then put the chicken parmesan in there and set the table! You won't want to wait. The chicken is done when it reaches an internal temperature 165 degrees. Check it with a meat thermometer for best results.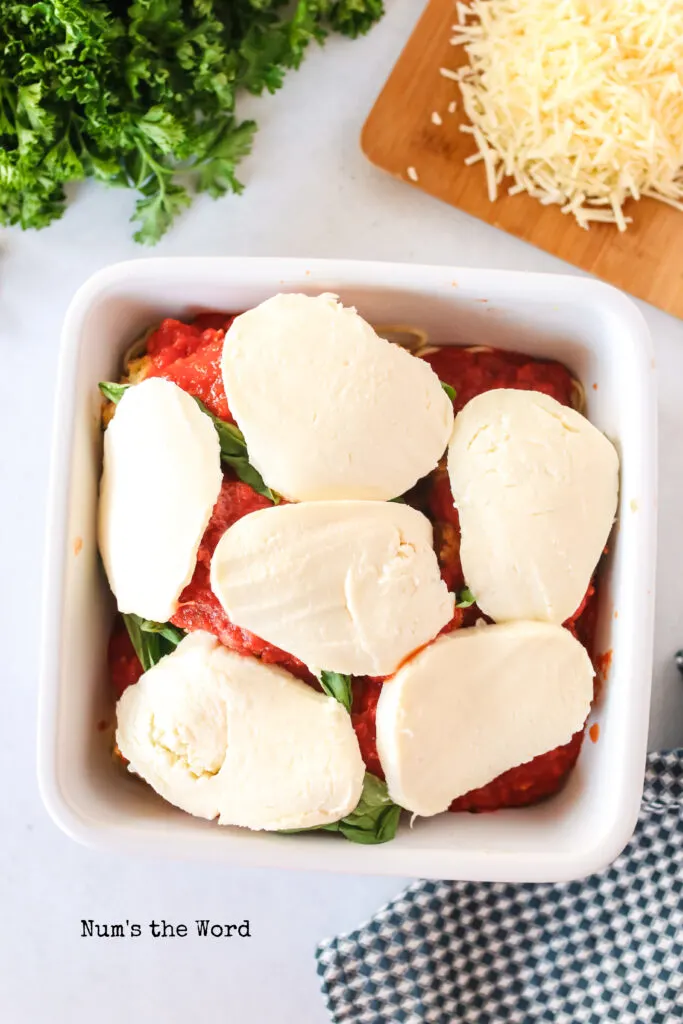 Can You Make Chicken Parmesan Ahead of Time?
Chicken Parmesan is an easy meal to make ahead of time! Up to 24 hours before you're ready to cook the parmesan crusted chicken, start your prep work!
Mix together the bread crumb mixture and put your sliced chicken in the eggs to soak. Cover the chicken and egg mixture and store in the fridge overnight.
When you're ready to bake, continue by dipping the chicken in the bread crumb mixture and finishing the rest of the recipe. You can cook the pasta the day before too so that it'll be all ready to go!
Bonus: the chicken will actually be even more flavorful by being allowed to soak in the eggs overnight.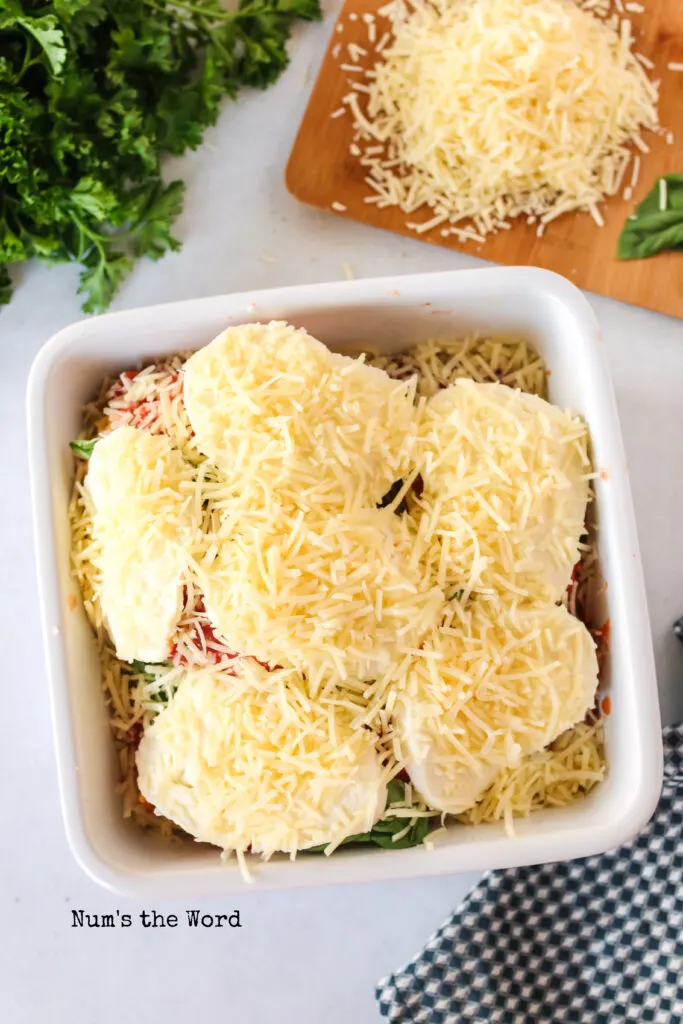 Can You Freeze Chicken Parmesan?
Chicken Parmesan is a very friendly freezer meal! To make a freezer meal follow the recipe up to putting it in the oven.
Before putting it in the freezer, cover with aluminum foil and freeze! It's that simple!
Allow the parmesan crusted chicken to thaw overnight in the fridge before cooking or add 10 – 15 minutes onto the cook time.
Pro Tip: Don't put anything in the freezer that doesn't have a name, date, and how to cook it written on the outside!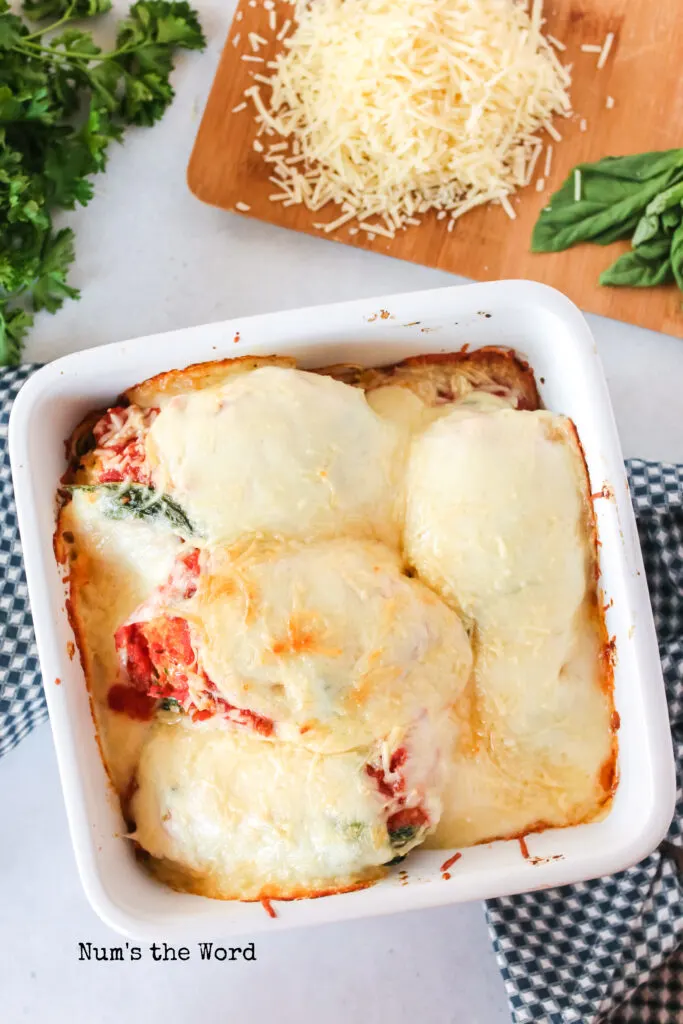 What Do You Serve with Baked Chicken Parmesan?
Obviously parmesan crusted chicken should be served with pasta! Lucky for you this recipe cooks the chicken with the noodles so they're all in the same dish and ready to go!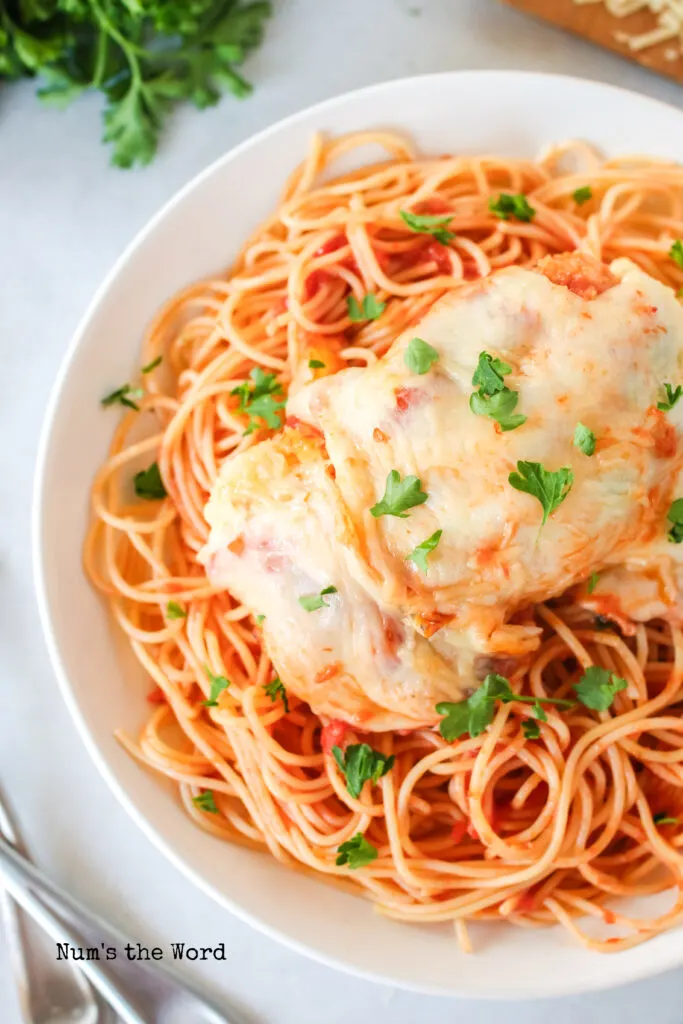 Parmesan Crusted Chicken is quick and easy! It is perfect for making every weeknight or fancy enough to make on your special occasions! Tender, crispy, and delicious, it will be devoured by your kids, spouse, and yourself!
Yield: 4 Servings
Baked Chicken Parmesan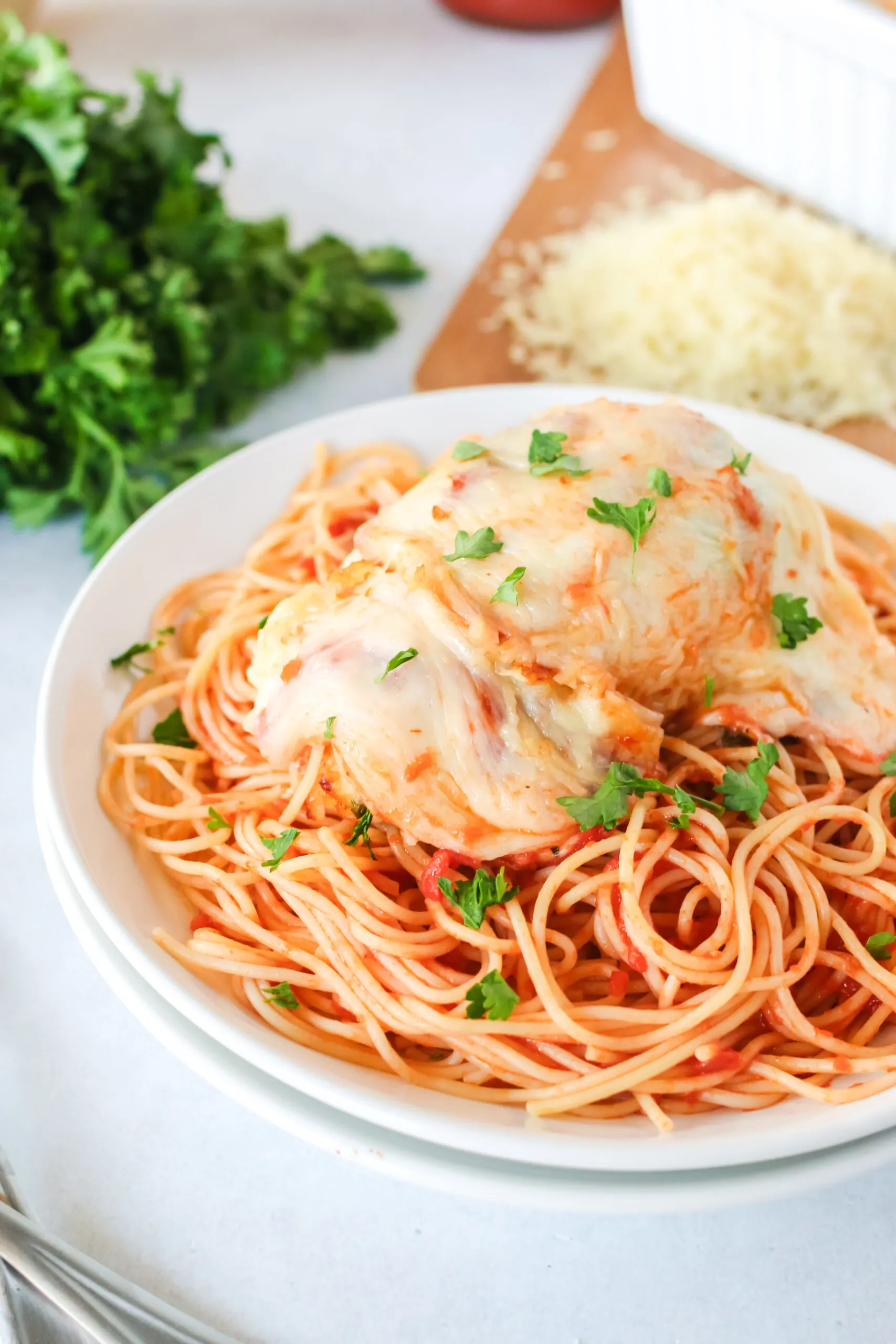 Baked Chicken Parmean is the answer to your weeknight meal needs! Quick to make and absolutely delicious, you're going to want this to be your new staple!
Ingredients
2 Chicken Breasts, cut in half to create 4 thinner full sized breasts
8 ounces Angle Hair Pasta
2 eggs
1/2 cup Panko bread crumbs
1/2 cup seasoned bread crumbs
1/2 cup + 1/2 cup Parmesan Cheese, shredded, not powdered, divided
2 Tablespoons fresh parsley, minced
1 teaspoon fresh thyme
1 teaspoon garlic powder
1/2 cup olive oil
1/2 cup butter
1 1/2 cup marinara sauce
8 ounces fresh mozzarella
8 small fresh basil leaves
Instructions
Preheat oven to 425*F
Cook angel hair pasta according to the box's directions. You'll only want to cook up 8 ounces (½ box).
While pasta is cooking, In a small bowl, beat eggs.
In a second bowl combine panko bread crumbs, seasoned bread crumbs, ½ cup of parmesan cheese, parsley, thyme and garlic powder.
Dip each piece of chicken in beaten eggs, then in bread crumb mixture and set aside on a plate.
Pasta should be done now. Drain and place in a 9x9 casserole dish.
Top with 1 cup of marinara sauce, do not mix in.
Heat the skillet until hot then add butter and olive oil.
Once butter is melted, add chicken.
Pan fry each breast for 2 minutes, then flip and cook for an additional 2 minutes to get a nice crust on each side. Chicken will not be fully cooked and that's ok.
Place semi-cooked chicken on top of pasta & marinara sauce.
Layer each breast with the following in order: remaining marinara sauce, fresh basil, mozzarella cheese and parmesan cheese.
Bake in oven uncovered for 15 minutes or until chicken reaches 165*F internal temperature.
Serve with noodles and chopped parsley or chopped basil.

Nutrition Information:
Yield:
8
Serving Size:
1
Amount Per Serving:
Calories:

505
Total Fat:

36g
Saturated Fat:

14g
Trans Fat:

0g
Unsaturated Fat:

19g
Cholesterol:

125mg
Sodium:

728mg
Carbohydrates:

24g
Fiber:

2g
Sugar:

4g
Protein:

22g