Rice Krispie Brownies are an easy show stopping dessert. Fudge brownies, topped with marshmallow creme and a peanut butter rice krispie mixture. What isn't there to love?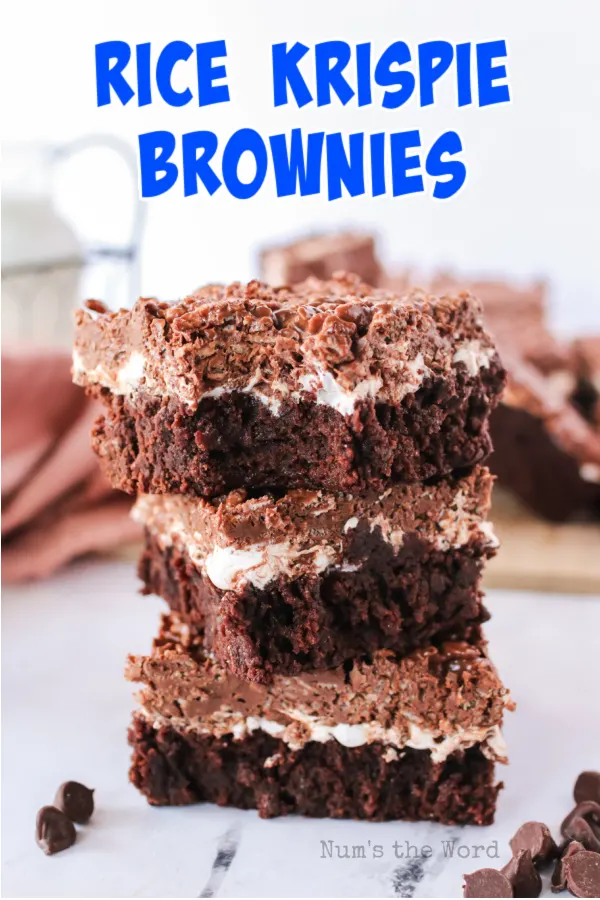 We like to call these triple layer brownies. WOAH. When I first heard of rice krispie brownies I was dumbfounded. People put those together?
After I made them all I could think was, WHY don't more people put these together? Holy Moly!!
I love how fancy crunchy brownies are. They are so unique that every time I bring them to an event, everyone wants to try one.
Rice krispie brownies are made from pantry ingredients which can be bought from any grocery store. No crazy ingredients.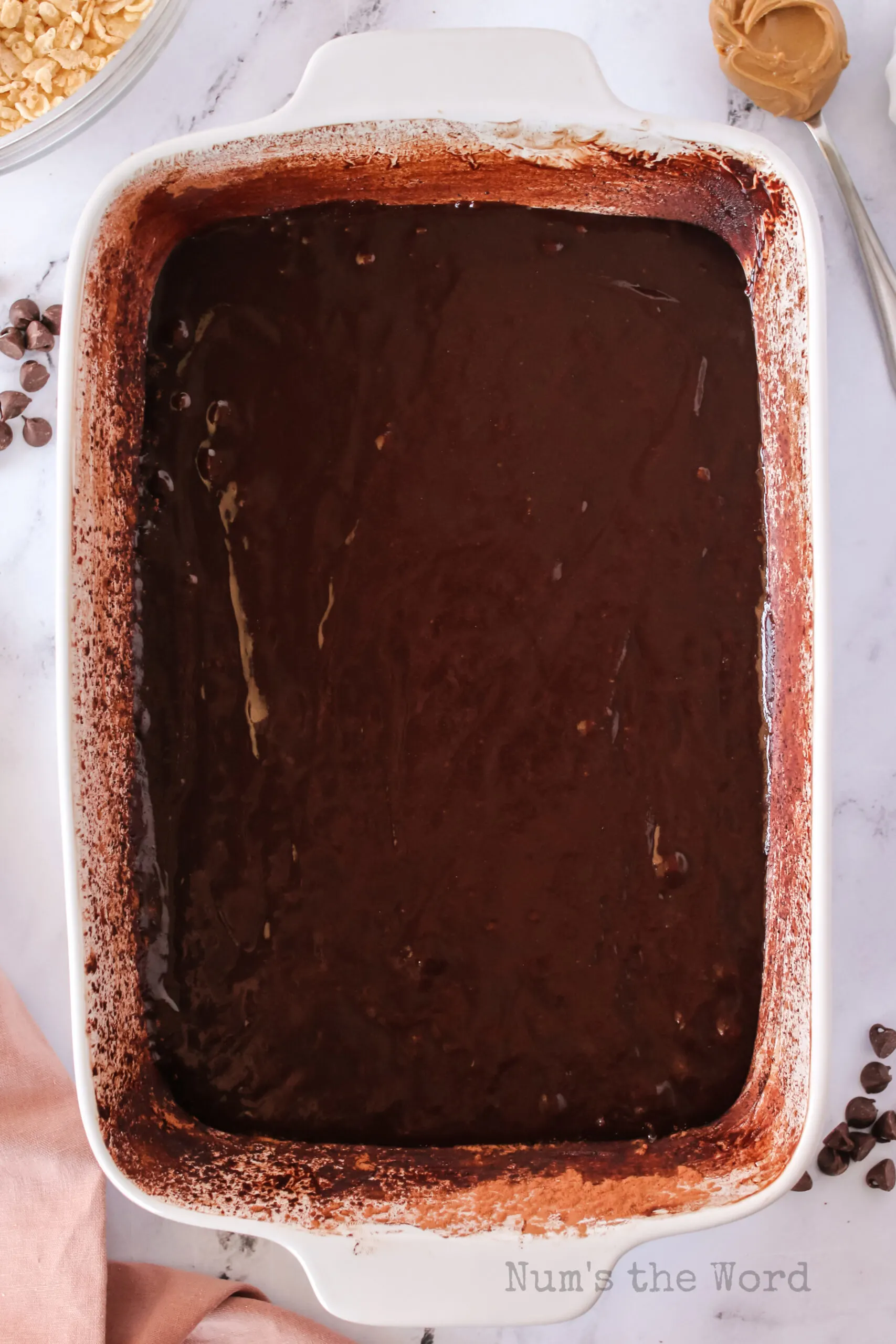 What Is a Brownie?
A brownie is a chocolate, cake like dessert that can be cakey or fudgy in texture. They are typically eaten out of hand though so not as light as a real cake.
Brownies can be served with lots of mix-ins like nuts or chocolate chips. They also occasionally include toppings like frosting or cream cheese.
In this recipe, the brownies do not have mix-ins but toppings like marshmallow creme and crunchy rice krispies.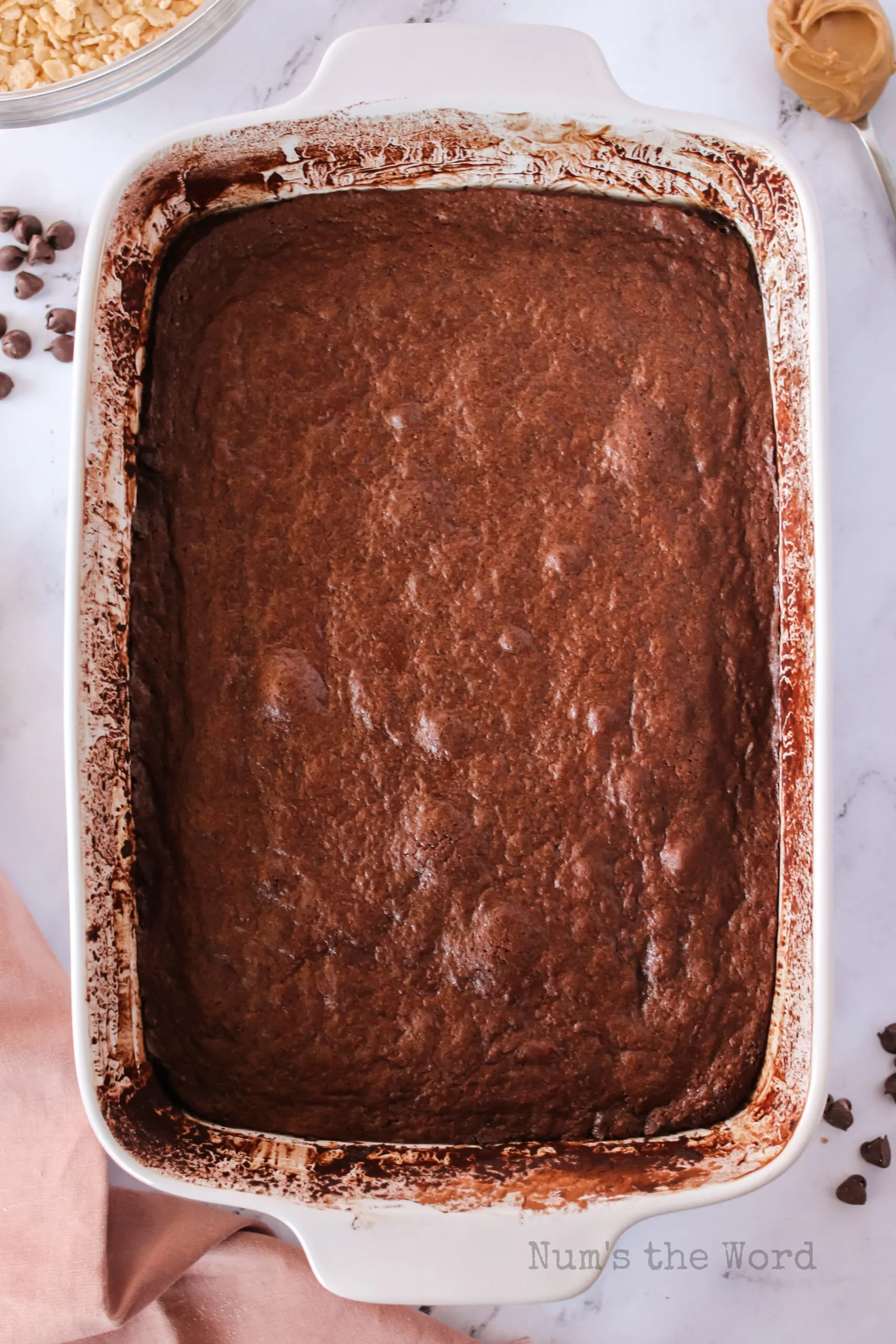 Ingredients in Rice Krispie Brownies
Butter:

I always use salted butter but you can use unsalted too.

Sugar:

Use white sugar also known as granulated sugar, cane sugar, or table sugar.

Eggs:

When I bake with eggs I always try to have them at room temperature. They cook more evenly that way.

Vanilla:

Pure vanilla extract is going to taste much better than the imitation.

Cocoa Powder:

Use unsweetened cocoa powder as you'll be adding your own sugar.

Flour:

I use all purpose flour for making the brownies.

Salt:

There are so many options for salt now. The one in your cupboard is the one you should use.

Baking Powder:

This is what will help your brownies to puff up.

Marshmallow Creme:

This is similar in flavor but not in texture to regular marshmallows. You'll only need 7 ounces. If you don't have marshmallow creame you can use 12 ounces of mini marshmallows.

Peanut Butter:

You could also substitute this with almond butter or some other kind of nut butter if needed.

Chocolate Chips:

I use semi sweet chocolate, but I also think it could be fun to try white chocolate or some other flavors.

Rice Krispie Treats:

This is the rice krispie cereal that will give your rice krispies the crunch they need.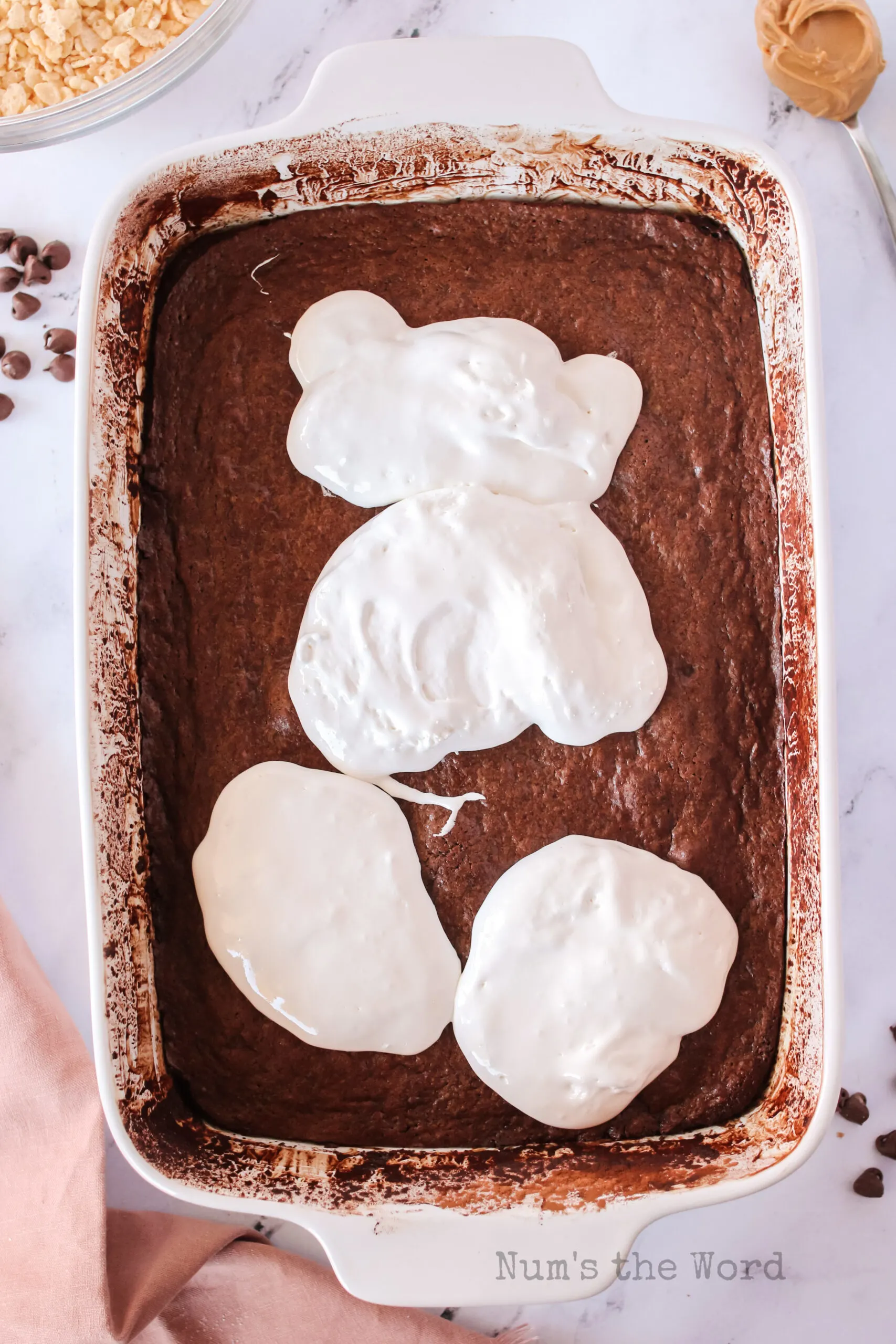 How to Make Rice Krispie Brownies
Brownies Layer:

Be careful not to overmix the brownies. You want the ingredients incorporated but not overmixed.

Marshmallow Layer:

The easiest layer! Crack open the jar of marshmallow creme or use mini marshmallows.

Rice Krispie Layer:

Mix very gently. Rice krispies are easy to smash.
Pro Tips:
Each layer will pull up the tops of the old layer a little bit. To combat this, put dollops all over the layer beneath and spread very slowly.

Marshmallow creme will be easier to spread with a spoon sprayed with nonstick spray.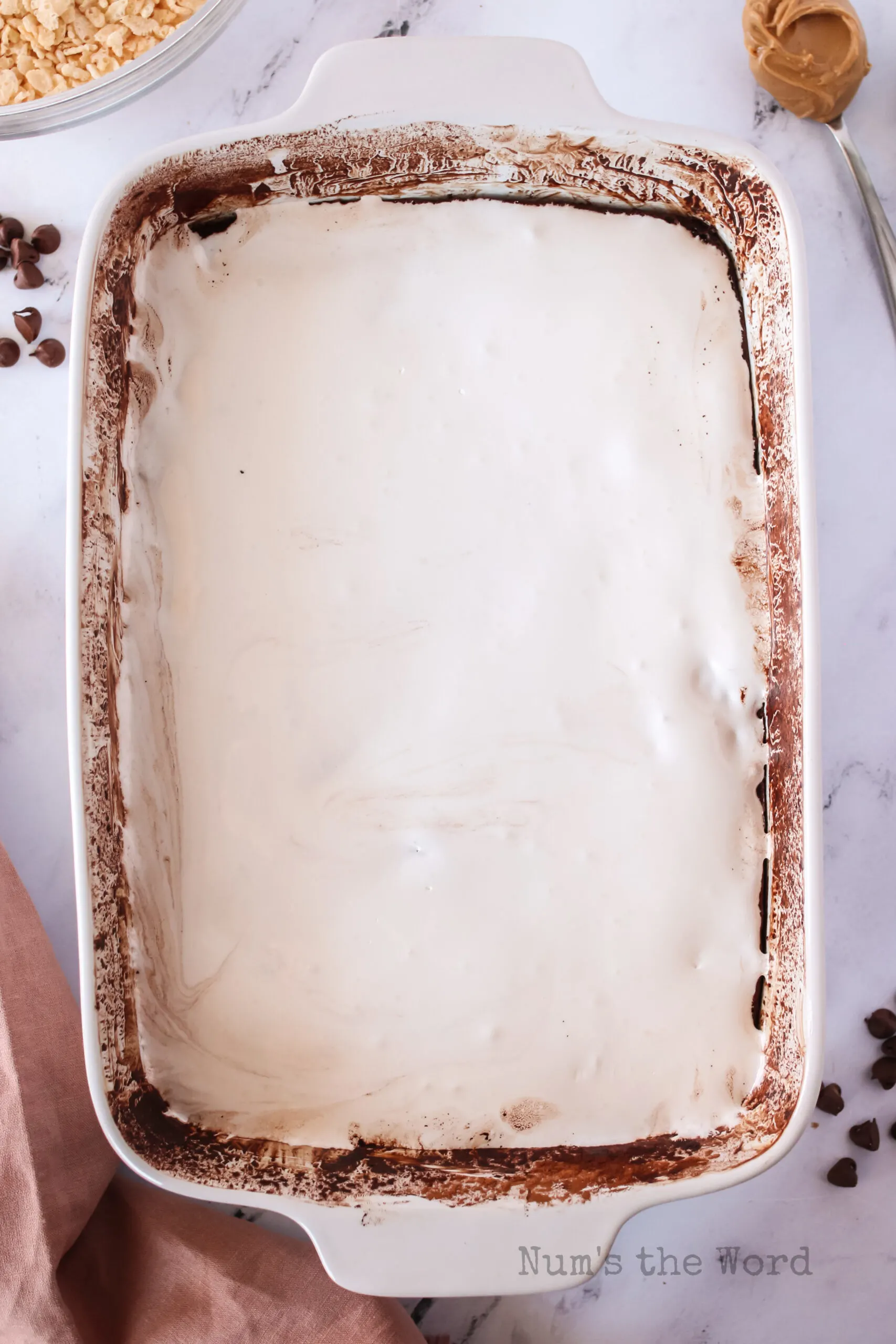 How Long to Let Brownies Cool
The brownies should still be hot when you add the marshmallow creme layer. This will make the marshmallow easier to spread.
Once the entire dish of rice krispie brownies is put together, it should be cooled completely before cutting into it.
If you try cutting while it's still warm the layers will melt into each other. It'll still be delicious but not nearly as nice looking.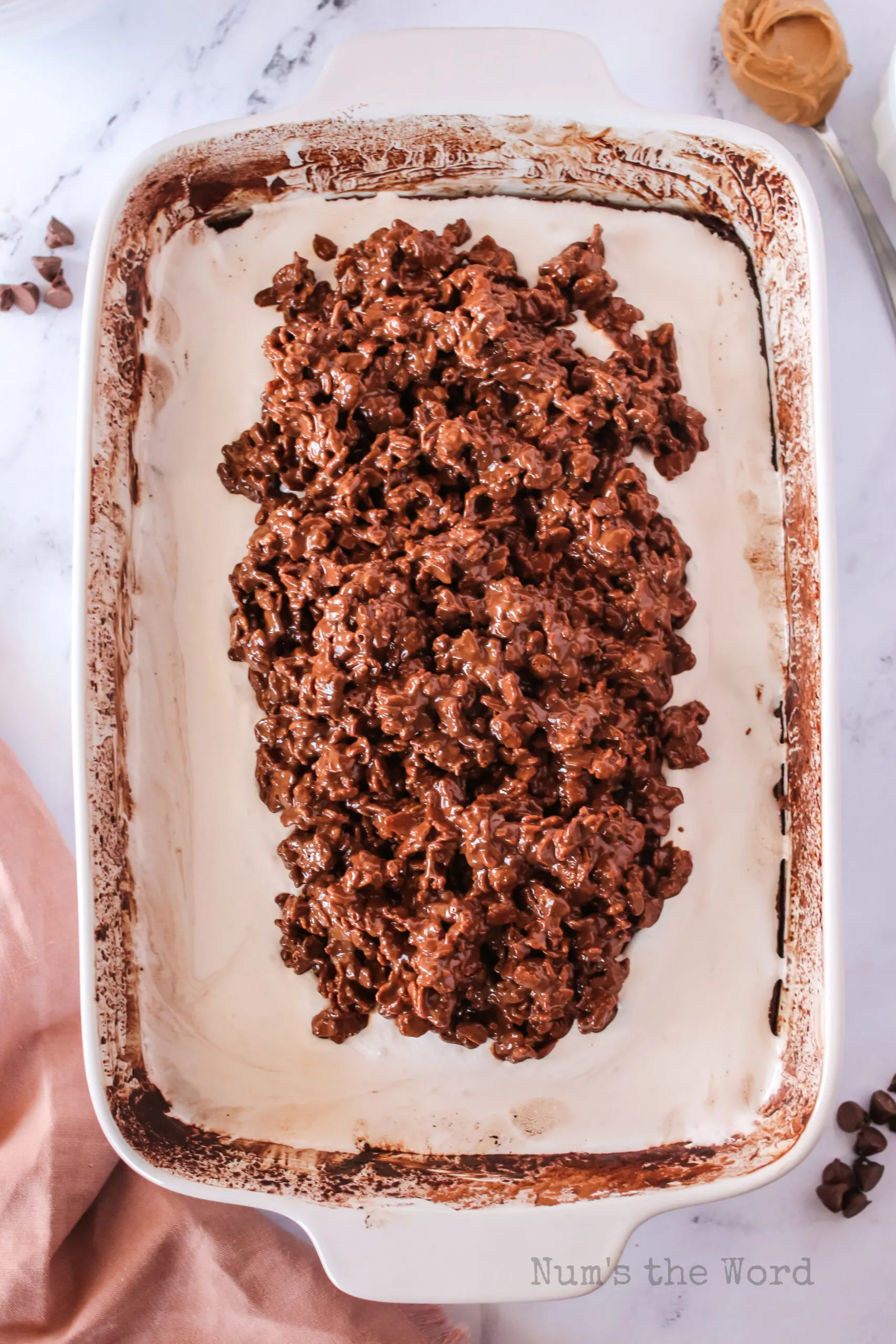 How Long Do Rice Krispie Brownies Last?
Properly stored in an airtight container or wrapped, the brownies will stay good for 5-7 days.
Of course 24 hours is about all they ever last in my house before someone asks where they went… in my belly!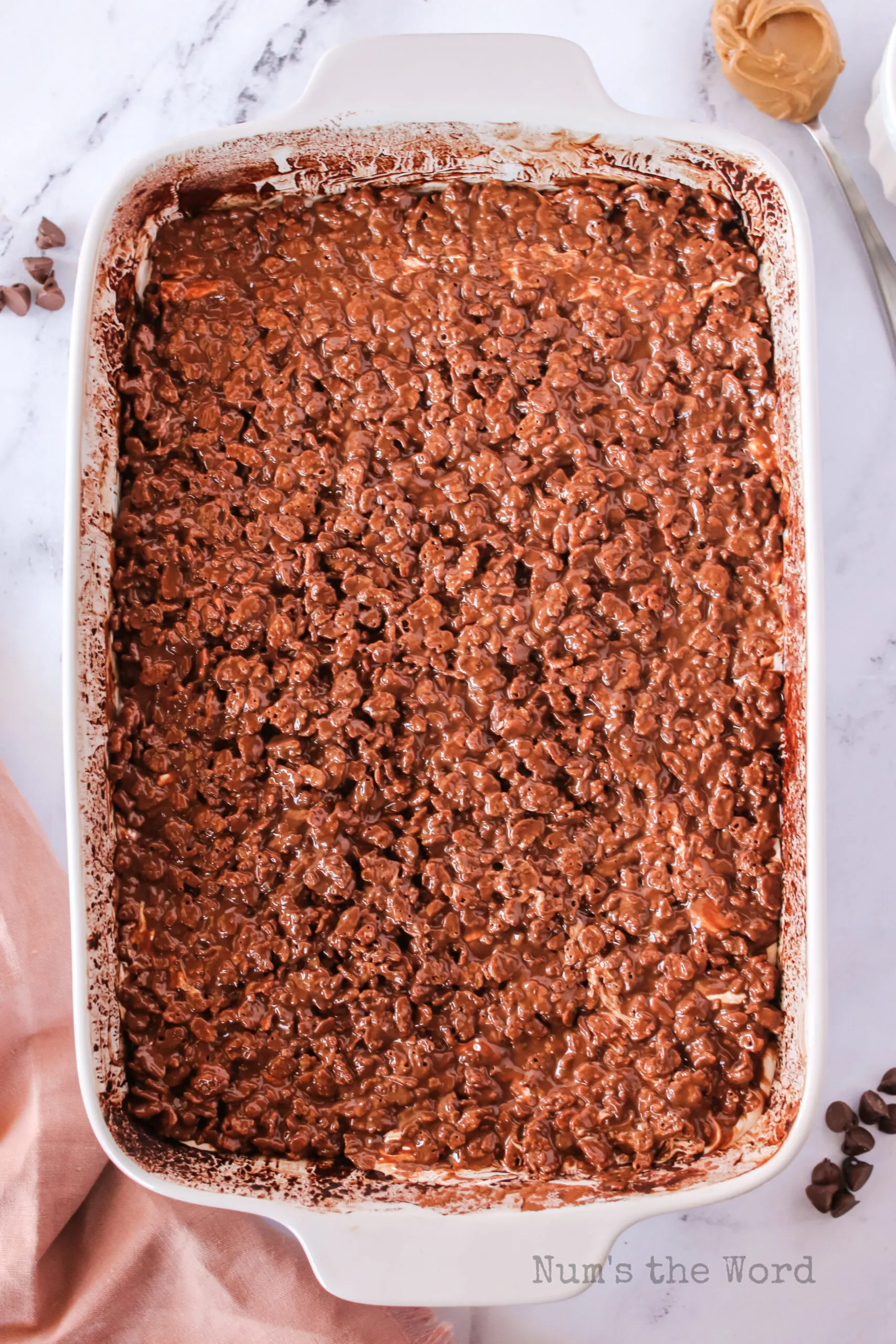 Can You Freeze Rice Krispie Brownies?
You sure can!
Make sure the layered brownies have cooled completely.

Cut into serving pieces.

Wrap each piece separately to allow for easy thawing and serving.

Store in an airtight container or bag for up to 4 months.
Freezing is one of my favorite options as it allows me to hide the brownies.
Then when I'm having one of those days… you know the one… crispy brownies to the rescue!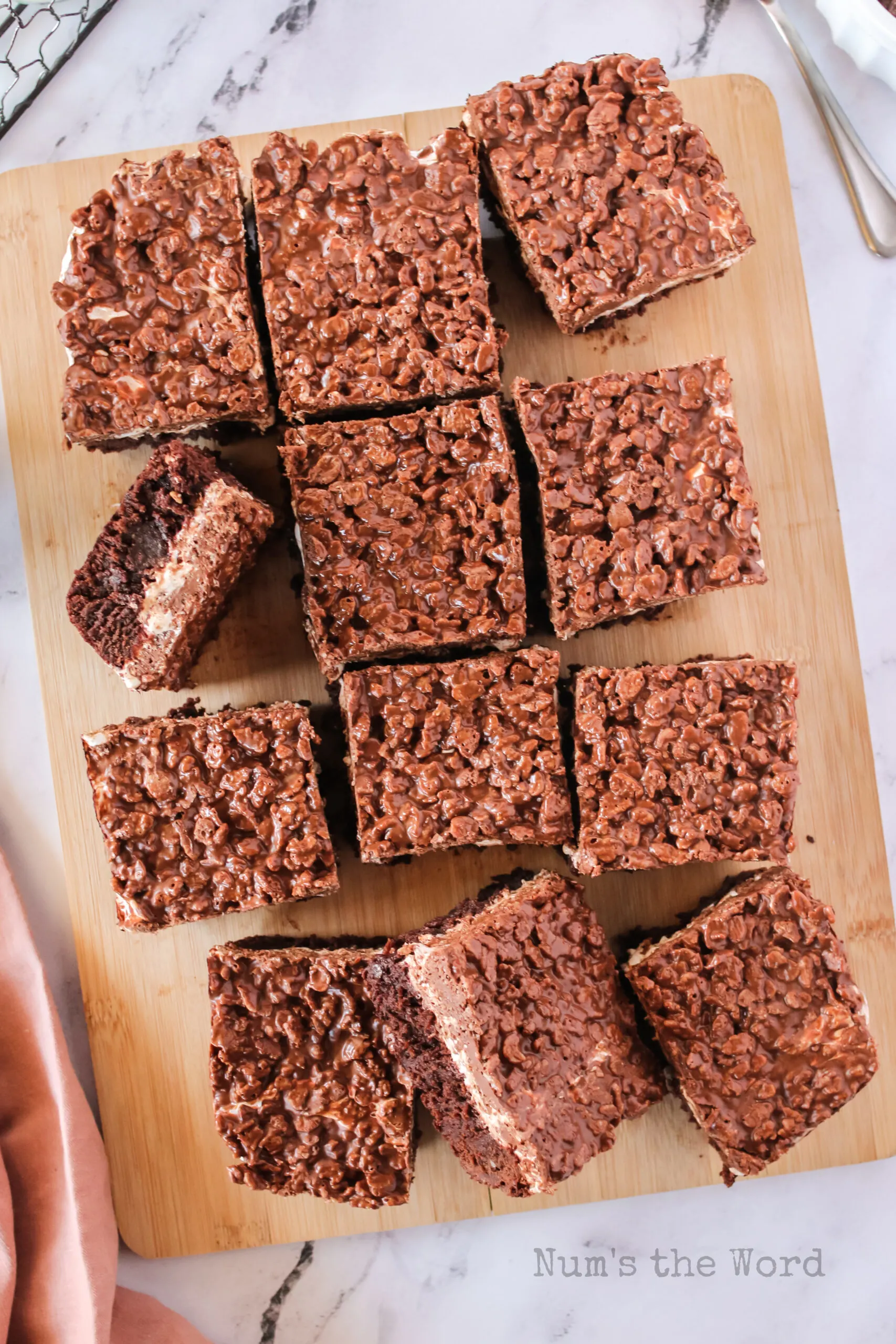 How to Cut Brownies
Since these brownies will be cooled completely, they'll be very easy to cut and you won't have to worry about ripping them apart.
I like to make two cuts down the length of the pan and three cuts down the width. That'll give you 12 large rice krispie brownies.
You can make more cuts to make smaller brownies and more servings. I wouldn't do less cuts or the brownies will be way too large to serve.
Pro Tip: To make even easier to cut, chill the brownies first. Then slicing through the marshmallow layer is a piece of cake! Cut up, these will warm up to room temperature fairly quickly!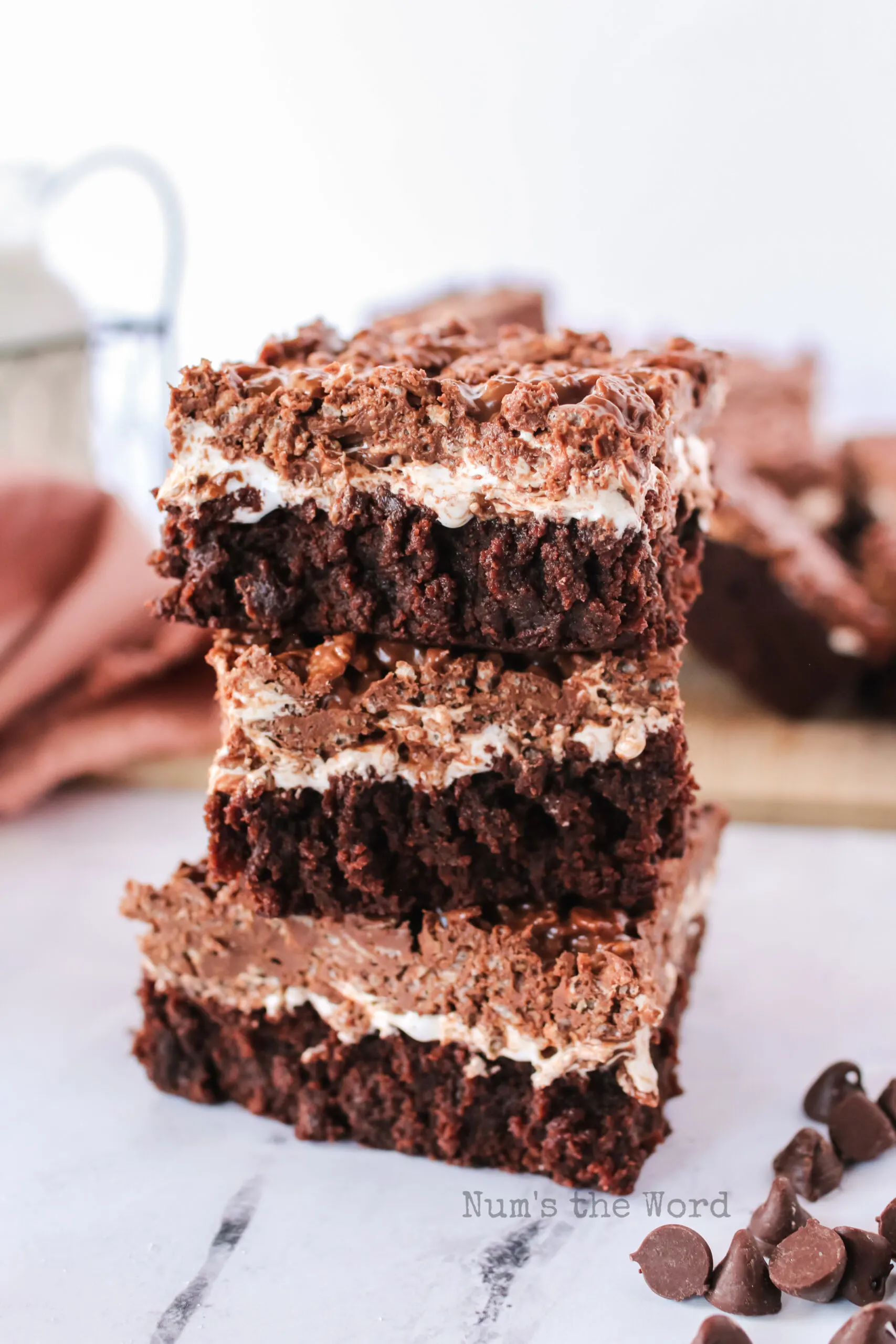 Who Invented Brownies?
Don't you just love the person who invented brownies? I know I'm grateful all the time for the people who made different desserts.
Brownies were first coined in a cookbook in 1896 by a woman named Fanny Farmer.
Though she made what we would call Blondies really, which are brownies with no chocolate.
10 years later, Fanny Farmer updated her cookbook with two recipes. Each of them were called brownies.
One had chocolate and the other didn't. Though both I'm sure were delicious.
Thank you Fanny Farmer! Love me some brownies!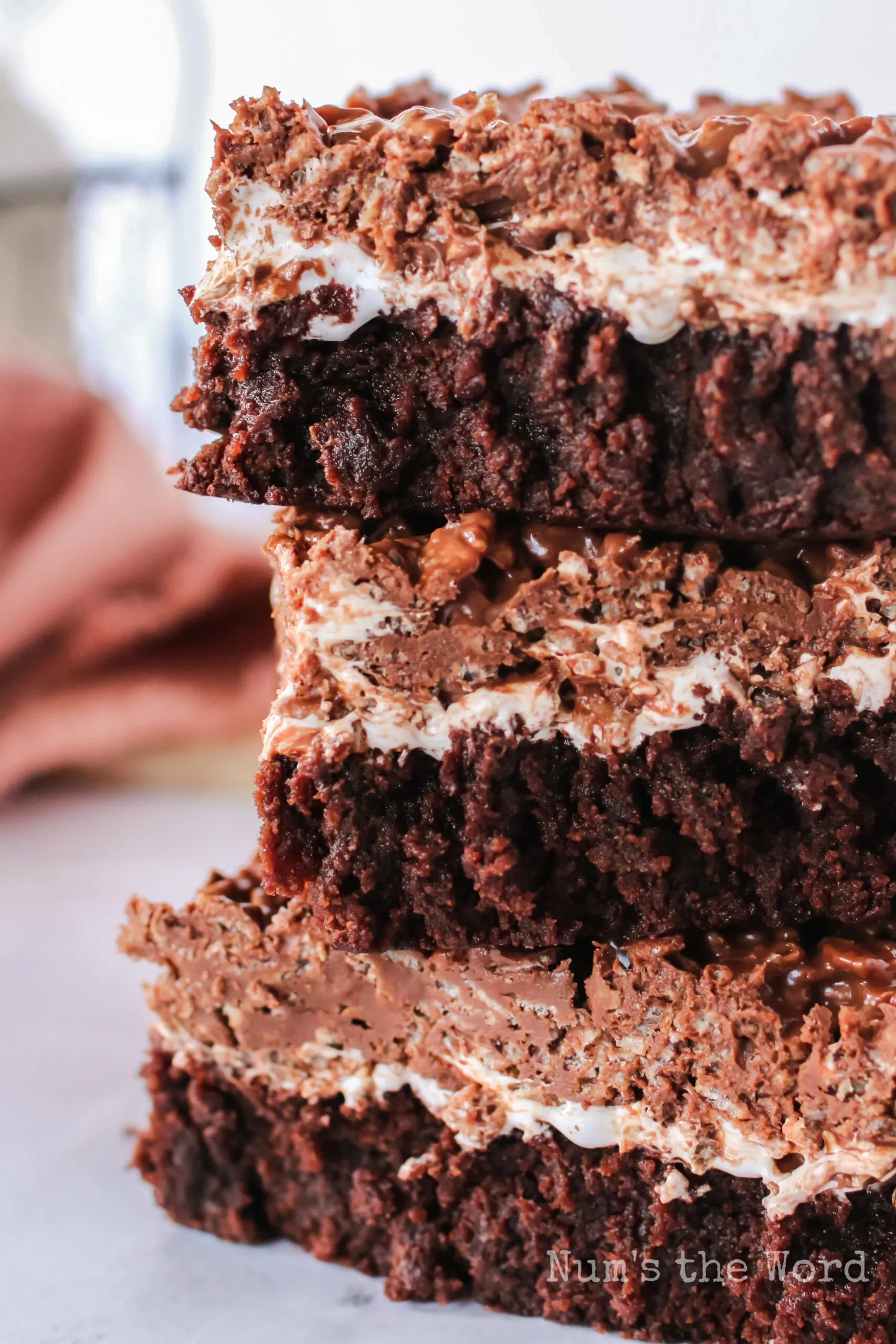 Do Brownies Rise?
Yes and no. Brownies should not puff up like cake. They are meant to be heavier and fudgier.
That said, the baking powder and eggs will help the brownies to rise a little bit to be the right consistency for brownies.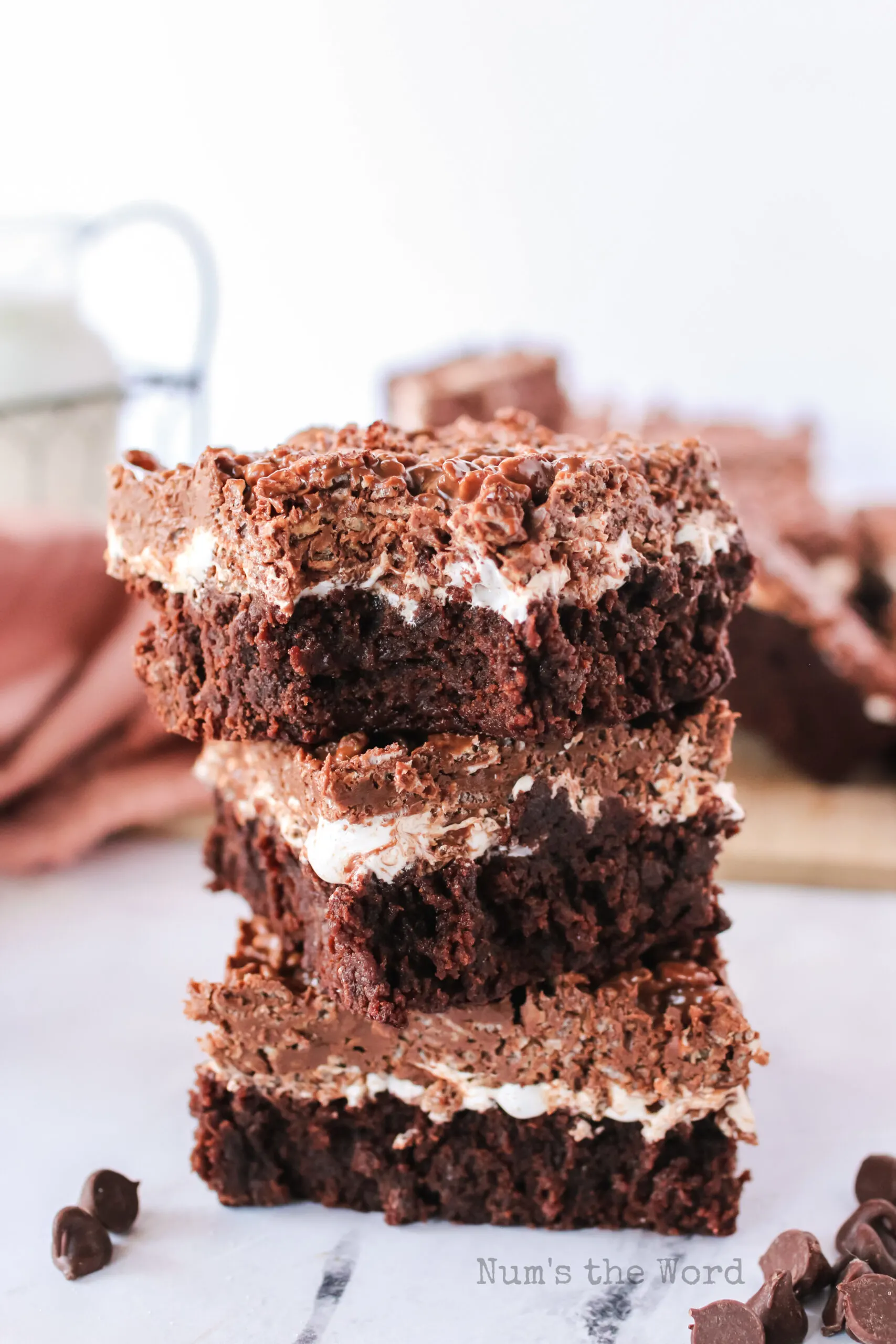 Rice Krispie Brownies are an absolute delight to eat. Fudgy, chocolaty, and peanut buttery. Oh my goodness. Soft, creamy, and crunchy too, I know you're going to love them.
Yield: 12 Brownies
Rice Krispie Brownies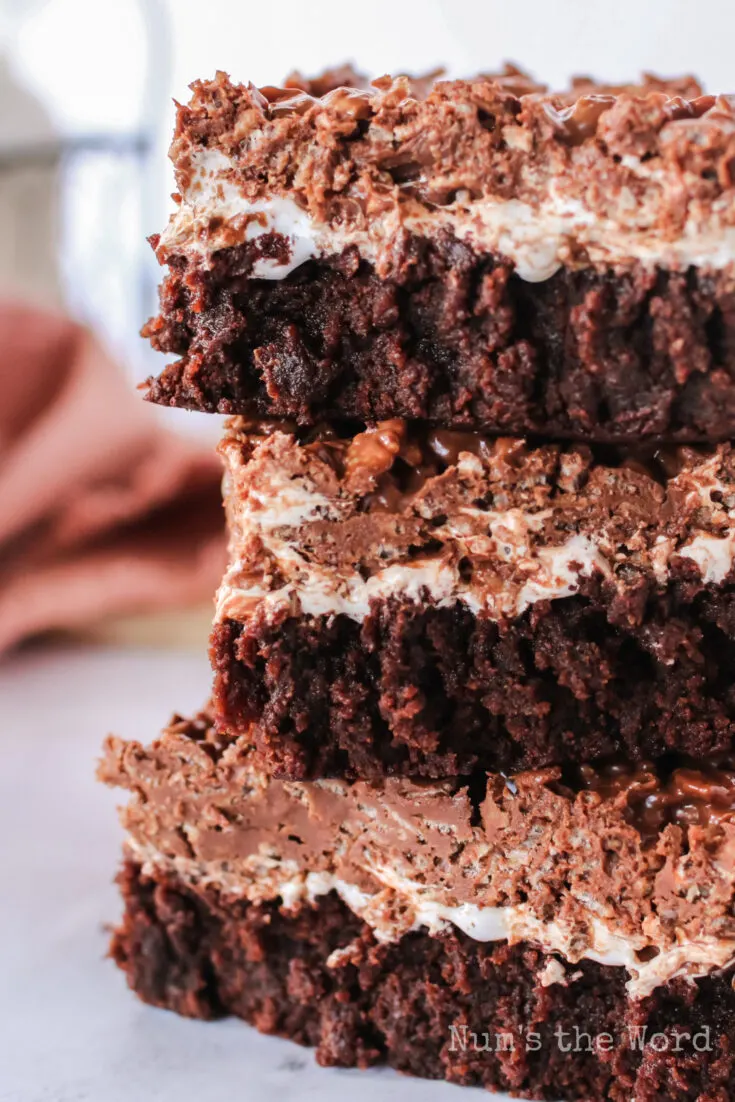 Rice Krispie Brownies are an easy show stopping dessert. Fudge brownies, topped with marshmallow creme and a peanut butter rice krispie mixture. What isn't there to love?
Additional Time
20 minutes
Ingredients
1 cup butter
2 cups white sugar
4 eggs
1 Tablespoon vanilla extract
2/3 cup unsweetened cocoa powder
1 cup all purpose flour
1/2 teaspoon salt
1/2 teaspoon baking powder
1 (7 ounce) jar marshmallow creme
1 cup peanut butter
1 cup semi-sweet chocolate chips
3 cups rice krispies
Instructions
Prepare 9x13 pan by spreading 1-2 tablespoons of butter along the bottom and edges until lightly, but completely, coated.
Carefully sift 2 tablespoons cocoa powder on the buttered pan until fully coated. Basically instead of greasing and flouring the pan, you're buttering and cocoa powdering it.
In a large saucepan, melt 2 sticks (1 cup) of butter over medium heat until just melted.
Remove from heat.
Stir in sugar and vanilla until well combined.
In a separate bowl, sift together flour, salt, cocoa powder, and baking powder.
Stir dry ingredients into the butter and sugar mixture until combined.
Add eggs and stir until fully incorporated, but not more than that.
Pour batter into the prepared 9x13 casserole dish.
Bake at 350 degrees for 24 minutes, or until the top of the brownies are set and edges begin to pull away from the pan.
Remove brownies from the oven.
While brownies are hot, GENTLY spread marshmallow cream over the top, set aside.
In a medium sized microwave safe bowl, add chocolate chips and peanut butter. Cook in 30 second intervals in the microwave until mixture is combined and runny.
Add 3 cups of rice krispie cereal to peanut butter mixture, gently mix well, until all cereal is coated.
Gently spoon this over the top of the marshmallow fluff and carefully spread to cover entire brownie.
Let cool until the topping is dry and no longer wet.
Cut into squares and serve.

Nutrition Information:
Yield:
12
Serving Size:
1
Amount Per Serving:
Calories:

502
Total Fat:

28g
Saturated Fat:

12g
Trans Fat:

1g
Unsaturated Fat:

13g
Cholesterol:

103mg
Sodium:

394mg
Carbohydrates:

56g
Fiber:

2g
Sugar:

36g
Protein:

9g