Chicken Corn Chowder is a hearty, easy meal that comes together in less than 30 minutes. It's perfect for serving on a cool evening with a loaf of your favorite bread.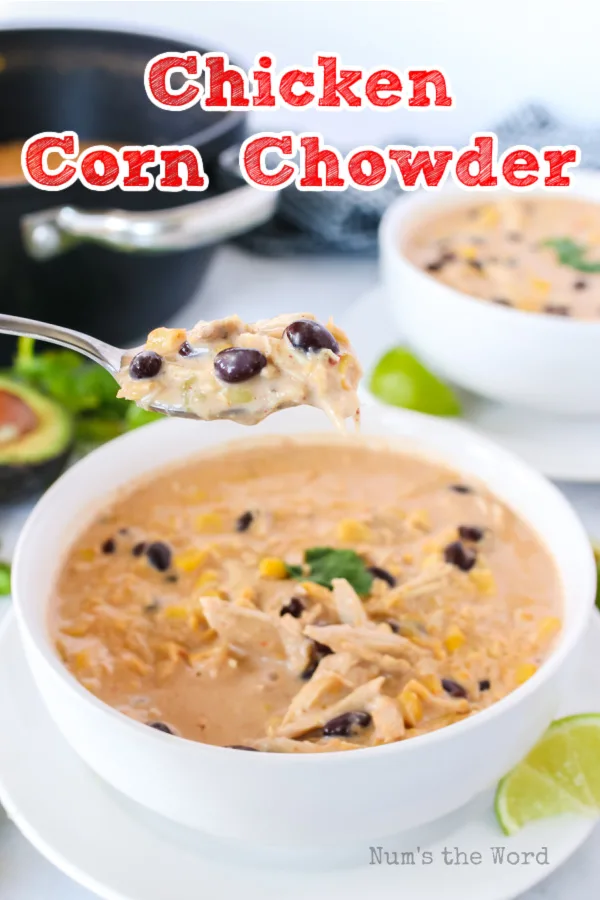 Creamy, delicious, and filling, this chicken corn chowder recipe is incredible. Loved by myself, my husband, and our picky eater kids, serving this at your house cannot go wrong.
This easy chowder is a down to earth meal that tastes just like home cooking should. I really wanted to make a quick chicken chowder. And that's exactly what this is!
Using leftover meat and canned veggies, it's so simple, even your kids could pitch in. I also really love one pot meals like this. Who doesn't? Cutting down on dishes is one of my ultimate goals in life.
Did I mention creamy chicken corn chowder is CREAMY? Cream style corn? Check. Cheesy goodness? Check. Thick half and half? Check. So much creamy goodness.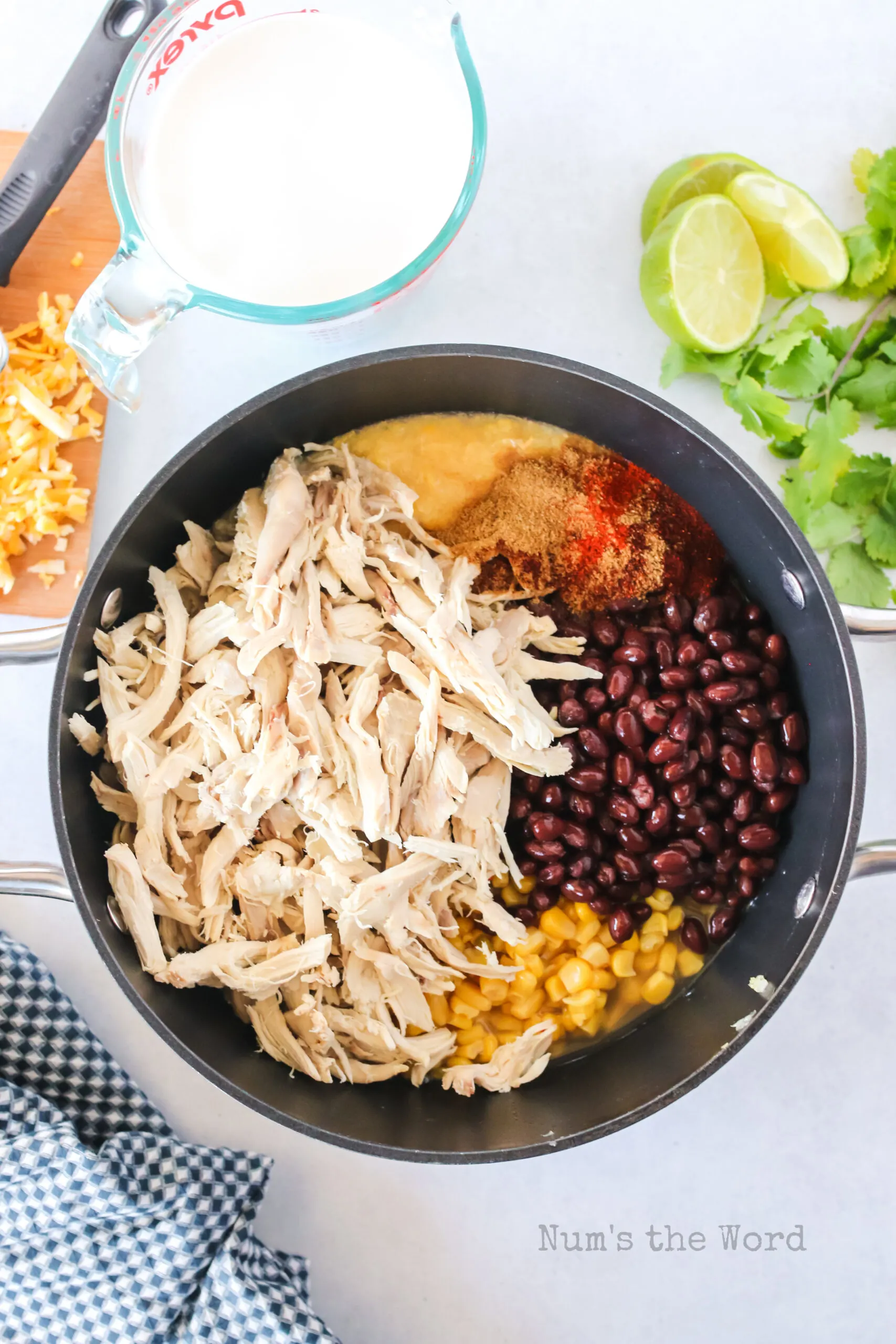 What is Chicken Corn Chowder?
What sets chowder apart from soup? And how do you know the difference? A soup tends to be light, and thin while a chowder is thick and creamy.
Chicken chowder is served with chunky or textured ingredients like chicken, corn, and beans. Those ingredients all swim in a rich base of cream. Mmm mmm.
What sets this chicken corn chowder apart from other chowders is the Mexican flare. Served with Mexi-corn, black beans, and chipotle chili powder, it's a flavor you're going to love. And then to those flavors you toss in some lime, cilantro, and avocado. It's amazing.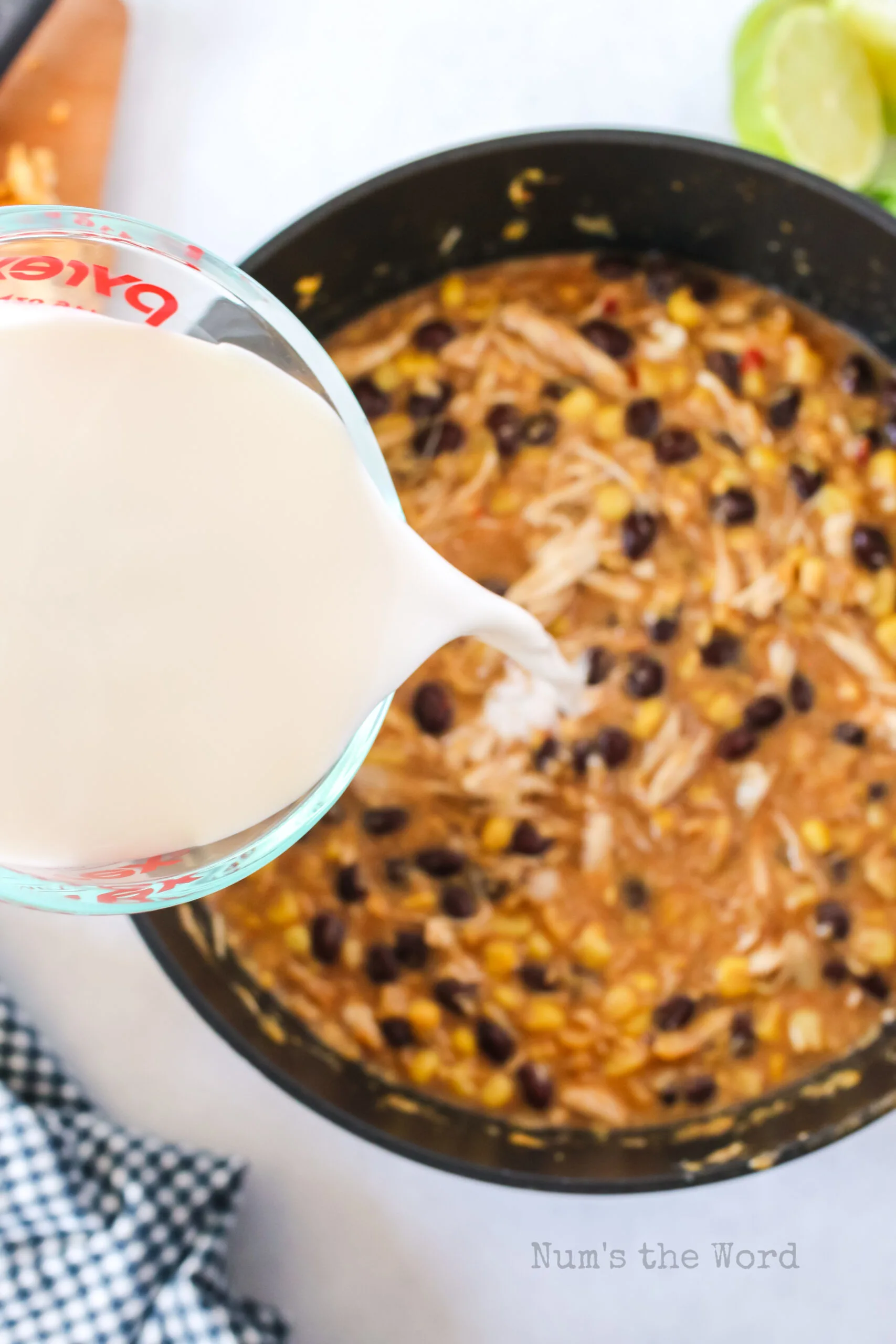 Ingredients in Chicken Corn Chowder
Chicken:

You can substitute this for leftover turkey too!

Garlic:

Use freshly minced for best taste or substitute with garlic paste.

Broth:

Chicken broth compliments the flavors and adds a liquid base.

Cream Style Corn:

Much creamier than a regular can of corn.

Mexi-Corn:

Corn mixed with red and green bell peppers. Can be found in any regular grocery store.

Black Beans:

Be sure to drain and rinse these so they don't put all that juice into your soup.

Chipotle Chili Powder:

This is not regular chili powder which is made from a seasoning blend. Chipotle chili powder is made from dried and smoked jalapenos. Don't substitute or your chowder will be very underwhelming.

Paprika:

For a mild red pepper flavor.

Cumin:

Use ground cumin for it's distinctive delicious flavor.

Cheese:

Use Colby Jack cheese. It's a combination of both Colby and Monteray Jack cheese.

Half and Half:

This gives your chowder a distinctive creamy texture.

Lime:

You'll be using these as a garnish so slice them into wedges.

Cilantro:

Also being used as a garnish, it is optional.

Avocados:

Avocados can be served either sliced, chopped, or mashed. Whichever way you prefer to add to the chowder.
Pro Tips:

The cream style corn is so delicious that I haven't tried substituting for other corn. If you do want to substitute, your chowder will come out a little less creamy, but it is possible using:

About four ears of fresh corn, cut off the cob.

Two cups of well drained frozen corn.

Black beans can be easily substituted with any other type of bean you prefer.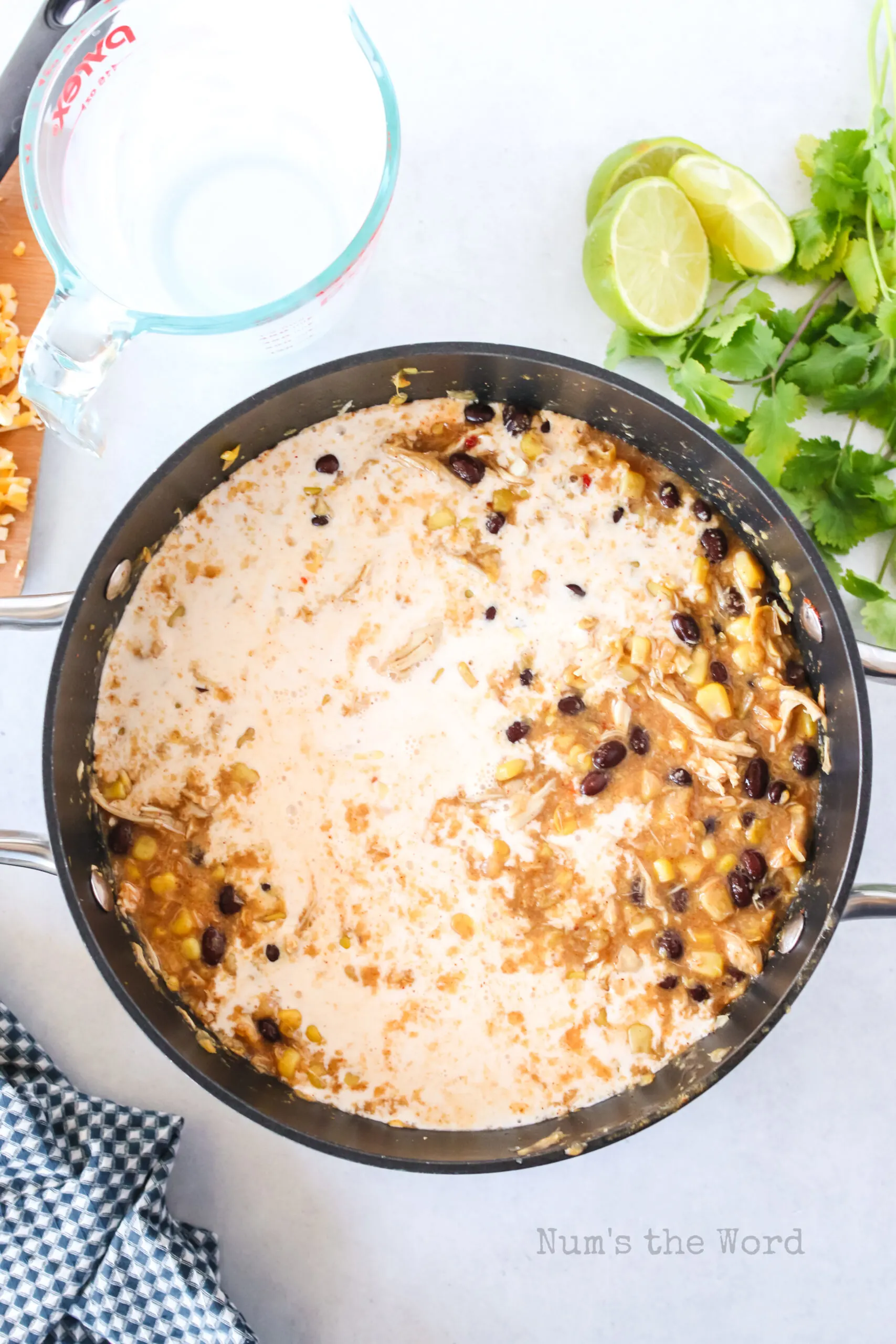 How to Make Chicken Corn Chowder
Saute:

Let the garlic soften for just the slightest minute.

Mix:

Toss in the rest of the ingredients, one at a time, following the directions.

Serve:

Put on all the garnishes, none at all, or let your guests decide!
Pro Tip: Since this comes together so quickly I like to start a loaf of Focaccia Bread first and then they'll be done at the same time!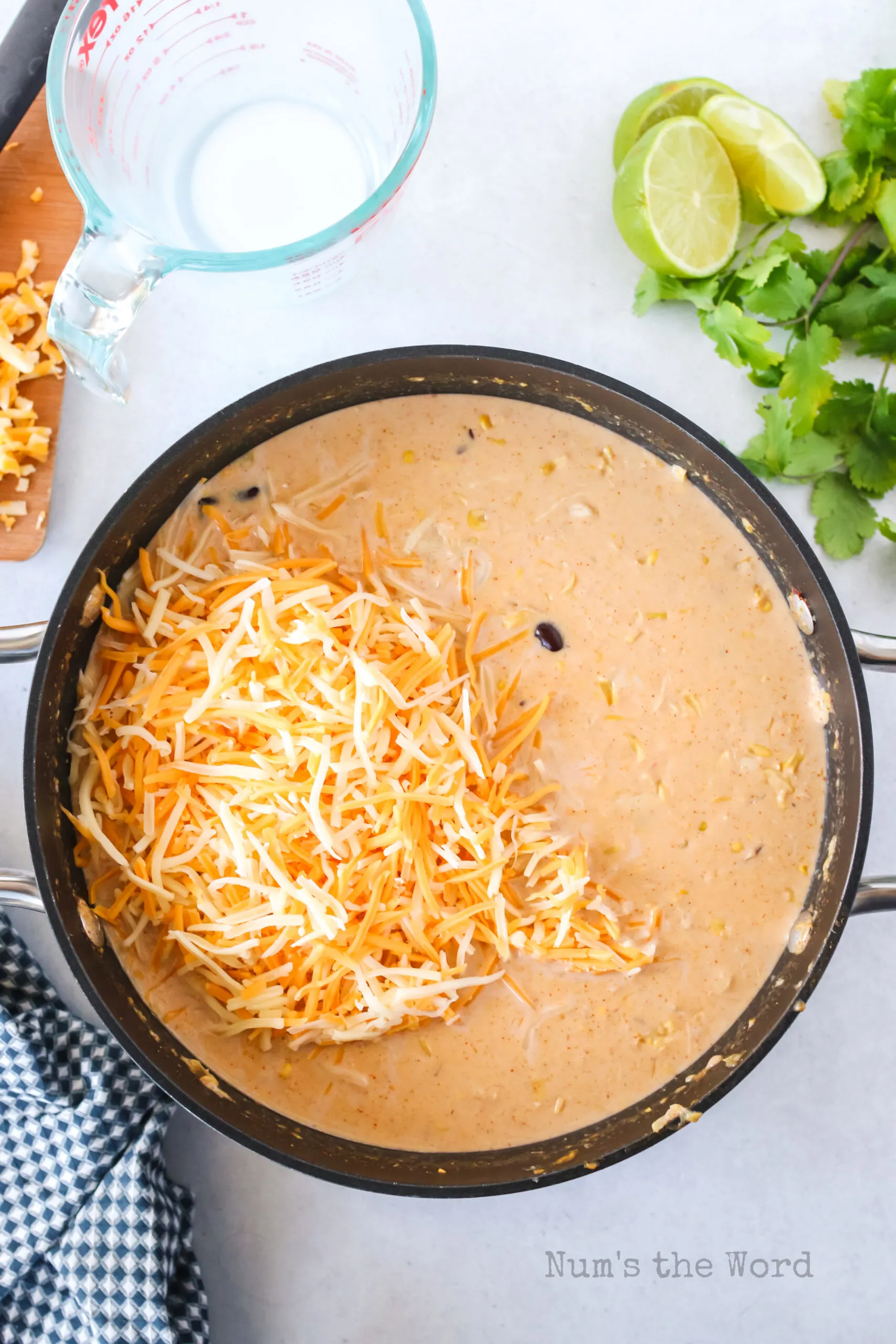 Can You Freeze Chicken Corn Chowder?
Unfortunately, you can't.
Foods made mostly of cream and dairy, such as this one, will separate dramatically in the freezer.
The chicken corn chowder should be stored in the fridge and kept for up to 4 days, though ideally you should eat it in the first 2 for ultimate flavor.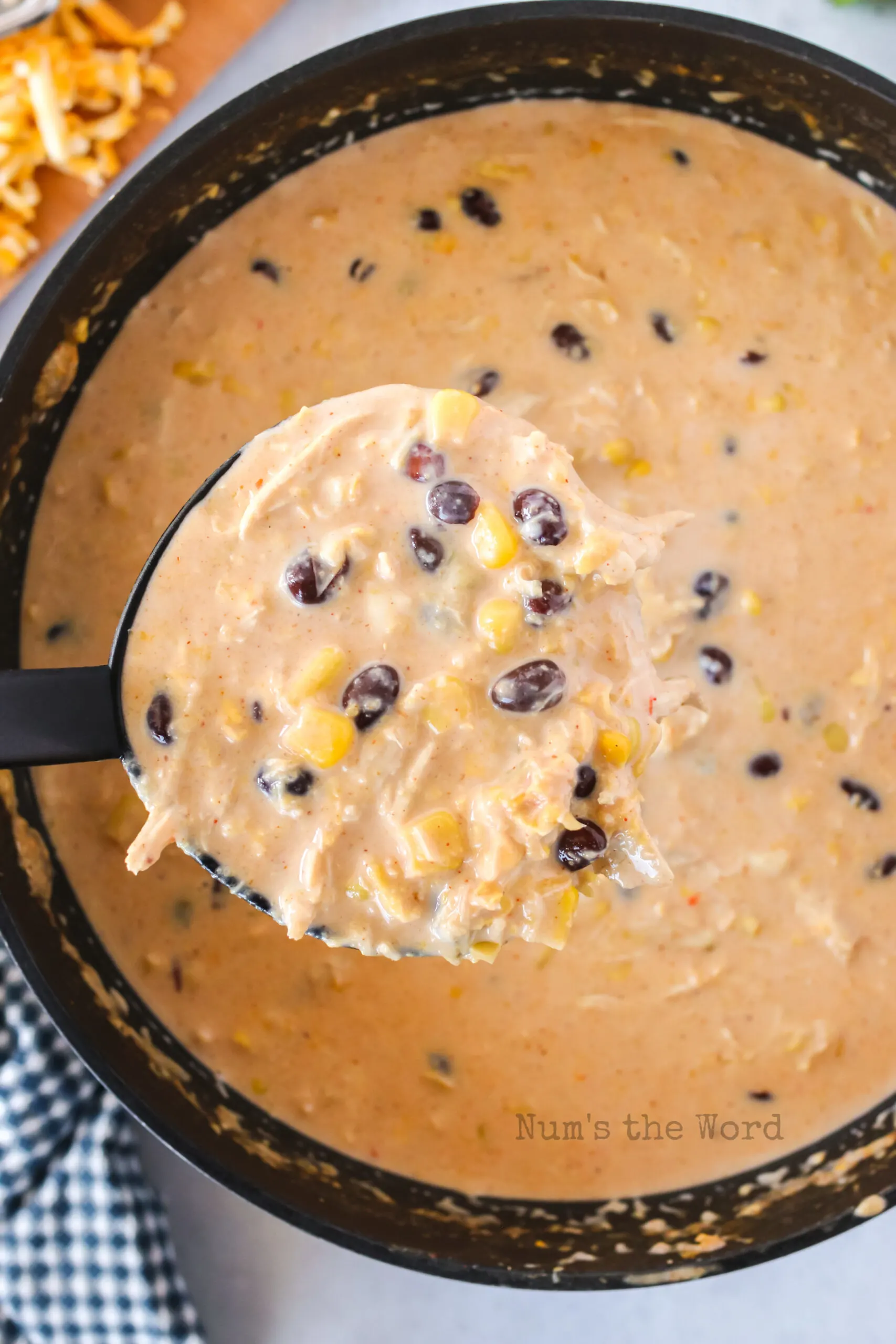 How to Thicken Chicken Corn Chowder
Have you ever thought- if I'm making chowder, shouldn't it be thicker? Sad. This recipe is not that way.
Made with cheese, creamed corn, and half and half, this chicken corn chowder is thick, filling, and have I mentioned creamy?
So if your corn chowder comes out less than ideal, double check to make sure you got all the ingredients. Yum!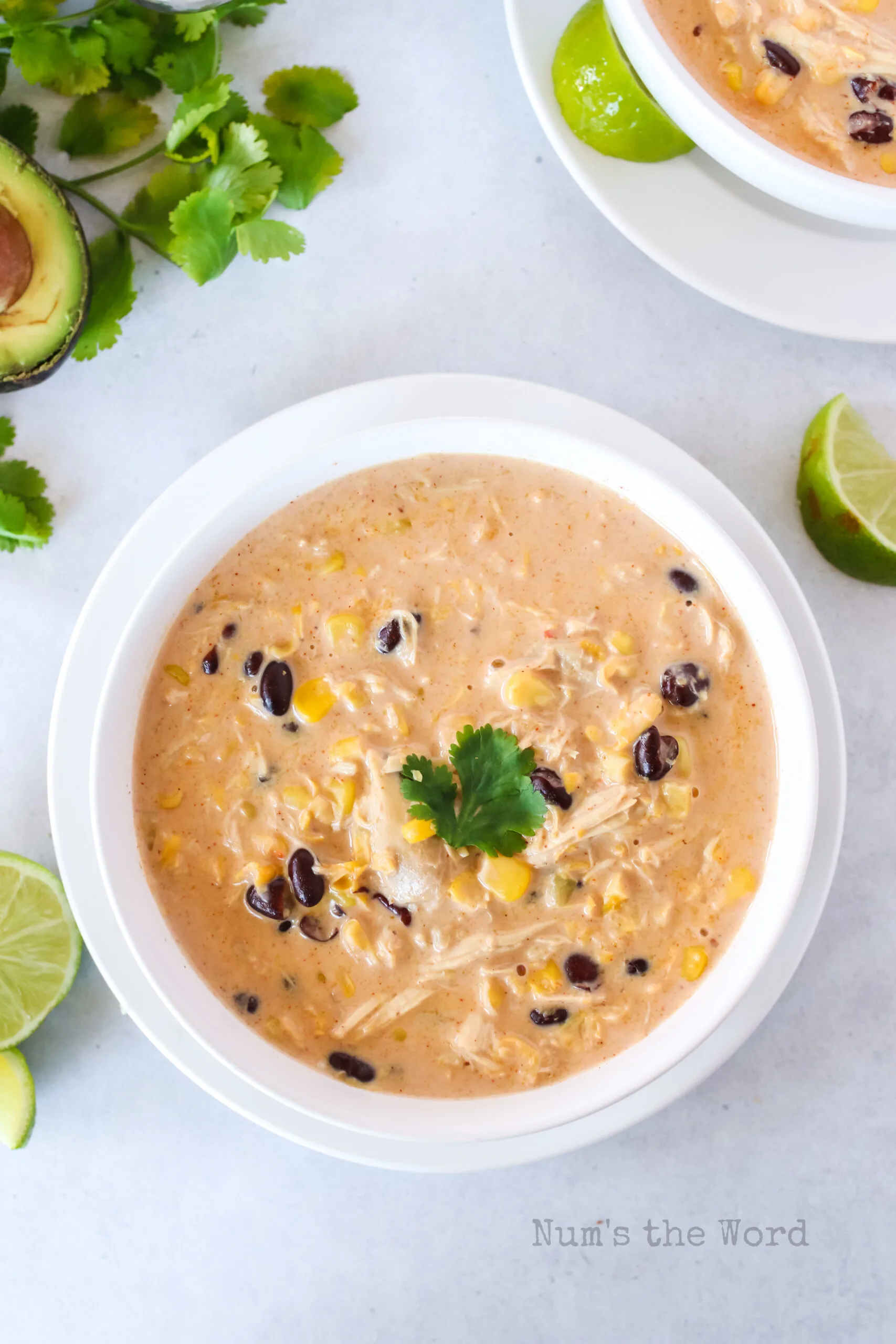 Is Chicken Corn Chowder Healthy?
Protein, dairy, vegetables? Yep. Slimming on the waistline? Probably not. I have no problem serving this meal to my family.
It's delicious, I know they love it, and it is loaded with good things. Don't eat it for every meal and I think you'll be fine.
What to Serve with Chicken Corn Chowder
First of all- chicken corn chowder can be served all on its own. Remember when I called it a one pot meal? I wasn't joking.
Chicken corn chowder has everything it needs, and is filling enough, to be a meal all by itself. But if you're faced with a pack of your kid's most ravenous friends (don't pretend it doesn't happen), here's what to do:
Bread Side Dishes: Bread is not only filling but so fun to dip as well.
Quick Salads: For that fancy restaurant feel. Chowder and a salad? Coming right up!
Fruit Dishes: Fruit offsets the heaviness of the chowder and is the perfect addition to this meal.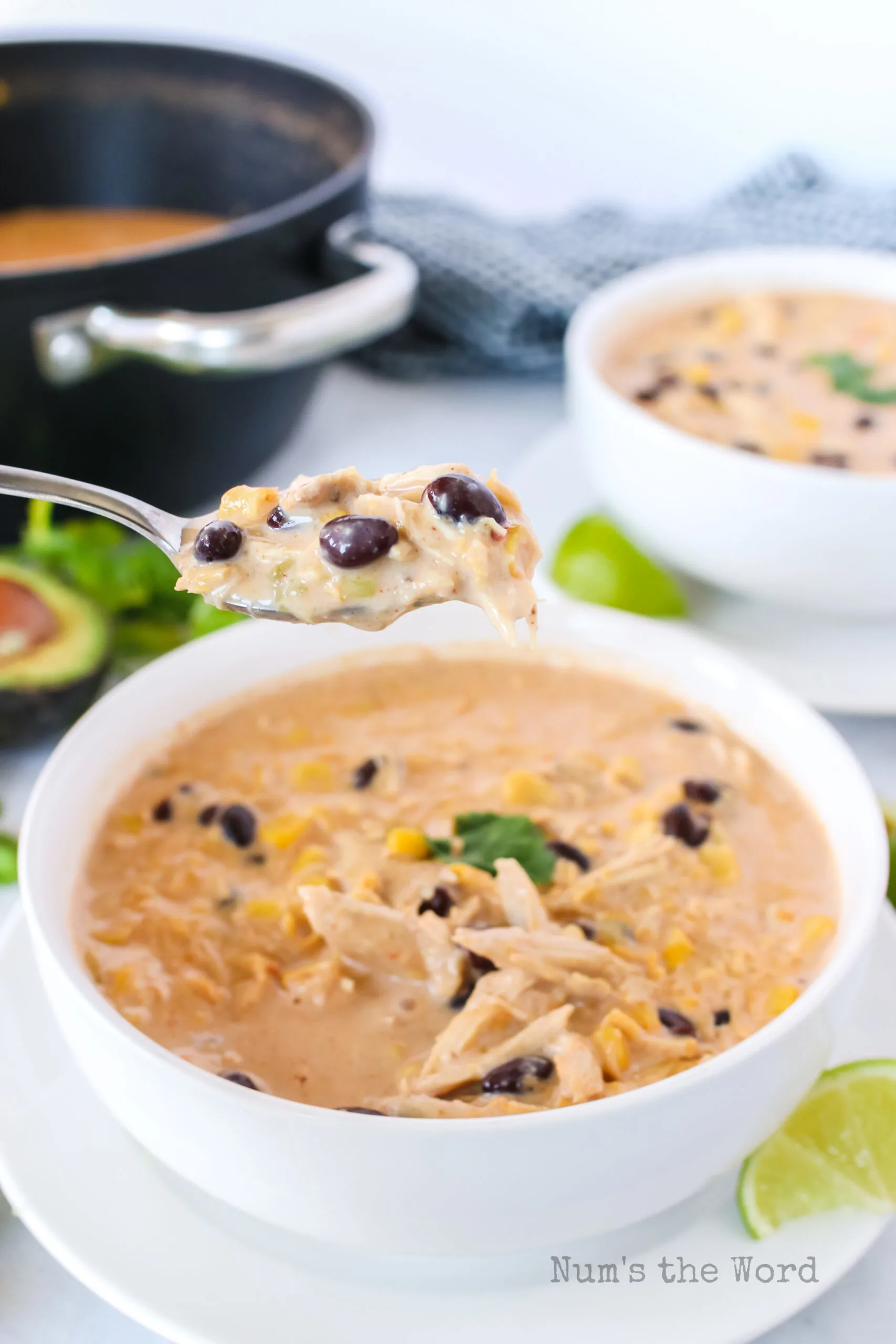 This Chicken Corn Chowder is a crowd pleaser that is so easy to make. It has officially gone on my family's rotation. We love it that much. And that's saying something. So let me know what you like about it too! Enjoy!
Ingredients
3 cups of cooked chicken or turkey (rotisserie and leftover turkey work great!)
3 cloves of garlic, minced
1 cup chicken broth
2 can (14.75 ounces) cream style corn
1 can (14.75 ounce) corn, drained
1 can (15.5 ounce) black beans, rinsed and drained
2 teaspoons chipotle chili powder
1/2 teaspoon paprika
1 1/2 teaspoon ground cumin
2 cups Colby Jack cheese
2 cups half and half
Limes
Cilantro, stems removed, chopped
Avocado
Instructions
Place minced garlic in a soup pot and sautee for 1 minute.
Add chicken broth, cream style corn, regular corn, black beans, chili powder, paprika and cumin. Stir well.
Cook for 10 minutes over medium heat or until heated through.
Add half and half and cook for 5 more minutes.
Add cheese and stir well until cheese is melted.
Serve immediately with a wedge of lime, chopped cilantro and avocado