Sweet and salty, creamy and crunchy, this strawberry pretzel salad is the perfect blend of delicious flavors. With its tasty layers, this old-fashioned favorite is bound to be a hit among your family and friends!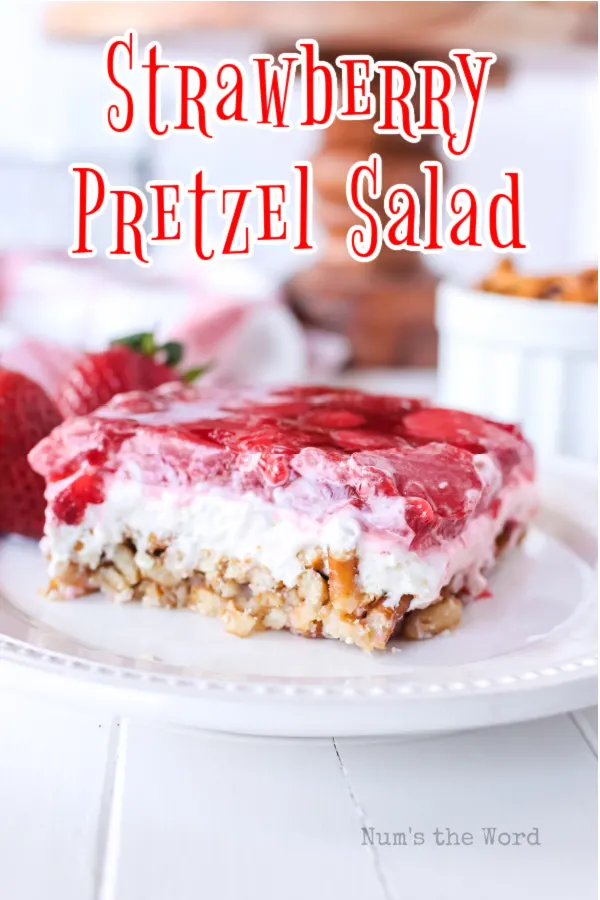 There's something so pleasing about the blend of flavors and textures in this strawberry jello pretzel salad. A crunchy bottom, creamy middle, and fruity top makes it the perfect side dish or dessert and a compliment to any meal, potluck, picnic, or party!
This is actually one of my favorite desserts. Don't let the "salad" part fool you — this is a DESSERT! And a mighty good one at that. With a cheesecake-like flavor, this strawberry pretzel salad recipe has been a holiday hit and summertime treat since the 1960's.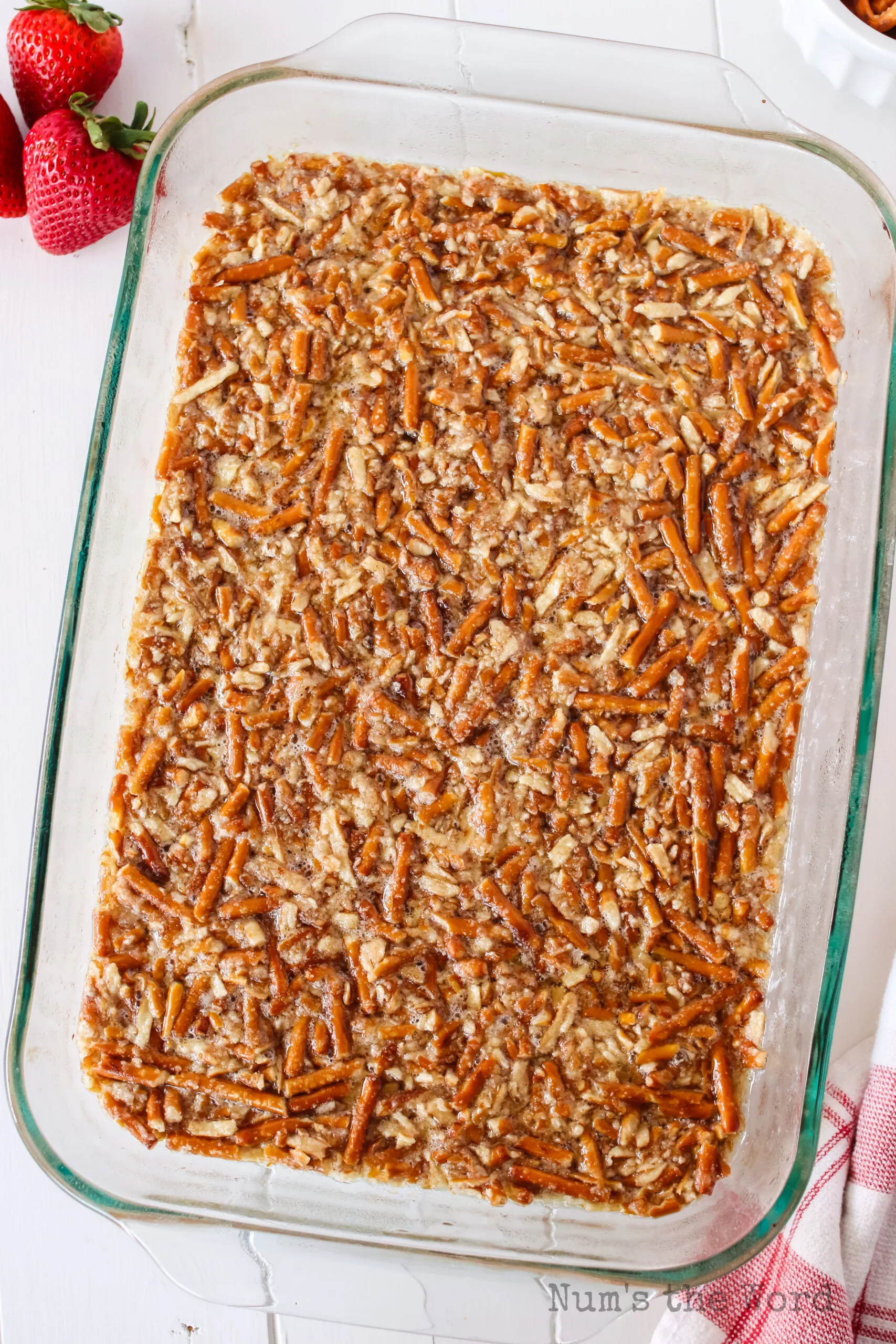 What ingredients are in strawberry pretzel salad?
Chopped pretzels

– you don't want these to be powdered, but broken into small pieces. I like to put them in a freezer bag and roll them with a rolling pin or pulse a couple times in a food processor.

White sugar

– the sugar helps hold the crust together and be perfectly sweet and salty! It's also a major player in the creamy layer.

Butter

– melted butter helps bind the crust and keeps it rich and flavorful and CRUNCHY.

Cream cheese

– a package of room temperature cream cheese makes up the majority of the creamy layer of your old fashioned strawberry pretzel salad.

Vanilla

– a flavor enhancer and depth provider, I recommend using real vanilla for this recipe, especially as the layer it's used in won't be baked!

Cool whip

– sweet, light, and airy, cool whip will help your creamy layer have the same attributes without falling flat within a couple hours.

Strawberry Jello

– this makes up the

strawberry jello

part of this strawberry jello pretzel salad recipe.

Boiling water

– boiling water is a must for jello making. You can also microwave water to boil it extra quickly.

Frozen sliced strawberries

– frozen strawberries help to quickly cool the jello layer of this dessert, making the time between prep and you devouring it even shorter. Yes, please!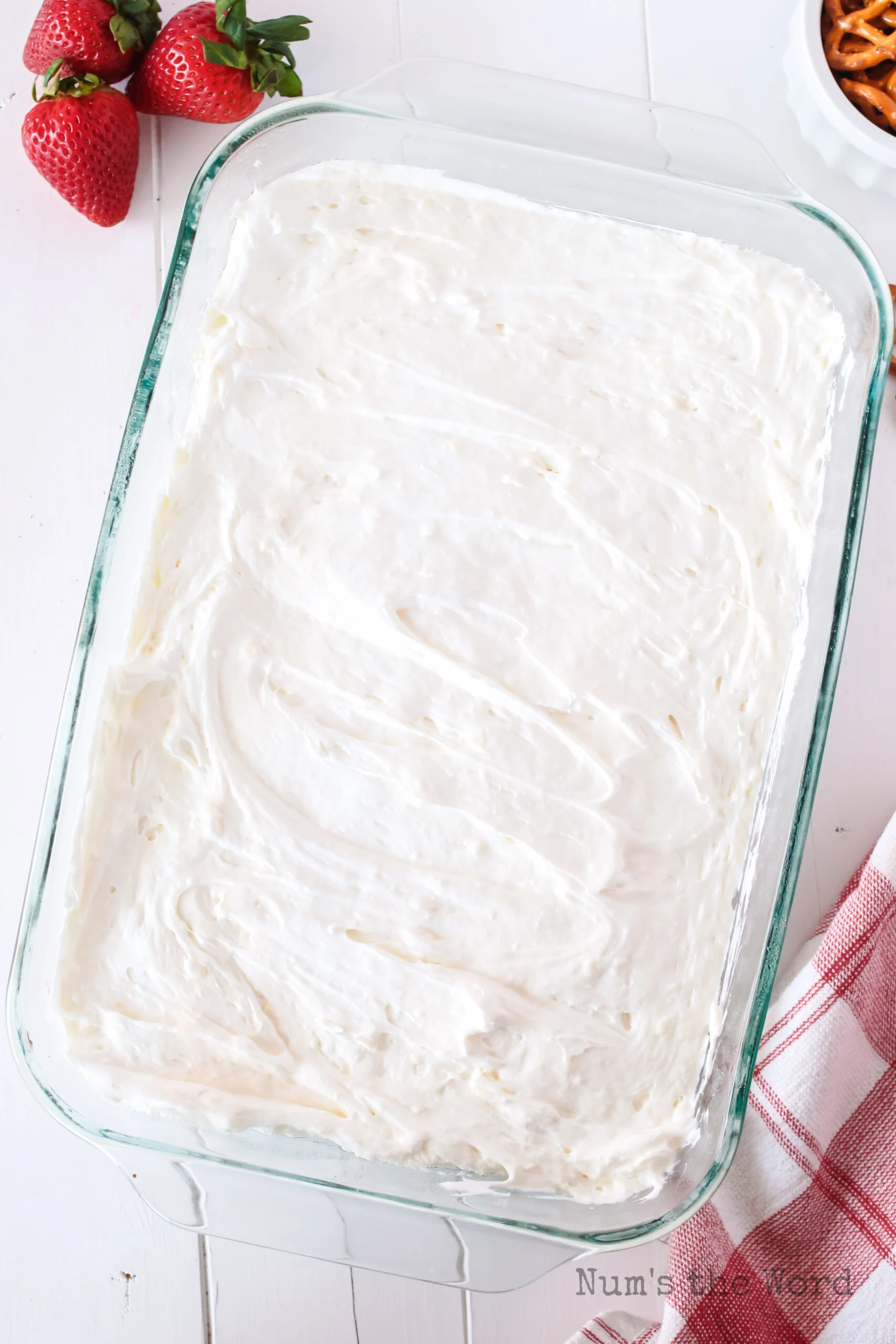 How to make strawberry pretzel salad?
Crust – make & bake the pretzel crust.
Cream Cheese Layer – whip up your creamy middle layer and spread it over your pretzel crust.
Jello Layer – Create your jello layer and carefully spread it over your cream cheese layer.

Chill between each layer and especially after assembled. Then cut and serve!
Just 4 simple steps and you're ready to enjoy the decadence that is this delicious strawberry congealed salad.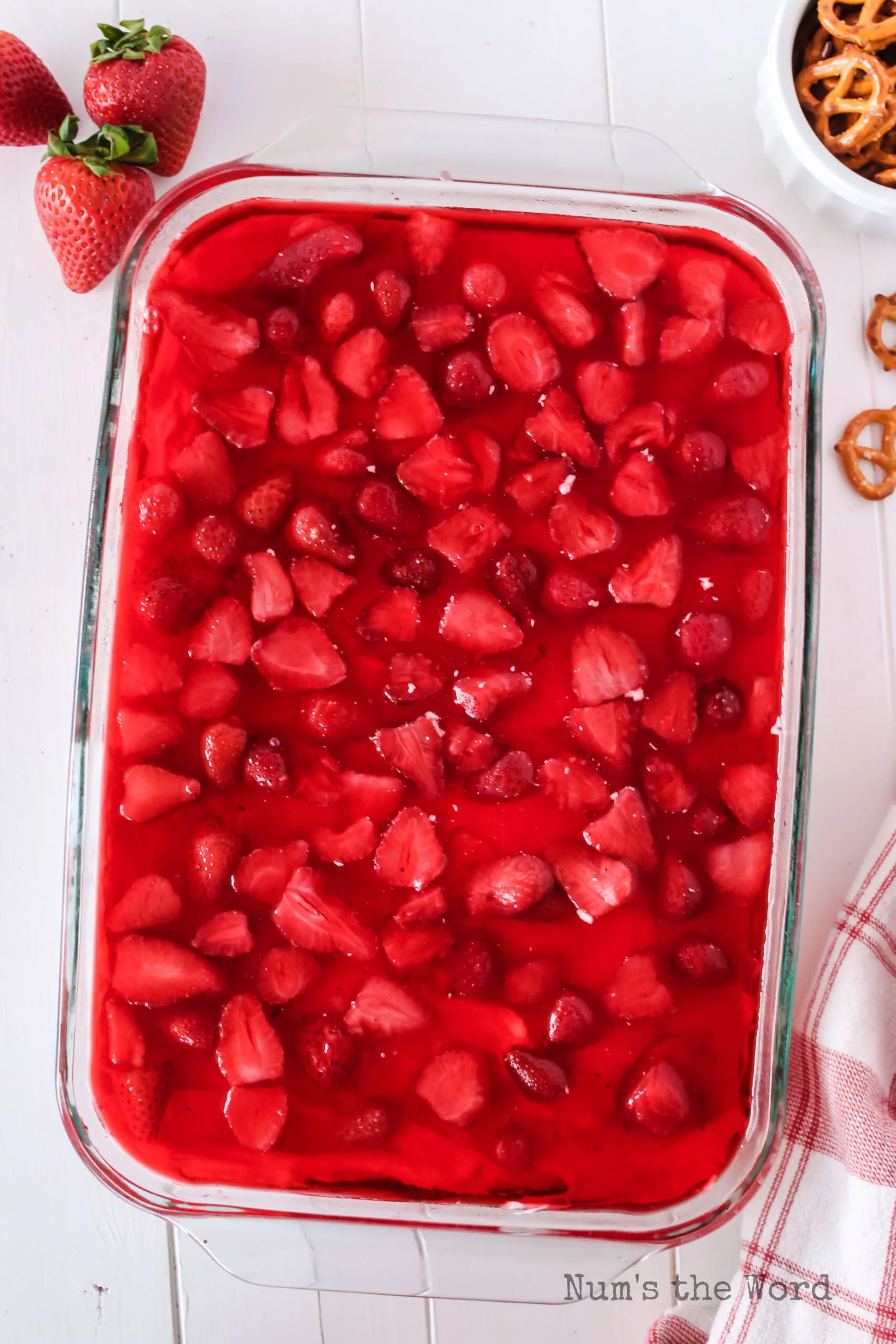 How to crush pretzels for strawberry pretzel salad?
Because you don't want to powder the pretzels for this recipe, I find the best way to crush them is either using a freezer bag and a rolling pin or a food processor.
You can place the pretzels in a sturdy bag and zip it closed, removing as much air as possible. Then run the rolling pin over the pretzels on a countertop until the pretzels are crushed, but not powdered.
In the food processor, pulse a couple times until you have nice pretzel chunks, but not a fine powder.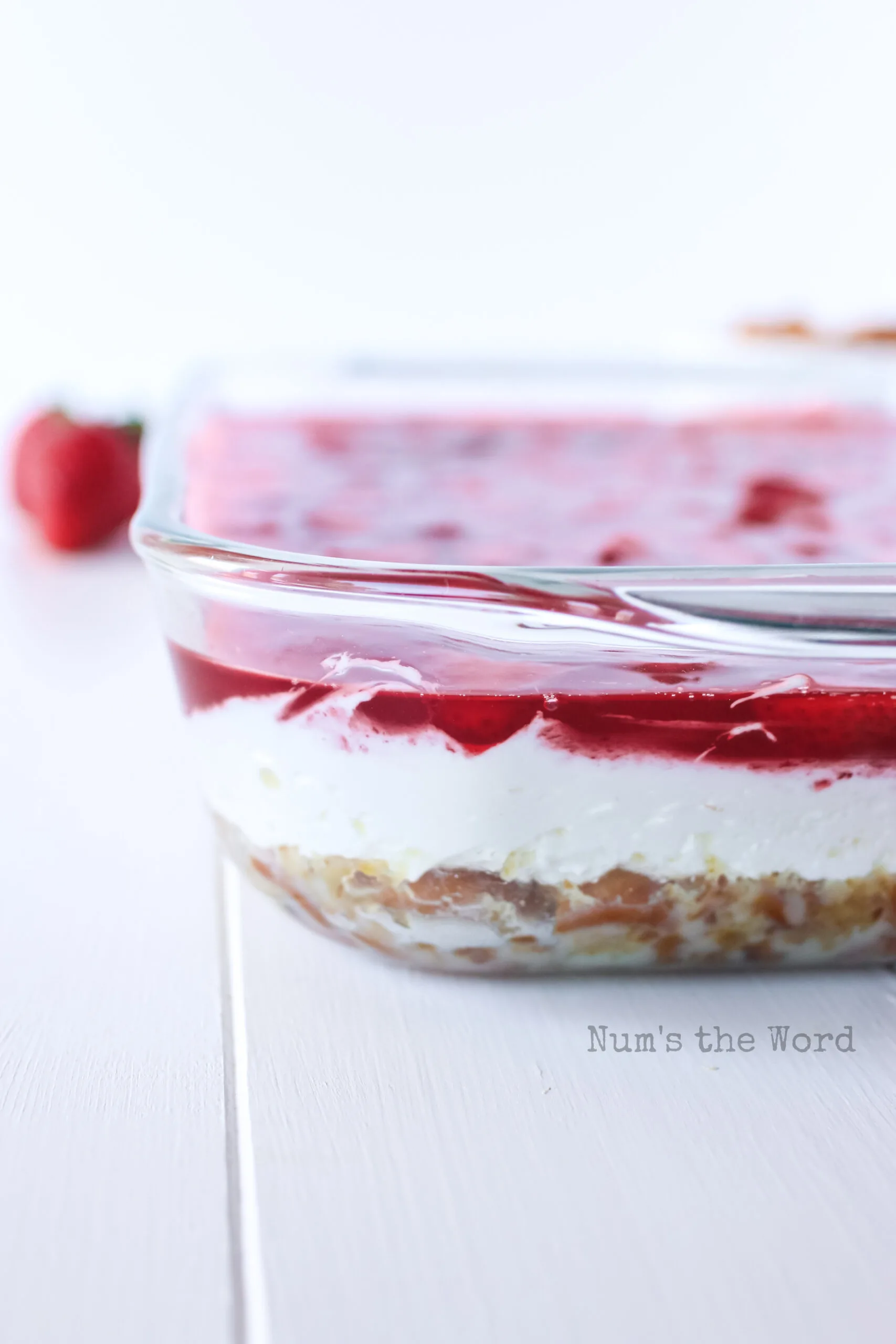 Can I use fresh strawberries in pretzel salad?
Absolutely, you can make this strawberry pretzel salad with fresh strawberries! The main difference this will cause is your jello won't cool nearly as quickly.
If you want to use fresh strawberries, prepare the jello while the crust is cooking and allow it to sit at room temperature for at least an hour before adding in the fresh strawberries. You'll want the jello to be about room temperature before mixing in the sliced strawberries.
I would also recommend using refrigerated sliced strawberries, that way you'll get the soupy texture you need in the jello quicker before pouring it over the creamy layer.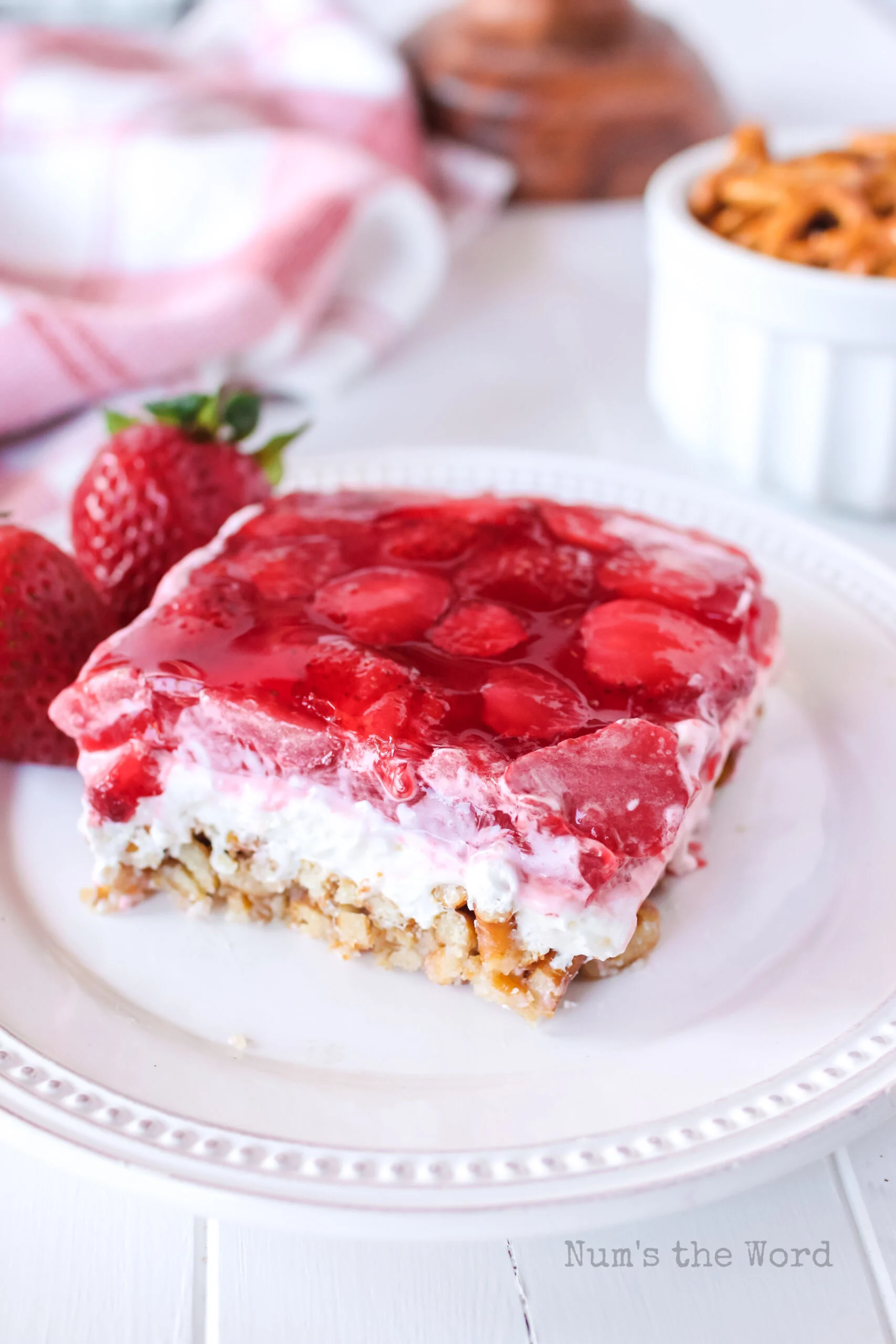 Can you make strawberry pretzel salad the night before?
Yes, this can be made the night before! Keep in mind, however, that you want to make sure that your creamy layer touches all the edges of the dish you're using — otherwise the pretzel layer will get soggy when you add the jello.
It's also worth mentioning that the longer this strawberry pretzel salad sits in the fridge, the more the texture will have a noticeable decline. That being said, I've made this the night before and had great results the following day!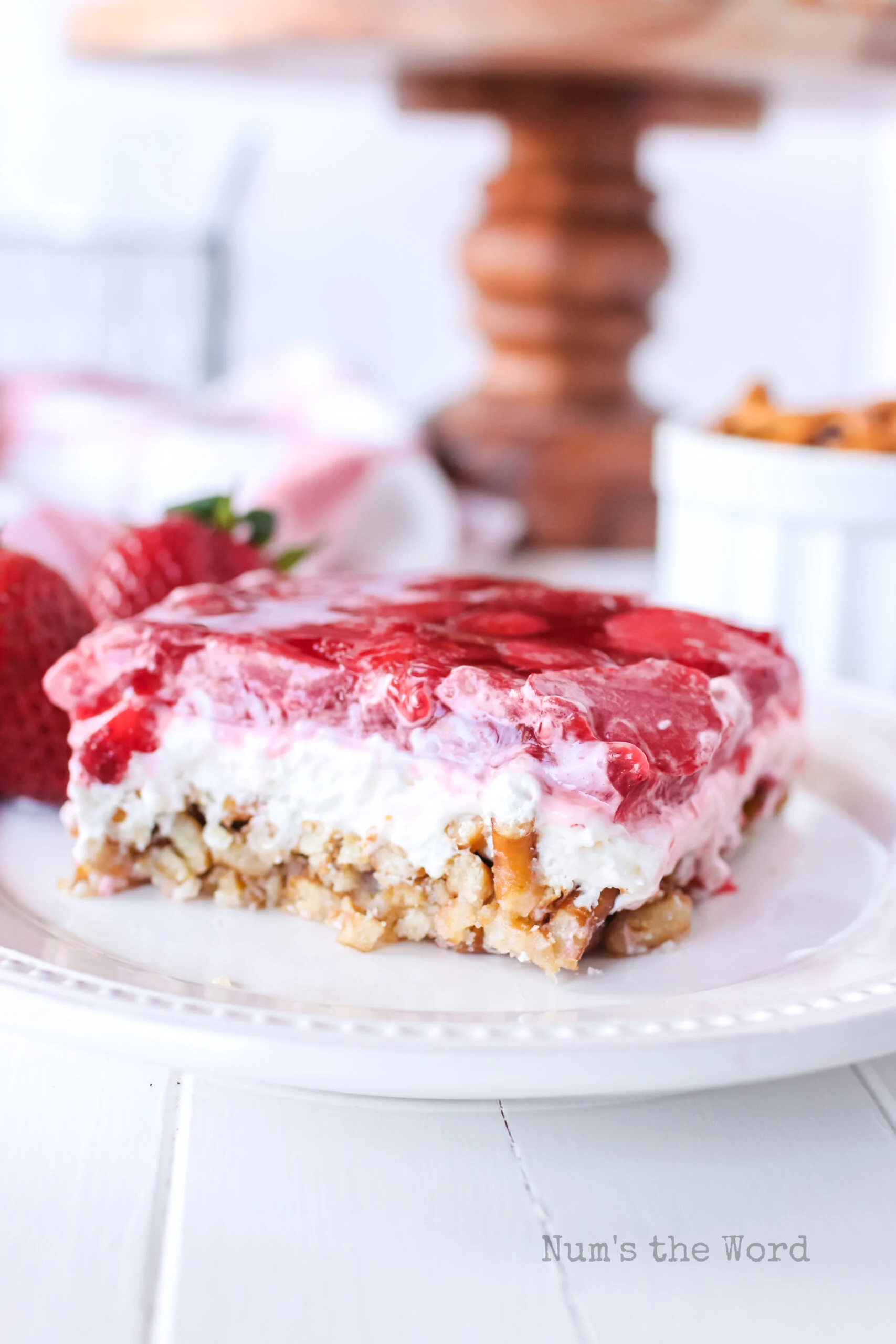 How long does strawberry pretzel salad last?
Strawberry pretzel salad can last up to five days in the fridge, but you'll notice a decline in texture after about day 3. I recommend storing leftovers in the refrigerator for up to 3 days, though my leftovers never seem to last that long!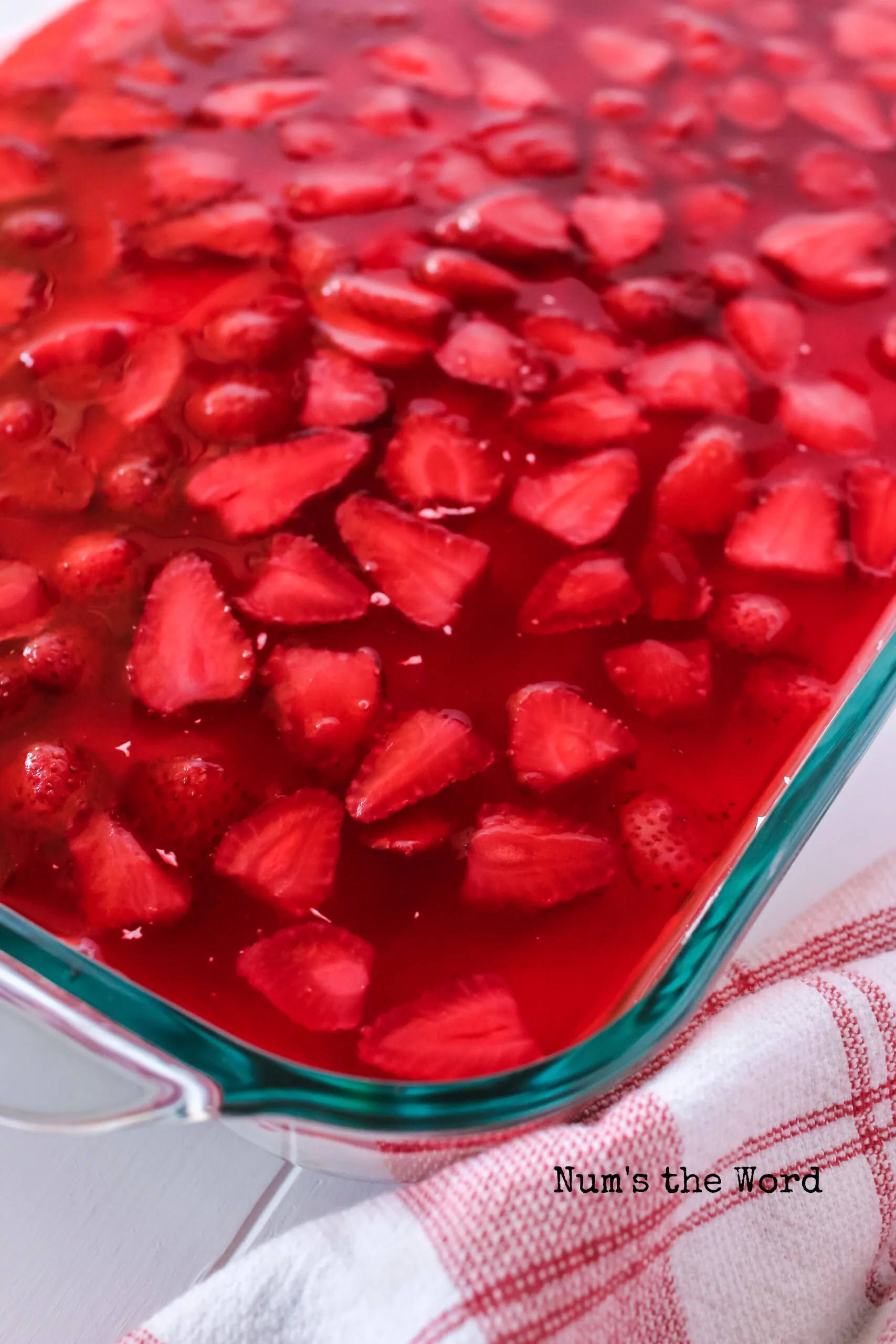 Can you freeze strawberry pretzel salad? Can strawberry pretzel salad be frozen?
It's understandable to wonder whether strawberry pretzel salad can be frozen — it's so delicious, it would be nice to have some for now AND later! Unfortunately, this recipe doesn't do well in the freezer.
Freezing this recipe will likely cause the crunchy bottom to become soggy and it's possible the creamy layer will separate. Also, frozen jello will separate upon thawing — so please don't try to freeze this recipe, it's too good to waste!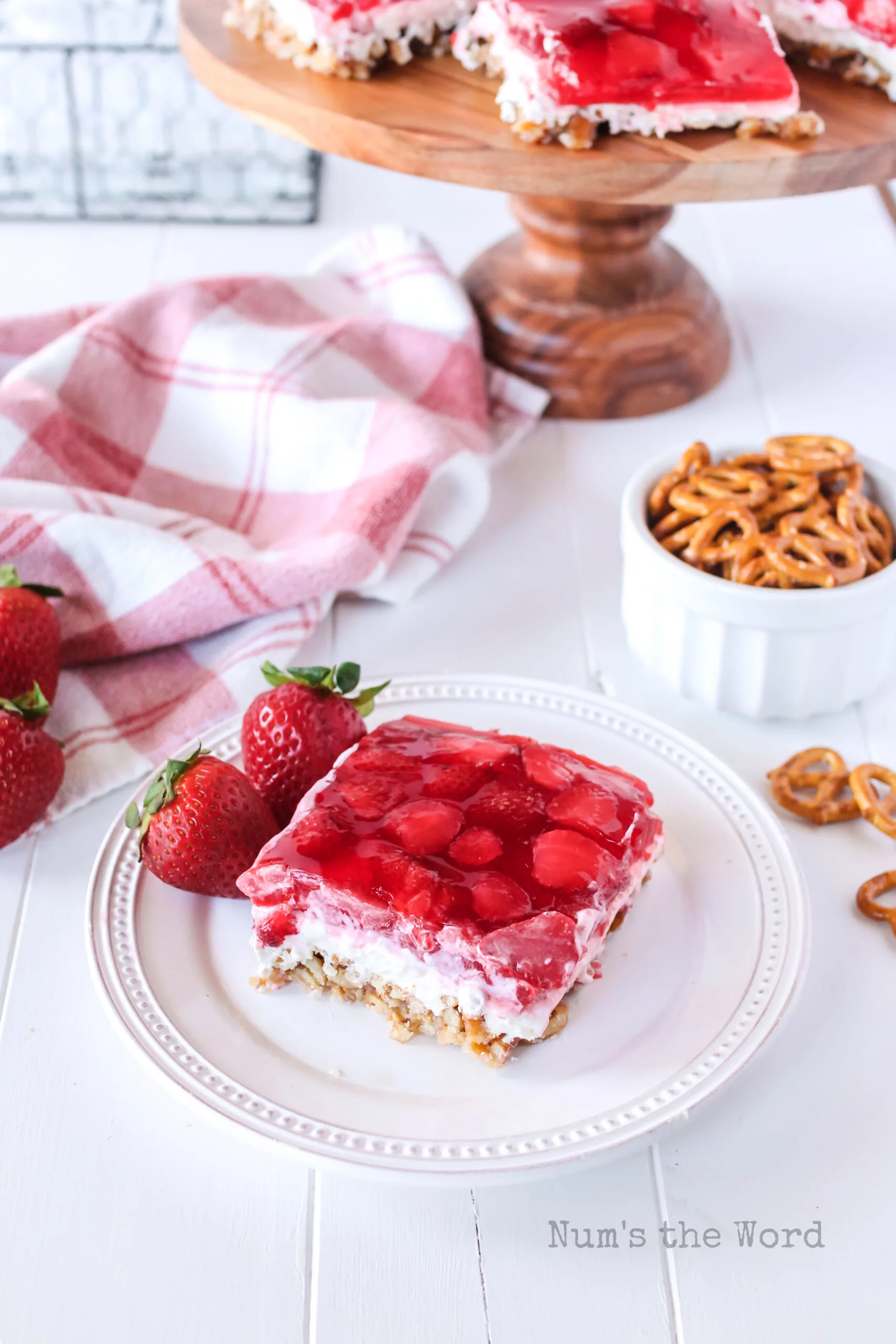 This is the BEST strawberry pretzel salad, and I'm sure you will LOVE it! It's light and creamy and crunchy and sweet and salty and fruity and all the delicious things, perfectly combined and layered to be the most delicious summer or holiday dessert. Enjoy!
Yield: 12 Servings
Strawberry Pretzel Salad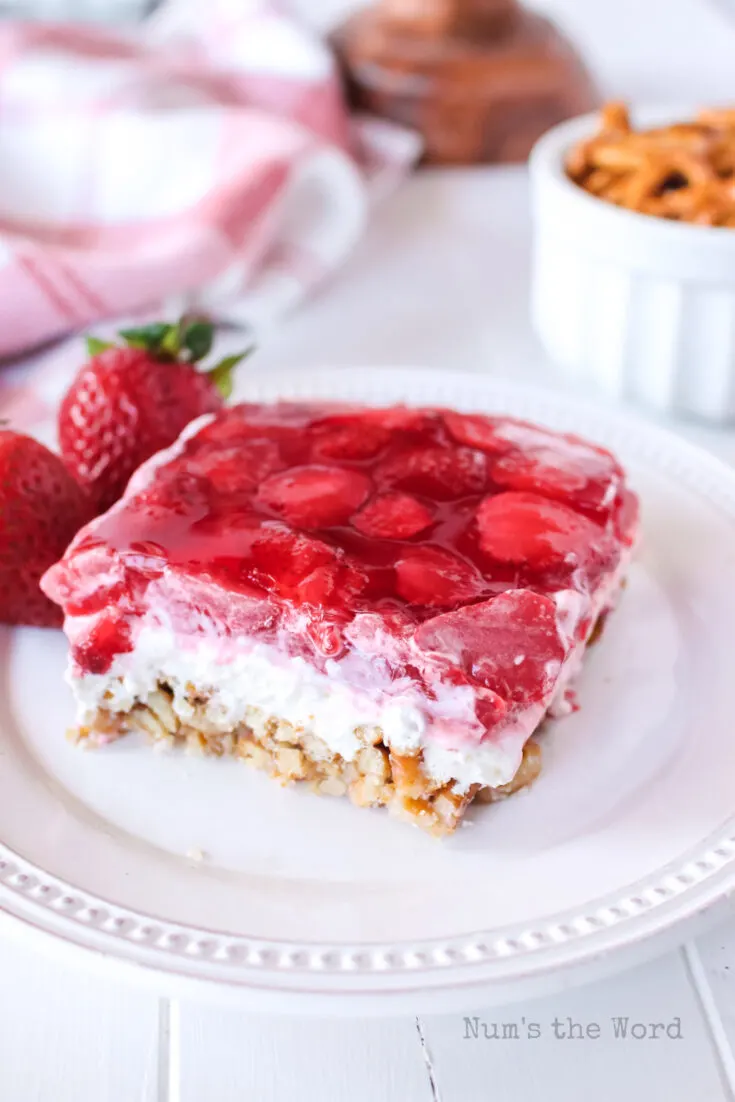 Sweet and salty, creamy and crunchy, this strawberry pretzel salad is the perfect blend of delicious flavors. With its tasty layers, this old-fashioned favorite is bound to be a hit among your family and friends!
Ingredients
1 1/2 cups pretzels, chopped
1 1/4 cups white sugar, divided
3/4 cup butter, melted
1 (8 ounce) package cream cheese, room temperature
1/2 teaspoon vanilla
1 (9 ounce) container cool whip
1 (6 ounce) package strawberry jello
2 cups boiling water
1 (16 ounce) container frozen strawberries
Instructions
Preheat oven to 350*F.
In a bowl combine pretzels, ¼ cup white sugar and butter. Mix well.
Spread on the bottom of a 9x13 casserole dish and press down to create a tight crust.
Bake for 10 minutes then remove from the oven and cool completely.
Once the crust is cooled, make cream cheese layer.
In a bowl blend 1 cup sugar cream cheese and vanilla together.
FOLD in the cool whip.
GENTLY spread this mixture over cooled crust. I've found it easiest to place globs all over then gently spread them together.
Make sure that white filling touches all sides of the pan. This will prevent jello mixture from sliding UNDER the cream cheese layer and making the crust soggy.
Chill while you make the top layer.
In a medium bowl, stir together jello and boiling water. Mix well until jello is fully dissolved.
Add strawberries and mix until strawberries are thawed.
Mixture should begin to thicken as the frozen berries will quickly bring the temperature down. When mixture is egg white consistency (thick, but soupy) (about 10 minutes) pour over the cream cheese layer.
Chill for 1 hour or longer, until the jello is set.
Nutrition Information:
Yield:
12
Serving Size:
1
Amount Per Serving:
Calories:

231
Total Fat:

13g
Saturated Fat:

8g
Trans Fat:

0g
Unsaturated Fat:

4g
Cholesterol:

33mg
Sodium:

187mg
Carbohydrates:

29g
Fiber:

1g
Sugar:

24g
Protein:

1g