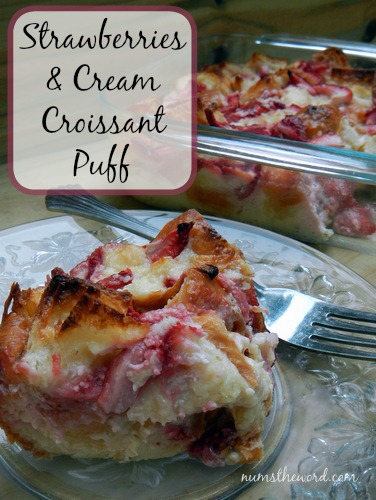 Do you have a traditional Christmas morning breakfast item?  We do not.  Each year we do something different.  Donuts, or cinnamon rolls or pancakes or french toast.  And this year, these croissant puffs are going on the menu.
As a kid, we would get SOOO excited if we got the small boxes of individual cereal.  That was HUGE.
However now as an adult, I don't want cereal on Christmas morning. I want more brunch type items.  Something that we can eat while opening presents and nibble on until lunch.  Something that is EASY and doesn't require a lot of effort on my part – because let's face it I would much rather be sitting around the tree with the family than in the kitchen cooking and missing all the action.
This is one of the easiest breakfast/brunch items that could exist on the planet.  AND you can customize it to your personal tastes.  Instead of strawberries, use blueberries, blackberries, raspberries – whatever you like.
You can use fresh or frozen, and you can make it the night before. So really all you have to do is pop it in the oven Christmas morning!
This also makes for a great breakfast/brunch item for a baby shower or Sunday brunch or bridal shower.  Really, any time.  I've made it a few times just because we like it so much and it was for no reason at all. Just because.
Go on, give it a try.  Easy and Delicious are two of my favorite kinds of food!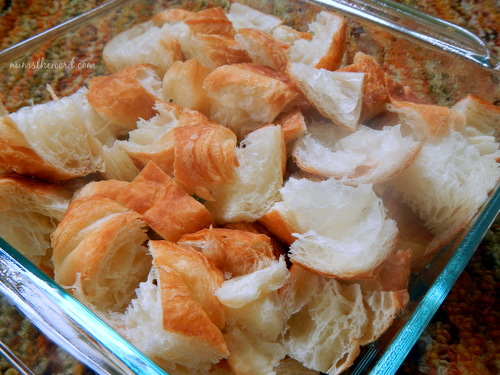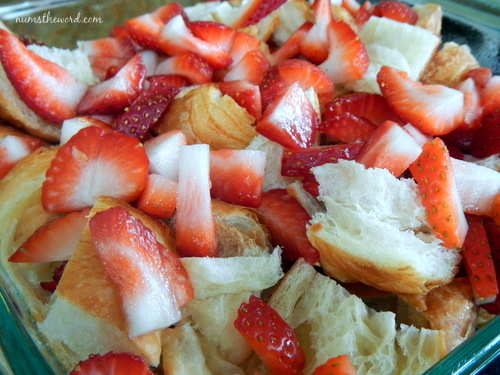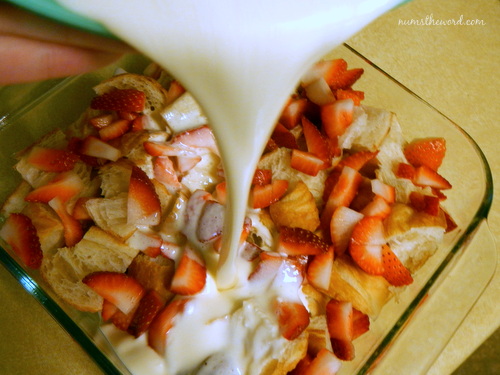 Strawberries & Cream Croissant Puff
Ingredients
3 large croissants, cut up into small bite size chunks (about 5 to 5 1/2 cups)
1 cup fresh or frozen Strawberries sliced up into small pieces
1 package (8 oz.) cream cheese, softened to room temperature
2/3 cup sugar
2 eggs
1 teaspoon vanilla
1 cup milk
Instructions
Preheat oven to 350*F.
Place croissant pieces in a 9 inch square pan. Sprinkle with strawberries.
With a hand mixer, blend cream cheese, sugar, eggs and vanilla in medium bowl until well blended and smooth.
Slowly add milk 1/4 cup at a time, beating well after each addition.
Pour evenly over croissant pieces. Let stand 20 minutes.
Bake for 35 to 40 minutes or until set in center and golden brown. You may want to cover it with foil for the last 10 minutes if the tops are getting too browned.
Serve warm or room temperature sprinkled with powdered sugar.
https://numstheword.com/strawberries-cream-croissant-puff-2/
Recipe Adapted From: The Girl Who Ate Everything