Get ready for a family favorite: Chicken Rice Enchilada Casserole! There's nothing like a comforting casserole on a busy weeknight.
Ahhh. Succulent rotisserie chicken, mixed with fluffy Jasmine rice, all covered in a zesty enchilada sauce.
Then cover the whole thing in a layer of melty white cheddar and Monterey Jack cheese. Mmmmm.
Sprinkle in some sweet corn kernels too and you've got a great meal!
This isn't just mouth-wateringly tasty (sooo good!), but also satisfying and filling.
This enchilada rice casserole is full of Mexican flavors. Spiciness, creaminess, and just bit of kick! It's perfect!
It's the perfect way to repurpose leftover chicken into an entirely new recipe.
The combo of cheeses makes a literal blanket of creamy deliciousness in this chicken enchilada casserole with rice.
It's a great recipe for those busy weeknights when you're short on time but want a homemade meal.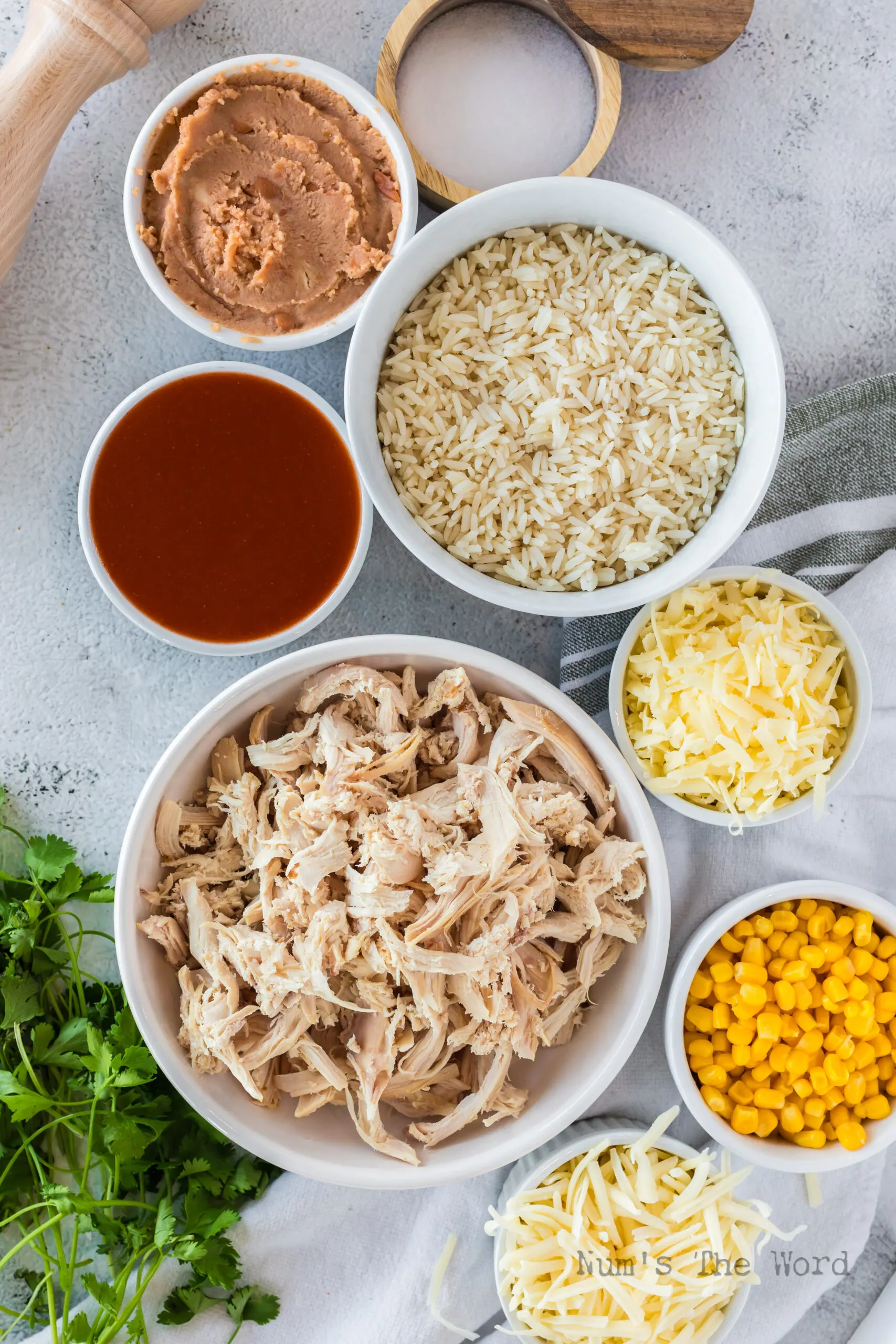 What Ingredients are in Chicken Rice Enchilada Casserole?
This chicken enchilada rice casserole is so easy to make and only uses a few ingredients:
Rotisserie Chicken: Save time? Sign me up!
Jasmine Rice: The perfect base for soaking up the flavors.
Enchilada Sauce: You can use red enchilada sauce, green enchilada sauce, or even your own enchilada sauce if you have a favorite recipe.
Refried Beans: These add a creamy, rich texture.
Cheese: We're using a combo of white cheddar and Monterey Jack.
Corn Kernel: Adds a little crunch and sweetness.
Cilantro: For a pop of color and fresh, vibrant taste.
Pro Tips:
Customize it – switch up the cheeses, add bell peppers or green chiles for some extra heat, or top with your favorite toppings like sour cream.
If you switch white rice for brown rice, the cooking time will differ so pay attention to that.
Any shredded chicken will work. If you don't have rotisserie chicken, just cook some up.
Leftover rice can also be used if you've already got some cooked up.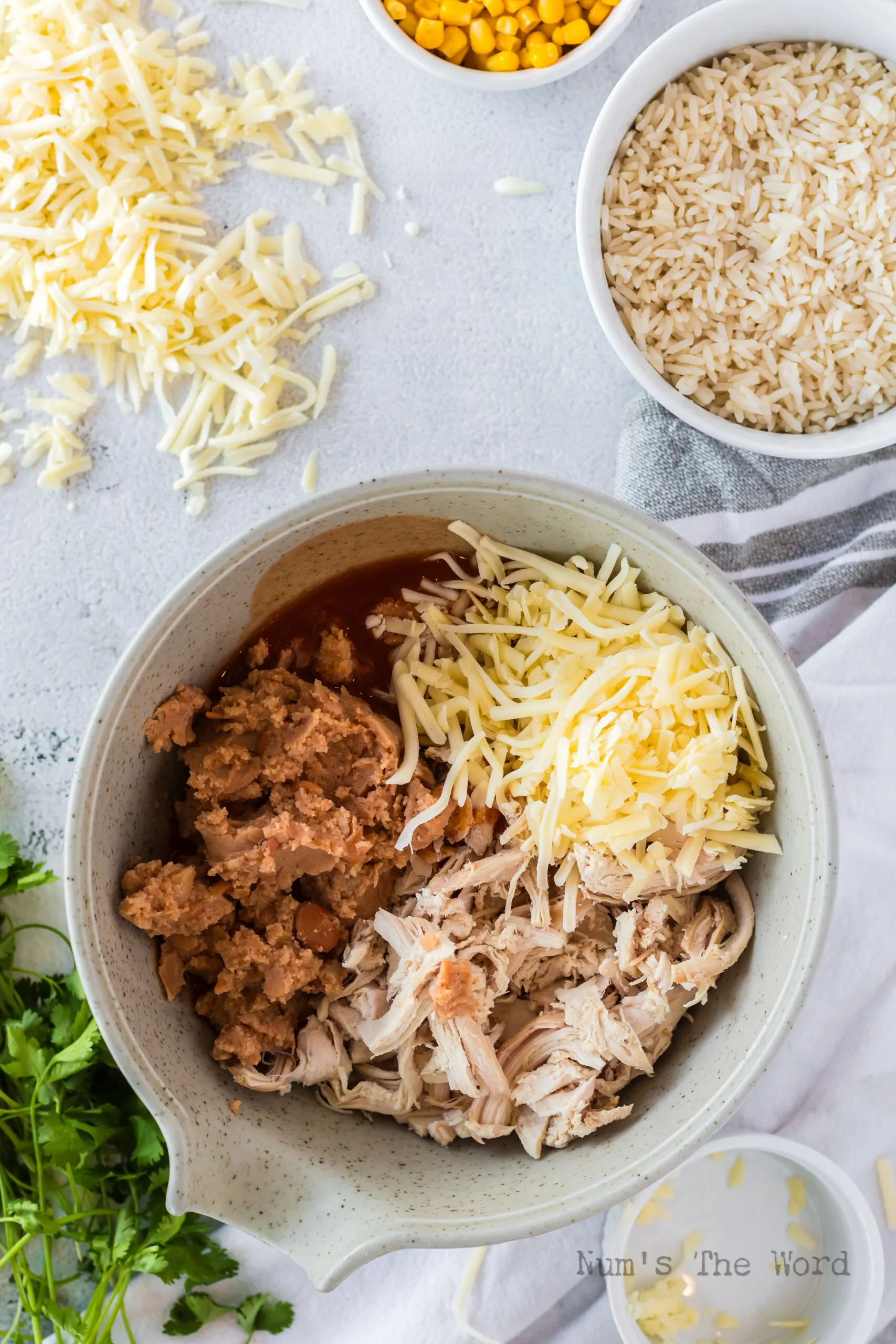 How to Make Chicken Rice Enchilada Casserole
This easy chicken enchilada casserole is one the whole family will love! Here's how to make this easy recipe:
First, get your rice cooking.
In a large bowl, mix together your shredded rotisserie chicken, enchilada sauce, refried beans, and half of the cheese.
Mix cooked rice into your chicken mixture.
Pour the rice mixture into a large casserole dish.
Top with a sprinkle of sweet corn kernels and the remaining cheese.
Bake until the cheese is gloriously melted and bubbling.
Finish off with a sprinkle of fresh, chopped cilantro. Yum!
Pro Tip:
If you want to take it to the next level, try using pepper jack cheese instead of Monterey Jack for a bit of a kick!
Preheat a large oven to get it up to temp before you begin.
Don't love to cilantro or don't have it? Just leave it out.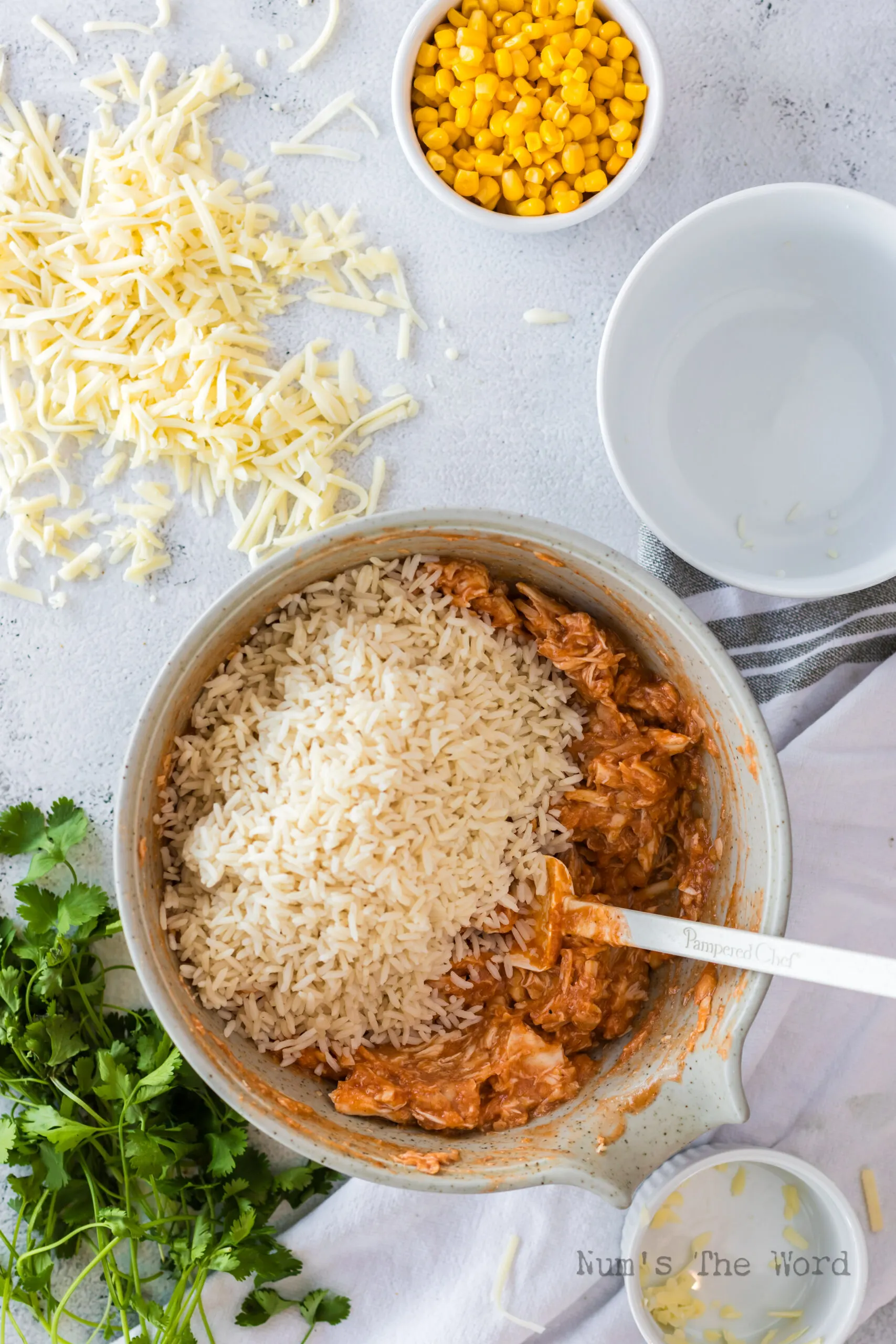 Do You Precook the Rice in Chicken Rice Enchilada Casserole?
Yes, the rice should be fully cooked before incorporating it into the casserole.
This prevents it from getting crunchy or mushy in the final dish.
This is a simple step, but you gotta do it if you want the perfect texture.
Don't forget though that you can use leftover rice.
Leftover rice with rotisserie chicken really makes this an easy meal.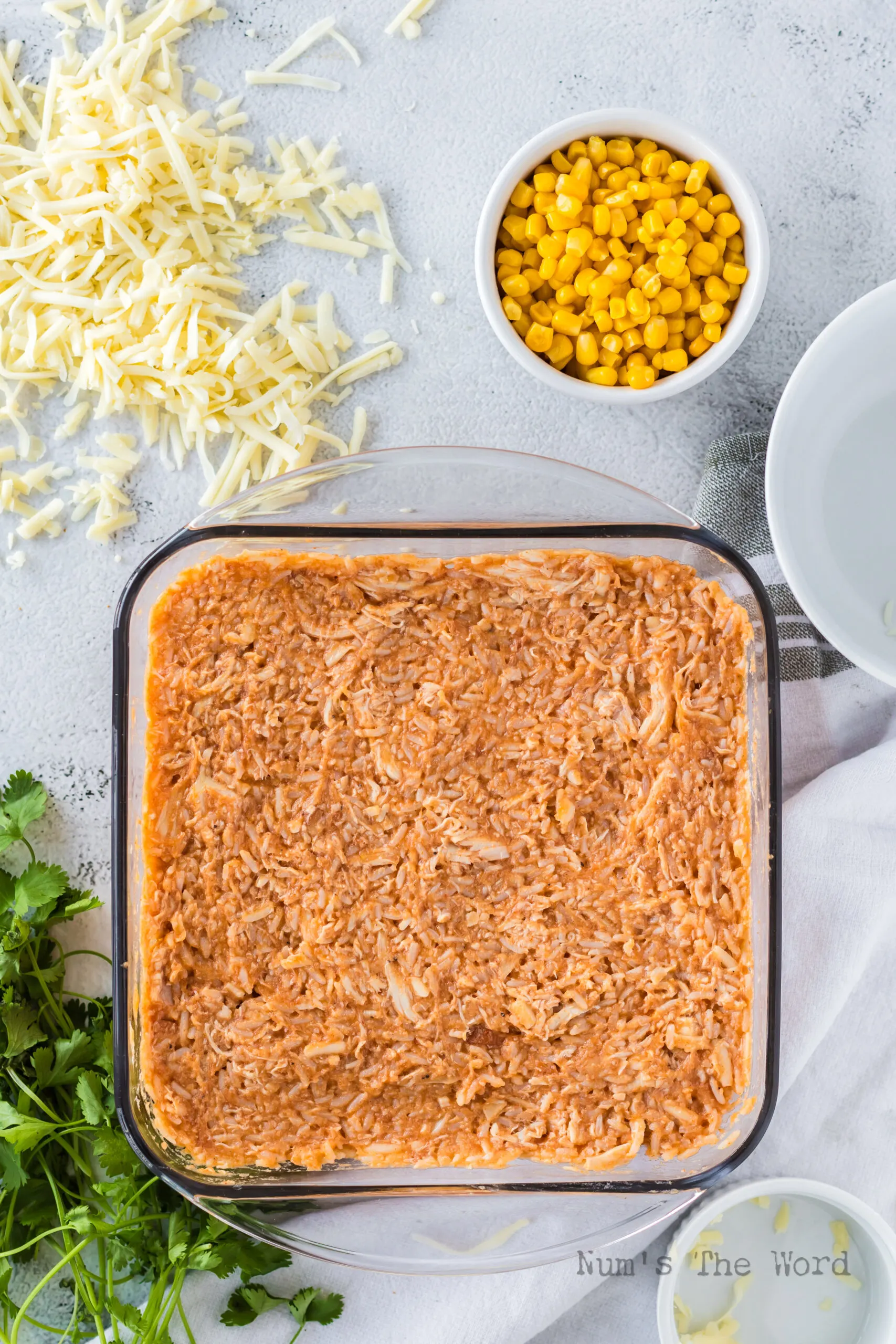 How Do You Store Leftover Chicken Rice Enchilada Casserole?
Pop it in an airtight container and store it in the refrigerator.
It's perfect for those nights when you just want a quick, delicious meal without the hassle of cooking.
Don't forget to let it cool to room temperature before transferring.
Then you can heat it up again in the microwave or the oven.
Just be careful not to recook it or it'll burn. Just heat until warm.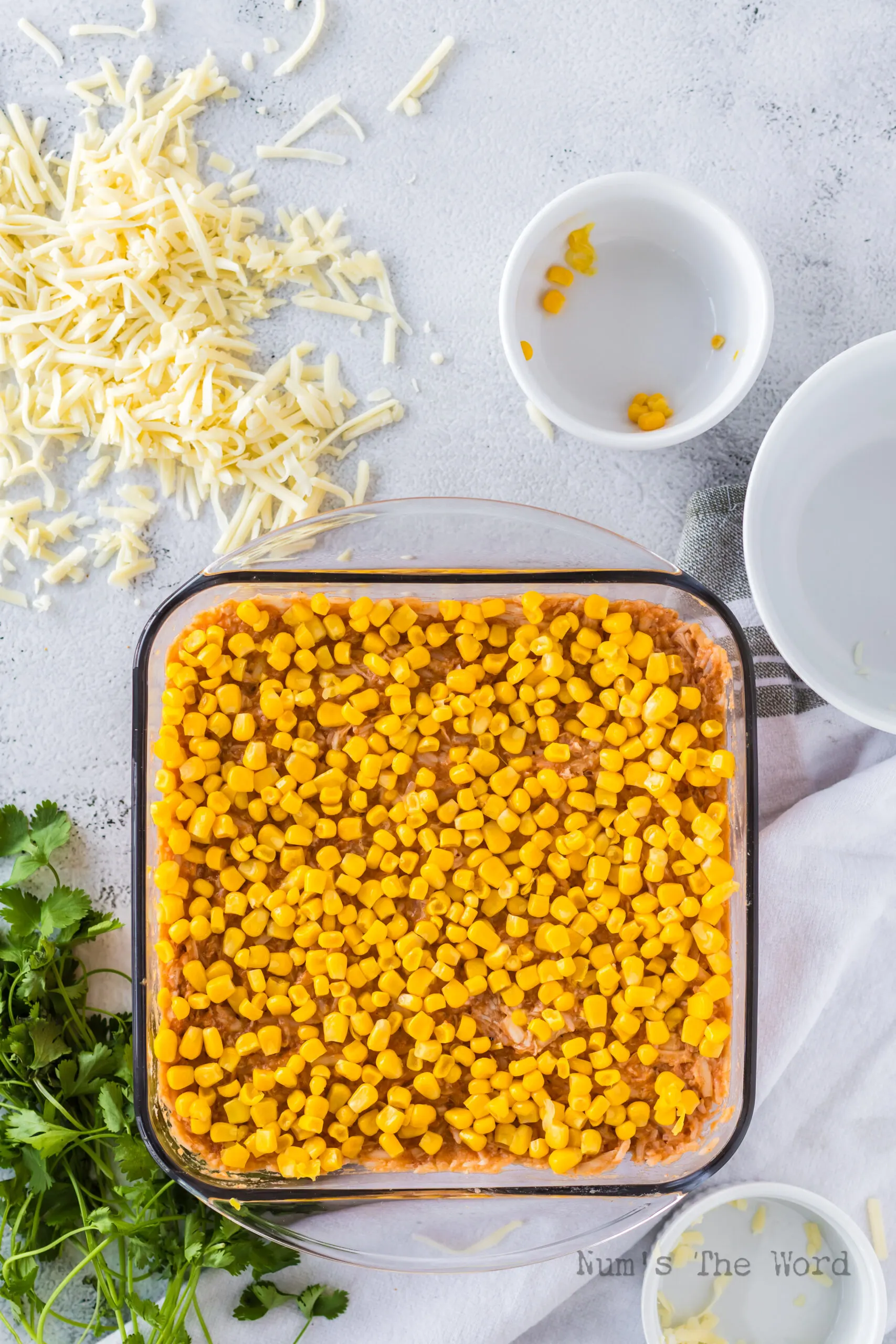 Can You Make Chicken Rice Enchilada Casserole Ahead of Time?
Absolutely! This is great for meal prep on busy nights!
Assemble all the layers, cover your baking dish with aluminum foil, and store in the refrigerator.
When you're ready to serve, just bake as directed.
This makes it great for parties or busy weeknights! You choose!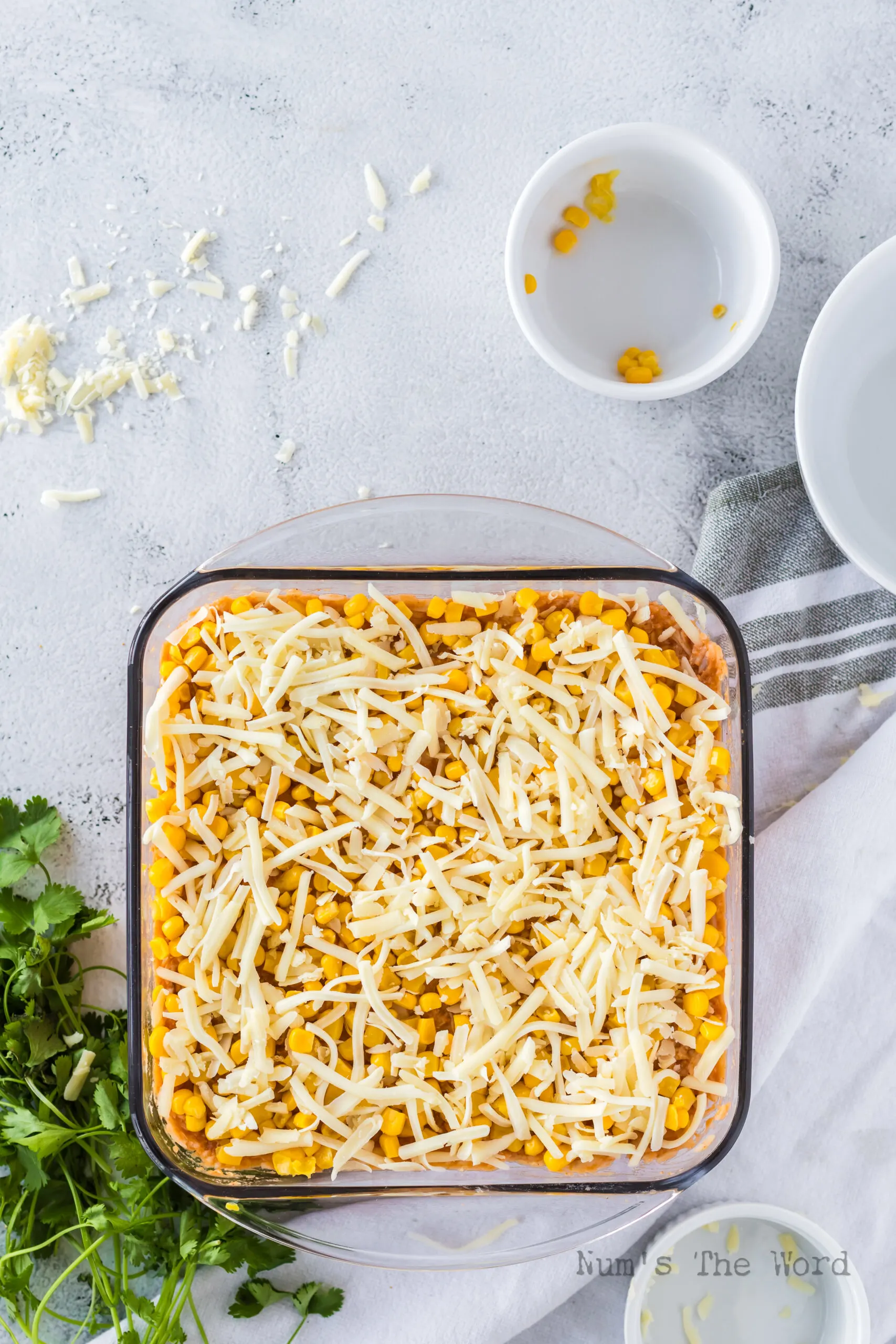 Can You Freeze Chicken Rice Enchilada Casserole?
Yep, this casserole freezes wonderfully!
Just make sure to let it cool completely before wrapping it up and popping it in the freezer.
To reheat, thaw it in the fridge overnight, and then bake until heated through.
I like freezing things like this to give to friends who have had babies or things like that.
Then they can heat it up wherever they need it.
Don't forget though to write the name, date, and cooking instructions on it.
You don't want to go looking for all of that later!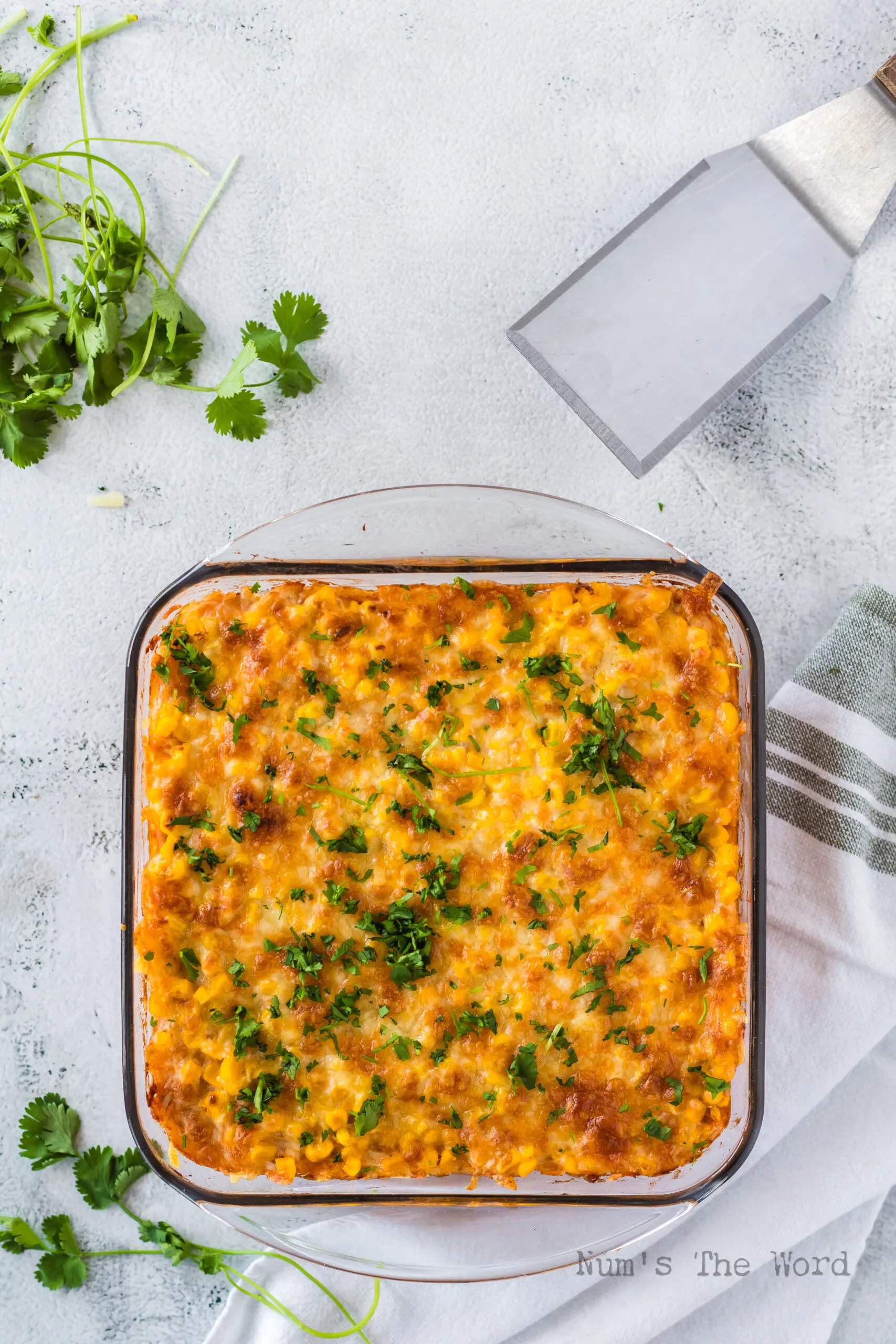 Can Dogs Eat Chicken Rice Enchilada Casserole?
While we humans might love this meal, it's not suitable for our furry friends.
The enchilada sauce and cheese can upset their stomachs.
You really want to be careful with what you feed to animals in general (and that includes dogs!).
Just because they will scarf down pretty much anything you give them, it doesn't mean it's good for them.
Always talk to your vet if they've eaten something you're worried about.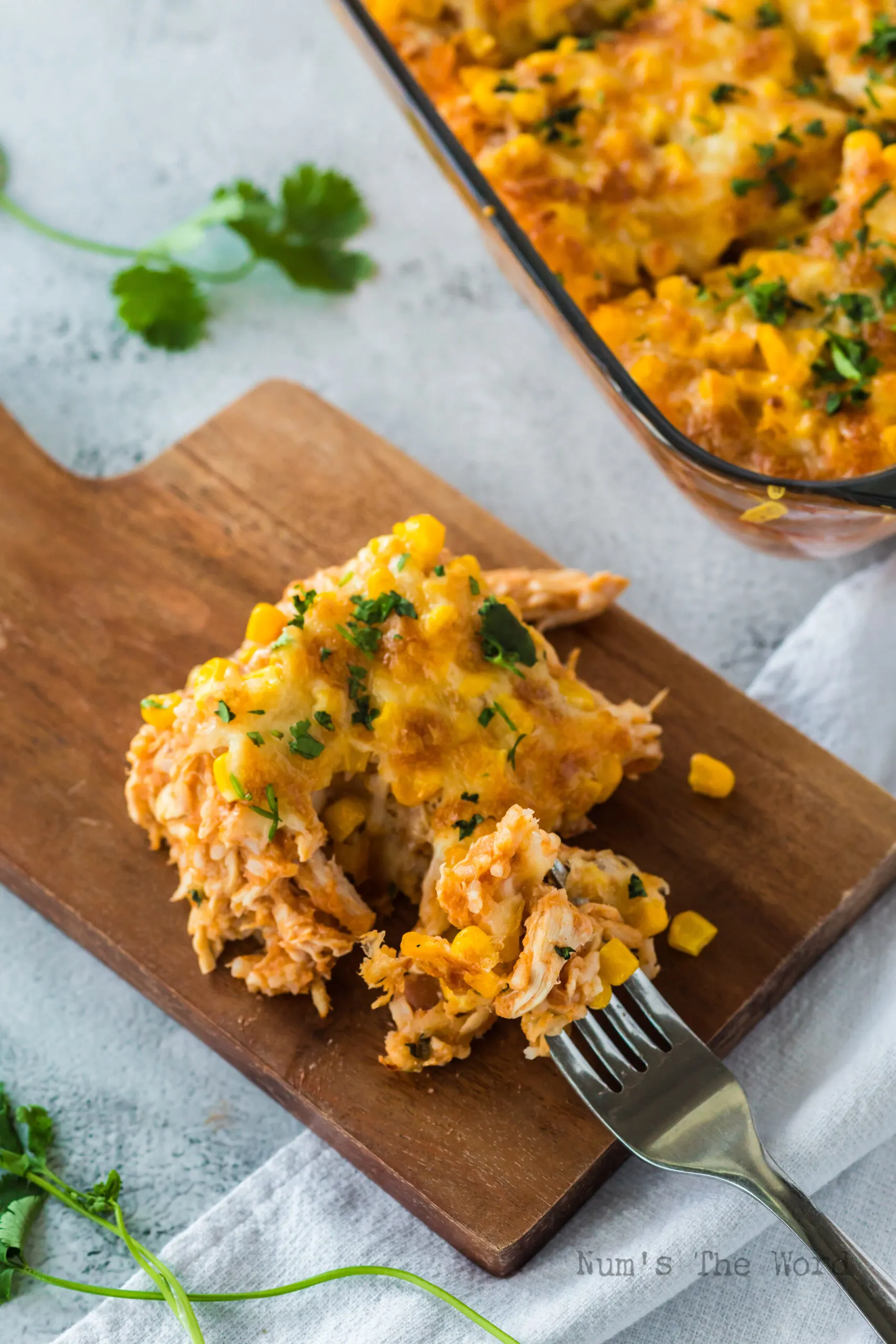 Additional Rice Recipes You'll Love…
So next time you're looking for comfort food with a kick, give this Chicken Rice Enchilada Casserole a go. Your taste buds will be doing a happy dance with every bite!
Yield: 9 Servings
Chicken Enchilada Rice Casserole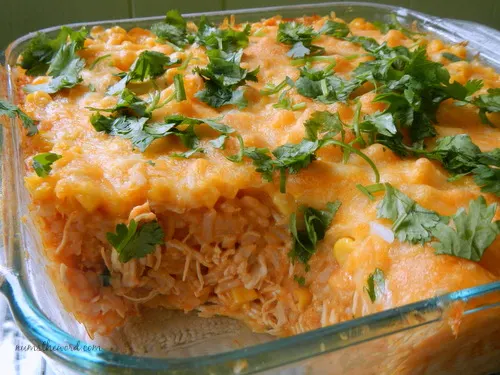 Instructions
Cook the rice according to package directions. I cooked it with 2 cups of water and 2 Tablespoons of butter.
Preheat oven to 350 F degrees.
Mix the 2 cheeses together.
In a large bowl mix the shredded chicken with the enchilada sauce, refried beans and half of the cheese.
Add rice, season with salt and pepper if needed, and mix well.
Pour rice mixture into an 8x8 casserole dish.
Top with corn then with remainder of cheese.
Bake for about 15 - 20 minutes or until cheese melts and is bubbly.
Garnish with chopped cilantro and serve warm.
Nutrition Information:
Yield:
8
Serving Size:
1
Amount Per Serving:
Calories:

164
Total Fat:

7g
Saturated Fat:

3g
Trans Fat:

0g
Unsaturated Fat:

3g
Cholesterol:

46mg
Sodium:

346mg
Carbohydrates:

11g
Fiber:

1g
Sugar:

2g
Protein:

15g
Originally Posted: September 24, 2014
Photos & Text Updated: September 19, 2023