Roasted Winter Vegetables is a quick and easy way to get more vegetables in your diet! Plus oven roasting makes them sweet! Almost like colorful, healthy candy!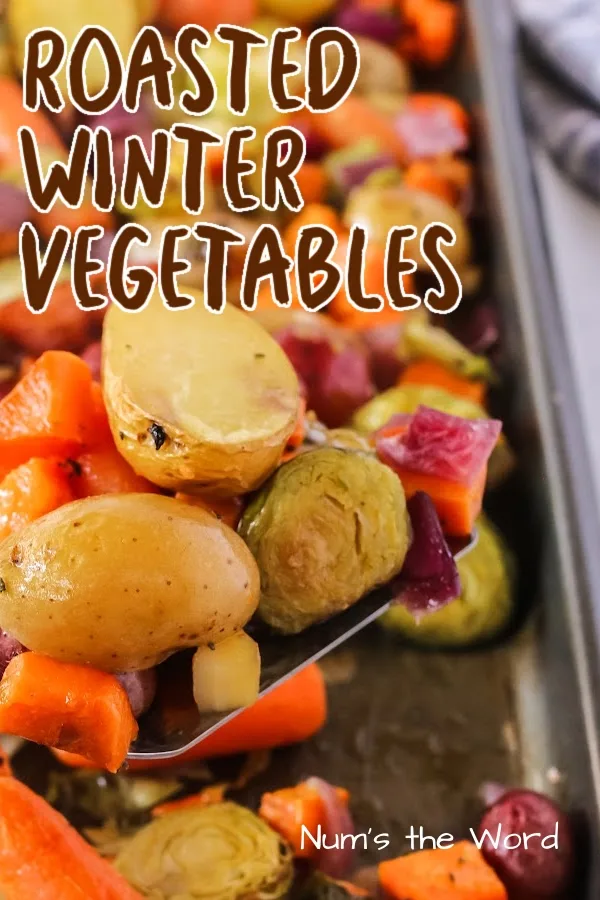 The great thing about roasting vegetables in the oven is that it makes them so sweet! And if you're used to boiled or steamed vegetables, you're really in for a treat!
I love these easy roasted winter vegetables because they take very little work! Just cut them up and roast them!
I also love sheet pan roasted vegetables because it's so easy to customize! Swap out a vegetable, throw in another one, or leave out what you don't need. Easy!
Plus these sheet pan vegetables are chock full of vitamins and minerals! Which means I can literally eat the whole pan and actually feel better about myself!
And this winter roasted vegetables recipe is simple. Simple ingredients. Simple steps and simple life. Ahhh- my favorite.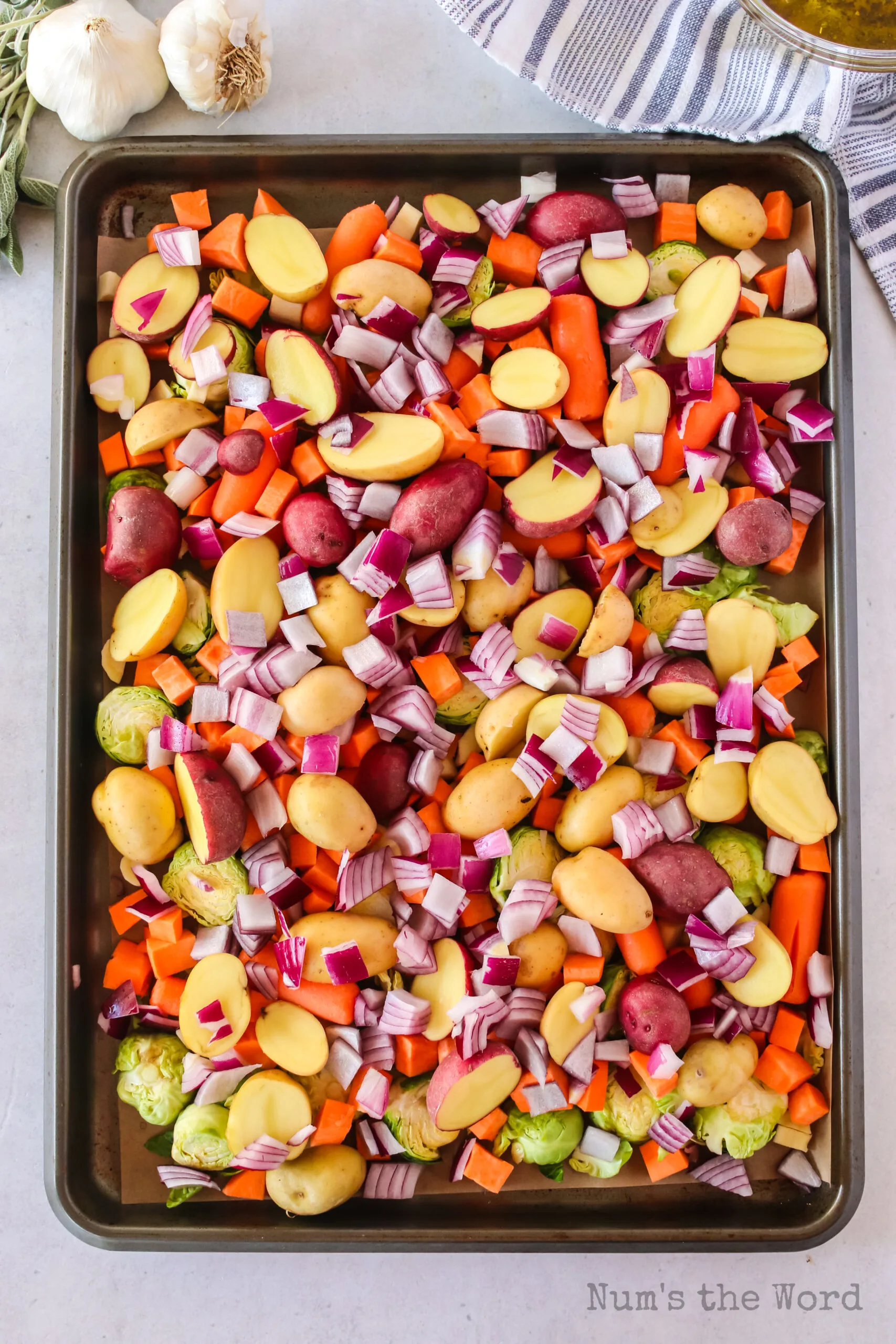 Can You Roast Winter Vegetables?
Definitely! Winter vegetables are easy to roast and taste great. Here's a list of what vegetables would be considered winter veggies:
Kale
Leeks
Mustard Greens
Parsnips
Carrots
Winter Squash
Cauliflower
Turnips
Broccoli
Brussels Sprouts
Radishes
Butternut squash
While I don't use all of those vegetables every time I roast, it's easy to put one of them in if I feel like it.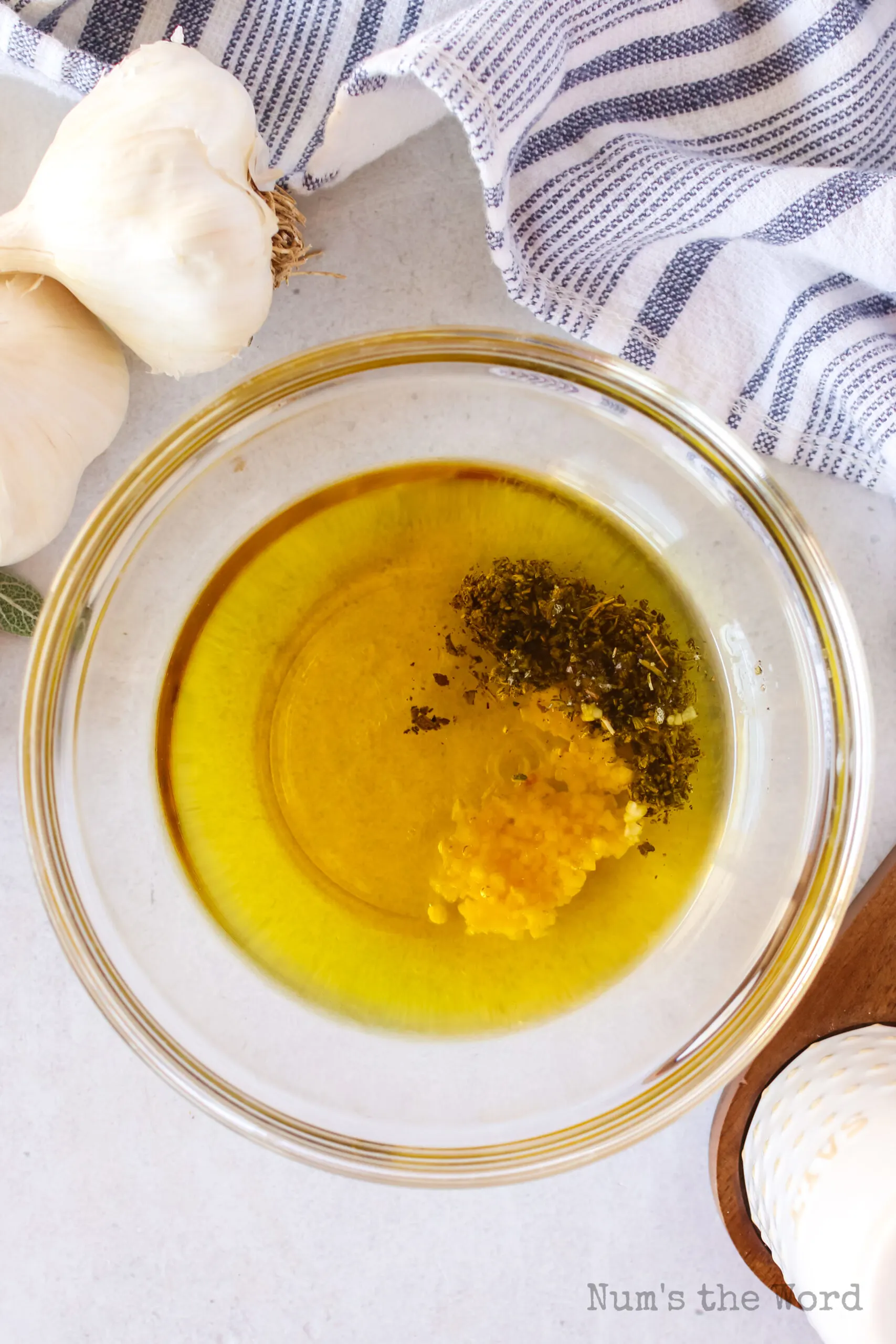 What Vegetables are In This Roasted Winter Vegetables Recipe?
This perfect side dish is one of our favorite ways to bake many different vegetables.
Grab some root vegetables, some cruciferous vegetables, and some other favorite veggies for easy oven-roasted veggies!
Brussel Sprouts: Never boil brussel sprouts! Half them instead and get ready for an actual yummy recipe!
Parsnips: I recommend peeling and cutting the parsnips into ½ inch cubes. The peels can be a little bitter sometimes.
Carrots: If you're using baby carrots, just put them in as is, no cutting required.
Sweet Potato: Follow the same peeling and cutting for these as you did the parsnips.
Gemstone Potatoes: Also known as little potatoes or baby potatoes. They are white, red, or sometimes purple.
Red Onion: Chop the onion also. Red onion is sweeter than yellow onion or white onion but it can be substituted if desired.
In addition to the vegetables, you'll also want to grab a few seasonings and oils to make the roasted vegetables work.
Olive Oil: Don't skimp on the oil or the vegetables will be dry.
Sage: Rubbed sage is an excellent seasoning for winter vegetables.
Garlic: Mince whole garlic cloves. Not only are they really good for you, but they have excellent flavor too.
Pro Tips:
Coconut oil can be subbed for olive oil as it's another high heat oil.
Toss on red pepper flakes for a spicy easy side dish.
If you substitute another type of vegetable, be sure it'll cook in about the same time frame.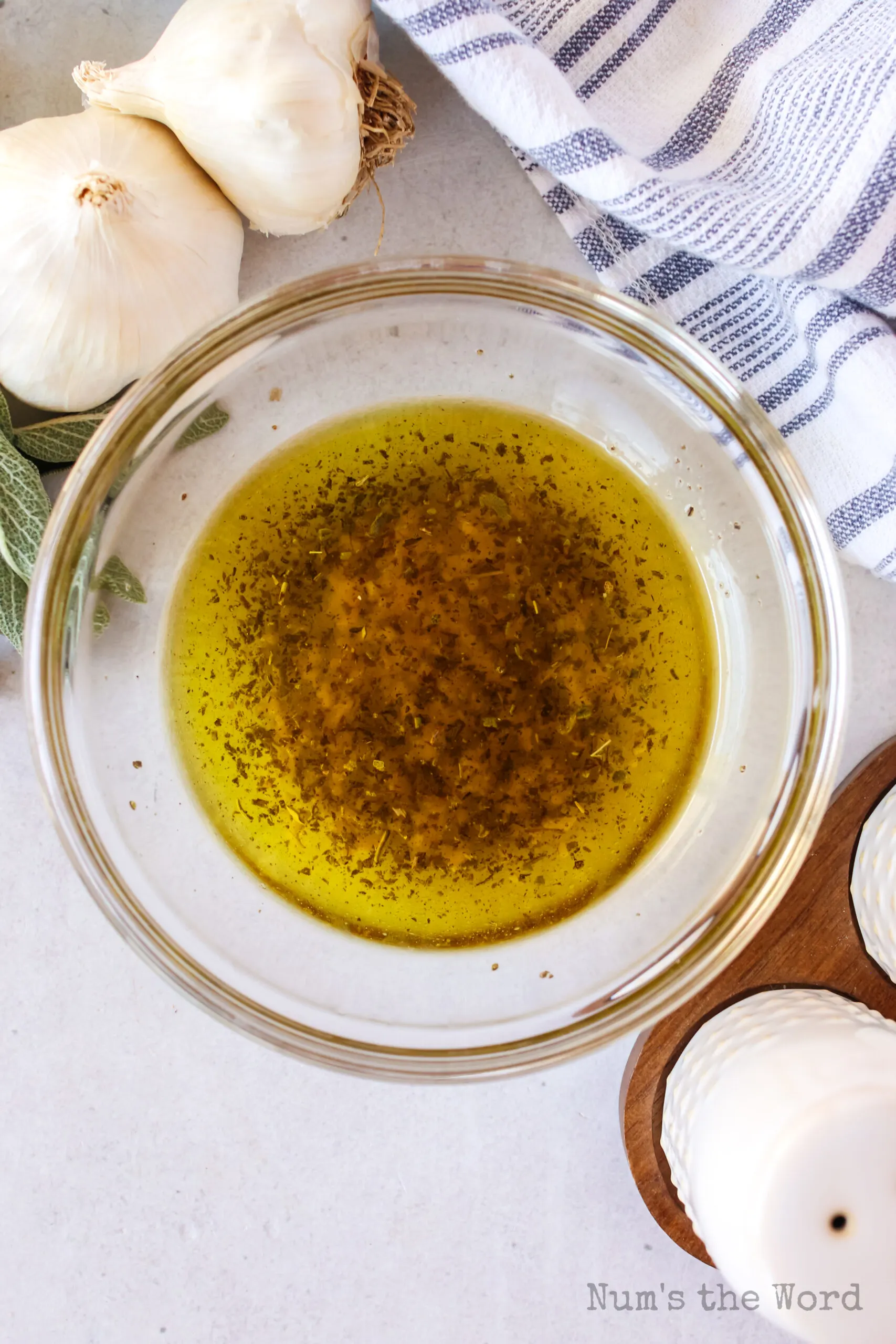 How to Roast Winter Vegetables?
This healthy side dish uses your favorite vegetables and has a delicious flavor from the very first time you bake it!
Mix: Toss the vegetables in olive oil with seasonings on your cookie sheet.
Roast: Bake until perfectly roasted.
Pro Tips:
Line the baking sheet with baking mat, parchment paper, or non-stick foil for easy clean up.
Stir halfway through cooking time to evenly cook the vegetables.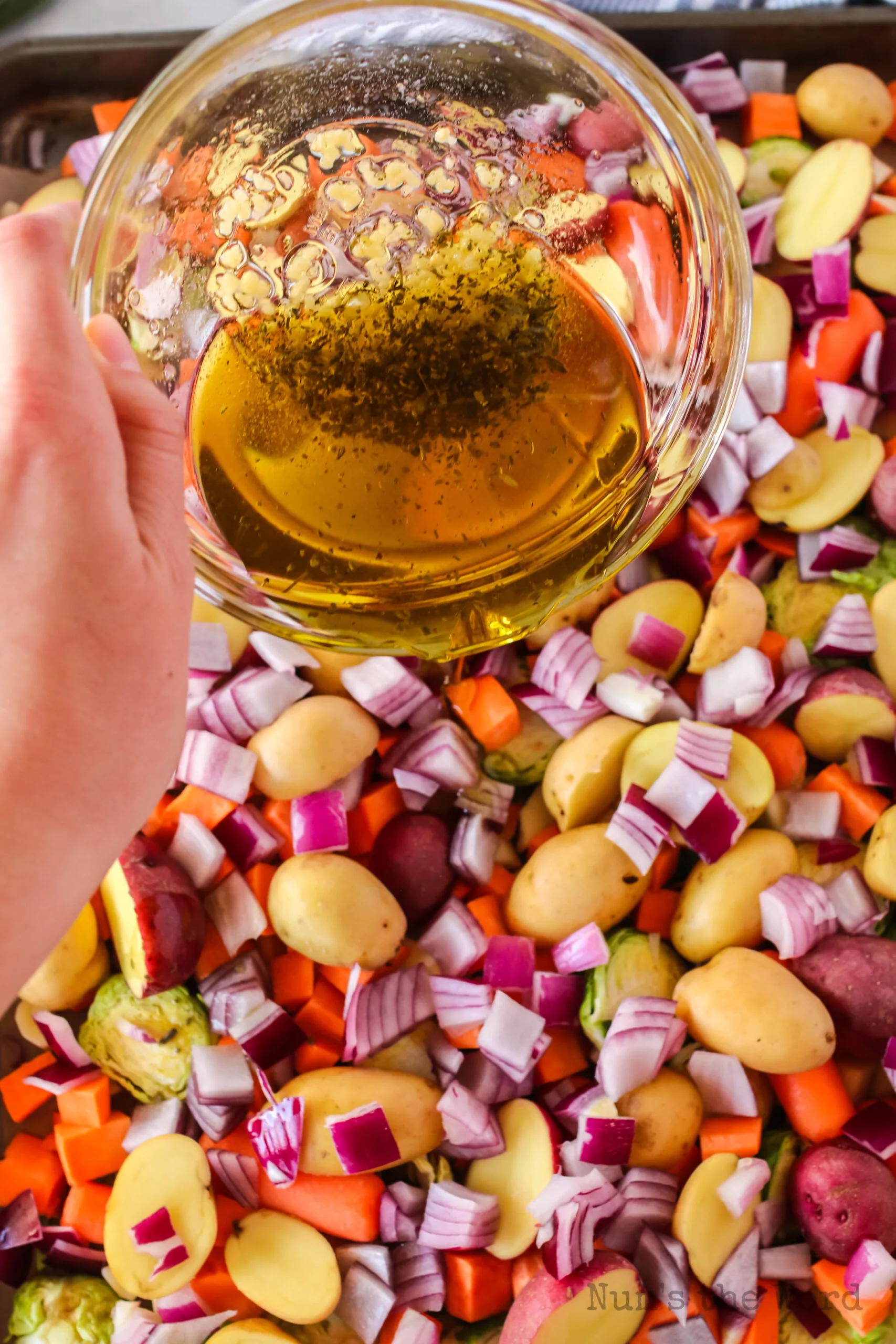 Can You Roast Cranberries with Your Winter Vegetables?
Absolutely! Cranberries are another popular food during the winter.
And while they technically are a fruit and not a vegetable, that doesn't mean they can't be roasted!
And when you see them on sale, they're hard to pass up! Which means I usually end up with a few extra bags!
While you can can them or use them in a host of other recipes, you can also just roast them!
Toss them in with the rest of your different kinds of vegetables and enjoy that way!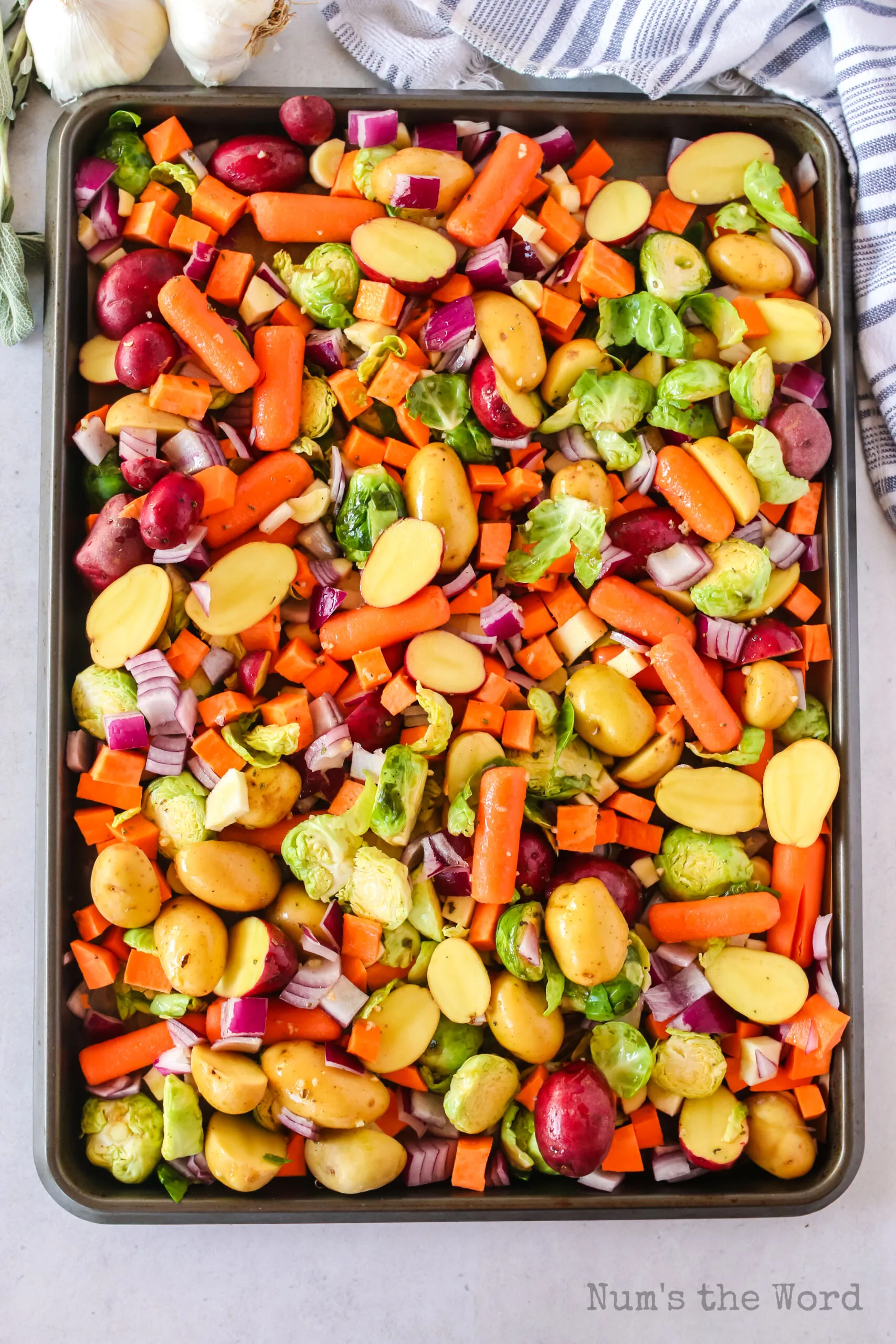 What Temperature to Roast Winter Vegetables?
Easy roasted winter vegetables requires a higher heat. You need hard vegetables like carrots and sweet potatoes to bake through.
So I recommend baking at 375 degrees F. You'll also need the hot oven preheated before you toss in the different types of vegetables.
That temperature isn't too high to burn the vegetables but not too low so that they steam more than roast.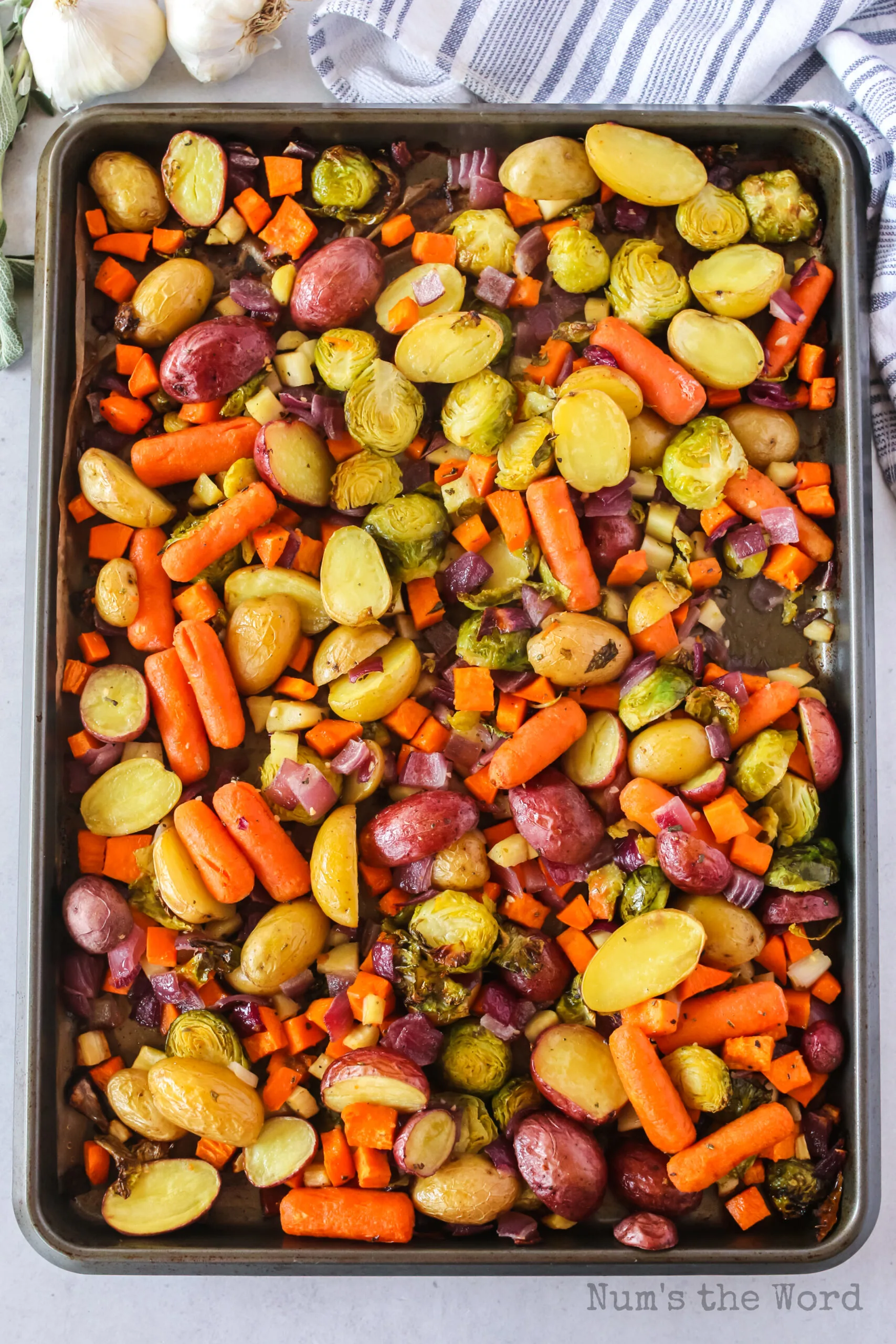 Are Roasted Winter Vegetables Healthy?
Perfect roasted vegetables are seriously good for you. As far as healthy food goes, it's one of the best things you could eat!
It's easy to get your daily values of vitamin c, vitamin a, fiber, magnesium, potassium, B vitamins, phosphorus…. Okay I could go on but you get it!
The great thing about roasting a big sheet pan like this too is that it isn't all just one vegetable.
It's got many different kinds of fresh vegetables all with their own nutritional profile!
While I commend you for trying to scarf down an entire plate of kale, your body actually needs more vitamins than just kale!
We're meant to have variety. It is the spice of life as they say! But it's really good for you too!
So eat up this easy roasted vegetable recipe!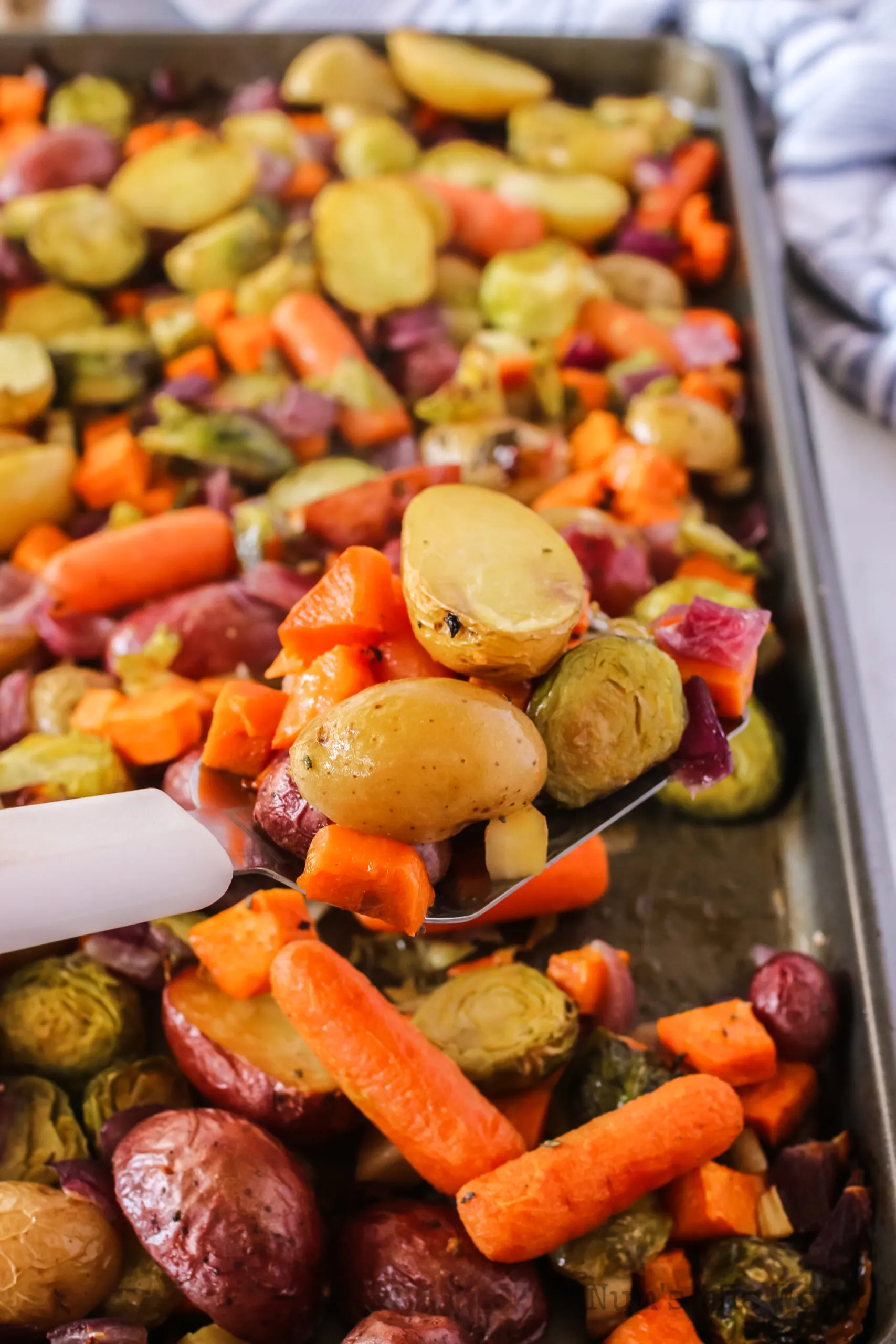 How to Store Roasted Winter Vegetables?
If you have leftover oven roasted vegetables, storing them for later is easy.
Any leftover roast vegetables should be stored in an airtight container.
First, allow them to come to room temperature, then transfer to a bag or tupperware.
Then keep the oven-roasted vegetables in the fridge until you're ready to eat them.
This delicious side dish can be stored for up to 5 days in the fridge. Reheat them in the oven or the microwave.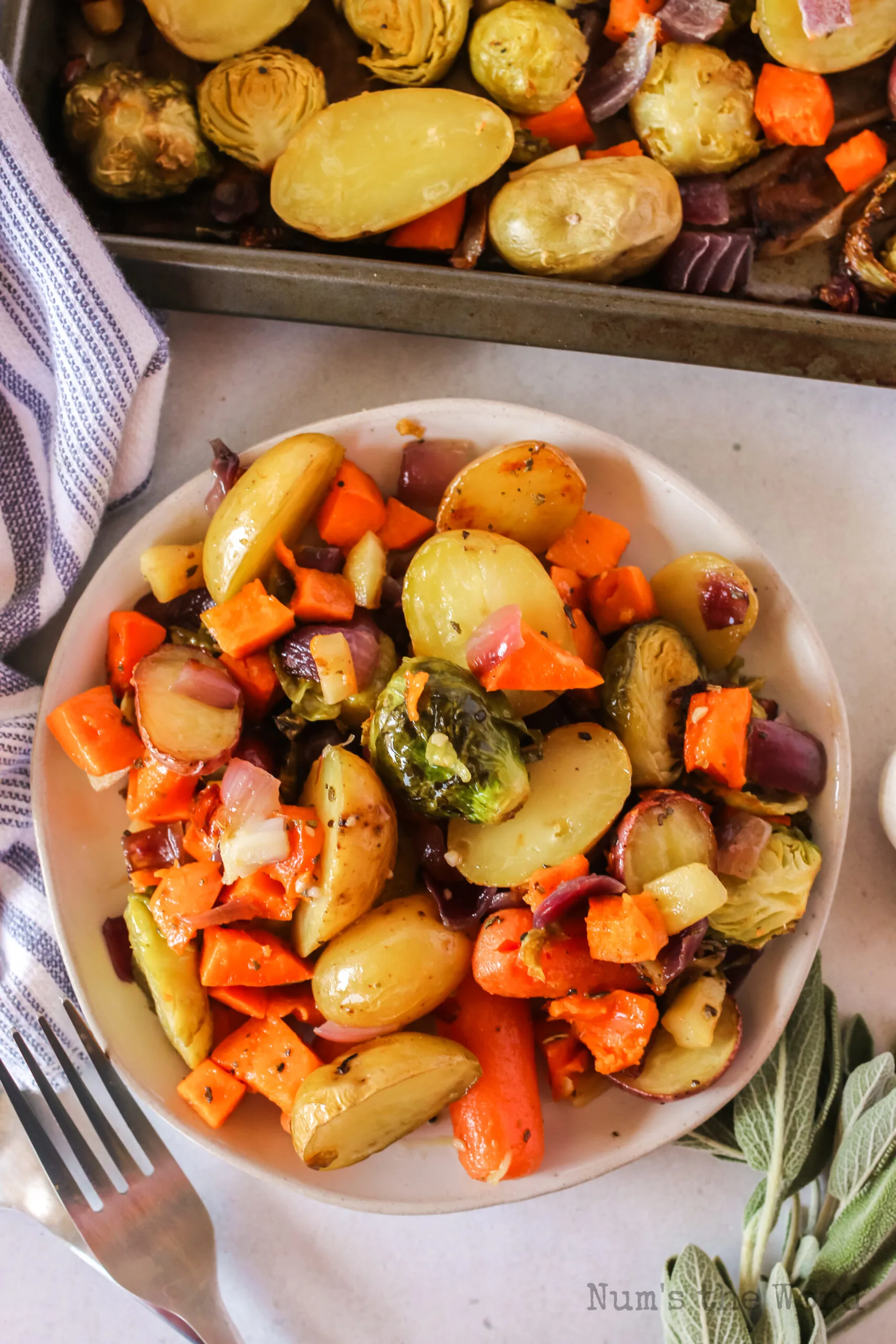 Roasted Winter Vegetables are the perfect way to get your vitamins in while enjoying them at the same time! Easy and delicious, even your picky eaters will enjoy them!
Yield: 12 Servings
Roasted Winter Vegetables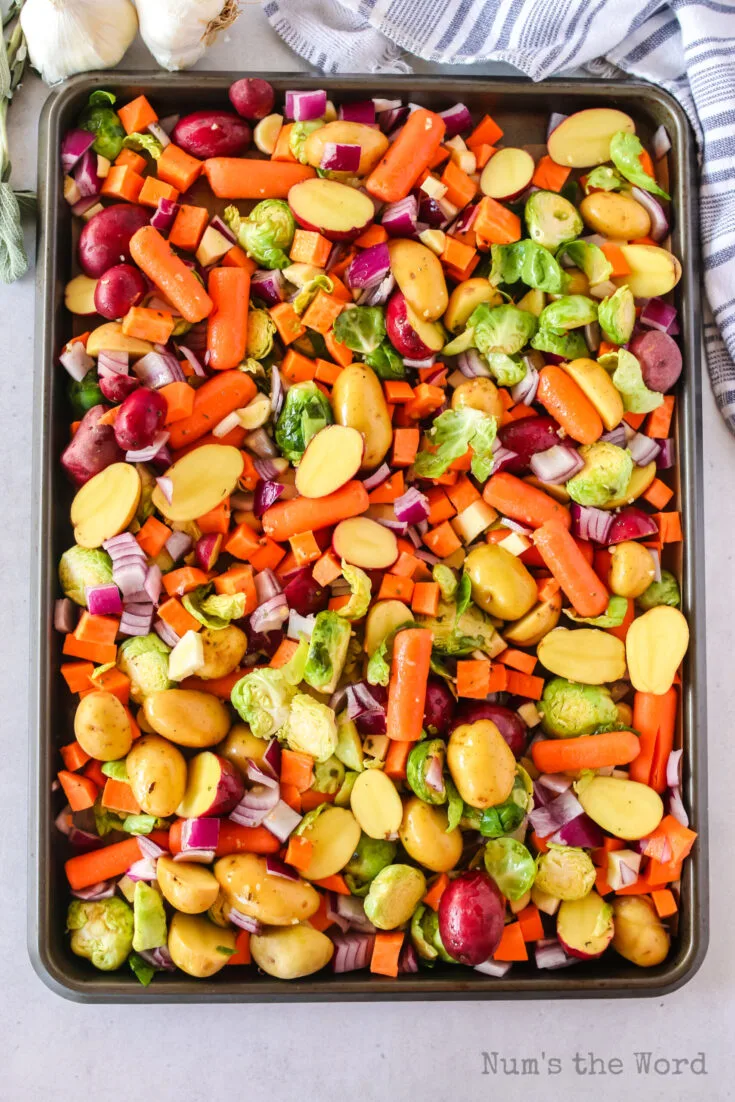 Roasted Winter Vegetables is a quick and easy way to get more vegetables in your diet! Plus oven roasting makes them sweet! Almost like colorful, healthy candy!
Total Time
1 hour
15 minutes
Instructions
Preheat oven to 375*F
In a small bowl, combine olive oil, sage and garlic. Set aside.
Line a cookie sheet with a baking mat, parchment paper or non-stick foil.
Add all prepared vegetables to the baking sheet.
Drizzle olive oil mixture onto vegetables, making sure to scrape the bowl to get all the flavor.
Gently toss vegetables and olive oil to ensure all vegetables are coated.
Bake uncovered in the oven for 45 minutes - stirring at the 25 minute mark.
Serve with your favorite main dish.
Nutrition Information:
Yield:
12
Serving Size:
1
Amount Per Serving:
Calories:

133
Total Fat:

9g
Saturated Fat:

1g
Trans Fat:

0g
Unsaturated Fat:

8g
Cholesterol:

0mg
Sodium:

26mg
Carbohydrates:

12g
Fiber:

2g
Sugar:

3g
Protein:

2g