Learn how to get perfectly Roasted Butternut Squash Halves with this easy recipe! They're a cinch to make and are the perfect fall side dish!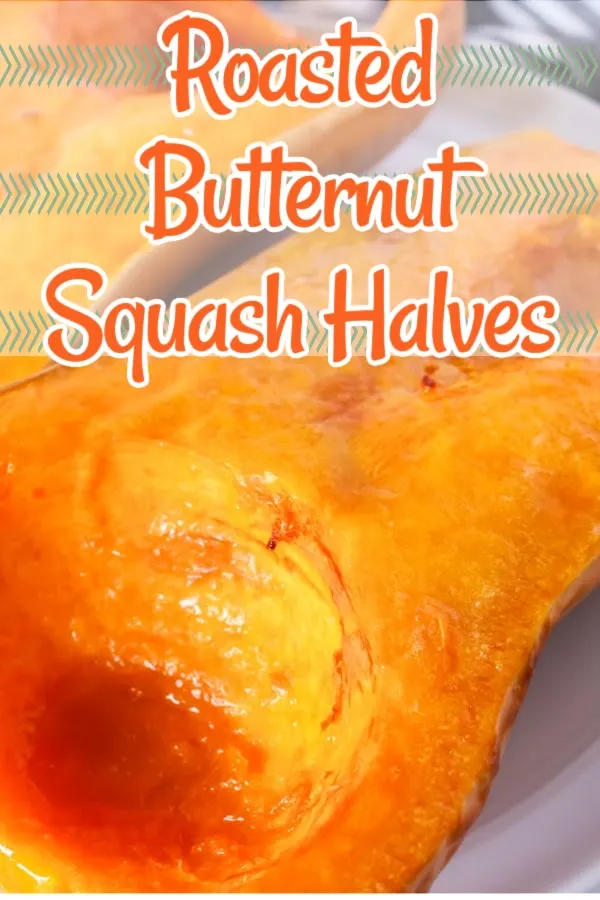 Butternut squash is such an undervalued vegetable! They're easy to grow in your backyard garden, packed with nutrition, and can be used in so many ways!
I love making this roasted butternut squash recipe because it literally takes a few minutes to get it in the oven! So simple!
And making oven roasted butternut squash also means I have a whole butternut squash to use in the yummiest fall dishes!
Plus easy roasted butternut squash is so good for you! Potassium, Vitamin A, fiber, and magnesium make this dish a total nutritional powerhouse.
And let me tell you, the best roasted butternut squash halves are actually a very versatile side dish!
So let's break down everything you need to know about making roasted butternut squash halves.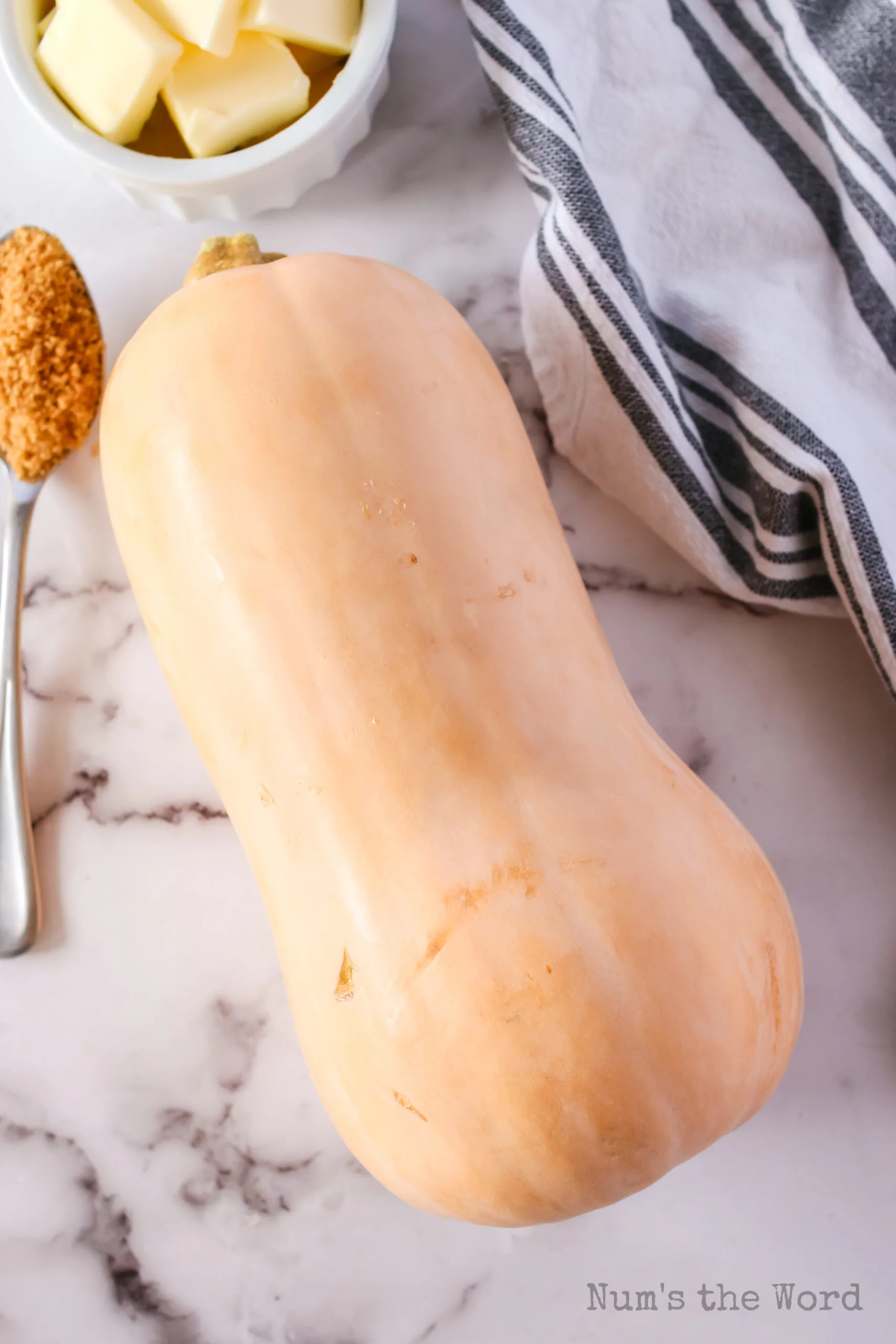 What Do You Need to Roast Butternut Squash?
Okay, you're really only going to need a few simple ingredients for roasted butternut squash.
Butternut Squash: Pick fresh butternut squash that doesn't have any deep cuts or bruises.
Butter: You could sub this out with oil but the deep flavor of butternut squash pairs well with butter.
Brown Sugar: That sweet molasses-maple flavor is perfect for butternut squash.
You'll also need a few tools but they're very basic!
Large Sharp Knife
Cutting Board
Baking Dish
Pro Tips:
Your knife MUST be sharp. The butternut squash skin is really tough and not easy to cut through.
If brown sugar isn't your thing try sea salt, black pepper, or a fresh herb mix instead.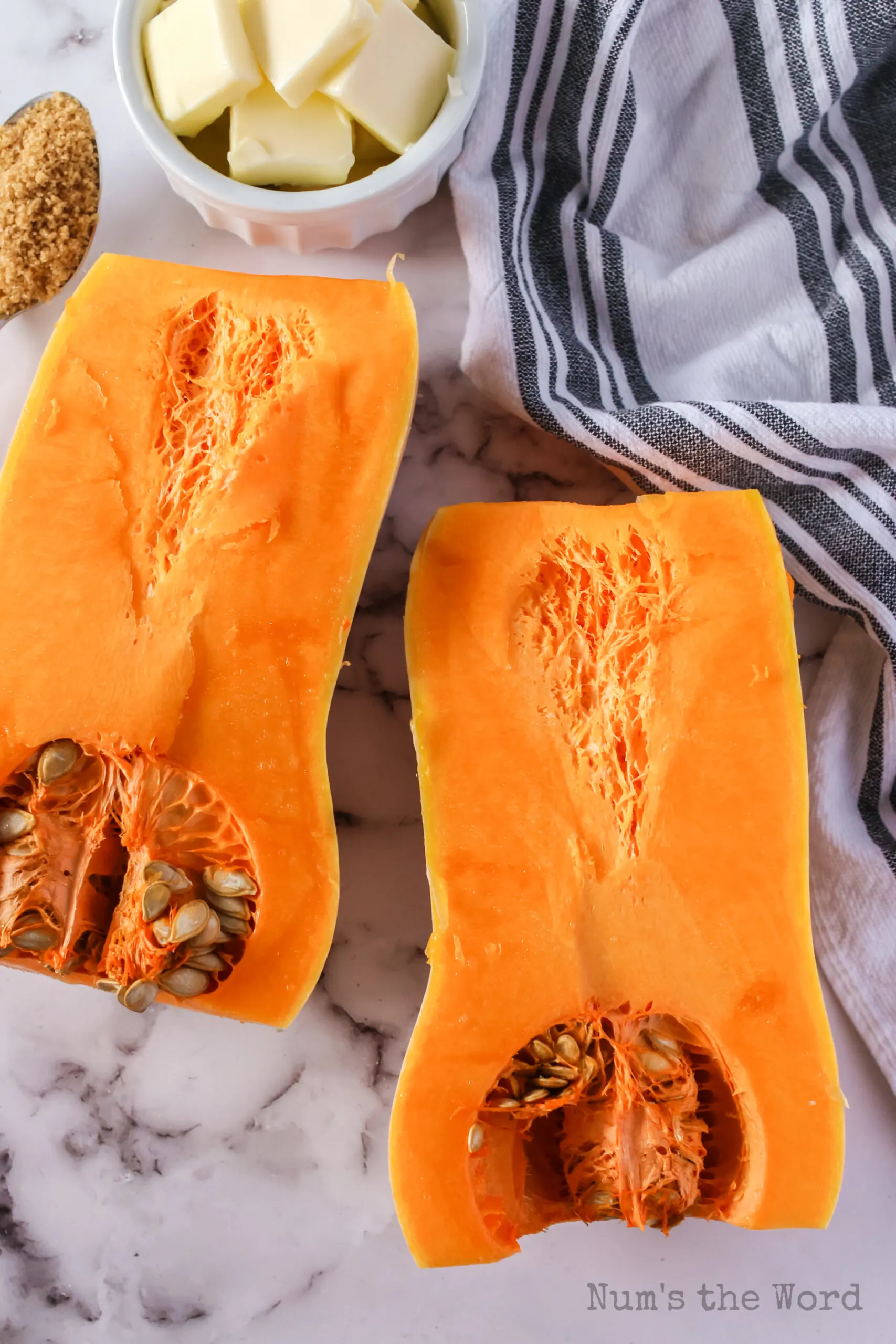 How to Roast Butternut Squash
One of the most asked questions is how do you roast butternut squash? Here is an easy way to get a healthy side dish.
Prep Butternut Squash: Use the knife to cut the stem off the butternut squash and cut in half. Then scoop out the seeds.
Season: Pour on the melted butter and mix with brown sugar before baking for extra sweetness.
Bake: The size of the squash will determine how long to bake it for. Look for fork tender!
Pro Tip: You can save the butternut squash seeds and roast them like pumpkin seeds to eat later!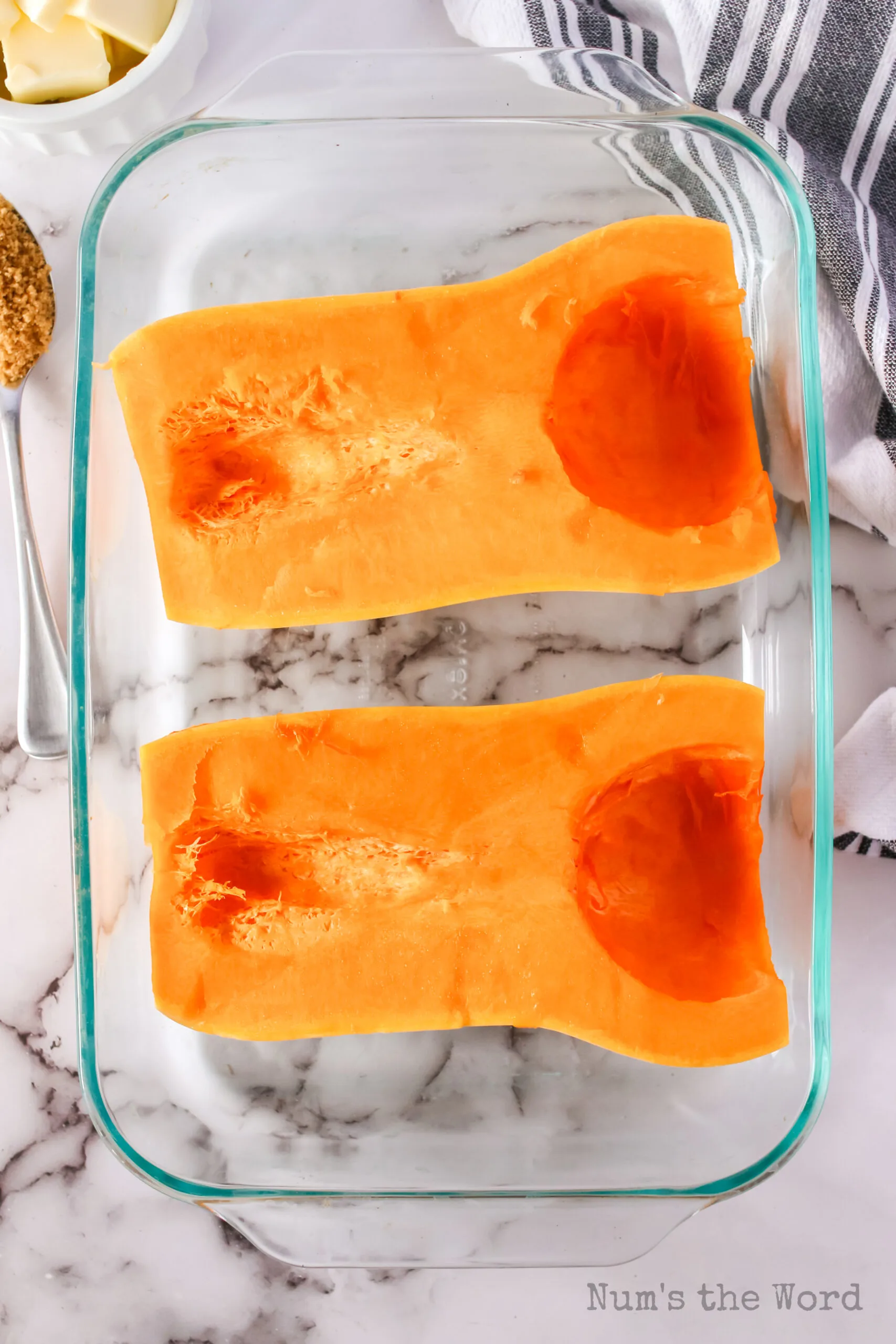 Can You Roast Frozen Butternut Squash?
Absolutely! When winter squashes are out of season or you just really need it quick, pick up a bag of frozen butternut squash.
A lot of grocery stores will carry frozen butternut squash even out of season, though you'll find more of it in season.
Or you can freeze your own butternut squash from the garden to preserve it.
Since butternut squash is most often frozen in 1-inch cubes, you won't need to do any prep work before roasting.
Simply open the bag and spread the frozen squash on the cookie sheet lined with parchment paper for easy cleanup.
Then drizzle with butter or olive oil and sprinkle with brown sugar.
It'll take about 20 minutes at 450 degrees to roast from frozen. No need to thaw.
Be sure to toss the halfway and keep an eye on them to keep them from burning.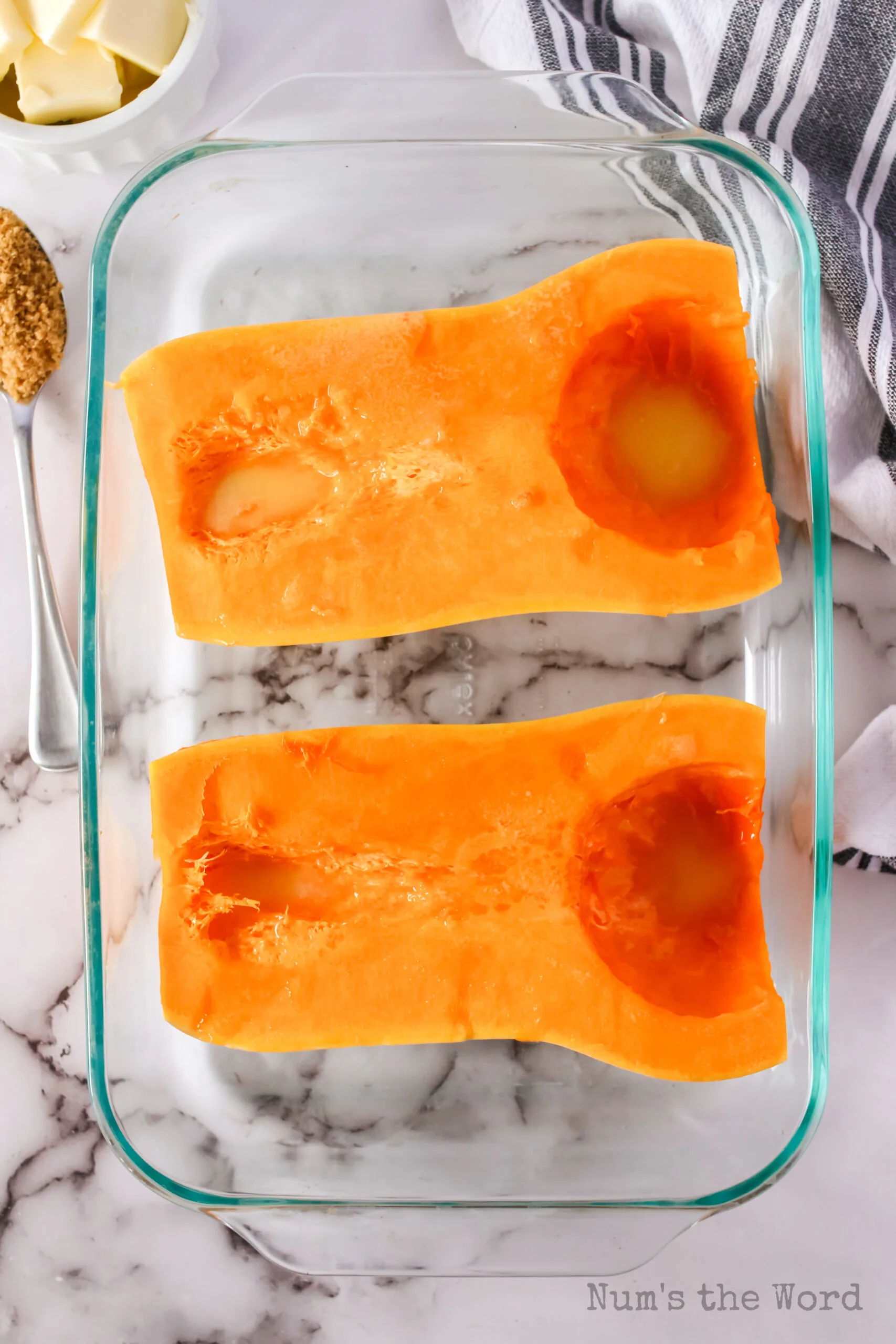 Can You Roast Butternut Squash with the Skin On?
Definitely! Why cut all that tough skin off unless you have to? So don't pull out your vegetable peeler just yet!
When making Roasted Butternut Squash Cubes, it's best to remove the skin.
That's because the skin will never become as soft as the flesh and it'll be difficult to get off after roasting.
But if you're making roasted butternut squash halves, there's no need to cut the skin off. And actually it'll be easier to scoop if you don't.
Place butternut squash on your pan with it's skin on and save yourself the extra time and effort!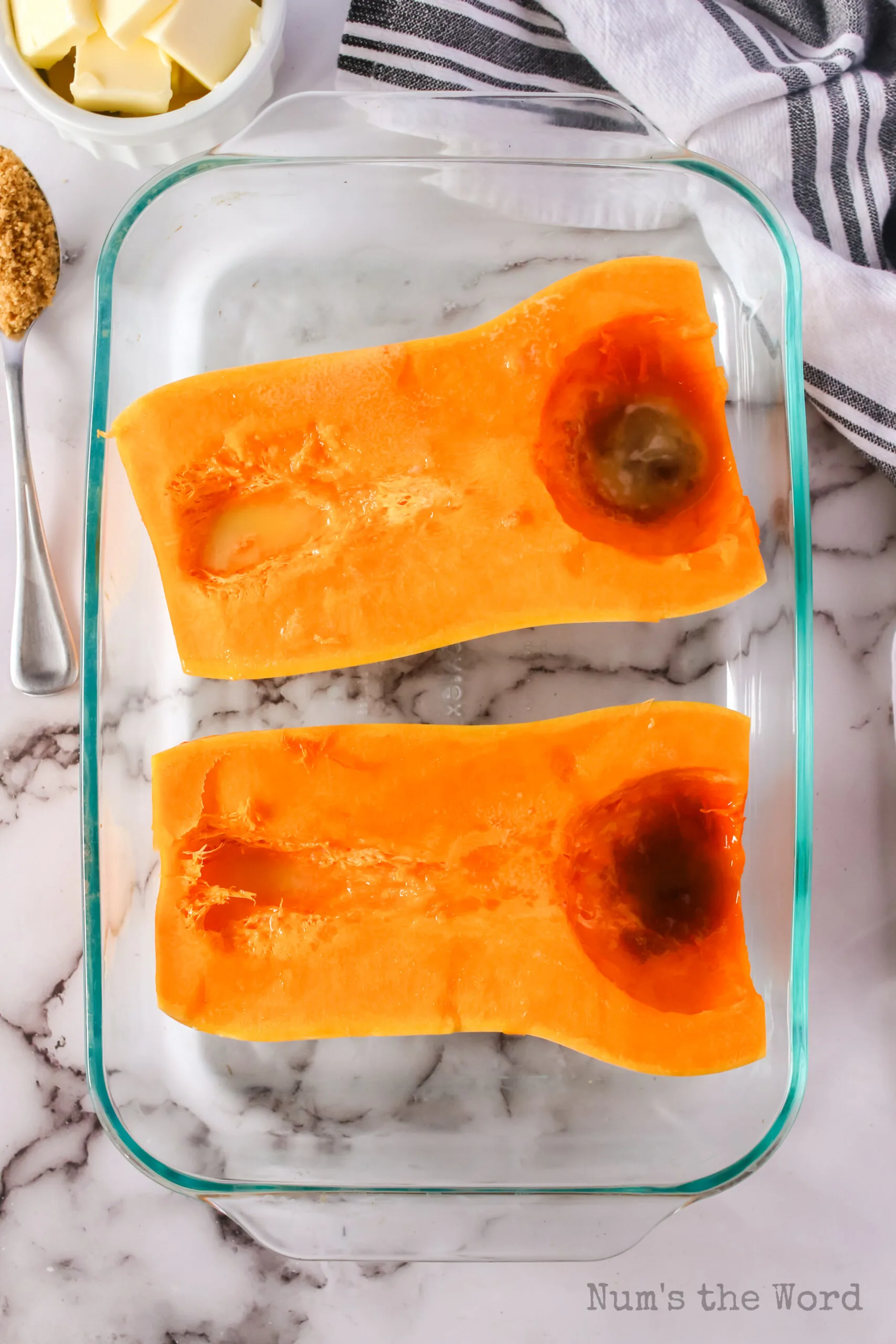 How to Serve Butternut Squash
There are so many delicious ways to serve halved butternut! Here are some easy ones!
As is: With all that butter and brown sugar, this is a tasty and easy side dish that doesn't require any more work!
Delicious Dessert: Toss on some maple syrup, a dash of cinnamon, and a big scoop of vanilla ice cream! Yum!
Mashed: Scoop out all the flesh, and season with salt and pepper to taste.
Stuffed: Put a big scoop of Apple Cranberry Stuffing on each half! It's the best way to serve it!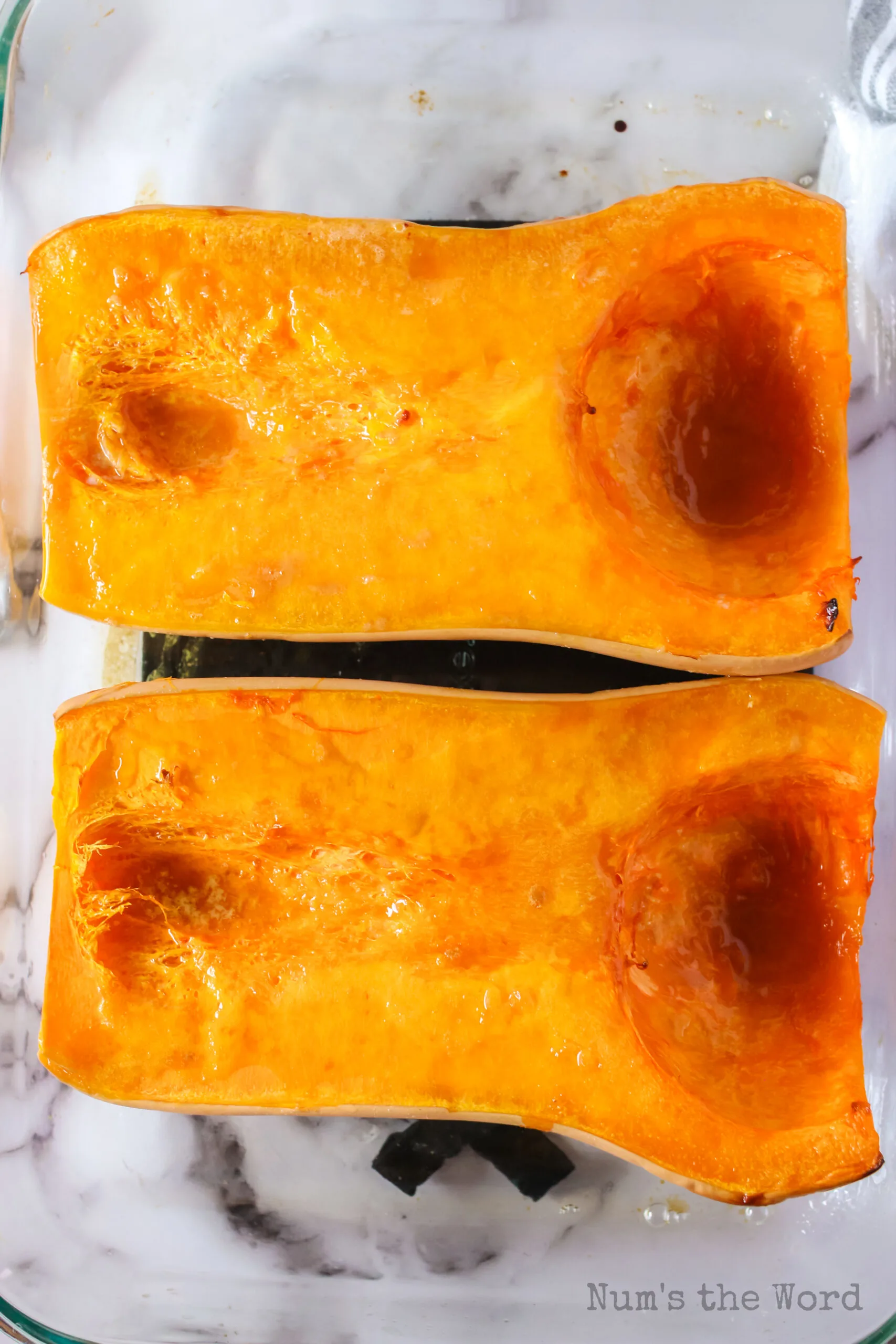 What to Serve with Butternut Squash
As a classic holiday and fall treat, most foods you find on the Thanksgiving table would be great with butternut squash.
Here are some simple ideas to get you started:
Green Beans with Bacon and Brown Sugar
Honey Baked Ham
Cooking a Turkey in a Bag
Creamed Corn Casserole
Cranberry Relish
Best Apple Crumb Pie
Cashew Salad
Any time of year you serve this butternut squash, it's sure to be a hit!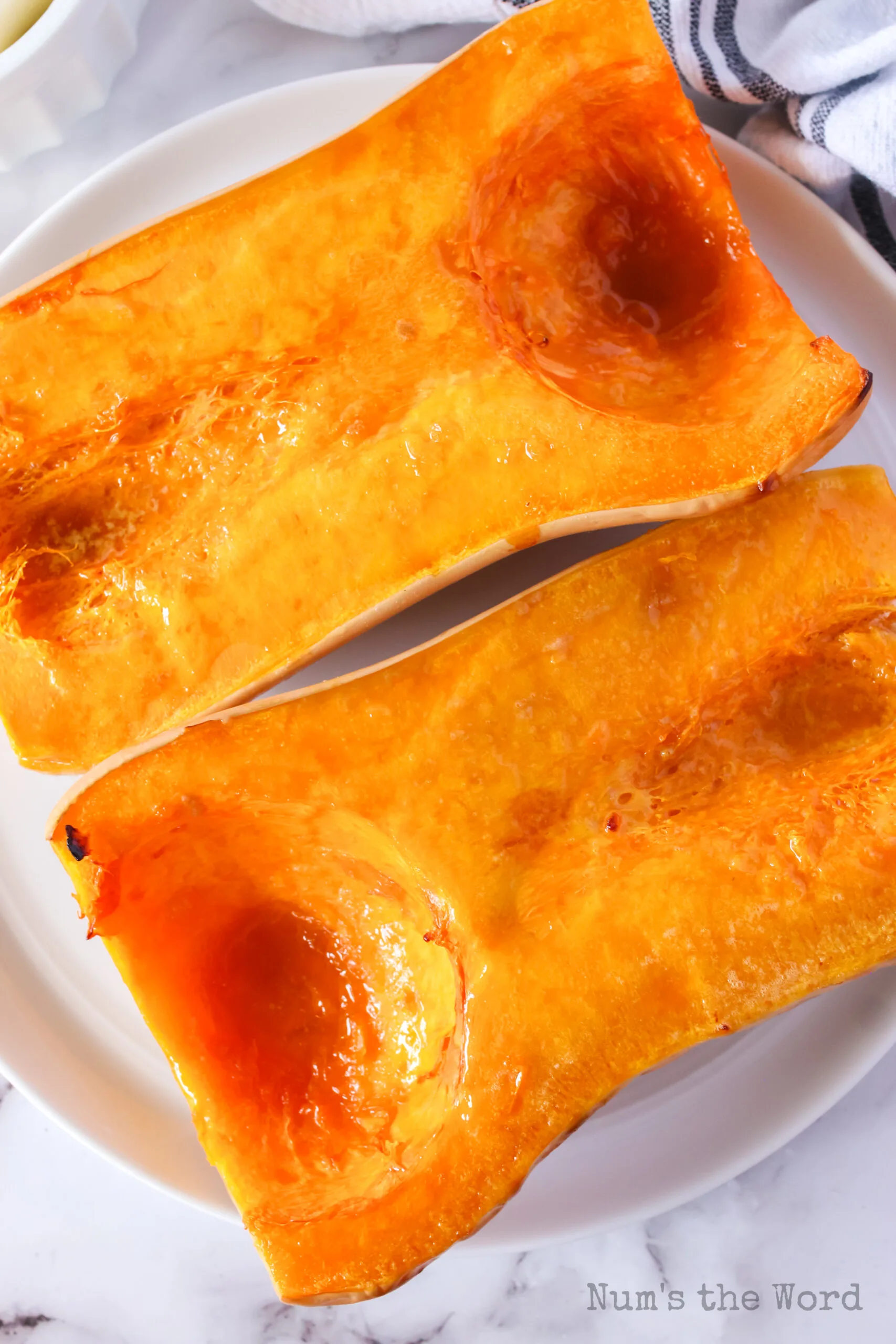 How to Store Roasted Butternut Squash
Store any leftover butternut squash in the fridge.
Be sure to first let it come to room temperature. Then wrap the whole butternut squash halves in plastic wrap or aluminum foil.
Or scoop out all the flesh and store in an airtight container or bag.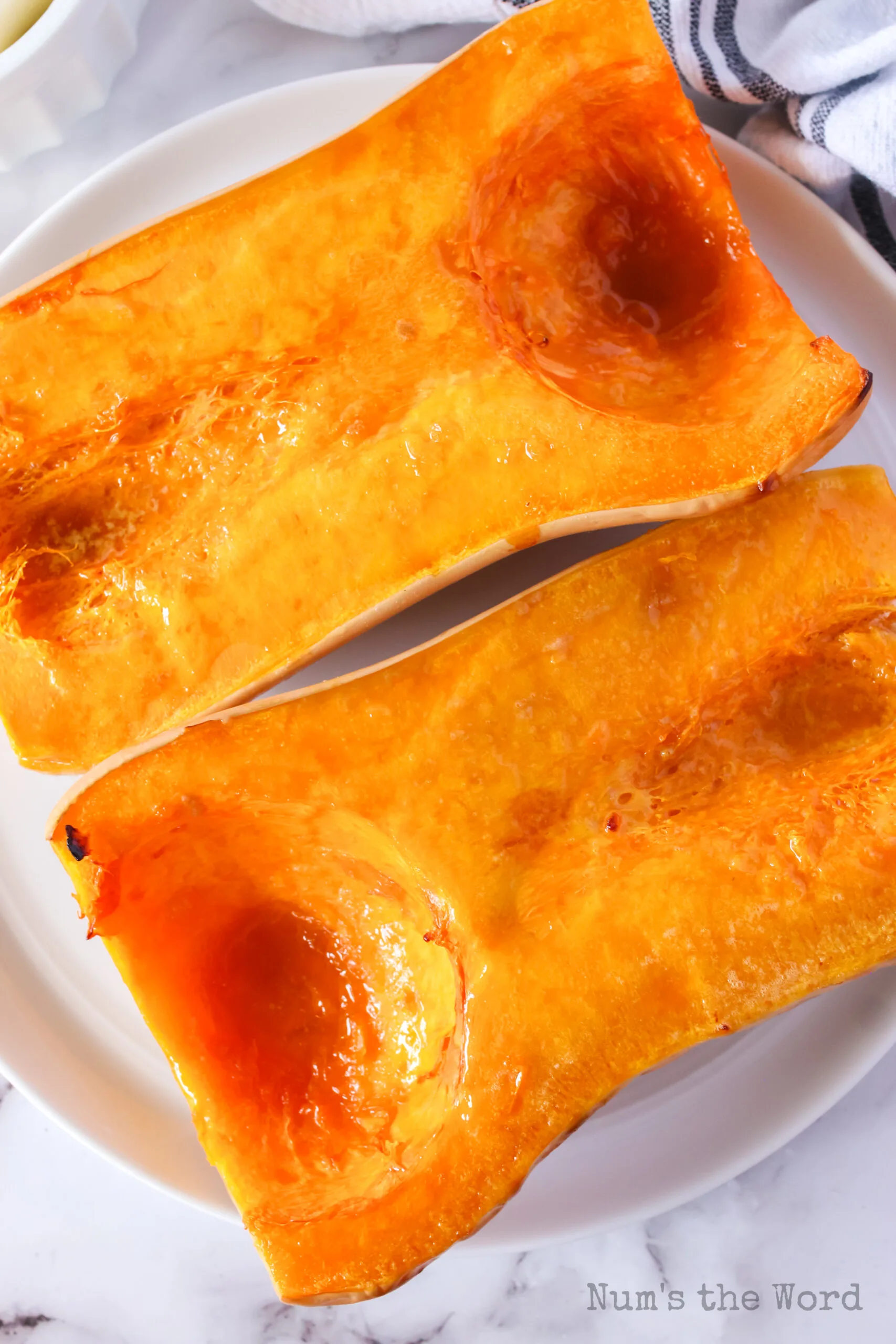 What to Do With Leftover Butternut Squash
My all time favorite way to use up leftover butternut squash is to make this Leftover cold butternut squash salad.
It is also perfect for hiding in recipes it might otherwise not be found!
It's actually really great in recipes that call for pumpkin or sweet potatoes.
I find in pumpkin recipes, most people can't even tell the difference!
So try these:
Pumpkin Bars with Cream Cheese Frosting
Snickerdoodle Cheesecake Cookies
Pecan Crusted Sweet Potato Casserole
Pumpkin Cupcakes with Cake Mix
Maple Whipped Sweet Potatoes
Sweet Potato Rolls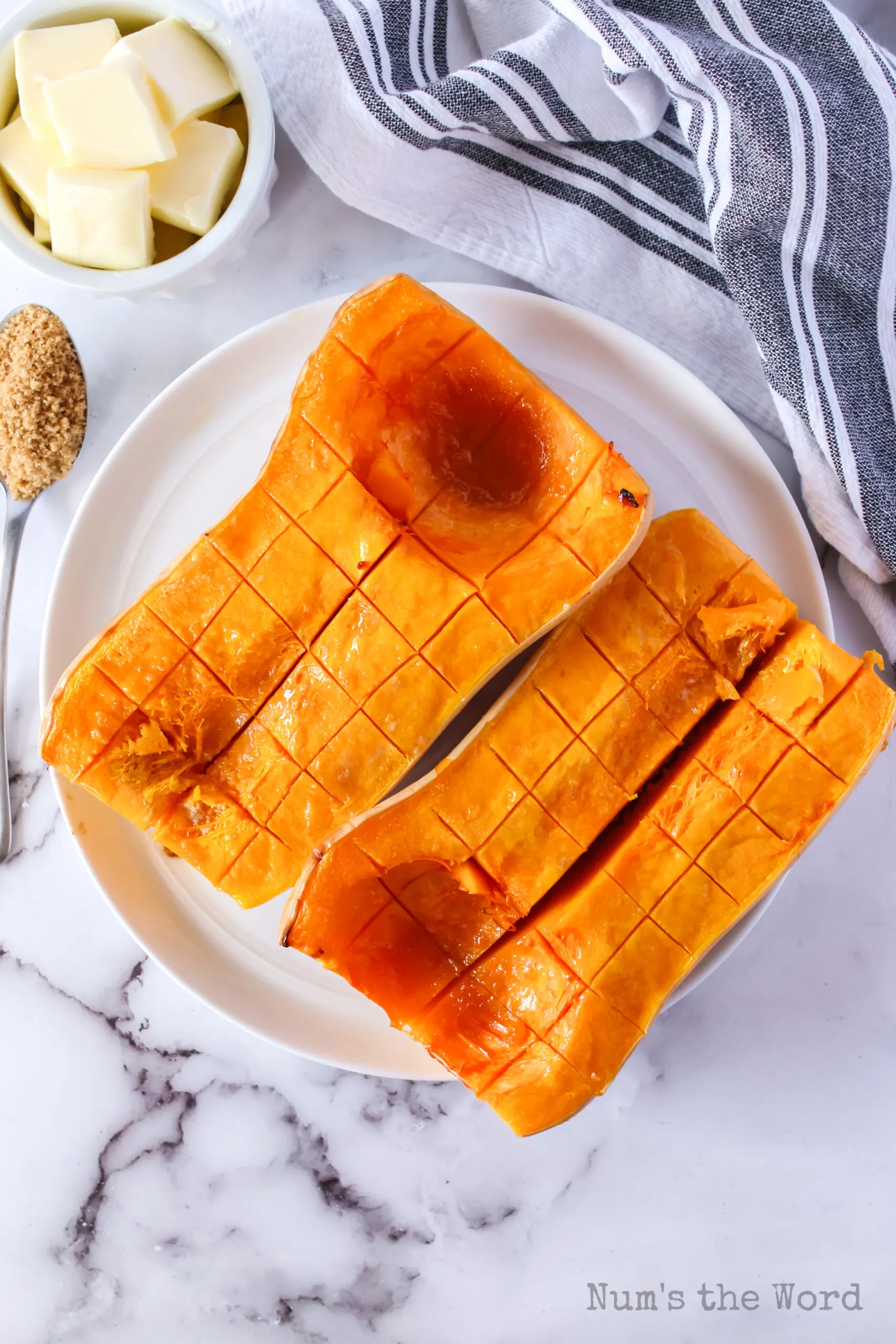 Can Roast Butternut Squash be Frozen?
You can definitely freeze roasted butternut squash.
Allow the squash to come to room temperature, scoop out all the flesh, and place in a freezer safe bag.
The roasted butternut squash can be safely frozen for up to three months.
I find I don't like to eat the roasted butternut squash plain after it's been thawed as the texture will change a bit.
Instead, use the butternut squash in one of the recipes listed above.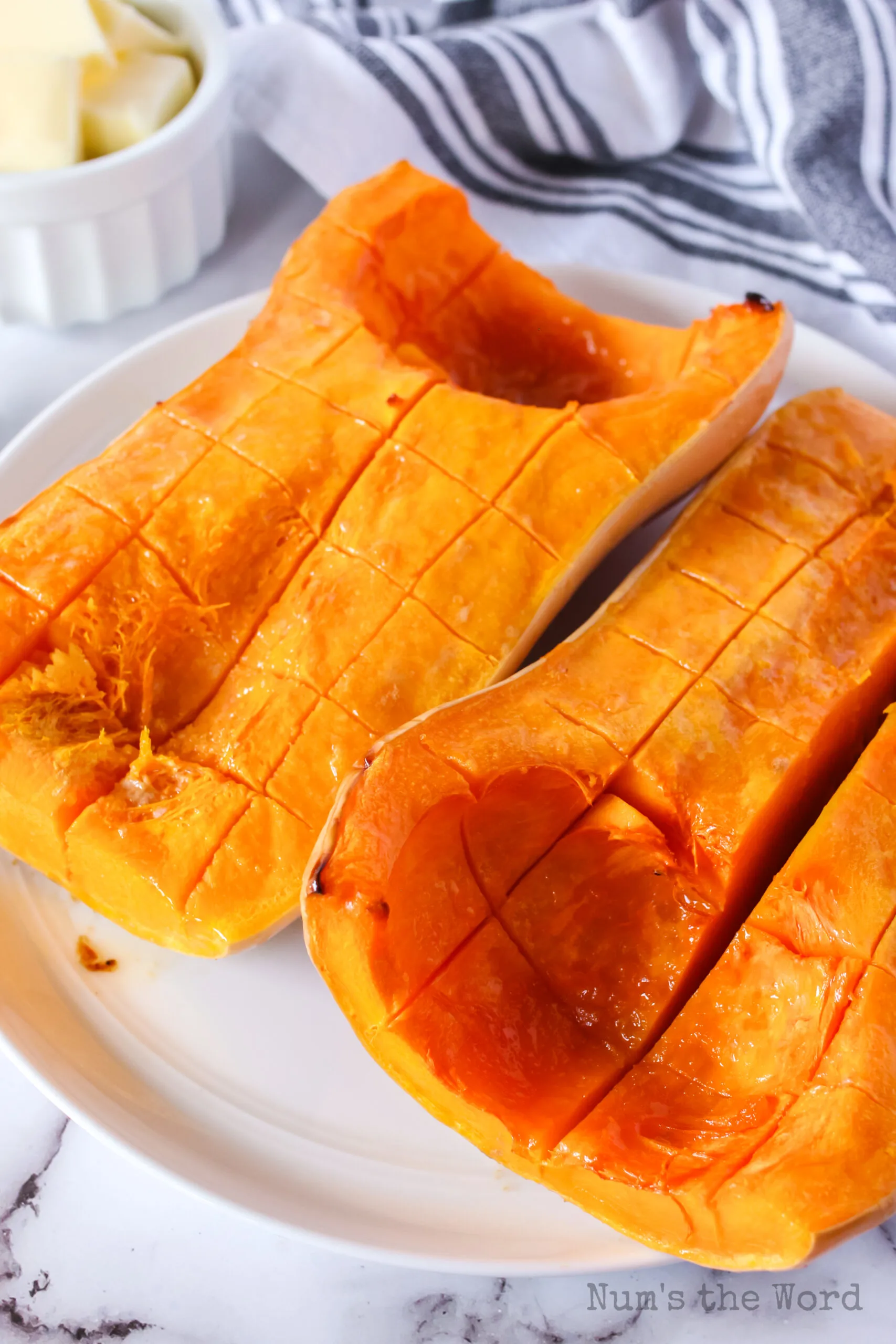 Roasted Butternut Squash Halves are an easy and delightfully simple side dish! Serve on your holiday table and enjoy!
Yield: 4 Servings
Roasted Butternut Squash Halves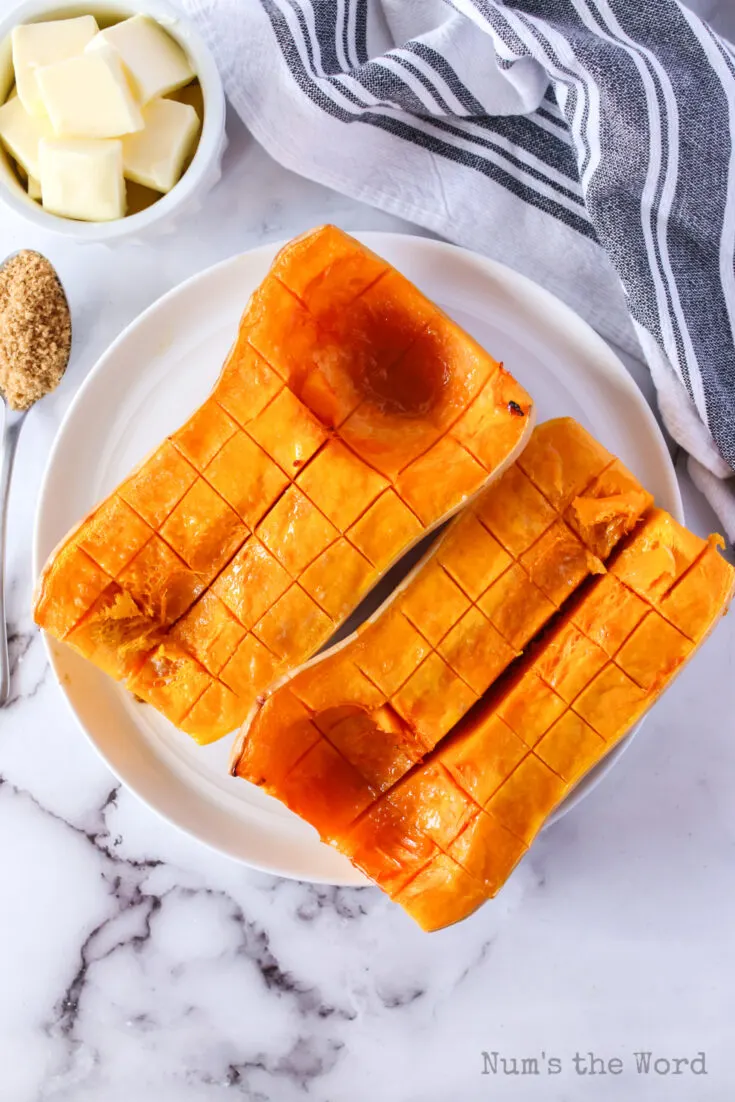 Learn how to get perfectly Roasted Butternut Squash Halves with this easy recipe! They're a cinch to make and are the perfect fall side dish!
Instructions
Preheat oven to 400*F
Wash and dry your butternut squash.
Cut off stem and end.
Starting with the thickest end, cut squash in half lengthwise.
Scoop out seeds.
Place squash in greased 9x13 casserole dish.
Melt butter and spread melted butter over the flesh of squash. Pour remaining butter in the cavities of each squash half.
Add 1 teaspoon of brown sugar to each squash cavity and mix.
Place squash in the oven and bake for 40-50 minutes depending on the size of your squash, until fork tender.
Remove from the oven and spoon brown sugar butter mixture over the squash flesh.
Serve immediately.