Broccoli Cashew Salad is an easy and delicious side dish or main dish. It comes together quickly and has incredible flavor too!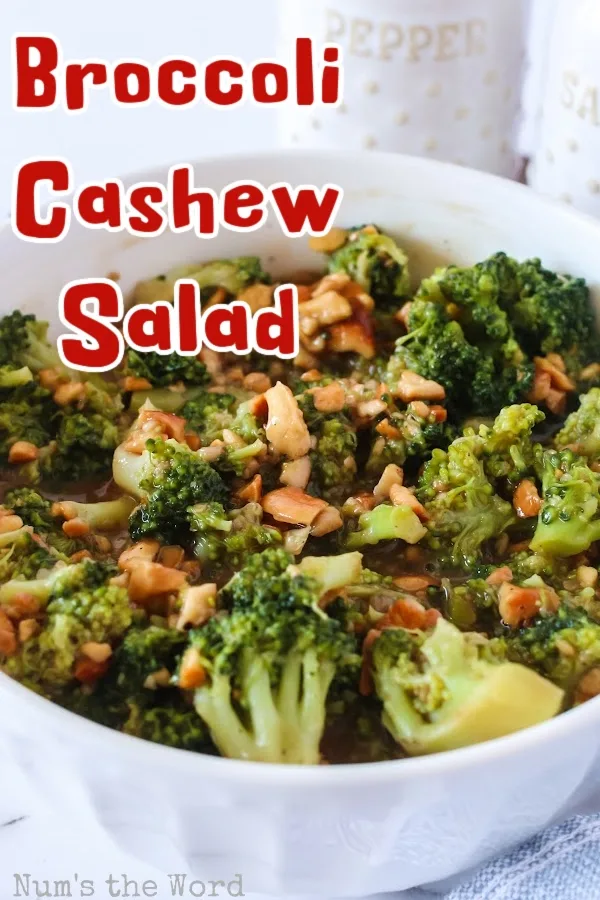 Broccoli and cashews make the perfect pairing. The crunchiness of the broccoli and cashews give you wonderful texture too!
This garlic cashew broccoli is one of our family favorites! Even the kids will eat it! Which is saying something!
I like to make cashew broccoli with a perfect side dish of noodles or rice and I've got an instant filling meal!
And I love that cashew and broccoli is so easy to customize. Pair it with lots of different veggies or meats for easy personalization.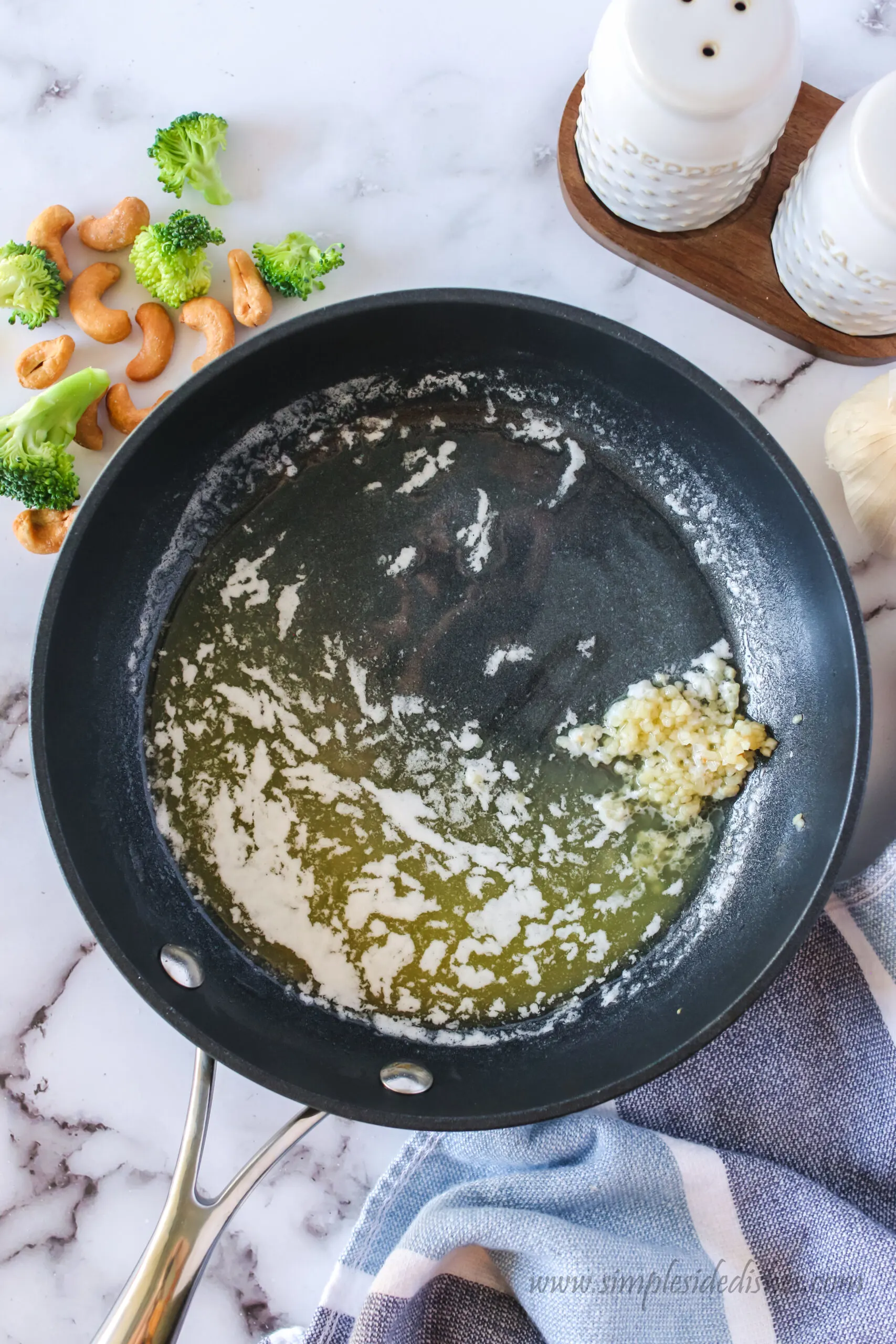 What is Cashew Broccoli?
Broccoli cashew salad is a super delicious salad that always includes at least two things: broccoli and cashews!
It almost always includes some sort of dressing, which can be creamy, savory, or even spicy.
After that things can vary widely! Sometimes it includes fresh fruits like pears, apples, or cranberries.
Other times you'll find the salad filled with bell peppers, red onion, bacon bits, peas, mushrooms, zucchini, or bok choy.
So it's very easy to customize! You'll often find it on holiday tables and served for Thanksgiving or Christmas dinner.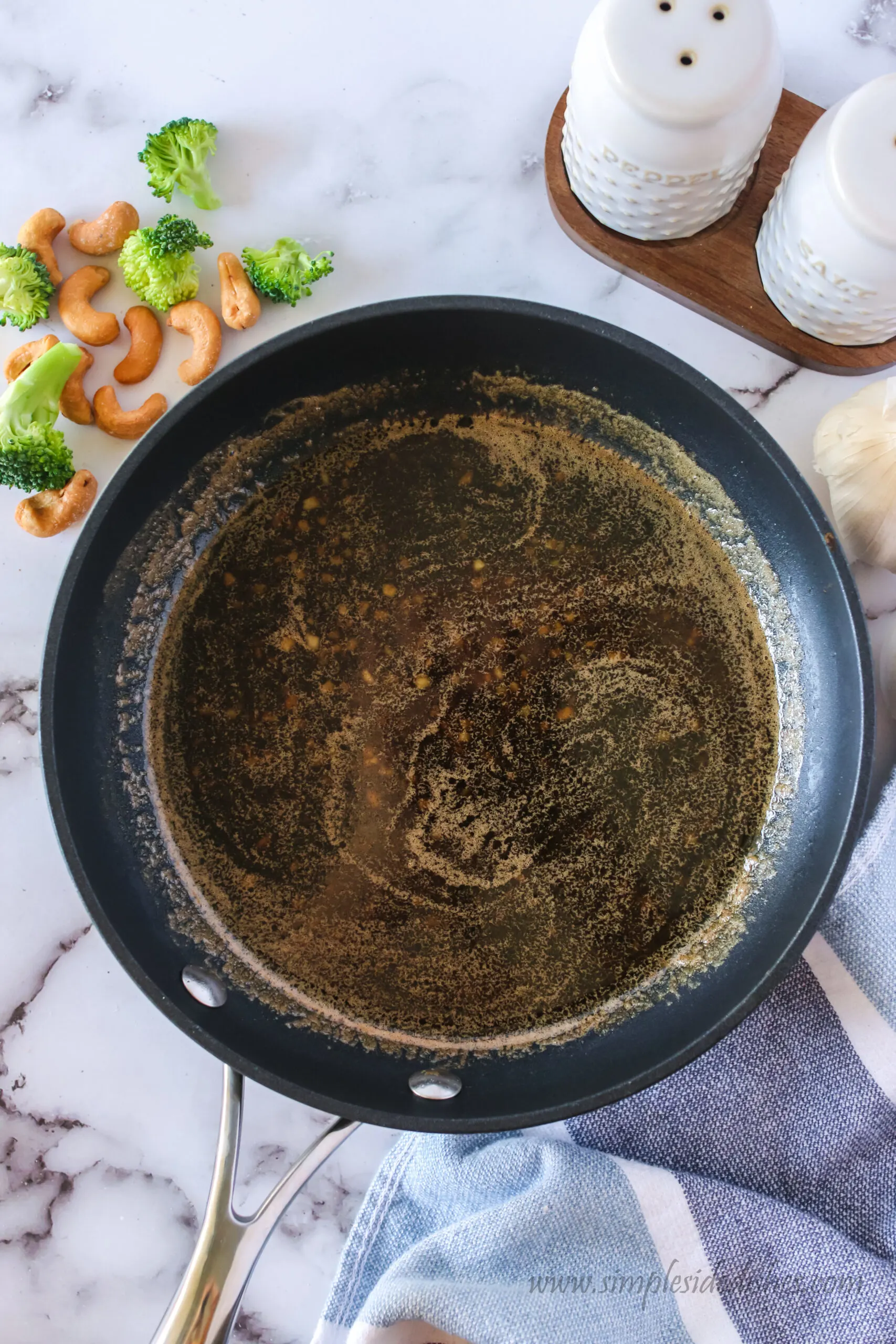 Ingredients in Broccoli Cashew Salad
This broccoli salad recipe uses simple ingredients of raw broccoli, crunchy cashews, and a yummy dressing.
Whole Cashews: You can also use pre chopped cashews and save yourself a step later.
Broccoli: Chop broccoli into bite sized pieces or use broccoli florets.
Butter: Don't substitute with margarine or shortening or oil. Butter is rich in flavor so perfect for this salad.
Garlic: Mince the garlic small to mix in well with the rest of the salad.
Brown Sugar: This adds a little pop of sweetness to help offset the vinegar and soy sauce.
Soy Sauce: Other options you can use in place of soy sauce are coconut aminos or tamari.
White Vinegar: Adds a little bit of tang to the salad dressing. Apple cider vinegar would also work though give a different flavor.
Black Pepper: No salt needed as you've got enough with the soy sauce but don't forget the pepper.
Cornstarch: Use cornstarch to thicken the dressing before pouring on the broccoli and cashews.
Water: You'll also need a bit of water to help mix in the cornstarch.
Pro Tip: Other mix in ideas are sunflower seeds, crispy bacon, or any of the other ingredients mentioned in the question above.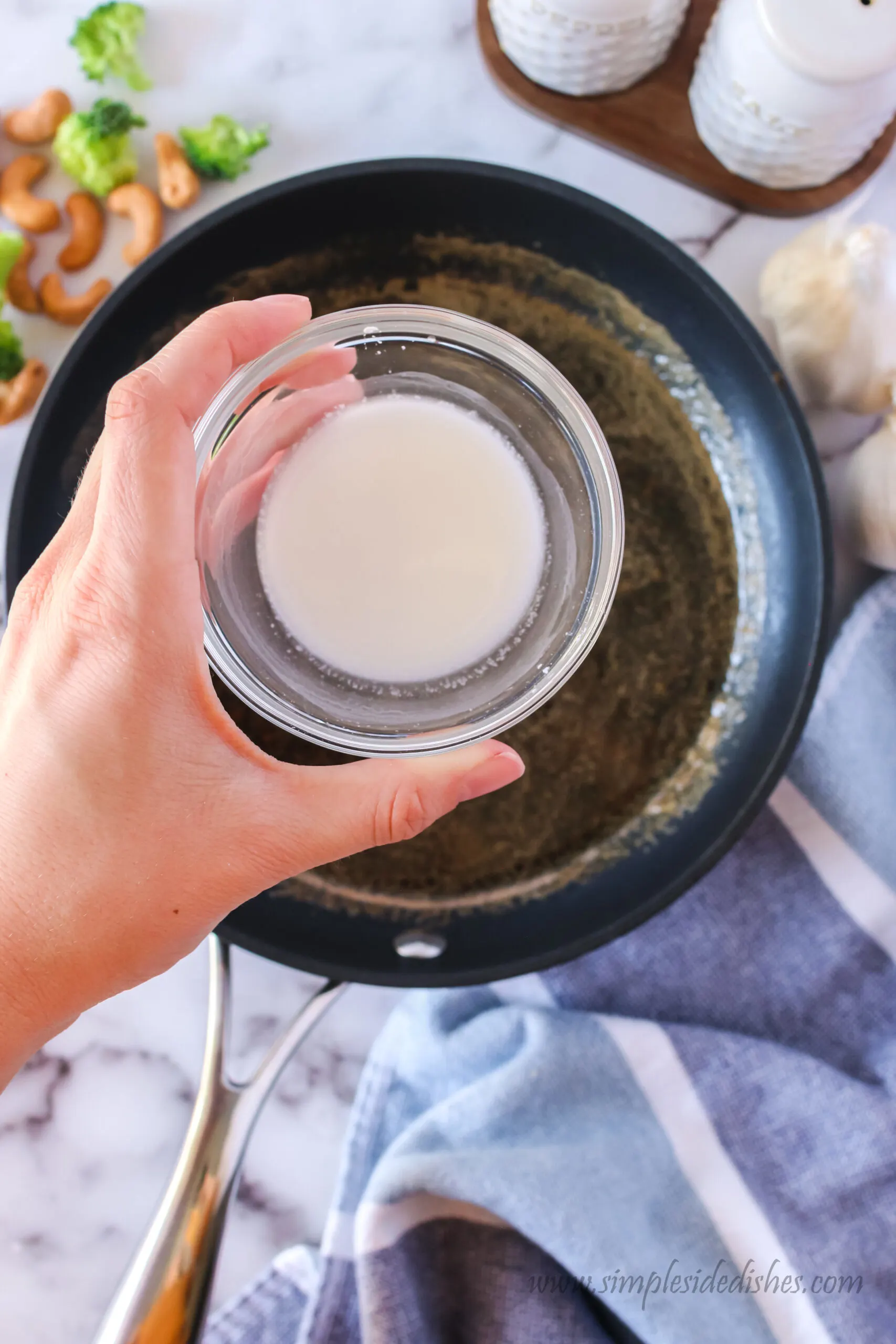 How to Make Cashew Broccoli
This healthy recipe is a cinch to make for an easy summer salad!
Roast Cashews: Don't skip this step as it brings out the flavor in the nuts!
Cook Broccoli: You need to soften the broccoli slightly so it's edible but still a little crisp.
Make Sauce: Combine dressing ingredients and heat until cooked.
Combine: Pour dressing over the chopped broccoli and cashews and enjoy!
Pro Tip: If you buy roasted cashews you can skip the roasting step.
Can I Use Salted Cashews in Broccoli Cashew Salad?
Definitely! Salted cashews are such a yummy snack so I've often got them on hand.
Unsalted cashews are great for cooking with, and are most often used with the broccoli mixture.
You'll want to use low sodium soy sauce however, if you've got salted cashews otherwise the salad will be way too salty.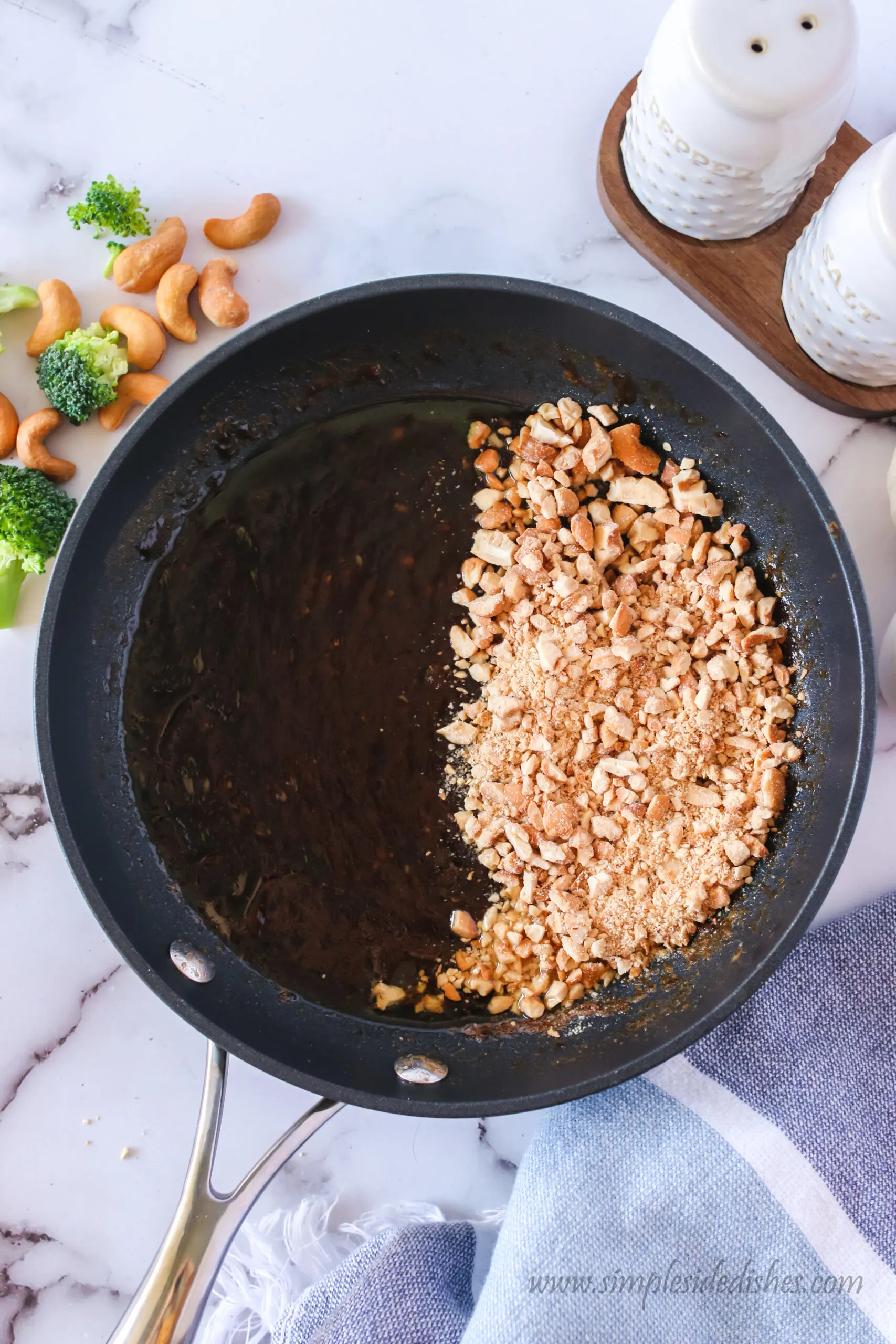 Can I Use Frozen Broccoli in Broccoli Cashew Salad?
Yes! Frozen broccoli can easily be used in place of fresh broccoli in this tasty salad.
Frozen broccoli is generally already chopped and blanched, so you would not need to chop it or cook it.
However, be sure to let the broccoli thaw and drain it well to not add excess water to your salad.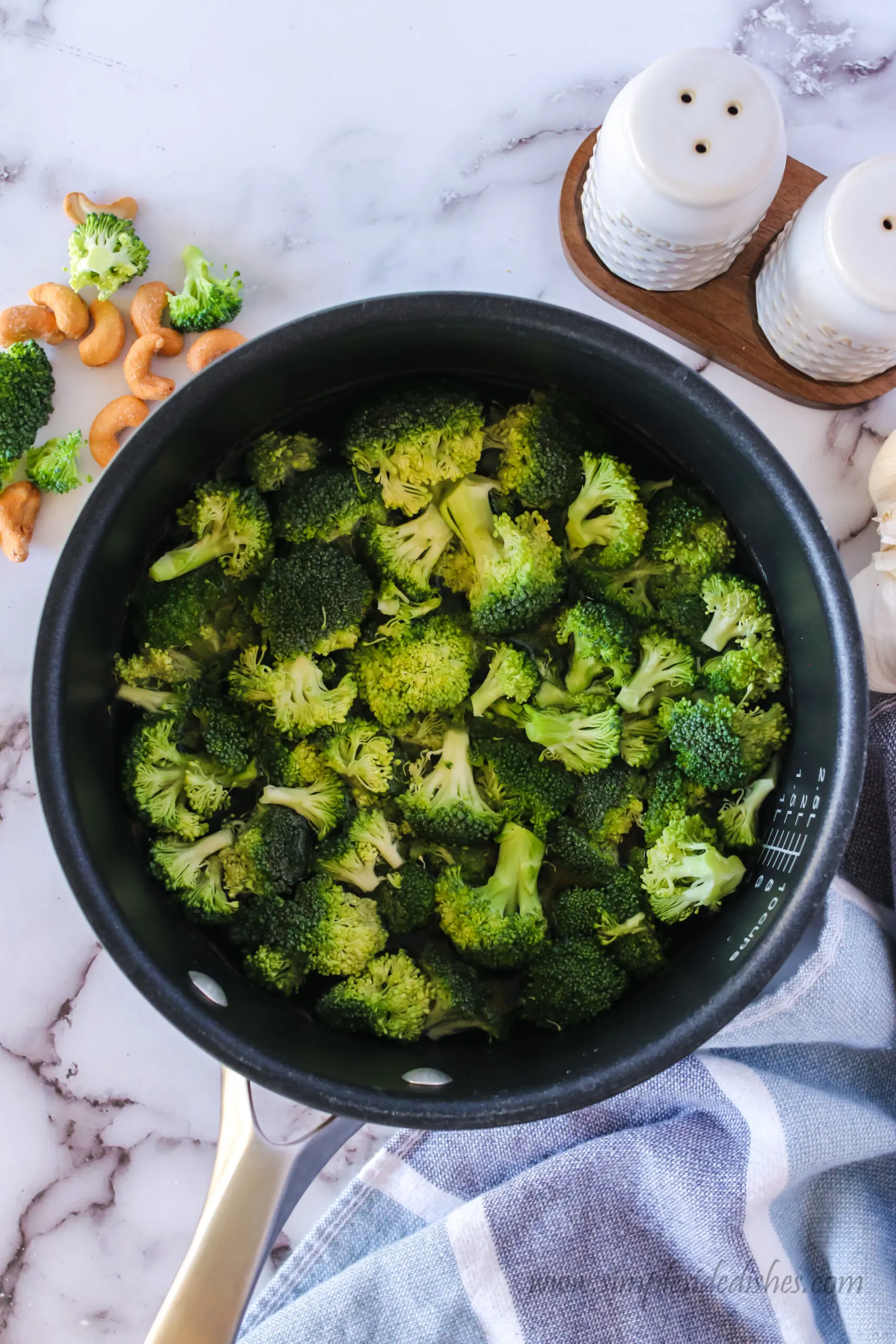 What to Serve with Cashew Broccoli
This versatile salad can easily be paired with a variety of main dishes that you'll love! Some of our favorites are: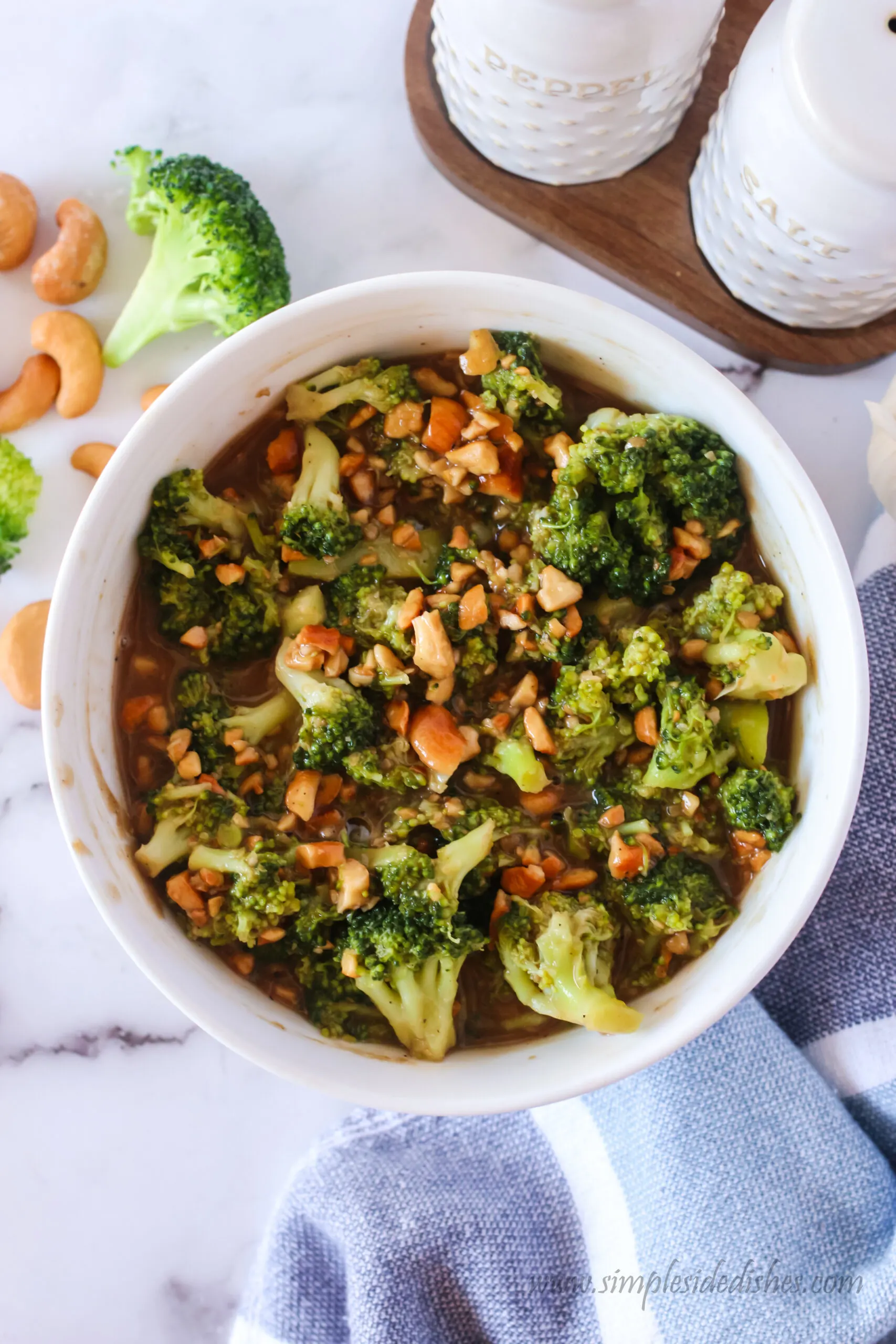 Can Dogs Eat Cashews?
Certain nuts such as macadamia nuts are toxic for dogs, but cashews are not.
However, when including cashews in your dog's diet, there are some precautions you'll want to take.
Dogs can eat small amounts of cashews, 3-5 at the most. Too many cashews can cause an upset stomach and problems for your dog.
And never feed the whole salad to your dogs as garlic can be toxic and salt is not good for dogs at all!
Are Cashews Good for You?
Cashews include plenty of protein. So you'll often find them in vegetarian dishes such as this one.
They also include a good dose of polyunsaturated and monounsaturated fats, which are both good for your body.
And cashews even have fiber! Which can help your digestion!
So be sure to include cashews as part of your well balanced diet.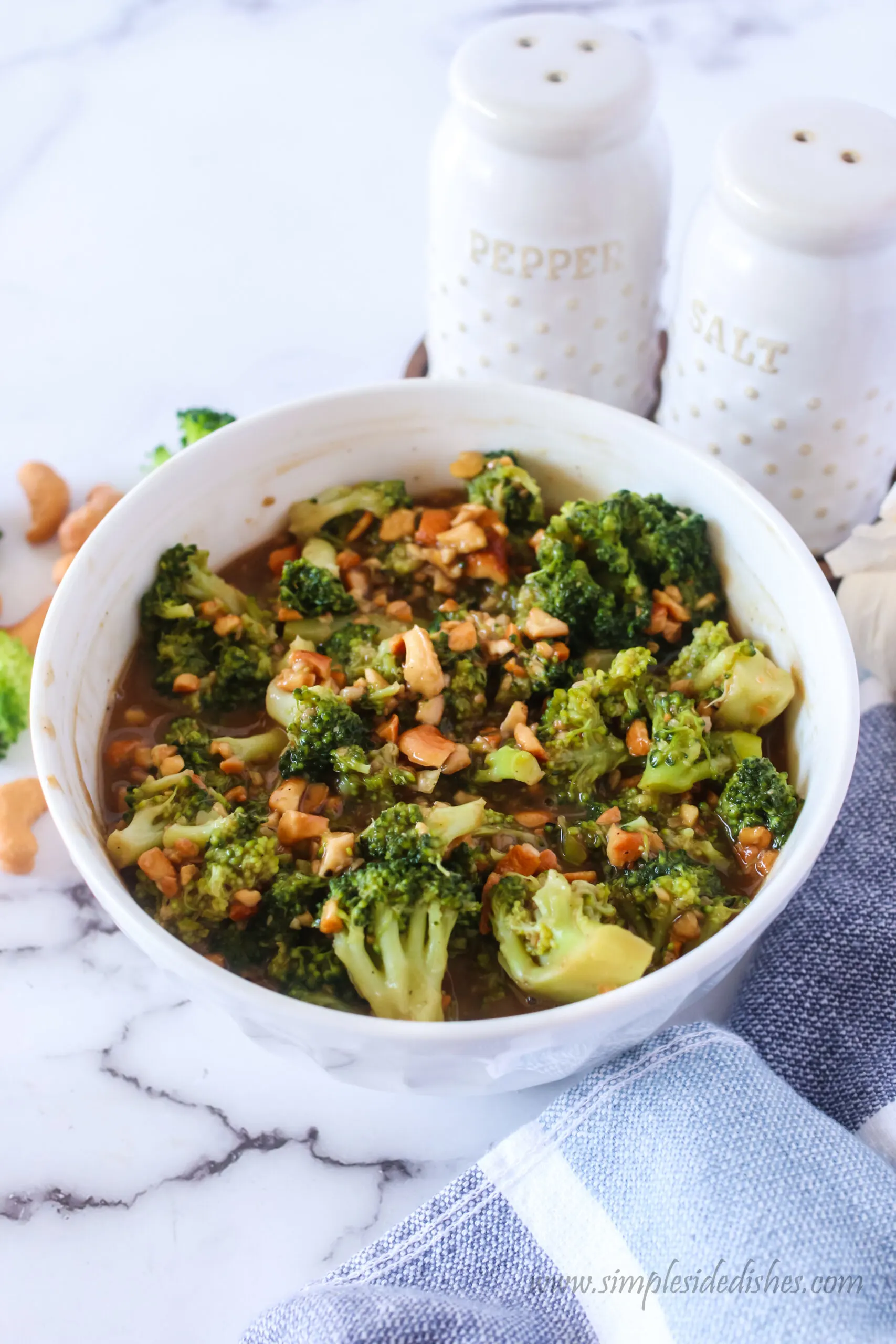 Where do Cashews Come From?
Raw cashews come from a type of evergreen tree that grows in various regions around the world.
It's cultivated in India, Brazil, and Africa. Though most of what you'll find on the store shelf comes from India or Brazil.
And actually, cashews, though they are called nuts, are not nuts at all.
They are seeds, but their high protein and the fact that they resemble other nuts means everyone calls them nuts.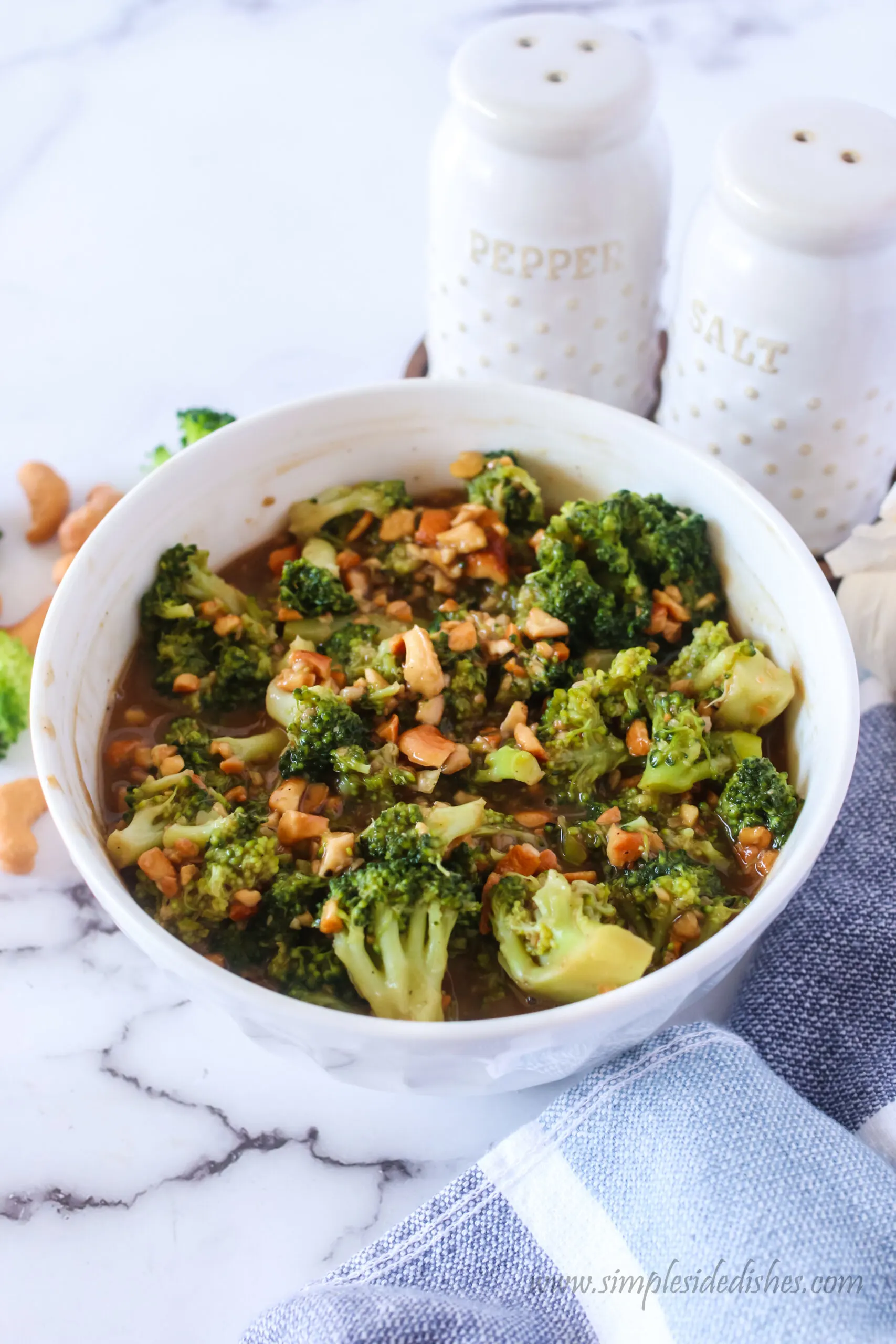 Are Cashews Keto?
Keto diets are all about staying low in carbs. Cashews are not low in carbs unfortunately.
They can quickly use up your allotment of carbs for the day.
However, if you want to enjoy this broccoli and cashew salad, you should be able to eat it.
You can decrease the amount of cashews or just be sure not to eat too many cashews.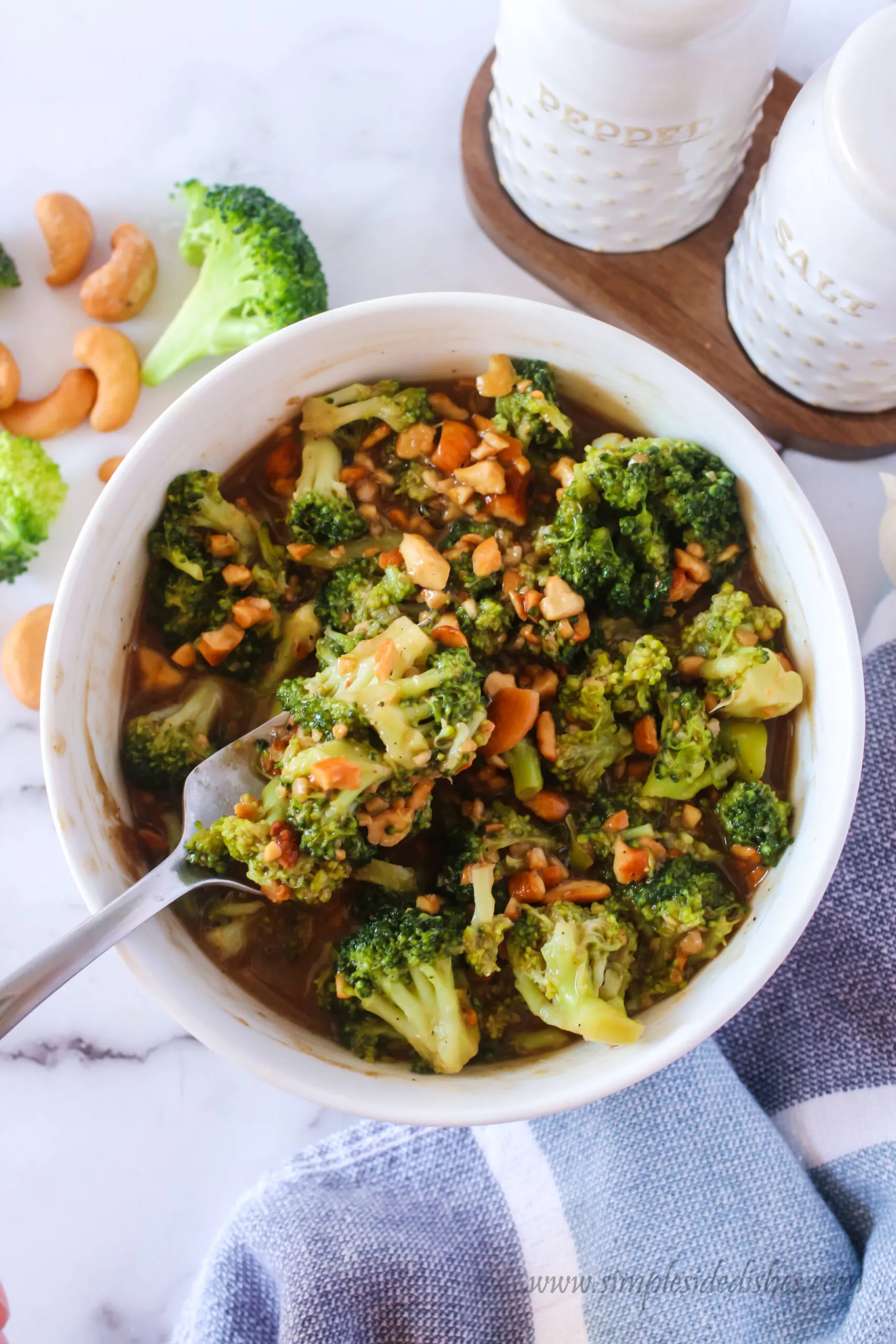 The Best Broccoli Recipes…
Broccoli Cashew Salad is a delicious way to liven up your dinner table. It's got great flavor and is a favorite no matter the time of year.
Enjoy it for the holidays, for the weekdays, or any other time you feel like a healthy and delicious dinner!
Yield: 6 Servings
Broccoli Cashew Salad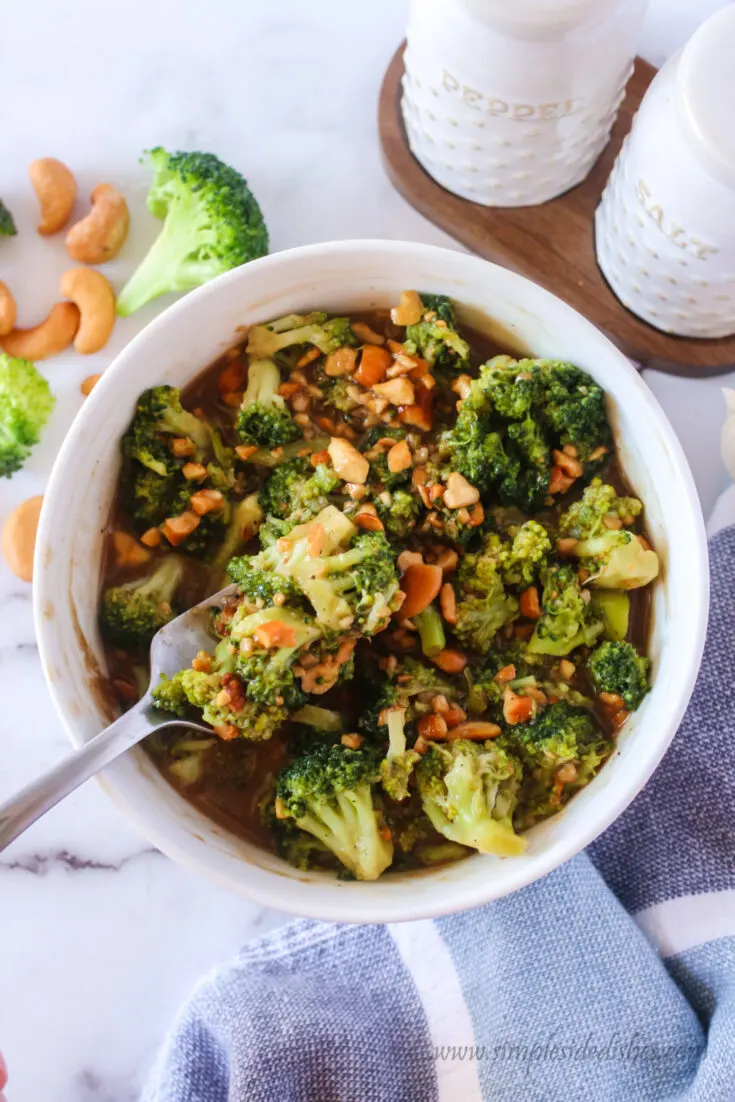 Broccoli Cashew Salad is an easy and delicious side dish or main dish. It comes together quickly and has incredible flavor too!
Ingredients
Instructions
Preheat oven to 375*F
Place cashews on a baking tray and bake in the oven for 5-8 minutes. This is to bring out the flavor in nuts.
Once nuts are toasted, remove them from the oven and let cool.
Place broccoli pieces in a pot with 1 inch of boiling water on the bottom.
Place a lid on the pot and cook for 3 - 5 minutes. Broccoli should be tender crisp. The cooking time will depend on how big your broccoli pieces are.
While broccoli is cooking, in a skillet add butter and cook over medium heat until butter is melted.
Add garlic and cook for 30 seconds - 1 minute allowing flavors to pop.
Add brown sugar, soy sauce, vinegar and black pepper and bring to a boil.
Once the mixture comes to a boil, remove from heat.
In a small bowl add 1 teaspoon cornstarch and 2 teaspoons water. Mix well.
Add mixture to soy sauce and stir. Mixture should thicken.
Chop nuts into smaller pieces and add to sauce. Mix well.
Strain broccoli and place broccoli in a serving bowl.
Pour thickened sauce over the top and mix well.
Serve immediately.
Nutrition Information:
Yield:
6
Serving Size:
1
Amount Per Serving:
Calories:

131
Total Fat:

10g
Saturated Fat:

4g
Trans Fat:

0g
Unsaturated Fat:

5g
Cholesterol:

15mg
Sodium:

511mg
Carbohydrates:

10g
Fiber:

2g
Sugar:

3g
Protein:

3g