These Bacon Wrapped Green Beans are the perfect addition to any meal — especially holidays or entertaining!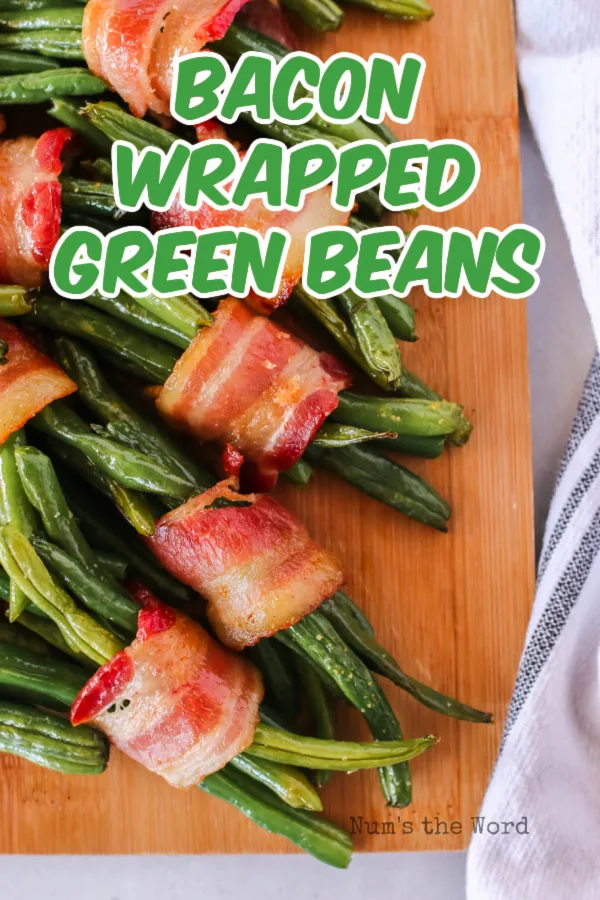 With perfectly crisped bacon and refreshingly bright green beans, you really can't go wrong with this recipe. It's visually beautiful and deliciously satisfying.
I especially love these green beans wrapped in bacon in place of a green bean casserole. They're perfect for Thanksgiving, Christmas, Easter, or really any meal!
Perhaps the best part about these green beans is you can prep them ahead of time and pop them in the oven 20 minutes before you're ready to eat. Making this an easy side dish recipe.
This simple side dish is perfect for special occasions like a bridal or baby shower, luncheon, or holiday gathering.
We personally like to serve these green beans bundle at our holiday dinner. They really help add a little green to our holiday table each year and make a delicious side dish even my kids love.
However don't be fooled into thinking these are just for fancy dinners. These are so easy to make they work well for weeknight dinners too as a unique green beans recipe.
Skip the boring regular green beans next time and whip up these bacon wrapped green bean bundles!
Not only is this a perfect side dish, it also makes a fantastic appetizer! These little tender green beans wrapped in bacon are savory and sweet and all things tasty.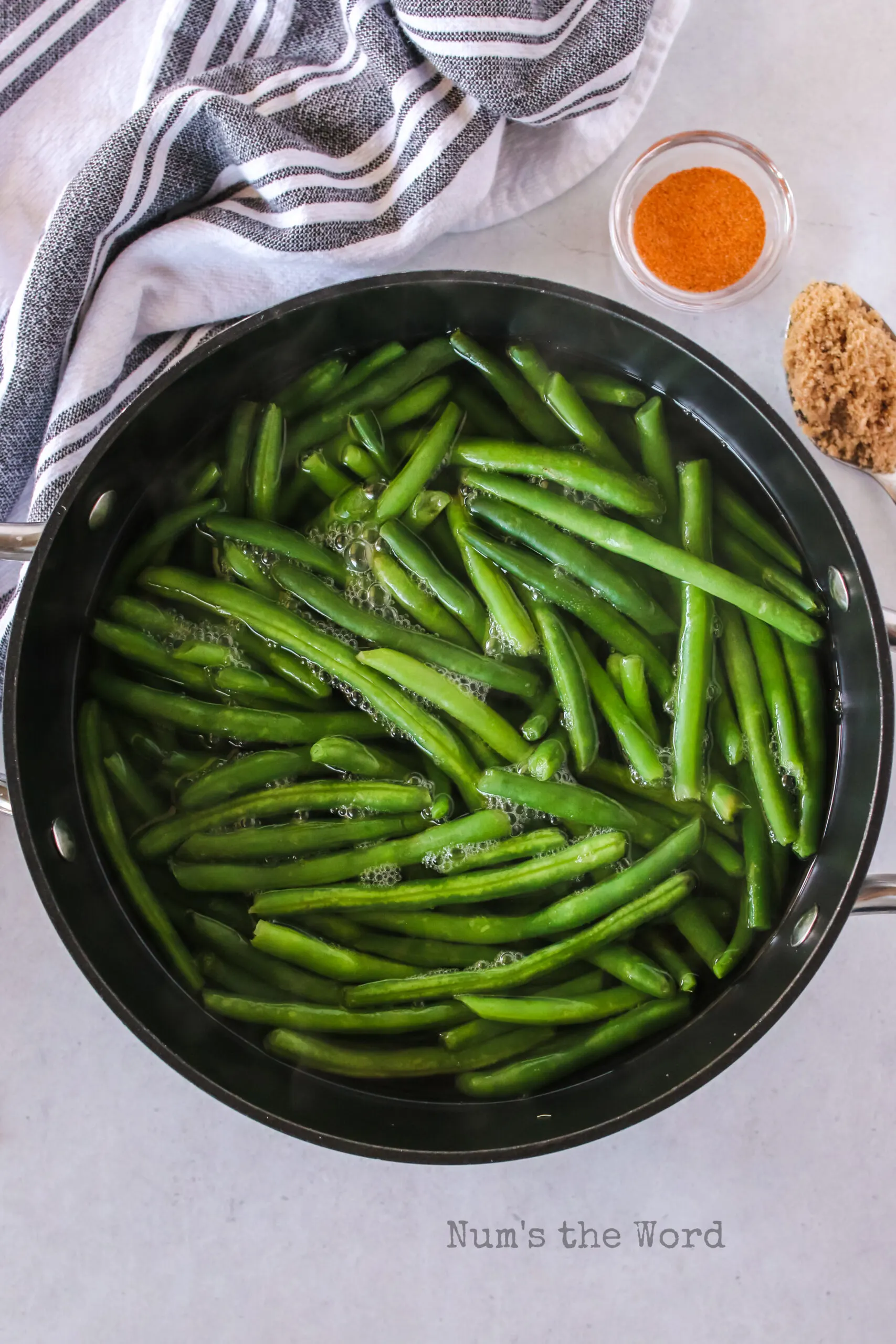 How to make bacon wrapped green beans?
It's simple to make these delicious fresh green beans wrapped in bacon. To get started, you'll need to following ingredients:
Delicious Bacon – Use regular cut bacon which will give you crispy bacon – just cut bacon strips in half before using.
Fresh green beans – you'll want the long, thin kind. French green beans are ideal (and easy to buy in a package at Trader Joe's or Costco), but regular ones can also work.
Brown sugar – I love the sweet and savory combination of bacon and brown sugar. Green beans wrapped in bacon and brown sugar — so yummy!
Lawry's season salt – just a bit of seasoning salt for the ends of the green bean bundles NOT wrapped in savory bacon is all you need!
Super simple ingredients, right?! The assembly isn't much harder … and the best part is it can be done ahead of time!
Cook bacon part way – this is called par-cooked bacon.
Blanch green beans to capture that bright green color in a large pot of water.
Toss blanched beans in reserved bacon grease.
Bundle 5-6 green beans with each slice of bacon.
Sprinkle with seasoning salt and brown sugar.
Bake on a cookie sheet seam side down and enjoy!
Pro Tips:
We don't recommend thick-cut bacon as it needs longer to cook.
Once done baking remove immediately from pan and let cool on paper towels. This will help soak up some of the extra fat.
If you don't have season salt, you can use a little garlic powder, garlic salt and black pepper
An ice bath is not needed for these green beans!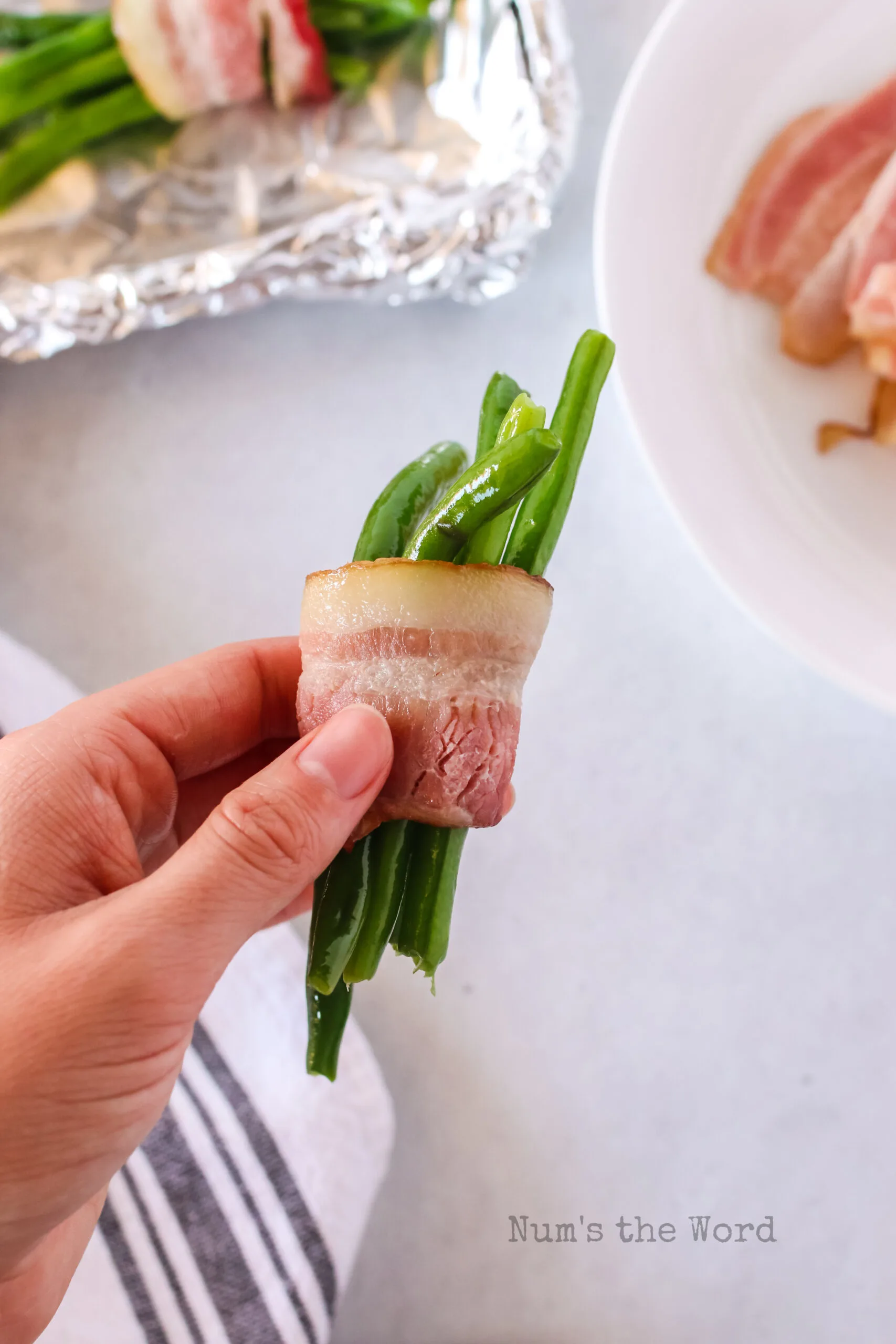 How many green beans in a bacon wrap?
I've had the best results with 5-6 green beans per strip of bacon. Obviously you can adjust the ratio to your preferences, but keep in mind that the bigger the bundle, the longer the beans will take to cook.
How to secure bacon to green beans?
I typically just place the bundles of green beans on the baking sheet with the bacon ends on the bottom, but if you find yours unraveling, a well placed toothpick or two is all you need to fix that problem!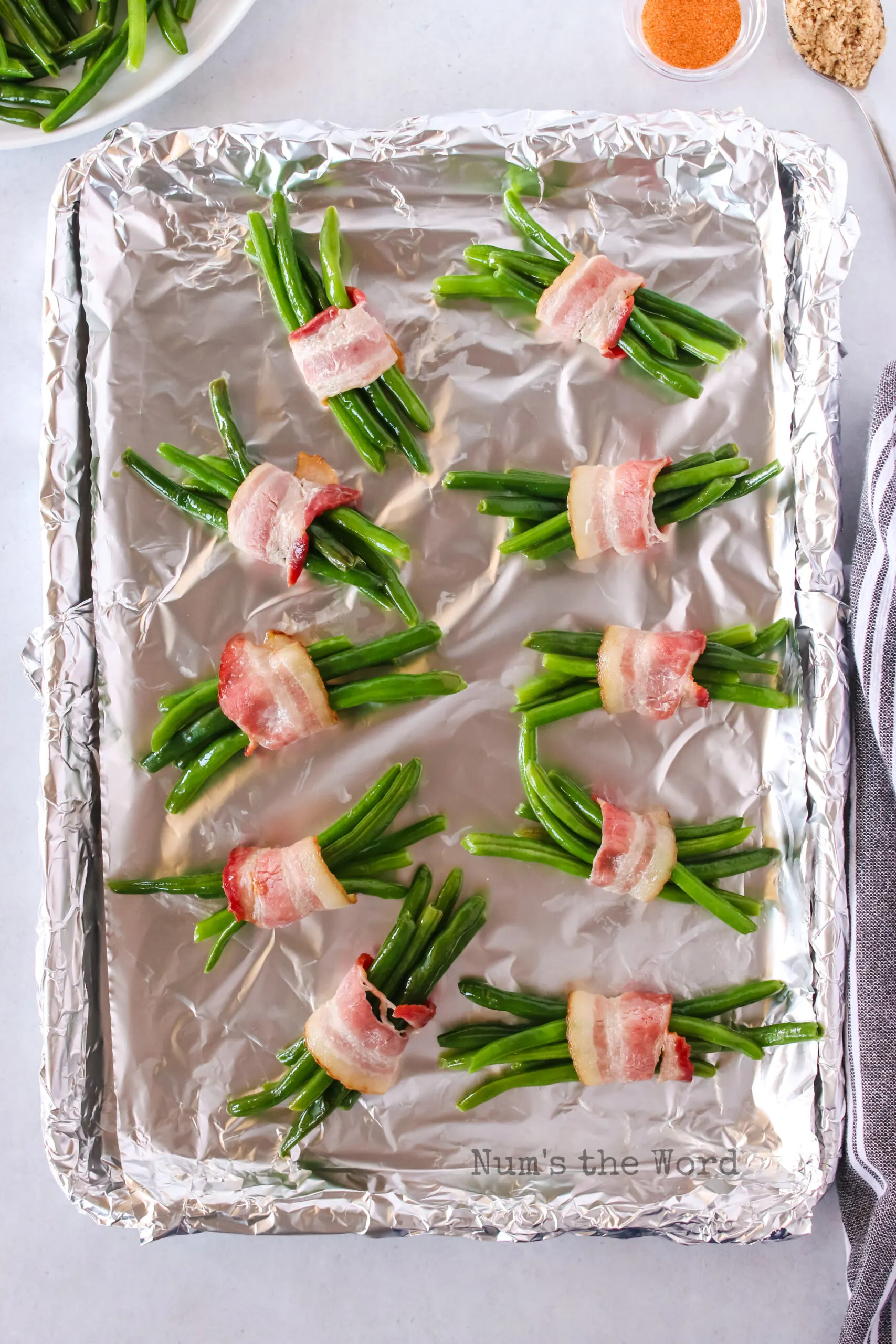 Can I make bacon wrapped green beans without sugar?
Absolutely, you can make this recipe without the sugar! While I'm a personal fan of the bacon and brown sugar combination, feel free to omit it if you have dietary restrictions or preferences.
This ties in with the next question I'd like to address: Are bacon wrapped green beans keto?
While I've never professed to be an expert on any sort of diet, from what I understand this recipe is close to similar "bacon wrapped green bean bundles keto recipes." Other keto recipes for a similar dish have used a brown sugar substitute instead of brown sugar.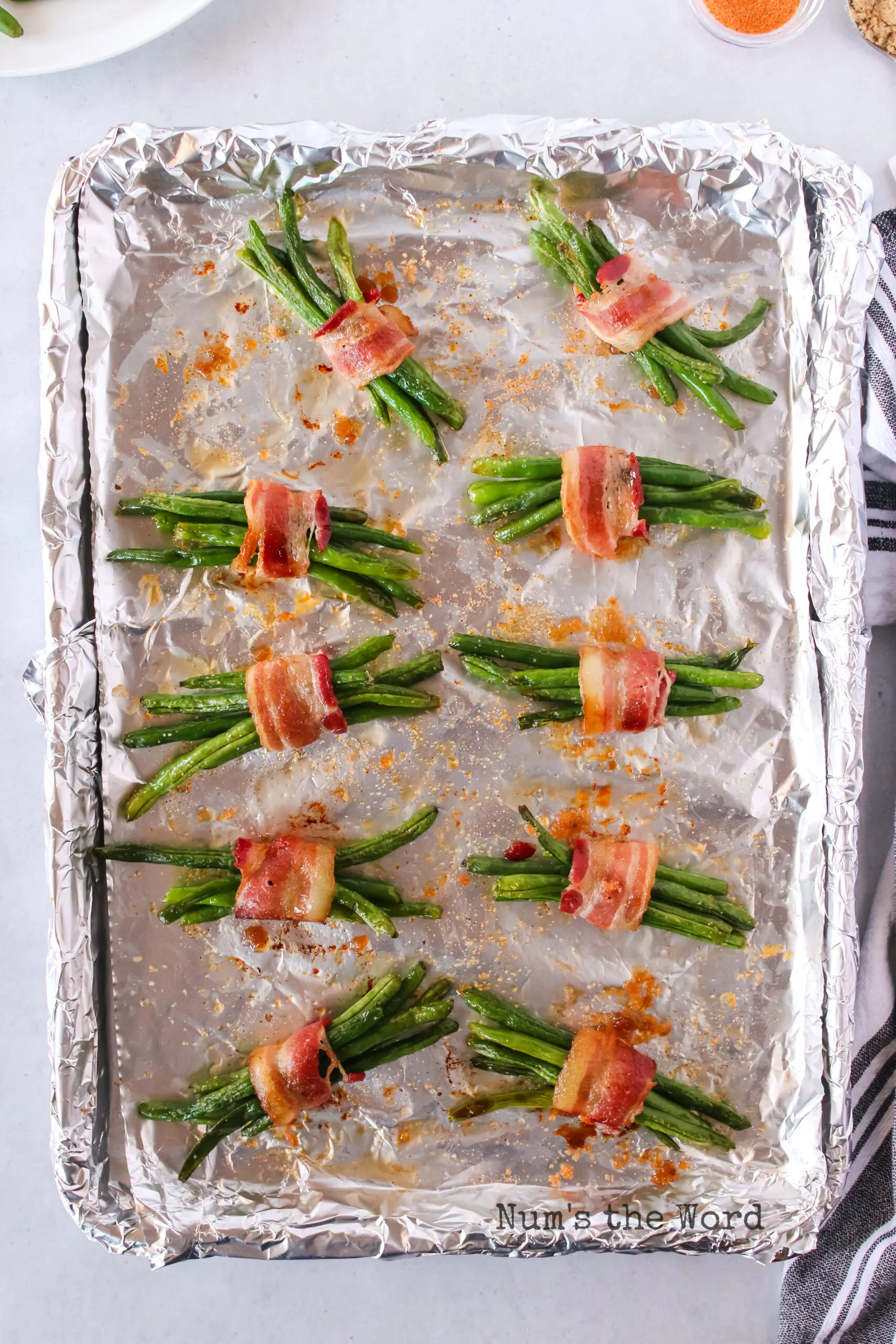 Can I use thick cut bacon for bacon wrapped green beans?
I definitely do not recommend using thick cut bacon for this recipe. It will take too long to cook and have too much extra fat. You'll have much better results if you use regular bacon!
Can I make bacon wrapped green beans in advance?
Yes! That's one of the greatest things about this recipe (in my opinion). You can assemble these little green bean bundles of delectable delight up to 24 hours in advance.
You'll still do the half-way cooking and blanching and bundling, but go ahead and store the prepped bundles in the refrigerator until you're ready to bake them. Then bake as directed and enjoy!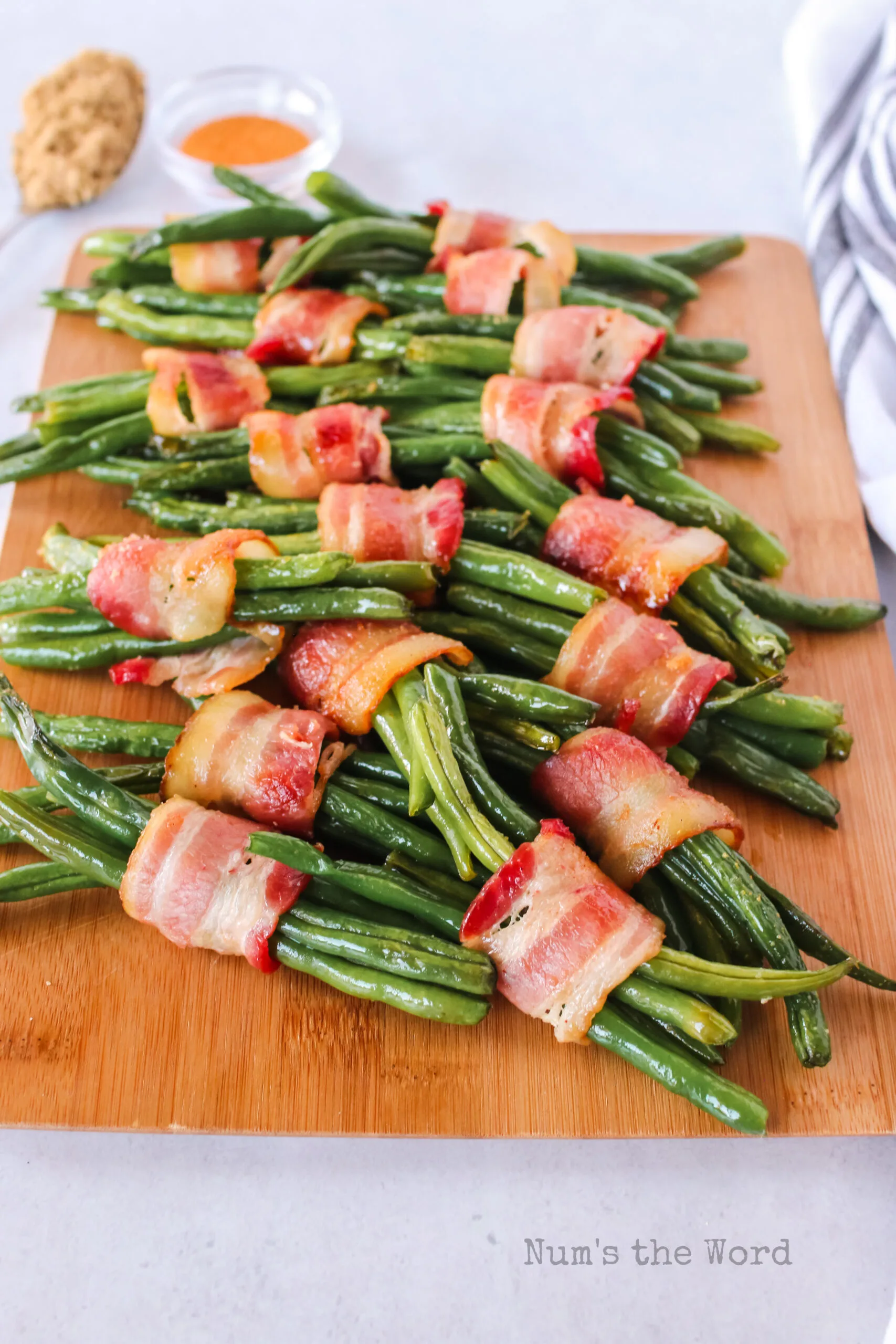 Can I freeze bacon wrapped green beans?
YES! Can this recipe get any better? If you want to freeze these bundles for later, simply prepare the green bean and bacon bundles up until the point you would bake them. Pre-freeze them on a baking sheet before putting them in an airtight container or bag.
Place the frozen bundles on a baking sheet and bake as usual. You might need to add an extra couple minutes of cooking time.
Preparing this dish from frozen will be tasty and fantastic, but keep in mind that the green beans will be a little softer in texture than those that are cooked from fresh. This is a natural part of cooking vegetables from frozen — they're going to be a little softer. But I think the results are still great!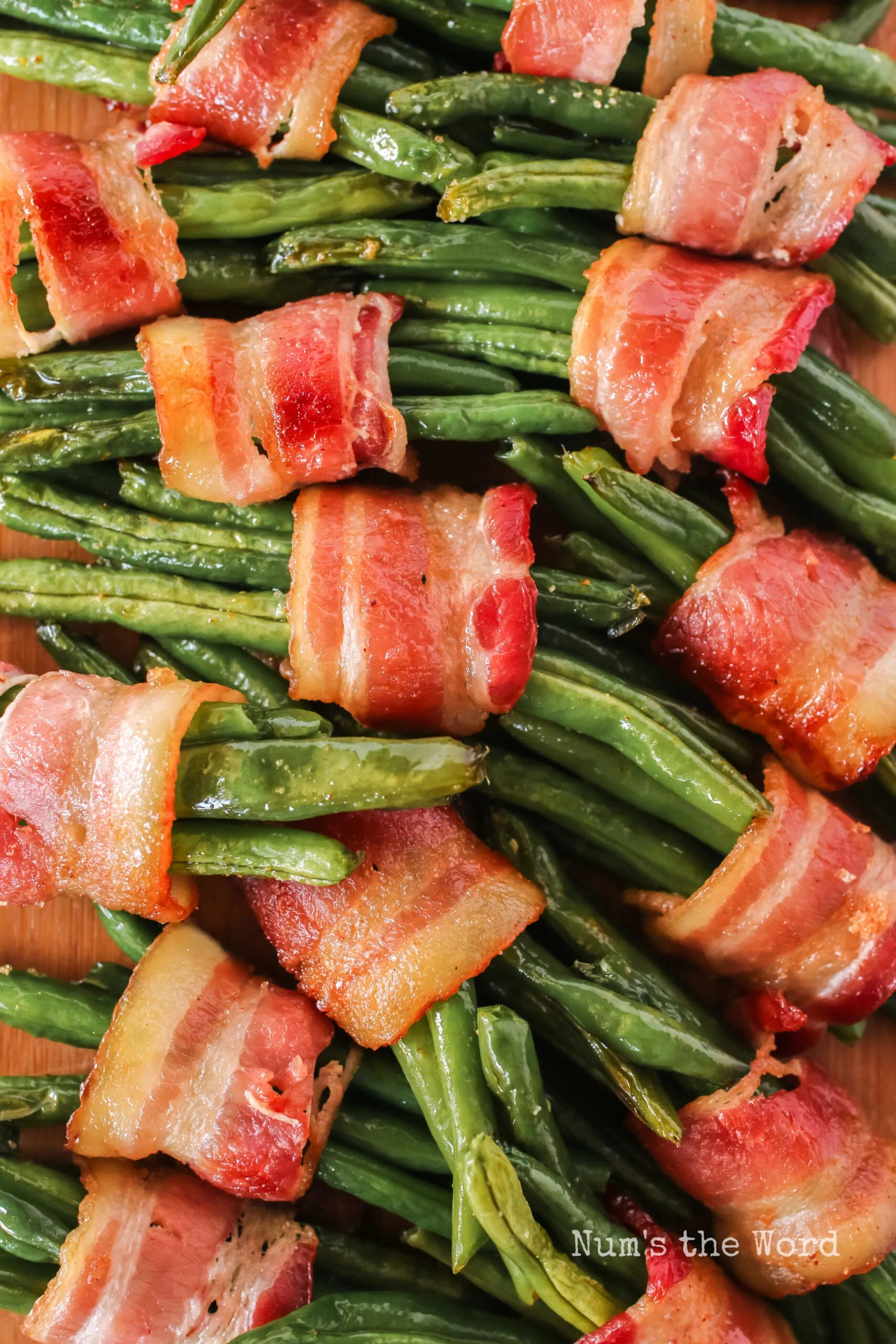 Are bacon wrapped green beans healthy?
Ah, the healthy question … These bundles are wrapped in bacon, which is not a health food by any stretch of the imagination. But, like I love to say — moderation, my friends! Green beans are healthy, bacon is not.
Together, they make one heck of a delicious dish with some health benefits and drawbacks. Serve them with a healthy main dish and you can get away with a little extra bacon!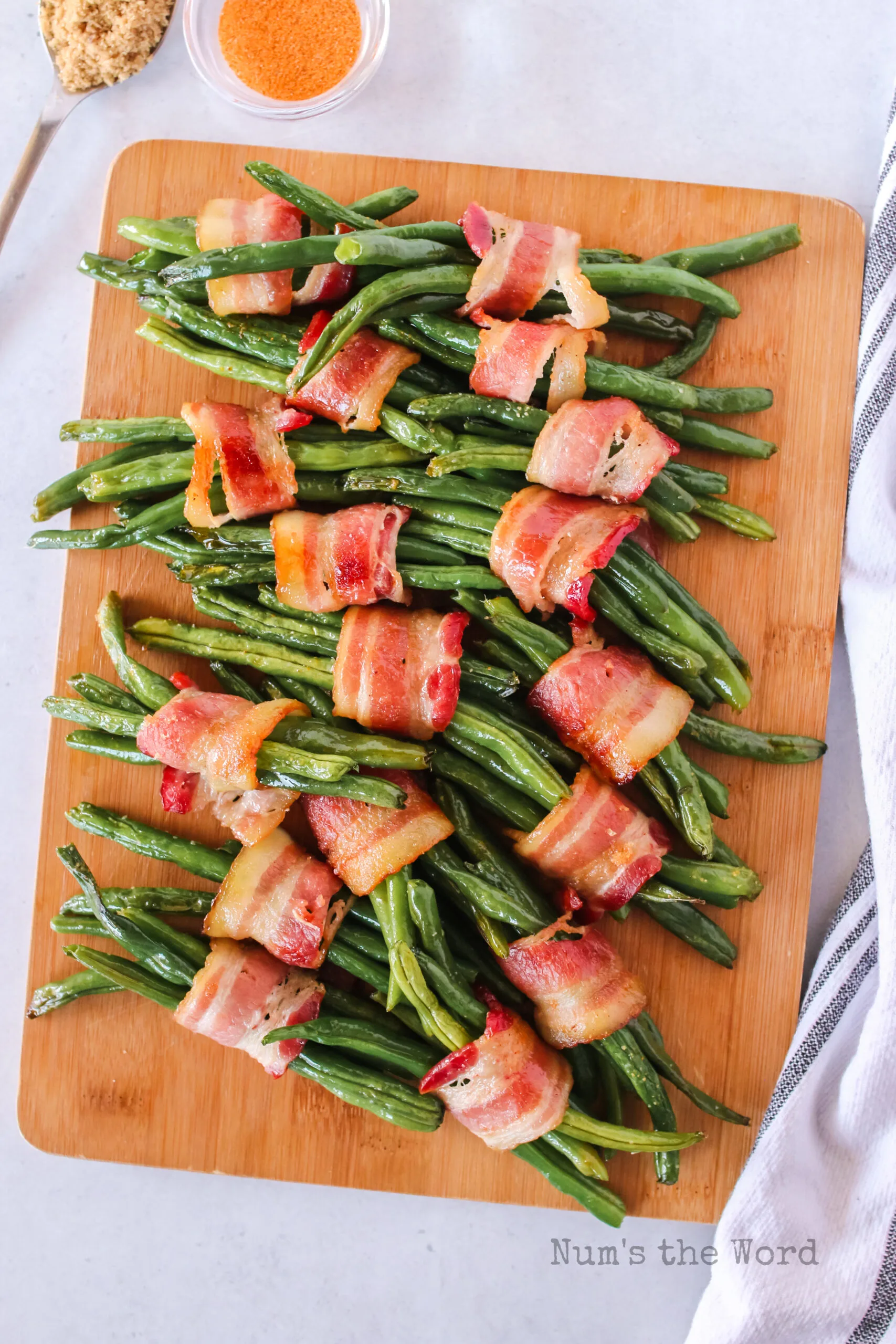 Looking for more bacon? Or more green beans? Check out these other great Num's the Word recipes!
Green Bean Casserole With Bacon
Cheesy Bacon Spinach Dip
Air Fryer Bacon Wrapped Little Smokies
Bacon Jalapeno Devilled Eggs
Bacon Wrapped Stuffing Bombs
Brown Sugar and Bacon Green Beans
Bacon Wrapped Asparagus
Canning Green Beans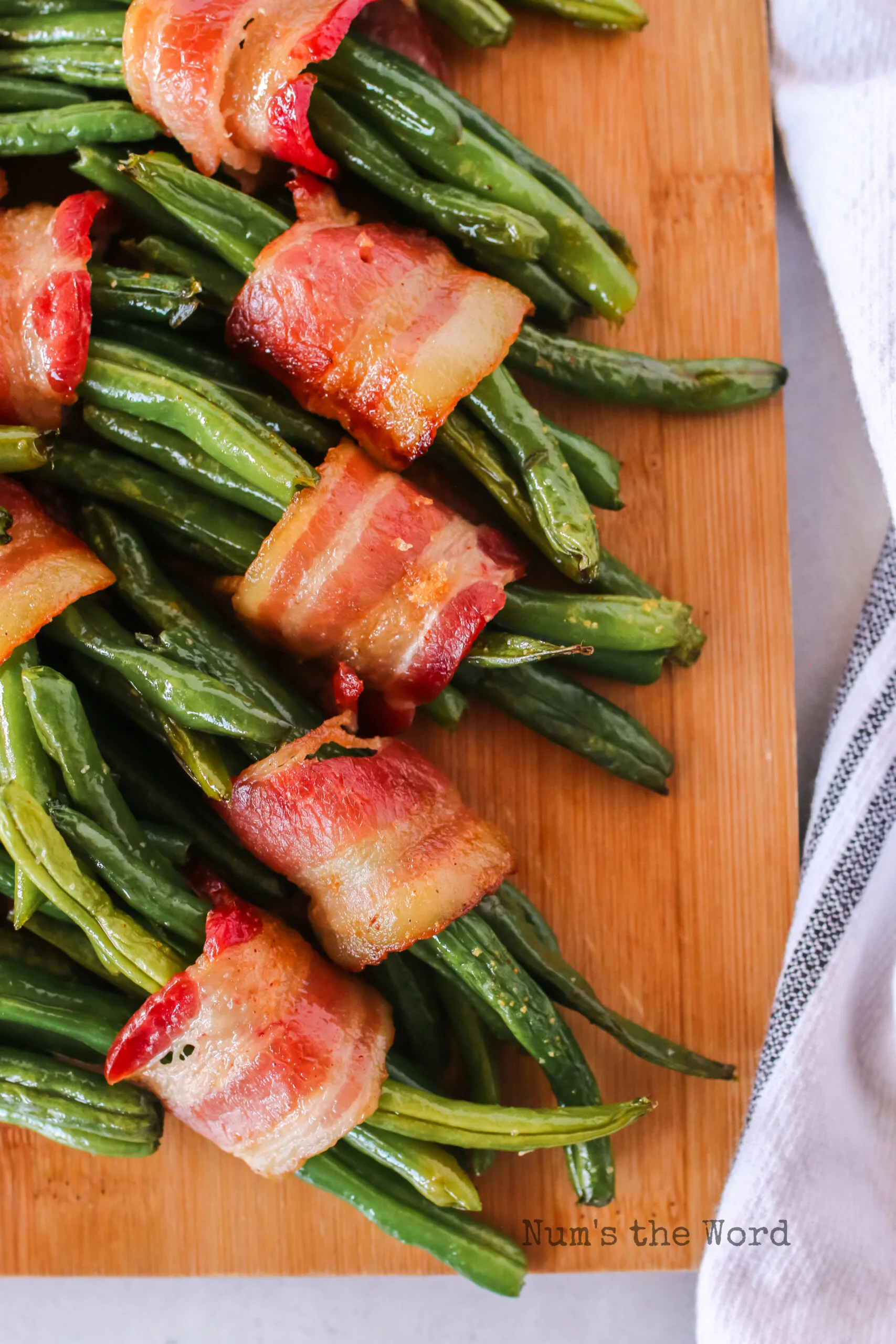 Whether you're hosting for the holidays and want a change from the usual green bean casserole, or you're looking for a great side dish that's both pretty and delicious, these bacon wrapped green beans are for you! Perfect for any occasion and able to please even your vegetable-hating children, you'll love this recipe. Enjoy!
Yield: 20 Bundles
Bacon Wrapped Green Beans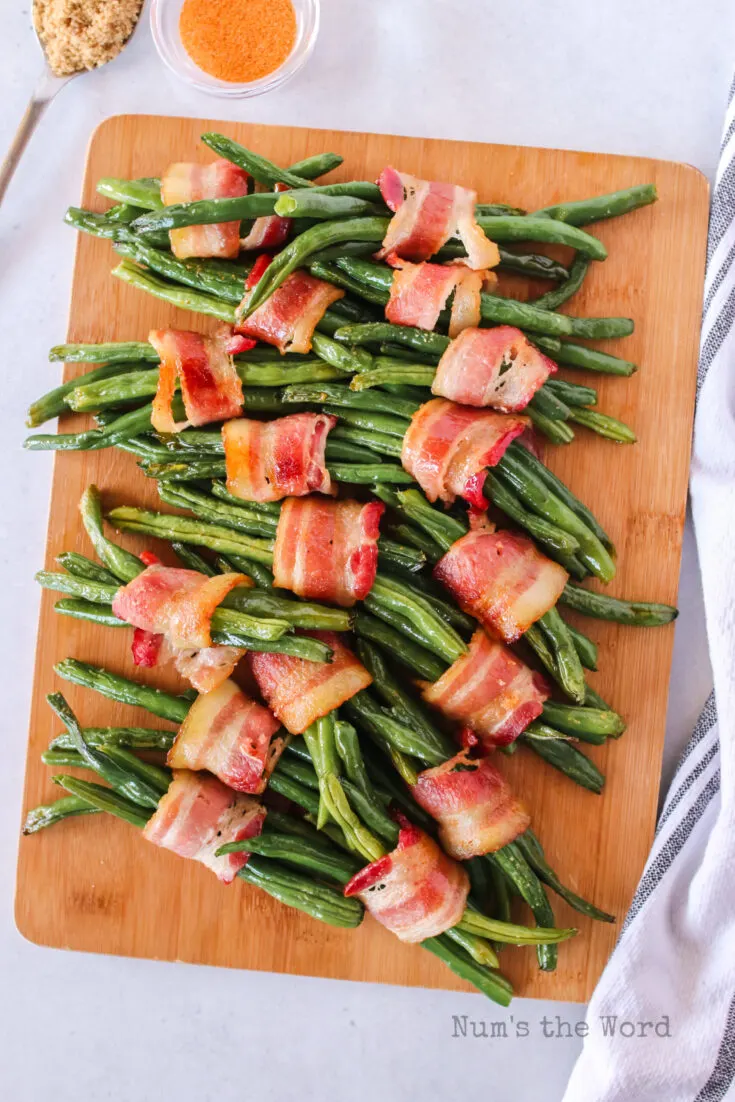 These Bacon Wrapped Green Beans are the perfect addition to any meal -- especially holidays or entertaining!
Instructions
Preheat oven to 375*F
Line a cookie sheet with a baking mat, parchment paper or non-stick foil. Set aside.
In a medium skillet, cook bacon until bacon is half way cooked. You want it semi cooked but still pliable.
Leave the bacon grease in the pan for use in a few minutes.
Bring a new pot of water to a boil.
Add green beans to water and boil for 3 minutes.
Remove green beans from water and place in skillet with bacon grease.
Toss to coat green beans with bacon grease and transfer to a plate.
Take a piece of bacon and place 5 - 6 green beans in the middle.
Wrap the green bean bundle with bacon and place on the prepared baking sheet with bacon ends down so they don't pop open during baking.
Sprinkle each with a pinch of season salt on the green bean ends and a pinch of brown sugar on the bacon.
Bake for 20 minutes or until bacon is cooked.
Serve immediately.
Nutrition Information:
Yield:
20
Serving Size:
1
Amount Per Serving:
Calories:

16
Total Fat:

0g
Saturated Fat:

0g
Trans Fat:

0g
Unsaturated Fat:

0g
Cholesterol:

0mg
Sodium:

219mg
Carbohydrates:

3g
Fiber:

1g
Sugar:

2g
Protein:

1g