Crazy Bread is easy to make at home and much cheaper than running to your local Little Caesars pizza joint! But don't worry, it's still packed with all the goodness you know and expect!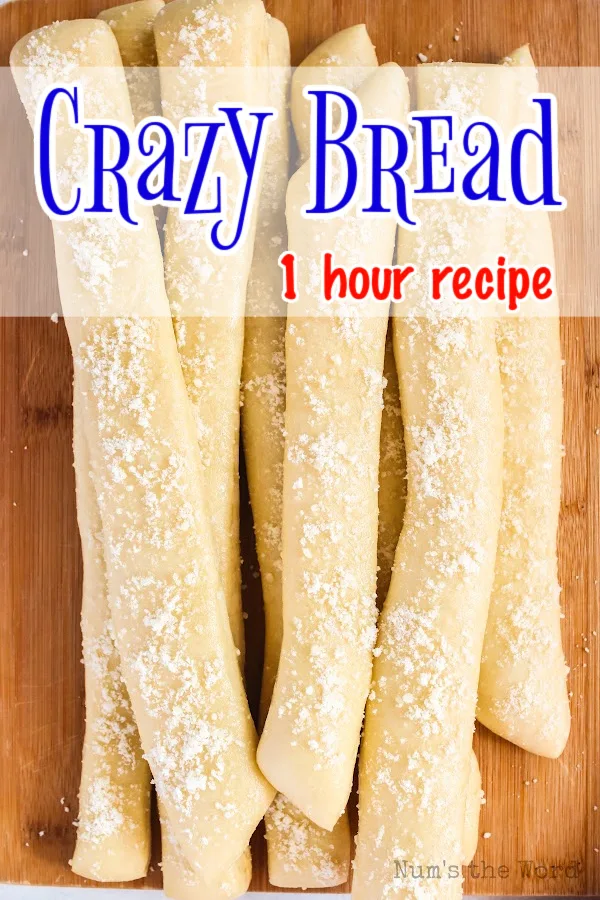 What sets crazy bread apart from all the other breadsticks? Is it the butter? Parmesan cheese? I don't know but I know I like it!
Lil Caesars crazy bread is crazy easy to make! Really! It's perfect for you beginners!
This crazy bread recipe also makes enough to feed your whole family and for much less money!
I love that this Little Caesars Crazy Bread tastes just like the real thing too! If you're having a craving, you don't want a poor substitute!
And crazy bread Little Caesars is a crowd pleaser! I've never had someone turn down a bite of breadsticks. I mean, why would they?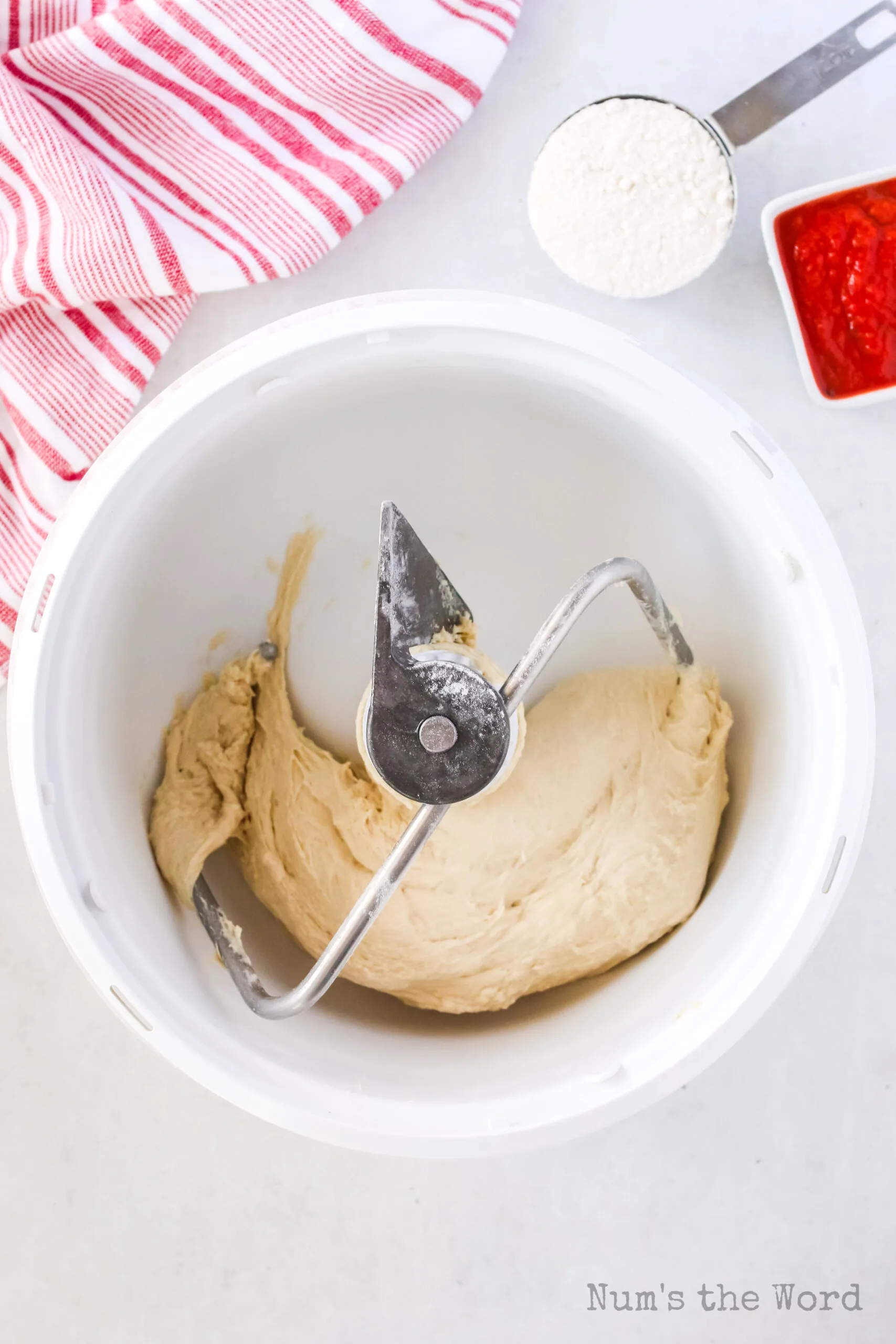 What is Crazy Bread
Crazy Bread is a Little Caesars classic recipe!
They are warm breadsticks you get in the cutest little pouch that are just loaded with butter and parmesan cheese.
If you haven't tried them, buckle up buttercup! You're about to find your new favorite breadstick!
Thank you Little Caesars for giving us the best breadsticks in the world!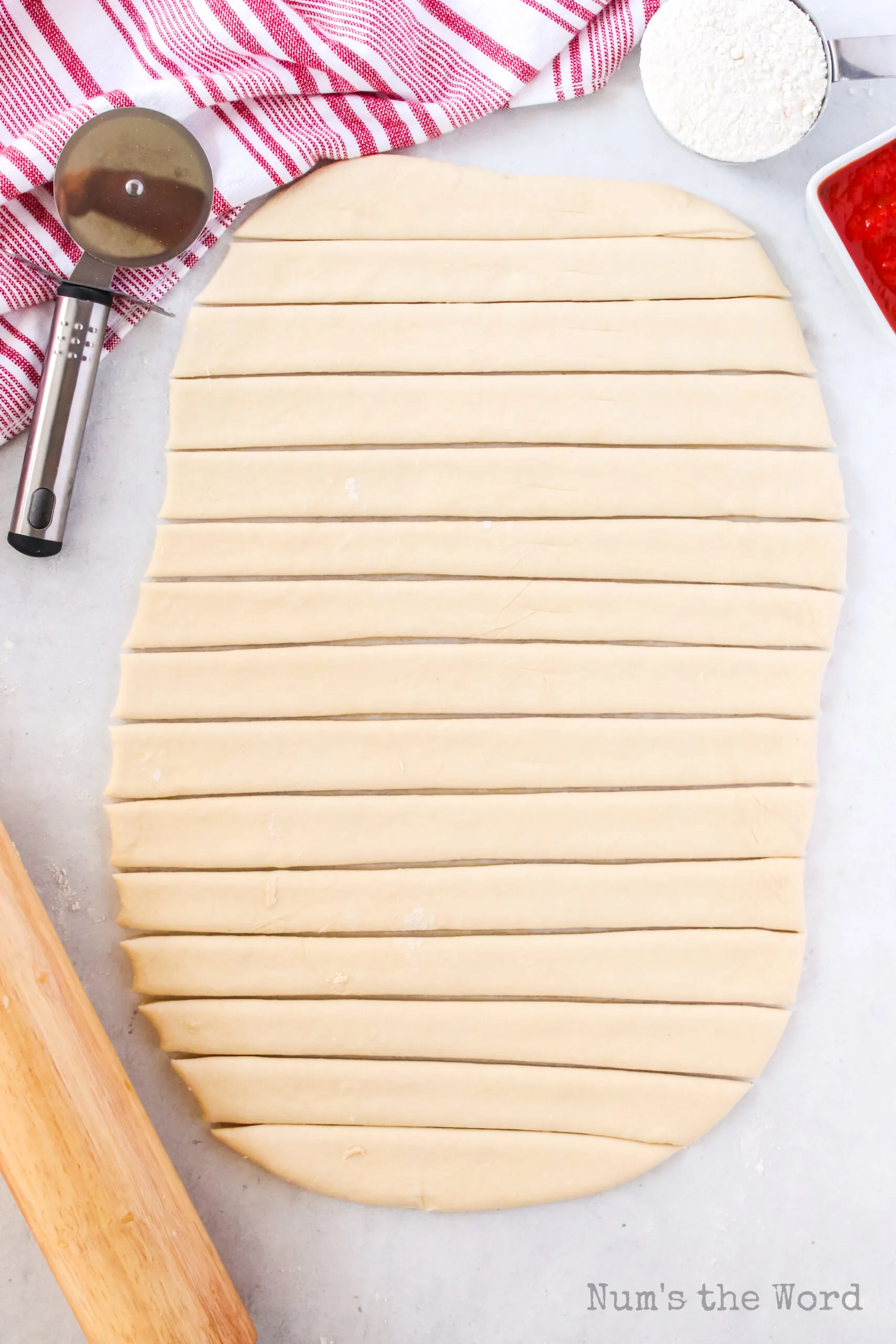 What Ingredients are in Crazy Bread?
Make a Little Caesars crazy bread recipe with homemade dough and is an easy side dish.
Instant Dry Yeast: Rapid rise yeast works as well.
Water: Keep the water at about 110F to help the yeast to activate.
Sugar: Sugar helps the bread to rise and also activates the yeast.
Salt: For flavoring, be sure not to leave this out.
Vegetable Oil: I like the neutral flavor of vegetable oil. If you substitute, keep it to simple flavor profiles like olive oil.
Bread Flour: The higher protein content in bread flour is necessary to produce the right consistency in the crazy bread.
Butter: Melt the butter however you like. Do it slowly though so it doesn't start exploding!
Parmesan Cheese: I don't normally recommend powdered parmesan cheese, but you actually need it here.
Marinara Sauce: I have kids so I know, "ahhh! Red stuff!" But really for those with expanded palates, bring out that dipping sauce!
Pro Tips:
Some people like to toss garlic salt or garlic powder on their buttered breadsticks. Little Caesar's crazy bread doesn't require either.
Use your favorite marinara sauce or pizza sauce. Little Caesar's is always served with crazy sauce.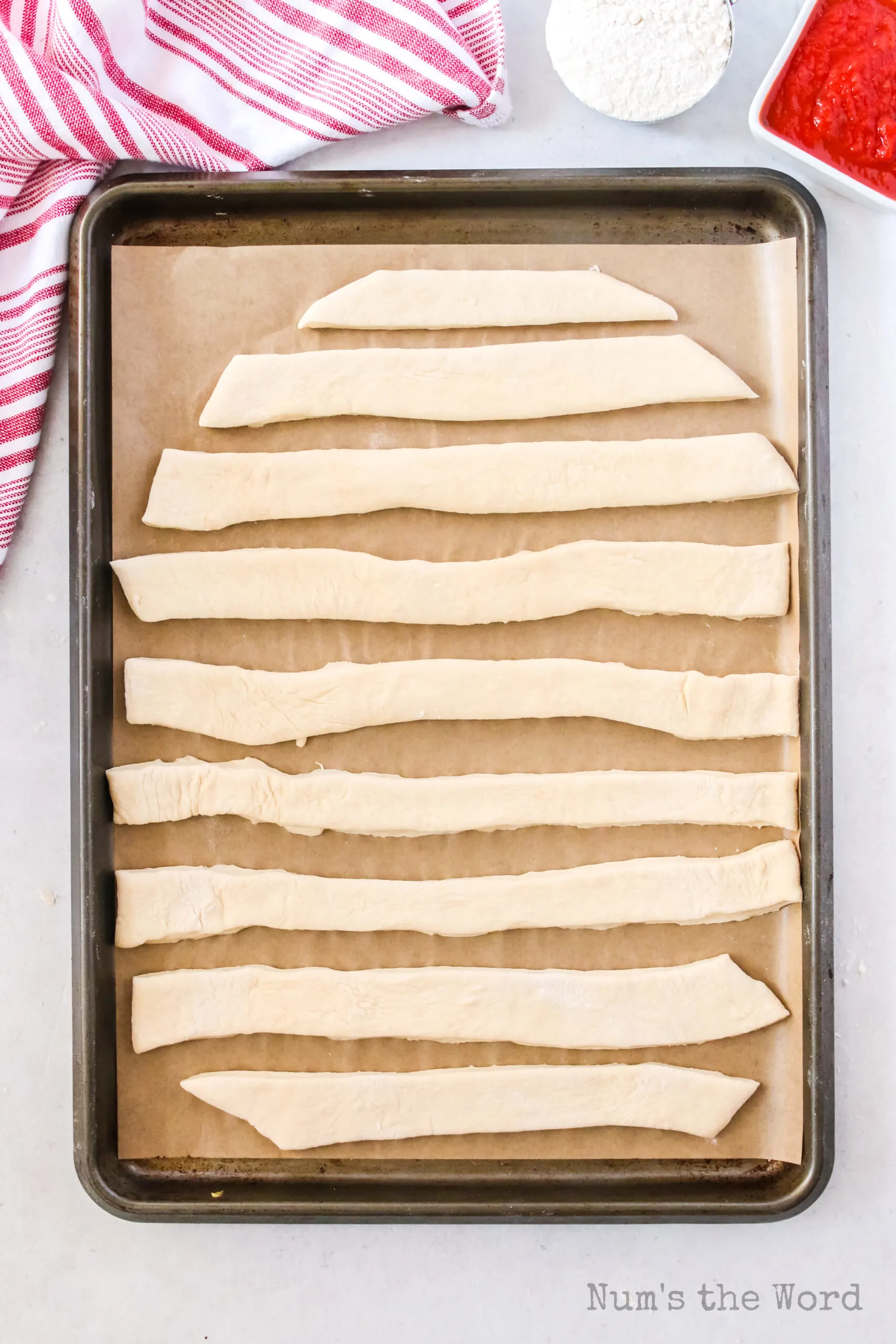 How to Make Crazy Bread
Pillowy breadsticks are a great side dish and here's the easy recipe!
Proof Yeast: Use the warm water and sugar. When the mixture is bubbly, it's ready.
Mix: You'll add the salt, oil, and flour next. Be careful to mix well between each addition.
Roll: The bread dough needs to be rolled to about ¼ inch thick before cutting.
Rest: Let the breadsticks rise on a lined cookie sheet in a warm place before popping risen dough in the oven.
Bake: When breadsticks are golden brown, remove from the oven and cover with butter and parmesan cheese.
Pro Tips:
Use a stand mixer with a dough hook to make your life easier!
Lightly flour your work surface for rolling. Too much flour will ruin the crazy breadsticks.
Cut breadsticks with a pizza cutter for easier cutting.
Leave space between each breadstick as they will expand.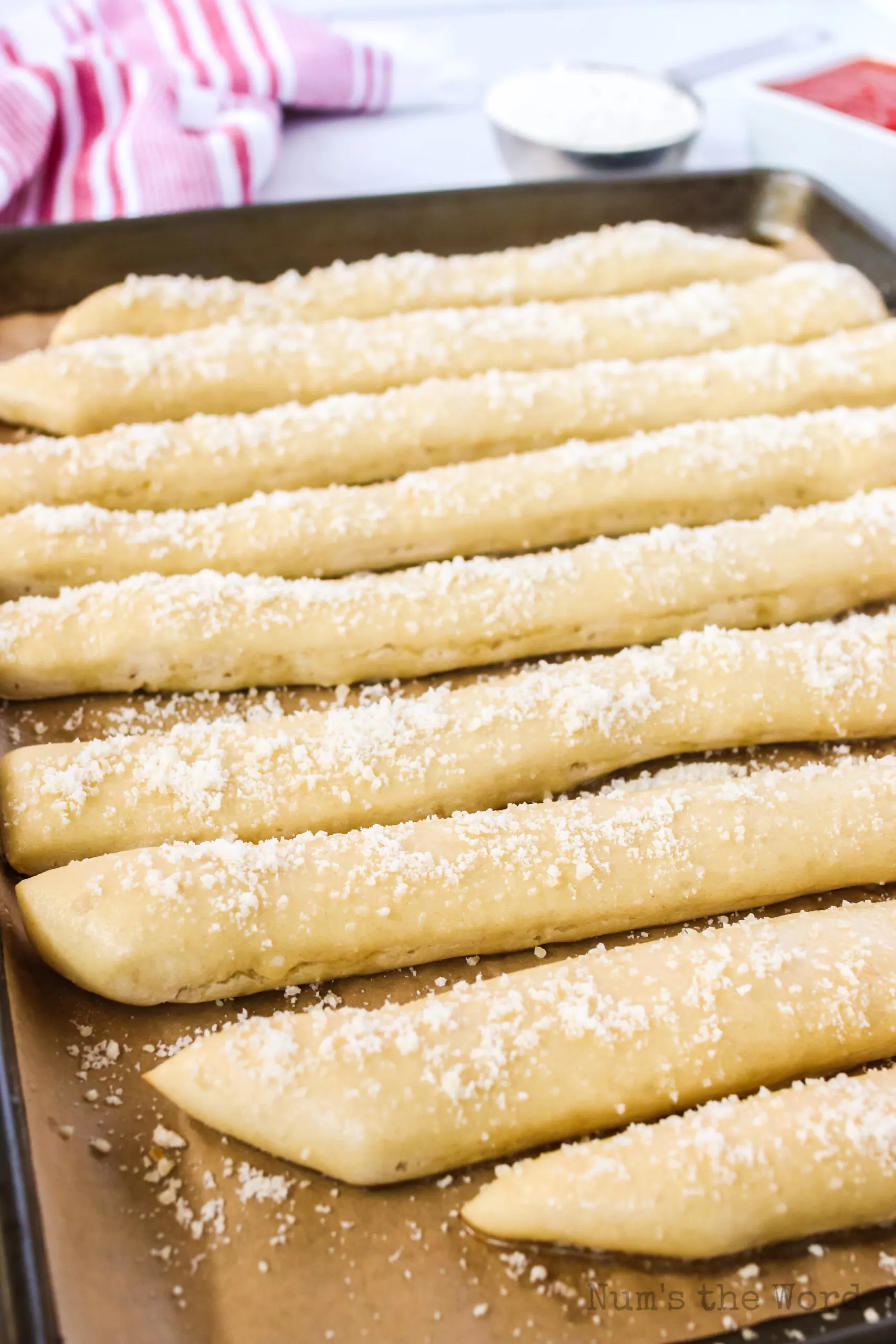 Is Crazy Bread Vegan?
Neither homemade crazy bread nor the store bought version from the pizza place are vegan as they both contain animal products.
However each of them can each be modified to become vegan with a few simple swaps.
For the store bought version, simply ask them to leave off the parmesan cheese. They aren't actually coated in real butter but butter substitute.
That means with no parmesan cheese, they are instantly vegan.
For the homemade version, you can also leave off the butter and parmesan cheese if desired.
I recommend using something like margarine or another butter substitute.
You can also find vegan cheeses at most grocery stores that you can try in place of the parmesan cheese.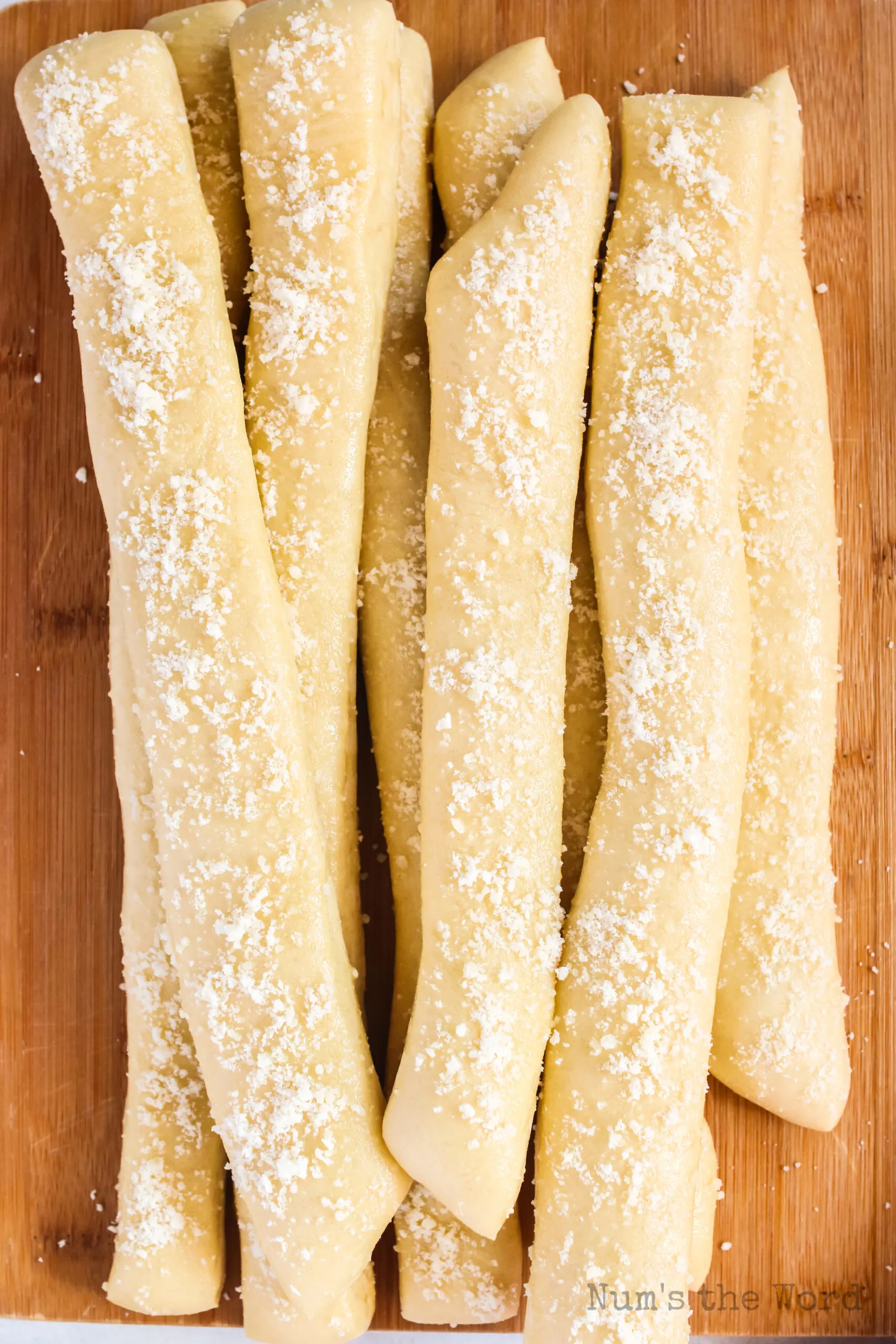 Can Dogs Eat Crazy Bread?
There isn't anything that is in crazy bread that is outright toxic for dogs. So if they get into the crazy bread, don't worry too much.
However, the butter, cheese, salt, and sugar can all cause stomach upset or long term health problems if consumed regularly.
So if they do have stomach problems after eating them, be sure to keep an eye on them and call your vet if you need help.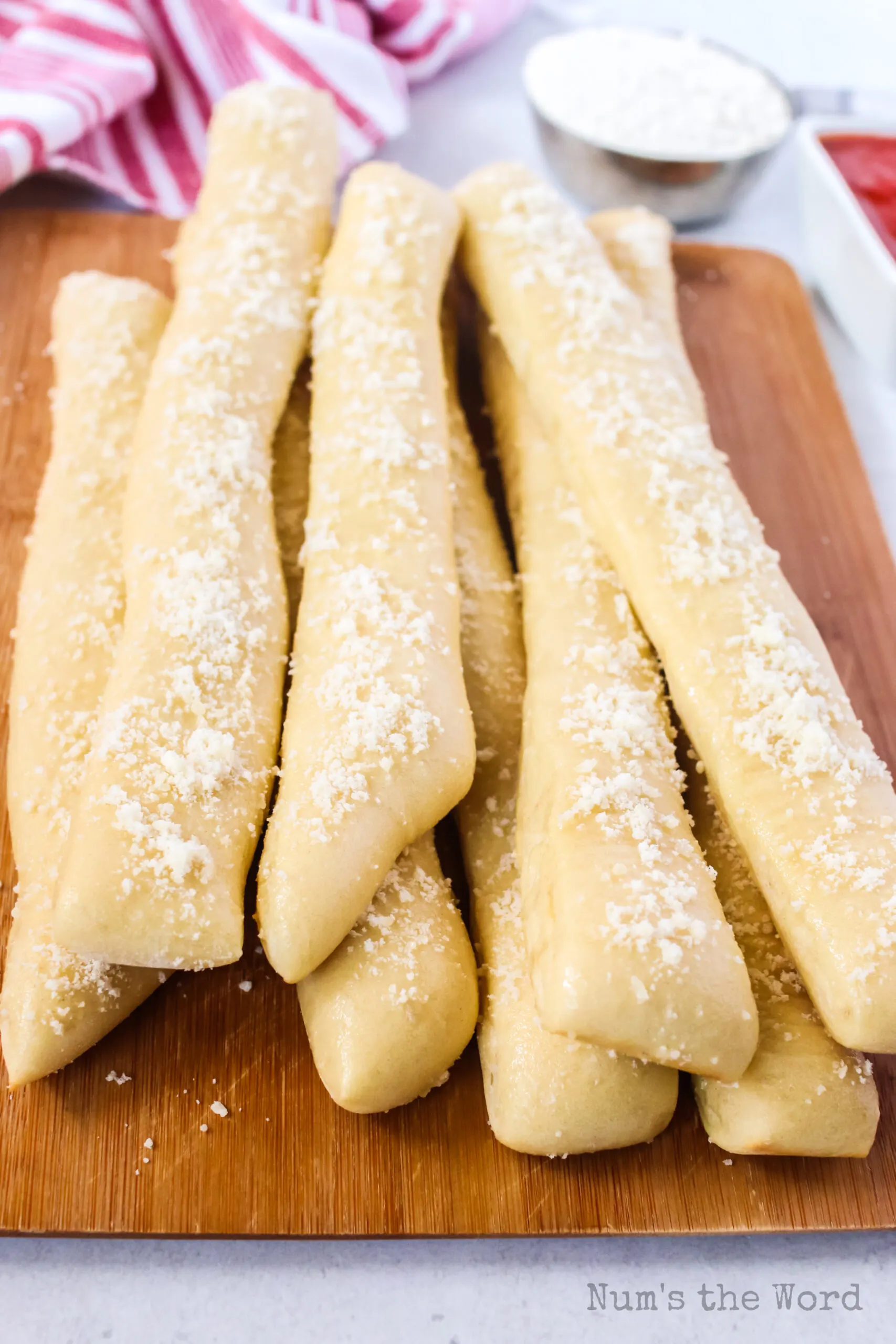 How to Store Crazy Bread
Any leftover bread sticks should be stored in an airtight container.
That goes for store bought crazy bread too! It's best to remove it from the Little Caesars bag and put it in a different storage bag.
Then you can keep the copy cat Little Caesars crazy bread on the counter for 5-7 days.
If you see any mold, if it smells bad, or gets a weird texture, you've left it too long.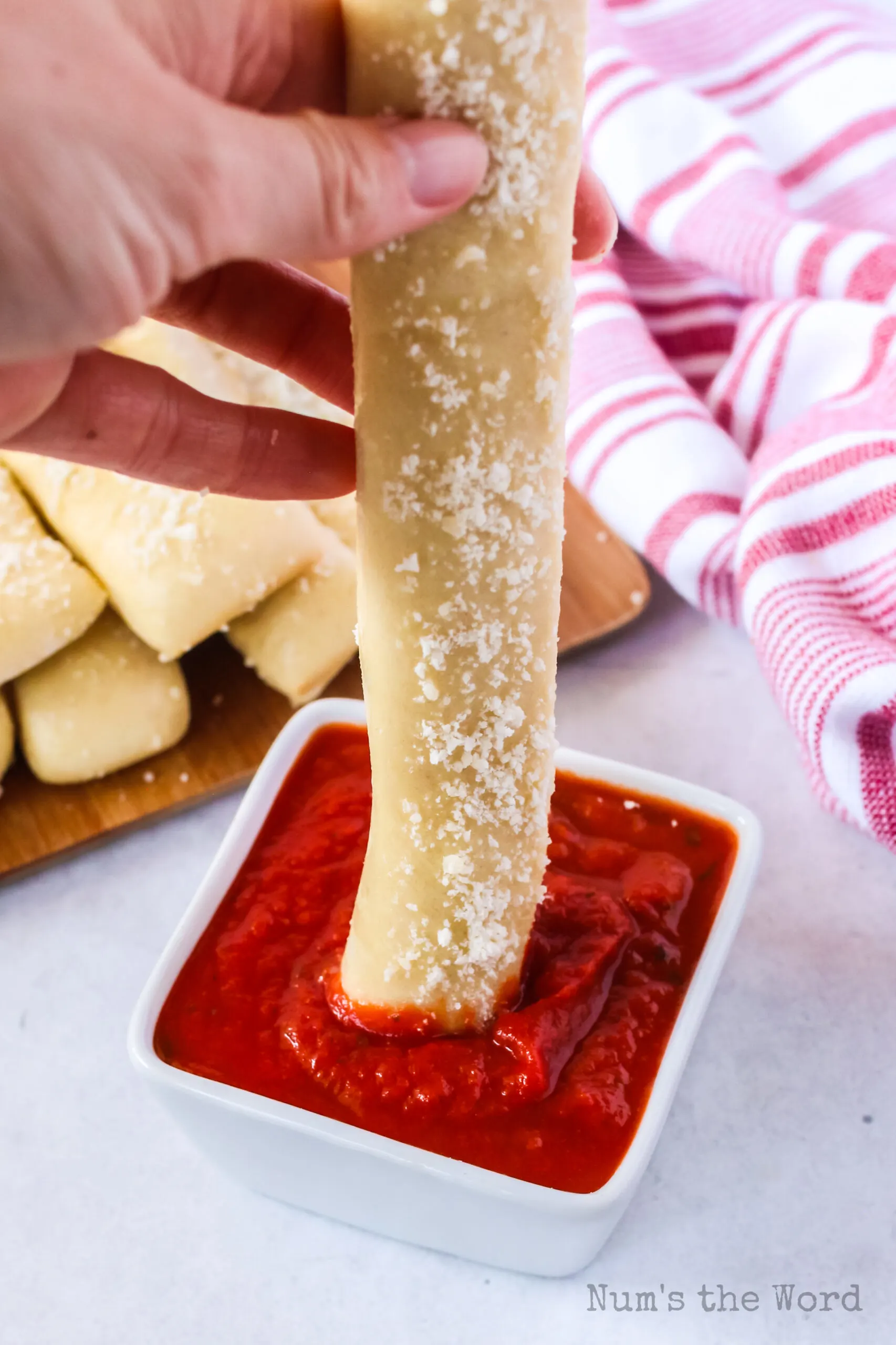 Do I Need to Refrigerate Crazy Bread?
No, however if you do keep it in the fridge, it could help it stay fresh longer.
To reheat your refrigerated crazy bread, warm in the microwave for 20-30 seconds.
Be careful because your homemade breadsticks will be hot!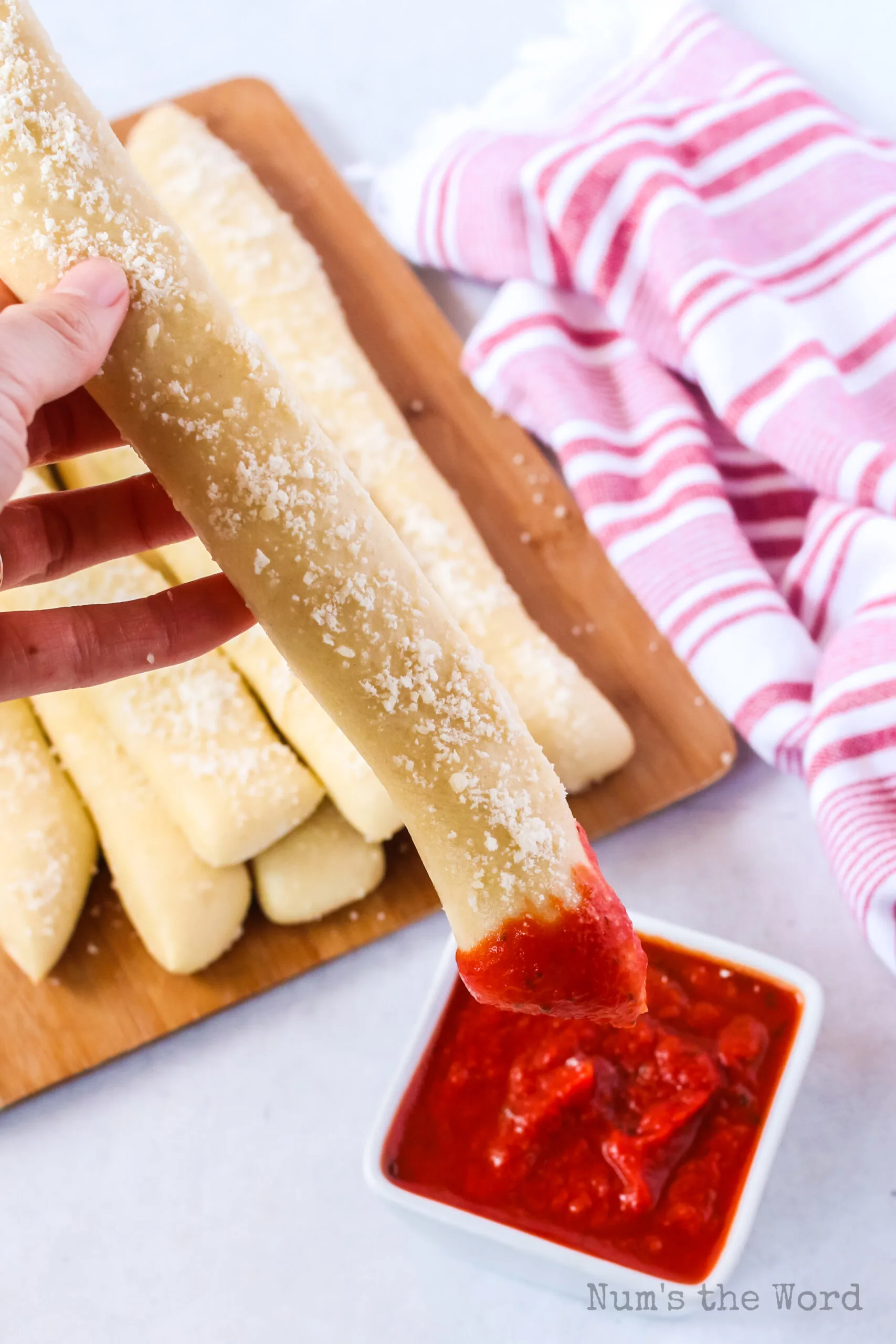 Can I Freeze Crazy Bread?
Absolutely! Crazy Bread freezes really well and is perfect for pulling out at a later time.
After allowing the fluffy breadstick to cool completely, wrap tightly with aluminum foil. Then place in an airtight container.
Be sure to write the "crazy bread" and the date you cooked it on the container so it doesn't get lost.
You can keep crazy bread in the freezer for up to three months.
Pull it out and let it thaw on the counter overnight before eating.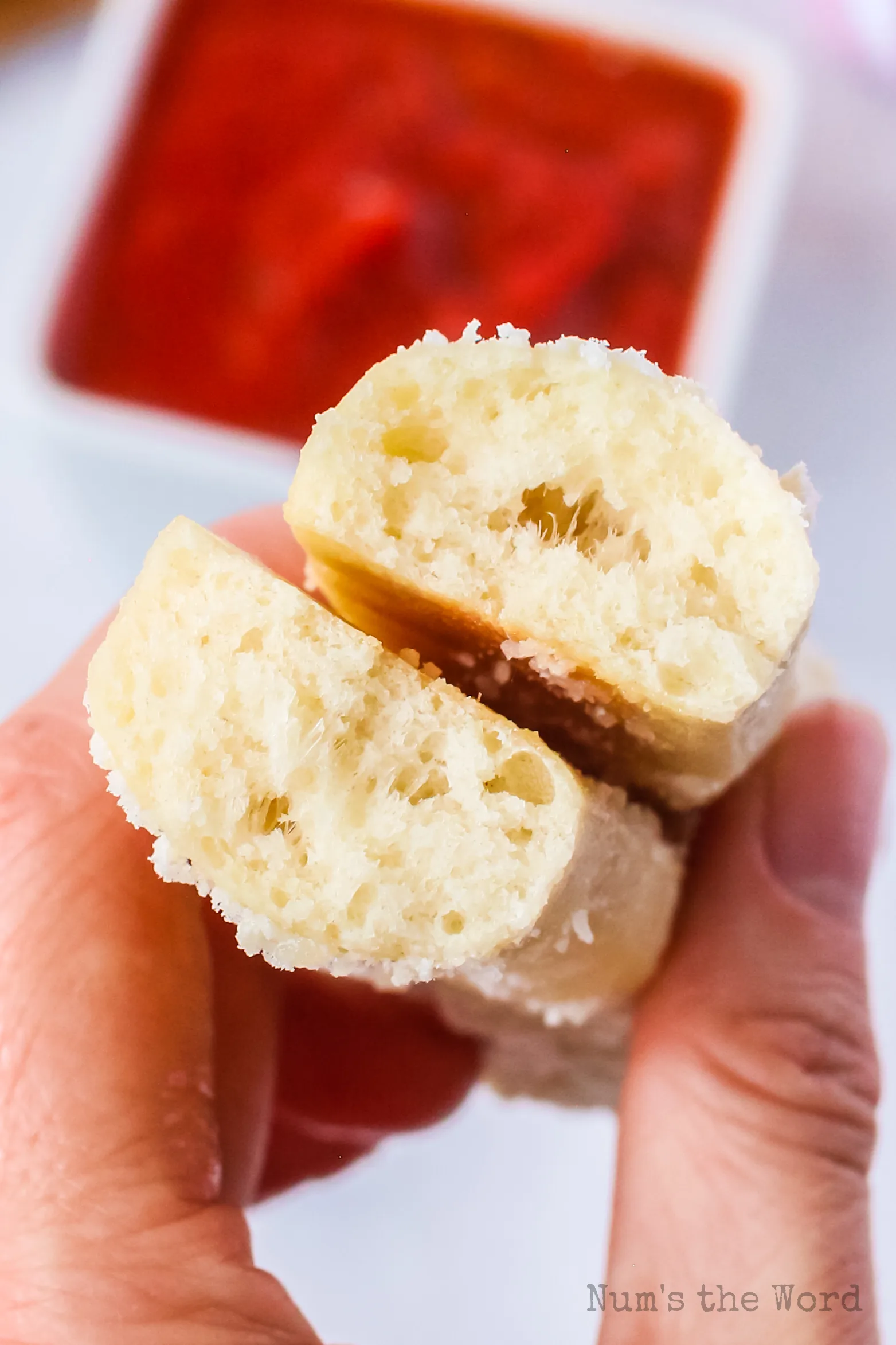 Crazy Bread is an easy copycat recipe that is even better than the original! It'll feed your family and then some! Enjoy!
Yield: 24 Bread Sticks
Crazy Bread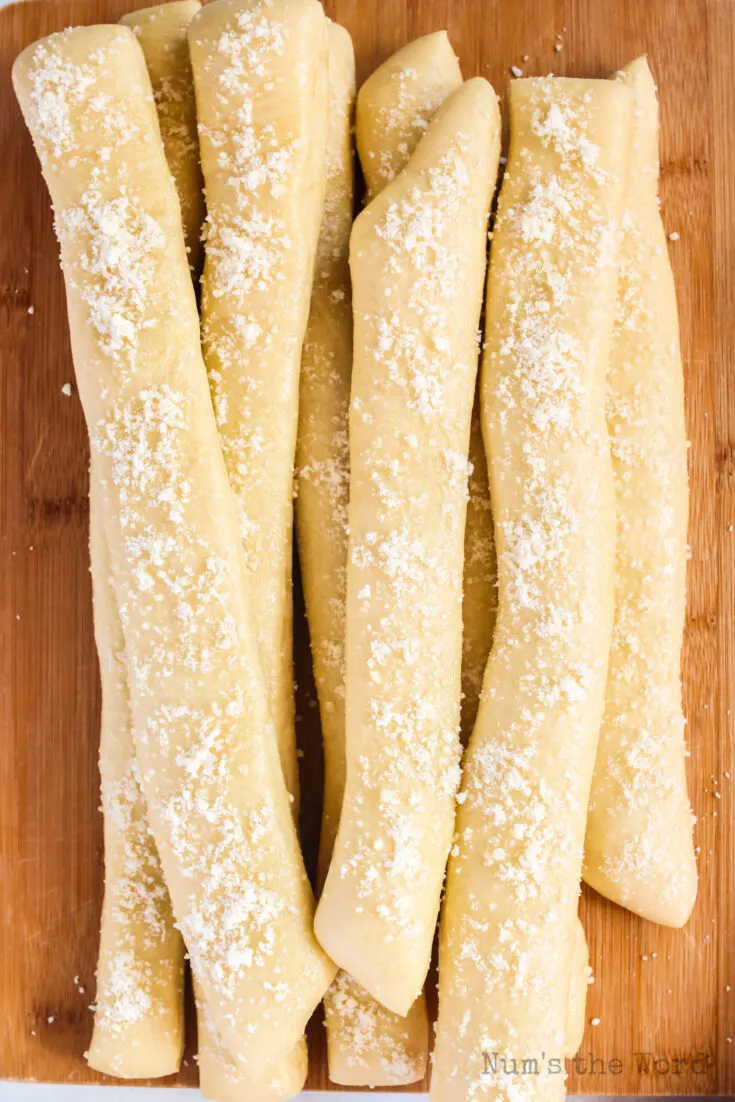 Crazy Bread is easy to make at home and much cheaper than running to your local Little Caesars pizza joint! But don't worry, it's still packed with all the goodness you know and expect!
Ingredients
Instructions
In a stand mixer add yeast, water and sugar. Mix.
Cover with a dish towel and let stand for 5 minutes.
After yeast proofs, add salt and oil. Mix well.
Add bread flour 1 cup at a time, mixing between additions.
Once all flour is added, continue to knead dough for an additional 5 minutes.
*Lightly* flour a work surface and roll dough to ¼ inch thick.
Using a pizza cutter, cut breadsticks about ½ inch wide.
Lay breadsticks out on a lined cookie sheet, making sure to leave ¼ inch between each stick as they will expand.
Cover the pan of breadsticks with a clean dish towel and let rest for 20 minutes.
Preheat oven to 375*F
Bake for 10 minutes, then remove.
Immediately spread melted butter on top of breadsticks and generously cover with parmesan cheese.
Serve with marinara sauce.
Nutrition Information:
Yield:
24
Serving Size:
1
Amount Per Serving:
Calories:

116
Total Fat:

4g
Saturated Fat:

2g
Trans Fat:

0g
Unsaturated Fat:

2g
Cholesterol:

7mg
Sodium:

166mg
Carbohydrates:

16g
Fiber:

1g
Sugar:

1g
Protein:

3g