Chicken, Pineapple & Bacon Kabobs are easy to whip up and packed with flavor! Prepare the day before and grill when ready! The pineapple glaze is to die for and kid approved!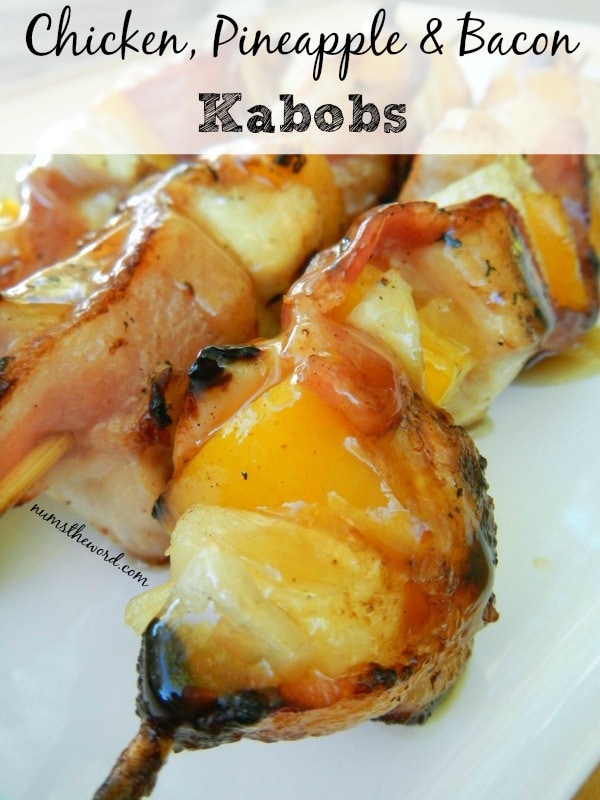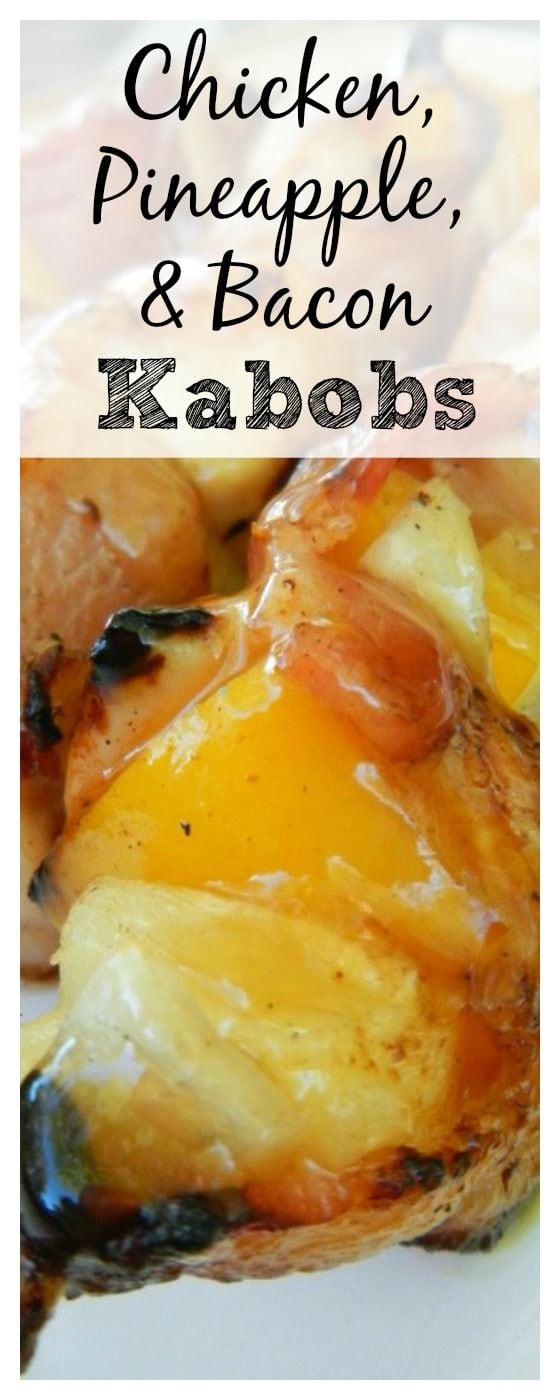 It's grilling season and these Chicken, Pineapple & Bacon Kabobs are a must have.
As with all things, it's the pineapple glaze that really makes them amazing!
We are huge fans of Kabobs. They are simple to toss together and can be made ahead of time.
You can easily thread up a kabob and refrigerate it for a day or two (covered) until you are ready to use.
Kabobs are also a great way to keep the heat out of the kitchen on a hot summer day.
I'm always looking for new ways to keep the heat out of the kitchen at dinner time by either whipping up a crock pot meal or grilling.
This year we've really started grilling at least once a week.
It's a way for my husband to contribute and it gives me a few extra minutes to myself!
A win win for everyone really.
As with all Kabobs you can easily customize these Chicken, Pineapple & Bacon Kabobs to your tastes.
My kids wont eat bell pepper or onions, so I made their Chicken Pineapple & Bacon kabobs with only the ingredients found in the name.
Not only did my 5 year old – who is the worlds PICKIEST eater – eat her kabob, she also kindly devoured my sons (who turned his nose up to weird food on a stick) and all of my bacon.
She especially loved the pineapple glaze and asked for a pool of it on her plate to dip in!
Any meal that my 5 year old will eat, is a HUGE win in our house.
She's so picky I have a list taped to my cupboard of all the "approved" dinner foods so that I can remember to make those once in a while and remind her it's on the list when she initially turns her nose up to it.
The things we do as parents that we never thought possible before we had kids! And approved food list, is something I never dreamed of doing.
Honestly though, I think it's more for me than her. We make so many new meals every week that I often forget to make old favorites every once in a while. This list helps me remember to not forget those gold star meals that she likes too!
If you've got picky kids, try this. Hopefully they'll love these Chicken, Pineapple & Bacon Kabobs as much as my 5 year old!
Other Chicken Recipes You'll Love…
This post contains Amazon Affiliate links as a free service to you!

Chicken, Pineapple & Bacon Kabobs
Ingredients
6 Skewers
6 Strips of thick cut bacon, 6 if it's long bacon, 12 if it's short bacon.
2 lbs boneless, skinless chicken breasts, cut into 1 inch cubes.
1 fresh pineapple cut into 1 inch cubes or can of pineapple chunks
2 Bell Peppers, any color
1 onion cut into 1 inch cubes
2 Tablespoons olive oil
1 1/2 cups pineapple juice
1 1/2 tablespoons corn starch
1/2 cup brown sugar
2 Tablespoons soy sauce
Instructions
Thread on a skewer bacon, then chicken, pineapple, pepper & onion.
Then repeat on the same skewer until you have 4 pieces of chicken and 3 pieces of pineapple pepper & onion with bacon woven between them.
Repeat with all 6 kabobs.
Brush olive oil onto each kabob covering all sides.
Grill on the grill over medium low heat for 20 minutes or until bacon and chicken are cooked through. We prefer to grill on a Kona BBQ Grill Mat
While kabobs are grilling, in a sauce pot combine pineapple juice, corn starch, brown sugar & soy sauce.
Boil for 2 minutes then set aside.
Once kabobs are done, generously brush with pineapple glaze & devour!
https://numstheword.com/chicken-pineapple-bacon-kabobs/
Recipe by Tablespoon
Originally posted: July 19, 2016
Republished: July 17, 2017