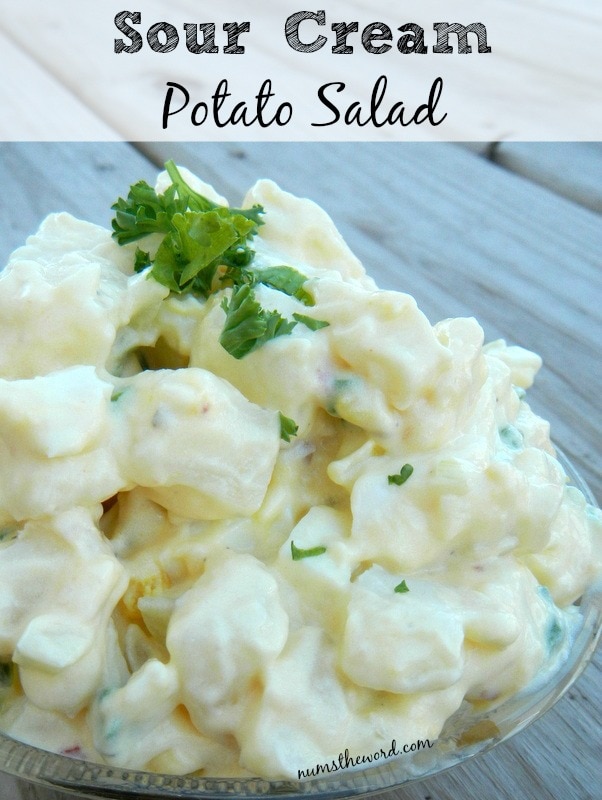 If you love potato salad, then you'll love this Sour Cream Potato Salad!
I am a fan of potato salad.
However I sometimes get in a potato salad rut.
Lately I've been sticking to the classic recipe that I know and love.
However my eyes were recently opened to this Sour Cream Potato Salad and I am now hooked!
I find that potato salad is a bit like chicken.
There are a variety of ways to make it and each one produces a unique flavor and often texture.
This Sour Cream Potato Salad may take a bit longer to make but it's worth the wait.
After cooking your potatoes, you allow the Italian dressing to really coat and absorb into the potatoes.
Then you add in the other ingredients, giving it a delicious creamy flavor that is sure to be a hit at your next barbecue or picnic.
The great thing about potato salad is that it goes well with anything.
It can be as a casual side dish with sandwiches or transformed into a delectable side dish with your favorite chicken or steak meal.
This is also a great dish to use up leftover hard boiled Easter eggs if your whipping this up around Easter.
If you are anything like me, you too look for ways to use up those Easter eggs
I generally have 4 or 5 dozen eggs that I attempt to use up.
Aside from deviled eggs, this Sour Cream Potato Salad is a delicious and crowd pleasing alternative!
We all need a few go to egg recipes and this is one of ours! Give this Sour Cream Potato Salad a try. I bet you'll enjoy it as much as we do!
Not sure what to make as a main dish with this Sour Cream Potato Salad? Try one of these suggestions!
Yield: 6 Servings
Sour Cream Potato Salad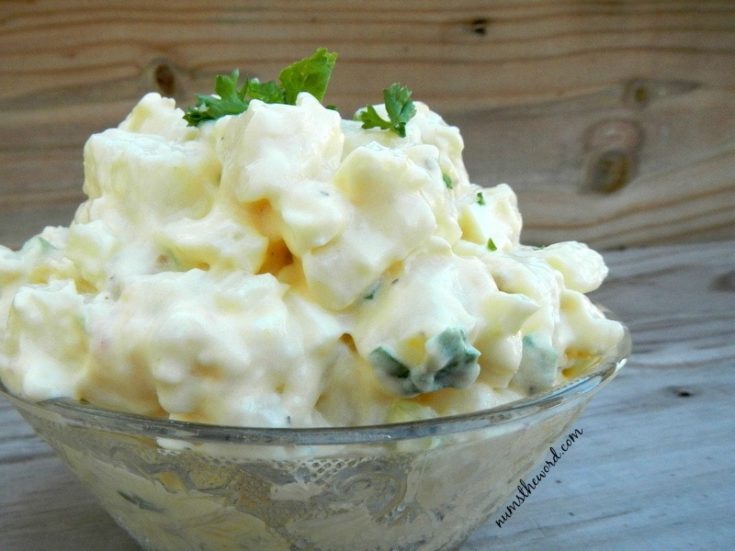 Inactive Time
2 hours
10 minutes
Total Time
2 hours
30 minutes
Ingredients
1/3 cup Italian Salad Dressing
7 medium potatoes, pealed and cubed.(I used red.)
3/4 cup finely diced celery
1/3 cup sliced green onion
4 hard boiled eggs, diced
1 cup mayonnaise
1/2 cup sour cream
1 1/2 teaspoons of horseradish mustard
Instructions
Place potatoes into a large pot and cover with water. Simmer until potatoes are tender enough to pierce with a fork.
Drain potatoes and pour Italian dressing over potatoes. Chill for 2 hours.
After chilling, add celery, green onions, eggs, mayonnaise, sour cream & horseradish mustard. Mix well and serve immediately!