Creamy Homemade Garlic Mashed Potatoes are just what you need on your holiday table! Delicious and easy, they are the perfect mashed potato that your going to absolutely love!
There's nothing better than roasted garlic, butter, cream, milk, and salt on potatoes. They make for the creamiest potatoes that just melt in your mouth they're so good.
I love these roasted garlic mashed potatoes because they only take a few simple ingredients but pack such a punch.
It's also really easy to double this garlic mashed potatoes recipe for a big crowd. Or even triple it! It's worth it.
Garlic.mashed potatoes are easy to make too. Which is essential for any busy weeknight or holiday.
You can also make this mashed garlic potatoes recipe in advance! Perfect for when you're really in a time crunch!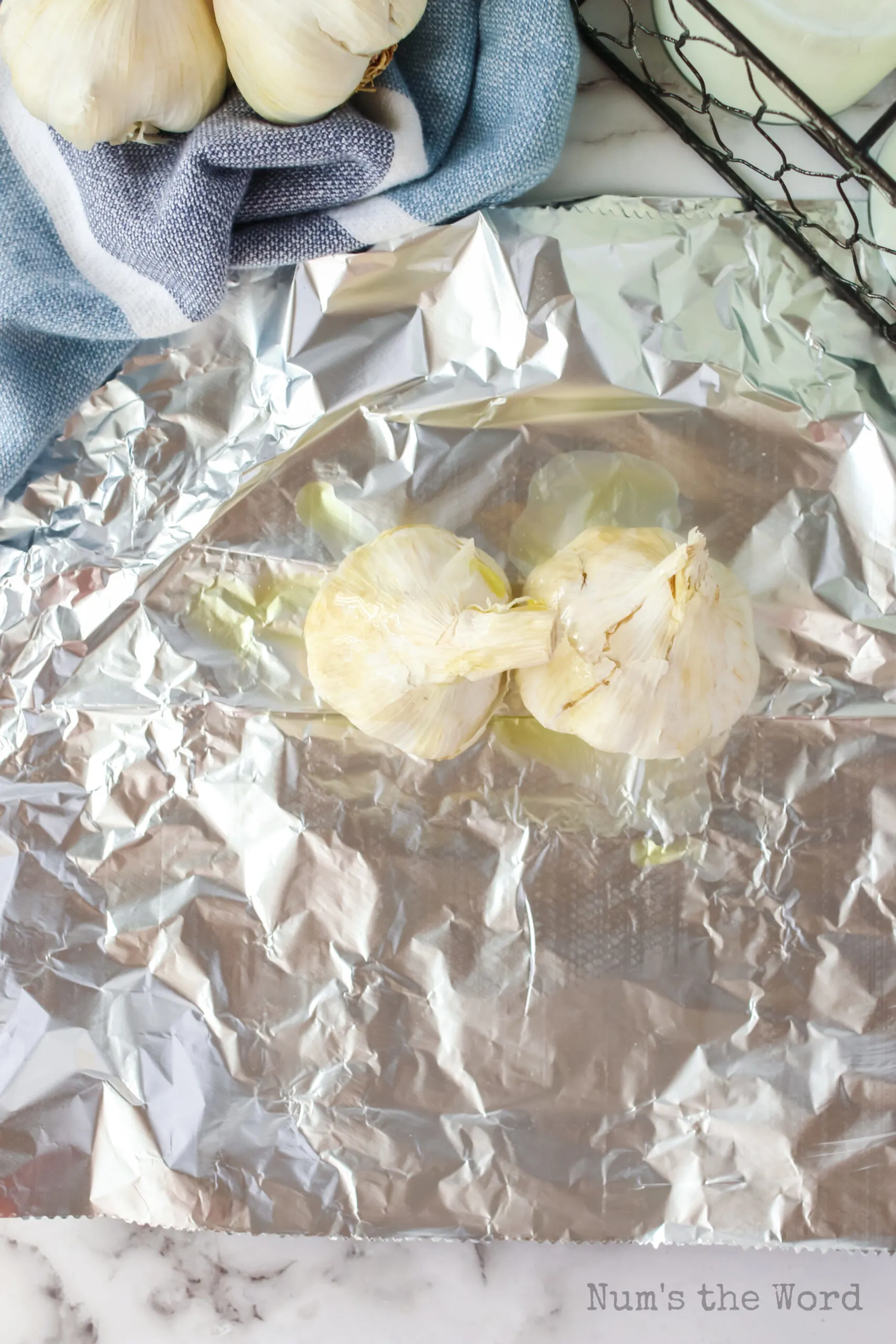 Ingredients in Homemade Garlic Mashed Potatoes
The best mashed potatoes only require a few ingredients and are the perfect side dish for your holiday dinner!
Garlic: Roasted garlic is the best part of these potatoes. It is life changing!
Olive Oil: For the roasting of the garlic, use olive oil.
Potatoes: Peeled and quartered russet potatoes will give you thick and delicious potatoes.
Butter: Butter is easier to mix in if it's room temperature first.
Milk: Whole milk or any percentage of milk will work. You can also use heavy cream or half and half if desired.
Sour Cream: This easily gives your potatoes a creamy and delicious base.
Salt and Black Pepper: Essential! Potatoes need salt and pepper like peanut butter needs jelly.
Pro Tips:
You can leave the peel potatoes or not if you really love potato skins in your mashed potatoes.
Another type of potato you could use are red potatoes or yukon gold potatoes but I prefer the heartiness of russet potatoes.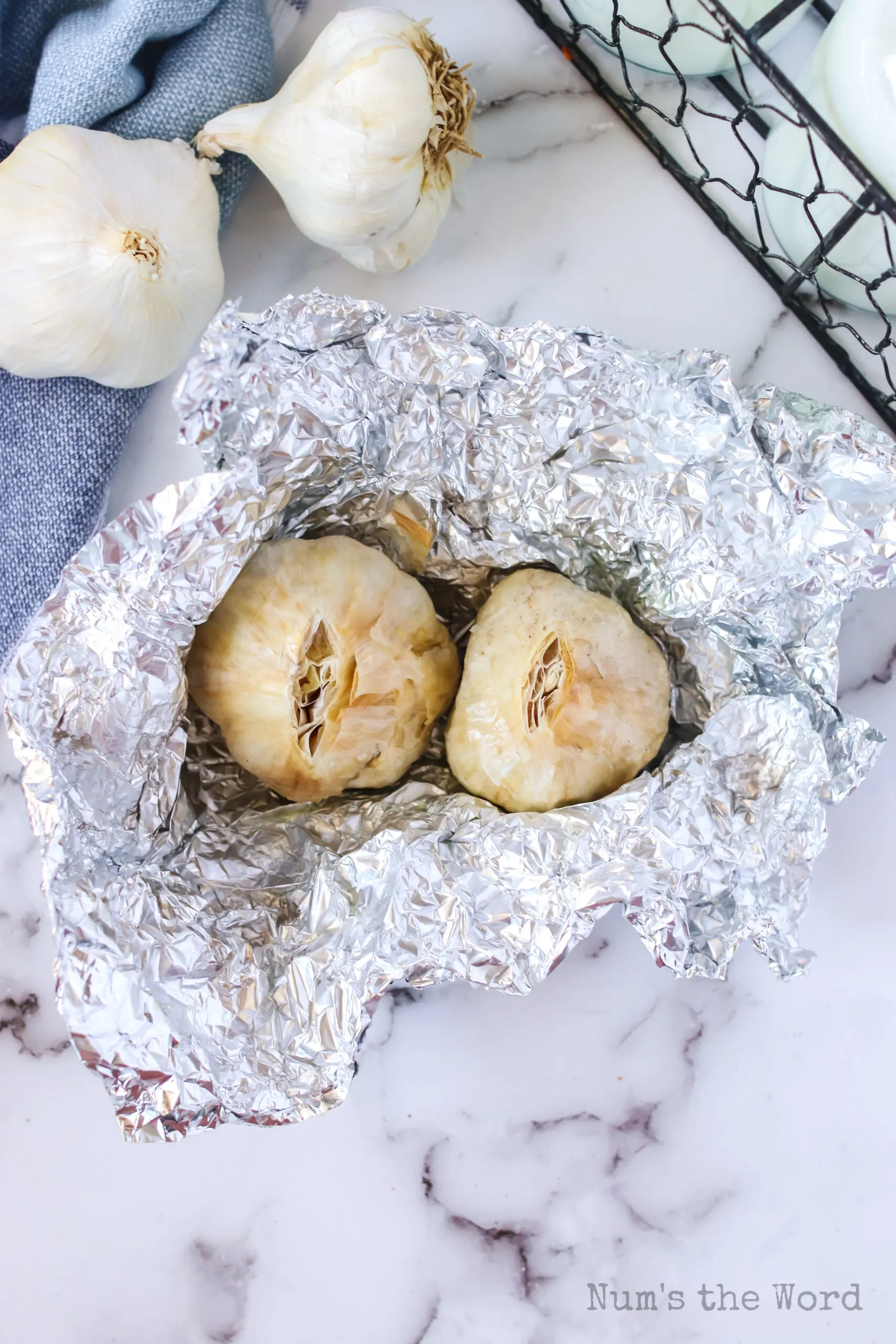 How to Make Homemade Garlic Mashed Potatoes
Creamy mashed potatoes and roasted garlic cloves. Follow these simple steps to get the smoothest mashed potatoes for your Thanksgiving dinner.
Roast Garlic: This takes the most time so start the garlic head going in the oven first and roast until golden brown.
Cook Potatoes: When potatoes are fork tender they are ready to be mixed.
Mix: Be careful not to over blend as you mix everything in.
Pro Tips:
Serve with an extra dollop of butter on top for the perfect garnish.
Drain potatoes before adding remaining ingredients.
Use a potato masher to get the right creamy texture for the potatoes.
Don't use a food processor as you want the potatoes to be creamy, not totally mixed.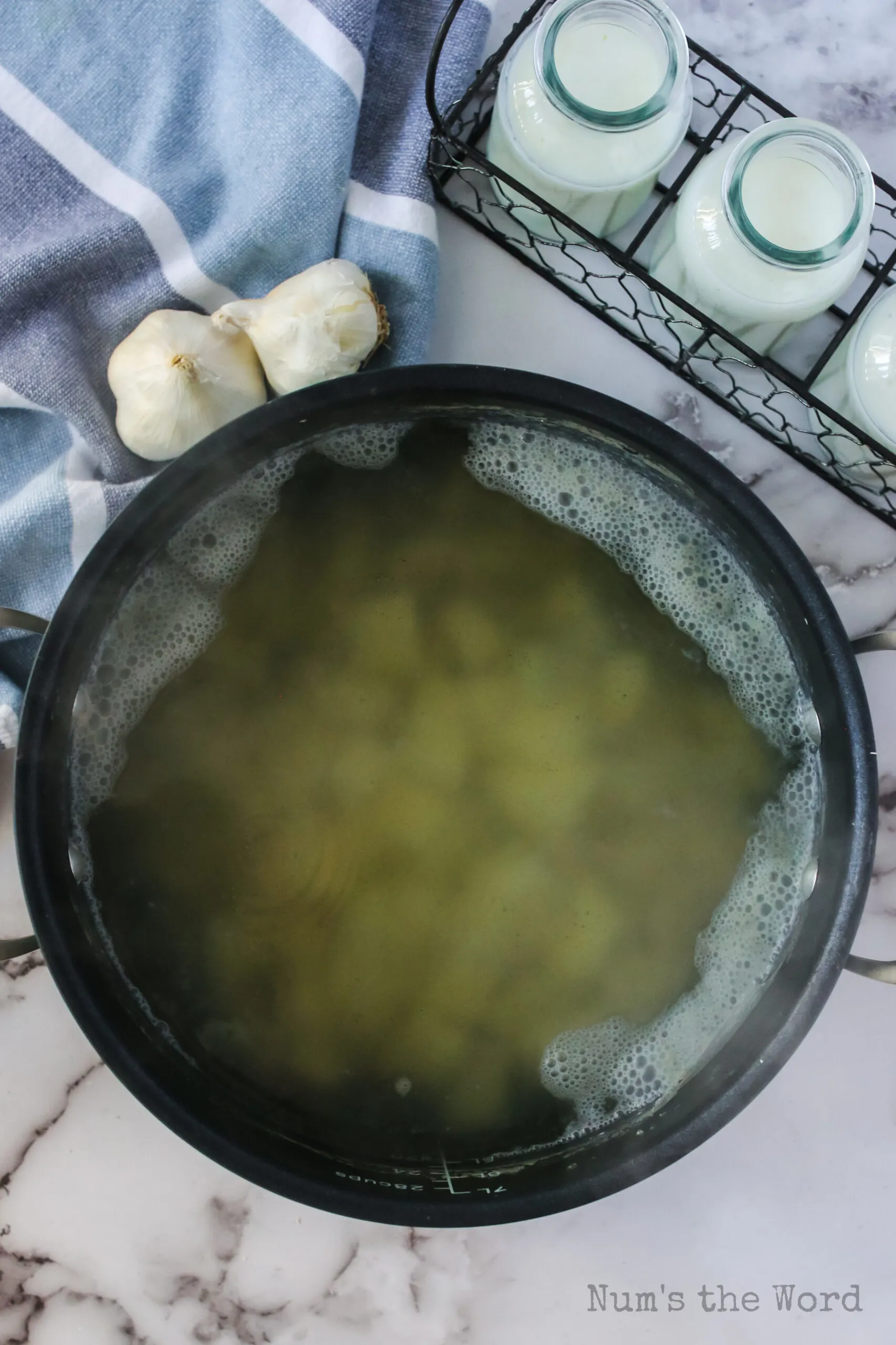 Can You Put Raw Garlic in Mashed Potatoes
You definitely can, and if you choose to forgo the roasting, you can mince the garlic and put it in that way instead.
You could even use garlic powder if you're really in a pinch too.
There's really no wrong way to put garlic in your mashed potatoes. They were almost made for eachother.
However, roasted garlic provides the perfect brown, nutty flavor that is worth every minute of roasting.
It adds a lot to the flavor of the potatoes and I highly recommend roasting if at all possible.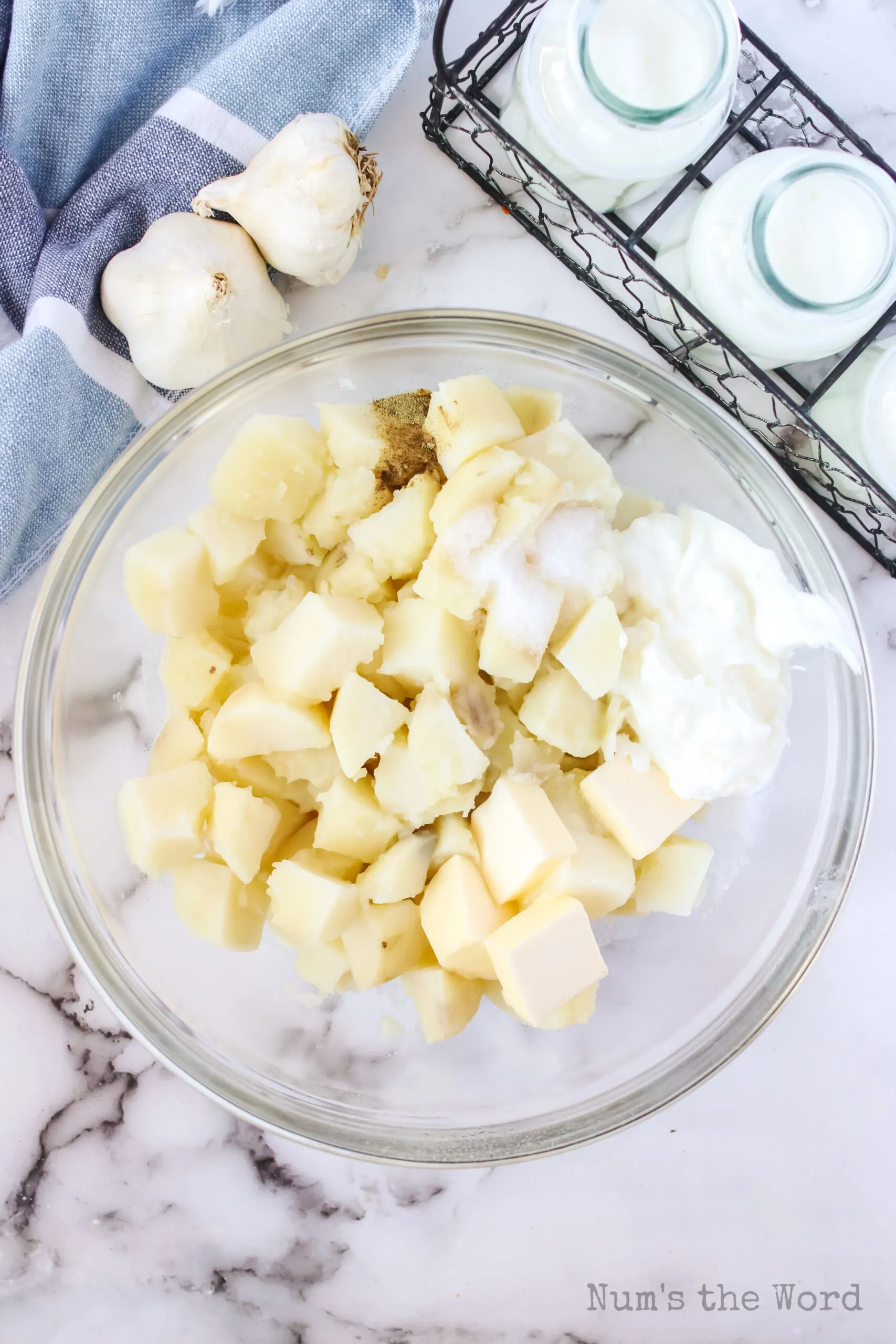 Are homemade Garlic Mashed Potatoes Gluten Free
Yes, this garlic mashed potato recipe is naturally gluten free.
In order to be considered gluten free, they can't be made with anything that contains gluten, like wheat, barley, etc.
Potatoes themselves are already gluten free and none of the other ingredients in this recipe contain any gluten either.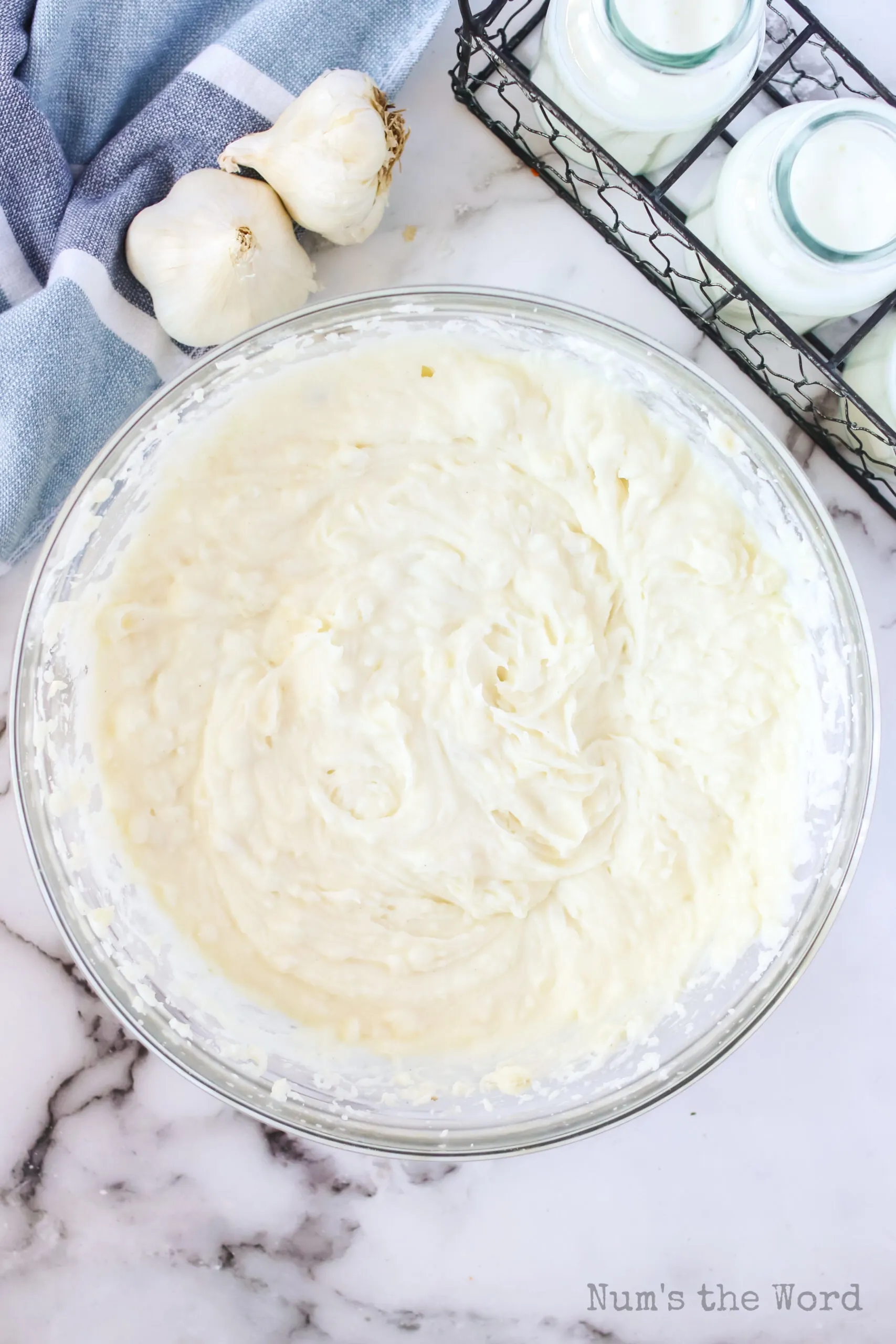 What Goes Well with homemade Garlic Mashed Potatoes?
Any food you're serving up for Thanksgiving or Christmas go well with mashed garlic potatoes.
Think salads, turkey, ham, cranberry sauce, pumpkin pie, mmmm…. I could go on but I should stop because my mouth is watering.
Here's other easy recipes for serving your mashed potatoes for the every day kind of recipe.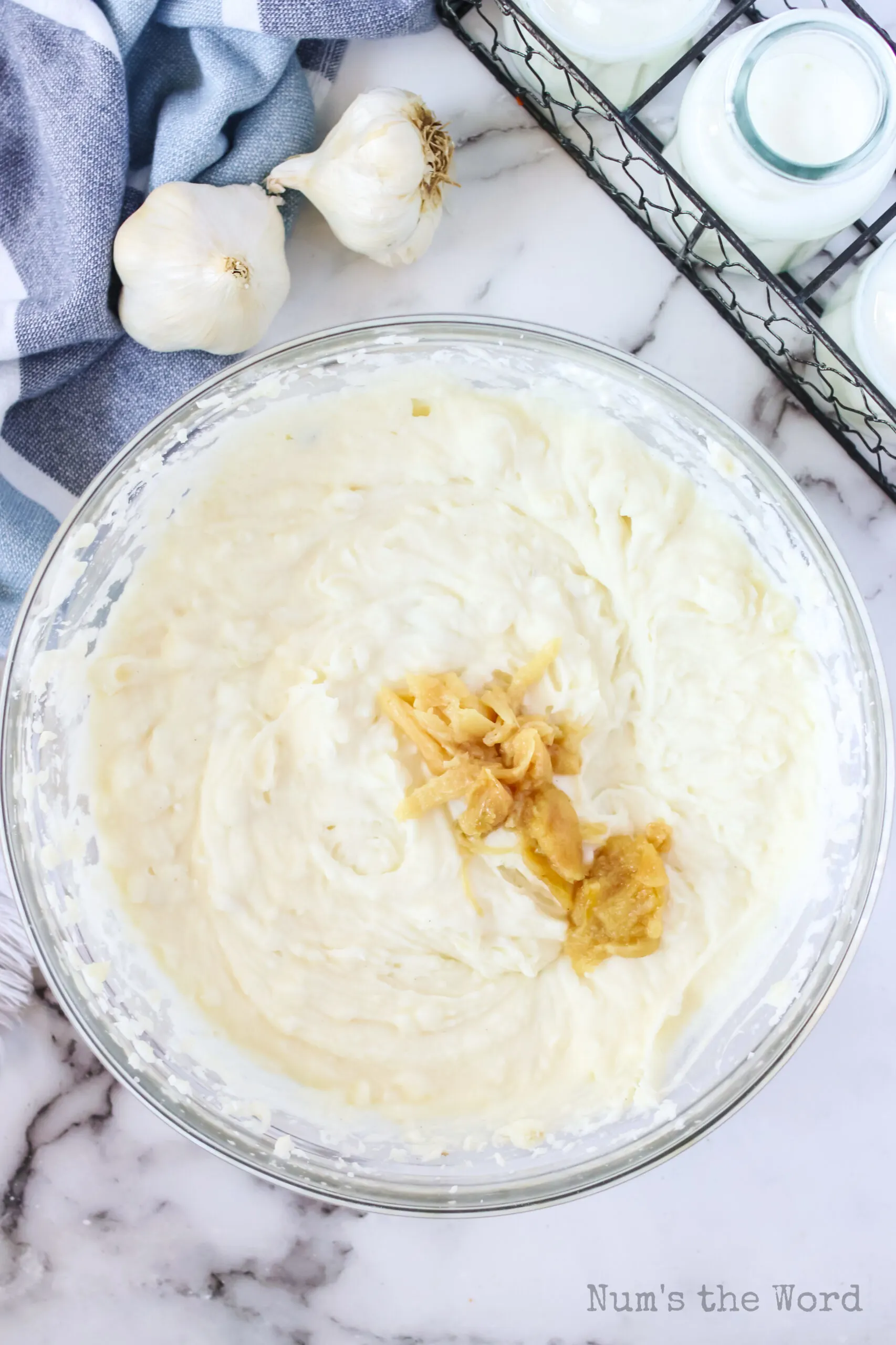 Can Dogs Eat Garlic Mashed Potatoes?
Do not feed garlic potatoes to your dogs.
While this may become one of your favorite side dishes, it shouldn't become one of your dog's.
Butter and cream is hard for your dogs to eat and shouldn't be included in their regular diet.
However, garlic and onions and members of the same family are toxic for dogs and can require a visit to the vet.
Therefore, it's best not to feed your dogs mashed potatoes with garlic.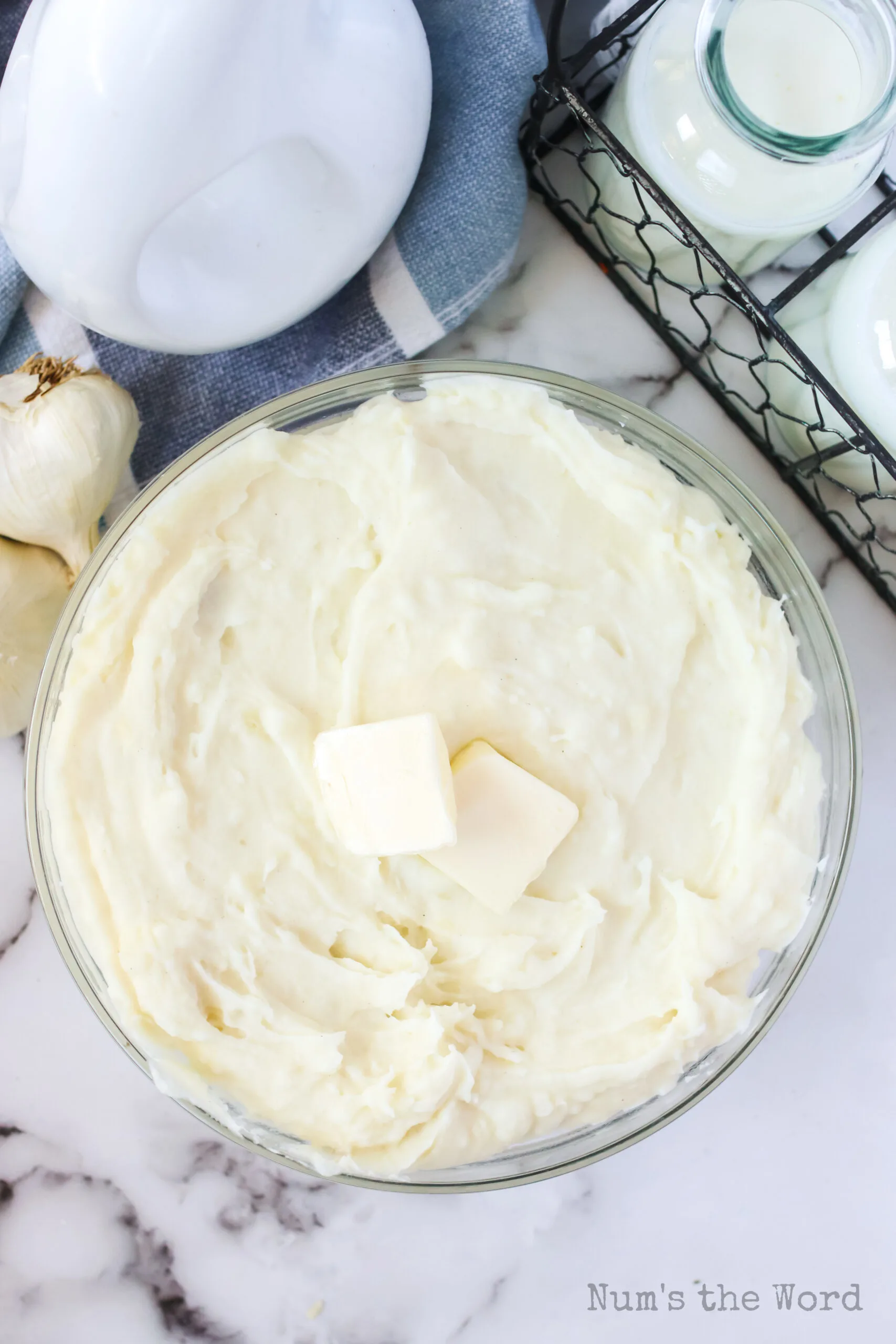 How to Fix Too Much Garlic in Mashed Potatoes
You shouldn't have any problem with too much garlic when you roast the garlic and add it as directed in this recipe.
However, if you add raw garlic or garlic powder, it can be very easy to over garlic the potatoes.
And while we all want that delicious garlic flavor, too much can be a real problem!
There are a few ways to fix this problem.
Add more cream. The sour cream, milk, and butter can all help tone down the garlic flavor.
Add more potatoes. Make another batch of mashed potatoes, this time without the garlic, and mix it into your original batch.
The first option takes less time but can result in potatoes that may be too runny and not creamy.
But the second option will take more time as you'll need to completely make another batch of potatoes.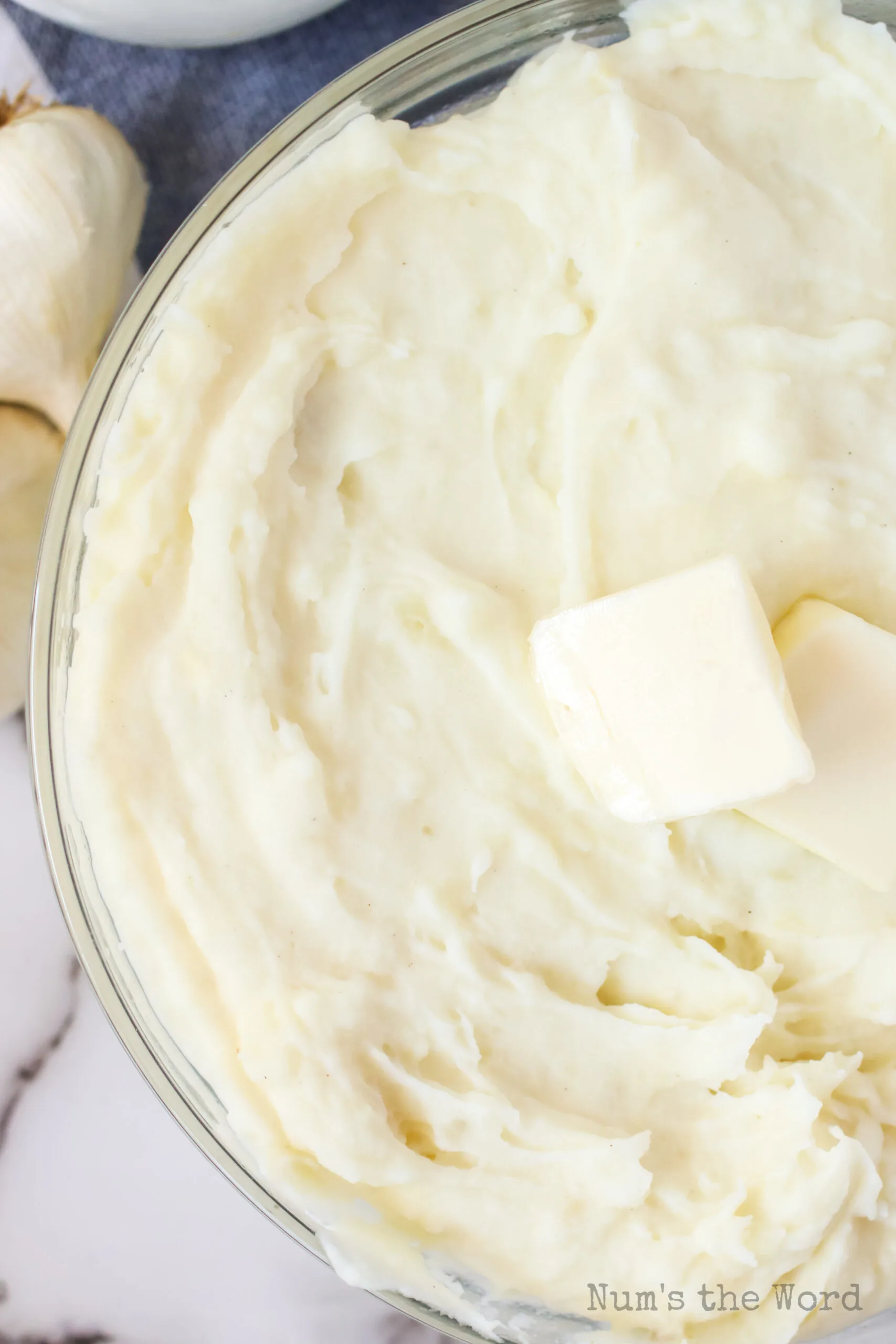 Can I Make Mashed Potatoes with Garlic Ahead of Time?
Yes! You can mix up the entire batch of garlic mashed potatoes ahead of time.
In that way you can just reheat when you're ready.
But I find I like to prep everything and cook it all just before serving. I find it gives the best taste and texture that way.
You can roast the garlic and store it in the tinfoil in the fridge for up to 3 days.
You can also peel and cut the mashed potatoes in advance.
You'll want to keep them completely submerged in cold water in the fridge until you're ready to use them.
Then simply cook the potatoes and put everything together at the last minute.
How to Store Garlic Mashed Potatoes
Keep any leftover garlic mashed potatoes in the fridge, covered in an airtight container.
Be sure to let the potatoes come to room temperature before transferring to their container.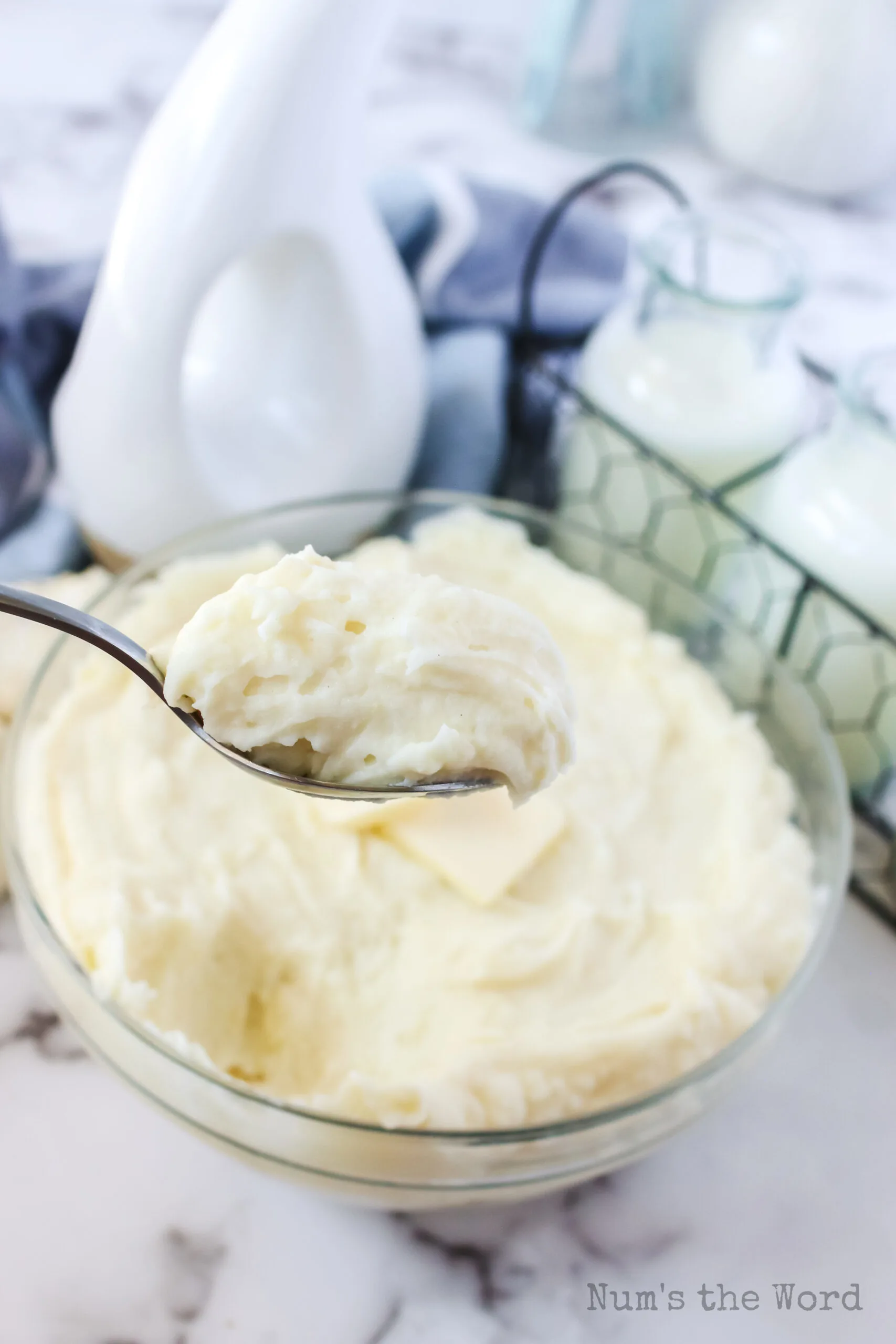 More Potato Recipes You'll Love…
Garlic Mashed Potatoes are an easy and delicious side dish that you can serve any time. They're filling, creamy, and full of yummy garlic your whole family will love.
Yield: 8 Servings
Homemade Garlic Mashed Potatoes
Creamy Homemade Garlic Mashed Potatoes are just what you need on your holiday table! Delicious and easy, they are the perfect mashed potato that your going to absolutely love!
Ingredients
Instructions
Preheat oven to 350*F
Place unpeeled garlic head on a piece of foil.
Drizzle unpeeled heads of garlic with olive oil and wrap up nice and tight.
Bake for 1 hour.
After garlic has baked for 30 minutes, start preparing potatoes.
Bring a large pot of water with 1 teaspoon of salt to a boil.
Peel and quarter potatoes and add to boiling water.
Cook potatoes until tender - about 15 minutes.
Drain potatoes.
Add butter, milk, sour cream, salt and pepper to potatoes and blend with a hand blender. Do not over blend.
Once the garlic is finished baking, open the foil packet.
Cut off the tip of the garlic head and squeeze roasted garlic into mashed potatoes.
Mix again and serve with another dollop of butter on top.
Nutrition Information:
Yield:
8
Serving Size:
1
Amount Per Serving:
Calories:

213
Total Fat:

11g
Saturated Fat:

6g
Trans Fat:

0g
Unsaturated Fat:

4g
Cholesterol:

25mg
Sodium:

602mg
Carbohydrates:

26g
Fiber:

3g
Sugar:

2g
Protein:

4g