Get ready for the creamiest, easiest, comfort food ever! Instant Pot Macaroni and Cheese is where it's at!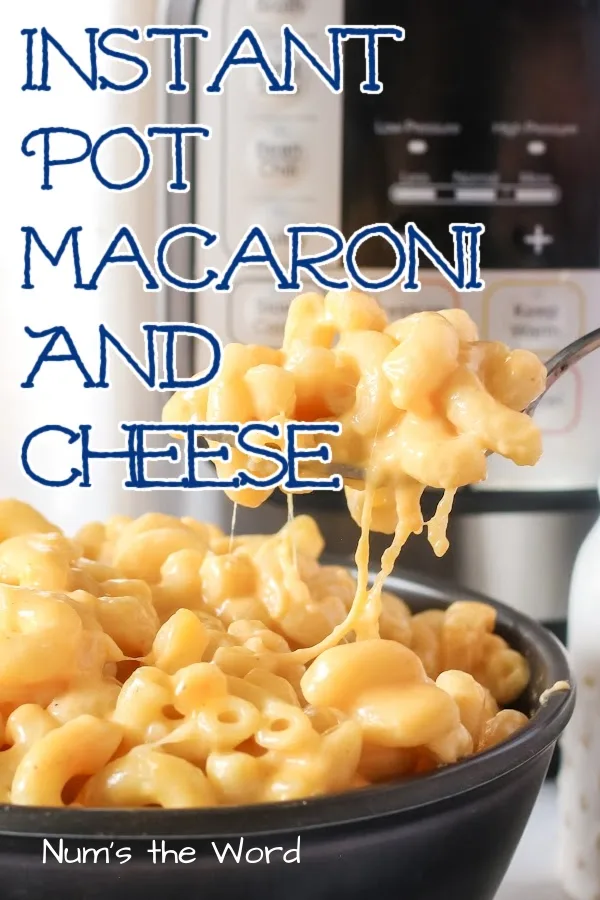 Making macaroni and cheese on the stove is the same as making it in the instant pot right? Wrong!
Instant pot macaroni and cheese is really something different. There's no boiling and draining. Simply dump and start.
I don't know how to describe how delicious this macaroni and cheese is. I'll just let you know everyone in my house asked if we could have it for dinner 3 nights in a row!
I love this instant pot mac and cheese because it is so quick to throw together! I let the instant pot do the work while I get some much needed me time!
I also love cooking mac and cheese in the instant pot because it turns out perfectly creamy and cheesy every time. Can't beat that!
Plus this instant pot creamy macaroni and cheese feeds a crowd! I mean it! It makes a whole lot!
And making macaroni and cheese in the instant pot takes way less time than cooking it in the oven too!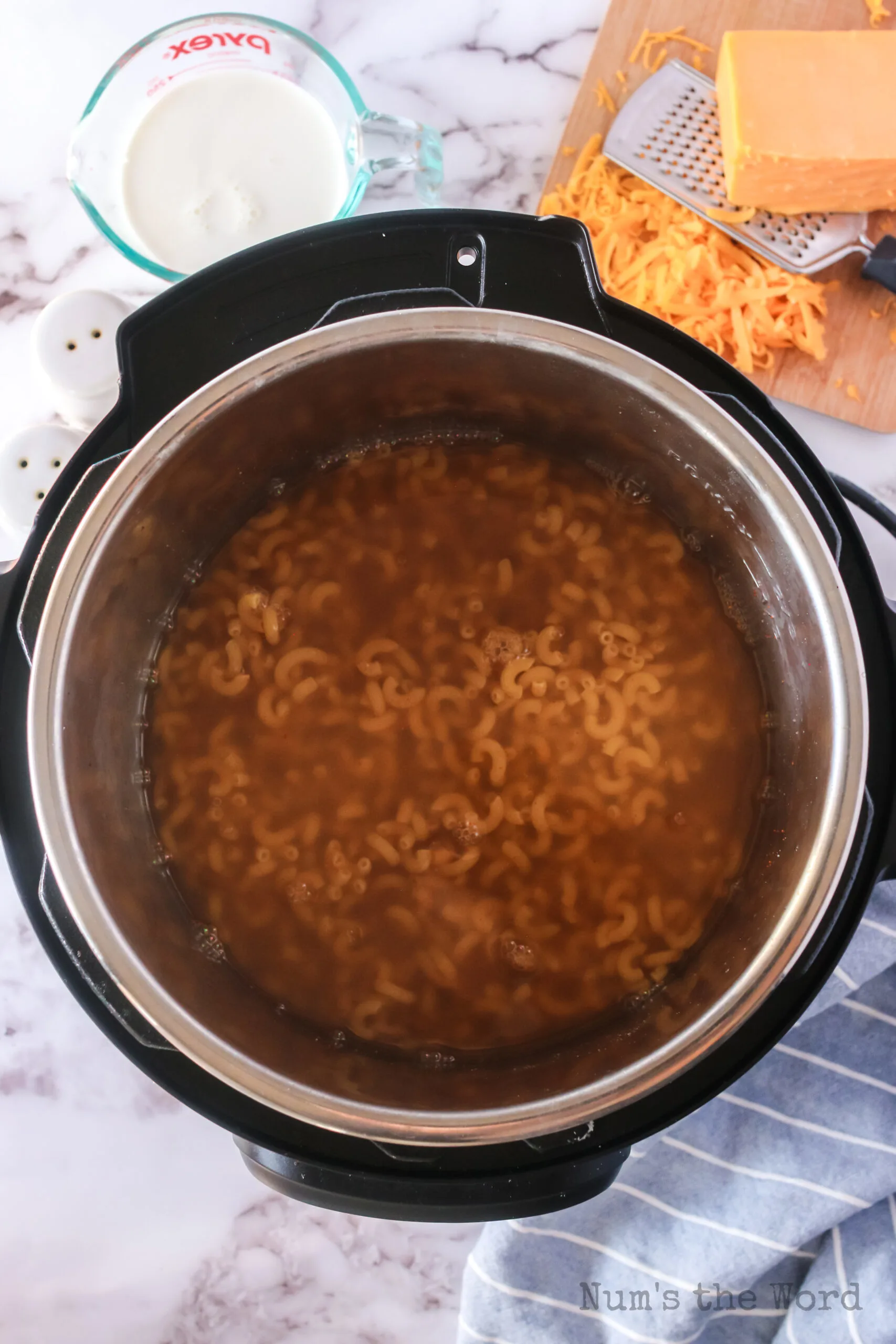 What Ingredients are in Instant Pot Macaroni and Cheese?
This perfect recipe is one of the best comfort foods I've ever had. Enjoy the ultimate comfort food tonight!
Chicken Broth: Cooking the noodles in chicken broth gives them an extra flavor boost!
Water: The ratio of water to noodles is important since you won't be draining.
Seasonings: Grab salt, dry ground mustard, paprika, black pepper, and garlic powder for the best flavor combination.
Elbow Macaroni: Really you can use another shaped noodle if you want. But I like the classic elbow macaroni.
Butter: Don't try substituting with another oil! Butter gives you the absolute best in this easy recipe.
Half and Half: Whole milk can also be substituted in a pinch though regular milk doesn't turn out as creamy.
Cheese: Use two cheeses for extra cheesy awesomeness. Grab sharp cheddar cheese and parmesan cheese.
Pro Tips:
Use low sodium chicken broth or wait to add the salt until the end when you can taste it.
Do not use powdered parmesan cheese! It doesn't melt well and tastes bland. Use grated parmesan cheese.
Different types of cheese will give you different flavor combos. Try: Gouda, Gruyere, Monterrey Jack, or an Italian Blend.
I don't recommend using Mozzarella or Provolone as they turn gooey and not in a good way.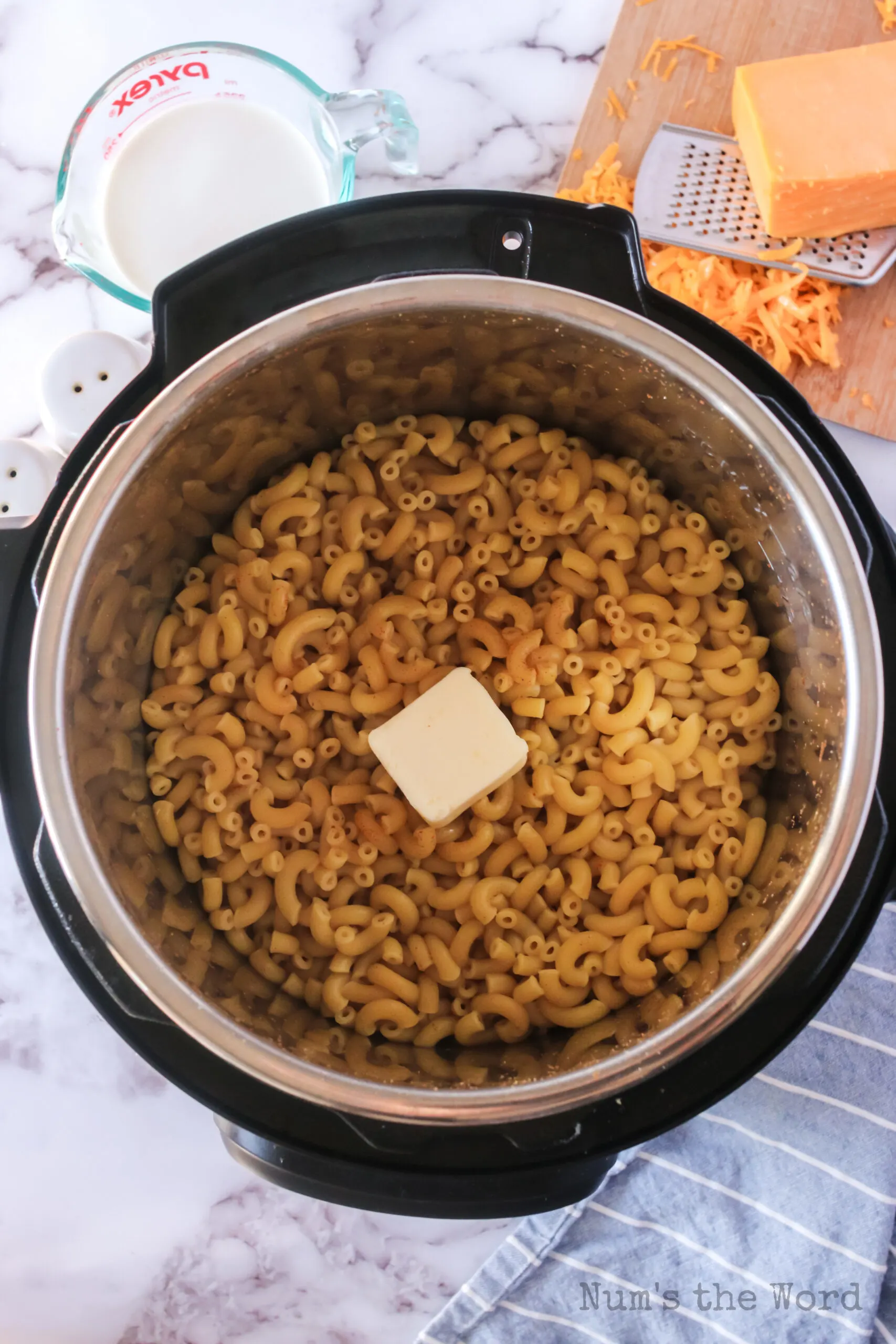 How to Make Macaroni and Cheese in an Instant Pot
Homemade macaroni and cheese has never been easier! The pasta cooks on high pressure right in the instant pot in no time at all!
Mix: Combine the chicken broth, water, seasonings, and noodles right in the instant pot.
Cook: You need to wait for the pressure to build which takes about 10 minutes.
Stir: Mix in the butter, half and half, and cheese! And eat up!
Pro Tips:
Let the instant pot do a natural release for 5 minutes before releasing the steam release valve.
If the mixture is too soupy, wait 5 minutes and it will naturally thicken.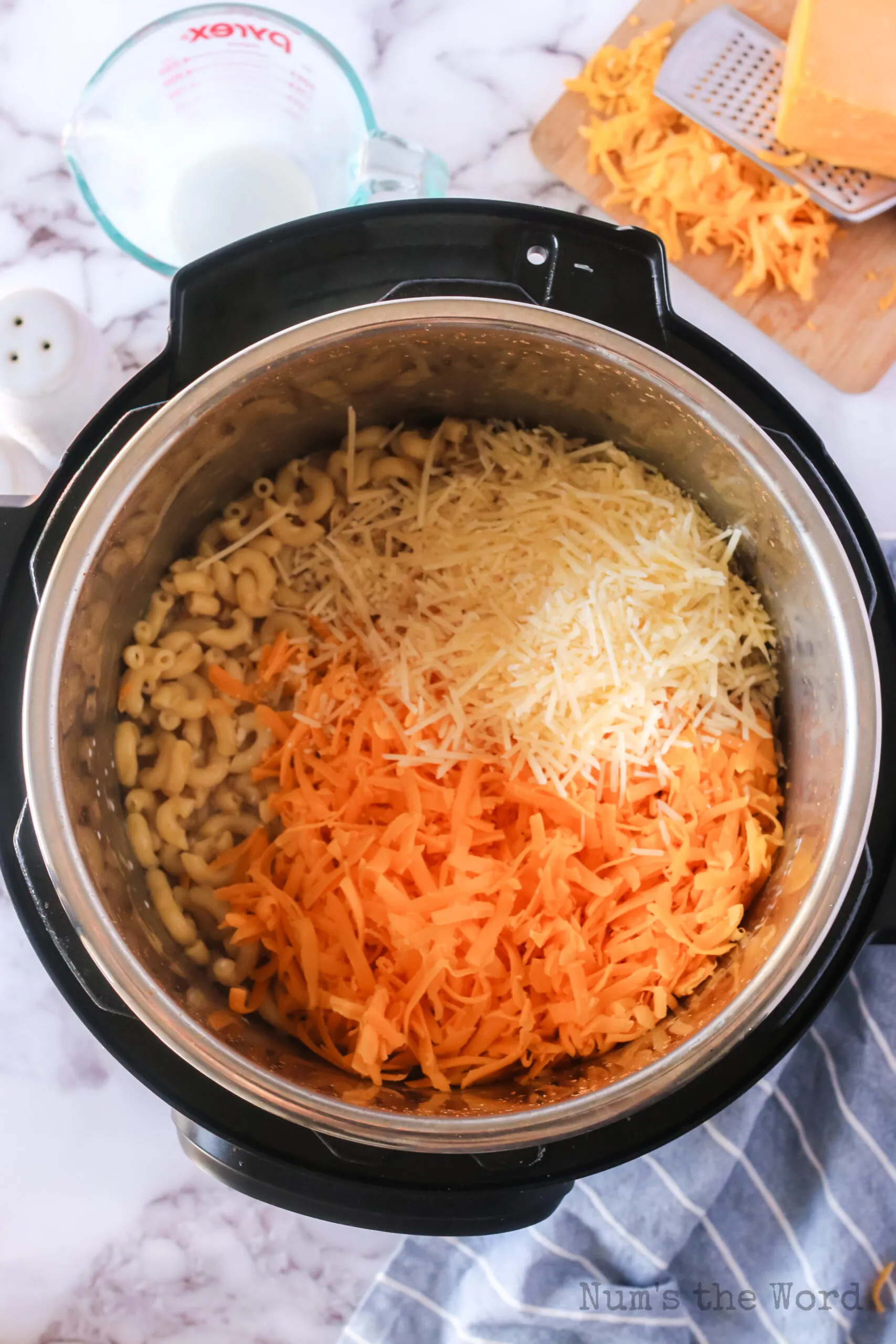 What to Serve with Instant Pot Macaroni and Cheese
We've often served mac and cheese with a side salad or tossed a bit of rotisserie chicken in with the noodles for extra protein.
We even add in some hot sauce when the kids aren't around to enjoy the creamiest mac and cheese with us.
Here's some actual recipes you could use to spice up your dinner table.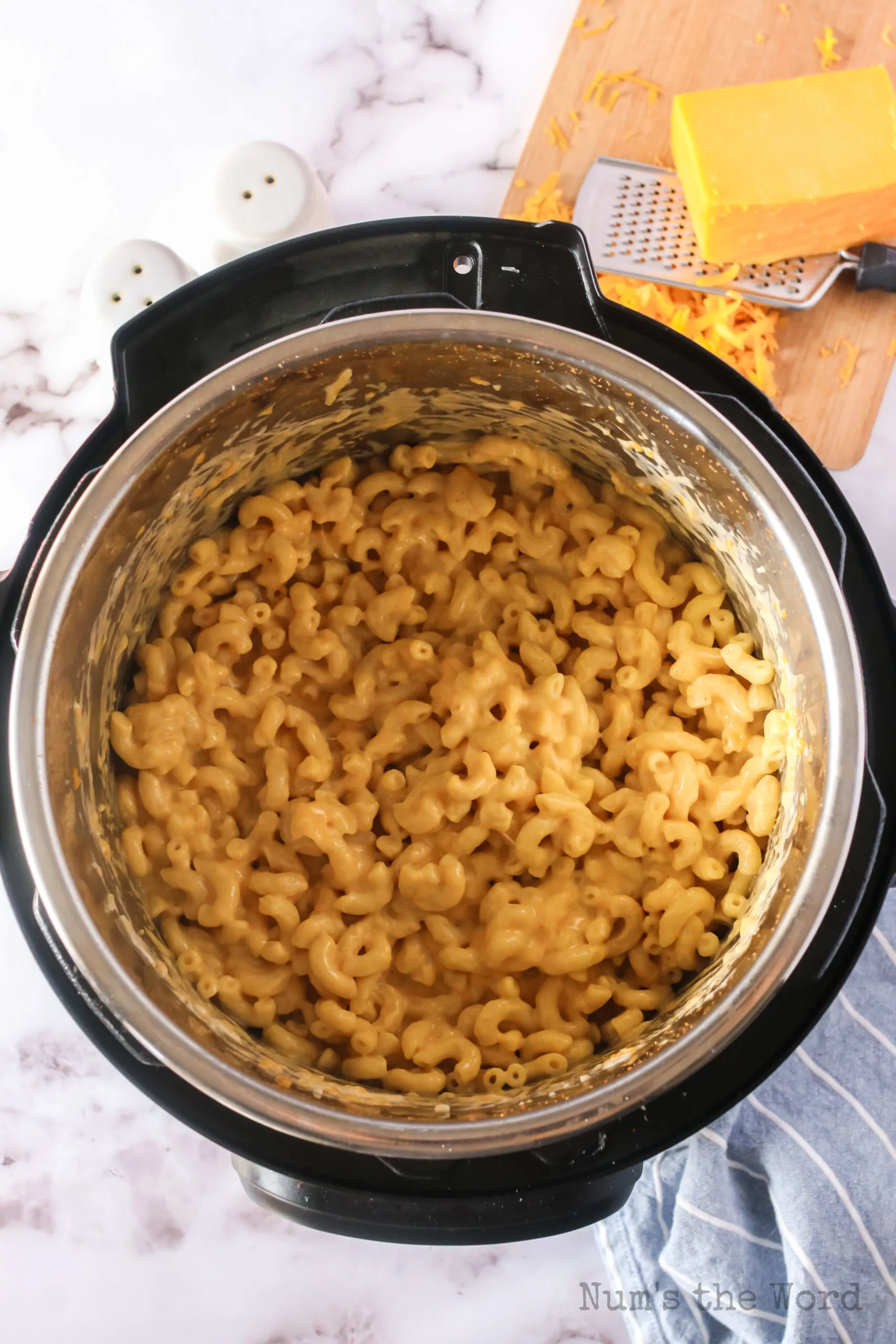 Can You Freeze Instant Pot Macaroni and Cheese?
Definitely! I was worried about this as sometimes cream doesn't do well when reheated but it turns out you can!
So here's what to do with your leftover mac and cheese:
Let the dish cool completely. This is a necessary step. Don't freeze until it is done.
Seal in a freezer safe container. This can be a bag or other freezer friendly container.
Label. Put the date you made it and what it is so you don't lose it in the freezer.
Frozen macaroni and cheese noodles will last for up to 3 months in the freezer. After that they'll definitely start to lose their taste and texture.
Is Instant Pot Macaroni and Cheese Healthy?
Cheese. Cream. Noodles. You get to decide for yourself on this one but I would put this as a comfort food item in our house.
And there's nothing wrong with that! We all need comforting indulgence sometimes.
And if that looks like a steaming bowl full of creamy pasta? I'm totally okay with that.
The perfect mac and cheese is totally worth every delicious bite.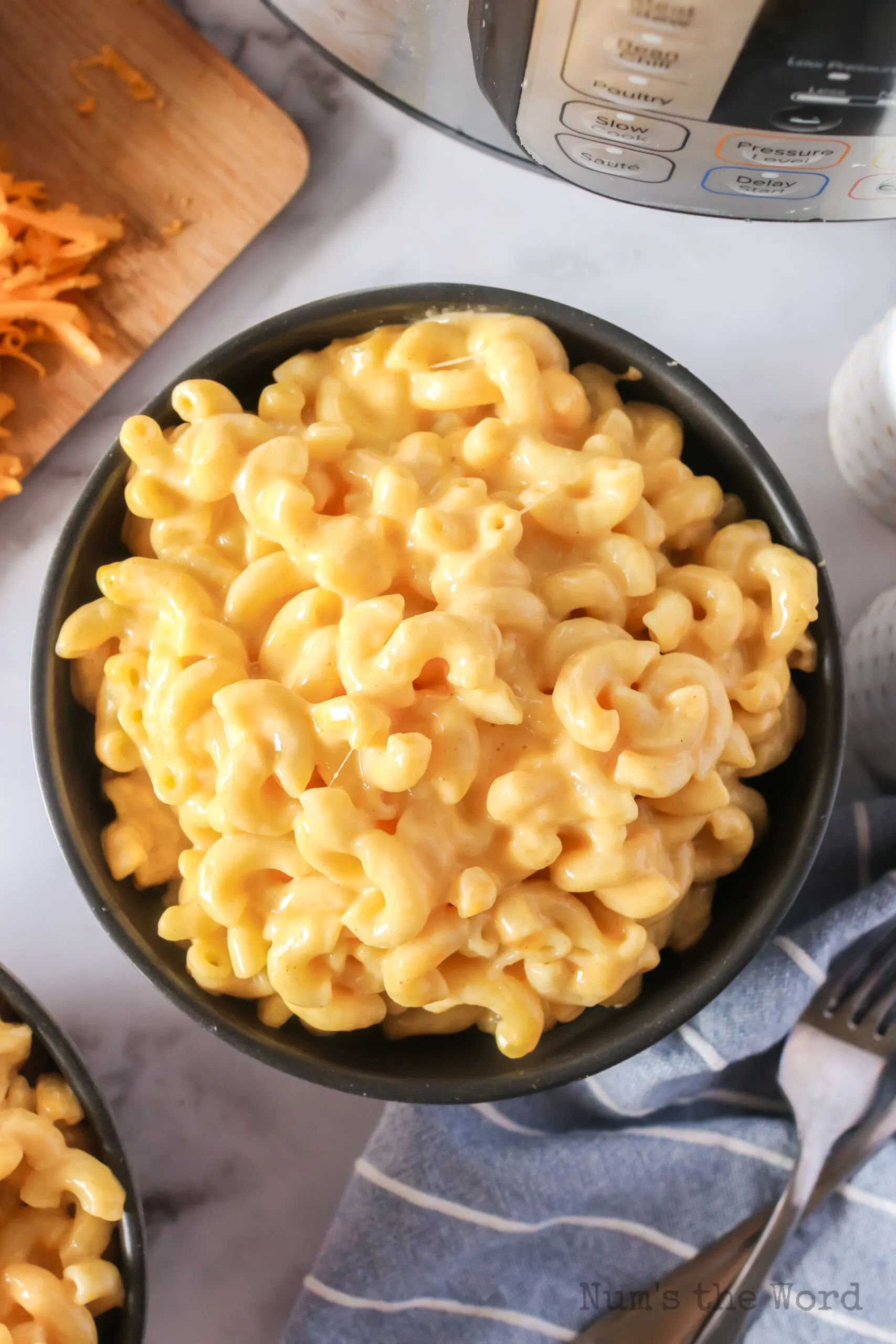 Can Dogs Eat Macaroni and Cheese?
No, cannot eat macaroni and cheese.
Easy instant pot macaroni and cheese is full of…well… cheese! And dairy can be really hard on a dog's stomach.
Also, garlic and onions can actually be toxic to dogs.
While the amount of garlic powder isn't a lot, you would want to avoid it just to be safe.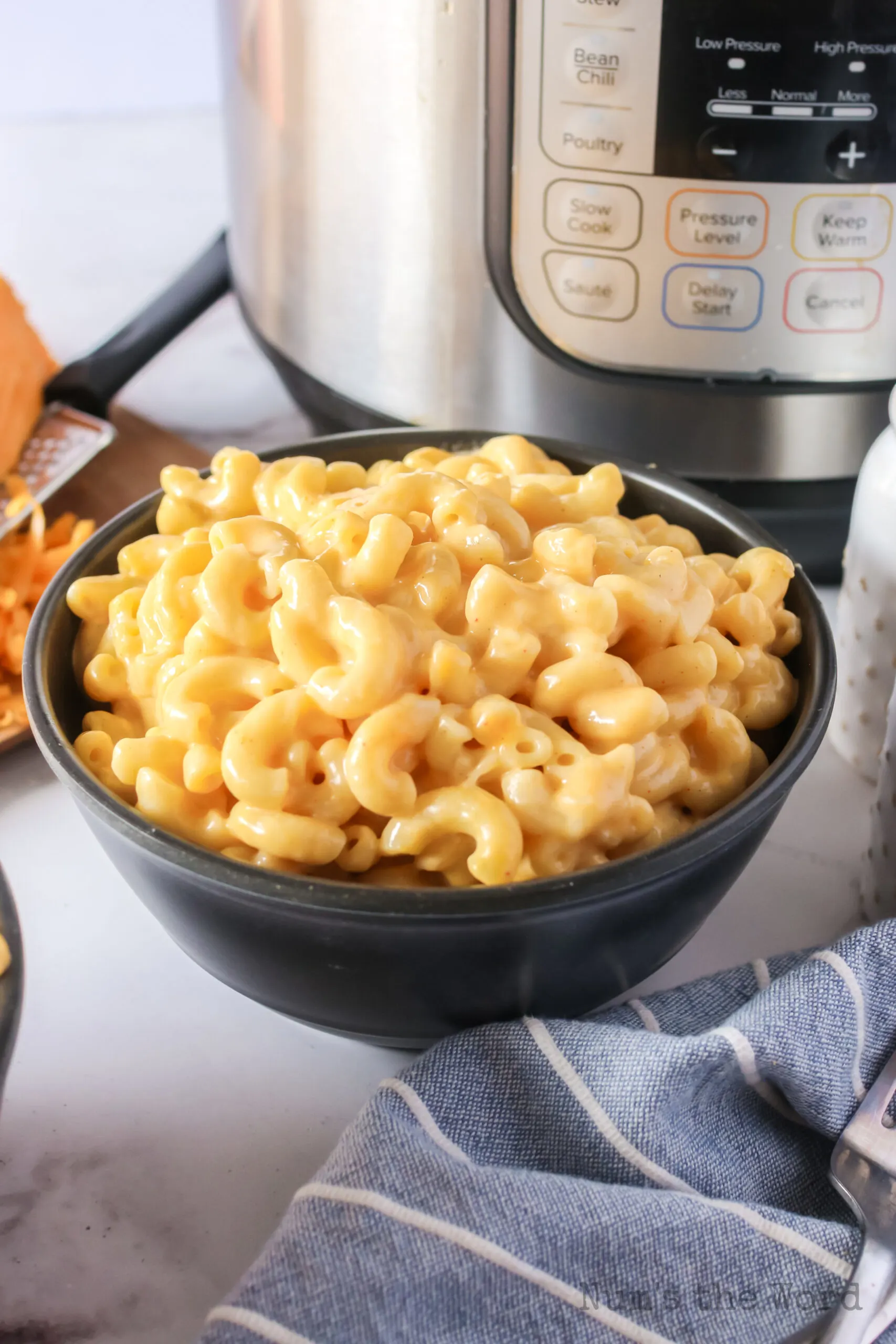 Do You Put Eggs in Macaroni and Cheese?
Many Macaroni and Cheese bakes call for eggs and that's because you're cooking them in the oven.
They turn out more like a casserole in that sense.
So you don't need any eggs for this macaroni and cheese recipe.
How to Store Macaroni and Cheese
Store any leftover macaroni and cheese in the fridge.
Be sure to keep it in an airtight container to preserve freshness. It will stay good for up to 4 days.
You can reheat it on the stove top or in the microwave for an easy meal all week.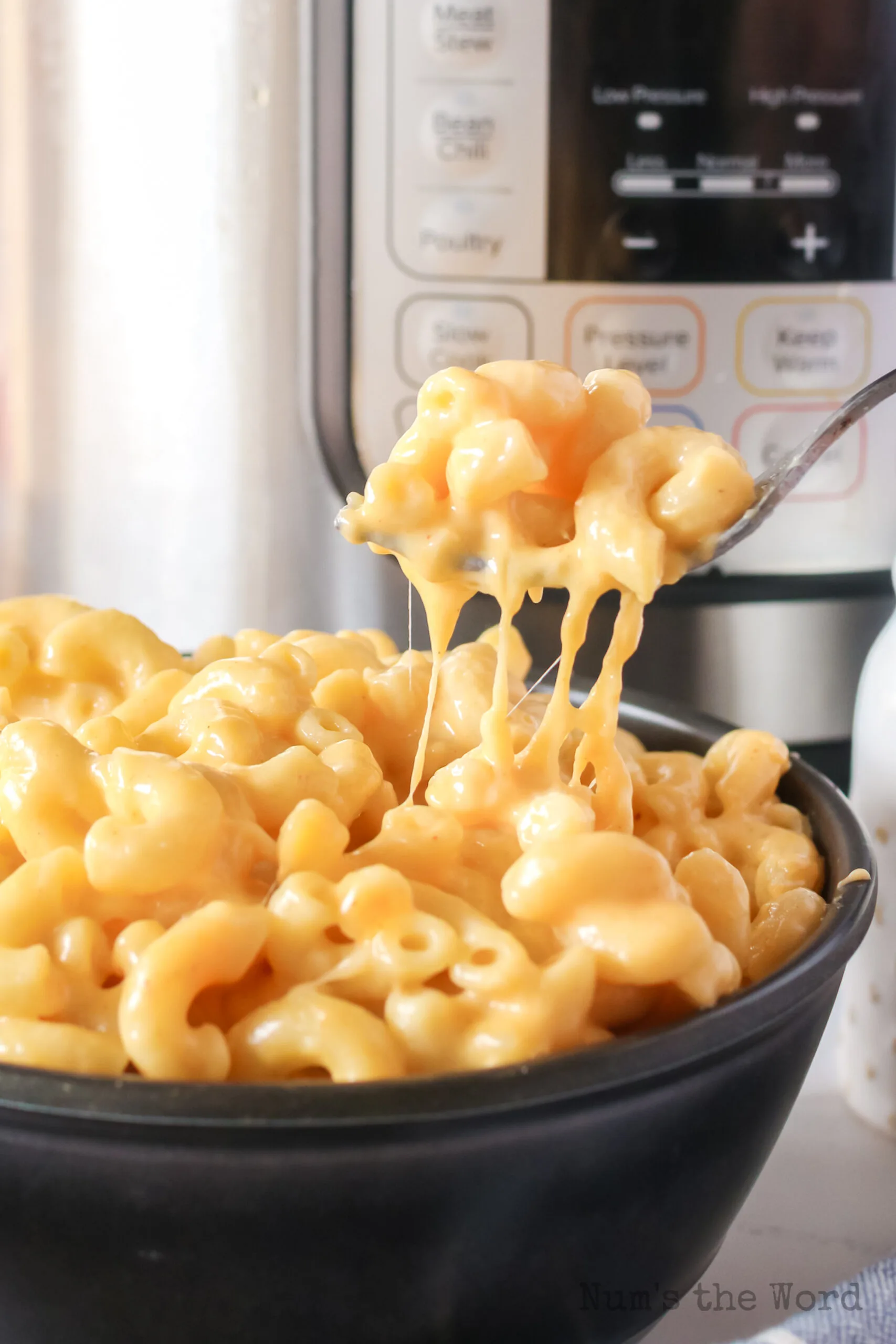 Can I Make Macaroni and Cheese Ahead of Time?
Macaroni and cheese can easily be made ahead of time when you're really crunched for time.
Though the instant pot is a life saver in that case because I often still have time to make this quick meal.
However, if you want, you can make the macaroni and cheese up to 24 hours in advance.
I haven't noticed any change in taste or texture during that time and find it is still delicious the next day.
Does Macaroni and Cheese Expire?
Cooked macaroni and cheese absolutely does expire! Watch for any odd smells, change in texture, or signs of mold growth.
If you have any of those, be sure to throw it out.
And even uncooked, boxed version of mac and cheese can expire too.
While it will often stay good for a while past the expiration date, the cheesy sauce will eventually start to change color and go bad.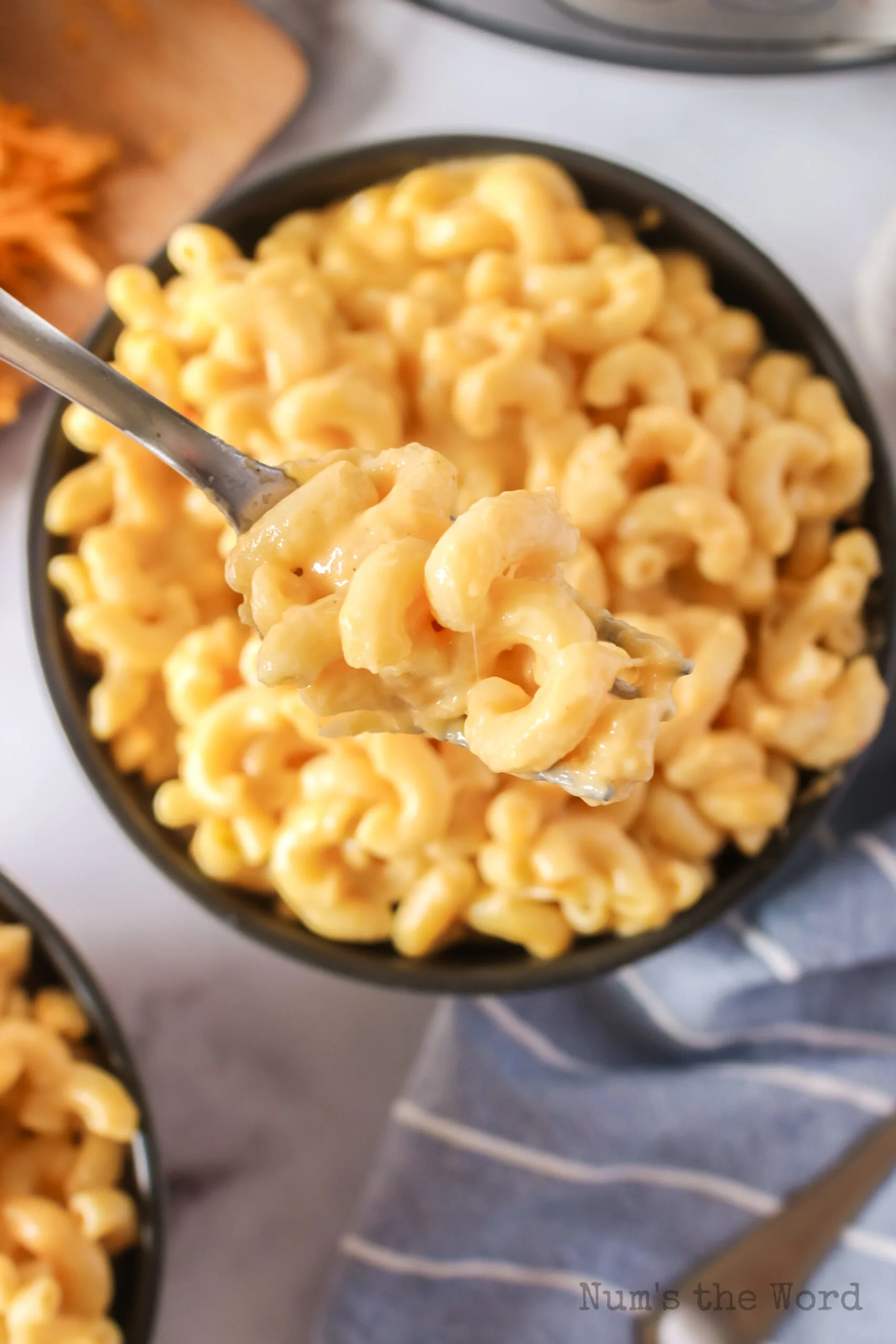 More Pasta Recipes You'll Love…
Instant Pot Macaroni and Cheese is a quick and easy go-to recipe for a busy weeknight! It's a family favorite at our house and I'm sure it will be at yours too!
Yield: 6 Servings
Instant Pot Macaroni and Cheese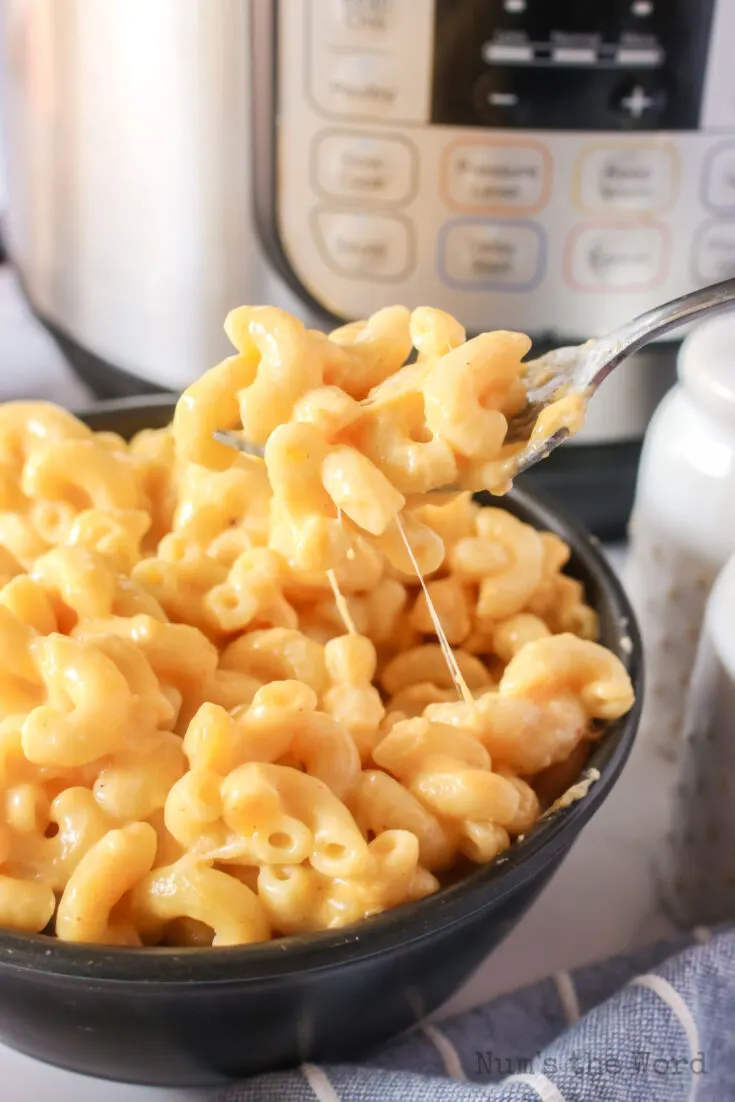 Get ready for the creamiest, easiest, comfort food ever! Instant Pot Macaroni and Cheese is where it's at!
Instructions
In an instant pot add chicken broth, water, salt, mustard powder, paprika, black pepper, and garlic powder. Mix well.
Add elbow macaroni and mix well.
Close the lid and turn the pressure valve to seal.
Set the timer for 4 minutes. It will take 7-8 minutes to build pressure for a total of 12 minutes.
Once the timer goes off, let pot naturally release for 5 minutes.
Then carefully flip the quick release pressure to release all the pressure.
Once pressure has been released, open the lid.
Turn the Instant pot off.
Stir in butter until melted.
Add half-and-half and then cheese.
Mix well.
If the mixture is soupy, wait 5 minutes and it will naturally thicken.
Serve immediately.
Nutrition Information:
Yield:
6
Serving Size:
1
Amount Per Serving:
Calories:

357
Total Fat:

28g
Saturated Fat:

16g
Trans Fat:

1g
Unsaturated Fat:

9g
Cholesterol:

83mg
Sodium:

766mg
Carbohydrates:

10g
Fiber:

0g
Sugar:

2g
Protein:

17g