These are the Best Oven Baked Potatoes you'll eat this year! It's not difficult to achieve fluffy potatoes and definitely a kitchen skill you can master!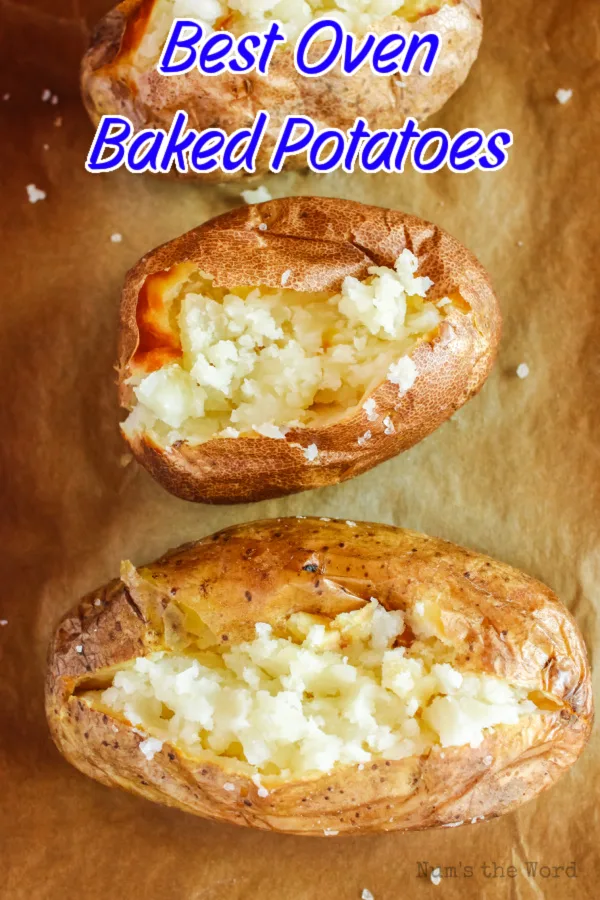 There's a big difference between an okay potato and a deliciously crispy baked potato with soft fluffy centers!
Luckily for you, this recipe is that deliciously crispy baked potato! Perfectly cooked and simply seasoned.
I don't mean to brag but these are definitely delicious and perfect to use for a potato bar, or weeknight side dish.
I love that cooking baked potatoes in the oven requires almost no work from me. Just a little prep and then I let the oven do the rest.
I also love that this baked potato recipe in the oven produces the perfect potato. No soggy skins allowed! Perfectly cooked, it really is divine.
And when you make oven baked potatoes, you'll want to serve them in a million different ways. Since they're so versatile, you could make them every day and never get bored.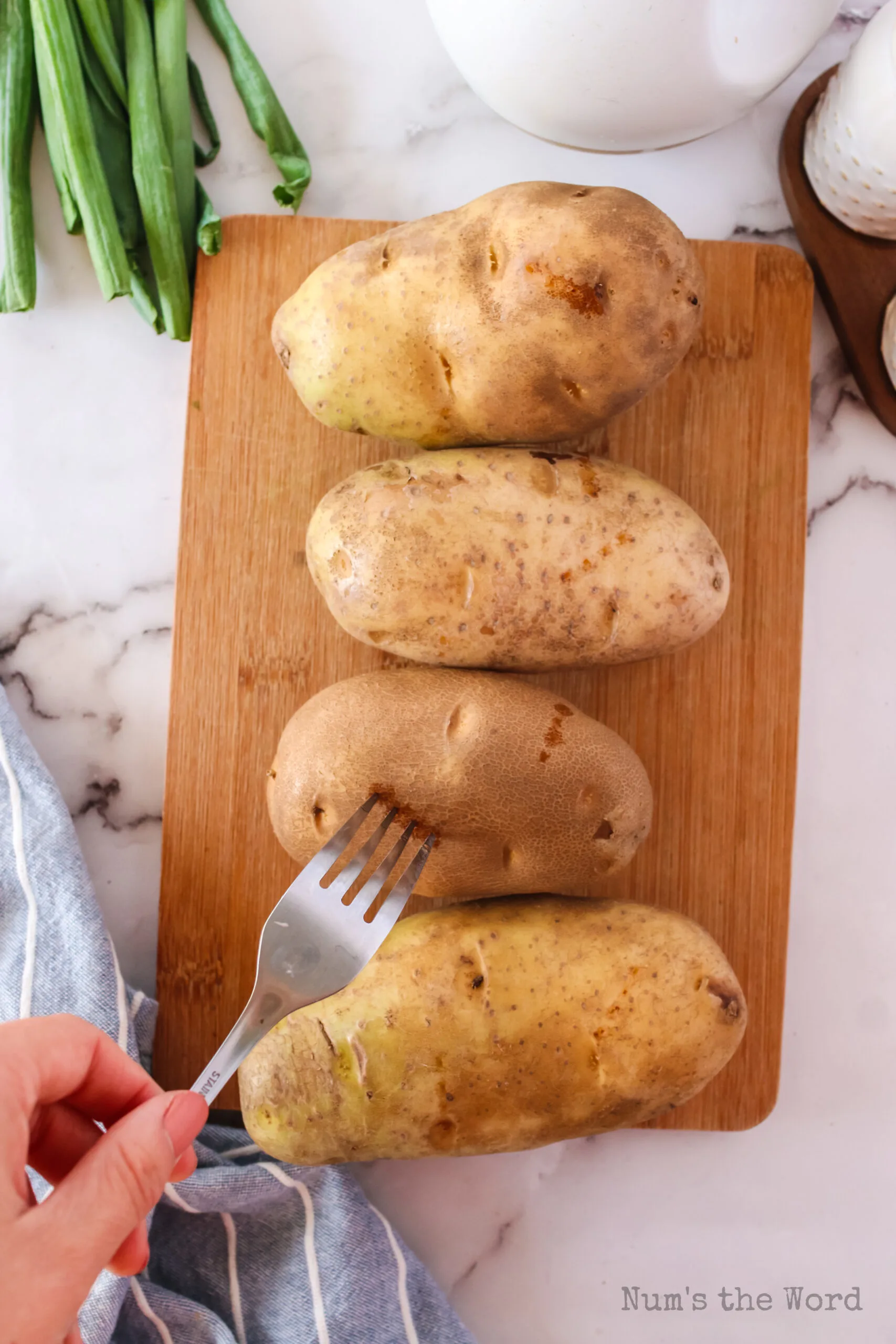 How Long to Bake Potatoes in Oven
For the most part, you're going to be looking at a solid hour of cooking time in the oven to get a perfect baked potato.
Of course, the size of the potatoes matters a lot in your baking time too!
I find that for 4 medium sized potatoes, it takes anywhere from 40-60 minutes.
For large potatoes you'll find you often need that full 60 minutes or more.
For small potatoes you'll be closer to the 40 minute range or a little less.
I've found that baking potatoes on the oven rack leaves indents in the potatoes as they cook. So I prefer to cook on a cookie sheet.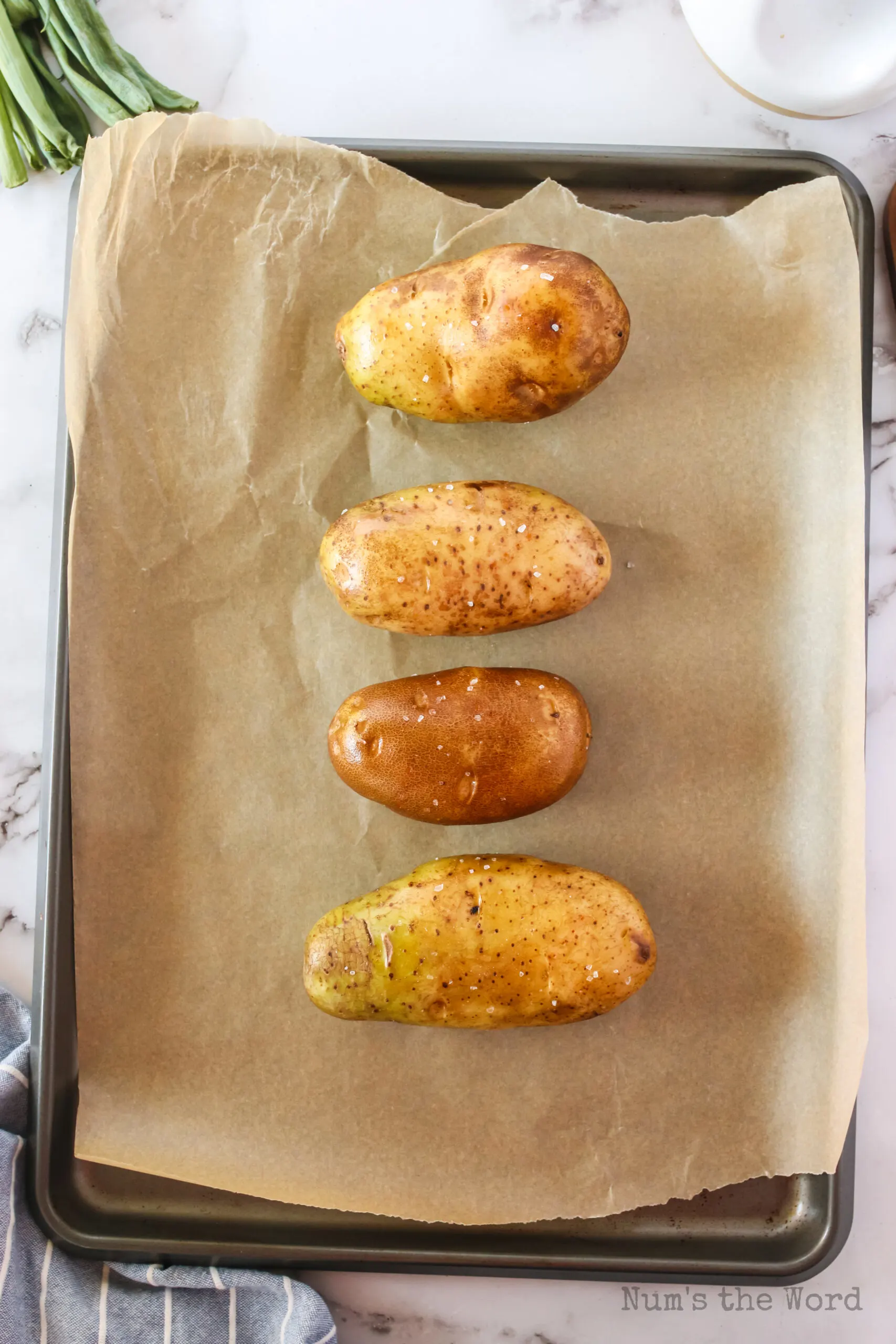 How to Cook Baked Potatoes in the Oven
Follow this easy baked potato recipe to get the best baked potatoes!
Wash the Potatoes: This might go without saying but get the dirt off your potato! It needs a good scrub!
Pierce Potatoes: No one wants an exploded potato in their oven! And they cook more evenly once pierced too.
Rub Down: Each potato should be coated with olive oil and sea salt.
Bake: That's it! Place the potato on a baking sheet and let your oven do the rest!
Pro Tips:
Don't overdo the salt. You don't want it too heavy or light. Just a medium coating.
For best results, line your cookie sheet with parchment paper or aluminum foil for easy clean up.
To get that beautiful potato look, slice down the middle and then gently press the ends together to force the interior of the potato out.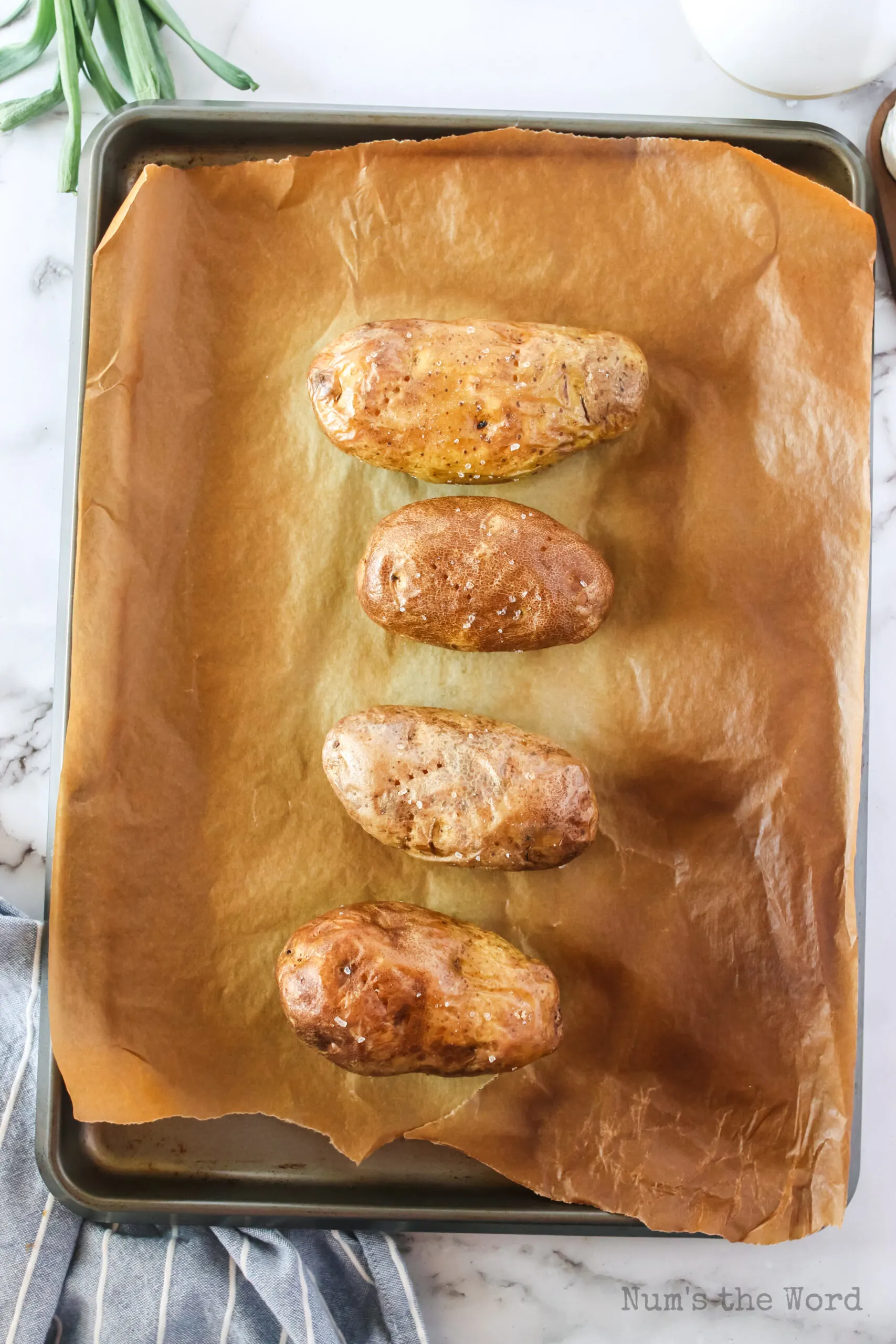 Can You Bake Potatoes in a Toaster Oven?
You can absolutely bake potatoes in a toaster oven! On hot summer days, we love making baked potatoes in the toaster oven to reduce the heat our full size oven produces.
This perfect baked potato recipe can be cooked a variety of ways, and they'll produce different results.
I don't recommend making the baked potato in the microwave because you'll get a soft and mushy skin.
But a toaster oven will produce that same crispy skin as a regular sized oven.
Here's a few things to be aware of when making your baked potato in the toaster oven.
The toaster oven tends to be smaller, and you may not be able to fit as many baked potatoes.
For smaller portion sizes this won't matter but if you need to bake a lot of potatoes, you don't want to spend all day baking them.
Also, you can reduce the heat to 400F for the toaster oven and follow the same amount of time for baking.
Other than that, just be sure to wash potatoes, pierce them, coat them in olive oil and course sea salt, and enjoy!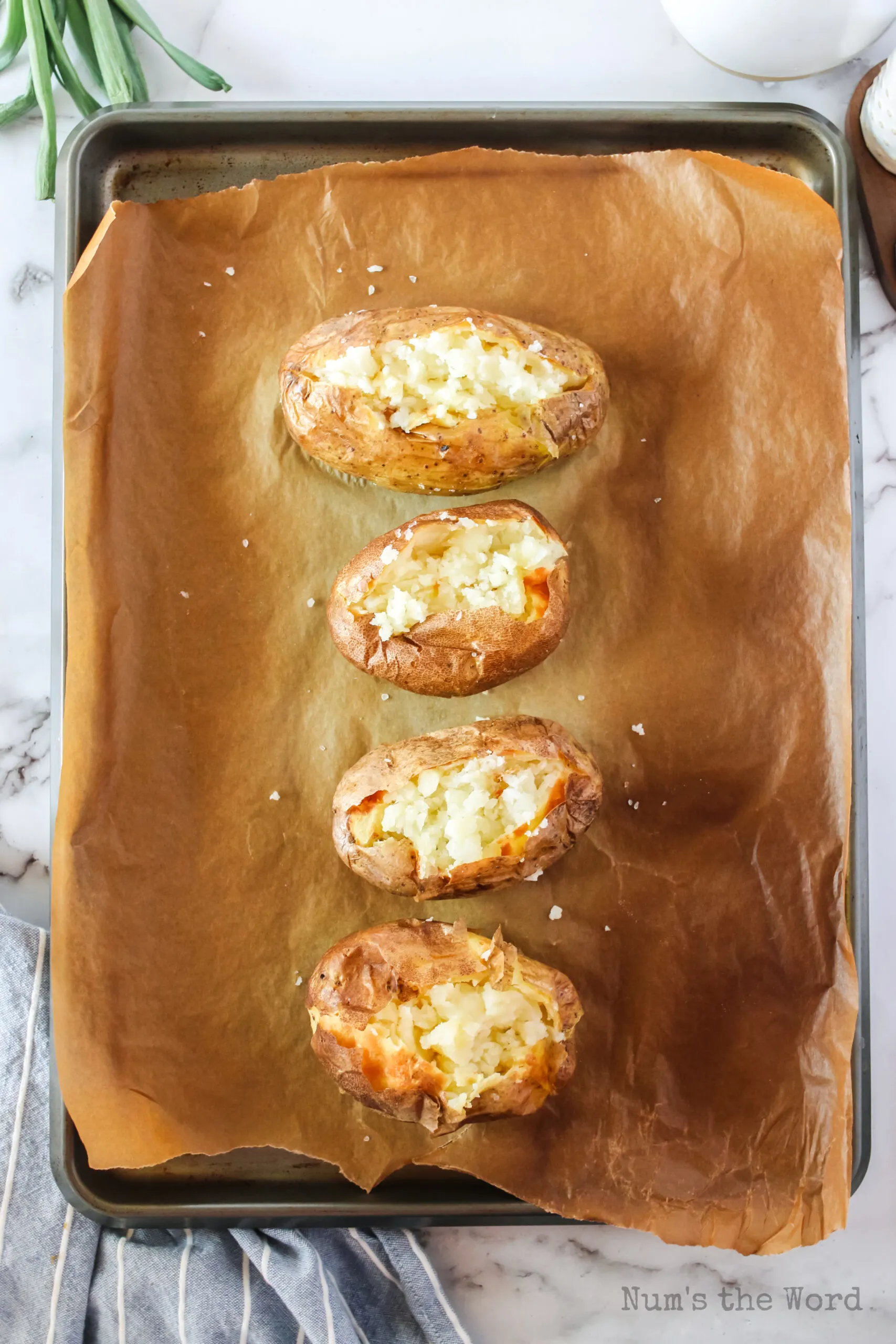 What Kind of Potato is Best for Baked Potatoes?
The best baked potato recipe is cooked using a potato with a tough skin.
They result in a crispier skin while the inside of the potato stays soft.
Large russet potatoes will give you the best oven baked potatoes.
But stay away from small potatoes like red potatoes as they are waxy potatoes that result in a soft skin.
How to Reheat a Baked Potato in the Oven
Reheating a baked potato in the oven is the best way to reheat them. It keeps those potato skins crispy and maintains the fluffy interior too.
First, take the baked potatoes out of the your airtight container and allow them to come to room temperature on the counter.
Preheat the oven to 350 and then bake the potato for 15-20 minutes or until the potato is heated through.
Are Baked Potatoes Healthy?
Baked potatoes and potatoes in general have gotten a bit of a bad rap in recent years.
While throughout history, many societies have depended on potatoes as a major staple of their diet and nutritional food source, that's no longer the case.
That's probably because now we have so many options! And so many diet plans!
However, the best oven baked potatoes do have a lot of nutrients such as Calcium, Potassium, Vitamin B6, Vitamin C, Iron, and Magnesium.
They are also a low-carbohydrate, low-fat source of carbohydrates.
Potatoes are high in carbs of course, but most pasta and bread is much higher.
If you're following a low carb diet, perhaps baked potatoes aren't for you.
But they also contain many nutrients, and as far as carbs go, they're pretty good ones.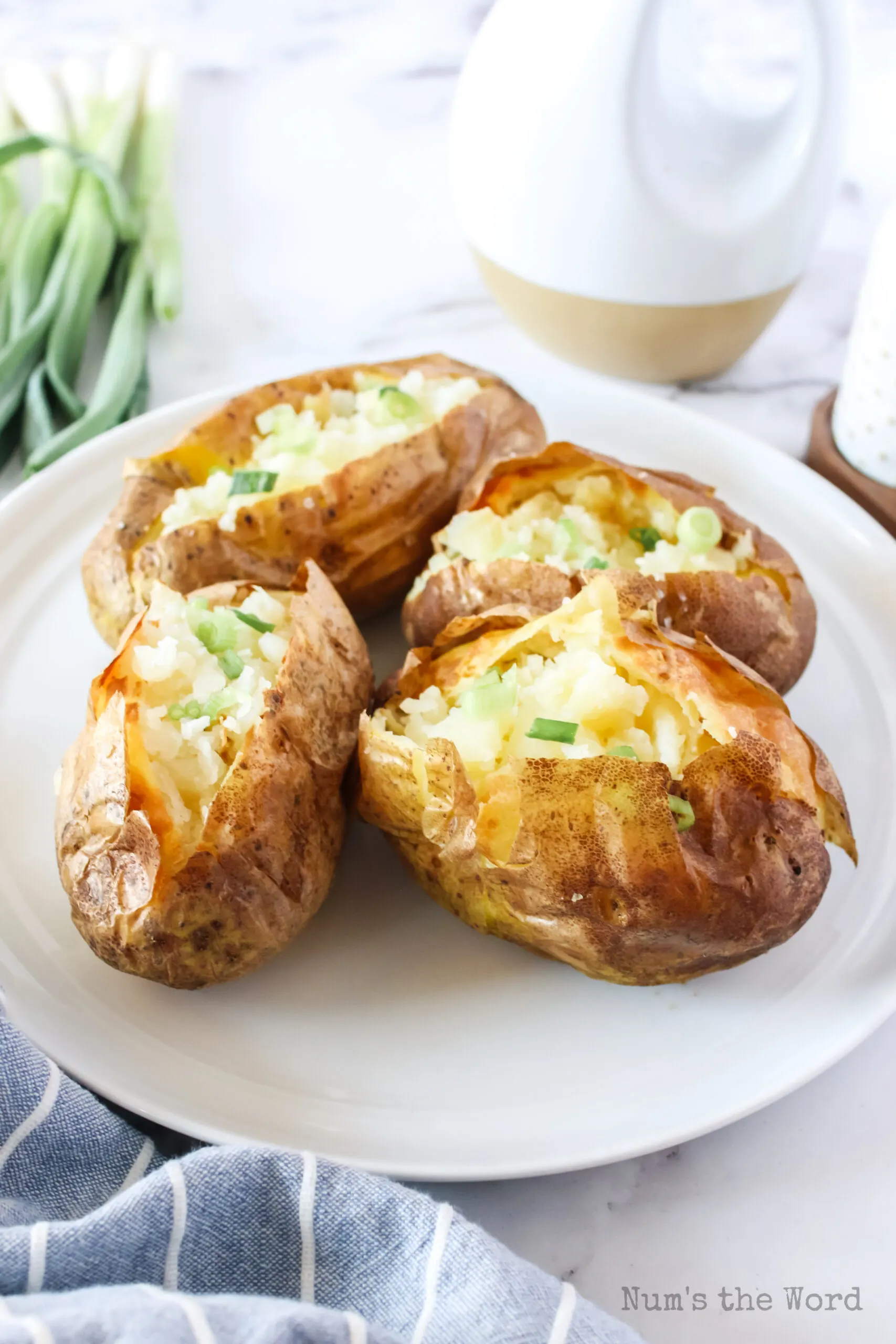 How do you Reheat a Baked Potato?
Aside from reheating the baked potato in the oven (written above), there are other options for reheating the baked potato as well.
In the Microwave: The fastest method. Though it will dry out the potato and leave the skins soft.
In the Toaster Oven: Just like using the regular oven, cook until heated through.
In the Air Fryer: Cooking in the air fryer should only take 3-4 minutes to reheat.
On the Stove: Cut the baked potatoes in half and heat on the stove, covered, until warmed through.
The toaster oven or air fryer will result in the crisp skin you want to maintain. Those would be my favorite methods aside from the regular oven.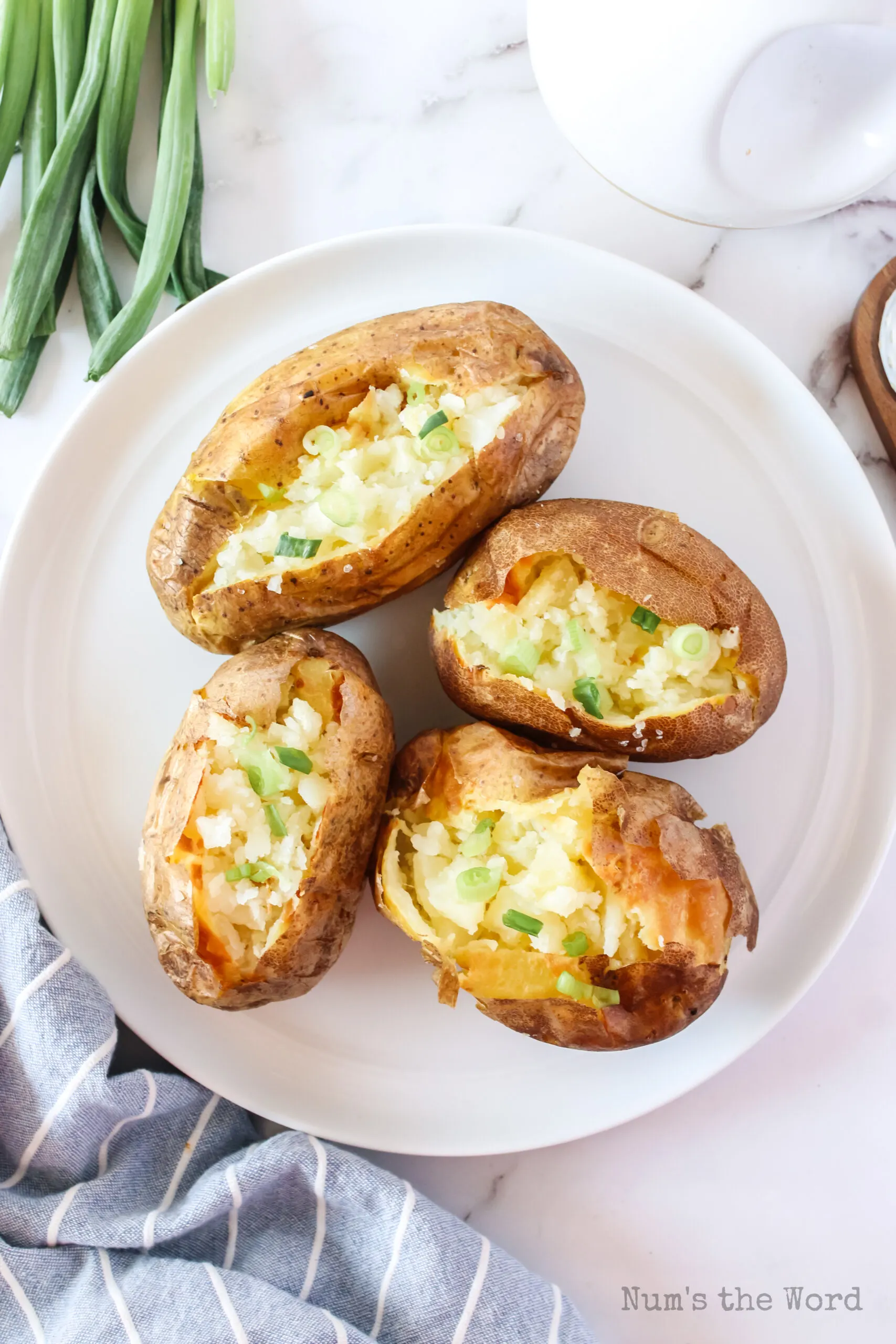 What Goes with Baked Potatoes?
Because of their versatility, there are so many different ways to serve a perfect potatoes! A few of our favorite toppings are as follows:
Classic Loaded Baked Potato: Load that baked potato with bacon, sour cream, butter, chives, cheddar cheese, and/or green onions.
Broccoli Cheese: Top with steamed broccoli and melted cheddar cheese.
Chili: A chili covered baked potato is delicious! Try this Zucchini Chili or Rotisserie Chicken Chili. Both are awesome on potatoes.
Guacamole: Some good old fashioned guacamole and extra cheese or tortilla chips! Perfect!
You can definitely serve these baked potatoes as a main course at potato bars too! Just put out as many options as you like and let people choose their favorites!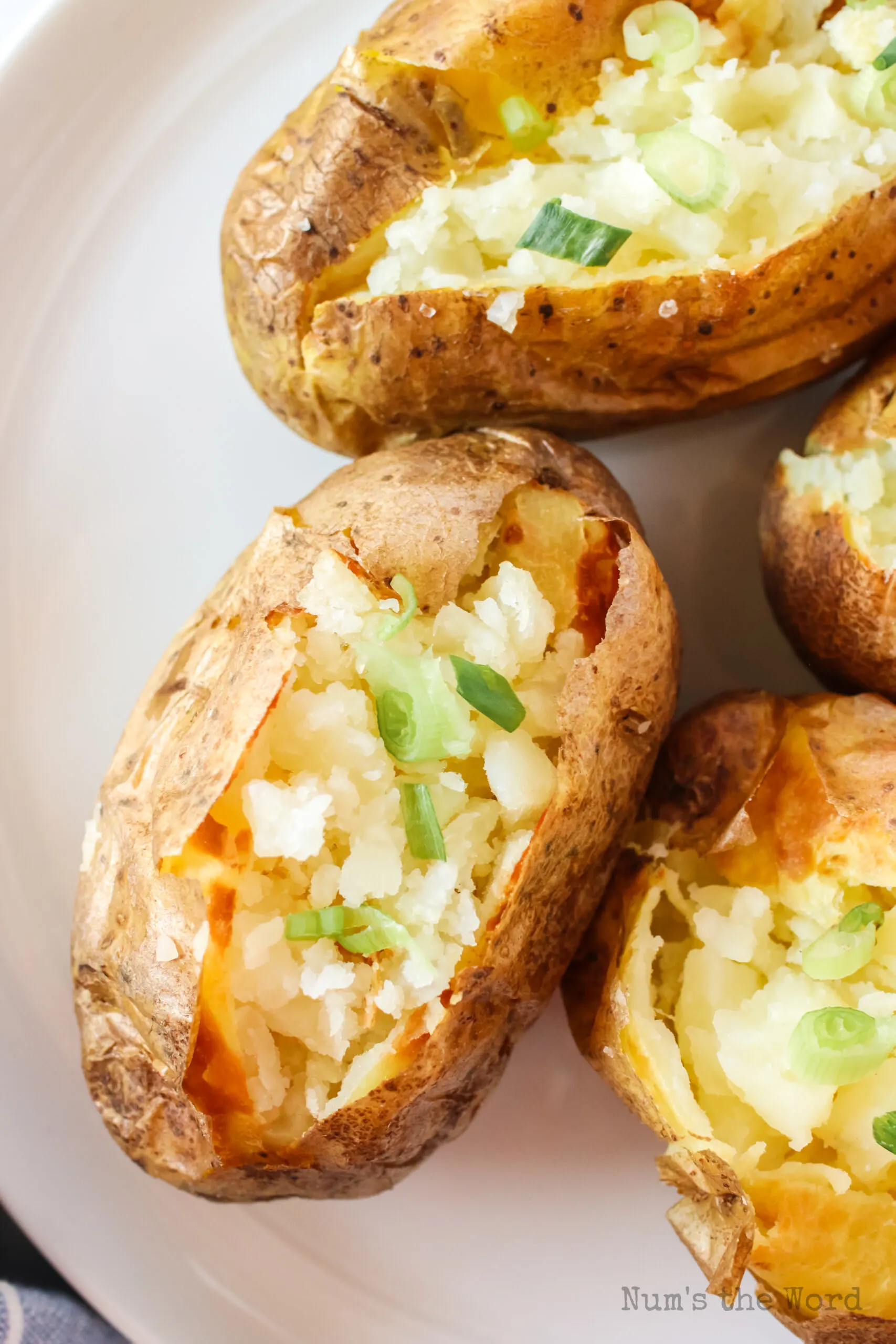 This truly is the best oven baked potatoes because they are easy and great side dish or delicious meal by themselves. It requires almost no work and is perfectly crispy and soft! Enjoy!
More Potato Recipes You'll Love…
Yield: 4 Baked Potatoes
Best Oven Baked Potatoes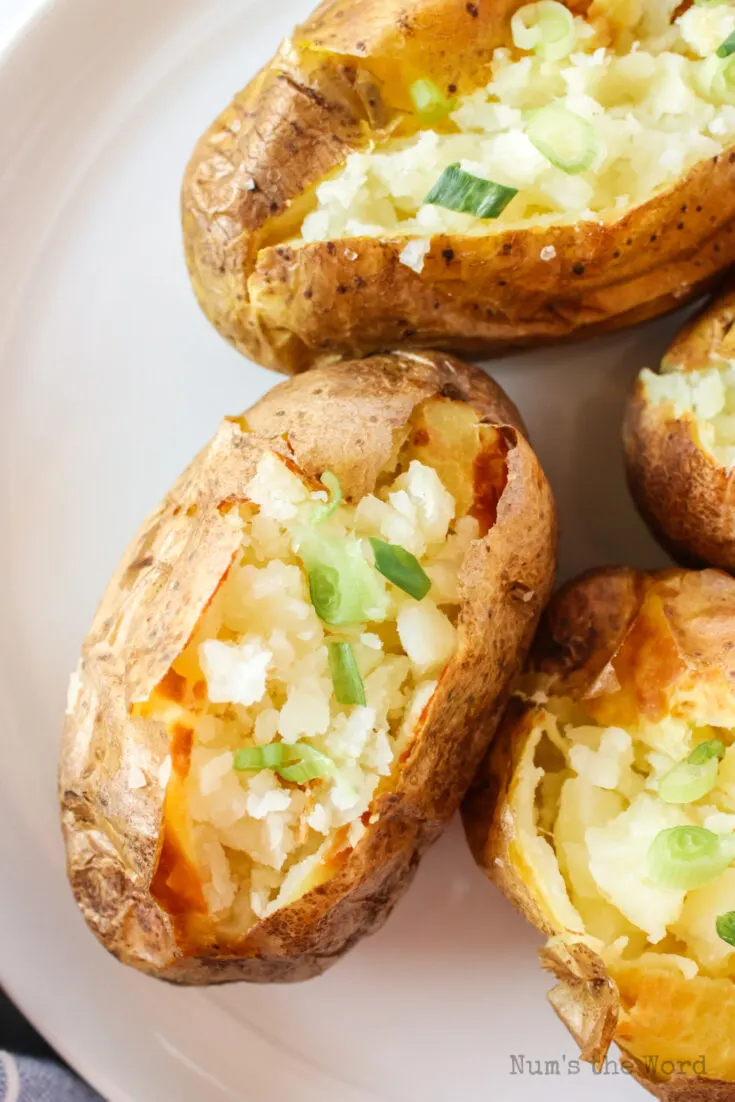 These are the Best Oven Baked Potatoes you'll eat this year! Yummy fluffy potatoes and a kitchen skill you can master!
Total Time
1 hour
15 minutes
Ingredients
Instructions
Preheat oven to 450*F
Wash and scrub each potato and dry off with a non lint towel like a tea towel.
Pierce each potato 5 times with a fork, all around.
Rub each potato down with olive oil
Rub coarse sea salt around each potato. Don't overdo it, but it should have a nice semi coat (not heavy, not light).
Place on a lined baking sheet.
Bake for 40 - 60 minutes or until potatoes can be pierced easily.
Remove from the oven, slice down the middle and gently press ends together to force the insides up to make the potato look fluffy.
Lightly pepper each potato and add green onions
Nutrition Information:
Yield:
4
Serving Size:
1
Amount Per Serving:
Calories:

223
Total Fat:

7g
Saturated Fat:

1g
Trans Fat:

0g
Unsaturated Fat:

6g
Cholesterol:

0mg
Sodium:

6363mg
Carbohydrates:

37g
Fiber:

4g
Sugar:

2g
Protein:

4g