The easiest Zucchini Chili to make and yet bursting with flavor! This zucchini chili is going to knock your socks off!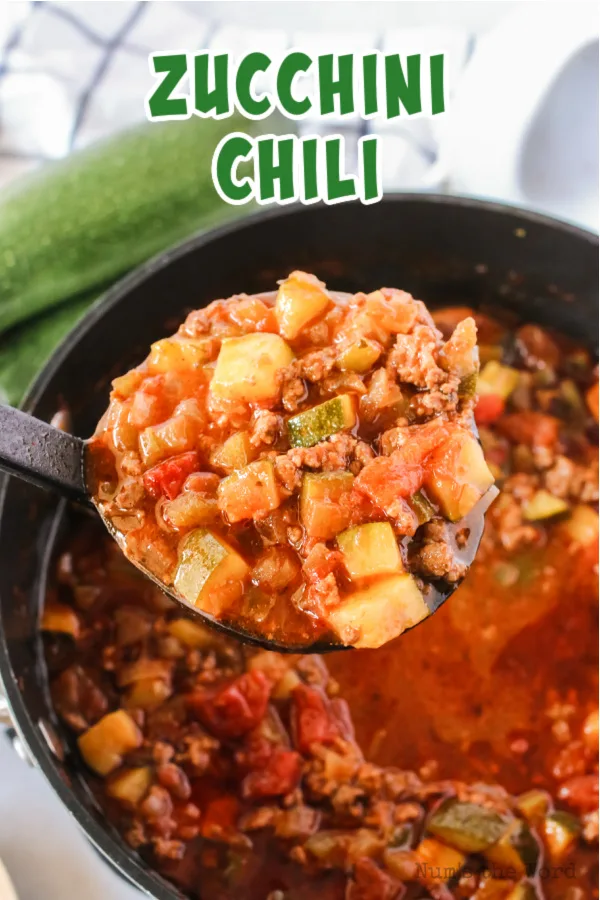 Zucchini chili is a mix of fresh and canned veggies, making it both healthy and really easy.
I love how filling beef chili with zucchini is! It keeps my little ones full straight through till morning! I also love that this zucchini chili recipe is super healthy. All those colorful veggies do great things for your health!
And for busy nights, this zucchini chili can't be beat. After the chopping is done, it cooks so fast! This one pot meal is one of our new favorites!
Enjoy this delicious zucchini chili today with your loved ones today!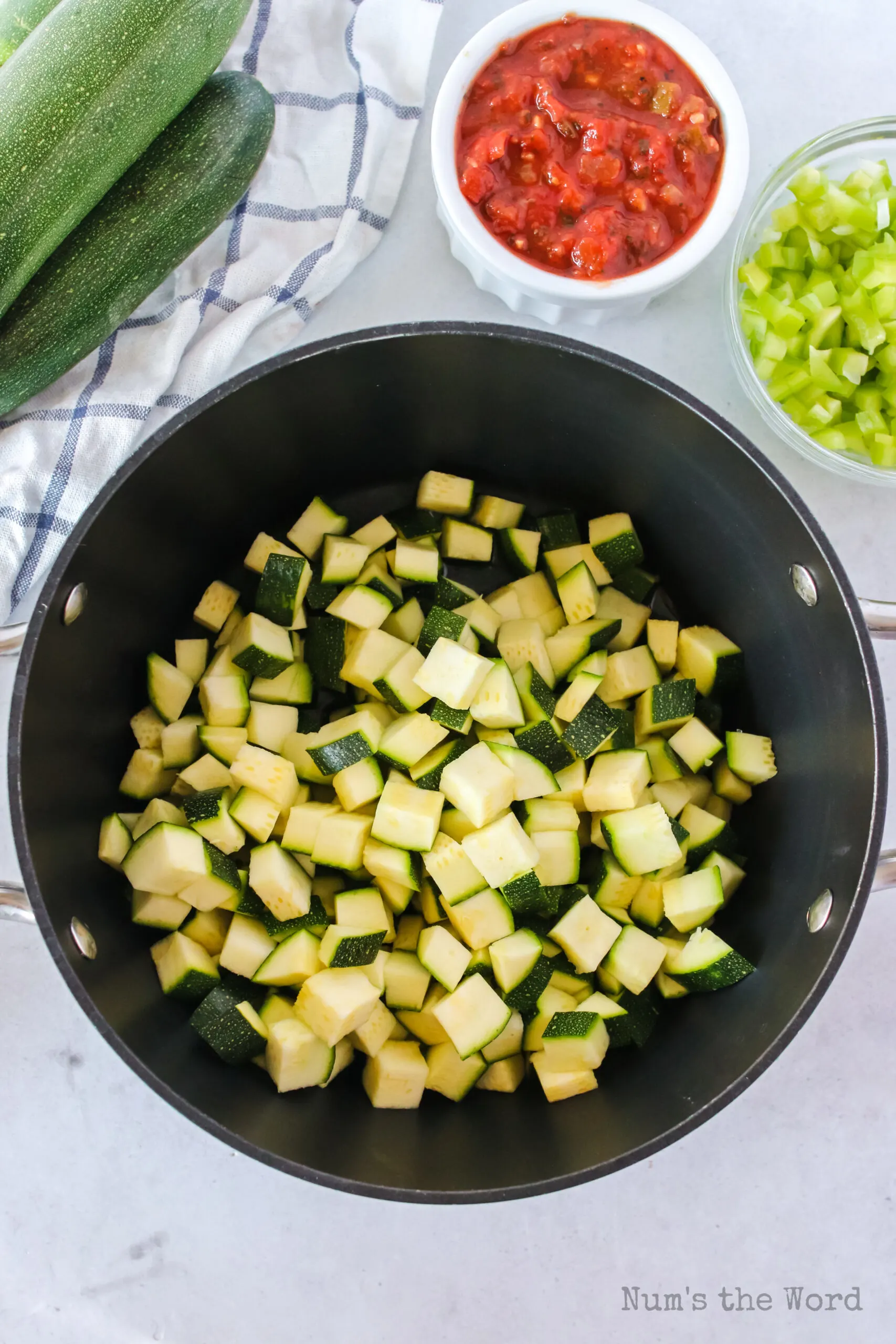 Can You Put Zucchini in Chili?
Before we get into it, let me just address this question. Yes! You can totally put zucchini into chili. It cooks down really well and can be a healthy alternative to many chili fillers.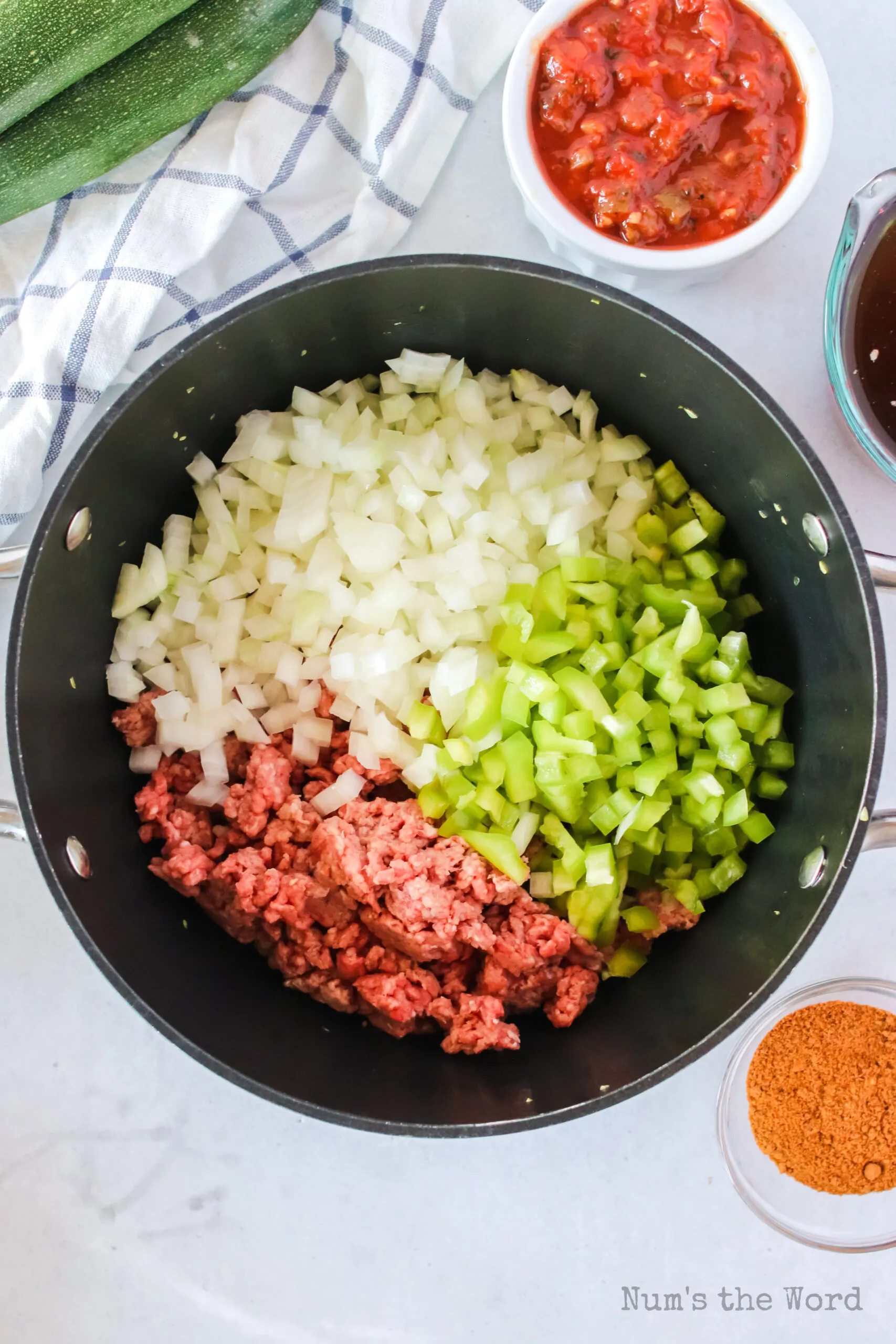 Can You Taste the Zucchini in Chili?
The big question on everyone's minds…but can you taste it? No! You can't taste zucchini in chili!
The other flavors completely mask the flavor of the zucchini. Which means you can enjoy all the health benefits of zucchini without even realizing they're there!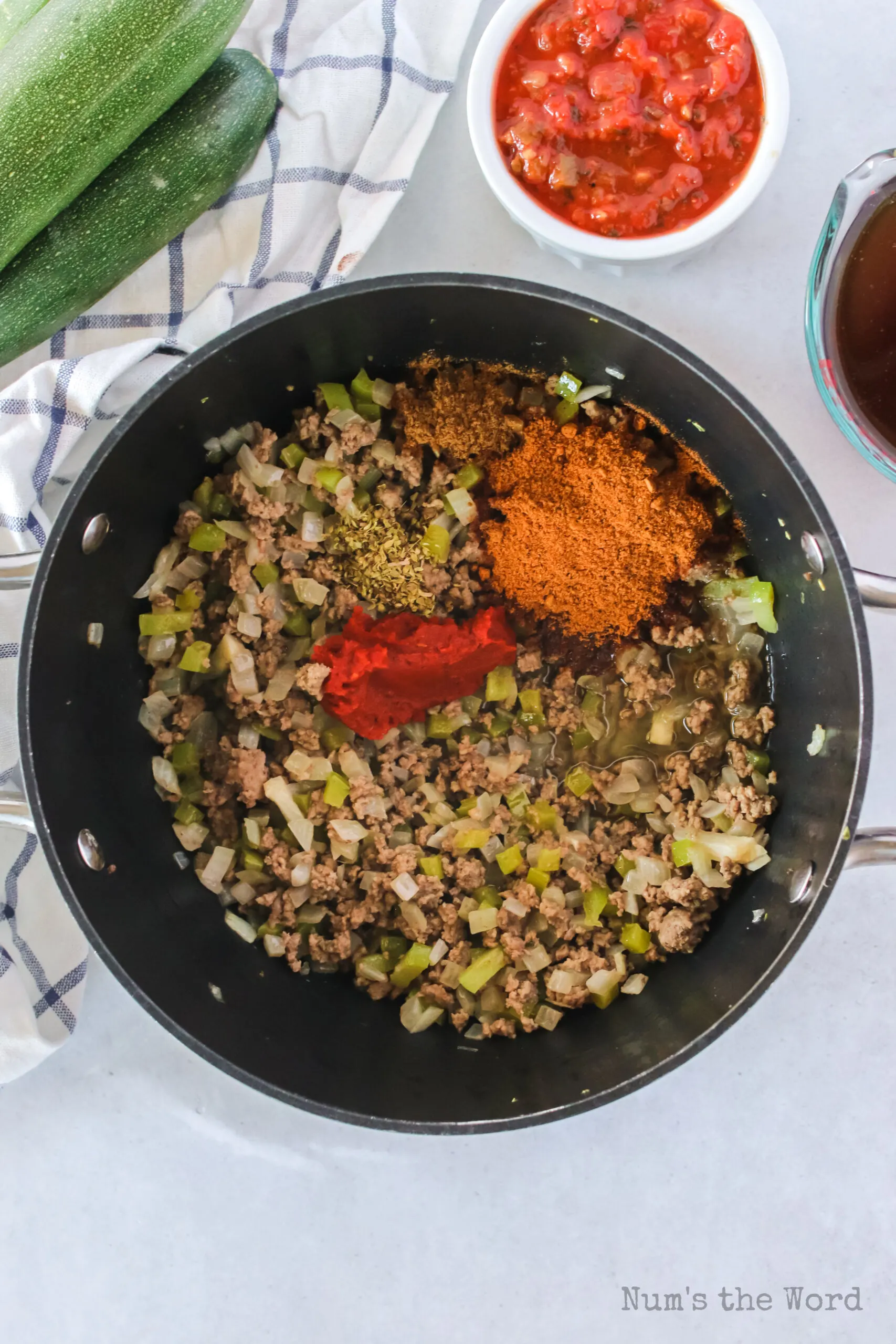 What Ingredients are in Zucchini Chili
Oil:

Use vegetable oil or another good quality cooking oil.

Zucchini:

I like to cut bite sized pieces but you could chop or shred it to hide it from picky eaters.

Beef:

Use more lean meat to avoid too much excess fat.

Onion:

I like to use the food processor to pulse onions. Keeps my eyes from watering so much.

Bell Pepper:

Chop these up to bite sized or smaller as well.

Taco Seasoning:

Use a packet from the store or

Homemade Taco Seasoning

.

Coriander:

In Ancient Egypt this spice was known as the secret of happiness.

Oregano:

Use dried or adjust for fresh accordingly.

Tomato Paste:

Gives your zucchini chili a thick tomato base.

Beef Broth:

You could also substitute with vegetable broth.

Salsa:

This is gonna add a lot of flavor so pick your favorite!

Diced Tomatoes:

No need to drain the diced tomatoes. Just pour them straight into the chili.

Green Chilis:

These don't need to be drained either and will add a lot of flavor.

Green Onions:

Optional for a nice garnish.

Sour Cream:

This is a nice flavor to mix in and my kids love that it cools their chili down too. Optional.

Cheese:

Optional. Who can resist the melty cheese?

Fritos:

These are optional too. They are perfect for giving your zucchini chili a crunchy topping.
Pro Tip: I like to chop all the vegetables the night before. Then I can toss everything in when I'm ready.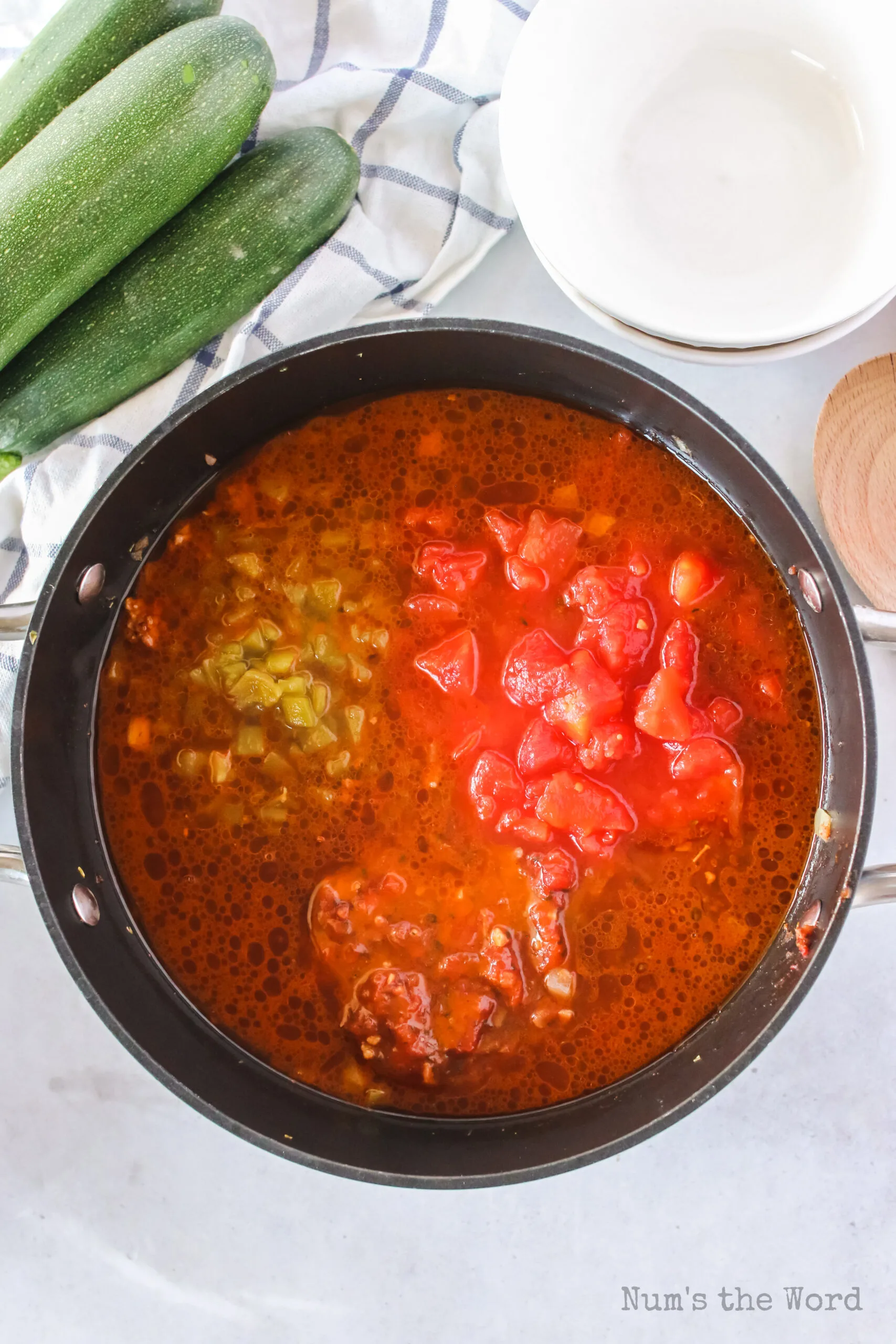 How Do You Make Zucchini Chili?
Zucchini:

The zucchini will be cooked twice. First to soften slightly and then to meld with the chili.

Ground Beef:

Toss that bell pepper and onion in with the ground beef. They cook well together and flavor each other too.

Mix:

Now's the time to add the rest of the ingredients, being sure to mix each in well.

Simmer:

The flavors will meld together as the chili simmers so give it some time!

Eat:

Garnish with your favorite toppings and dig in!
Pro Tip: If the chili is too thick for your liking, add in ½ cup of water until it reaches your desired consistency.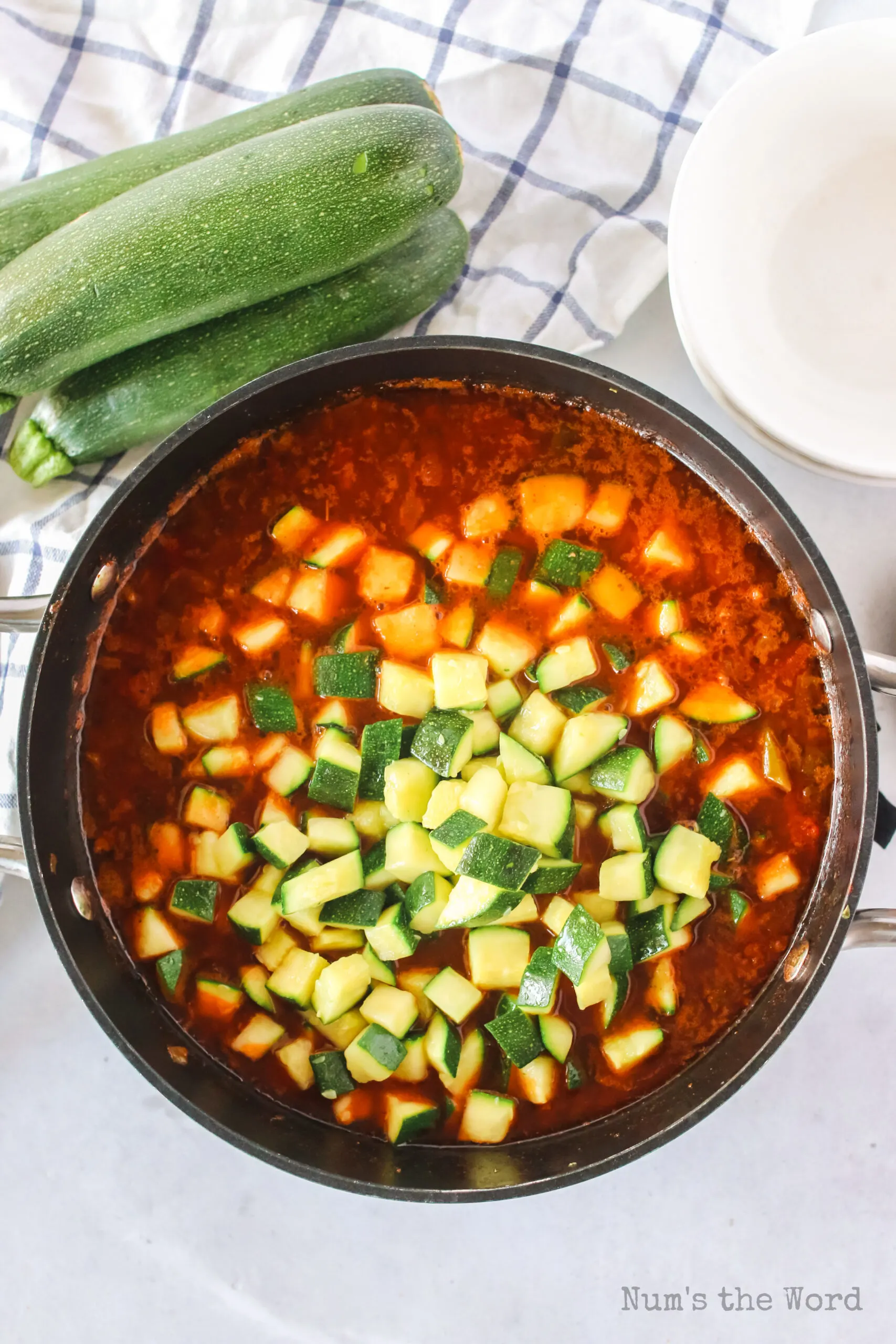 Is Zucchini a Fruit?
Actually, yes. Zucchini is a fruit and not a vegetable. Although commonly referred to as a vegetable, even by myself, it is technically a fruit.
However, most people prepare and cook zucchini as a vegetable because of its flavor, color, and consistency. I think that's why most of us refer to zucchini as a vegetable, not a fruit.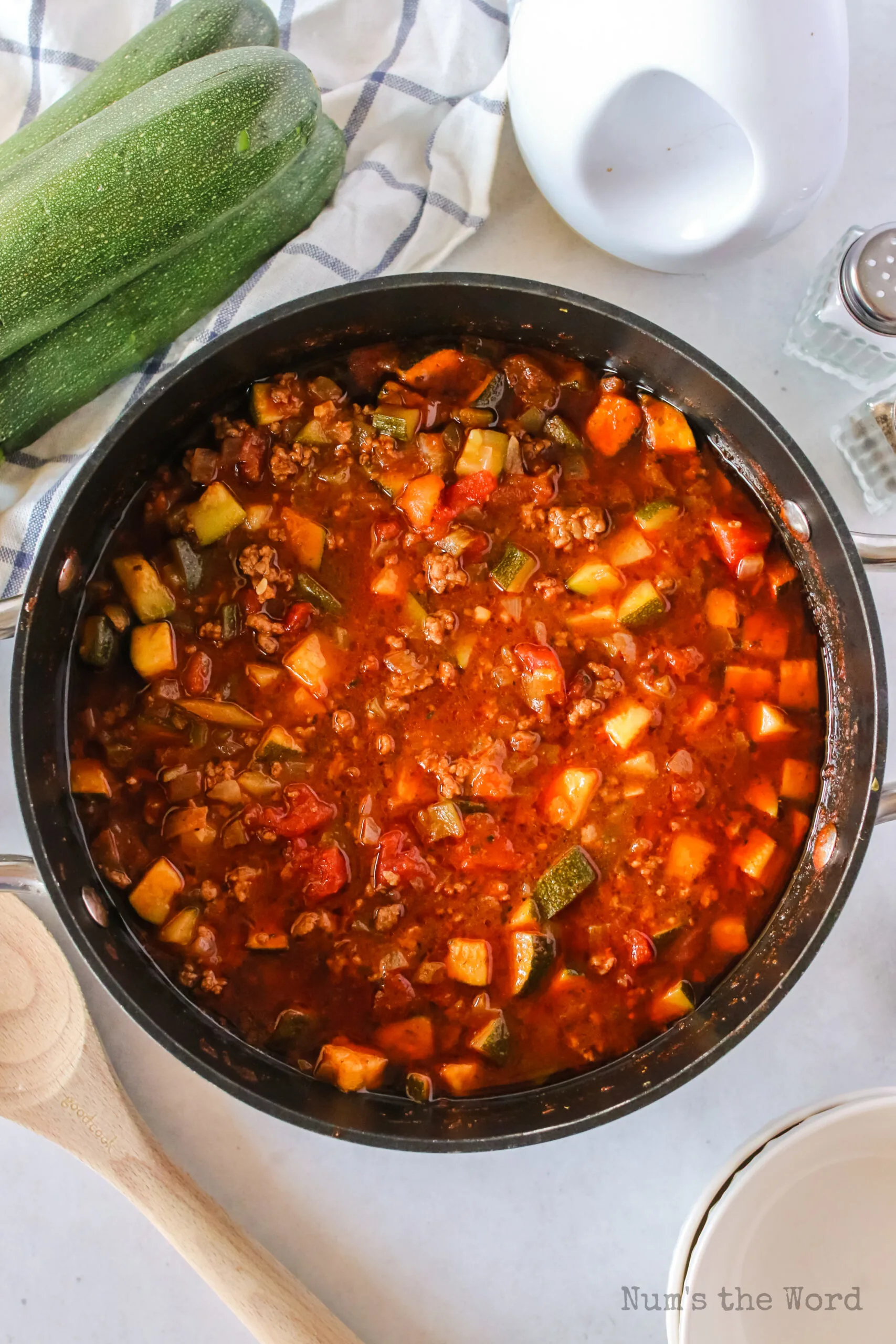 Do I Need to Peel Zucchini Before Adding to Chili?
Nope! Zucchini cooks down in chili so that the peels are nice and soft. Saves you an extra step! Yay!
However, if you hate the peels, you can always go ahead and peel them away. Your choice!
Can Dogs Eat Zucchini?
Zucchini is a great snack for your dog because it's loaded with vitamins and nutrients. It can be fed to most dogs cooked or raw.
However, as with all things, feed it to your dog in moderation only as a large amount can upset them. And if it's their first time trying zucchini, keep an eye on them to make sure they don't have any reactions.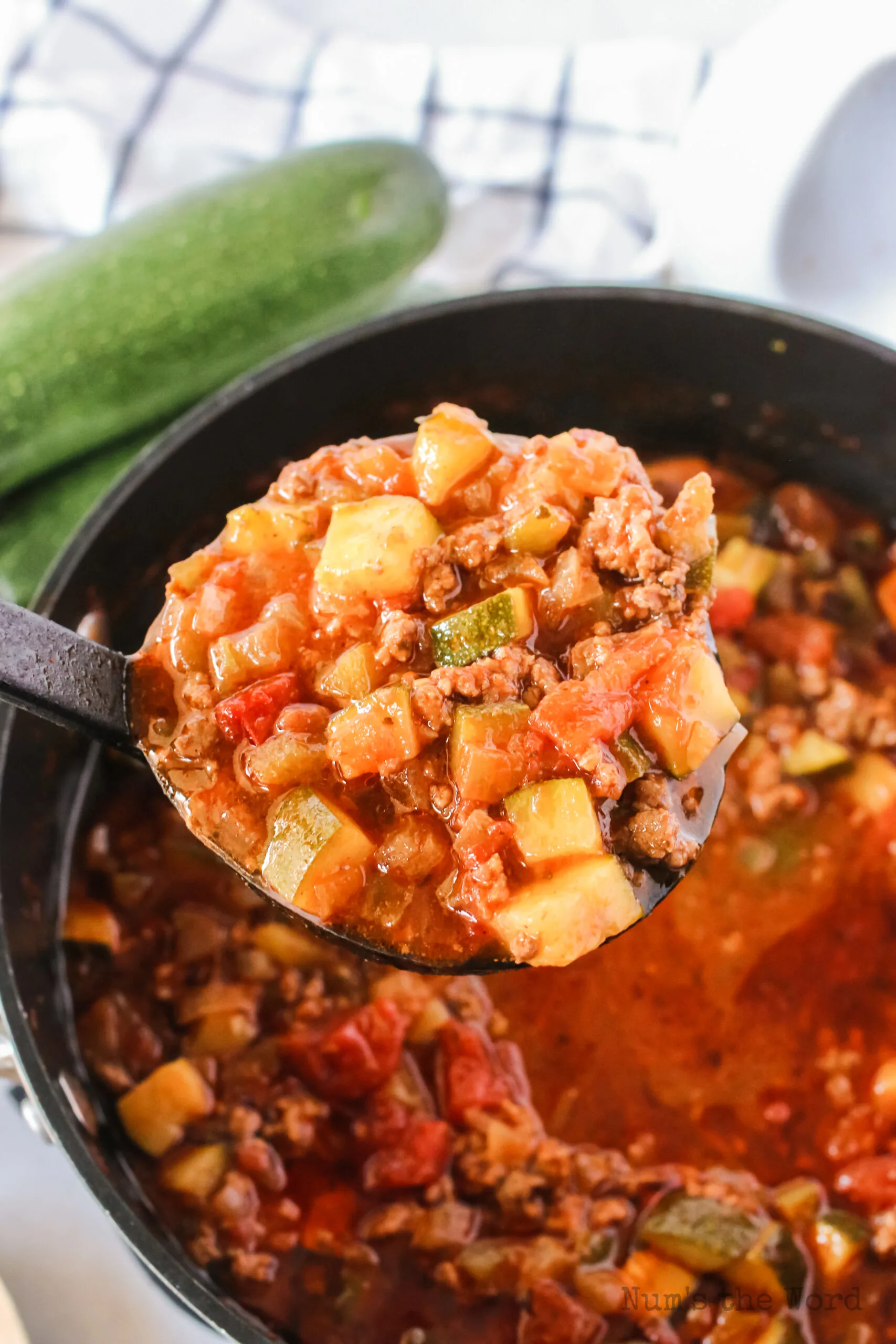 Can You Eat Zucchini Raw?
Yes! Zucchini can be eaten raw, steamed, sautéed, or just about any way you can think of. We like to cut them up and dip them in the ranch with the rest of our veggies!
Can You Freeze Zucchini?
Yes! Zucchini freezes beautifully. And if you've ever had a garden, you know it's almost always more zucchini than you can eat at one time! Enter the freezer! Zucchini will stay good in the freezer for months!
Pro Tip: Shred your zucchini and save in small portion sizes that are easily pulled out for best results.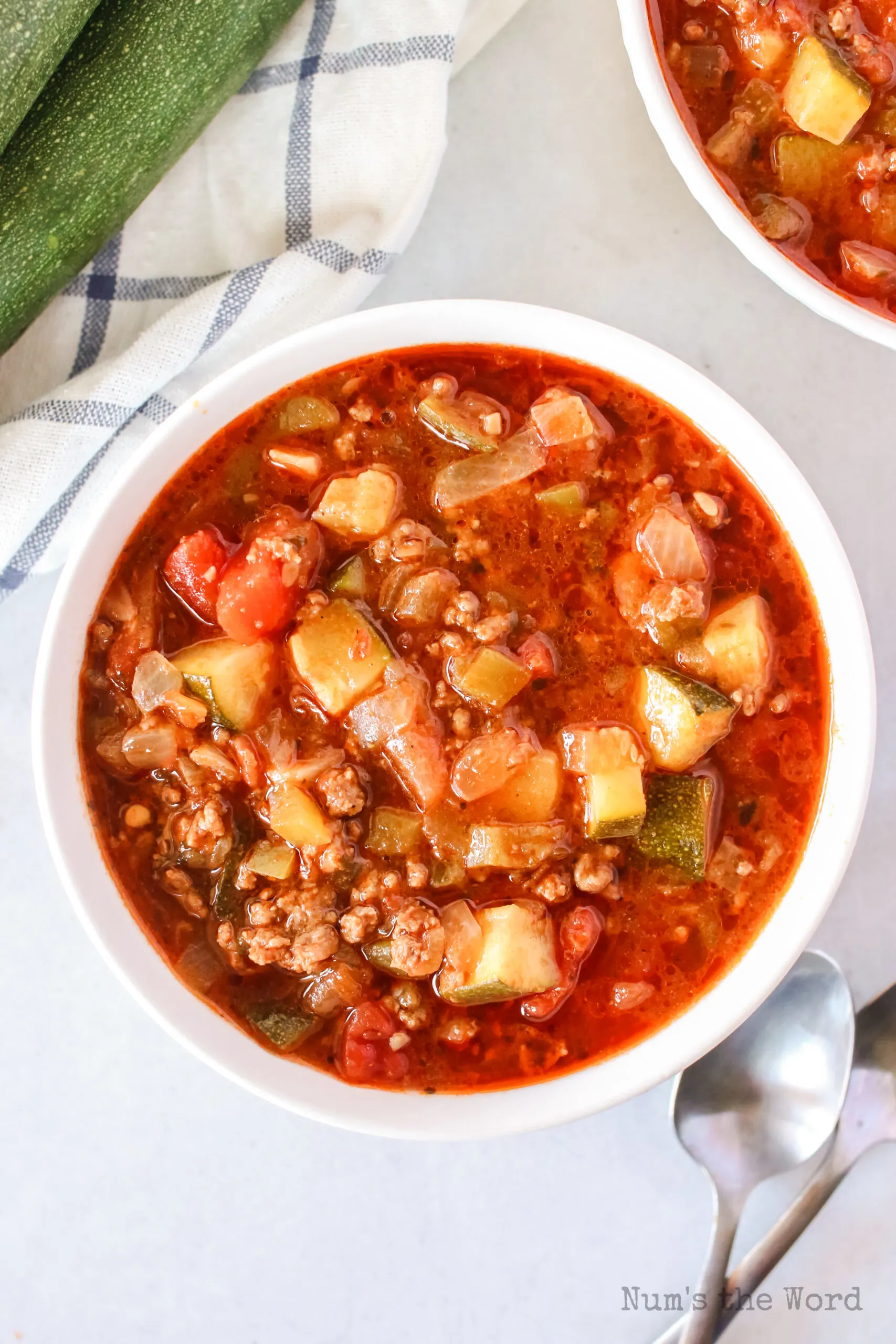 Is Zucchini Good for You?
Yes! Zucchini is very good for you! Zucchini is good for your skin, heart, eyes, bones, digestion, and blood sugar. It's loaded with vitamins, nutrients, and antioxidants. Is Zucchini Chili Healthy?
Zucchini chili not only has all the zucchini goodness but it has many other things as well! Loaded with onions, tomatoes, bell peppers, etc.
It's hard to resist something so good for you that also tastes so good!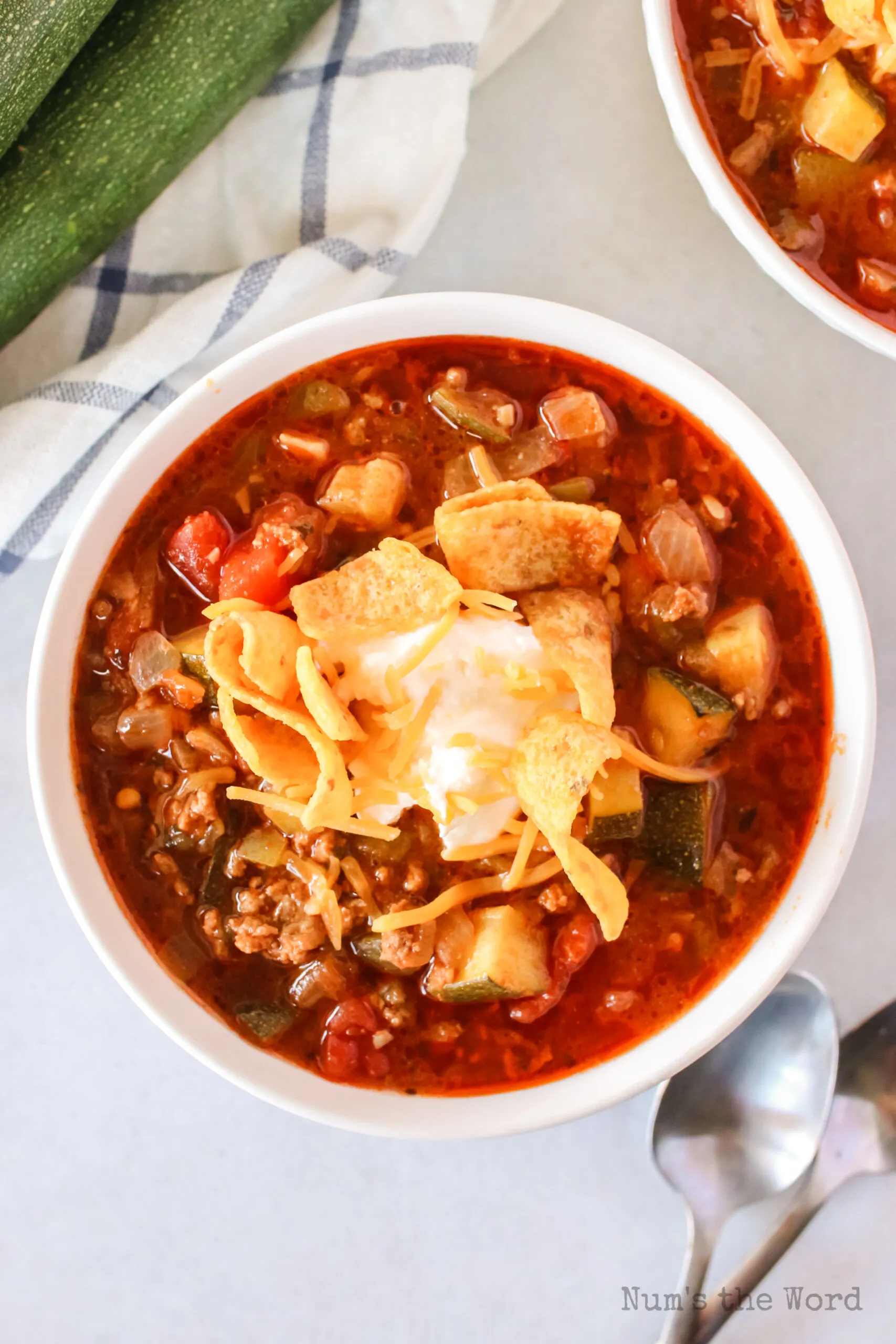 Can Guinea Pigs Eat Zucchini?
Yep! Your little furry friend can even enjoy zucchini. They may like it better with the skin off, you'll have to experiment.
How to Store Zucchini Chili
Allow it to come to room temperature and then toss into a sealable container. Zucchini chili will stay good in the fridge for up to a week.
After a week, better safe than sorry, just toss it. Enjoy this quick, easy, and absolutely delicious Zucchini Chili today!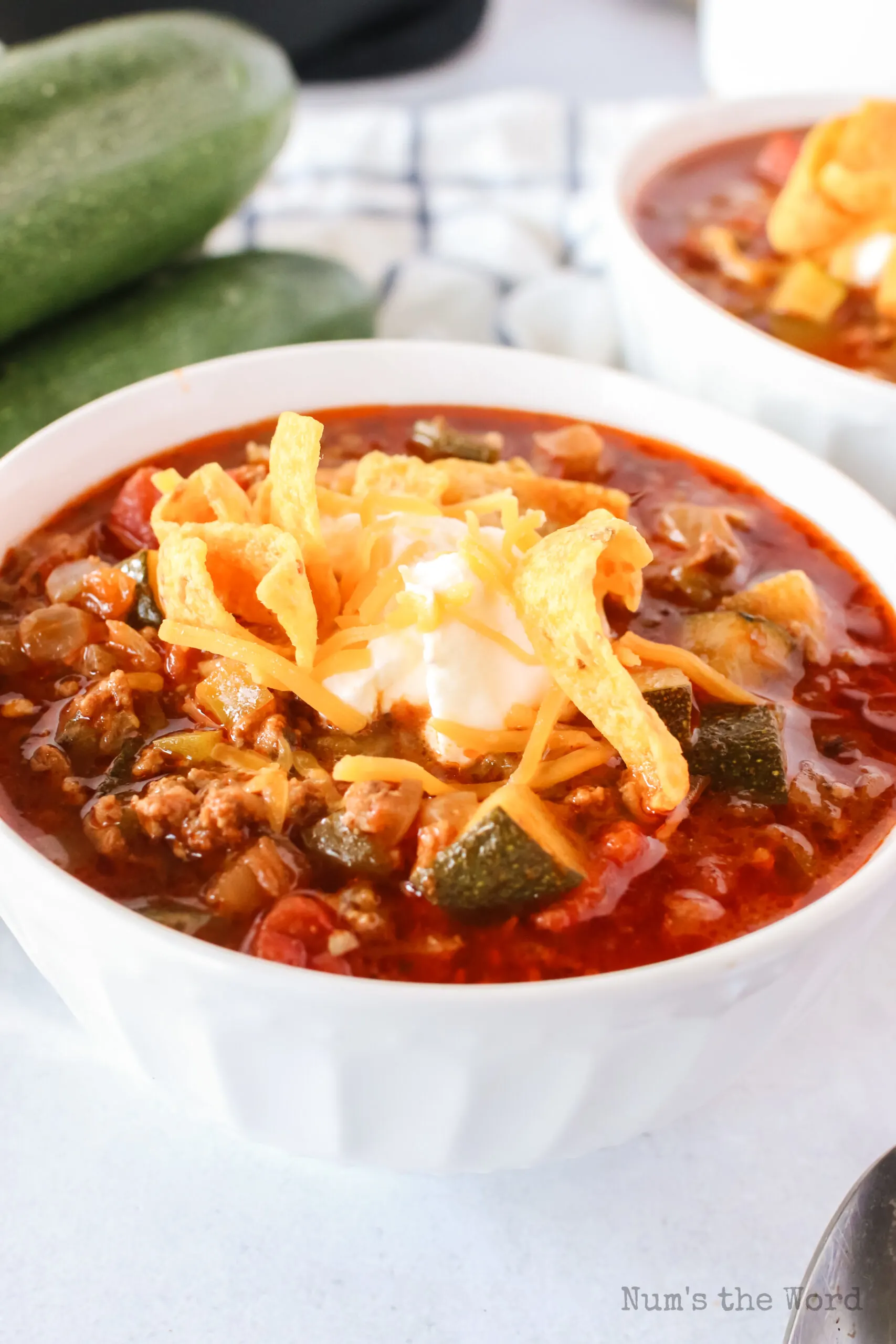 Whether you have too much zucchini growing in your garden, or just love to eat it all year, this Zucchini Chili is a tasty alternative to other zucchini recipes.
Let me know in the comments what you think!
Yield: 8 Servings
Zucchini Chili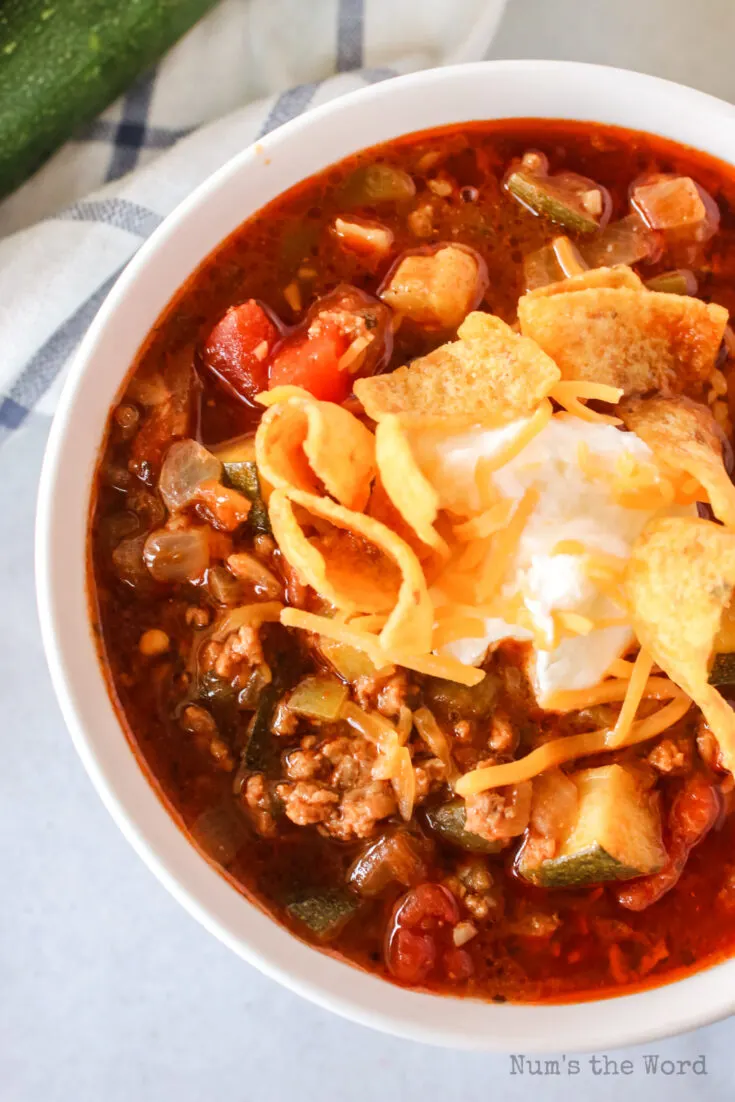 The easiest Zucchini Chili to make and yet bursting with flavor! This zucchini chili is going to knock your socks off!
Ingredients
1 Tablespoon vegetable oil
4 cups zucchini, cut into bite sized pieces
1 pound lean ground beef
1 medium yellow onion, diced
1 green bell pepper, diced
1 teaspoon ground coriander
1 teaspoon dried oregano
2 Tablespoons tomato paste
1 (14.5 ounce) can beef broth
1 cup salsa (pick your favorite!)
1 (14.5 ounce) can diced tomatoes
1 (4.5 ounce) can green chilies
Green Onions to garnish (optional)
Sour Cream to garnish (optional)
Shredded cheddar cheese to garnish (optional)
Fritos to garnish (optional)
Instructions
In a large pot or Dutch oven, add 1 Tablespoon of oil and cook zucchini for about 5 minutes, until tender firm.
Remove zucchini from the pan and set aside.
In the same pan add ground beef, onion and green bell pepper.
Cook until beef is cooked through and onion and pepper are soft.
Add taco seasoning, coriander, oregano and tomato paste. Mix well.
Add beef broth, salsa, diced tomatoes and green chilies. Bring to a simmer, cooking for 10 minutes.
Add zucchini and simmer for additional 15 minutes to meld the flavors and cook the zucchini down more.
If the mixture is too thick, add ½ cup of water (or more, depending on how thick you like your chili).
Serve with cheese, sour cream, green onions and Fritos.
Nutrition Information:
Yield:
8
Serving Size:
1
Amount Per Serving:
Calories:

236
Total Fat:

12g
Saturated Fat:

4g
Trans Fat:

0g
Unsaturated Fat:

6g
Cholesterol:

55mg
Sodium:

621mg
Carbohydrates:

13g
Fiber:

3g
Sugar:

6g
Protein:

20g