Strawberry Salsa is the perfect stand alone dish for strawberry season! Juicy, flavorful, and bursting with color, it's one everyone can dig into!
Those ripe, fresh strawberries are hard to pass up this time of year. And for good reason!
Strawberries are definitely perfect in desserts like this Strawberry Crisp Recipe or Strawberry Sauce.
You may be surprised to know juicy strawberries are also delicious in salsa! The flavor of strawberries compliments the original salsa flavorings and is a break from the original!
This strawberry salsa recipe is really healthy. We could call it a salad even but I'd prefer to call it a salsa and eat it with chips. And this easy strawberry salsa can effortlessly be customized as well.
Don't like something? Just sub it! Want to add more fruits? Don't be afraid of that either!
If you're worried about missing the tomatoes, you don't need to. This is a strawberry tomato salsa! Best of both worlds!
And the biggest benefit? Jalapeno strawberry salsa is quick! No one wants to slave away in the kitchen on these beautiful days! Am I right?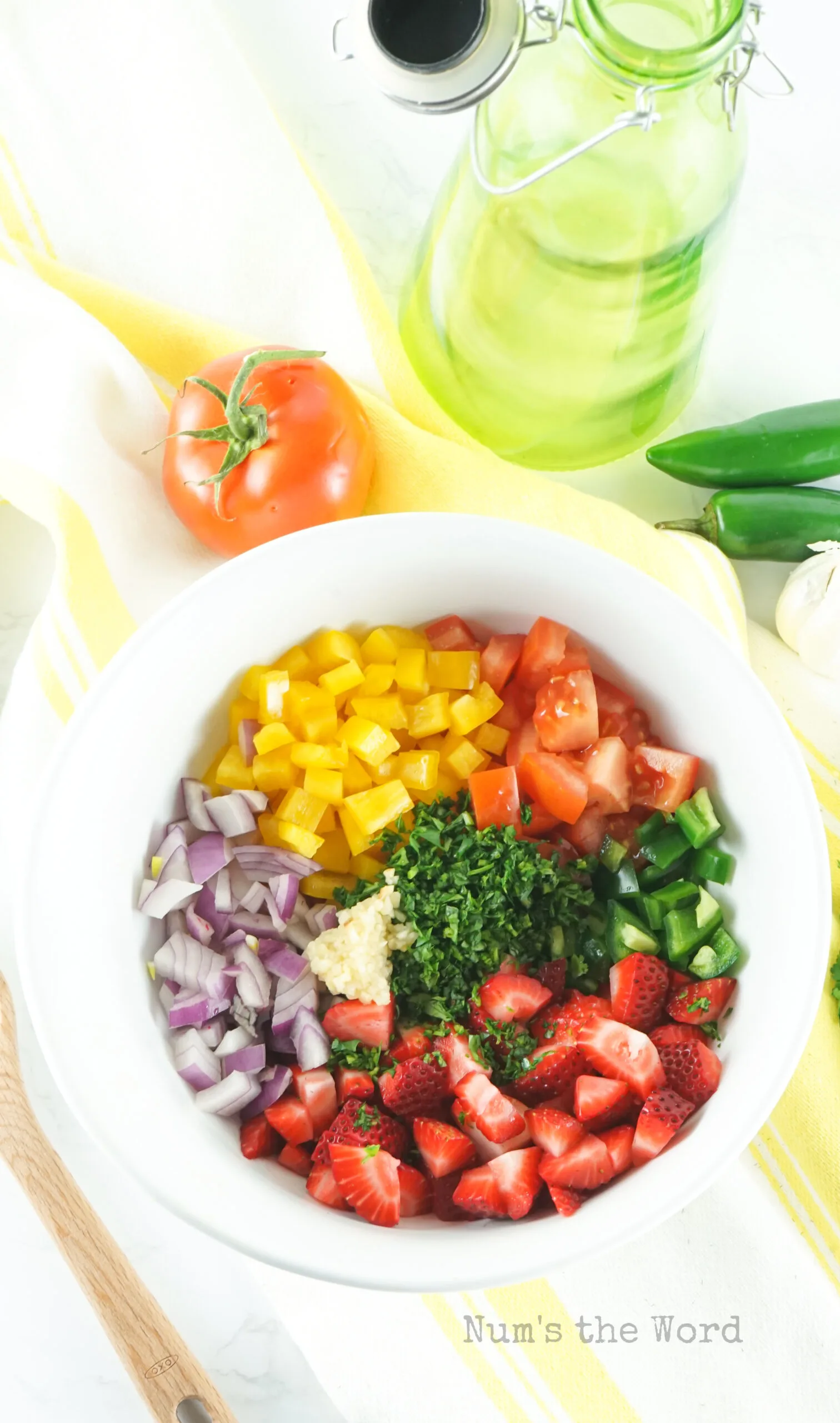 What Ingredients are in Strawberry Salsa?
Fresh salsa never tasted so good as it does with these simple ingredients!
Tomato: Be sure to choose a ripe tomato for best flavor.
Onion: Red onion goes really well here! If you don't like red onions try green onions instead.
Cilantro: Mmmm. Fresh cilantro and salsa! If you're one of those cilantro haters try mint instead.
Jalapeno: Be sure to remove the seeds or your strawberry salsa will be much too spicy.
Bell Pepper: A yellow bell pepper adds a nice contrast of color and flavor. You could also use orange or red.
Strawberries: Dice these up for perfect dipping and scooping size.
Lemon Juice and Lime Juice: Both really give a burst of flavor but you could just use one if desired.
Tajin Seasoning: Find this in the Mexican section of most grocery stores.
Garlic: Freshly minced garlic will give you the freshest flavor.
Sea Salt: And of course, no salsa is complete without the salt.
Pro Tips:
If you like a spicy salsa, leave the seeds in or add extra spicy jalapenos.
Use the stems of the cilantro too! They add so much flavor and texture.
If you can't find Tajin seasoning try swapping for Chili Lime Seasoning instead.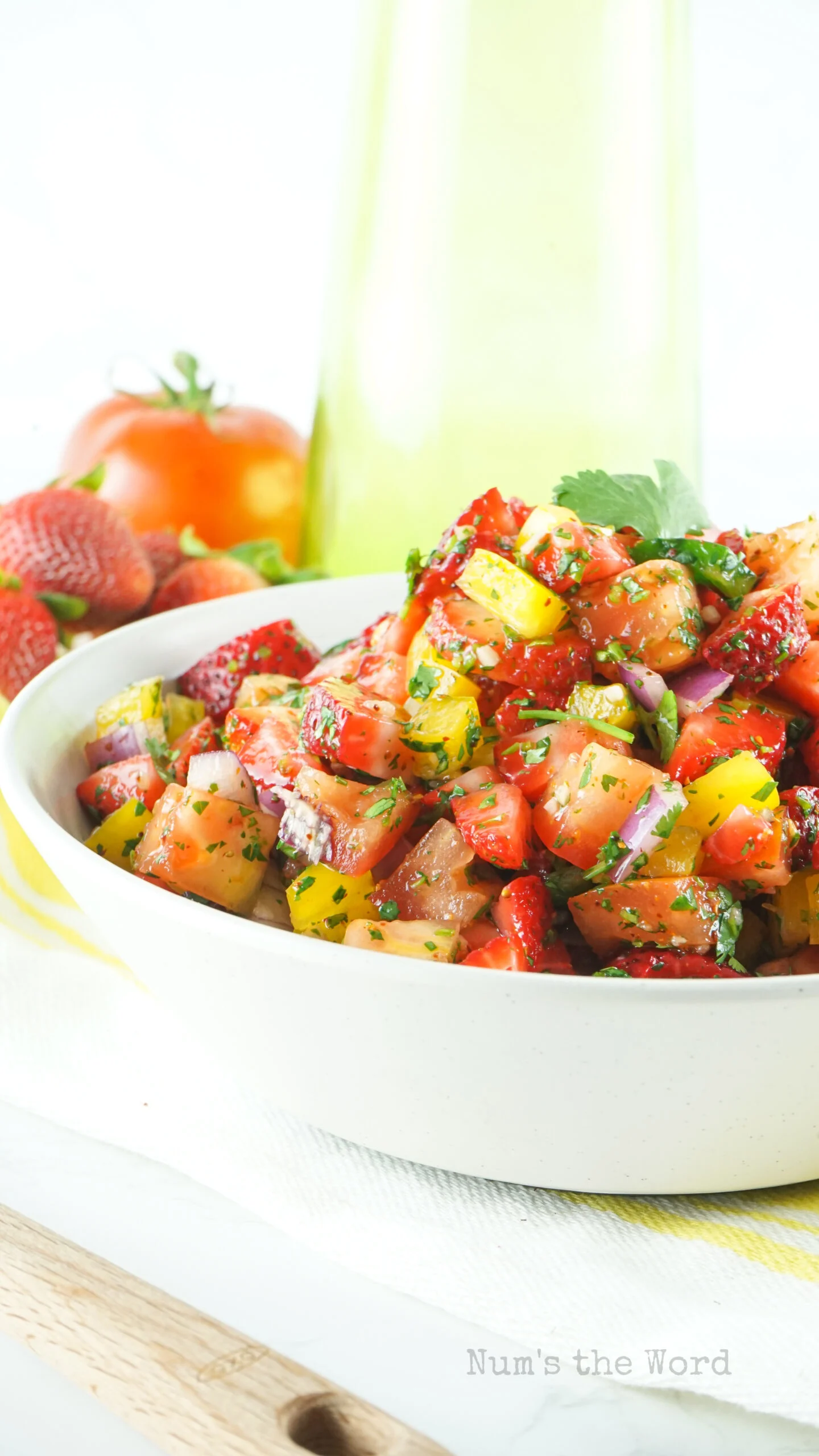 How to Make Strawberry Salsa
Making strawberry fruit salsa is super easy!
Chop: This is the only thing that really takes any time. Get those fruits and veggies to the right size.
Mix: Once it's all tossed together, go ahead and dig right in! Yum!
Pro Tips:
If you used extra ripe strawberries, it may be extra juicy. Just drain any unwanted excess juice.
Pat strawberries dry after washing them to prevent any extra liquid in the salsa.
Use a large bowl if you're doubling the strawberries!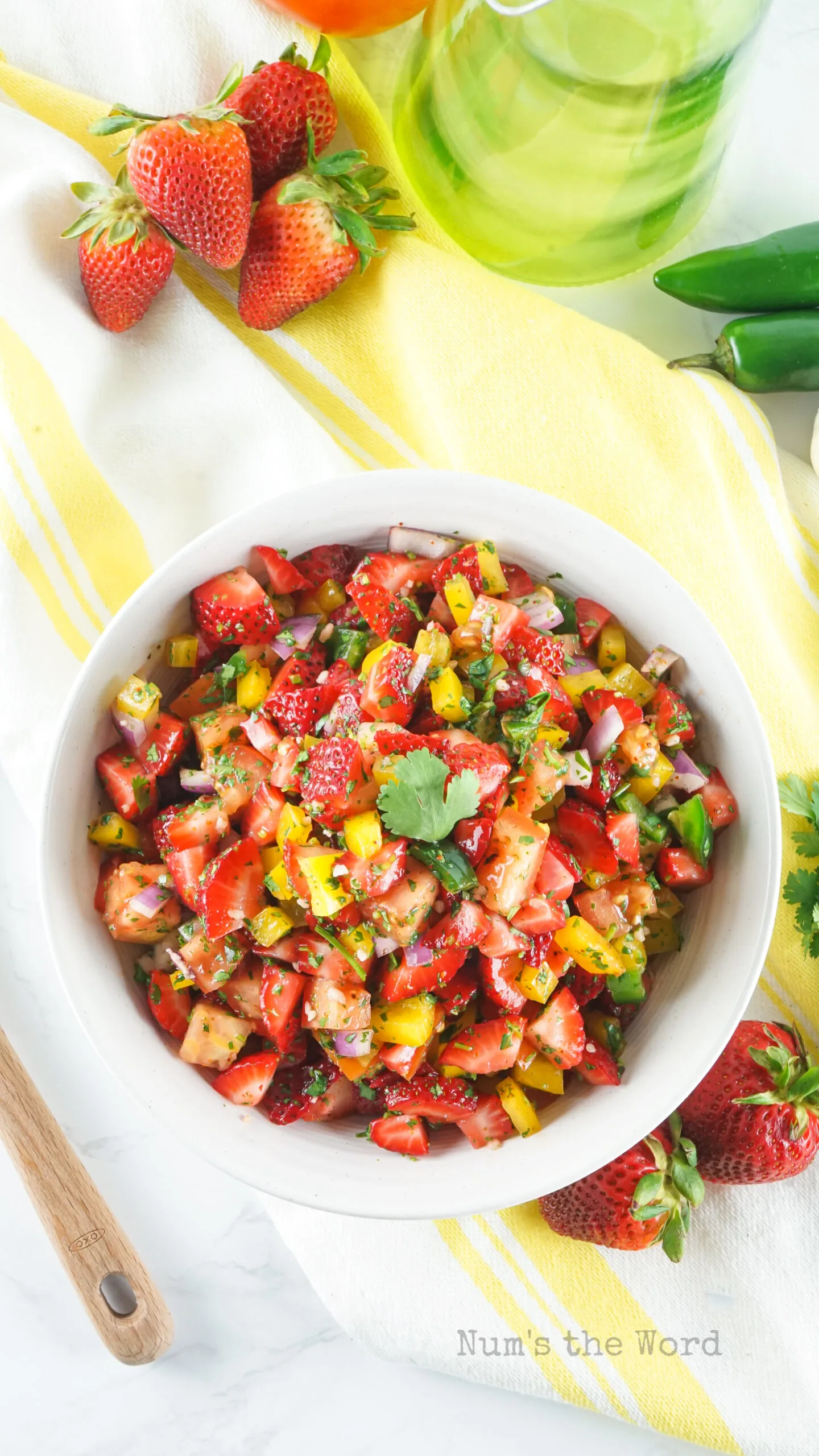 Can You Make Strawberry Salsa in Advance?
Yes! Making strawberry salsa in advance makes it a super easy recipe!
I like to chop all the fruits and veggies up and keep them separate until it's time to serve. Then they all taste super fresh and you can whip it up in less than 5 minutes.
Keep the chopped fruits and vegetables in the fridge for up to 48 hours before serving.
If your strawberries aren't quite ripe enough, making the salsa ahead of time may be your solution. Combine the ingredients and let them sit for the day.
By evening the other ingredients will have softened and helped to ripen the strawberries.
Can You Use Frozen Strawberries in Strawberry Salsa?
Unfortunately no, you can't use frozen strawberries in strawberry salsa. Frozen strawberries are really wet when thawed and much too soft.
They'll make your strawberry salsa really liquid and the texture will be lacking too. Stick with fresh strawberries for best results.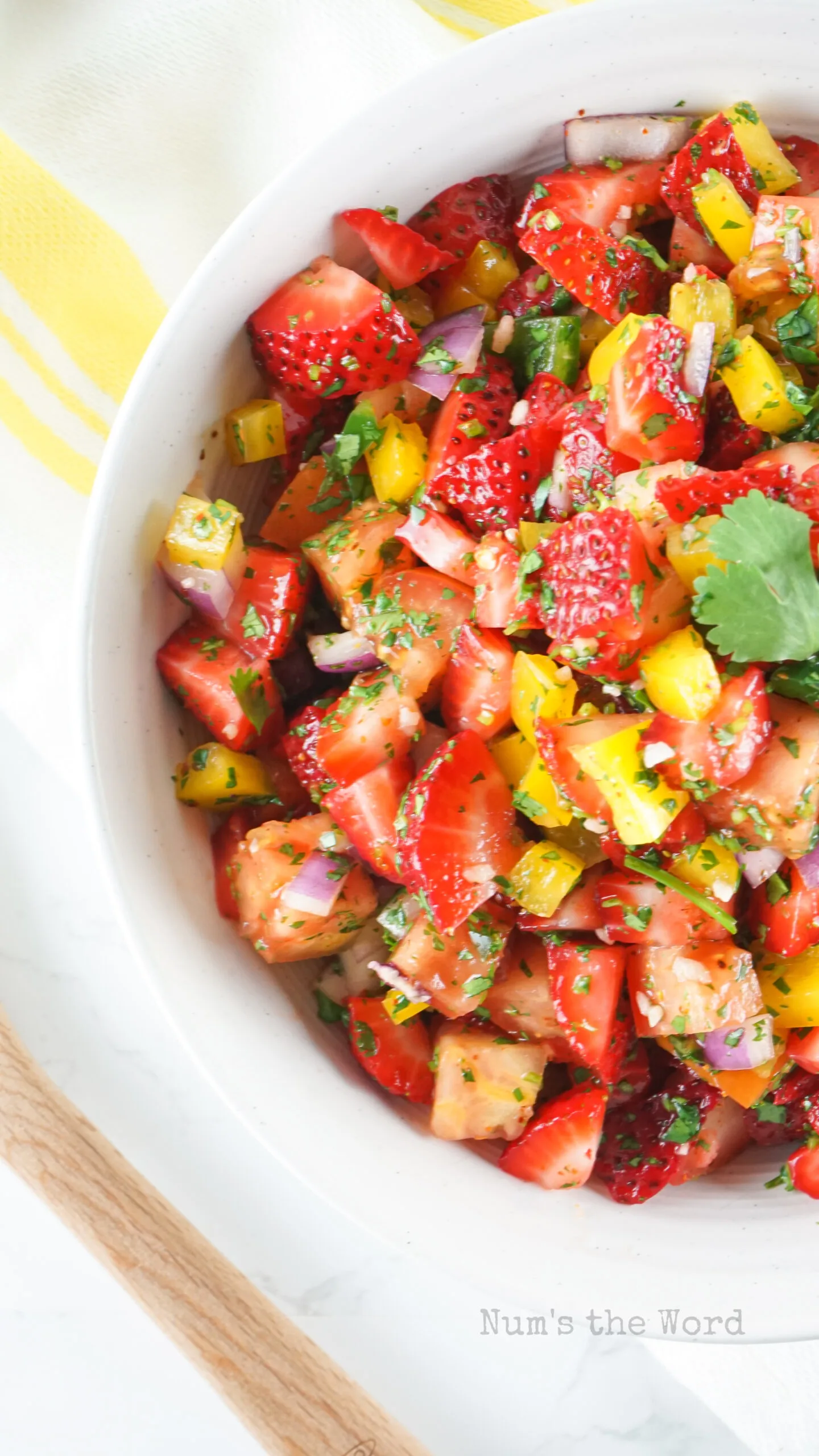 How Long Does Strawberry Salsa Last?
Around my house? Less than a day. Strawberries and self control don't exactly go hand in hand.
But if you've got more self control than that, you should be able to safely eat the strawberry salsa for up to three days.
How to Store Strawberry Salsa
Be sure to always keep your strawberry salsa in the fridge when you're not eating it. This will help keep any harmful bacteria from growing.
Also be sure to keep it in an airtight container. Leaving foods opened not only dries them out but makes them go bad quicker too.
Can You Freeze Strawberry Salsa?
That's a big negative! You should not freeze strawberry salsa. Just like you can't use frozen strawberries to make the recipe.
Freezing the strawberries will not work unless you're looking for a wet mushy mess afterwards. Believe me, your taste buds would not thank you for that!
If you're worried about having too many leftovers, you can always cut the recipe in half.
What to Serve with Strawberry Salsa
Strawberry salsa goes great with regular tortilla chips, just like regular salsa.
But you could also serve it with pita chips for a fun twist.
Of course, strawberry salsa really just makes everything better so try serving with: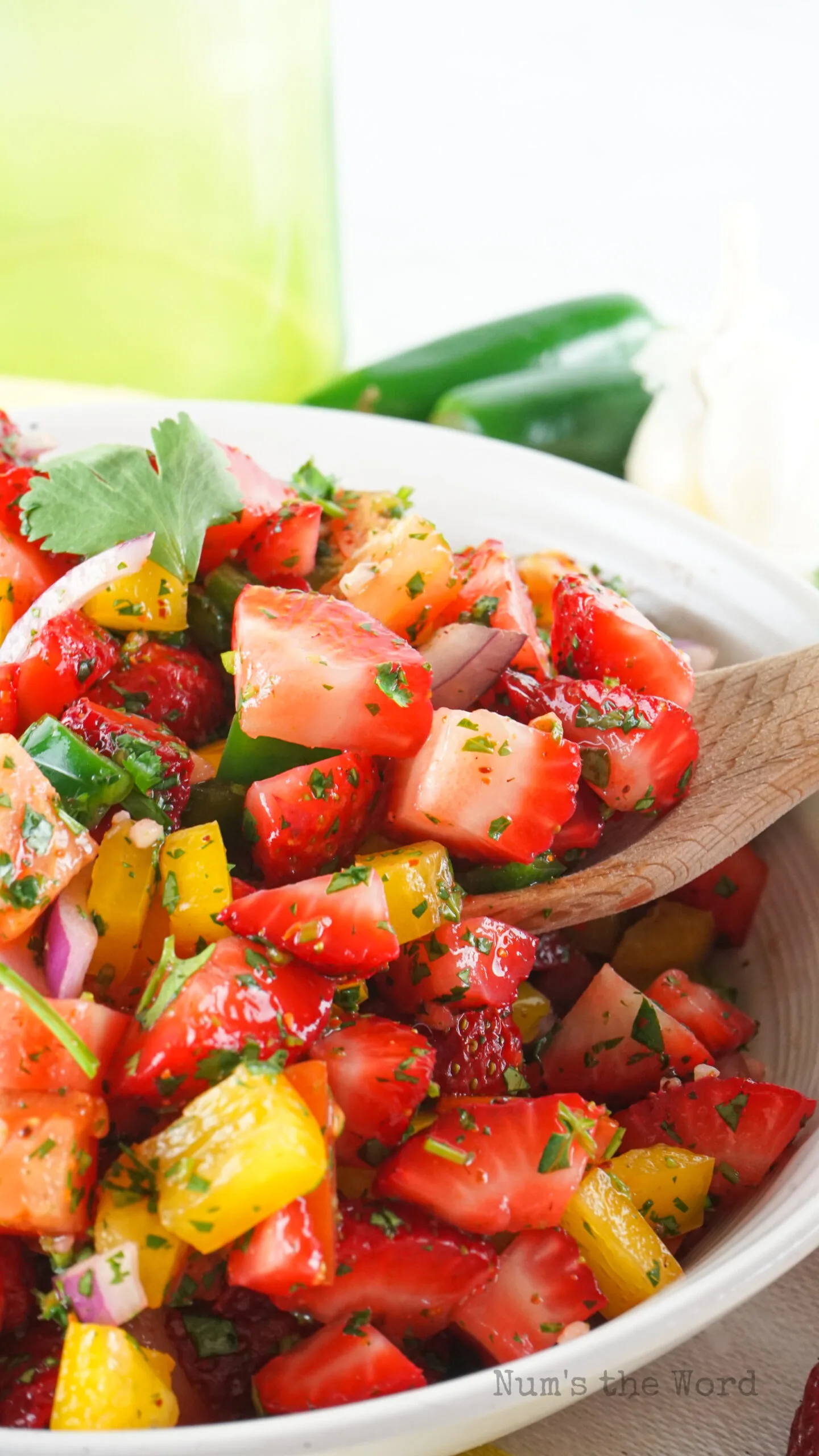 Strawberry Salsa Variations
If you really want to shake things up, try adding or subbing any of these yummy ingredients:
Berries: Swap some of the strawberries for another berry like blueberry for a fun color and flavor contrast:
Fruit: Other yummy fruits to try are pineapple salsa or mango salsa.
Vegetables: Use chopped cucumber in place of the chopped bell peppers.
Coconut: A sprinkle of coconut can be a fun garnish.
Corn: Corn is a fun and filling thing to add to strawberry salsa.
Lettuce: Go ahead and make it a salad! Lay it on a bed of greens and your healthy meal is complete!
Meat: Any sort of fried chicken, fish, or pork tastes great with strawberry salsa.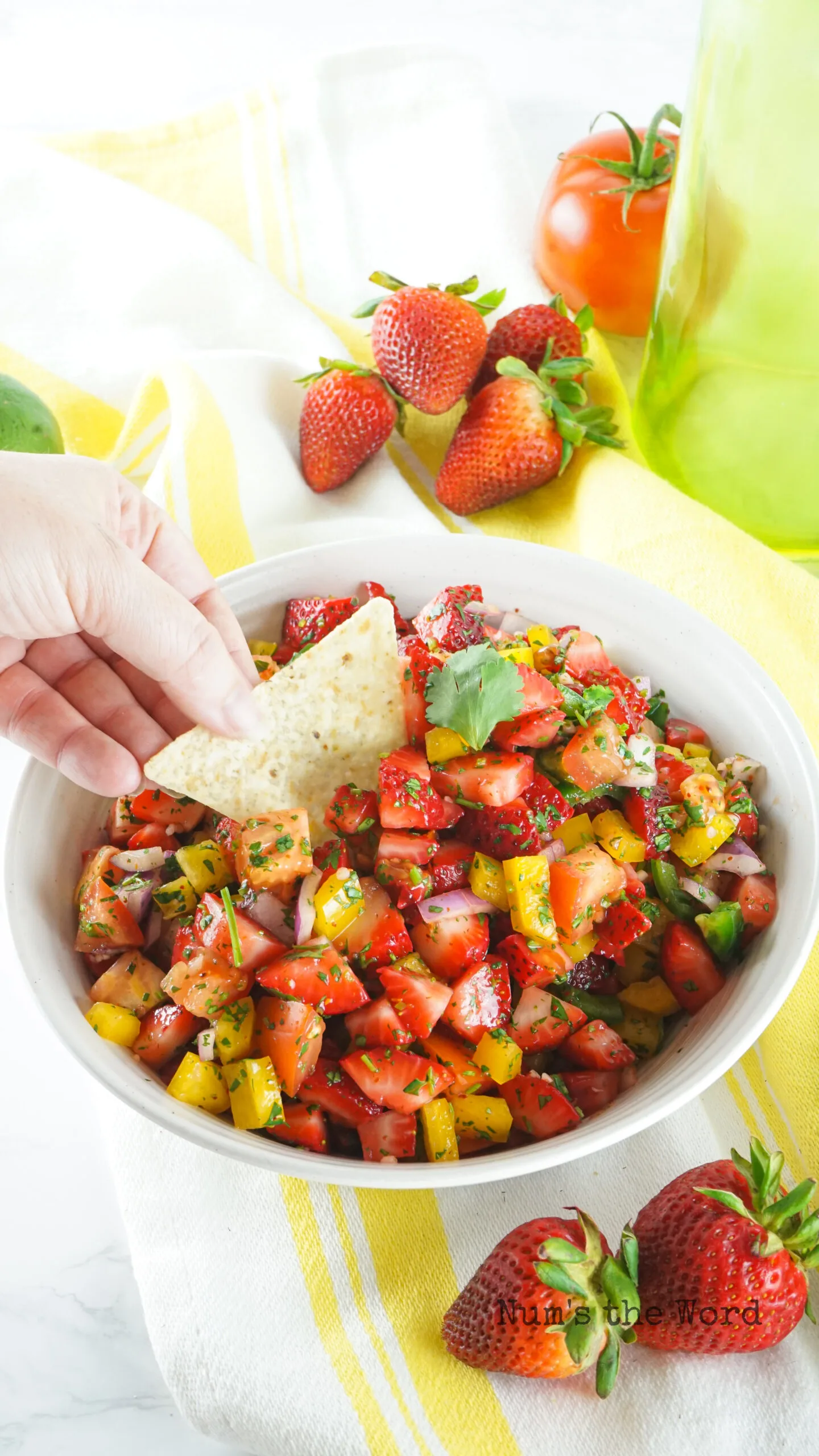 More Strawberry Recipes You'll Love…
Strawberry Salsa is a delicious and quick summer food! Bring strawberry salsa to potlucks, parties, and especially the 4th of July party for that something red!
Yield: 6 Servings
Strawberry Salsa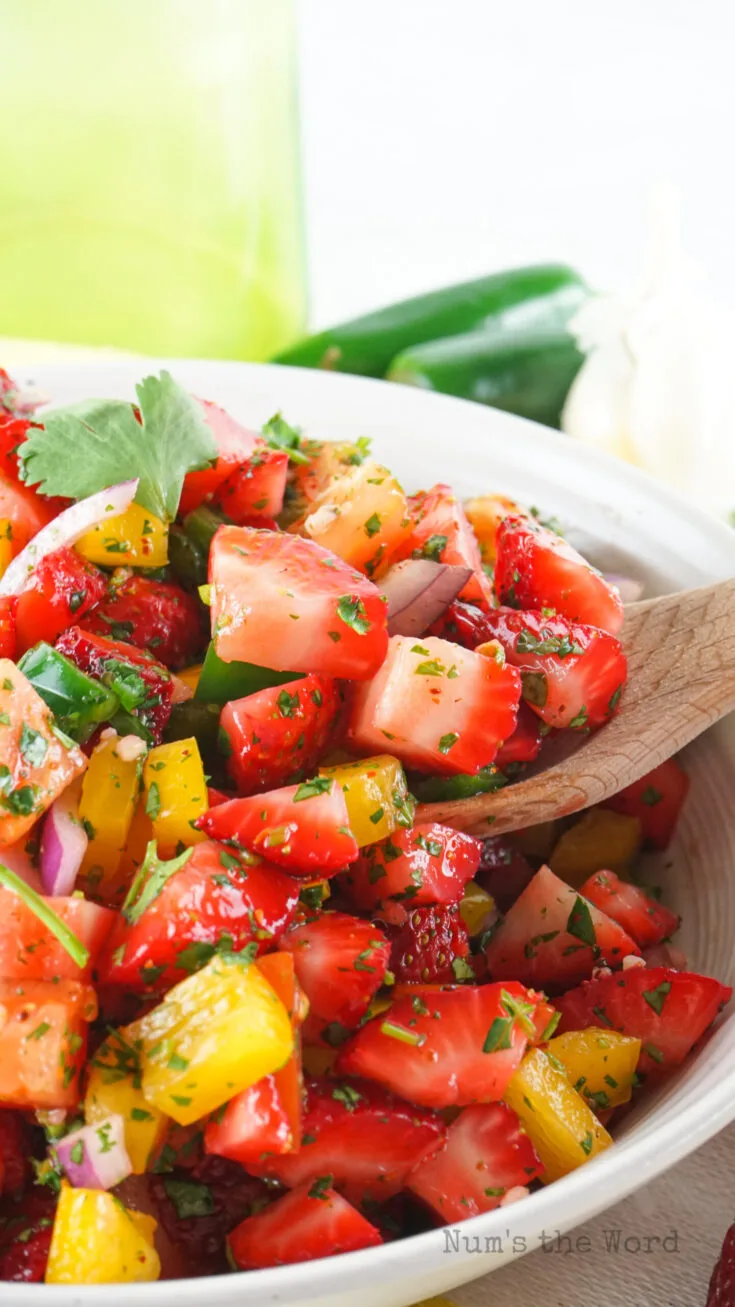 Strawberry Salsa is the perfect stand alone dish for strawberry season! Juicy, flavorful, and bursting with color, it's one everyone can dig into!
Ingredients
1 Roma Tomato, diced
1/2 cup red onion, diced
1/4 cup cilantro, minced
1 jalapeno, diced - seed's removed
1 yellow bell pepper, diced
2 cups strawberries, diced
1 Tablespoon lemon juice
1 Tablespoon lime juice
1 Tablespoon Tajin seasoning
2 teaspoons garlic, minced
1 teaspoon coarse sea salt.
Instructions
In a large mixing bowl add tomatoes, onion and cilantro, mix.
Add jalapeno and bell pepper, mix.
Add strawberries, lemon juice, lime juice, chili lime seasoning, garlic and sea salt. Gently mix.
Serve immediately with tortilla chips.