Korean Beef is all the delicious flavors of Asian BBQ whipped up in the comfort of your own home! Super easy and delicious.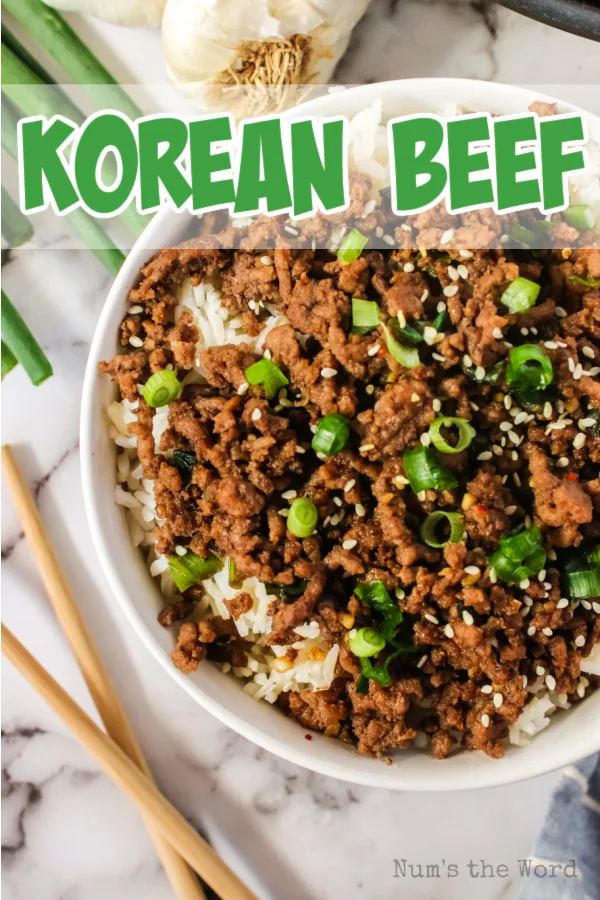 Don't you just love those Asian flavors? Brown sugar, soy sauce, ginger, and beef on a bed of fluffy rice. Oh yeah!
This Korean beef bowl is crazy fast! I mean you can make it on a weeknight in 15 minutes fast. And let me tell you, this is actually a Korean ground beef recipe.
That's right. No expensive flank steak around here!
This will probably be one of the cheapest meals you'll eat all week. Korean beef is really easy too. It's as simple as cooking up the meat and tossing it all together.
I think one of the best parts is it's super filling. I don't want to still be hungry after I eat, you get me? Even my kids will devour Korean beef and that's really saying something for those picky eaters.
Fast, cheap, easy, and filling, means this Korean beef bowl recipe has quickly become a family favorite. Enjoy this recipe for dinner tonight!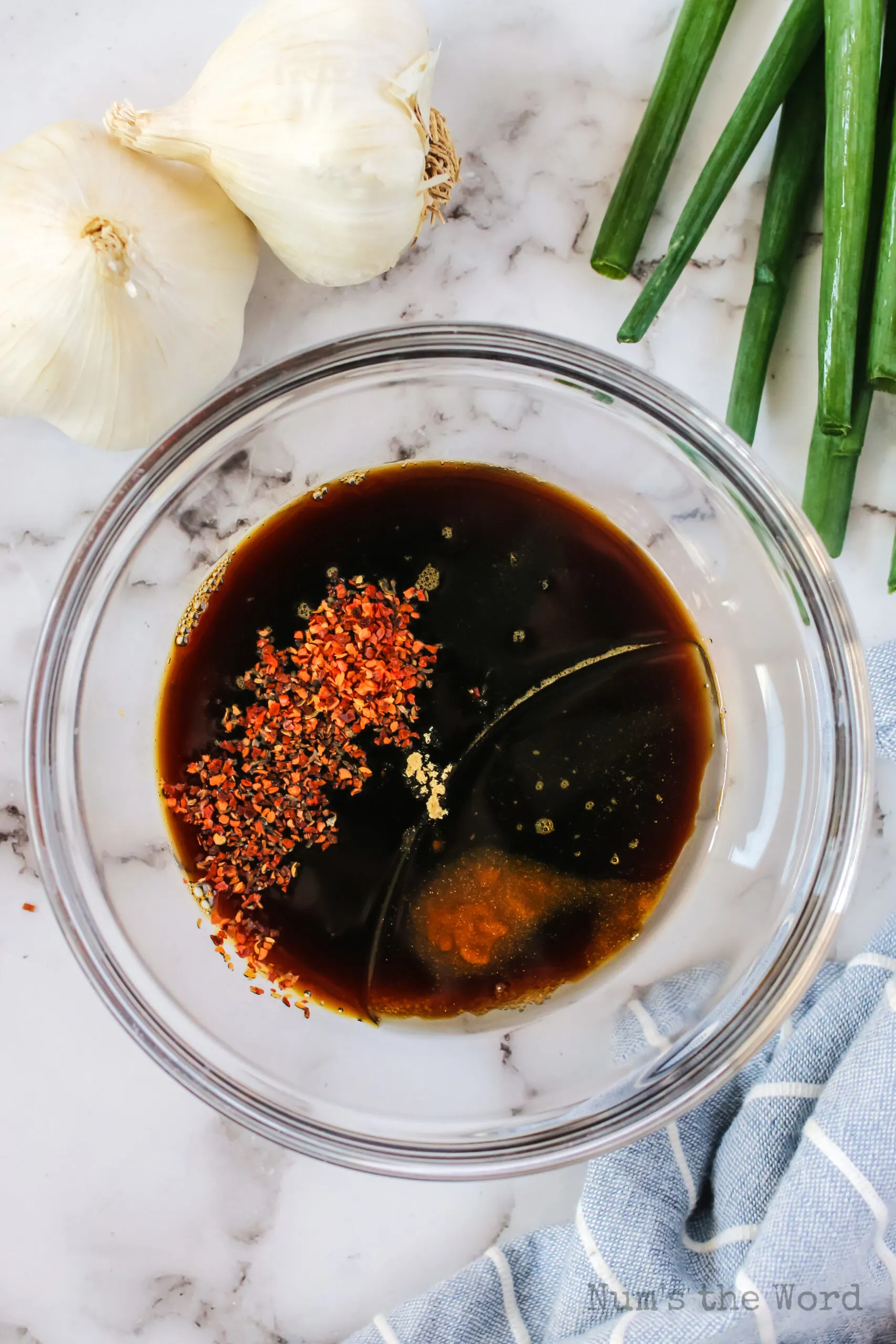 What is Korean Style Beef?
Traditional Korean beef is called Korean Bulgogi. It's a beef that is often marinated in an onion and soy sauce. Though you'll often see sugar, ginger, or garlic in there too.
This Korean beef recipe doesn't need to be marinated overnight and you'll still get excellent flavor. Part of the reason why you don't need to marinate is that Korean style beef often uses a thin cut of steak.
Steak often needs to be marinated when cooking quickly for Korean BBQ. However, we are using ground beef. That means, you don't need to marinate, but the flavors hold well.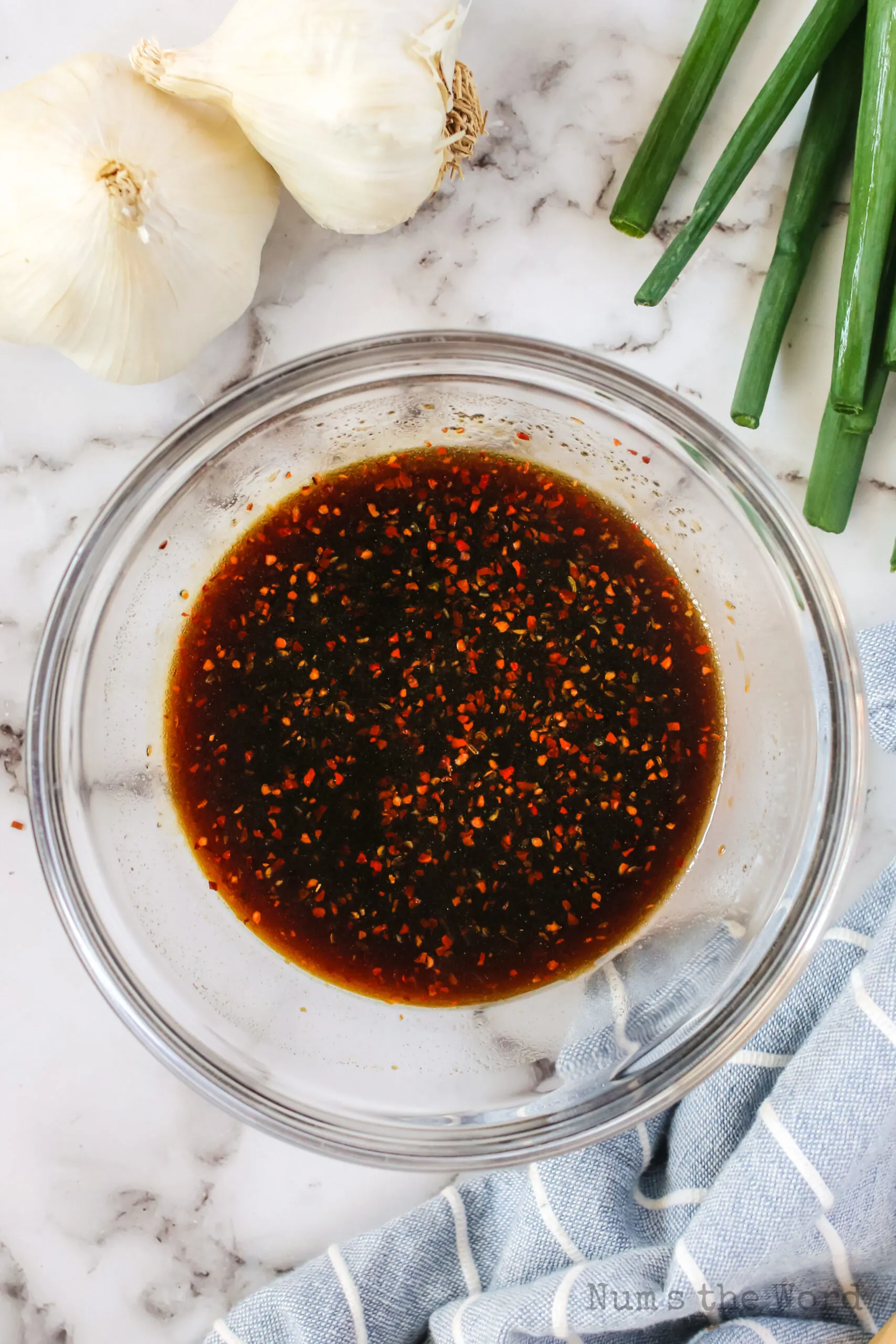 What Ingredients are in Korean Beef?
Sugar: Brown sugar that is! It gives a deep mapley kind of flavor to the beef.
Soy Sauce: I much prefer the reduced sodium. Otherwise- holy salt.
Sesame Oil: We make a lot of Asian and always have this on hand. If you don't, find it in the Asian section of the grocery store.
Ginger: Use either minced or ground. Fresh ginger will give your taste buds a great flavor.
Ground Beef: The more fat is in your ground beef, the more grease you'll need to pour out.
Garlic: Make sure these are minced small. No one likes a giant chunk of garlic in their meal.
Onions: Use green onions as a delicious and colorful garnish or substitute with red onion.
Sesame Seeds: Not only for buns! Sesame seeds are a staple in Asian dishes.
Rice: Using leftover rice will make this meal come together in a snap.
Red Pepper Flakes: These are optional. If you like a kick, toss them in!
Pro Tips:
Use lean ground beef for a better beef mixture.
If you're looking for a delicious rice recipe try this Fluffy Butter Rice.
For soy allergies, substitute the soy sauce with coconut aminos.
Short on time? Try a garlic powder substitute.
Olive oil can be used as a replacement for sesame oil in a pinch.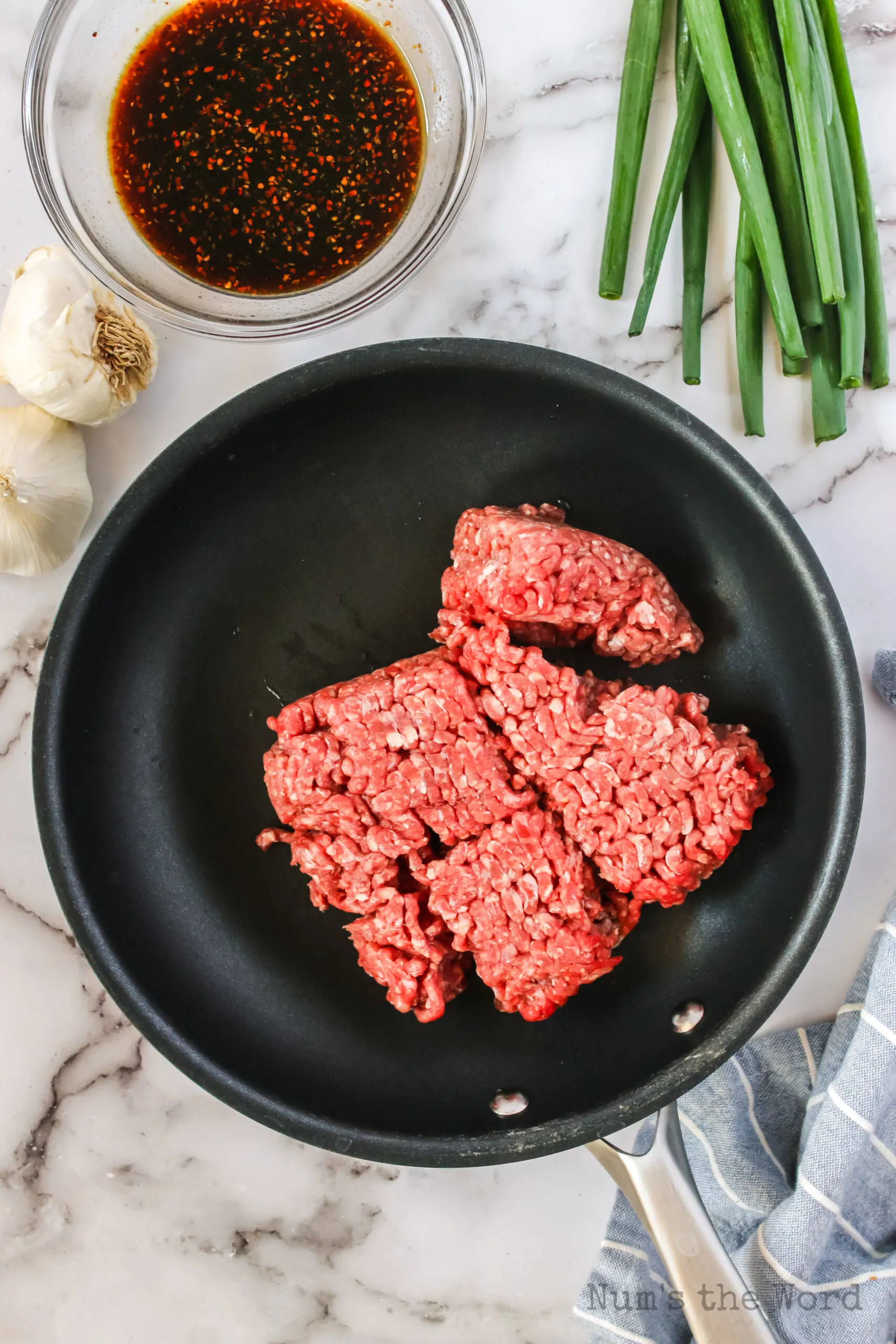 How to Cook Korean Ground Beef
Mix: Combine the first few ingredients to get a yummy seasoning to add to the ground beef.
Cook: Be sure to add the garlic into the ground beef after it has cooked.
Combine: Mix everything together and serve with garnishes.
Pro Tips:
Ground Beef should be cooked until it's no longer pink and 160 degrees.
If you aren't using leftover rice, be sure to start it first as this all cooks quickly.
A large skillet that is nonstick will keep the Korean BBQ beef from sticking.
Cook over medium heat for best results.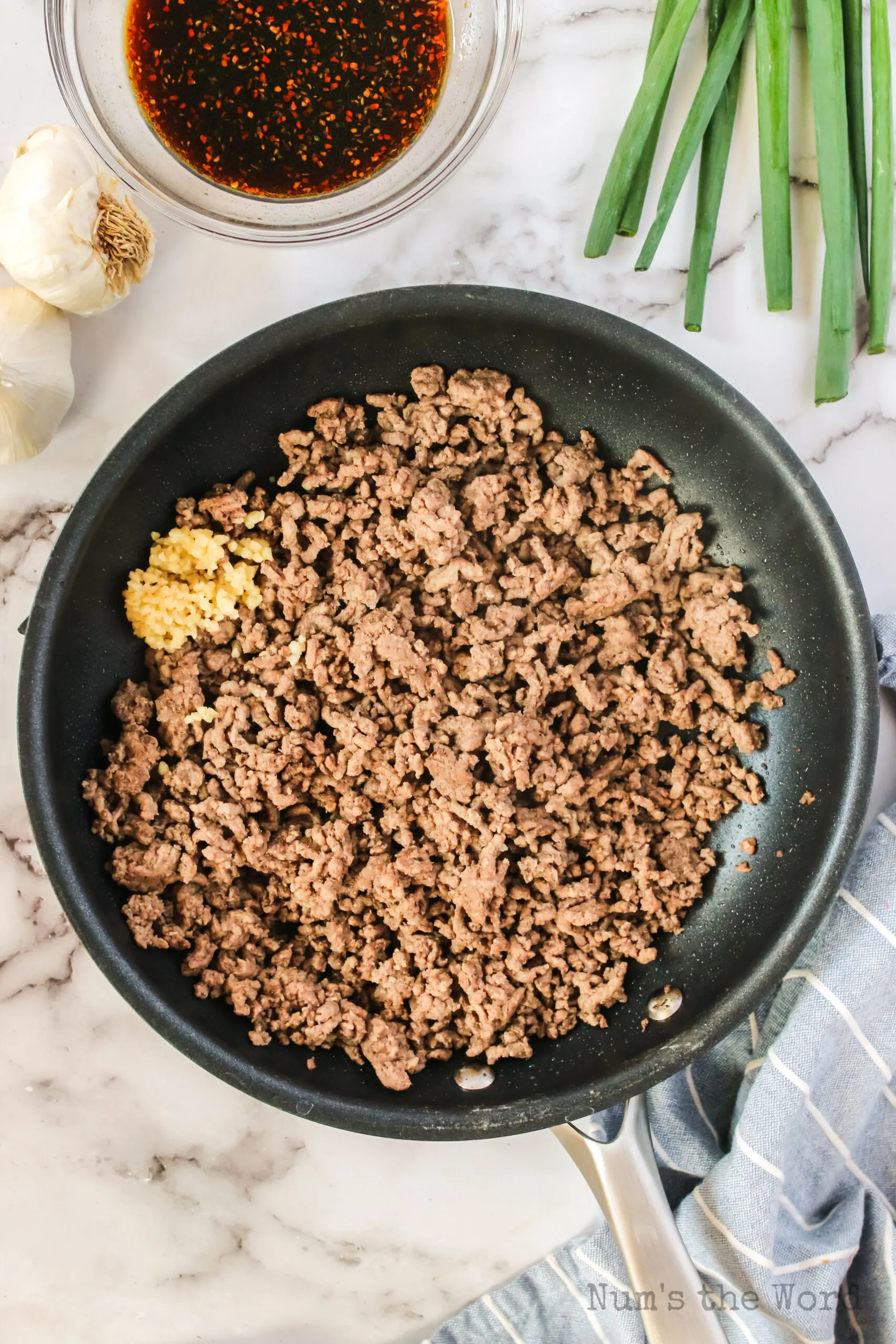 What to Serve with Korean Beef:
Here's some excellent side dishes to serve with Korean Beef:
Rice: White rice or brown rice, it's all good here. We absolutely love Jasmine rice.
Greens: Serve the beef over a bed of lettuce and you've got yourself a delicious salad.
Cauliflower: For a low carb option, serve over cauliflower rice.
Veggies: Oven Roasted Winter Vegetables are an easy and healthy side for this recipe. Or try a side of Air Fryer Green Beans!
Lettuce: Make lettuce wraps by rolling the Korean ground beef in a lettuce leaf.
Tortillas: Korean tacos anyone? Make it a taco night by laying in the Korean beef and traditional taco fixings.
Noodles: Pair with this Ramen Noodle Salad to keep the theme going.
Cucumbers: Creamy Cucumber Salad is almost a must when it comes to this dish.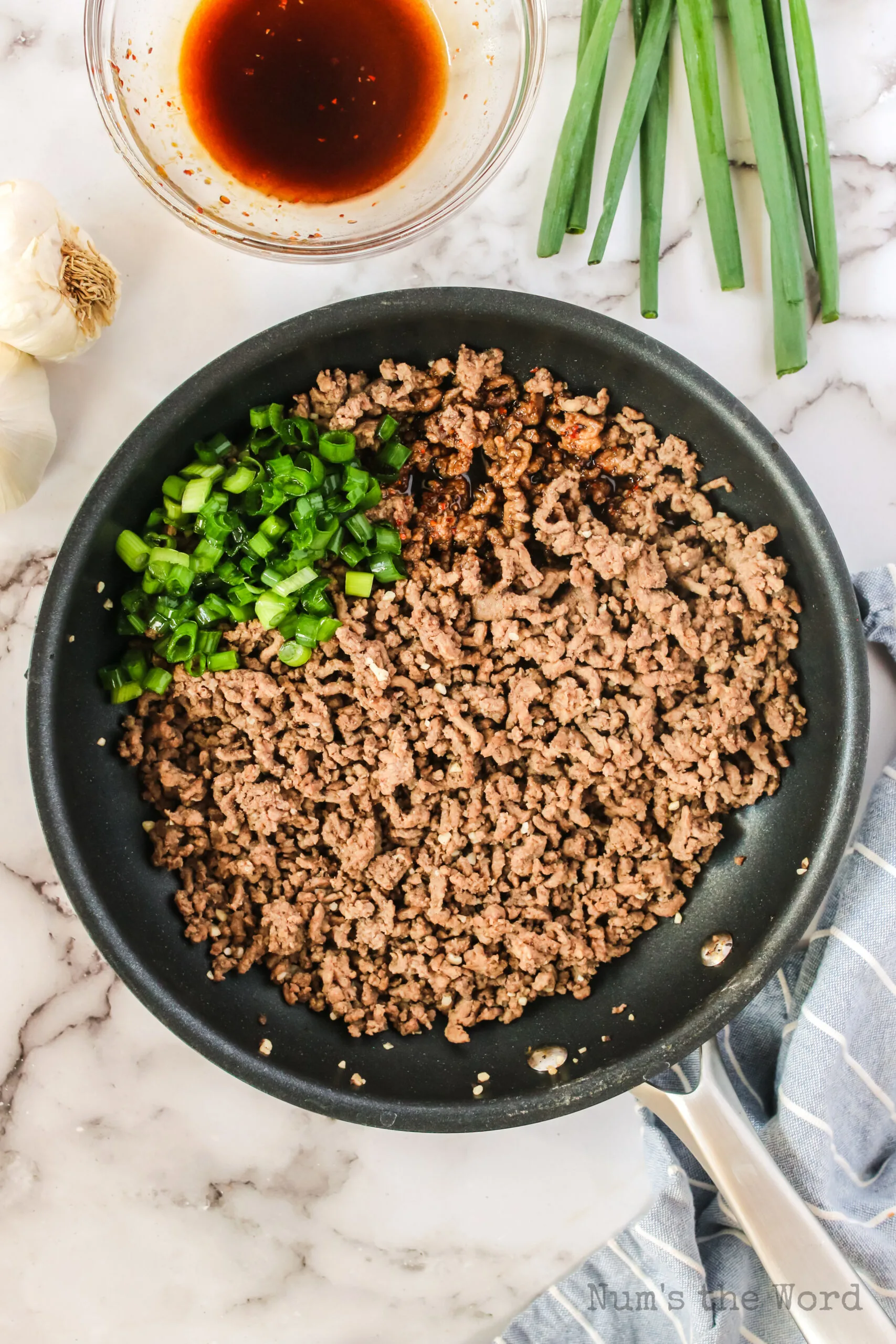 Can I Freeze Korean Beef?
You can easily and quickly freeze Korean beef. This recipe is great for meal prep and I often like to double or triple the batch.
Then we can eat some now and I can save some for those super stressful nights that fast food looks appealing. Just pull it out of the freezer, reheat, and done!
Be sure to keep your leftovers in an airtight container in your freezer. If properly stored, it should last for up to 6 months.
Pro Tip:
If you easily forget what's in your freezer (guilty!) be sure to label the container with the name and date.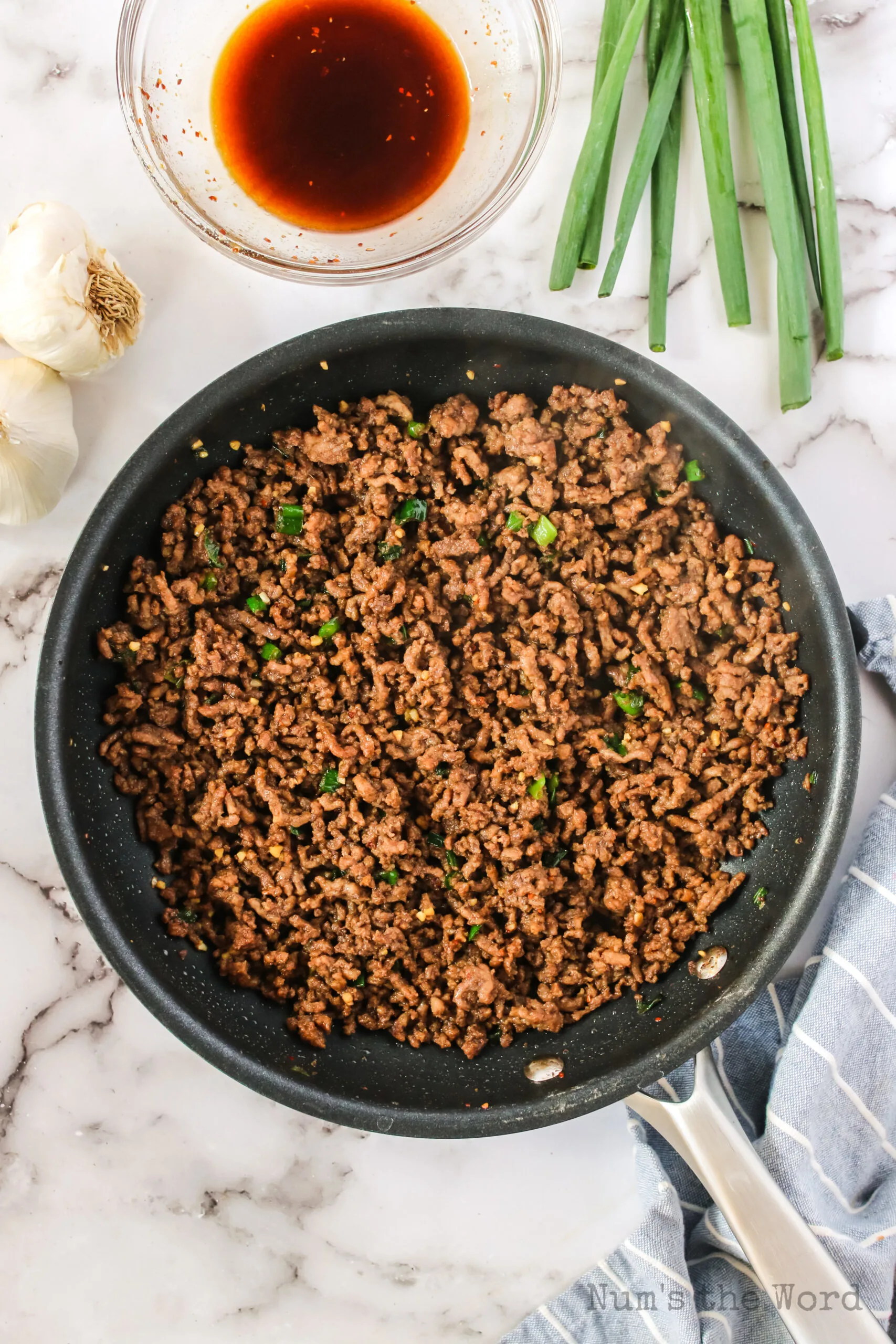 How to Make a Korean Beef Bowl
Honestly, making a Korean beef bowl is already laid out for you here! Simply lay that delicious beef on top of your bowl of rice, and you're done.
If you want to change it up you could always slice up some cucumbers or grated carrots for some extra color pops.
But honestly, if you want to keep it simple, just top with the sesame seeds and green onions. Boom. Korean beef bowl.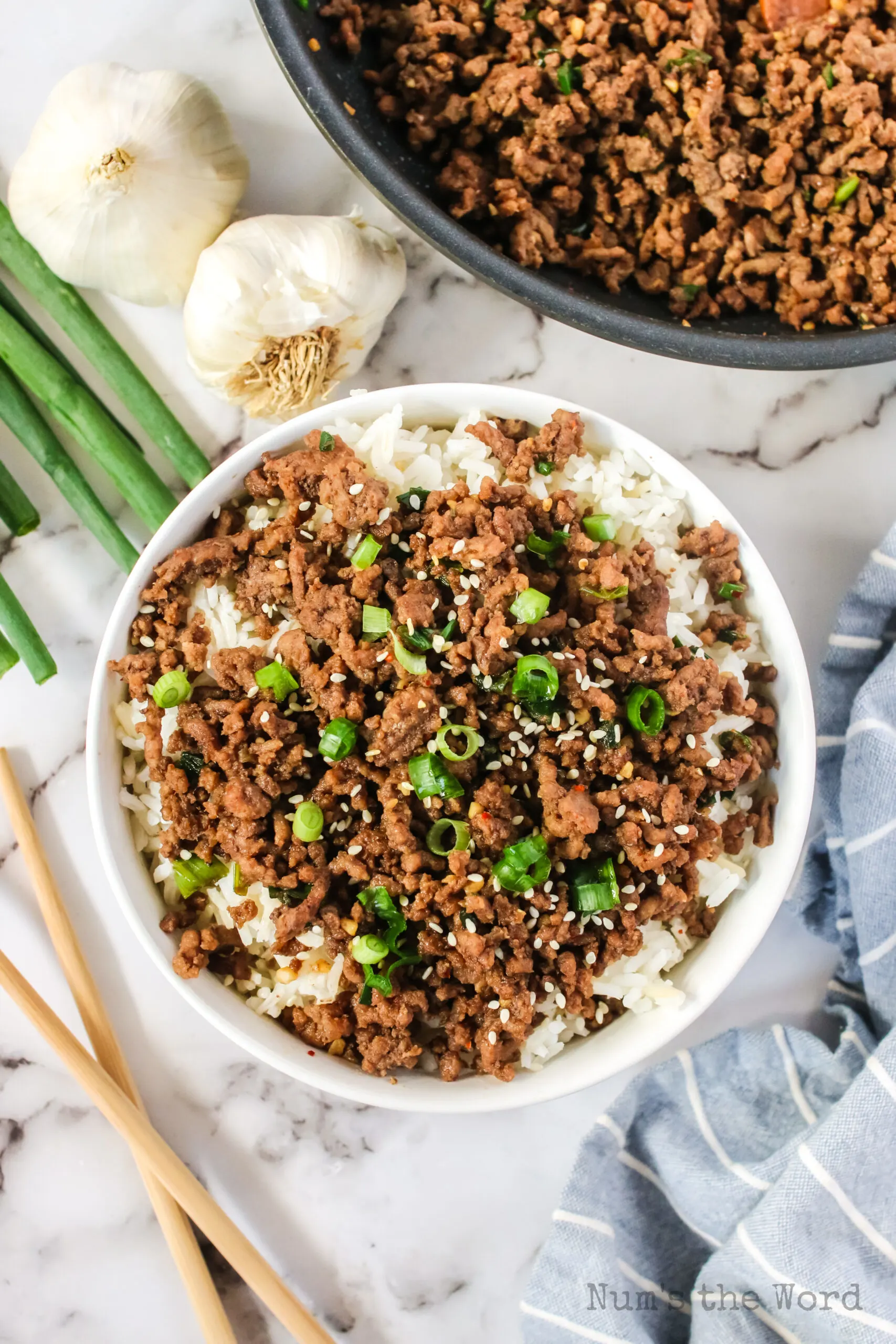 Can I Make Korean Beef Bowls with Pork or Chicken?
Yes you can make Korean Beef Bowls with Pork and Chicken! Don't be afraid to mix things up!
Now technically, it won't be a "beef" bowl anymore. It'll be a chicken bowl. Or a pork bowl.
That doesn't really matter. The flavor will still be awesome.
Just be sure to cook the chicken or pork until it's cooked through. For chicken that's an internal temp of 165*F and for pork it's 145*F.
Then follow the rest of the recipe as written and you'll have yourself a delicious meal.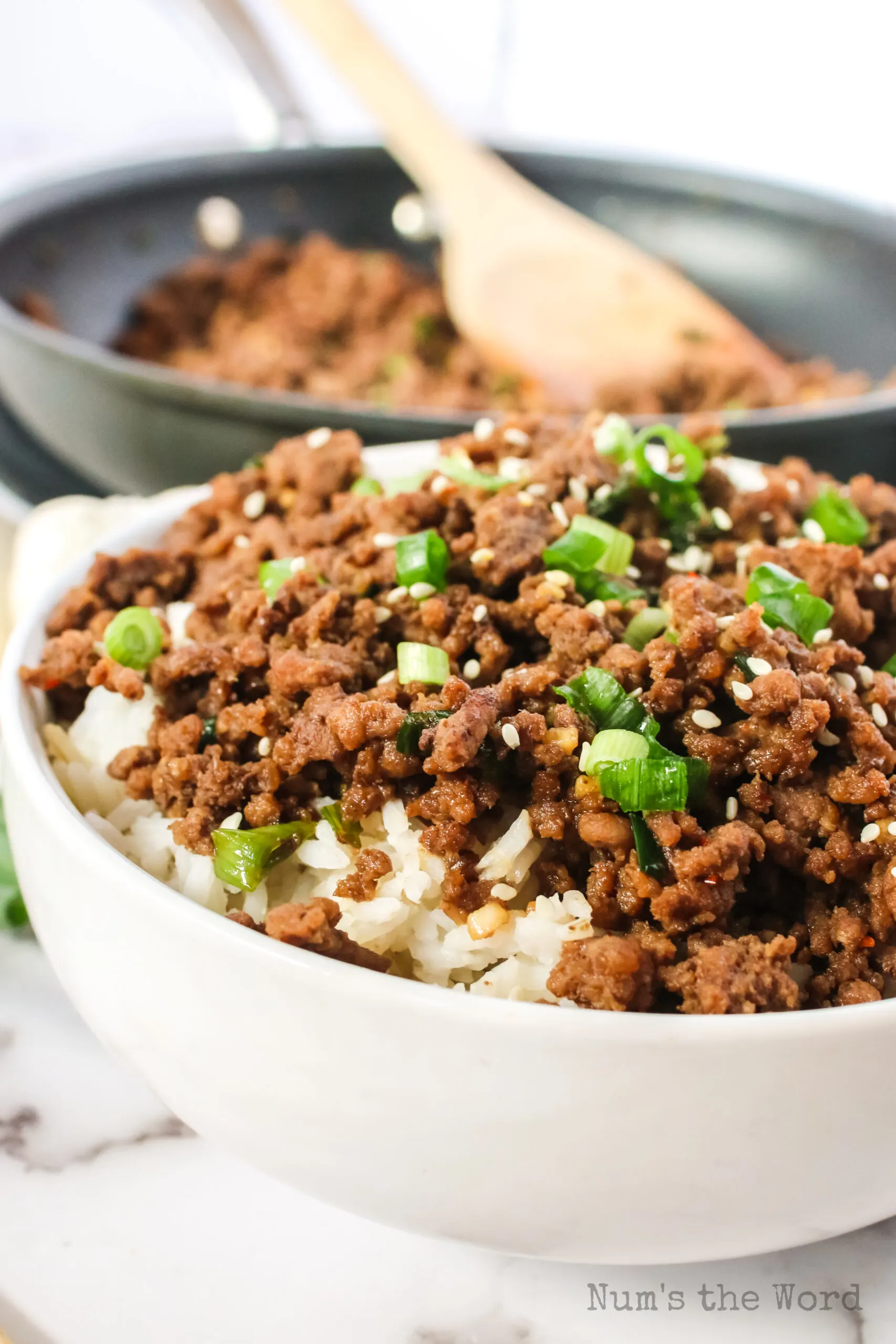 How Long Do Korean Beef Bowls Last?
Keep that Korean beef in the fridge if you're not using it because if stored in an airtight container, it'll be good for up to 5 days.
Make some on Sunday and have your yummy meal prep ready to go for Wednesday's lunch.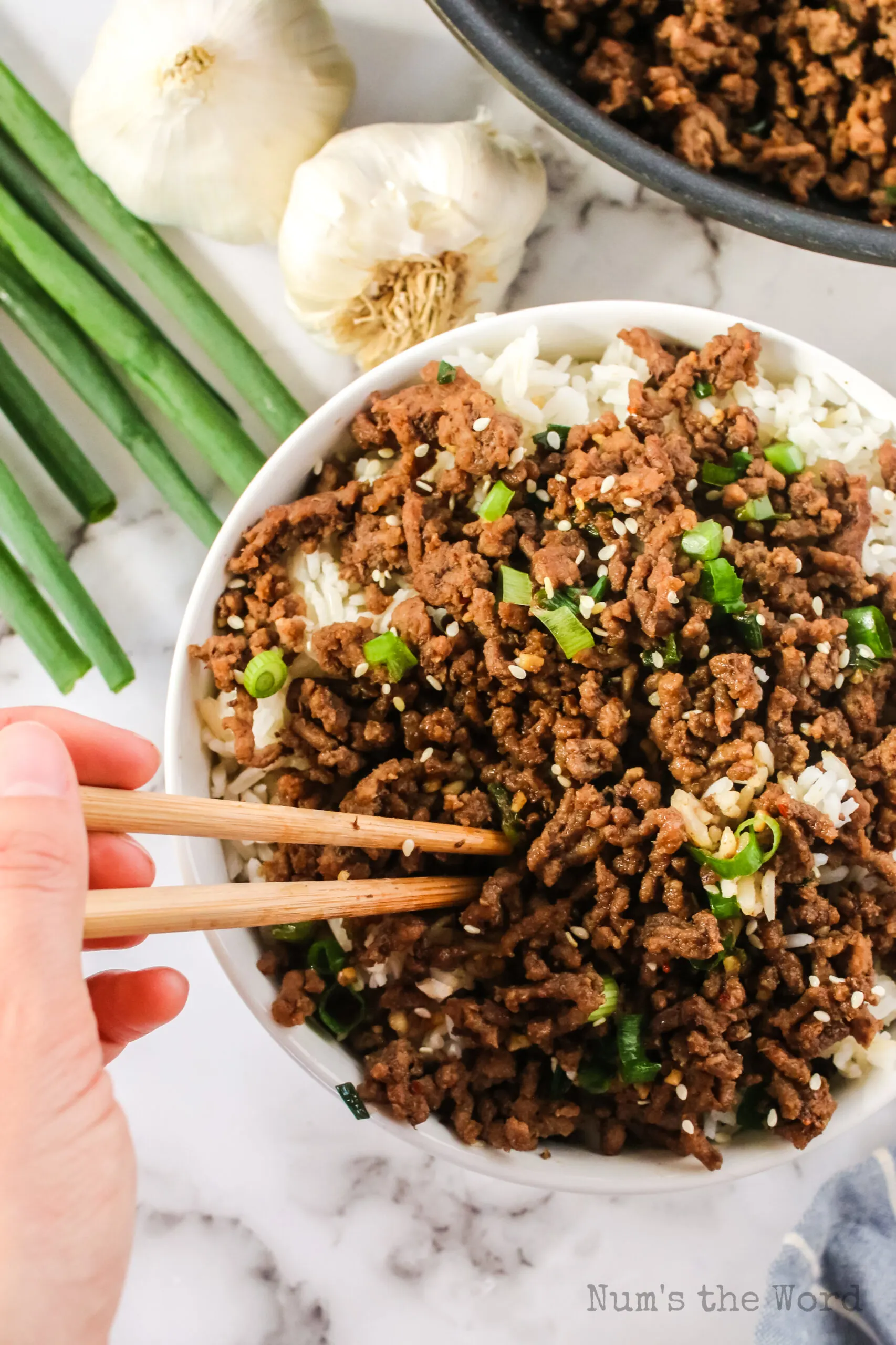 Korean Beef is a simple but delicious meal that your whole family is going to love. Budget friendly and quick, it's just begging for you to put it on the dinner table tonight.
Let me know what you think of this great recipe in the comments!
Yield: 4 Servings
Korean Beef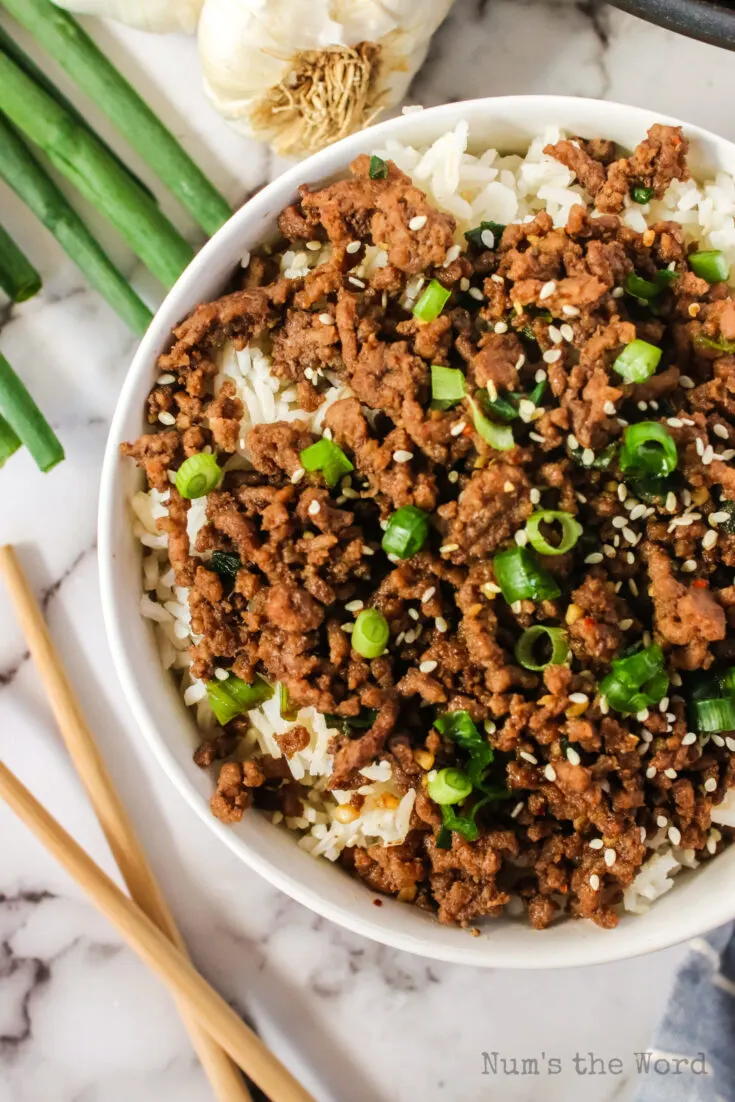 Korean Beef is all the delicious flavors of Asian BBQ whipped up in the comfort of your own home! Super easy and delicious.
Ingredients
1/4 cup light brown sugar, packed
1/4 cup reduced sodium soy sauce
2 teaspoons sesame oil
1/4 teaspoon minced ginger
1/2 teaspoon crushed red pepper flakes (optional for spice)
1 pound ground beef
3 cloves garlic, minced
2 green onions, thinly sliced
1/4 teaspoon sesame seeds
2 cups cooked rice
1 teaspoon sesame seeds (or more)
Instructions
In a small bowl combine brown sugar, soy sauce, sesame oil and ginger and red pepper flakes (if using). Set aside.
In a skillet cook ground beef until cooked through and crumbled.
Drain any excess grease.
Add garlic and cook 1 more minute
Add soy sauce mixture and green onions to beef mixture.
Cook for an additional 3-5 minutes.
Serve immediately over rice and top with sesame seeds and more green onions.
Nutrition Information:
Yield:
4
Serving Size:
1
Amount Per Serving:
Calories:

495
Total Fat:

23g
Saturated Fat:

8g
Trans Fat:

1g
Unsaturated Fat:

12g
Cholesterol:

101mg
Sodium:

682mg
Carbohydrates:

36g
Fiber:

1g
Sugar:

11g
Protein:

35g