Cheese Popcorn is a way to take your movie night to the next level! And it's so addictive, you'll quickly be back in the kitchen to whip up another batch!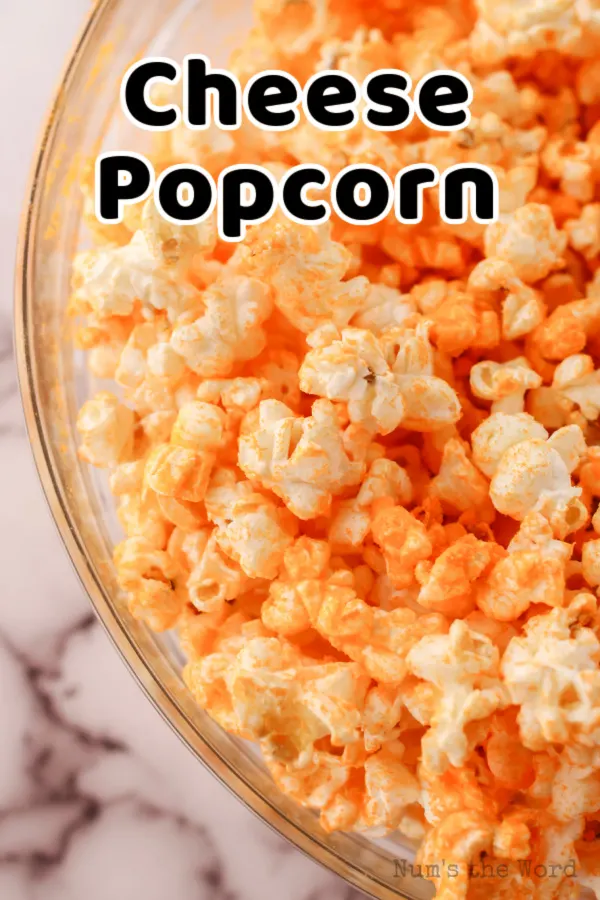 This homemade cheddar cheese popcorn tastes just like that classic popcorn you remember from your childhood. Cheesy, buttery, and absolutely delicious, it's an impossible snack to refuse.
I love that this cheddar cheese popcorn recipe is SUPER fast. You can even use microwave popcorn. Boom. Done.
And here's the thing: It really tastes like cheddar cheese. All from one little secret ingredient. Yay!
Popcorn with cheese is one I have the kids make all the time. Kids can make this cheese popcorn recipe themselves which is less work for me. Score.
This is the best cheese popcorn. I'm not kidding. Easy. Fast. Delicious. What more could you want?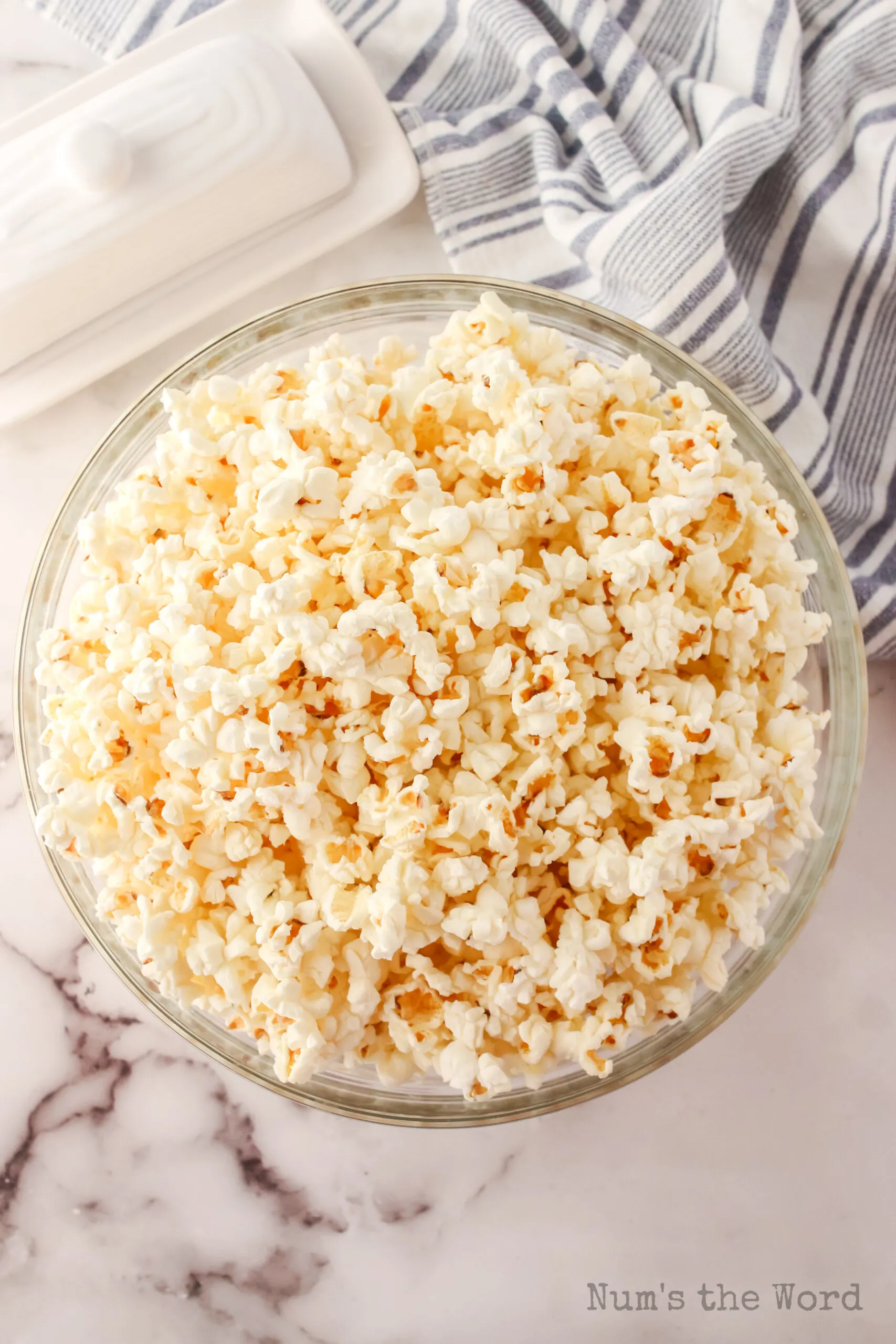 Can You Make Cheese Popcorn at Home?
So many people believe that the grand factories out there have got a monopoly on cheese popcorn. Here's the secret: They don't!
Cheesey popcorn can be made at home, quickly, easily, and cheaper than buying it from the store. Plus the cheddar cheese powder comes with enough for multiple batches of popcorn.
Which means you can enjoy this tasty popcorn for a long time! All from the comfort of your own home.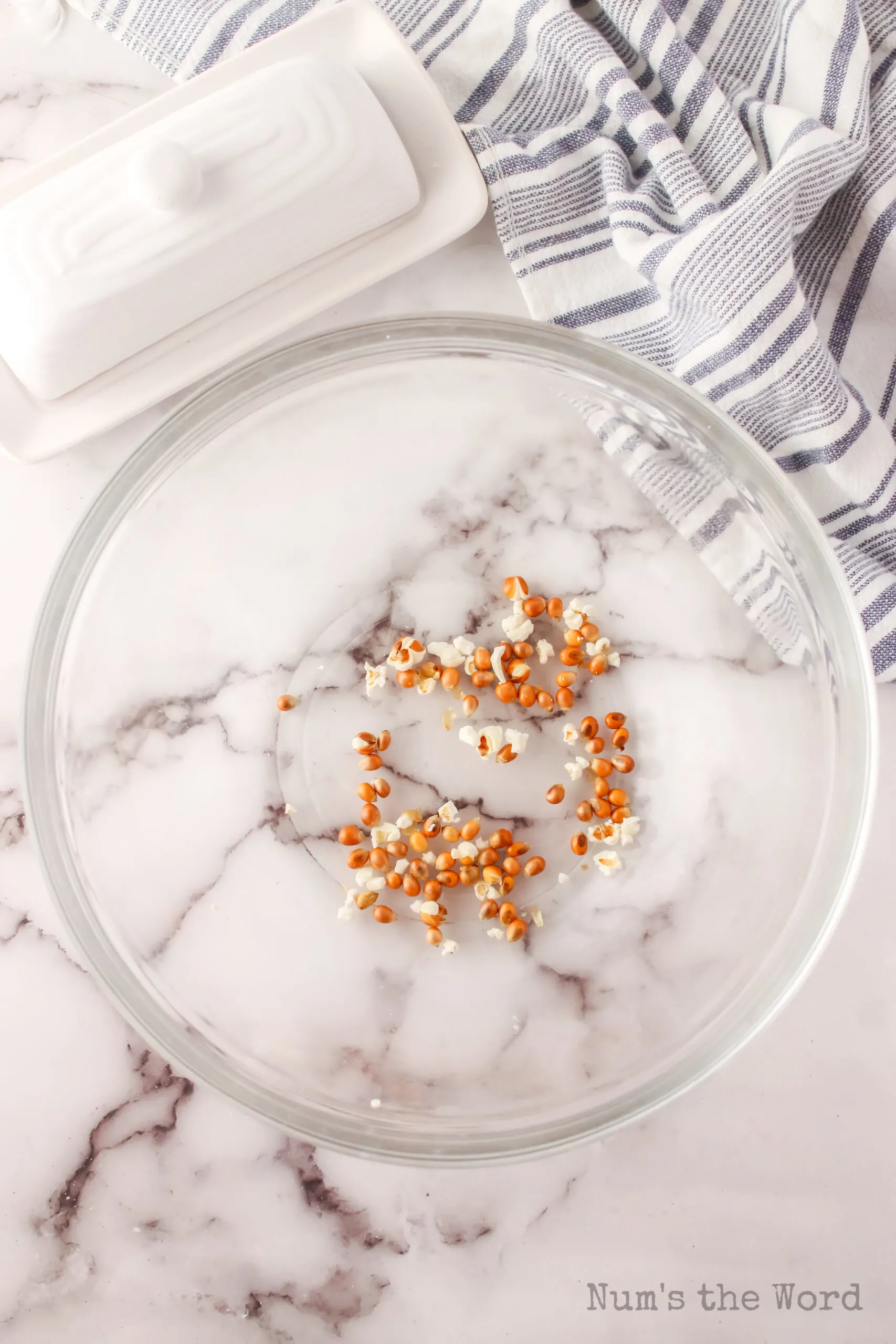 What Ingredients are in Cheese Popcorn?
Three Ingredients! That's it! Yay!
Popcorn: We love the Popsecret Homestyle Butter flavor.
Butter: Extra butter helps the cheese powder to stick to the popcorn.
Cheese Powder: Order this from amazon or find it at specialty stores and gives the cheesy flavor.
Pro Tip:
If you don't want to wait for an amazon order, you can occasionally find this powder next to the mac and cheese at the store.
You can also use popcorn you've made in your air popper or stovetop popcorn
If you want to make this a little healthier, use coconut oil instead of butter. It can be found at your grocery store.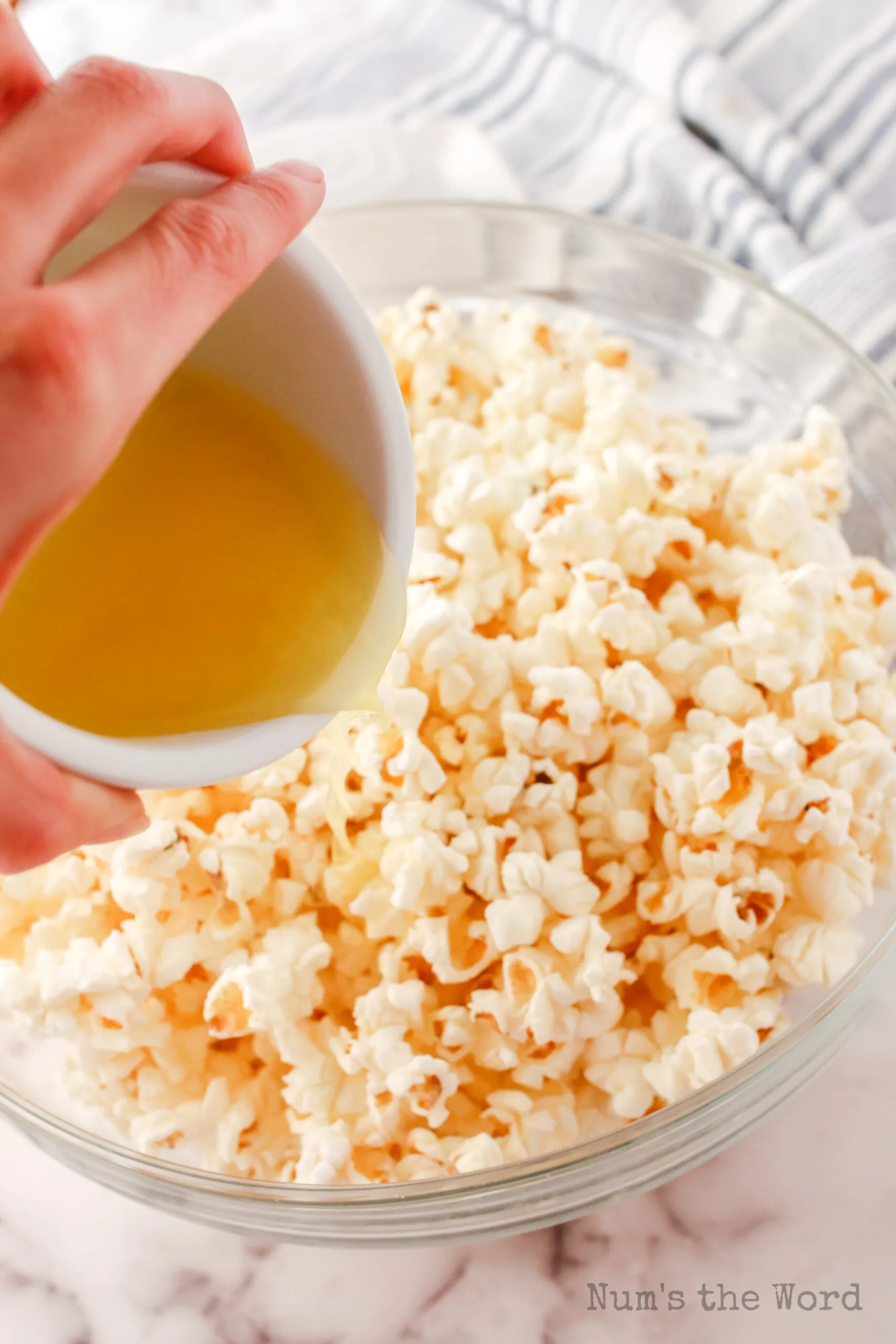 How to Make Cheese Popcorn
Here's the simple steps to make cheese popcorn in minutes.
Pop: My microwave always takes about 30 extra seconds to pop the popcorn.
Remove Seeds: Popcorn kernels are no fun to bite down on. So remove them before adding the rest of your ingredients.
Drizzle: Place your popcorn in a large bowl and cover with melted butter.
Shake: Toss the popcorn with the cheese powder for a delicious cheesy snack.
Pro Tip:
Remove the seeds by scooping the popcorn into a separate bowl. This prevents the butter and cheese from sticking to the seeds and not the popcorn.
Can Dogs Eat Cheese Popcorn?
No! Dogs should not eat cheese popcorn. The powder that creates the cheese flavor often contains salt, oils, and milk.
While these things aren't really toxic for dogs, they aren't really good for them either. Dogs should honestly mostly be eating their dog food.
Occasionally healthy treats are okay, but try to keep them away from the salty and sugary snacks we all love.
Cheese Popcorn Flavor Variations
You already know and love that cheesy goodness. Here's some new flavors that will quickly become your favorite ways to eat popcorn!
Cheesy Ranch: Ranch powder is a quick fix for cheesy ranch popcorn.
Spicy Cheese: Just a dash of cayenne pepper goes a long way for spicy popcorn.
Cheesy Garlic: Garlic powder, not salt. You don't want any extra salt. Trust me.
Chili Cheese: Chili Powder is a fun way to mix up some chili cheese popcorn.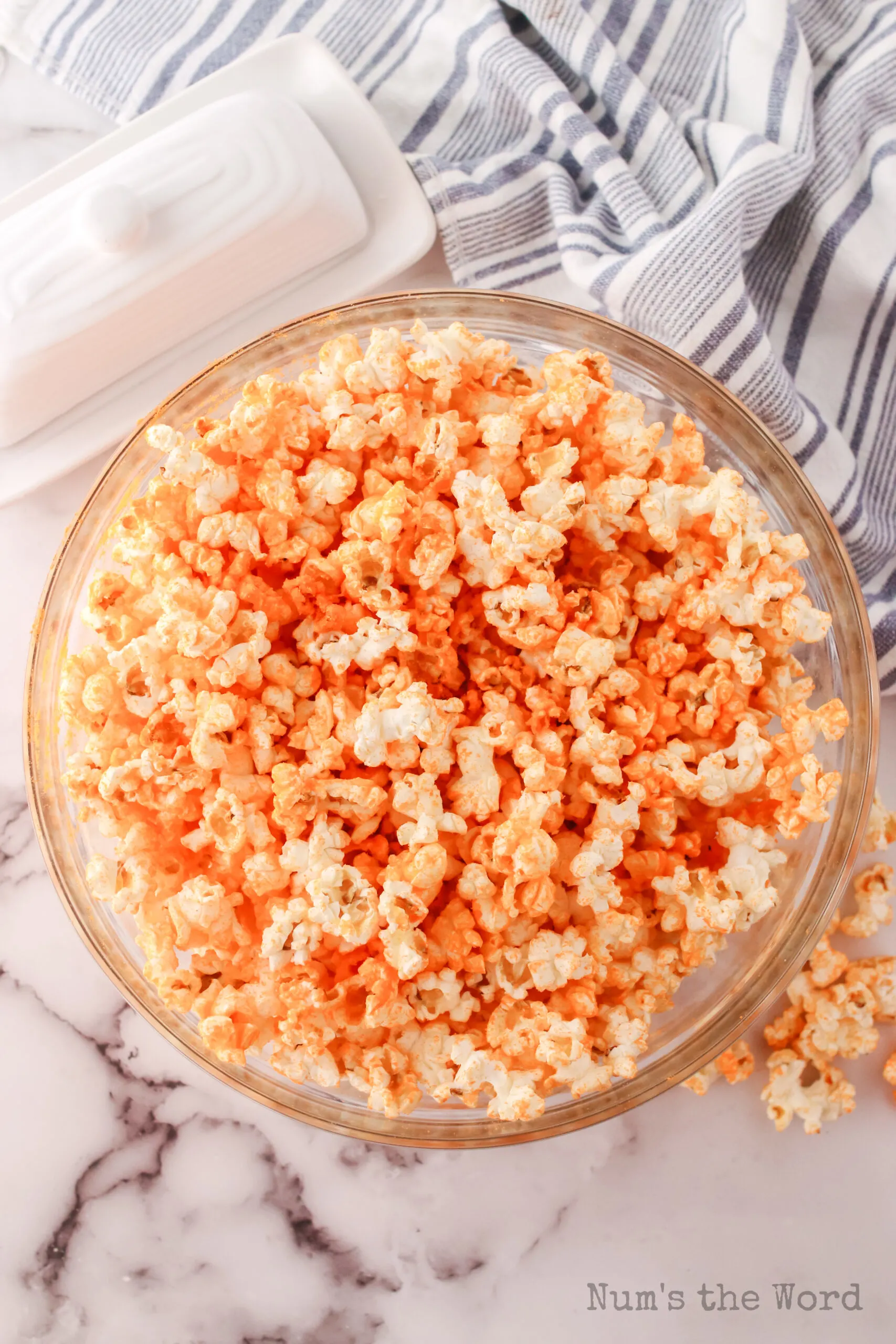 Is Cheese Popcorn Gluten Free?
Popcorn is naturally gluten free. Made from corn, which contains no gluten, it's generally a safe snack for gluten allergies.
But what about that cheese powder? I've checked, and I haven't seen any cheese powder with gluten in it (yellow or white cheddar cheese popcorn). So yes this popcorn recipe is gluten free.
However, you'll want to double check your own cheese powder just to be safe.
Is Cheese Popcorn Bad For You?
I definitely wouldn't say cheese popcorn is bad for you. Popcorn is a low calorie snack that most people can enjoy fairly regularly.
The addition of the cheese powder does add some extra ingredients however. If you're following a specific diet, you'll want to be sure to judge those ingredients for yourself.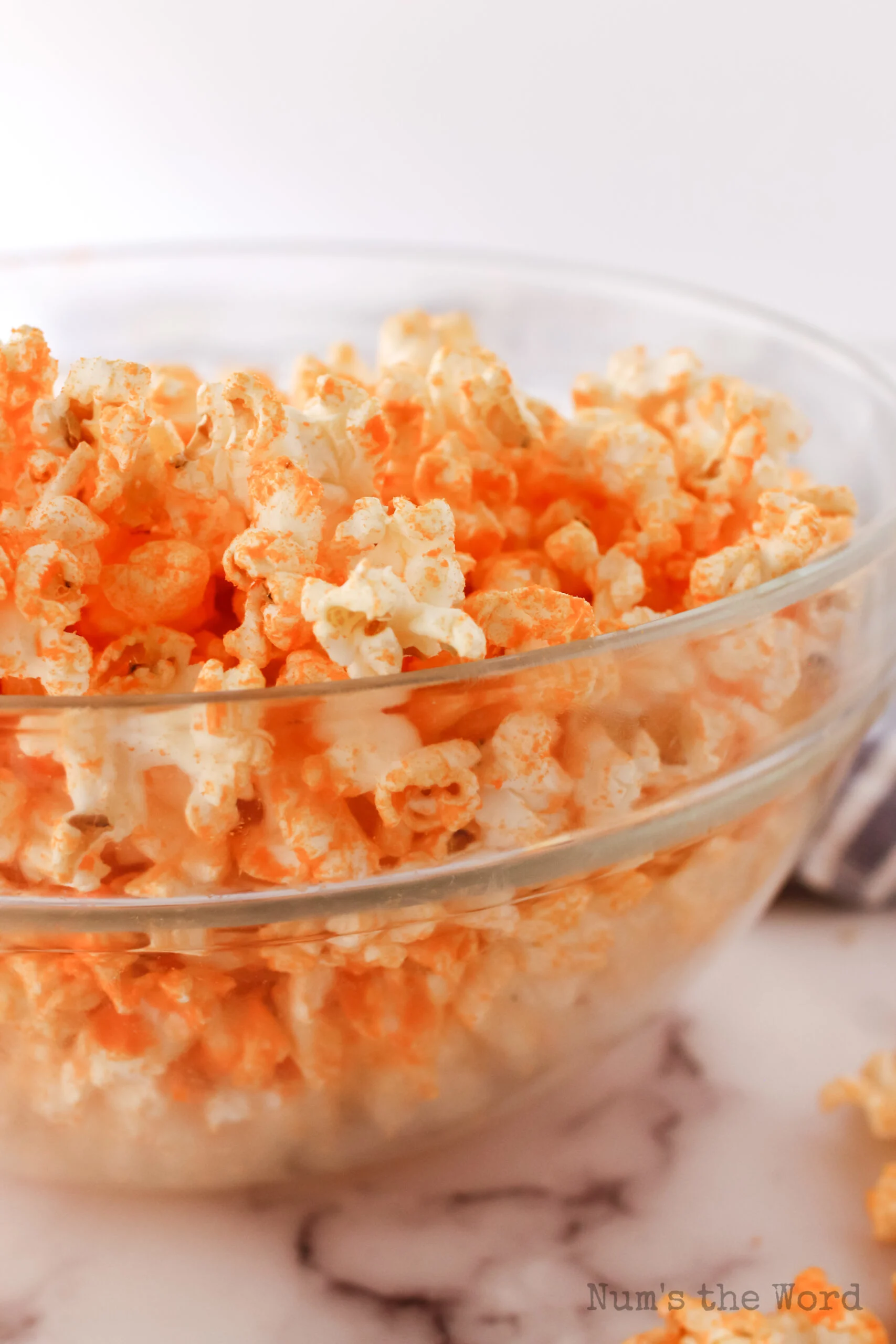 Popcorn Mix Ins
You know when you go to the movie theater and you buy the chocolate just to dump it in the popcorn?
Well don't forget your mix-ins just because you're at home! Treat yourself! Here are some fun ways to jazz up that homemade popcorn.
Pretzels
M&Ms
Peanuts
Candied Nuts
Sliced Almonds
Cinnamon Candy
Mini Caramels
Gummy Bears
Mini Chocolate Chips
I've got a fun recipe here for White Cheddar Popcorn that you'll definitely love too! Mix the two together to create an extra cheesy popcorn. This one uses white cheddar powder instead of yellow.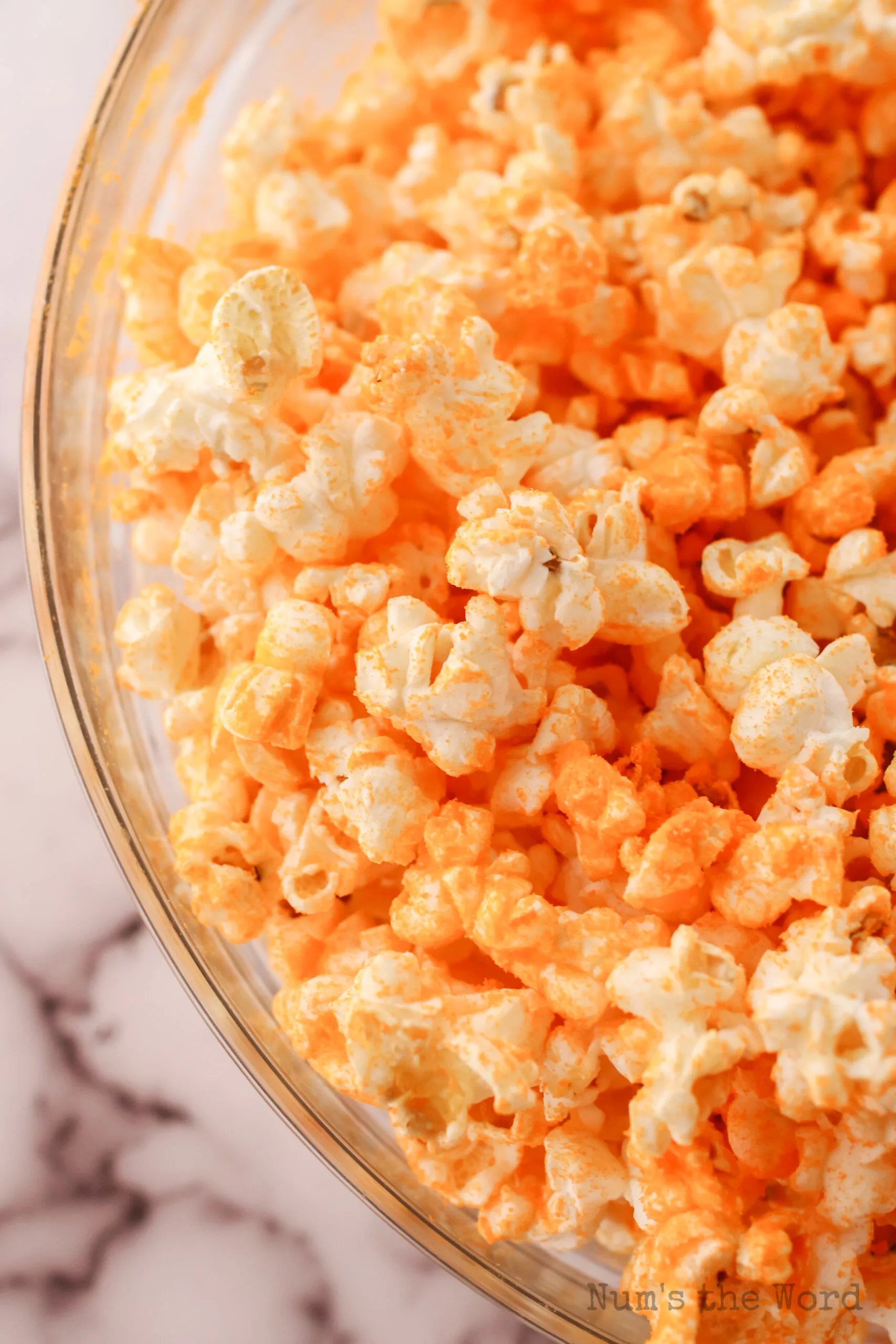 How to Store Cheese Popcorn
Popcorn with cheese will become pretty soggy if left in humid spaces. So be sure to store it in an airtight container.
It doesn't need to be stored in the fridge however, it can just be left on the counter. Of course, if it's left on the counter, I find it quickly disappears in our house.
So maybe hide this cheddar cheese popcorn in a cupboard if you want to save it for later.
How Long Does Cheese Popcorn last?
The longer you store this popcorn, the more likely it is to become soft and less desirable. Ever tried movie theater popcorn the next day? It's disappointing to say the least.
That said, you should be able to eat the popcorn for up to three days and still have it taste ok. After that, just make yourself a new batch.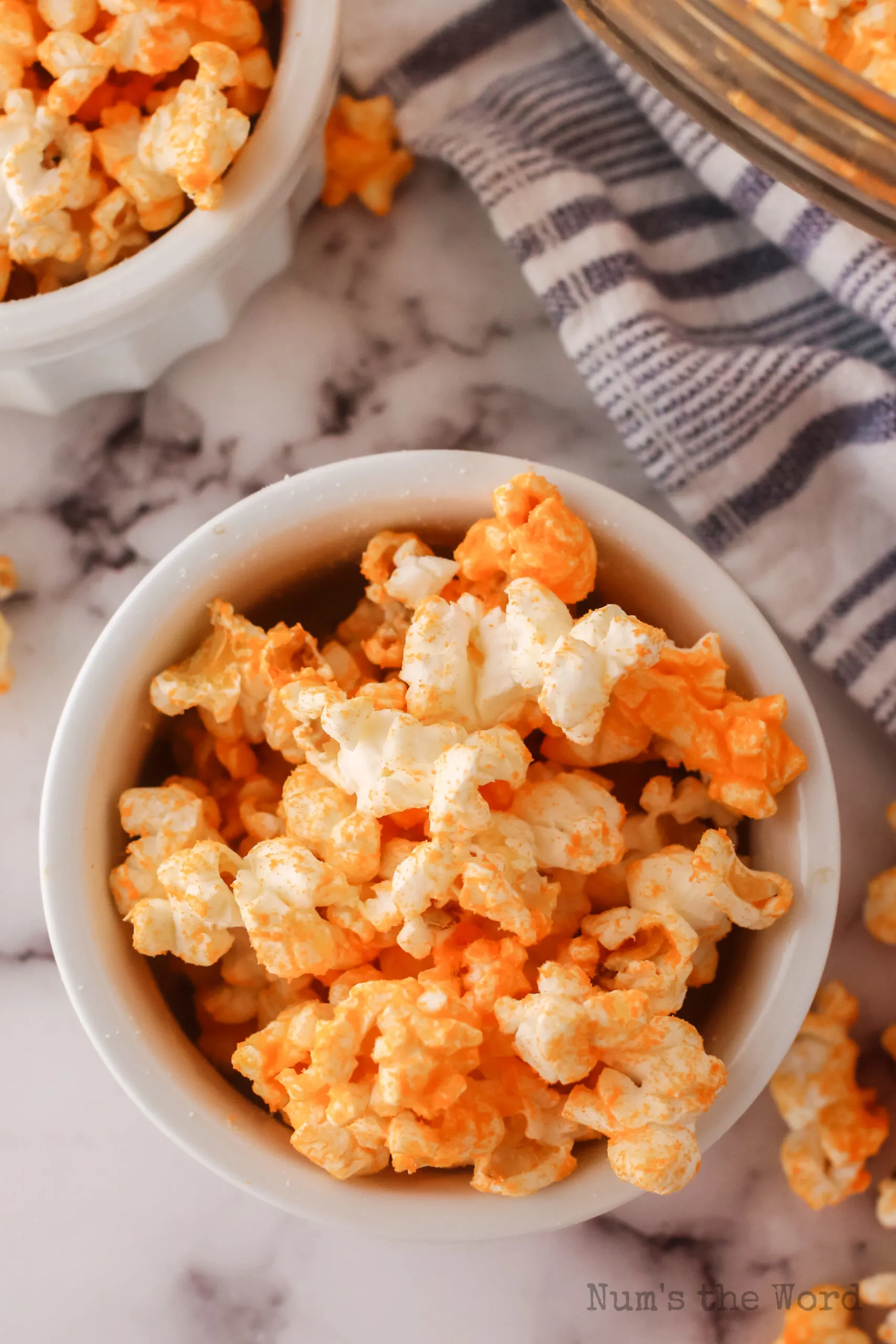 What is Cheddar and Caramel Popcorn?
Cheddar and Caramel Popcorn are one of the most delicious inventions ever thought of! Some people think it's real cheese melted onto popcorn & caramel corn. And though technically that would be caramel and cheddar popcorn, this one uses yellow cheese powder like what you find in Kraft Macaroni & Cheese Packets – but better!
Mix your cheddar popcorn with some caramel popcorn and you'll know exactly what I'm talking about. Here's a yummy recipe for Microwave Caramel Popcorn to get you started.
Is Cheese Popcorn Healthy?
I would definitely say all that low calorie food, with all those healthy fats is a go. You can mix up the fats or try different things to make it healthier if desired.
But as an occasional snack, this one scores well above some of the pies I secretly eat at midnight. This popcorn recipe is so fun for movie nights. It's a snack that comes together in minutes.
And it tastes just like cheese popcorn is meant to taste.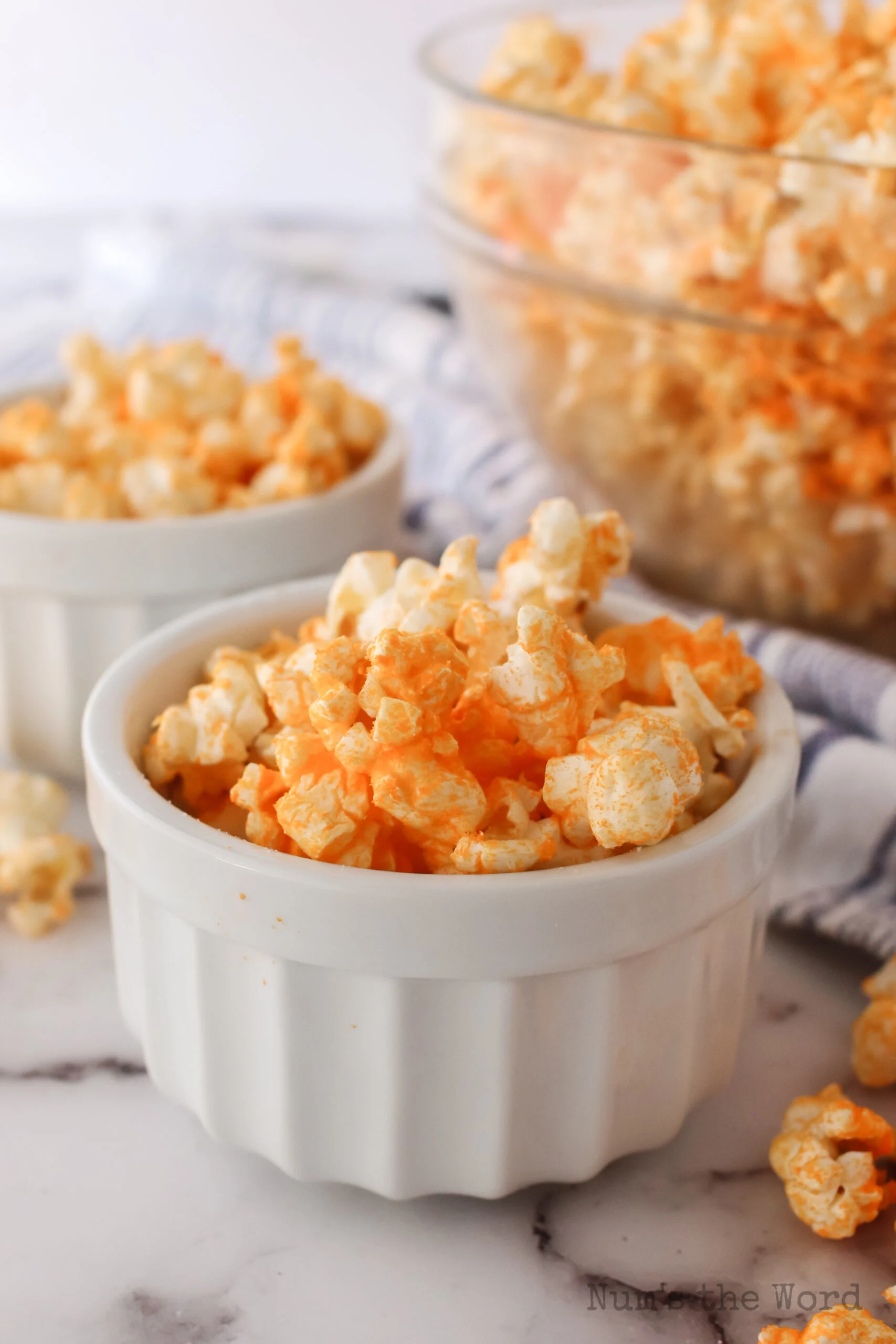 Cheesy, buttery, perfection. Cheese Popcorn is SO easy to make at home and always a hit with family and friends. If you want to try something different, whip up a batch this week and let us know ho much you loved it!
Yield: 6 Servings
Cheese Popcorn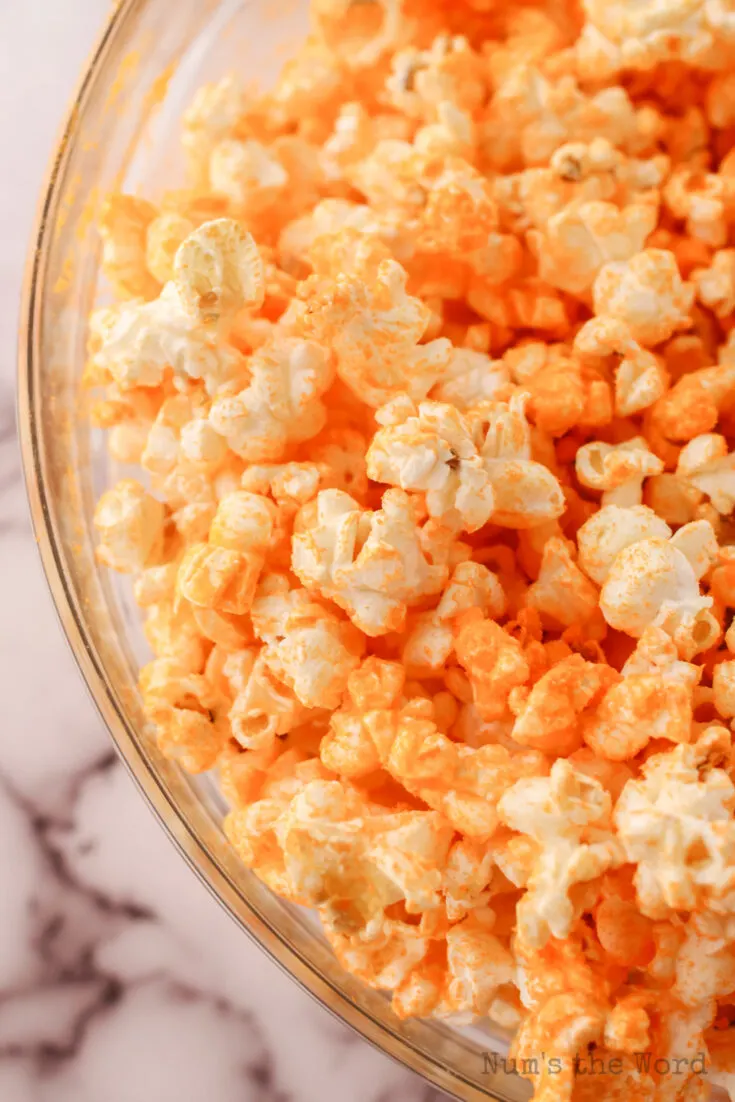 Cheese Popcorn is a way to take your movie night to the next level! And it's so addictive, you'll quickly be back in the kitchen to whip up another batch!
Additional Time
5 minutes
Ingredients
2 bags of Microwave Butter Popcorn or 9 cups popped popcorn
1/4 cup butter, melted
1/4 cup cheddar cheese powder
Instructions
Pop popcorn according to package directions. My microwave requires an extra 30 seconds to pop this brand, so test out a bag.
Have two bowls ready.
Pour popcorn in one bowl.
Gently Shake the bowl to get the seeds to the bottom of the bowl.
Remove popcorn slowly into the second bowl leaving seeds in the 1st bowl. (show a photo of seeds in the bowl) Toss seeds. Repeat with the second bag.
Melt butter in the microwave and pour over the two bags of popcorn.
Mix well.
Gently sprinkle ¼ cup of cheddar cheese powder over popcorn. Gently stir.
Serve immediately or put in an airtight container for later!
Nutrition Information:
Yield:
6
Serving Size:
1
Amount Per Serving:
Calories:

310
Total Fat:

22g
Saturated Fat:

11g
Trans Fat:

2g
Unsaturated Fat:

7g
Cholesterol:

25mg
Sodium:

406mg
Carbohydrates:

23g
Fiber:

4g
Sugar:

0g
Protein:

5g