Homemade Caramel Corn has never been easier! It's an incredibly addictive snack that is sweet, crunchy, and so easy to make!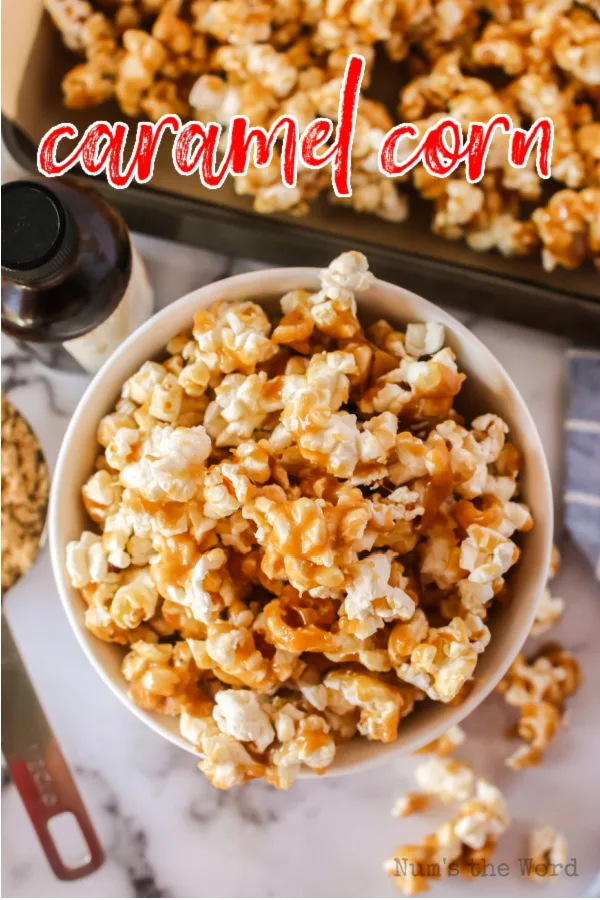 Years ago, caramel corn was made in traditional copper kettles which is a big pot with popcorn seeds, a marble slab and a yummy sticky sauce.
Today though, you can make a batch quickly at home with full coverage caramel popcorn that tasted a million times better than anything you can buy at the grocery store.
It's all about the ratio! This recipe has the perfect ratio of popcorn to caramel. Each bite is coated in caramel, it's not sticky, and let me tell you, it is Ahh-mazing.
Here's what you're going to love about this recipe:
It's delicious. I mean really delicious. Did I accidentally eat the whole batch alone last night? No comment…
This crunchy caramel corn is also not sticky or soft and uses bags of microwave popcorn as the base!
Plus this popcorn recipe is a tasty treat perfect for gifting, parties, snacking, and an at home movie night snack!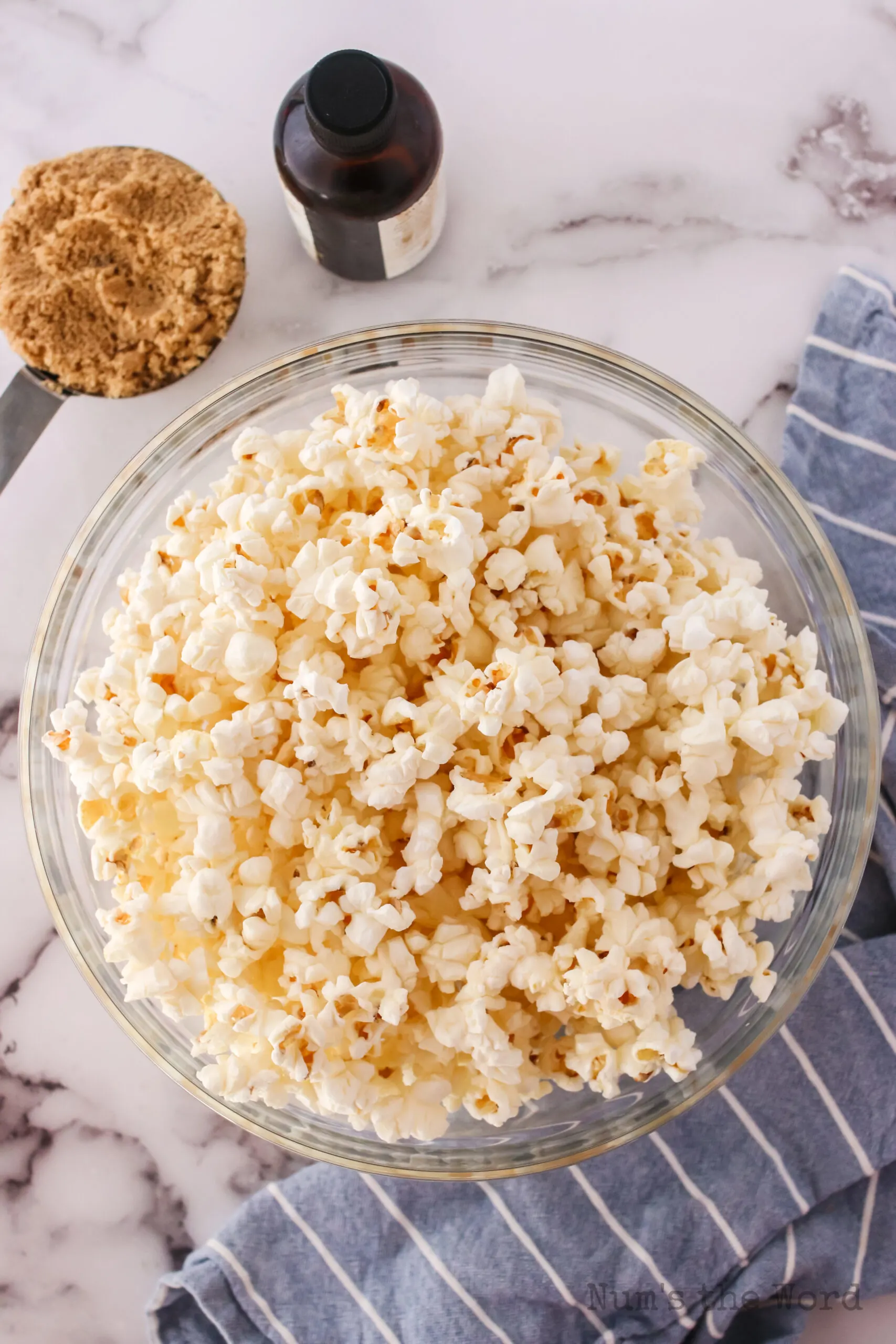 What Ingredients are In Caramel Corn?
Here's the ingredient list you'll need to get some yummy caramel corn.
Popcorn: Pop Secret Homestyle Butter is our absolute favorite kind of popcorn for making caramel corn. Some prefer using kettle corn popcorn or you could even use a popcorn maker!
Butter: No skimping with some knock off. Use real butter for the best flavor.
Light Brown Sugar: This is what gives it that deep caramel flavor.
Corn Syrup: I use Karo light corn syrup.
Salt: You can't taste the salt when done, so don't worry about it being too salty.
Vanilla Extract: Vanilla is a beautiful flavor booster for caramel.
Baking Soda: You'll put this in right before pouring the caramel on the popcorn.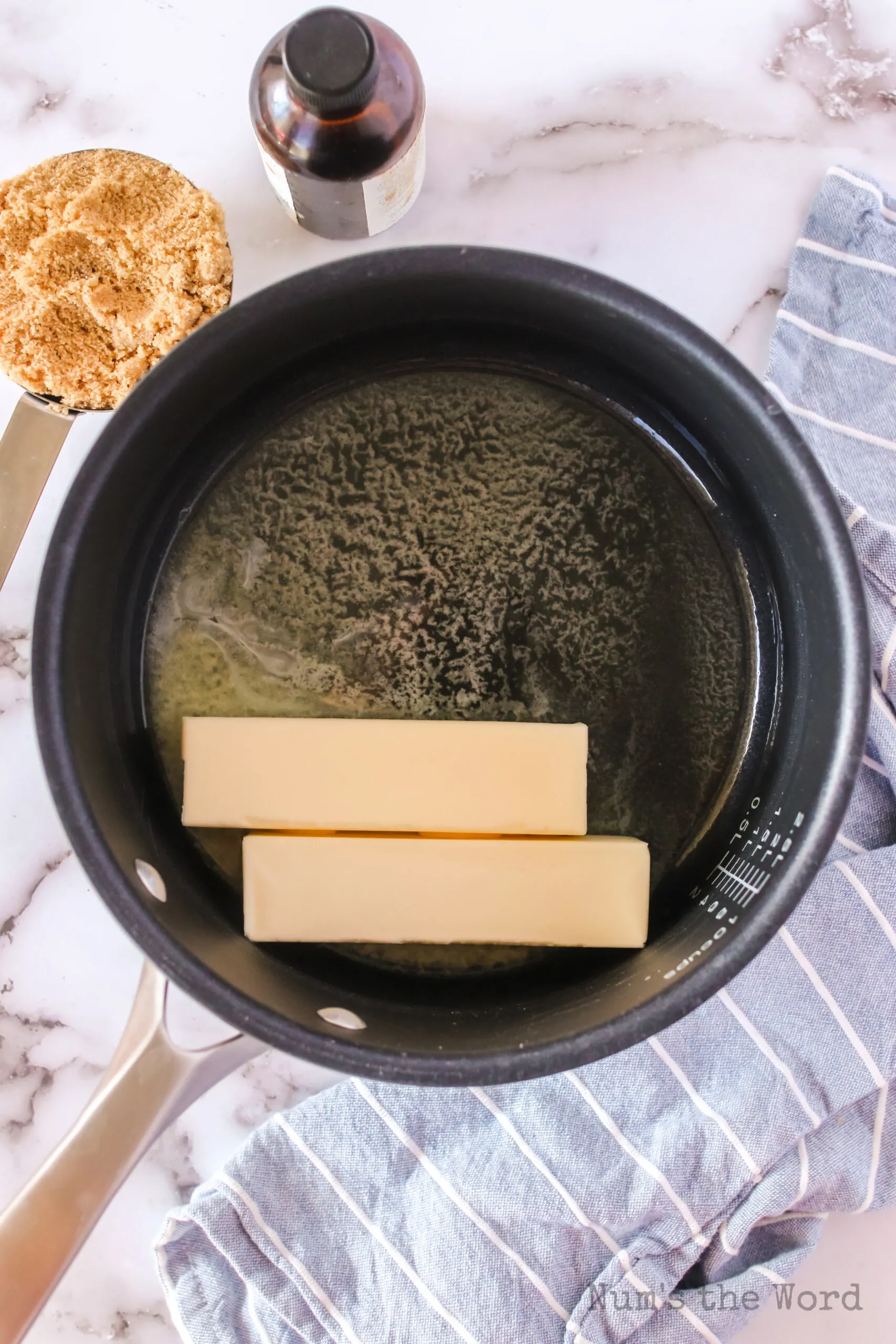 How to Make Caramel Corn
Here's how to make this easy recipe for caramel corn.
Popcorn: After the popcorn is done cooking, be sure to remove the seeds. Unpopped kernels are the worst to bite into.
Cook: Cook the butter, brown sugar, corn syrup and salt over medium heat to medium-high heat. Be careful not to let it burn.
Add: Add the vanilla and baking soda. This is when it'll bubble, so don't get burned.
Coat: Pour the hot caramel sauce over the popcorn in a large bowl. Again, don't let it touch you. It burns.
Bake: Place popcorn on a cookie sheet lined with parchment paper or nonstick aluminum foil or in a large roasting pan. Every 15 minutes you'll take the popcorn out of the oven to stir so it doesn't clump together.
Once the caramel corn has cooled, you're ready to eat. It tastes awesome on that first day. Actually, good luck getting it to last longer than a day!
Pro Tips:
If you are looking for a softer texture, try this Chewy Caramel Corn recipe.
You wont need candy thermometers for this recipe!
Many claim you need to use unsalted butter or you'll have too much salt in your popcorn. We don't agree. There isn't enough salt in the butter to make any difference in this recipe.
Whether you use salted or unsalted butter, definitely use butter. The flavor is superior with real butter.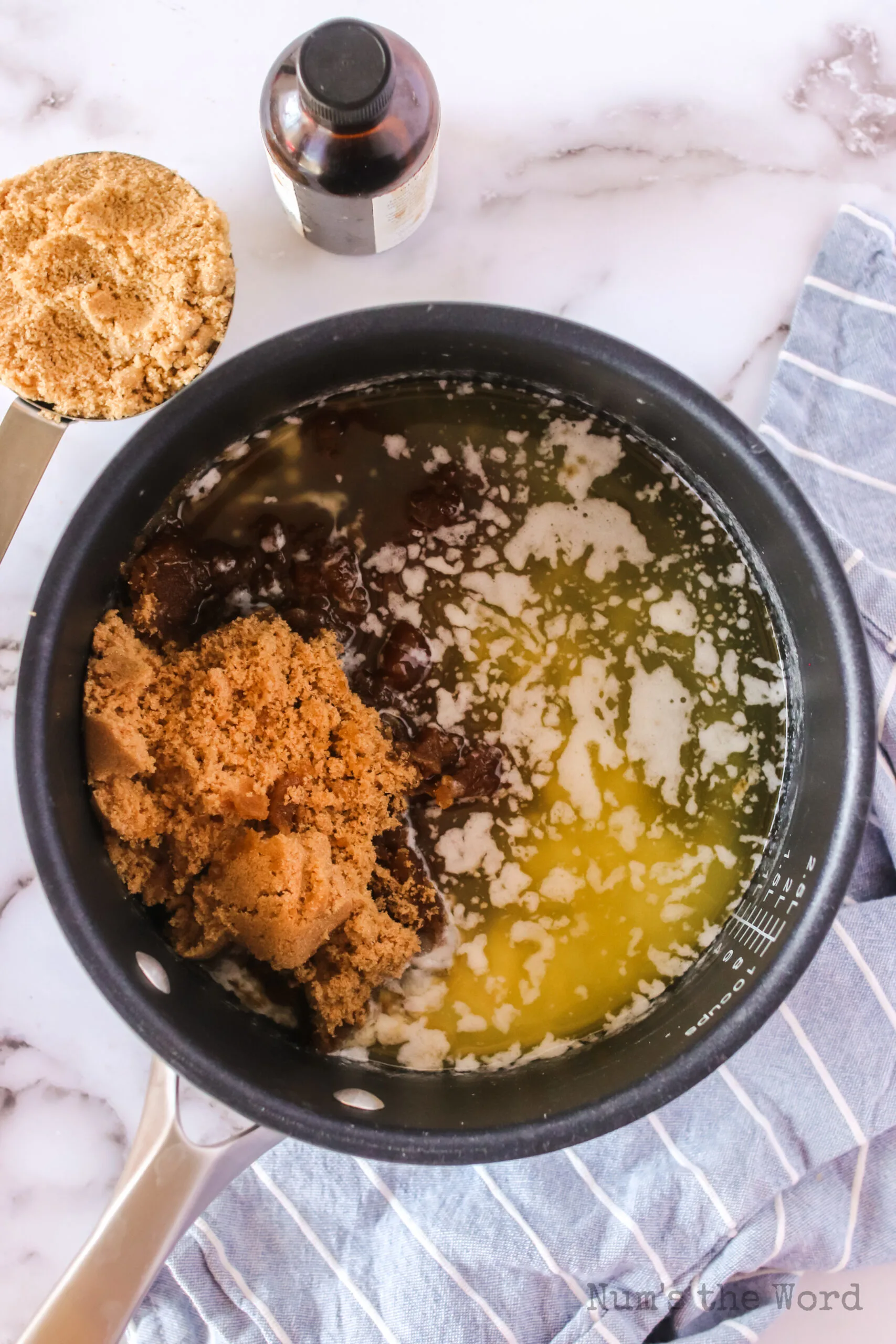 Do You Need Corn Syrup to Make Caramel?
Caramel contains a lot of sugar typically already, mainly in the form of brown sugar. When you don't use corn syrup, the brown sugar tends to become grainy in the caramel.
It is a pretty disappointing texture when you're expecting that smooth caramel you already know and love. The corn syrup helps to melt and combine with the brown sugar to create that smooth texture.
Is Caramel Corn Gluten Free?
Everything in the caramel corn recipe is completely gluten free. So unless you add something, you should be safe making this with a gluten allergy.
However, if you're buying carmel corn from the store, be sure it says gluten free. Or check the ingredient list to be on the safe side.
Store bought food tends to hide gluten in the strangest places, so always check your labels.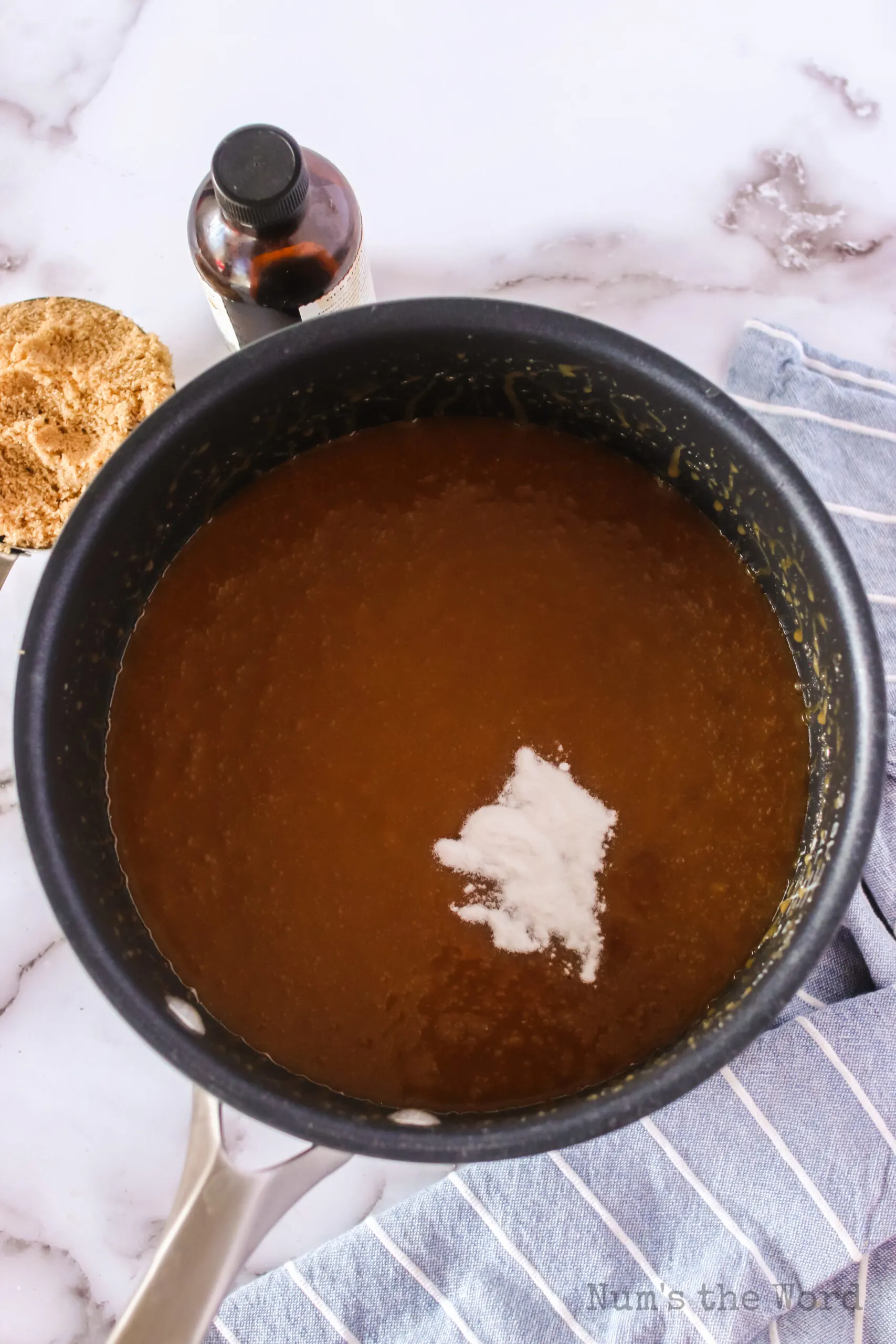 Can You Freeze Caramel Corn?
Yes! Caramel corn can be frozen. It freezes really well and lasts a long time too.
To freeze it, first portion it out into however much you'll want to take out at a time. Then place in freezer bags and write the name and date on the bags.
Caramel corn can safely be frozen for up to 6 months! Which is quite a long time.
Can Dogs Eat Caramel Popcorn?
Caramel corn isn't "toxic" for dogs, but it doesn't necessarily mean they should be eating it. There is butter, sugar, oil, and salt. None of those are on a healthy list of approved dog foods.
We recommend that if you want to feed your dog a treat, feed them something made for dogs. However if your dog eats a few pieces, he should be ok.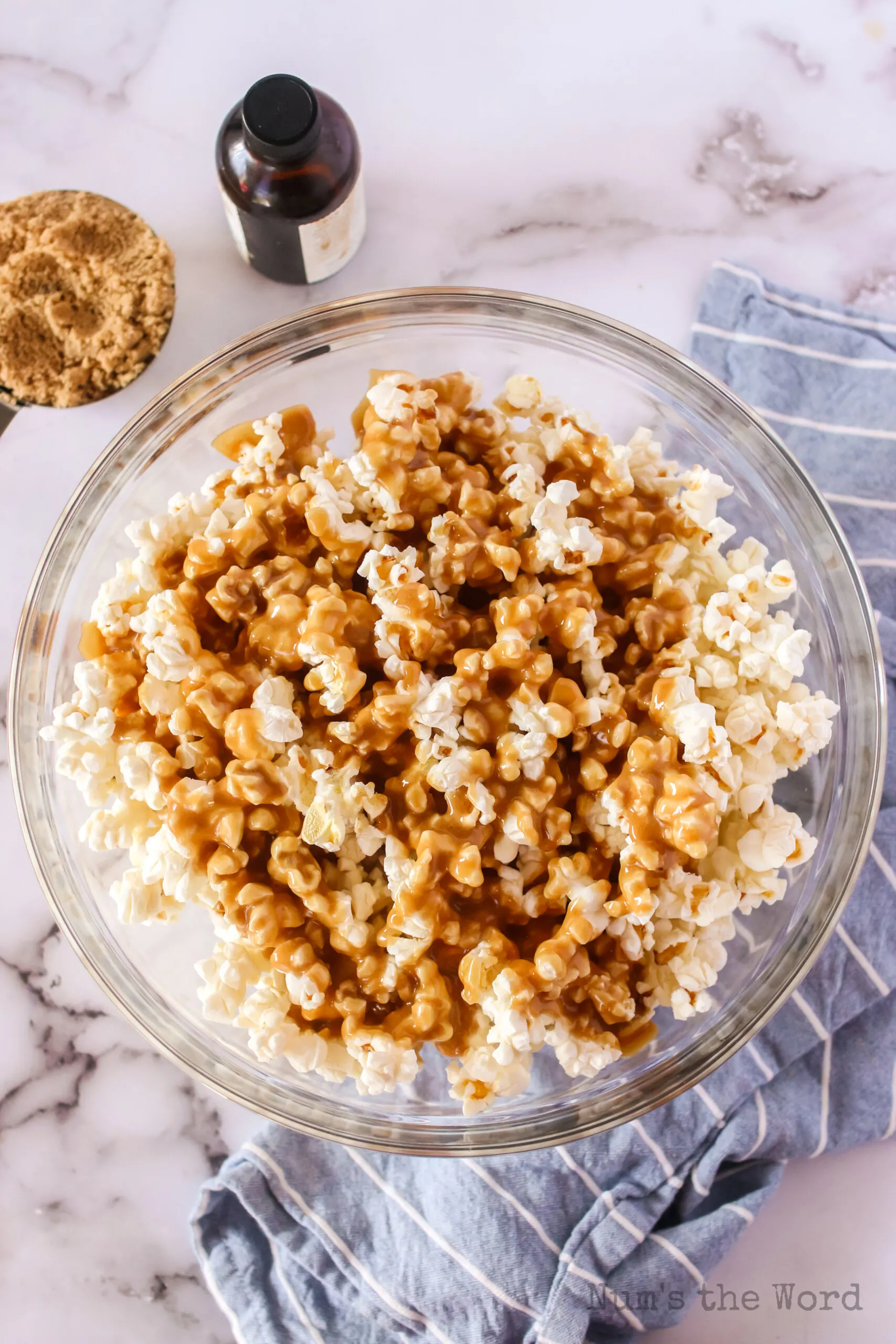 What Does Baking Soda Do For Caramel Corn?
Were you surprised by the addition of baking soda to caramel corn? It's not something you would expect if you haven't made it before.
Here's why you don't want to skip the baking soda in this recipe. Baking soda puts air bubbles into the caramel.
This air helps keep the caramel from hardening too much. While this is a crisp caramel corn, the baking soda keeps it from being rock hard.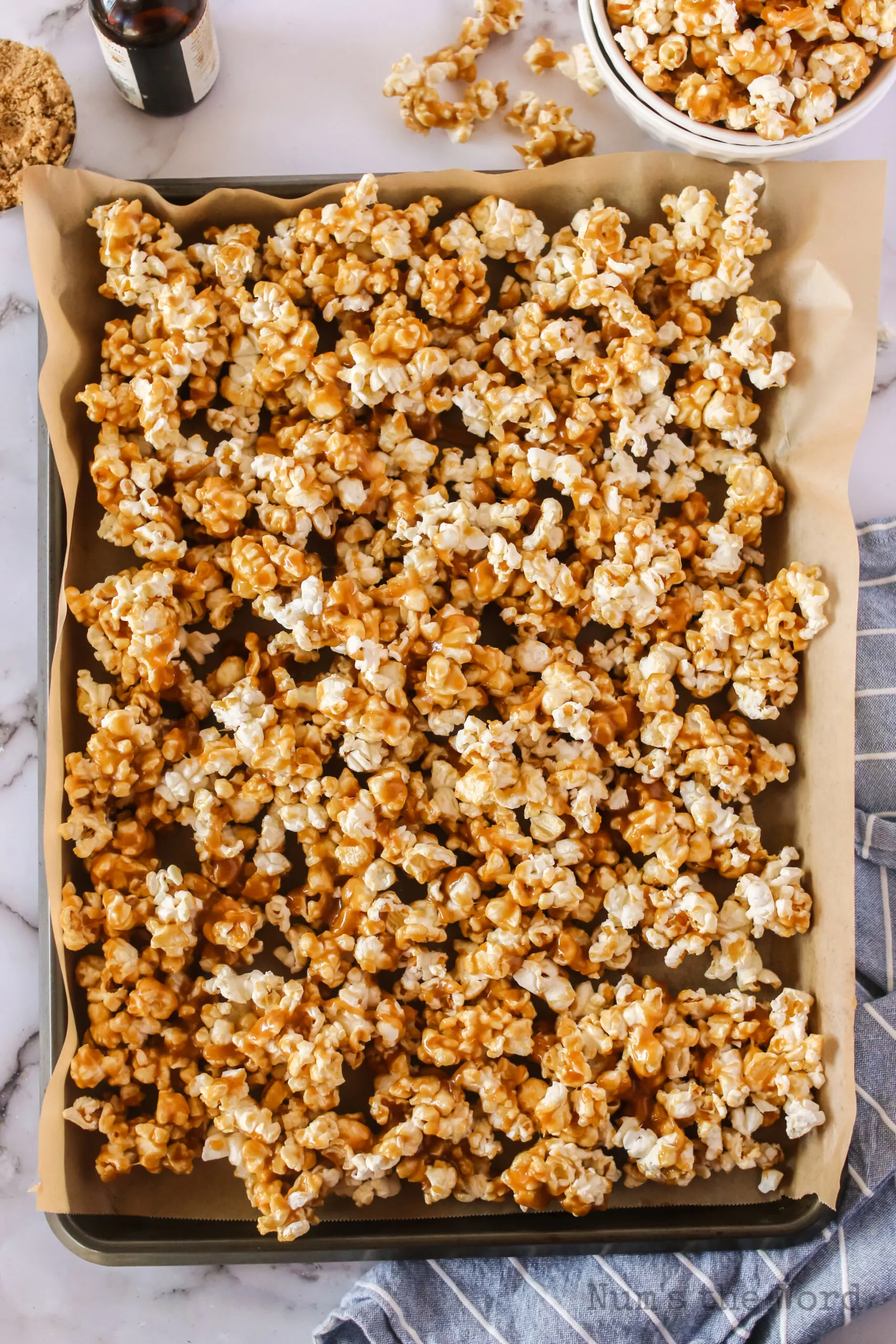 Is Caramel Corn Bad for You?
Caramel corn is a dessert type snack. It definitely doesn't fall under the fruits and veggies, or main dish categories.
However, everyone needs a treat now and again and this recipe is the perfect solution! So enjoy it as an occasional treat like during a movie night or serve at holiday parties.
Is Caramel Corn Vegan?
Unfortunately, caramel corn isn't vegan. If you're following a certain lifestyle or diet, you can try to sub the butter for a vegan butter.
OR if you want to make it easy on yourself our Coconut Caramel Corn is vegan and tastes delicious!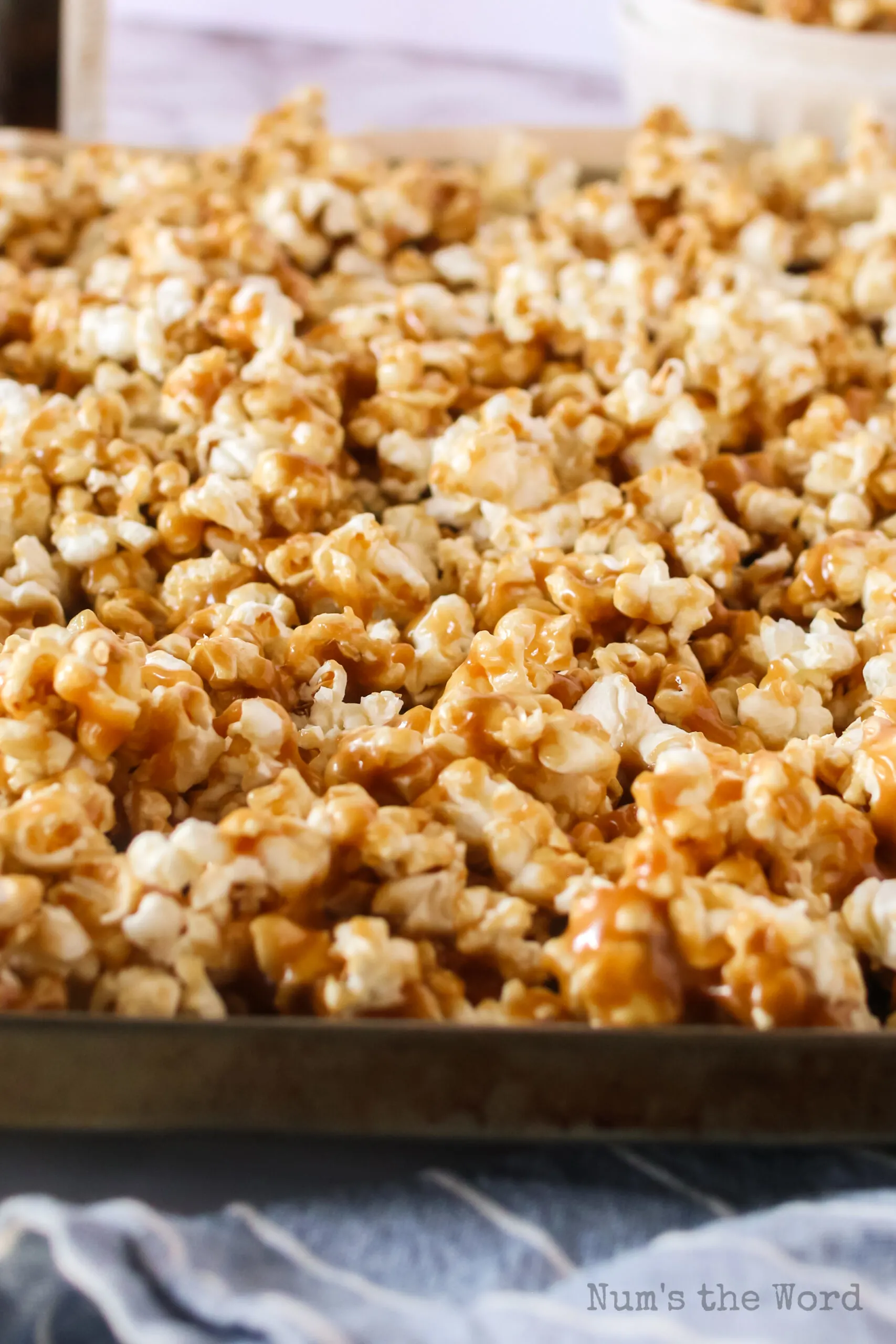 How Long Does Caramel Corn Last?
Caramel corn should be kept on the counter at room temperature and sealed in a bag or airtight container. It will last for 2-3 weeks, if you hide it and no one sees it that is.
This makes a great gift for neighbor's or even a holiday gift to your favorite people. Make a few batches over a few days and then deliver them all at once.
If you're looking for a super easy version, you should try our Microwave Caramel Corn – it's made in a brown paper bag!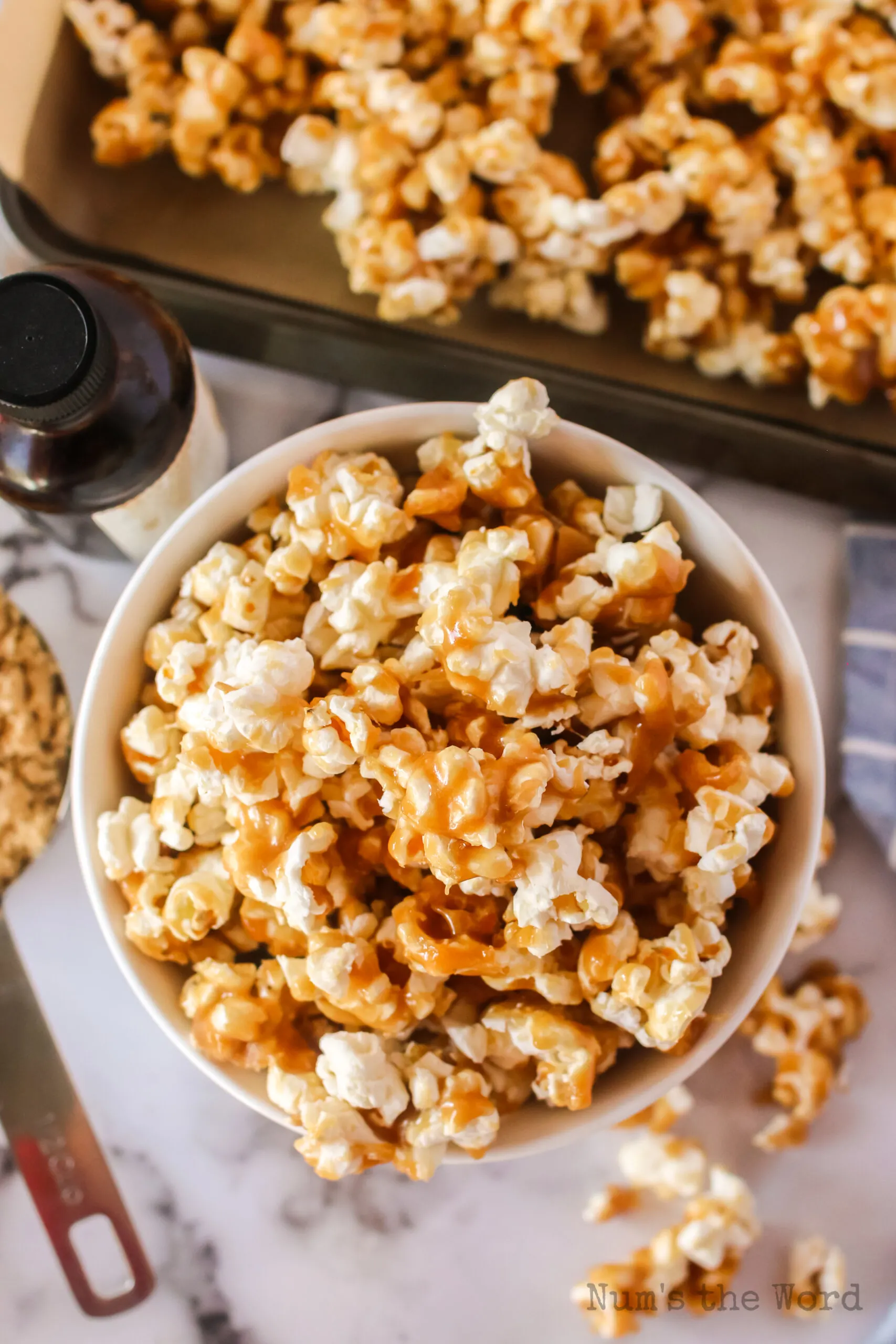 What Can You Add to Caramel Corn?
Lots of things go well with caramel corn, here's a few ingredients that make a great addition and make this popcorn so much fun:
Salted Peanuts
Almonds
M&Ms
Cashews
Dried Cranberries
Sunflower Seeds
Pretzels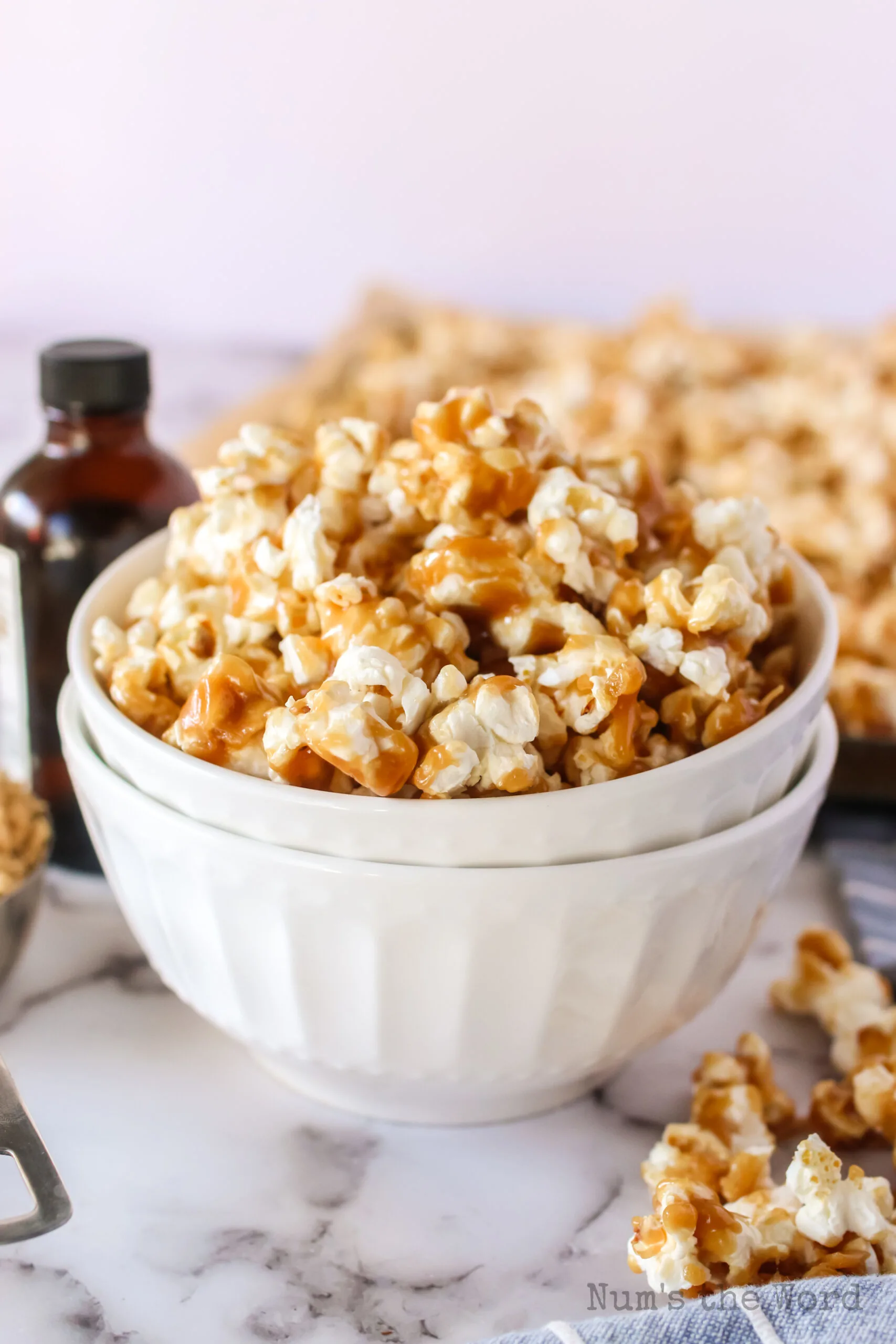 Is Caramel Corn Dairy Free?
This version is not dairy free. The butter in caramel corn also means that it isn't' dairy free. However as stated above our coconut version is diary free and vegan too!
Again, you may try substituting with dairy free options. If you do substitute, please let me know how it turned out so I can let my readers know.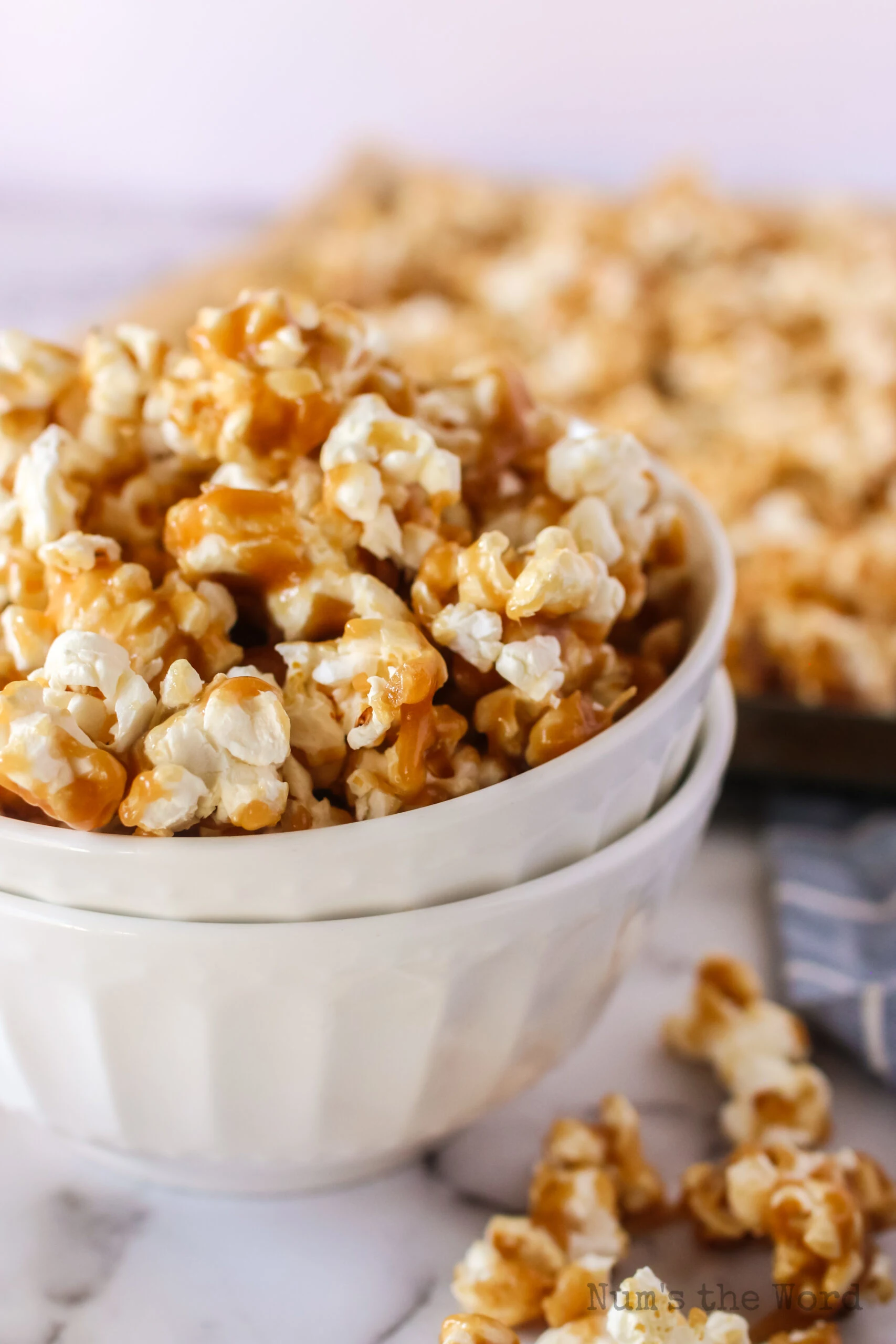 More Popcorn Recipes You'll Love…
Caramel Corn is a delicious snack, movie treat, gift, and absolutely addicting. It's one of my family's favorite game night treats and we make it all the time. It's a good recipe for beginners to learn and your entire family will love this sweet caramel corn!
Yield: 12 Servings
Caramel Corn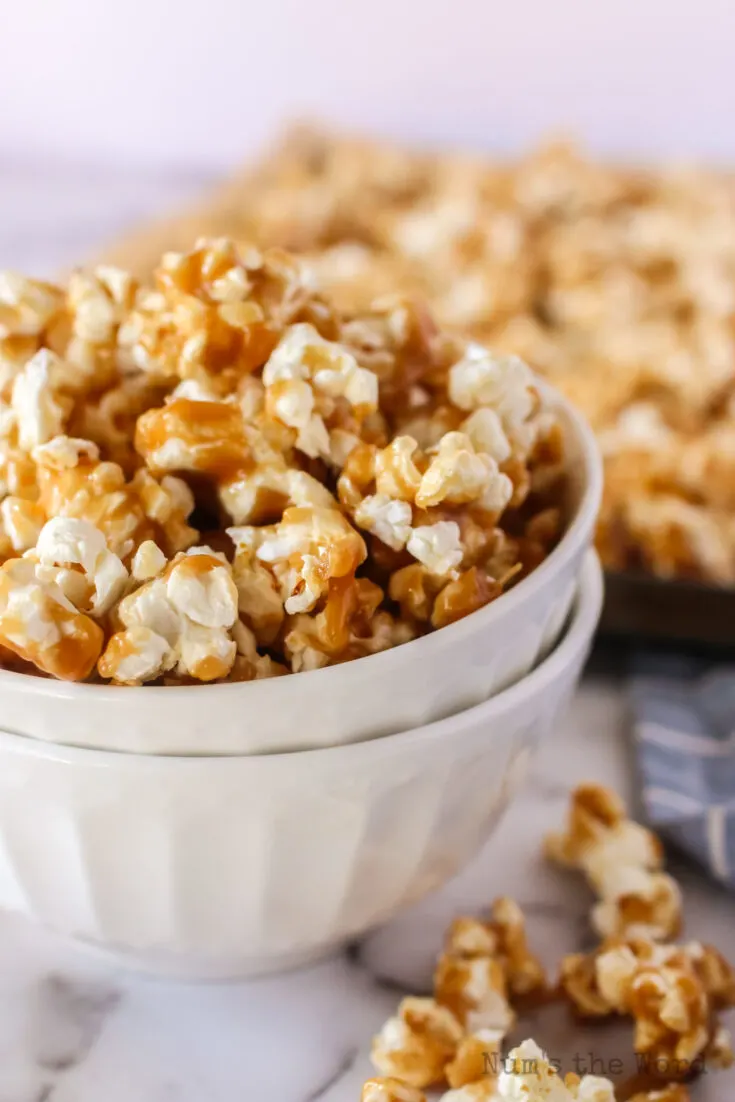 Homemade Caramel Corn has never been easier! It's an incredibly addictive snack that is sweet, crunchy, and so easy to make!
Additional Time
30 minutes
Ingredients
3 bags Pop Secret homestyle butter microwave popcorn
1 cup butter
2 cups brown sugar
1/2 cup Karo light corn syrup
1/2 teaspoon salt
2 teaspoons vanilla extract
1/2 teaspoon baking soda
Instructions
Pop popcorn according to package directions.
Have two bowls ready.
Pour popcorn in one bowl.
Gently Shake the bowl to get the seeds to the bottom of the bowl.
Remove popcorn slowly into the second bowl leaving seeds in the 1st bowl.
Toss seeds. Repeat with the second and third bag.
Prepare 2 baking sheets with a baking mat or parchment paper.
Preheat oven to 250*F
In a pot, add butter and cook over medium heat until melted.
Add brown sugar, corn syrup and salt.
Bring to a boil and cook for an additional 4 minutes, stirring regularly so caramel doesn't burn on the bottom of the pan.
After 4 minutes, turn off the heat and remove the pan from heat.
Add vanilla extract and be prepared for the mixture to spit at you. Stir to incorporate.
Add baking soda and stir. Mixture will become fluffy and increase in volume.
Pour caramel mixture over your prepared popcorn.
Stir well, careful not to touch the caramel mixture to your skin or it will burn you.
Spread caramel corn on baking sheets, dividing mixture between the two sheets.
Evenly space the racks in your oven so you can get both in there at the same time, one on top and one on bottom.
Bake for 15 minutes.
Remove caramel corn, and stir. Place back in oven on the opposite oven shelf.
Repeat 15 minute baking and stirring intervals until caramel corn has been baked 2 times total.
Remove from the oven, stir and let cool.
I like to stir again after caramel corn has been out of the oven for 5 minutes to prevent clumping.
Serve once cool.
Nutrition Information:
Yield:
12
Serving Size:
1
Amount Per Serving:
Calories:

462
Total Fat:

26g
Saturated Fat:

13g
Trans Fat:

3g
Unsaturated Fat:

10g
Cholesterol:

43mg
Sodium:

509mg
Carbohydrates:

57g
Fiber:

3g
Sugar:

41g
Protein:

2g