Barbacoa Grilled Cheese is a new and original way to use up leftover barbacoa Beef. They are an absolute hit and we like to say they are the best grilled cheese sandwich you'll eat this week!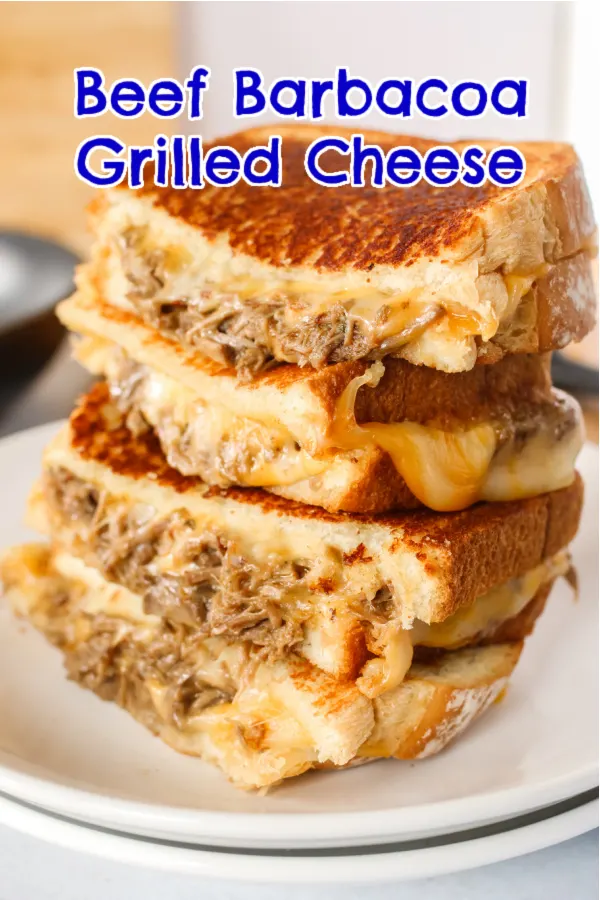 Melted cheese, crispy crust, filling, and easy to make, this is definitely one of my favorite things to make when we've got leftover shredded beef around the house.
Beef barbacoa grilled cheese sandwiches are a break from the ordinary. They allow you to shake up your grilled cheese sandwiches in a very good way.
And as anyone who has made a grilled cheese sandwich can attest, they are so EASY! With the addition of the beef barbacoa too, you get some protein which makes the sandwiches super filling too!
You'll only need a handful of ingredients, and the grilled cheese is so quick to make too. Comfort food never looked so good, so quick, or so easy.
If you love the idea of this barbacoa grilled cheese, you should try our Barbacoa Quesadilla, it's equally delicious!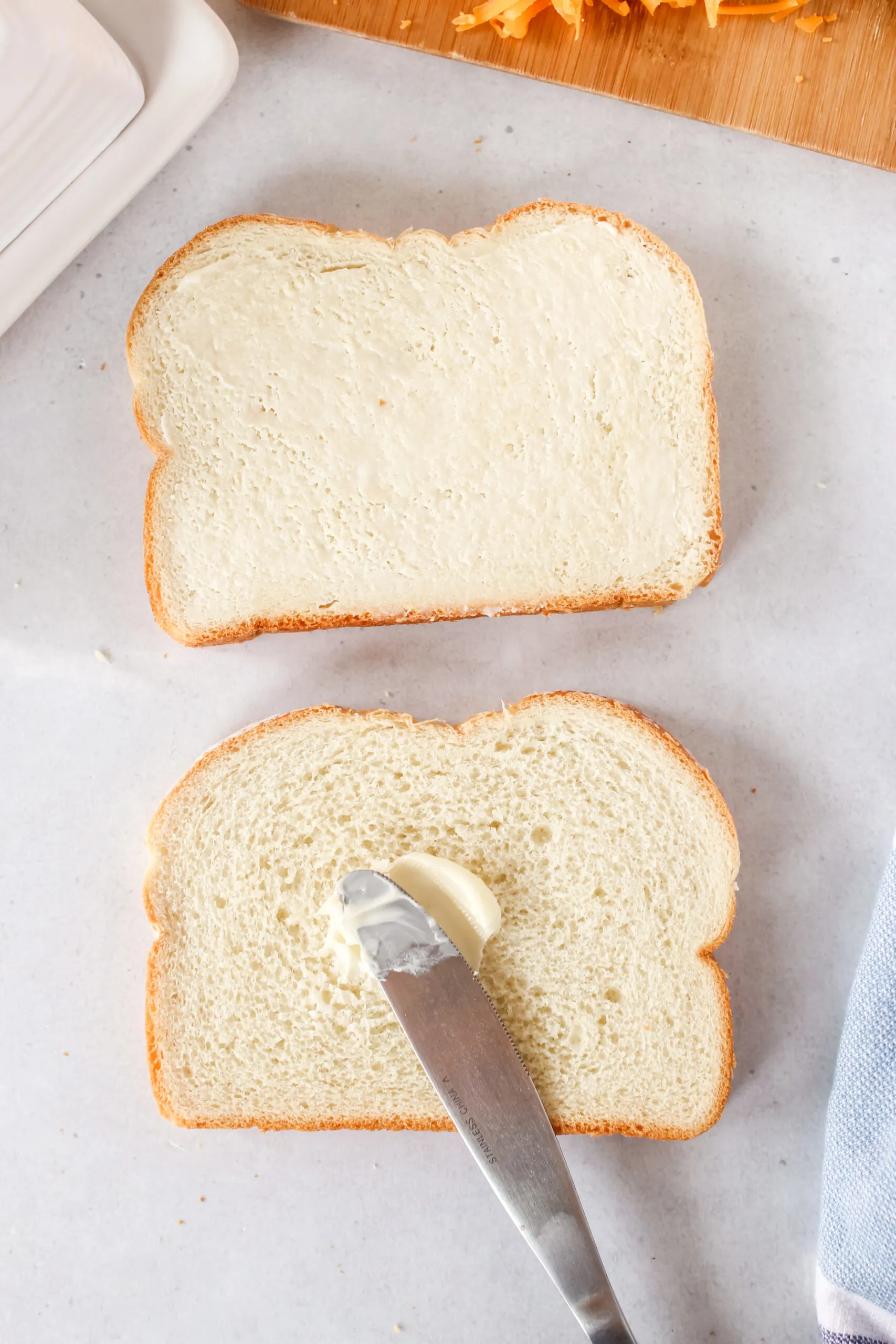 What Ingredients are in Beef Barbacoa Grilled Cheese?
Here's what you're going to need to make a loaded grilled cheese sandwich.
Bread: The denser the bread, the better! We like Pepperidge Farms White Bread.
Cheese: Colby Jack cheese compliments the barbacoa beef well. You could also use swiss cheese or a variety of cheddar cheeses.
Barbacoa Beef: Leftover Instant Pot Barbacoa Beef makes this recipe a cinch!
Butter: Don't substitute! Butter will give the best flavor and keep the sandwiches from sticking.
Pro Tips:
Slices of cheese will be easier to put on the bread than shredded.
Pick your own favorite flavor of cheese for ultimate customization.
If you want to kick it up a notch, add some caramelized onions to it.
Another tasty topping is pickled red onions, give them a try!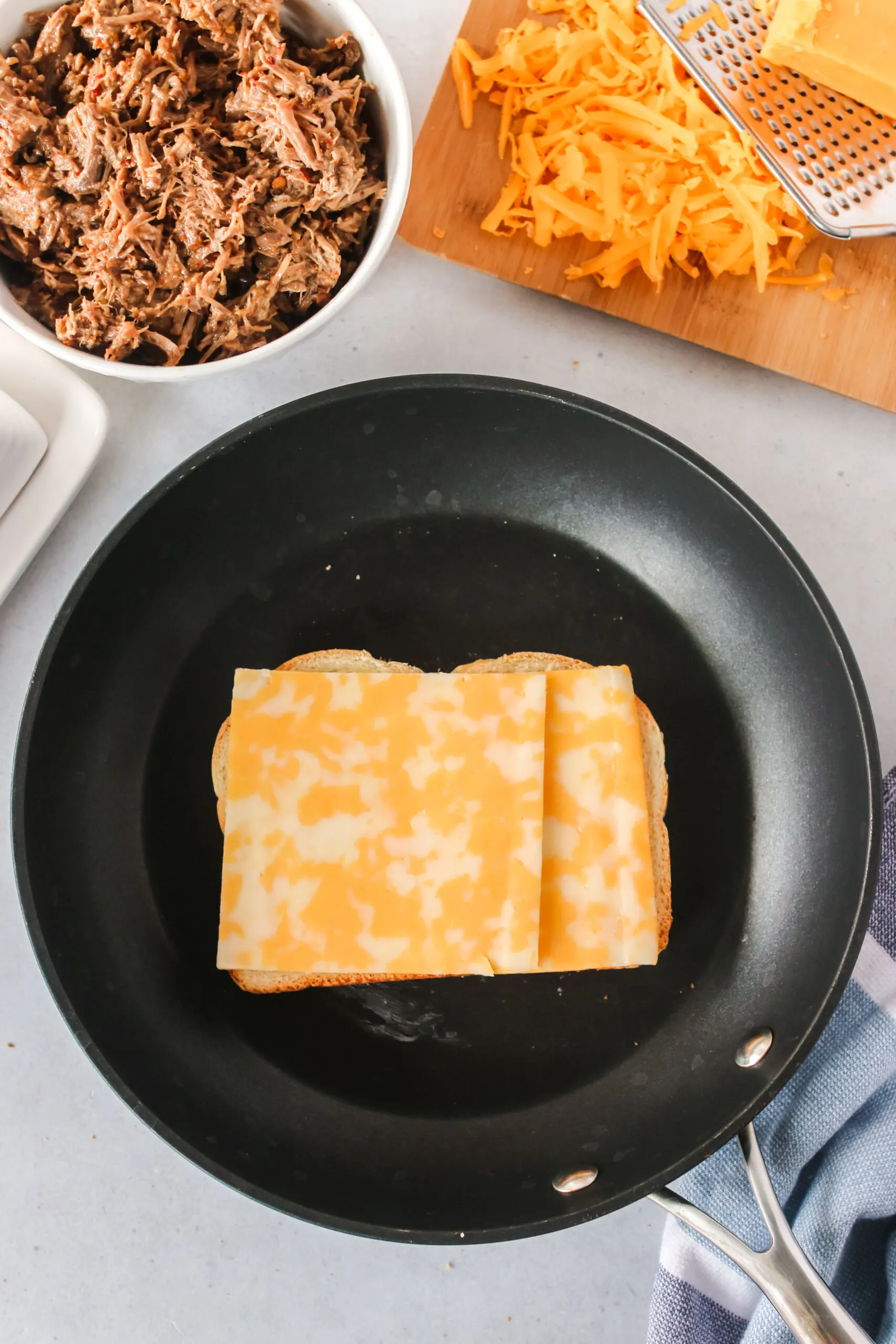 What Cut of Beef is Barbacoa?
Barbacoa beef can be made from all sorts of cuts of meat. Head meat, particularly cheek, is the most popular beef cut.
Our Barbacoa Beef recipe calls for beef stew meat. Let's be honest, I'm just not a beef cheek kind of gal. So I've made a cheater version of barbacoa beef using stew meat!
Beef stew meat is most commonly chunks of roast meat from either the rump or shoulder. Both the rump and shoulder are tender, flavorful, and perfect for shredding.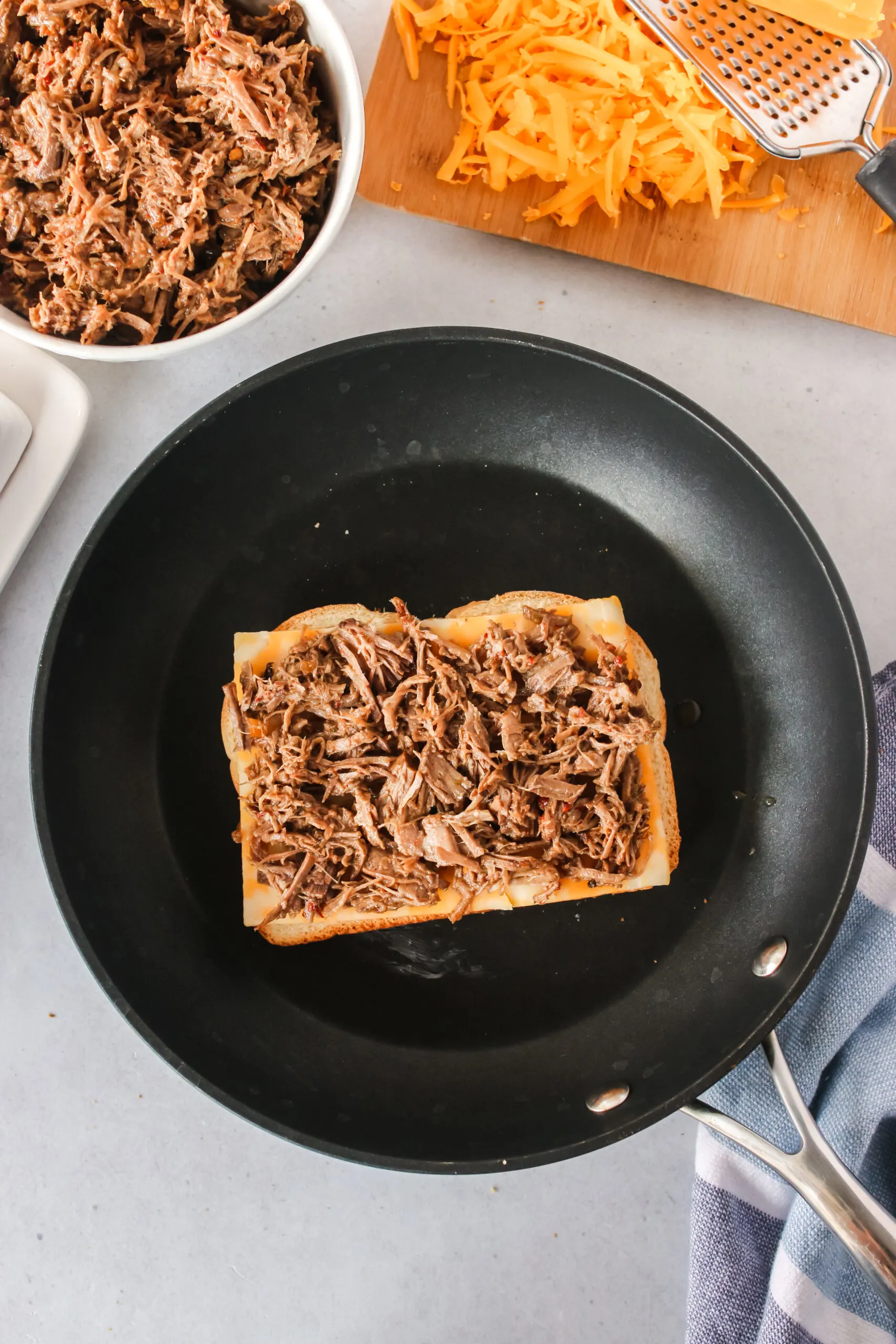 How to Make Beef Barbacoa Grilled Cheese
Making beef barbacoa grilled cheese sandwiches is super simple!
Heat: The Beef Barbacoa will not warm up on its own in the sandwich. Nuke it in the microwave to warm before cooking.
Butter: Butter that bread! Butter is THE BOMB!
Layer: Each sandwich should have beef barbacoa, cheese, and two slices of bread.
Cook: The sandwiches are done when they're golden and crispy and the cheese is melted.
Pro Tips:
If your bread turns brown before the cheese melts, you've got the heat too high!
Don't forget to flip. Each side of the sandwich needs that crispy golden deliciousness.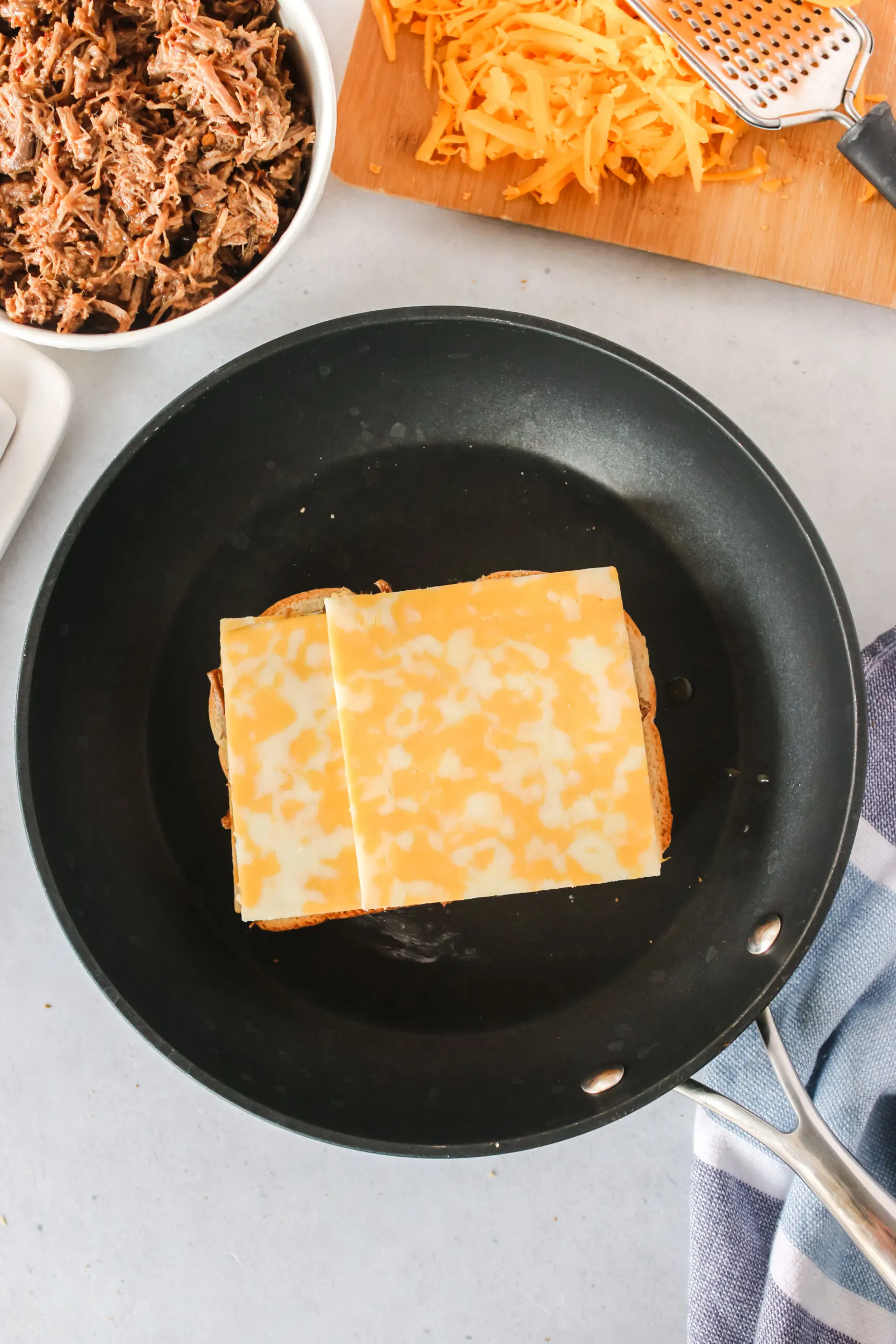 What to Serve with Beef Barbacoa Grilled Cheese
Soup:
Salad:
Fruit:
Potatoes: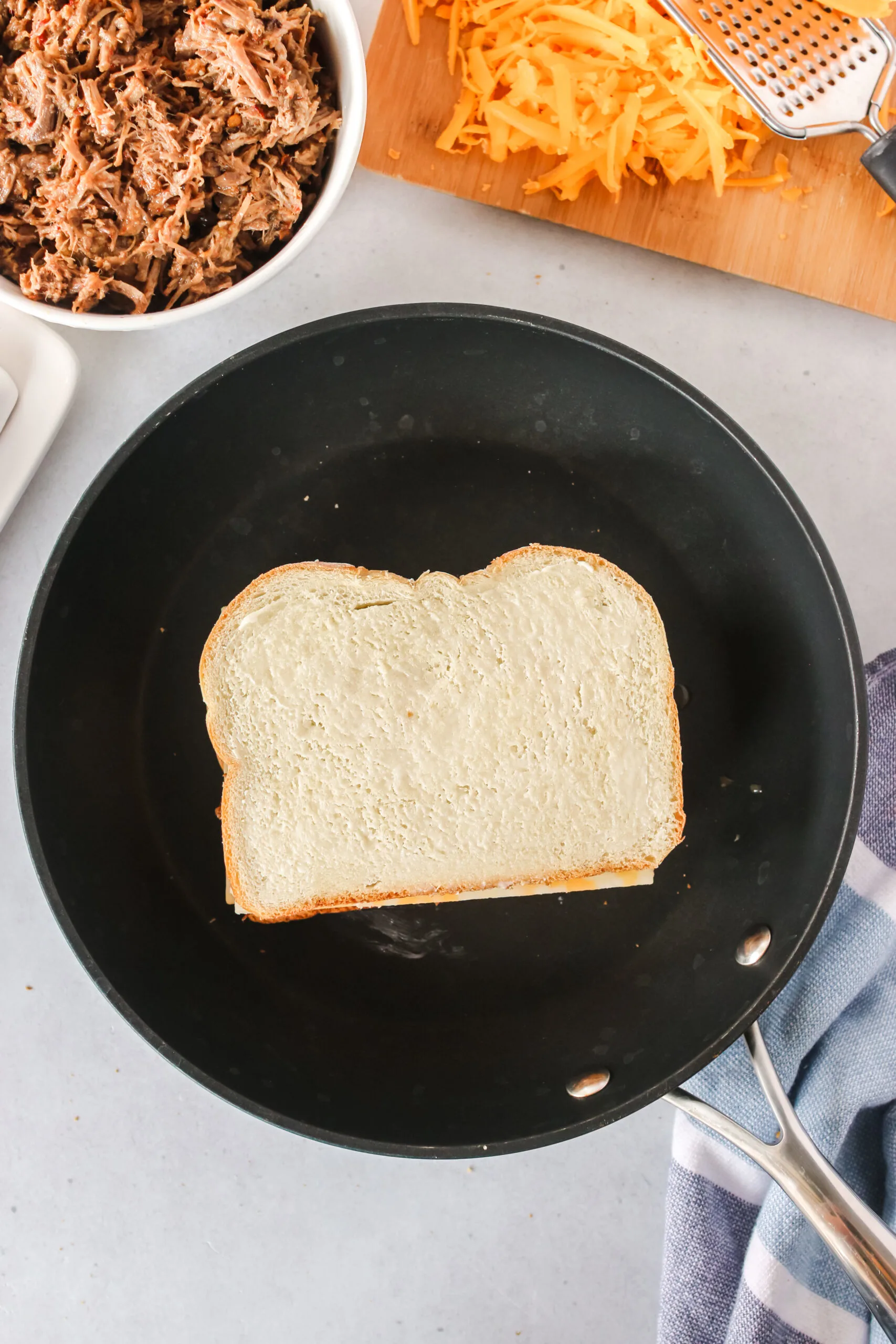 Is Barbacoa Beef Healthy?
Barbacoa beef is a wonderful source of protein and other great nutrients. Of course what is healthy for one person may not be so for other people.
Which is why we have thousands of diet plans and everyone seems to find their perfect fit.
However, beef barbacoa is on the healthy side of the scale in my opinion. All the protein and nutrients are essential to keep your body functioning well.
For extra healthy options choose a healthy bread and side salad or vegetable option.
How to Cook Barbacoa Beef
Unlike a juicy steak, which can be cooked quickly (and they should!), beef from the shoulder, rump, or cheek, needs to be cooked slowly.
Cooking beef barbacoa quickly often results in a tough cut of meat that no one will enjoy.
However, welcome to the world of the Instant Pot! The instant pot allows you to cook the barbacoa beef quickly, while retaining the moisture, flavor, and texture of a slow cooked beef.
Here's the recipe on how to make Instant Pot Barbacoa! It's very easy and comes out perfect every time!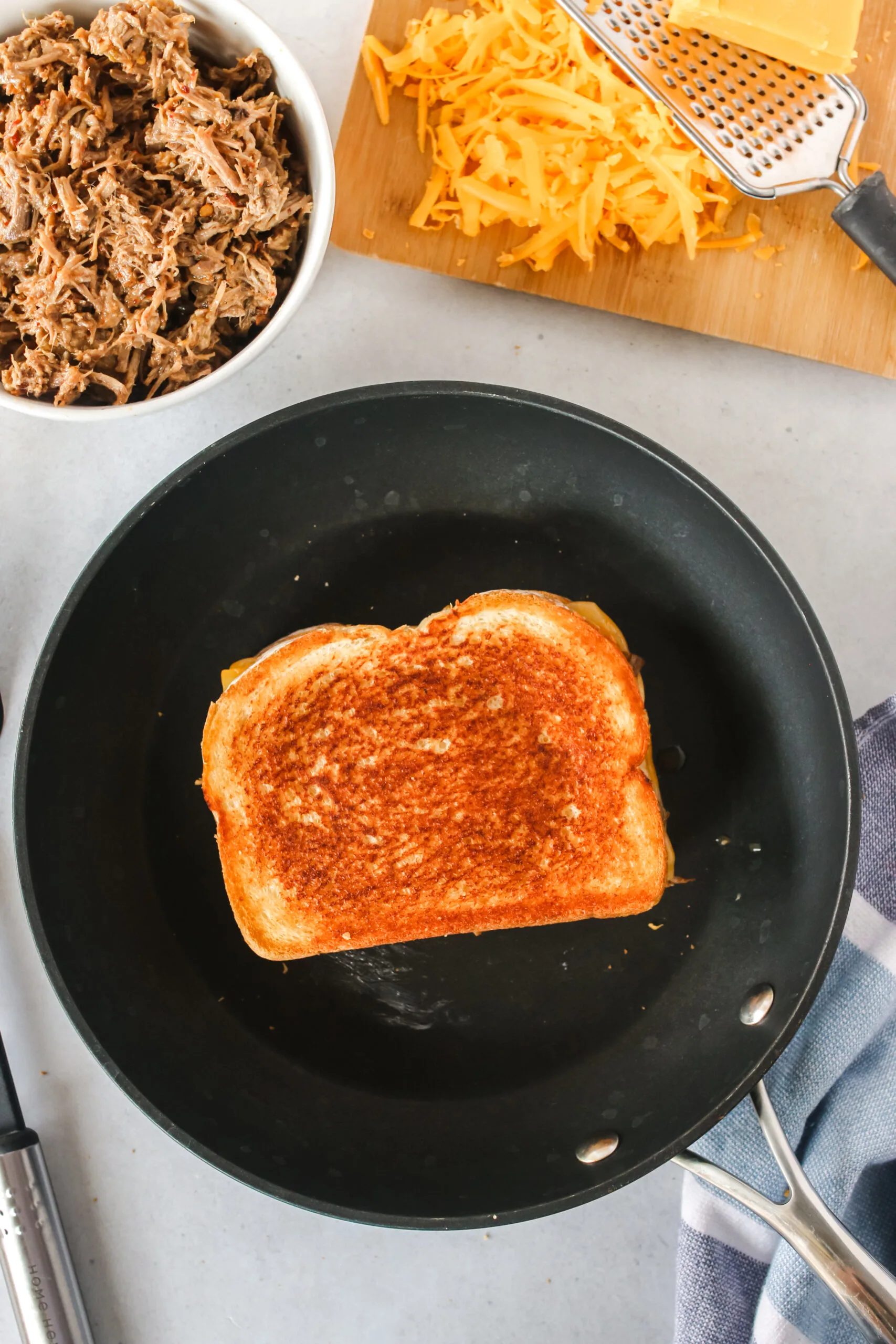 Is Barbacoa Beef Keto?
Yes! Barbacoa beef is keto. For a food to be keto it needs to be low in carbs and have some fat. Yay! Barbacoa Beef fits the bill!
So if you're wondering if you can have barbacoa beef on the keto diet? The answer is yes.
Now, how about the rest of the grilled cheese sandwich? Cheese is also keto friendly, so no need to worry there. Bread however, is extremely high in carbs.
No matter if you buy wheat, rye, oat, white, or multigrain, you're going to be looking at some carbs.
Try making your own bread or look for a gluten free or Keto bread option that is low in carbs and has a high fiber content.
You could also try eating Barbacoa Beef Quesadillas with corn tortillas. As long as they are an occasional treat, the corn tortillas should be okay on the keto diet.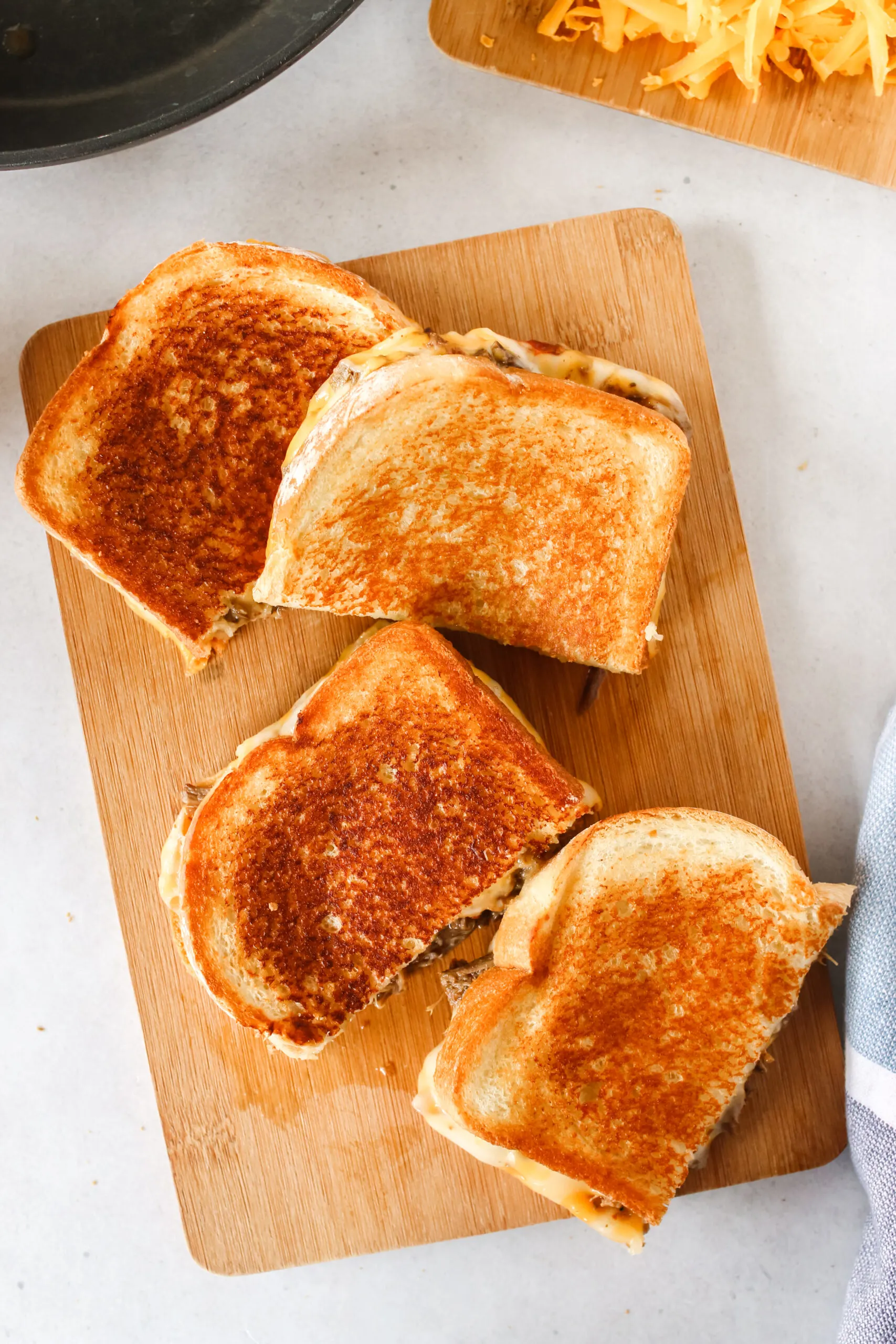 Is Barbacoa Beef Gluten Free?
Yes! The barbacoa beef recipe on my website is completely gluten free. However, I cannot guarantee that store bought or other websites of barbacoa beef recipes are.
If you want to be sure it's gluten free, check the labels and ingredients to be on the safe side.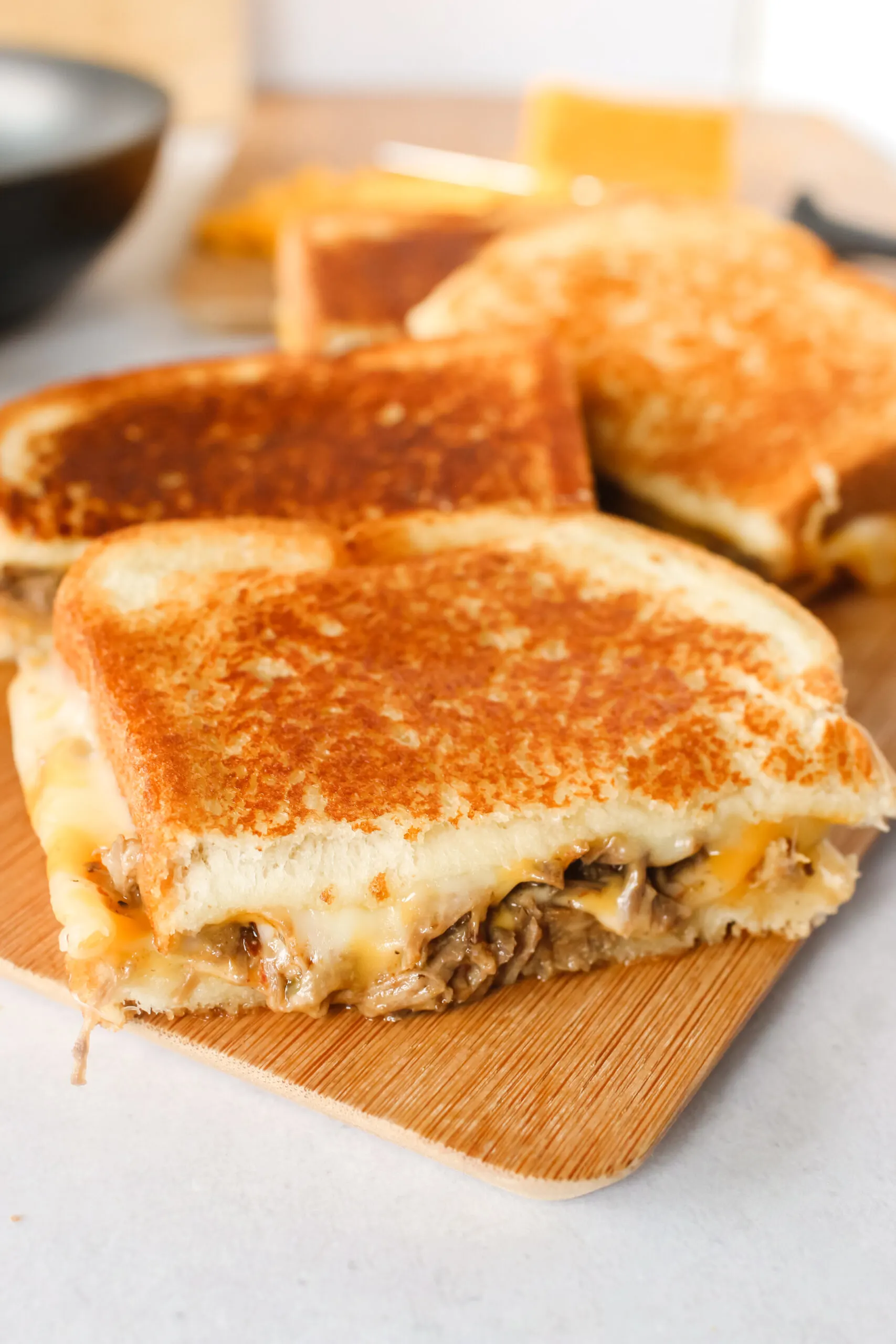 What Does Barbacoa Style Mean?
While you can get many types of meat barbacoa style, and they taste so yummy, what does it actually mean?
Barbacoa is a style of cooking meat, typically in a slow manner over a fire pit. Barbacoa can be made from beef, sheep, lamp, or pork.
It's a type of Mexican cuisine that has become quite popular in the United States.
Except for some restaurants, you won't find many recipes for cooking barbacoa beef in that manner now. Though I imagine the flavor would be just that much better over an open fire. Everything tastes better over an open fire.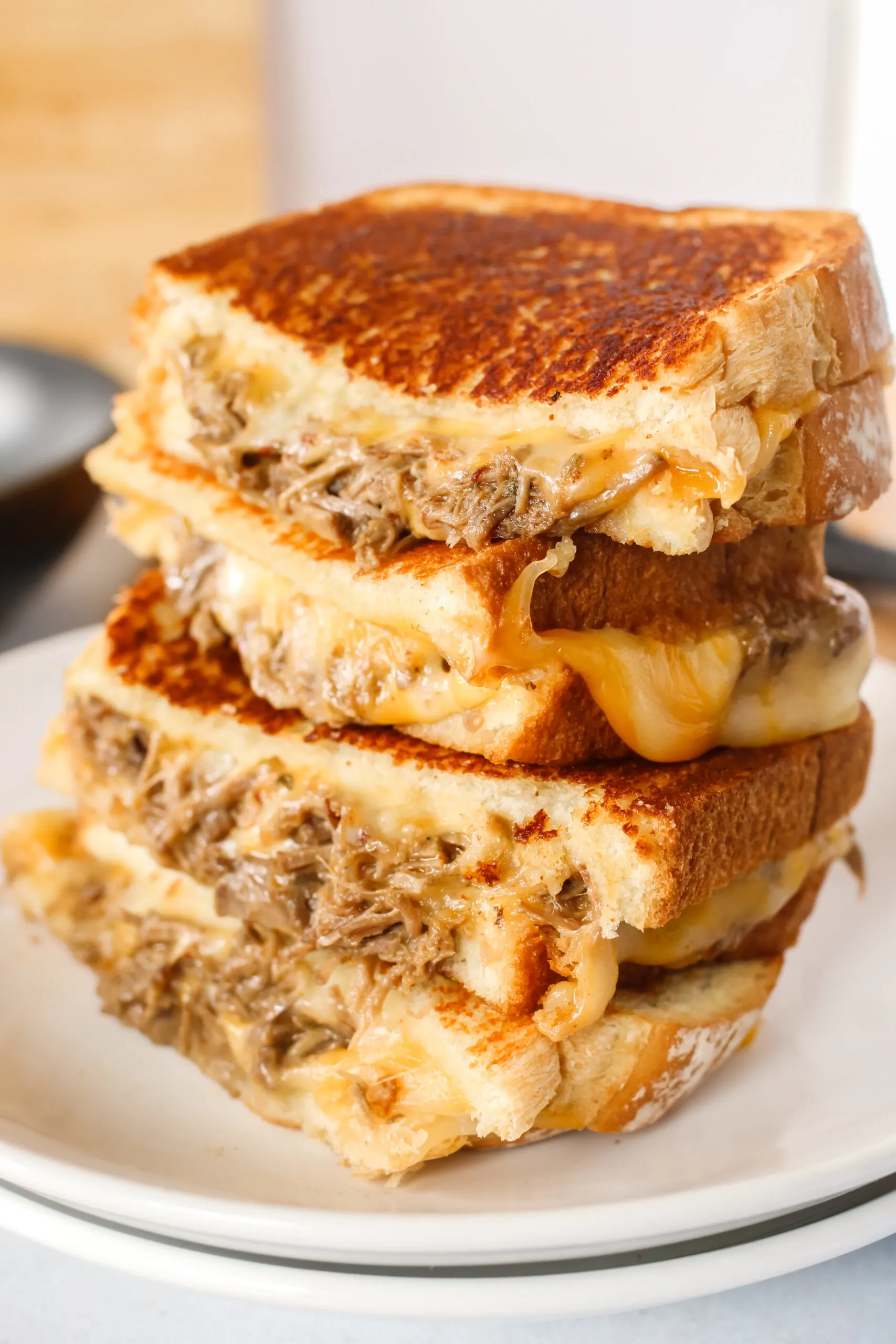 Beef Barbacoa Grilled Cheese is a quick and easy meal that is filling, delicious, and out of this world! The perfect way to use up leftover barbacoa beef.
Yield: 1 Sandwich
Barbacoa Grilled Cheese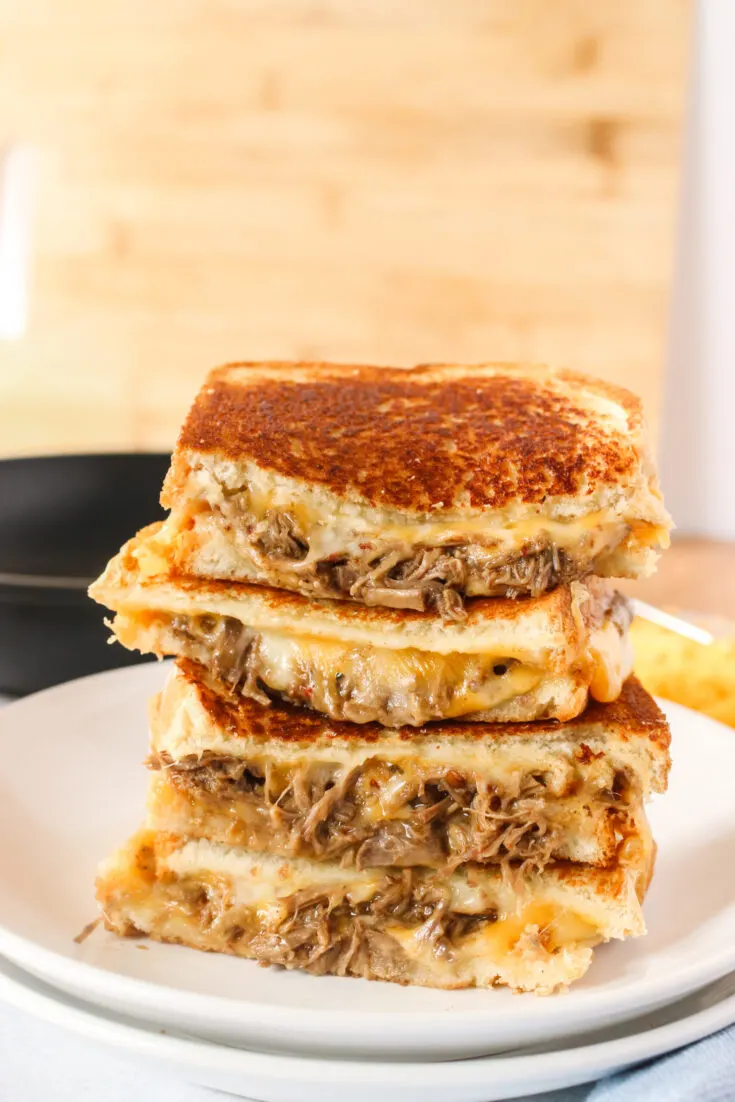 Barbacoa Grilled Cheese is a new and original way to use up leftover barbacoa Beef. They are an absolute hit and we like to say they are the best grilled cheese sandwich you'll eat this week!
Ingredients
2 slices high quality dense bread
3 slices Colby Jack Cheese
2 Tablespoons butter
Instructions
Heat skillet or griddle to medium low heat.
Heat leftover barbacoa beef in the microwave for 15-20 seconds until toasty warm.
Butter one side of each slice of bread.
Lay one slice of bread, butter side down on a skillet or griddle.
Lay 1 ½ slice of cheese on bread. Make sure cheese covers the entire bread. If bread is more square you'll need less cheese.
Top cheese with beef and spread to cover a slice of bread.
Top beef with 1 ½ slice of bread (or 1 slice if square bread).Top second slice of cheese with buttered bread, butter side UP.
Grill sandwich on medium low heat until bottom is nice and golden and cheese begins to melt.
Flip the sandwich and grill the second side until the cheese is melted and bread is golden.
If bread burns, your heat is too high. This should be a nice slow heat to properly melt the cheese.
Slice and serve.
Nutrition Information:
Yield:
1
Serving Size:
1
Amount Per Serving:
Calories:

582
Total Fat:

46g
Saturated Fat:

28g
Trans Fat:

1g
Unsaturated Fat:

15g
Cholesterol:

146mg
Sodium:

733mg
Carbohydrates:

17g
Fiber:

1g
Sugar:

2g
Protein:

27g