Instant Pot Beef Barbacoa is the juicy, tender, delicious taco meat you didn't know you were missing! If you want the flavor and texture of slow cooked meat without the slow, this is the perfect recipe for you.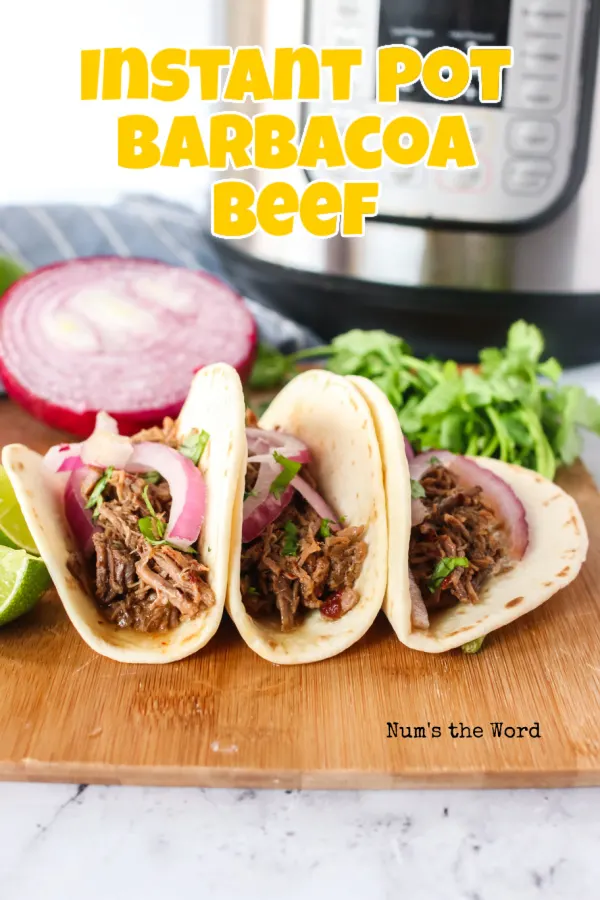 One of my favorite Instant Pot uses (and I have MANY favorites) is for quickly and tenderly cooking meats without losing moisture.
I feel like this is one of the things pressure cookers are absolutely perfect for. No more forgetting to start something in the slow cooker before you leave for work in the morning — the Instant Pot is here to save the day (or dinner, more like).
If you're like me, there's no such thing as too many tacos, and changing up the types of meat or seasonings only makes them even more enjoyable!
Tacos are the perfect food for entertaining, taking a meal to a sick or busy friend or family member, or — let's be real — tacos are amazing whenever for whatever reason.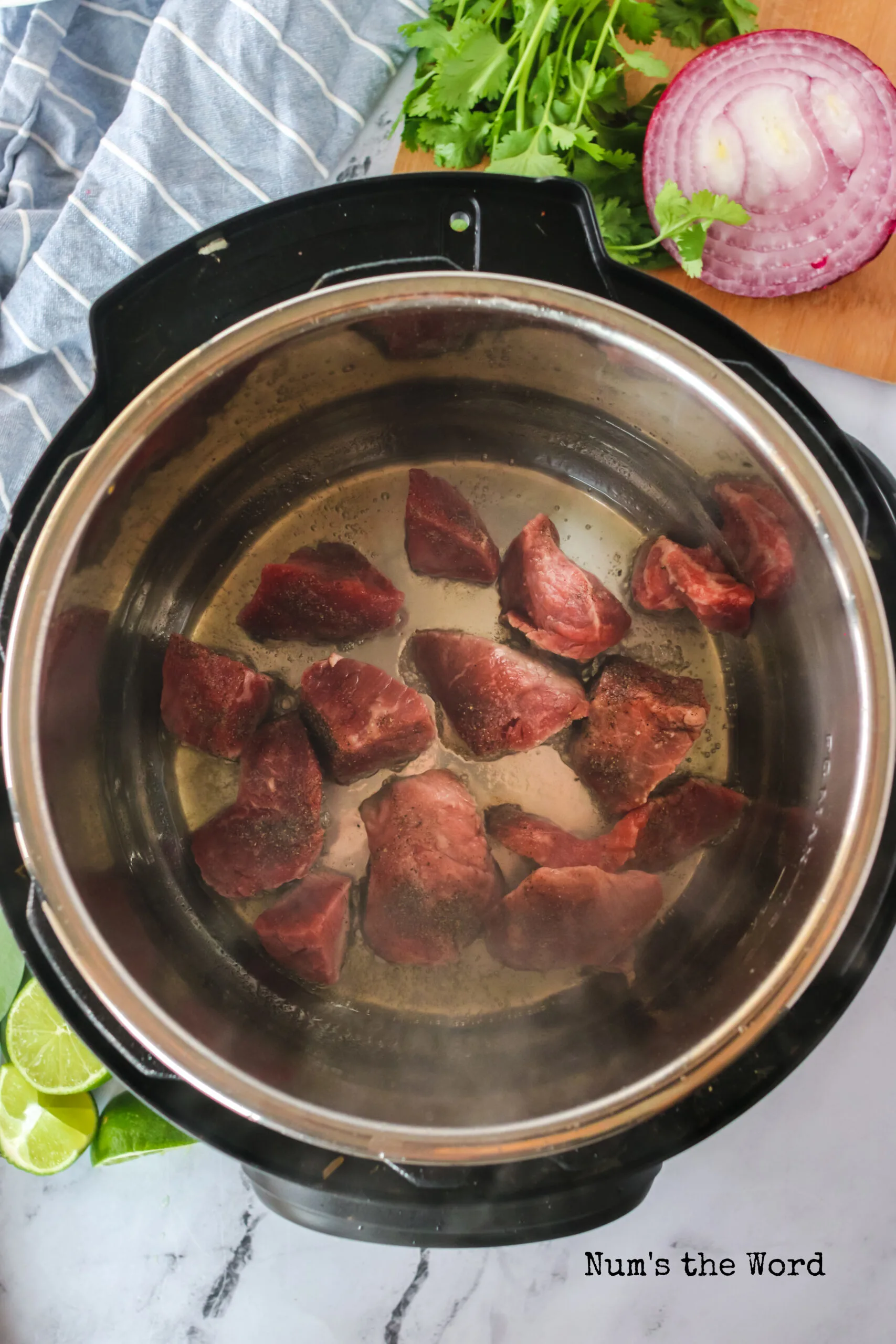 What is IP barbacoa?
Barbacoa generally refers to a slow-cooked meat. In some areas, it can refer to meats slow-cooked over an open fire or in a pit, and today it can even refer to steamed meat.
Depending on the region, different types of animal meat are used, including pork, beef, goat, or lamb.
Barbacoa is typically served as taco meat on corn or flour tortillas. It's also believed to be the origins of "barbecue."
In this recipe, we're making barbacoa beef in Instant Pot. The Instant Pot uses steam and pressure to cook foods. This makes for incredibly tender and moist meat — perfect for barbacoa!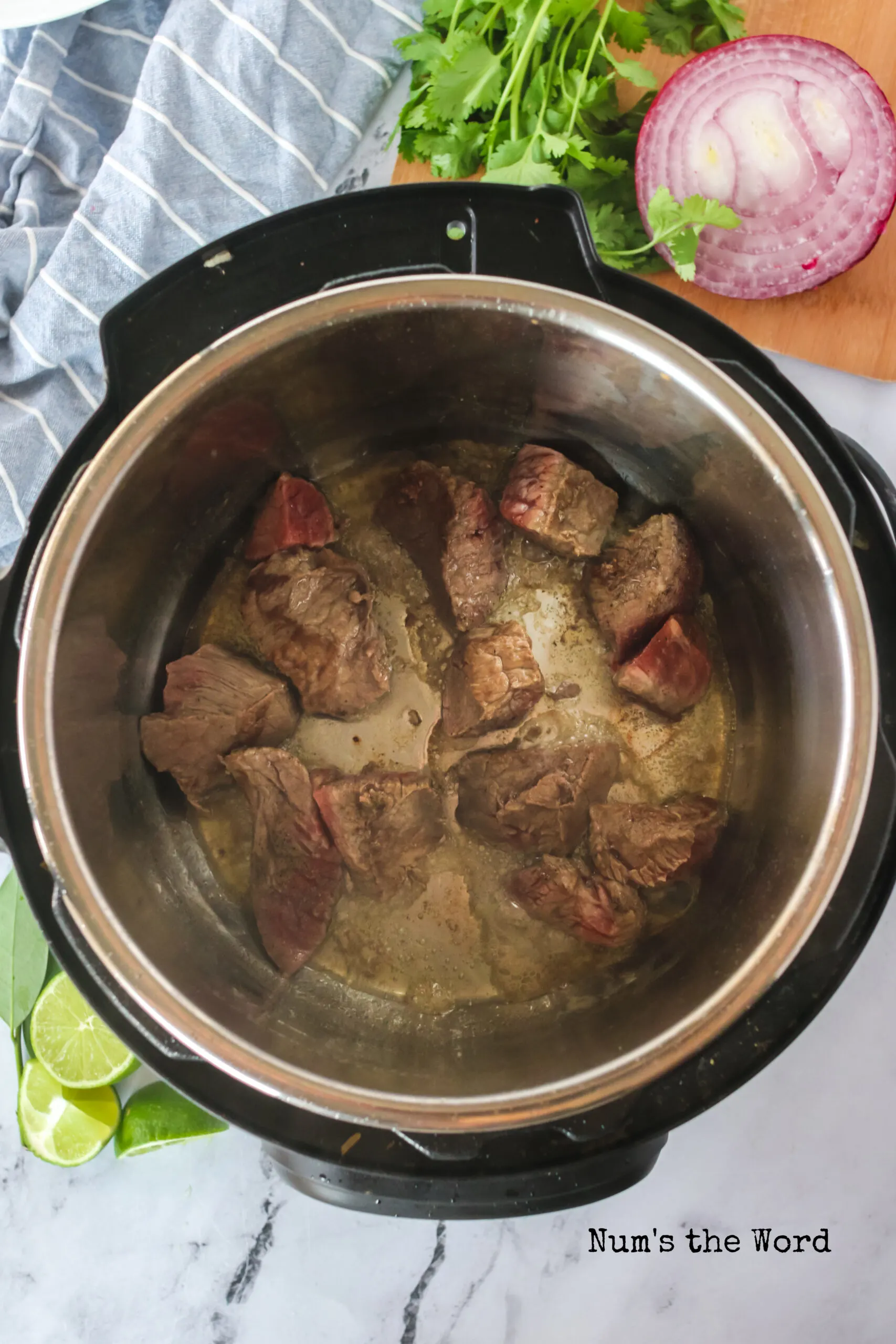 How do you make IP beef barbacoa?
Instant Pot beef barbacoa is one of the easiest (and fastest!) ways to prepare barbacoa. To get started, you'll need the following ingredients:
Stew meat

– you can use other cuts of beef as well, but this is what I used.

Salt & black pepper

– you'll season the meat with salt and pepper before cooking it.

Vegetable oil

– you'll sear the meat in the Instant Pot first using vegetable oil.

Beef broth

– whenever you cook with the Instant Pot, you'll need at least 1 cup of liquid to generate enough steam and pressure for cooking. Beef broth makes up a portion of the liquid in this recipe!

Apple cider vinegar

– vinegar is acidic and helps tenderize the meat while also adding flavor.

Lime juice

– lime juice is also acidic and helps tenderize while also adding a delicious, citrusy flavor to your meat.

Chipotle peppers in adobo sauce

– nothing adds flavor and heat to a Mexican-inspired dish quite like chipotle peppers! Yum.

Garlic

– the tiny and mighty seasoning vegetable.

Cumin

– cumin is flavorful and a Mexican cuisine staple.

Oregano

– I love the flavor of oregano when combined with the lime and cumin!

Cloves

– it seems counterintuitive, but meat recipes will often include a "sweeter" seasoning such as cloves or cinnamon. It adds great depth of flavor!

Bay leaves

– bay leaves will add another layer of flavor to your meat as it cooks.

Red onions, cilantro, lime wedges

– for garnishing and toppings.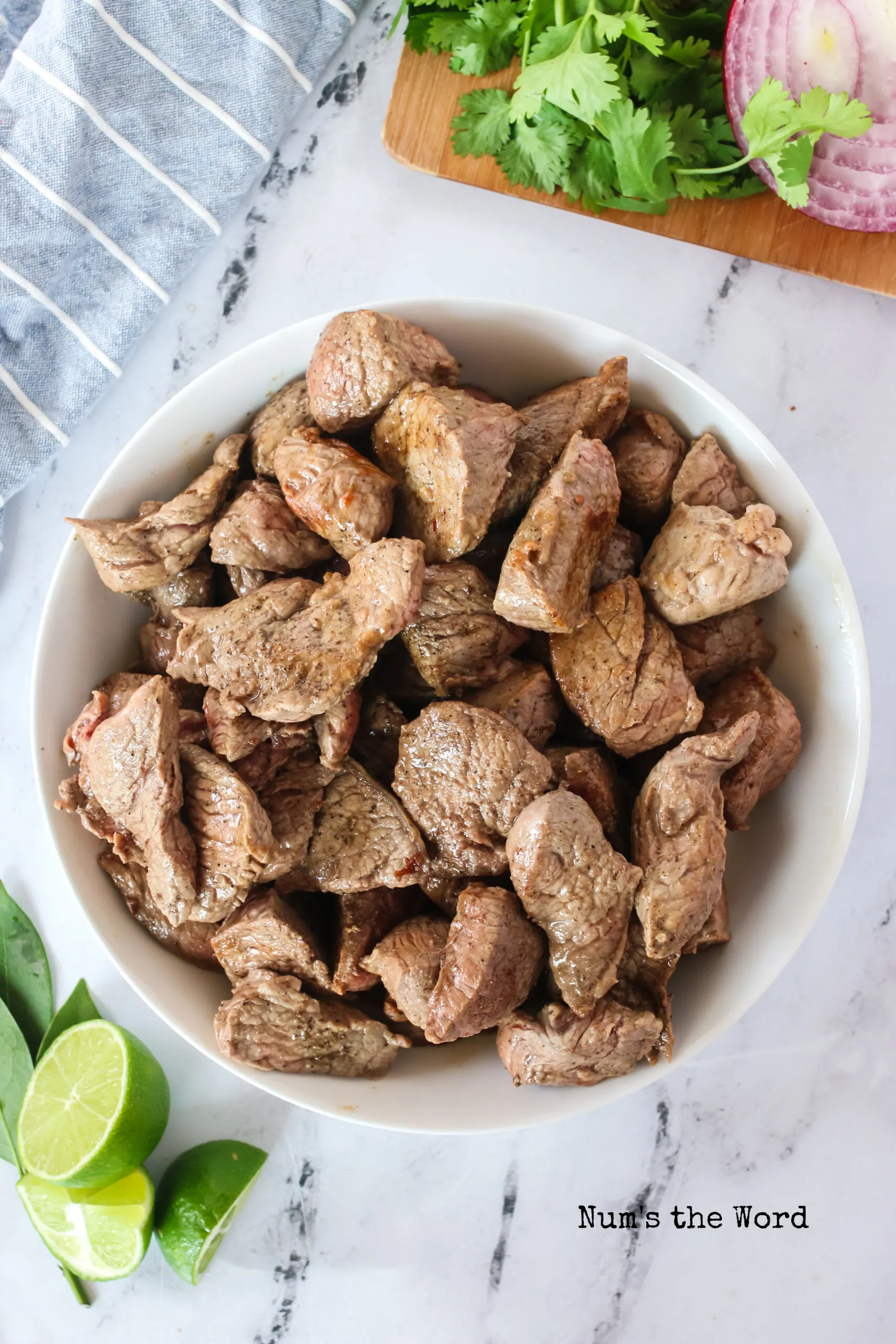 How do you make Barbacoa Beef
Once you've gathered the ingredients you'll need for these delicious barbacoa beef tacos in the instant pot, it's time to get cooking!
Season

beef and sear using the sauté function of the Instant Pot.

Combine

liquid ingredients, herbs, and seasonings in a separate bowl.

Deglaze

Instant Pot using liquid mixture.

Return

meat and bay leaves to the Instant Pot.

Close

lid and seal; pressure cook, then natural pressure release.

Shred

meat, return to juices in Instant Pot, and serve as tacos!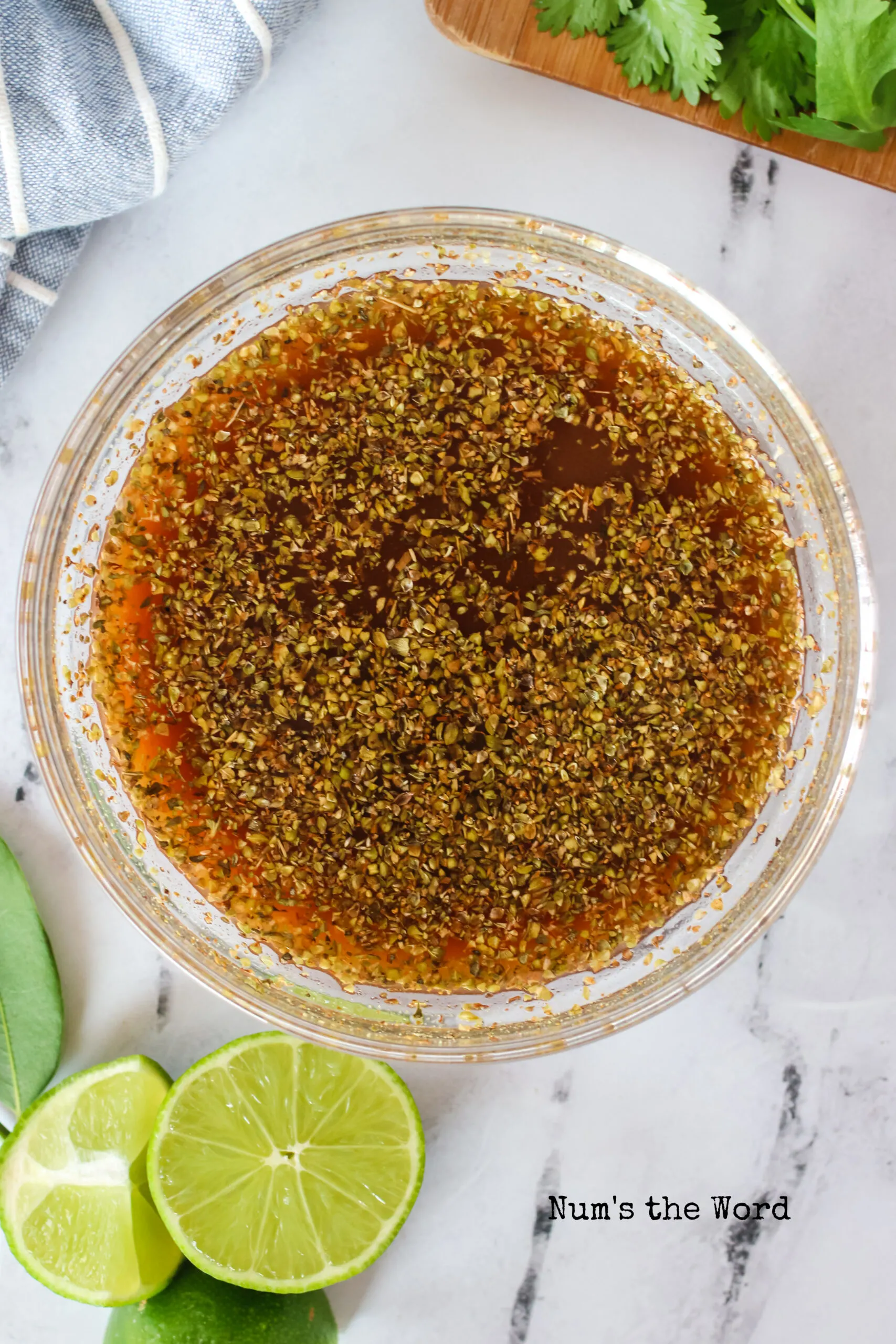 Recommended topping for IP barbacoa beef?
Some of our favorite toppings for this Instant Pot Beef Barbacoa recipe are:
Sour cream

Cheese

Guacamole

Slice red onions

Cilantro

Lettuce

Tomato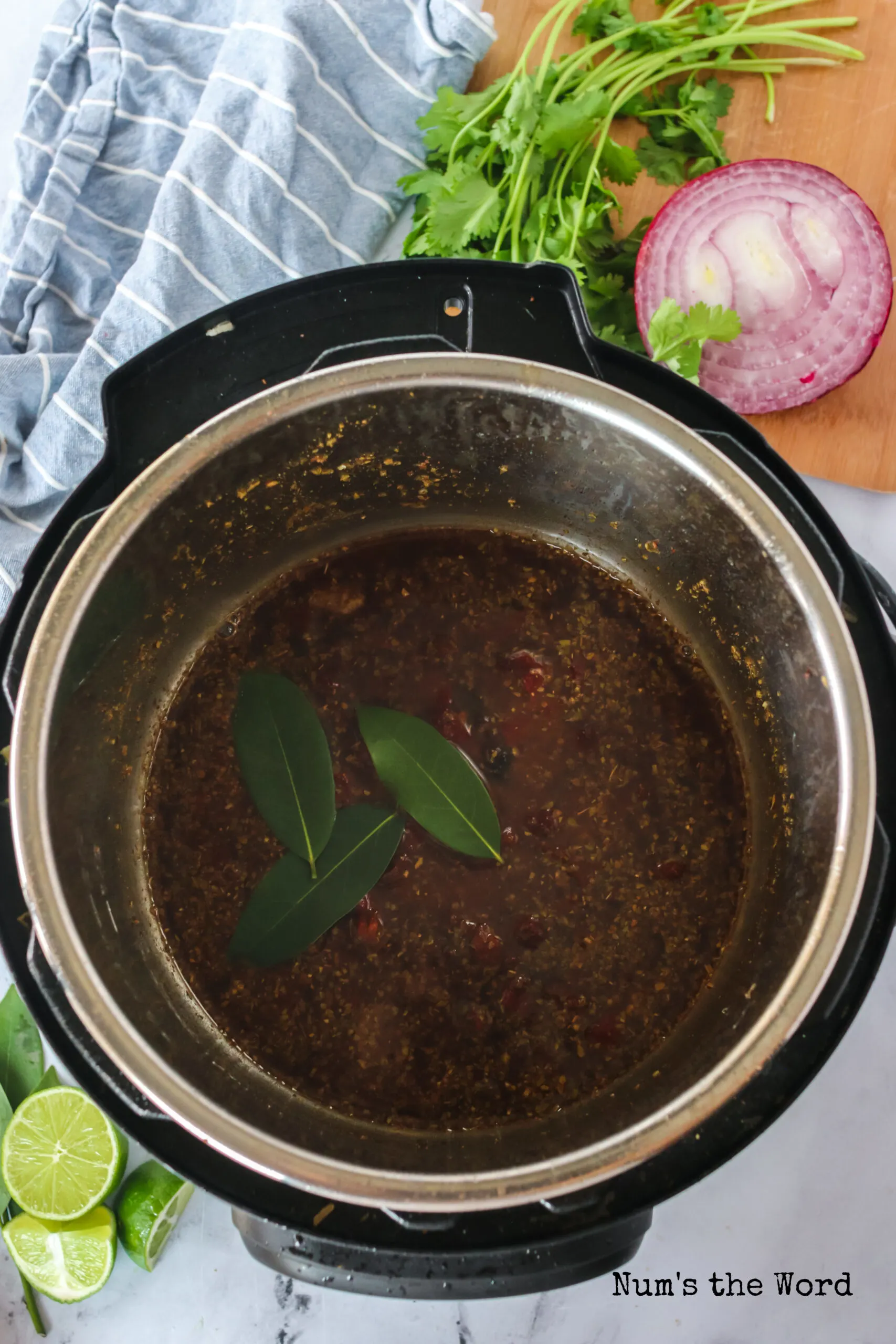 What to serve with IP barbacoa beef?
There are so many topping you can serve with Instant Pot Barbacoa Beef. Some of our favorites are:
Salsa

– check out our

Rice – we love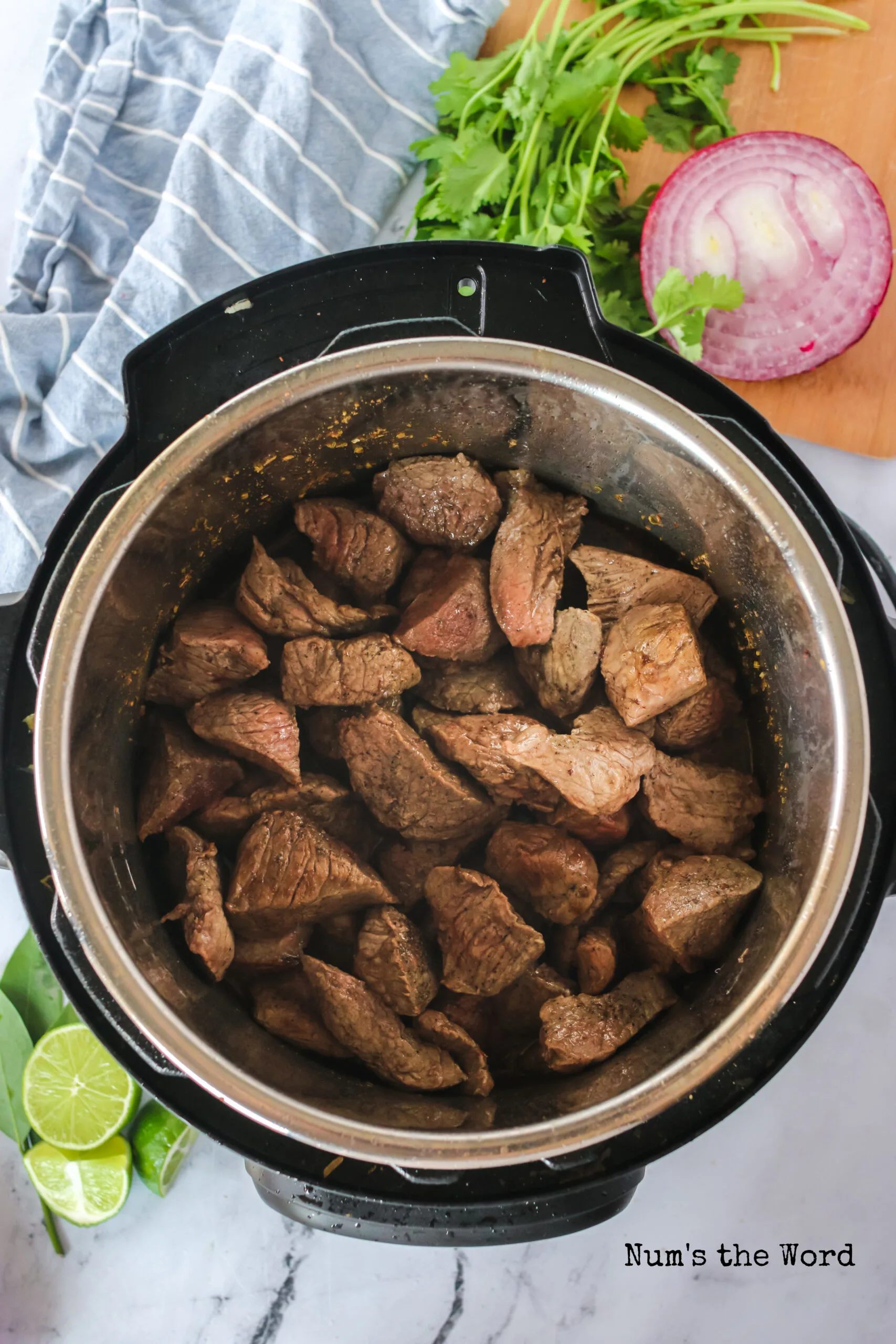 Do I have to use cows head to make barbacoa beef?
Absolutely not! In some regions, the heads of cattle are commonly used when making barbacoa, but that is not always the case. Some regions don't even use beef at all! Goat meat, lamb, pork, and other meats can also be used when making barbacoa.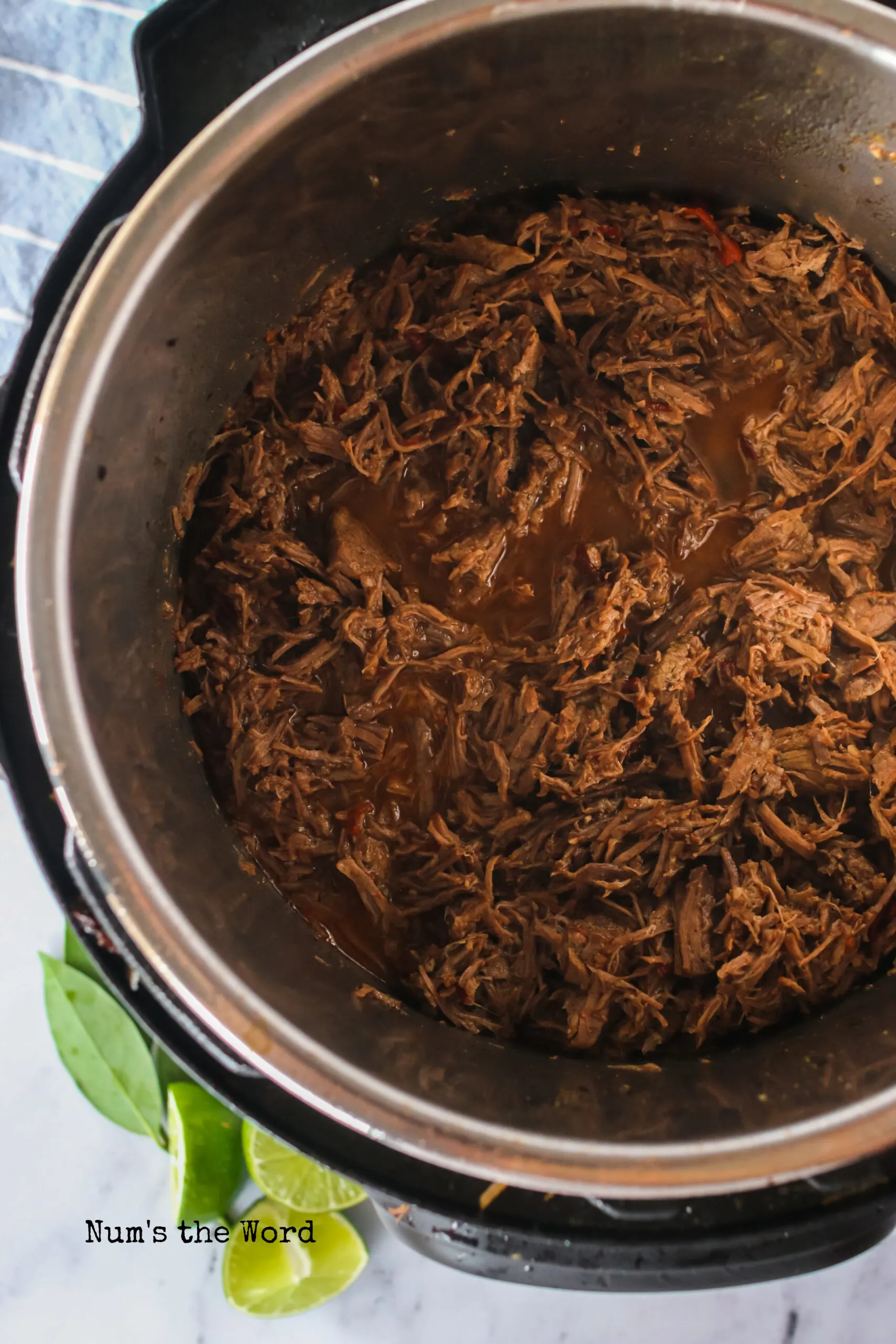 How to store and reheat leftover barbacoa?
Store leftover beef barbacoa in its juices in an airtight container in the fridge for up to 3-4 days.
For reheating, I typically prefer to use the Instant Pot pot-in-pot method. I feel like this is the best way to reheat the meat without drying it out or negatively affecting the flavor.
Using this method, 8 minutes of the steam function with a natural pressure release is usually enough to reheat refrigerated leftovers!
You can also microwave leftovers or heat them on the stove top. Whichever method you use, be sure to keep some of the juices when you reheat and do so over/at medium heat for best results.
Leftovers should be heated to at least 165 degrees for food safety!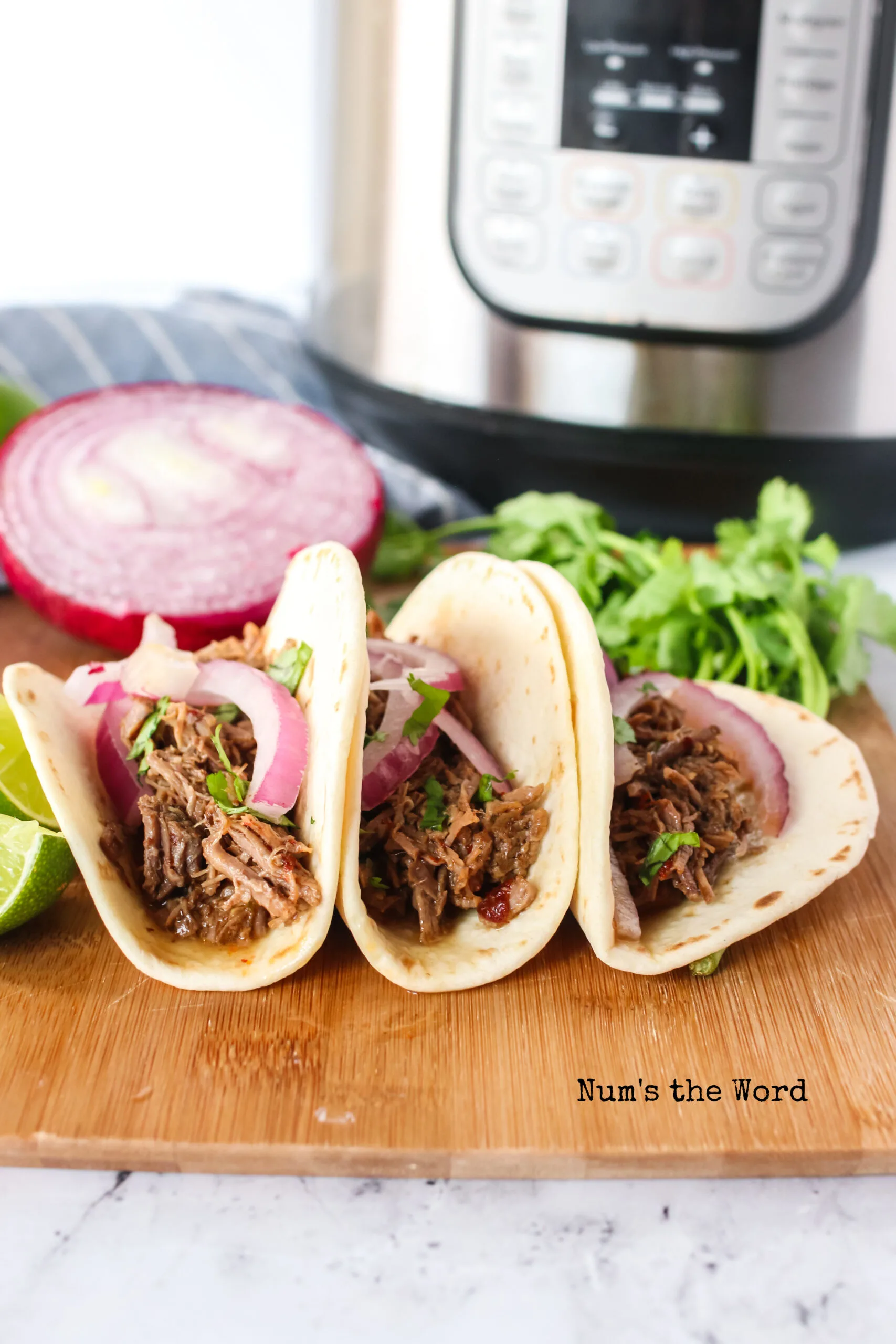 Can you freeze IP barbacoa beef?
Yes, you can freeze leftover Instant Pot Beef Barbacoa! I recommend allowing the meat to cool, in its juices, in the fridge completely before transferring to a freezer ziploc bag.
Freeze flat so you can either stack or store vertically. This also makes it much easier to thaw and reheat quickly.
When you're ready to reheat your frozen leftovers you can either allow them to thaw in the fridge for 24 hours or break into chunks and reheat using the pot-in-pot method or on the stovetop over medium heat.
If using the pot-in-pot method, it will take about 50% more time to reheat from frozen. I typically reheat frozen leftovers for 8 minutes using the steam function, stir, then reheat an additional 4 minutes with a natural pressure release.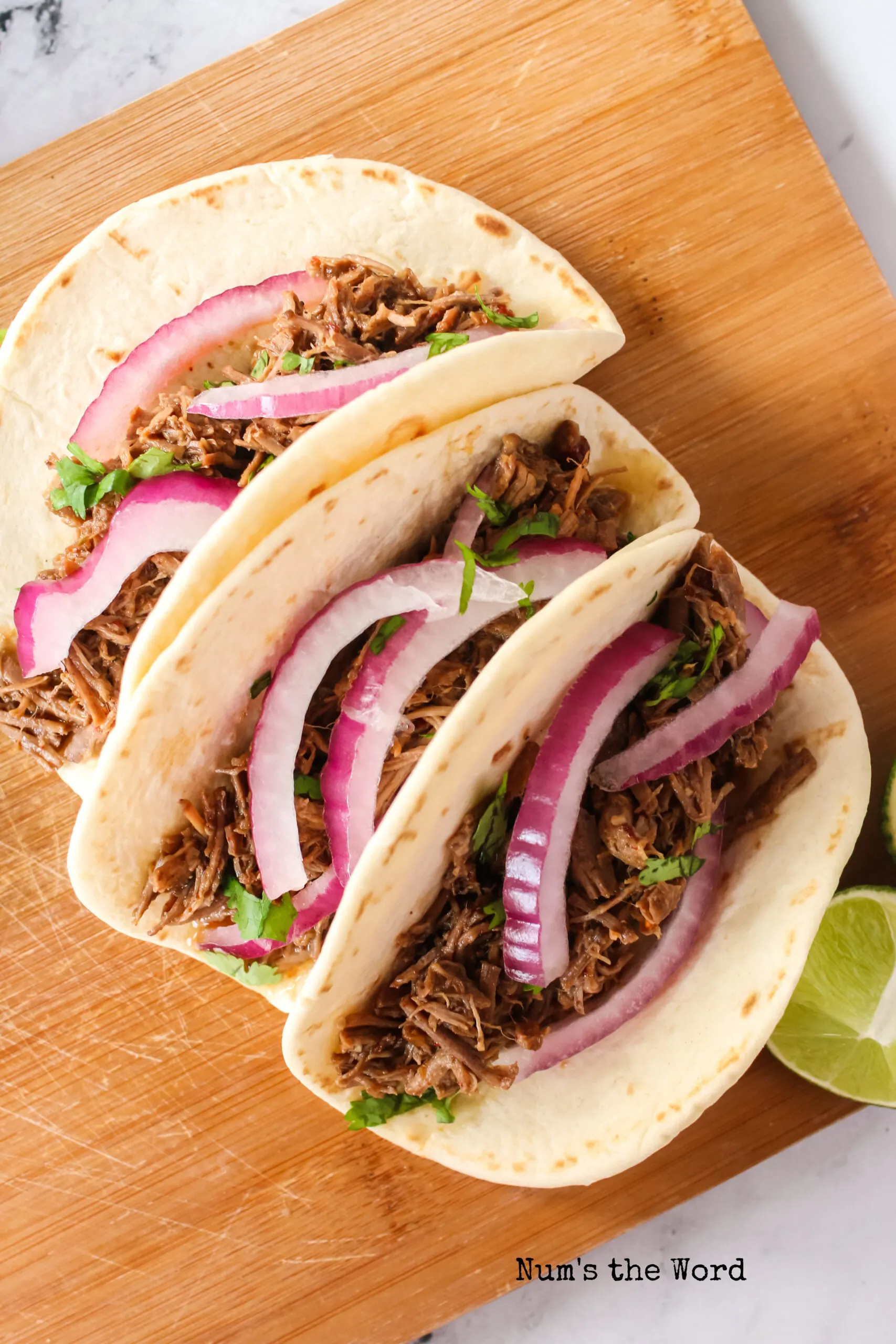 Whether you're looking for another taco recipe to add to your collection or want an easy and deliciously tender beef recipe, I'm sure you'll love this Instant Pot Beef Barbacoa recipe!
Customize it to your heart's desire with a variety of toppings and sides for the perfect Taco Tuesday or any day dinner.
Yield: 10 Servings
Instant Pot Barbacoa Beef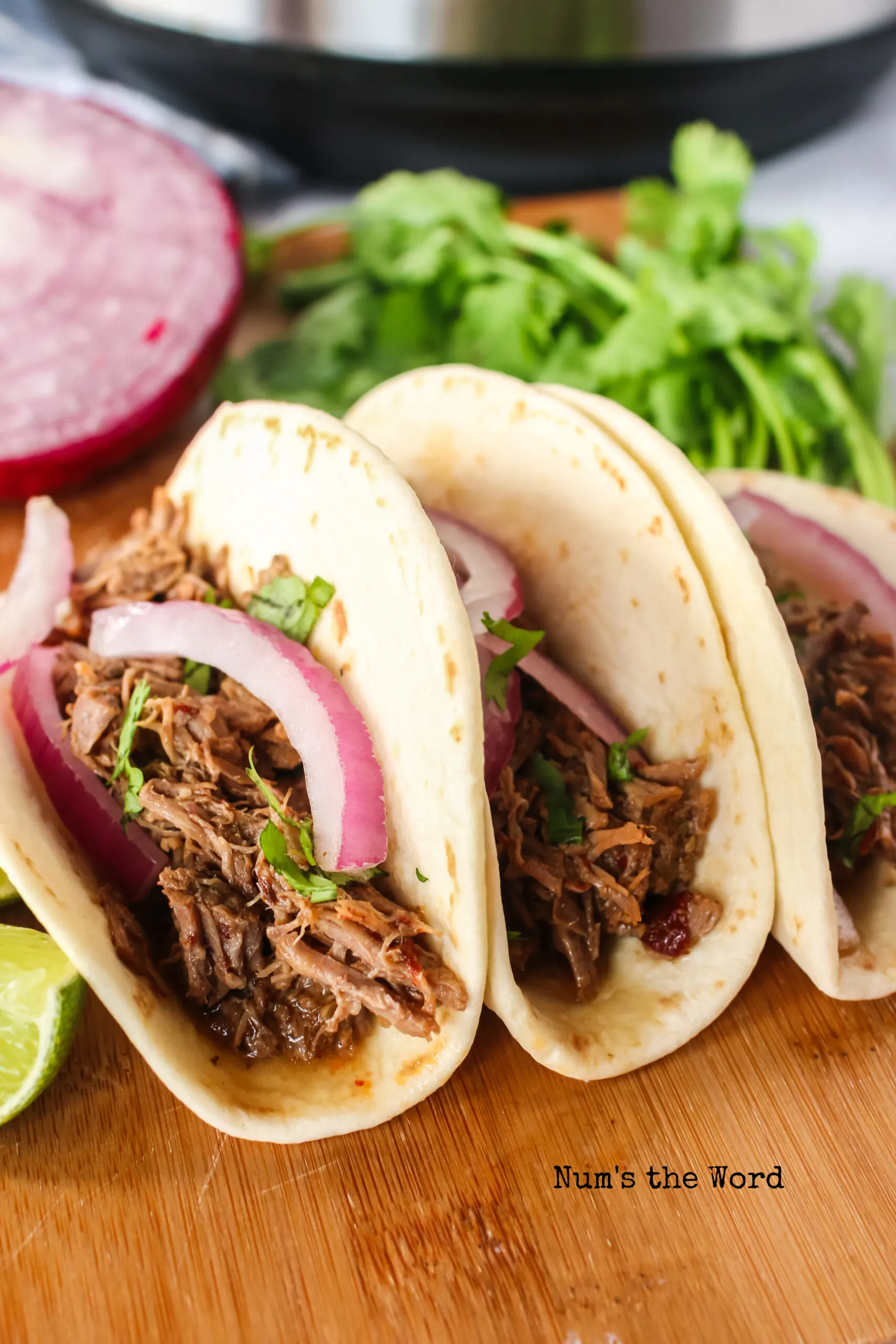 Instant Pot Beef Barbacoa is the juicy, tender, delicious taco meat you didn't know you were missing! Made with stew meat for a quick recipe!
Ingredients
3-4 pounds stew meat
1 teaspoon salt
1 teaspoon black pepper
2 Tablespoons vegetable oil (or more)
1/2 cup beef broth
1/4 cup apple cider vinegar
1/4 cup fresh lime juice (approximately 1-2 limes)
4 Chipotle Peppers in Adobo sauce, chopped up (do not remove sauce, it adds flavor!
2 teaspoons garlic, minced
1 Tablespoon ground cumin
1 Tablespoon dried oregano
1/4 teaspoon ground cloves
3 bay leaves
1/4 cup of sliced red onions
1/4 cup minced cilantro
Lime wedges for garnish
Instructions
Season beef chunks with salt and pepper.
Turn Instant Pot to Sauté setting.
Once hot, add oil.
Add stew beef in batches. Sear each side quickly then remove. Do not cook beef all the way through. Add more oil as needed.
Once all beef has been seared, turn off sauté setting.
In a bowl combine beef broth, apple cider vinegar, lime juice, chipotle peppers, garlic, cumin, oregano, and cloves. Mix well.
Pour sauce into the empty Instant pot and scrape up stuck on bits on the bottom of the pot.
Add bay leaves and stew meat.
Close the lid and turn the steam valve to seal.
Set Instant Pot to high, 30 minutes.
Instant Pot will take about 10 minutes to build pressure then the clock will begin.
Once the clock finishes, let instant pot depressurize on it's own, "Natural release". This will take about 15 minutes.
Once the steam valve drops, you can open the steam vent and open the instant pot.
Remove meat and shred.
Discard bay leaves.
Return shredded meat to sauce and mix.
Let beef sit in sauce for 10 minutes to absorb flavors before serving.
Serve in tortillas with sliced red onions, lime wedges and cilantro
Nutrition Information:
Yield:
10
Serving Size:
1
Amount Per Serving:
Calories:

394
Total Fat:

16g
Saturated Fat:

5g
Trans Fat:

1g
Unsaturated Fat:

10g
Cholesterol:

180mg
Sodium:

449mg
Carbohydrates:

4g
Fiber:

1g
Sugar:

1g
Protein:

60g