Pear Hand Pies are a favorite winter treat! Similar in taste to an apple pie and oh so easy to make! Perfect for anyone who want a quick single serving treat without the guilt of eating an entire pie!
This post contains affiliate links.  If you click on an affiliate link and make a purchase, I will make a small percentage on your purchase. This helps keep this website running! Thank you!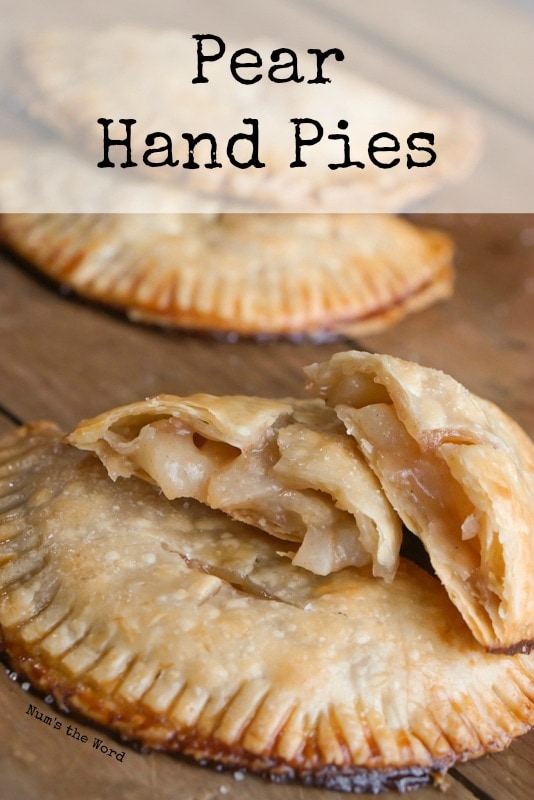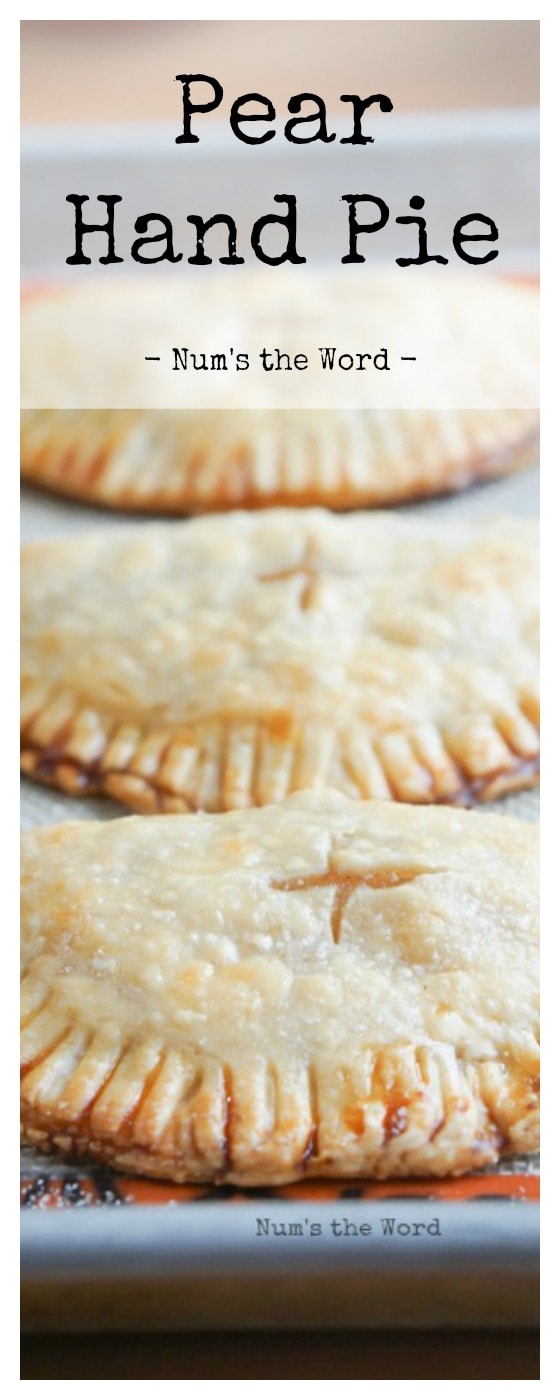 One of my favorite foods during the winter are pears.
I love how soft and juicy they are and how amazing they are with a variety of foods.
Toss pears in a salad, a dessert or even an appetizer, they are all acceptable ways to use pears.
I love how pears compliment the flavors of a variety of foods like lettuce, prosciutto and cranberries.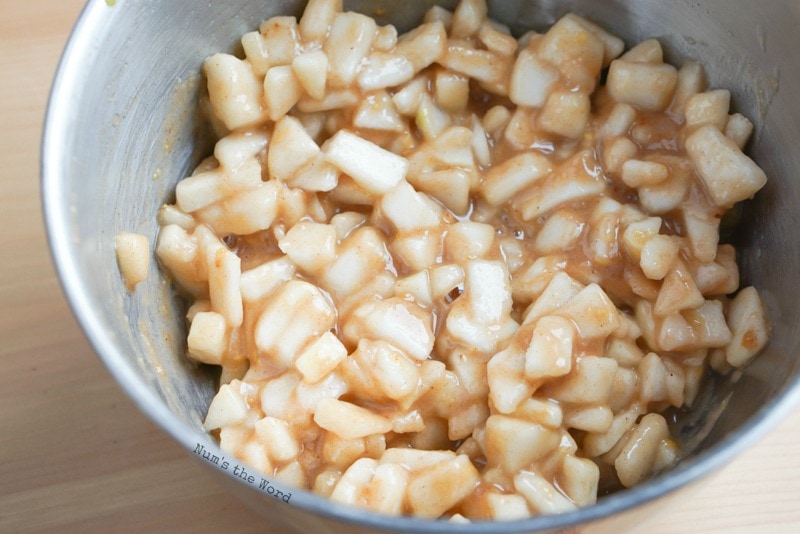 Pears are one of natures most wonderful fruits in my opinion and I look forward to ripe juicy pears every year.
One of my all time favorite desserts though is Pear Pie.
I LOVE pear pie.
If I had to choose between pie and cake, I'd choose pie every single time.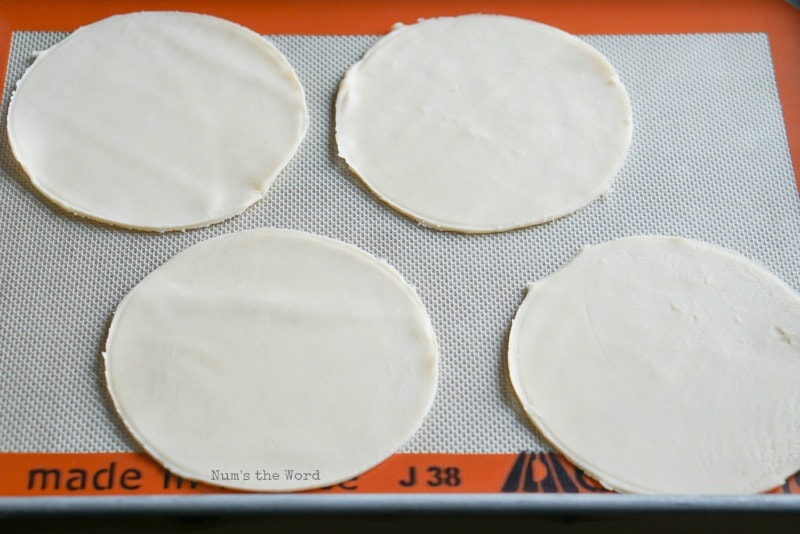 Despite a very successful cupcake business my kids run every summer, I'm really not a fan of cake.
I'd much rather sink my teeth into two slices of pie.
Yes I did say TWO slices of pie because one is never enough.
Especially when we are talking about Pear Pie.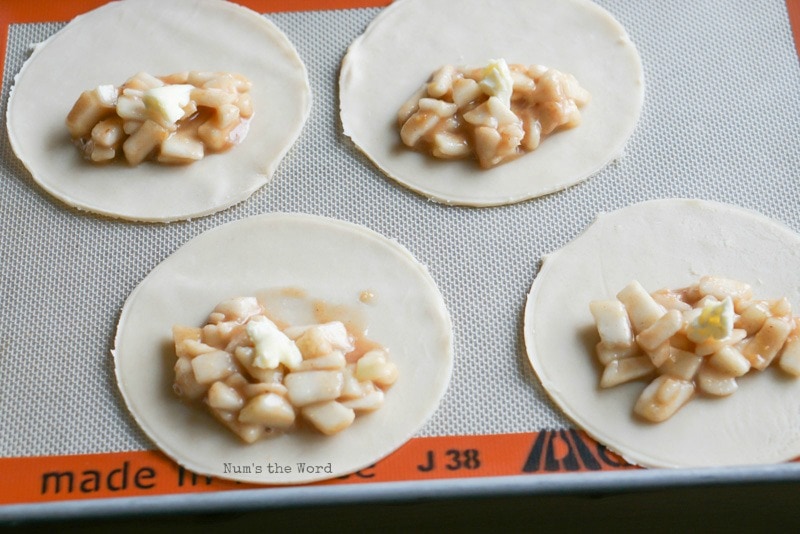 Pear pie is not a stick to your ribs kind of pie.
It's light, melts in your mouth and it is VERY easy to consume more than one slice.
If you've never had it before it tastes a lot like apple pie but is made with pears instead.
The best part of pear pie is that unlike apple pie, you don't have to cook the fruit to soften it before filling the pie.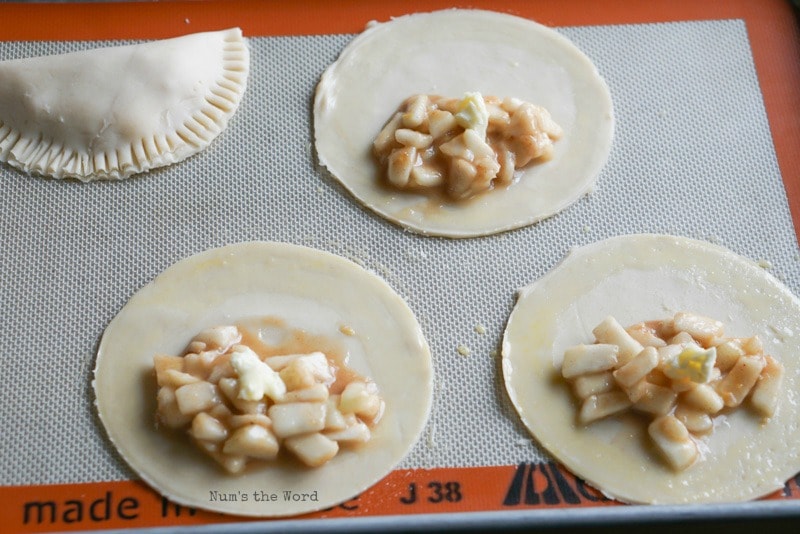 It already is soft and ready to devour so you only need to slice it up and add it to your recipe!
Because I love Pear Pie so much, I decided to make my favorite winter pie into a hand held, on the go treat.
Cue Pear Hand Pies.
Hand Pies have always been a weakness of mine.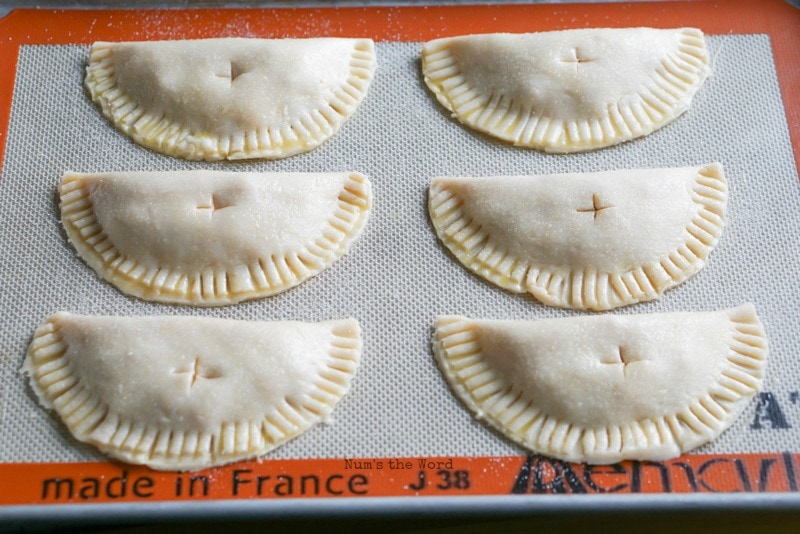 Growing up we'd buy Hostess fruit hand pies and toss them into the freezer.
We'd wait for them to get nice and frozen and then eat them like that.
I LOVED frozen pies and I especially loved how they were individual servings of pie.
However the idea of making my own individual serving of pie never occurred to me until I was an adult.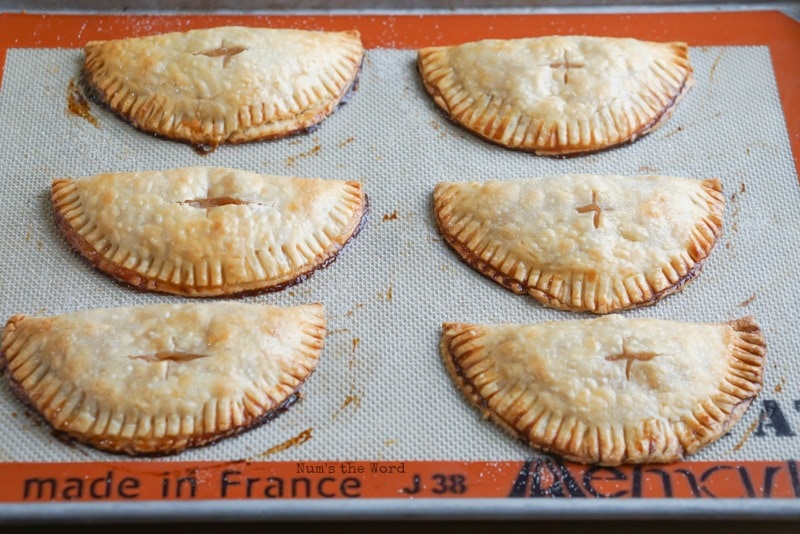 Unfortunately, my family does not share my love of pie.
They are cake or cheesecake fans more than pie fans.
Because of this, making an entire pie usually requires us to have company over for dinner or I'm stuck eating the entire pie.
And as much as I love to eat pie and could most certainly eat the entire pie, my waist line would not appreciate it.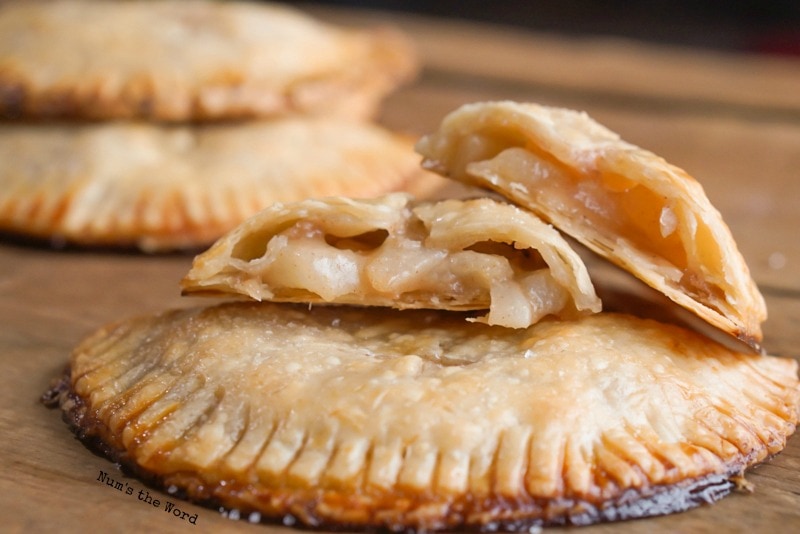 It's moments like this, where I'm craving pie, that I make hand pies.
That way I can enjoy my pie but not feel guilty or required to eat the entire thing.
I can enjoy them over a series of several days or freeze them for another day!
Though Pear Hand Pies may seem like an odd choice for pies, I promise if you try it you'll love it.
Sweet, cinnamon Pear Hand Pies are one of my all time favorite winter treat and will become yours too if you give it a try!
Yield: 8 Hand Pies
Pear Hand Pies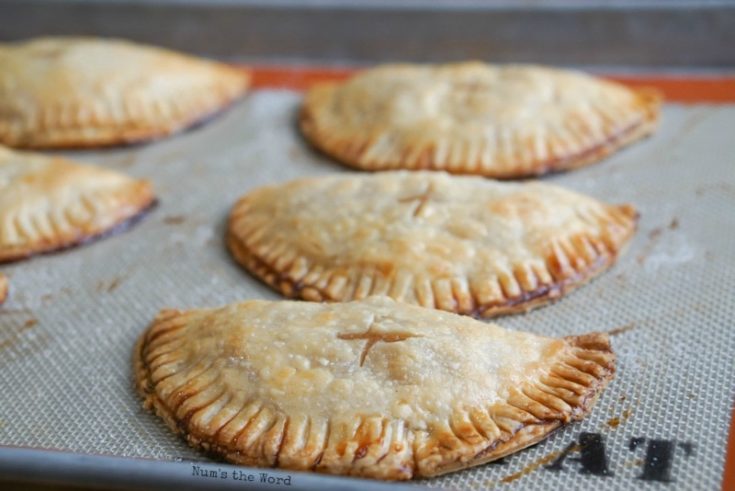 Ingredients
1 double pie crust store bought or homemade (I love my Flaky Butter Pie Crust)
1/2 cup white sugar
3 Tablespoons all-purpose flour
1/4 teaspoon salt
1 teaspoon ground cinnamon
1 teaspoon lemon zest
5 cups pealed and diced ripe pears
1 Tablespoon butter
1 Tablespoon lemon juice
1 egg
Instructions
Preheat oven to 350*F
In a medium sized bowl, combine sugar, flour, salt, cinnamon, and lemon zest. Mix well
Add diced pears to sugar mixture and mix gently until well coated.
Roll pie crust out.
Using a bowl as a pattern that is approximately 4 - 5 inches in diameter, cut out round circles for your hand pies.
Reroll excess dough to create more crusts.
Place crusts onto a lined baking sheet.
Place a small amount of pears in the center of one cut pie crust - leaving approximately 1/2 inch space around sides.
Dot pear mixture with a small amount of butter.
Sprinkle with few drops of lemon juice.
In a small bowl beat egg with 1 tablespoon of water.
Brush egg around the edge of the circle. This will act as a glue.
Fold circle in half enclosing the pear filling.
Crimp edges with a fork to ensure a good seal.
Brush egg mixture on top of each hand pie.
Slice slits on top and dust with course sugar if desired.
Place on a lined cookie sheet.
Bake for 20 minutes or until golden.
Adapted from All Recipes
Originally Posted: December 21, 2013
Recipe & Photos Updated: February 12, 2018
Other Pear Recipes You'll Love...