Crockpot Applesauce is made with only 5 ingredients and requires almost no work from you! It's the perfect fall treat and easier than you would have even thought possible.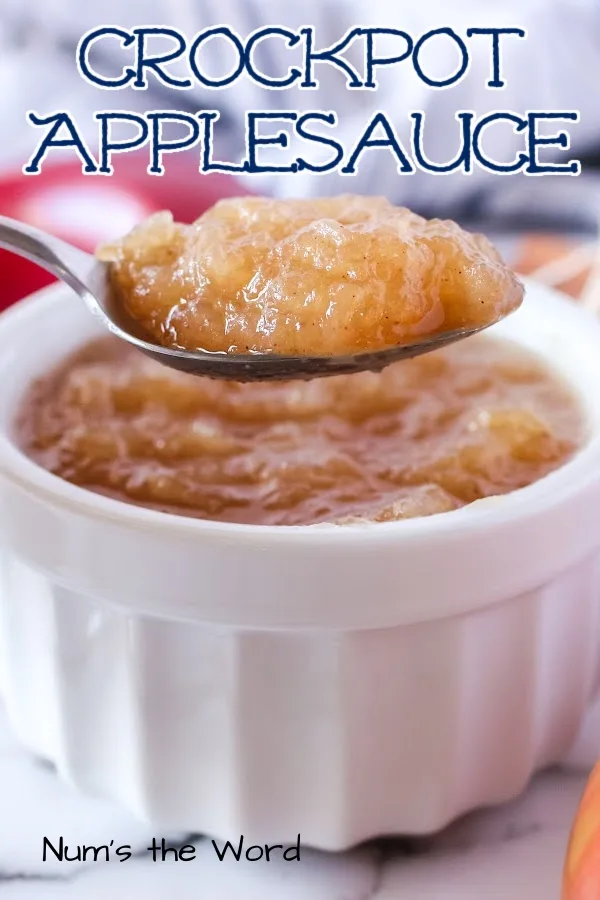 What's not to love about a bowl of sweet applesauce fresh out of the crockpot?
You can serve it warm or serve it cold, but either way, be sure to make this delicious applesauce this holiday season.
I love that this homemade applesauce in crockpot takes only 5 ingredients! That's right, only 5! It cannot get more simple than that.
I also love that during this time of year when apples are on sale, it's super cheap to make!
Also, this crockpot applesauce recipe is really healthy. No need to add ingredients you can't pronounce or even sugar if you don't want it.
Finally, I love that this easy crockpot applesauce requires almost no work. Slice the apples, toss it all together, and let the crockpot do the rest.
If you live near an apple orchard, you cannot afford to pass up this recipe during apple season!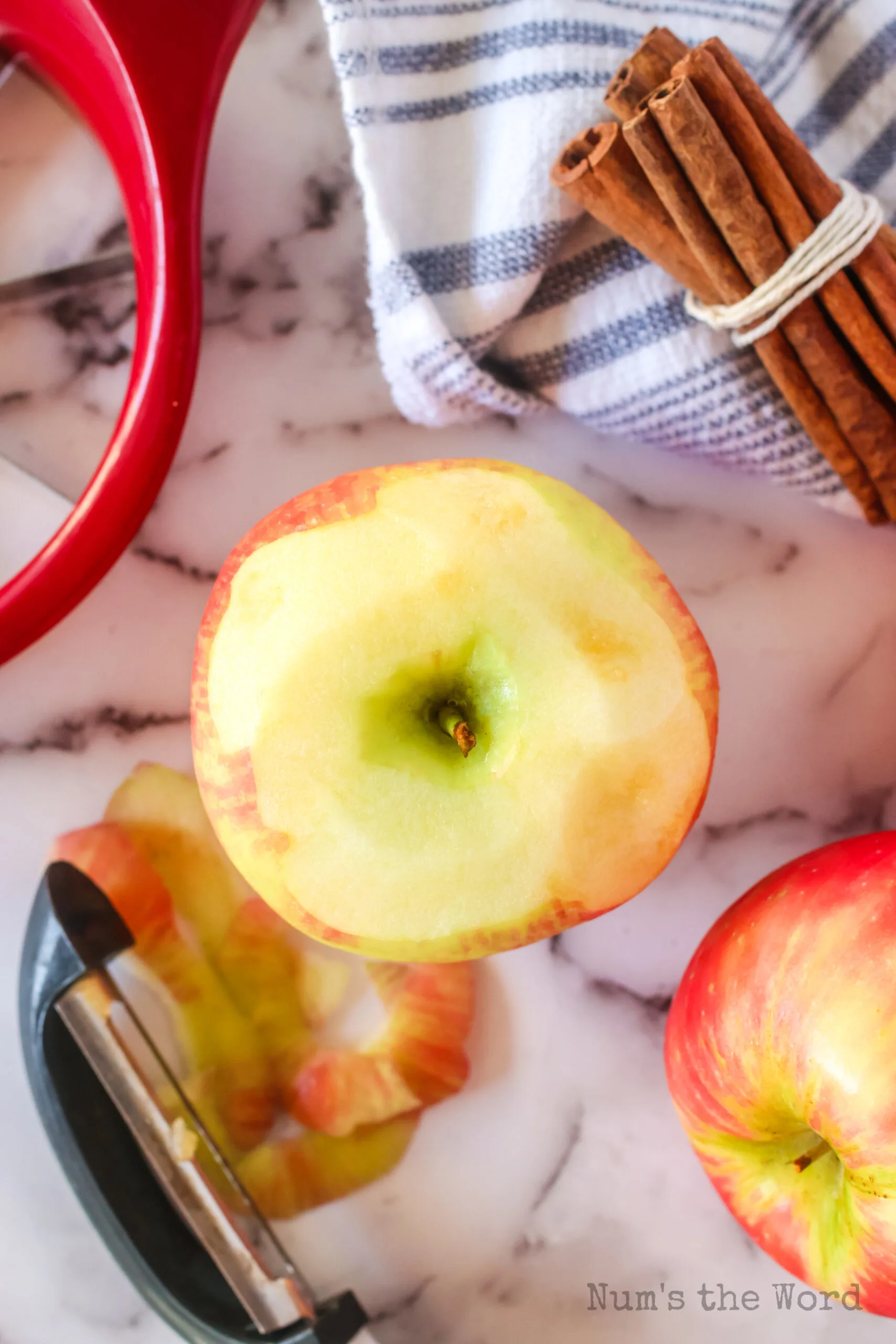 What Ingredients are in Crockpot Applesauce?
The only ingredients you'll need to get delicious homemade applesauce are these.
Apples: Core, peel, and slice the apples before adding them to the crockpot.
Sugar: The sugar is optional. If you've got a tart apple, I recommend adding. But if you have sweet apples, you can leave it out.
Cinnamon: Cinnamon and apples are a must! This will leave your kitchen (and whole house) smelling delicious all day.
Lemon Juice: The lemon juice helps preserve the apples and also adds a nice tang.
Water or Apple Juice: Apple juice will give you even more apple flavor but you can use water too.
Pro Tips:
An apple peeler/corer/slicing device will save you time and energy.
You could also use cinnamon sticks in place of the ground cinnamon.
Other fun flavor additions are apple pie spice or even pumpkin pie spice.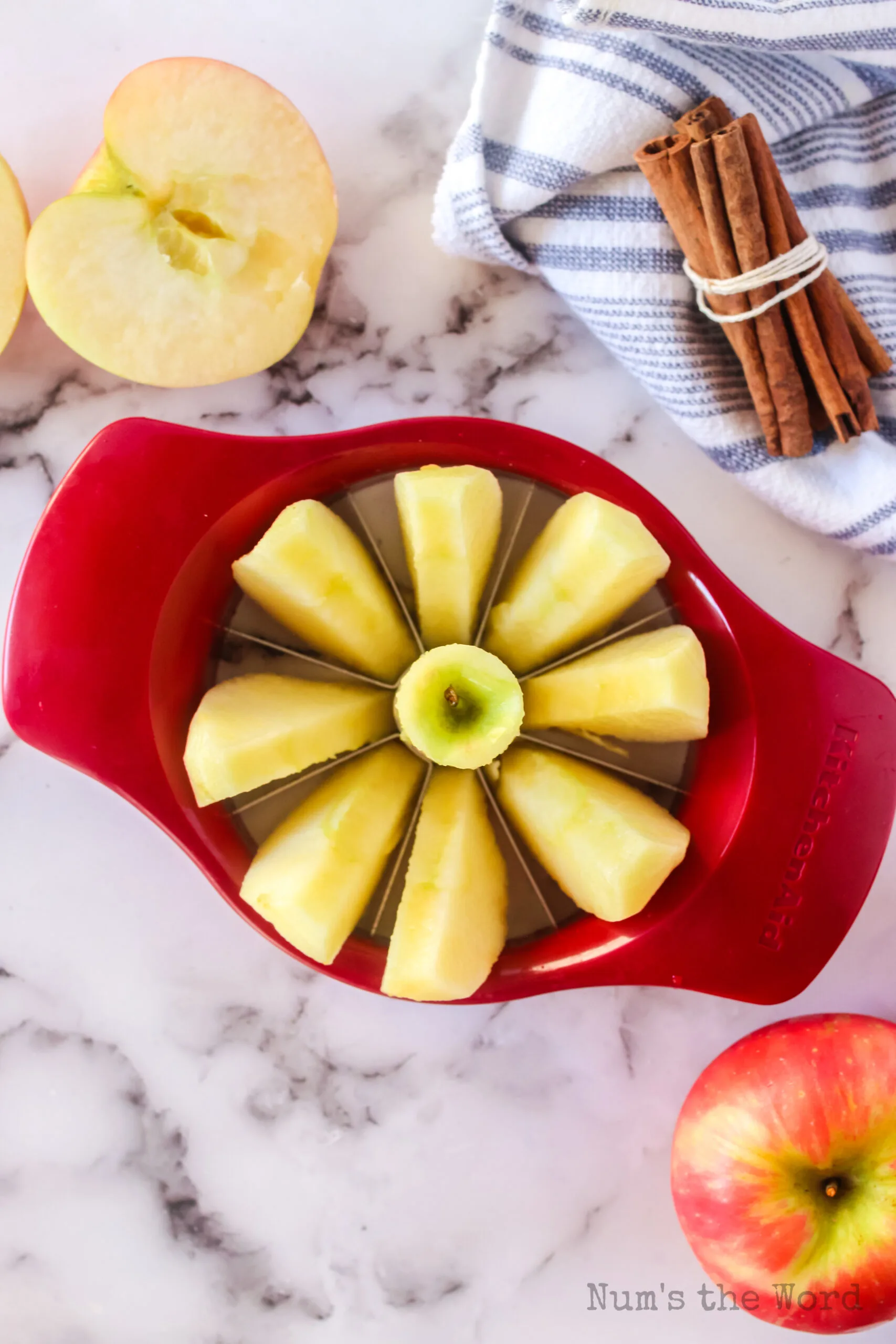 How to Make Applesauce in Crockpot
Here's the slow cooker applesauce recipe that will easily use up all your extra apples.
Cook: All your applesauce ingredients simply need to be tossed in, mixed, and cooked!
Mash: Use a potato masher to mix everything together once cooked. It shouldn't be hard as the apples kinda fall apart.
Pro Tips:
If your personal preference is pureed applesauce, use an immersion blender or food processor for a smooth applesauce.
Eat either warm or cold but let it cool a little or you'll burn your tongue.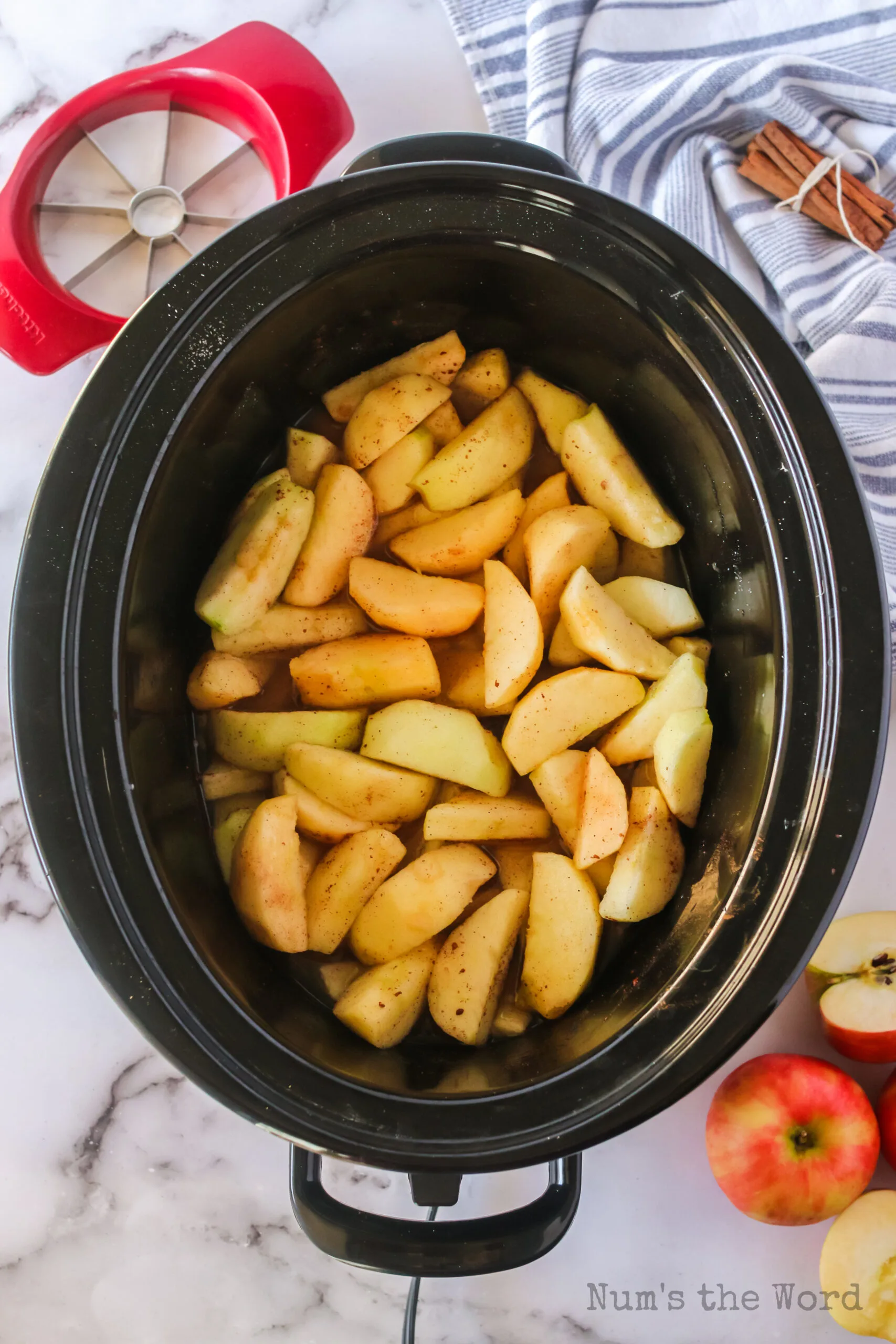 Can You Can Crockpot Applesauce?
Absolutely! Most homemade applesauce can be canned or preserved for later consumption.
You can add the crockpot cinnamon applesauce to the hot glass jars straight from the slow cooker.
This will mean you can eat your applesauce for a long time!
When canning the applesauce I like to make it in large batches. That way I have some to eat now and some to put away for later.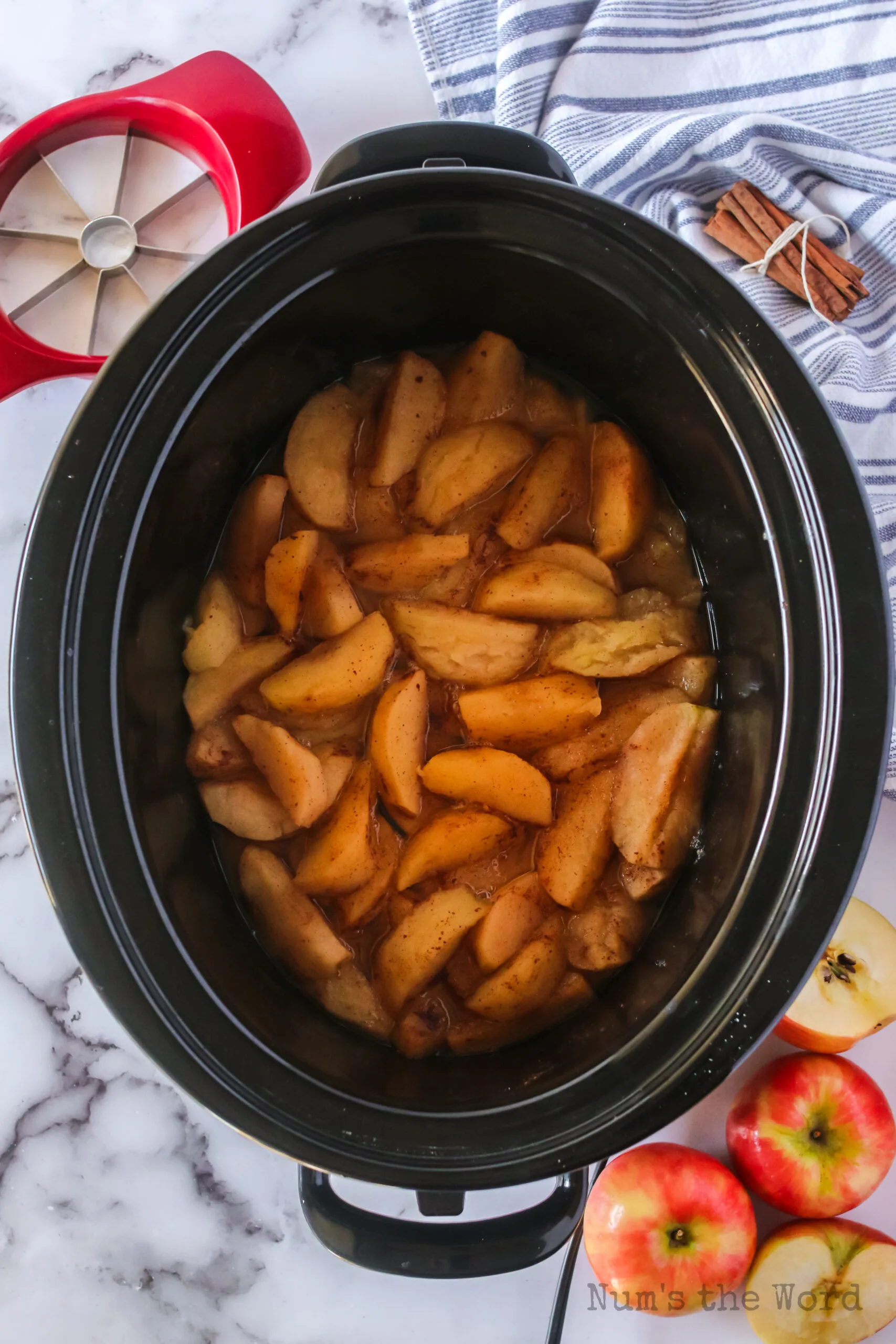 Can You Make Applesauce with Skins On In Crockpot?
While I normally like to peel my apples, it's not a total requirement.
Peeling apples before slow cooking means that I can simply mash the apples at the end and then enjoy.
If you're leaving the skins on, you'll want to puree the apples to make sure the apple peels completely blend in.
The finished applesauce will also have a darker hue color with skins on.
That isn't a bad thing, it just looks different than traditional store bought applesauce.
The only apples I really recommend not leaving the skins on for are Granny Smith Apples or Red Delicious Apples.
Those apples tend to have really tough skins and they won't get as soft or blend as nicely as the other apple varieties.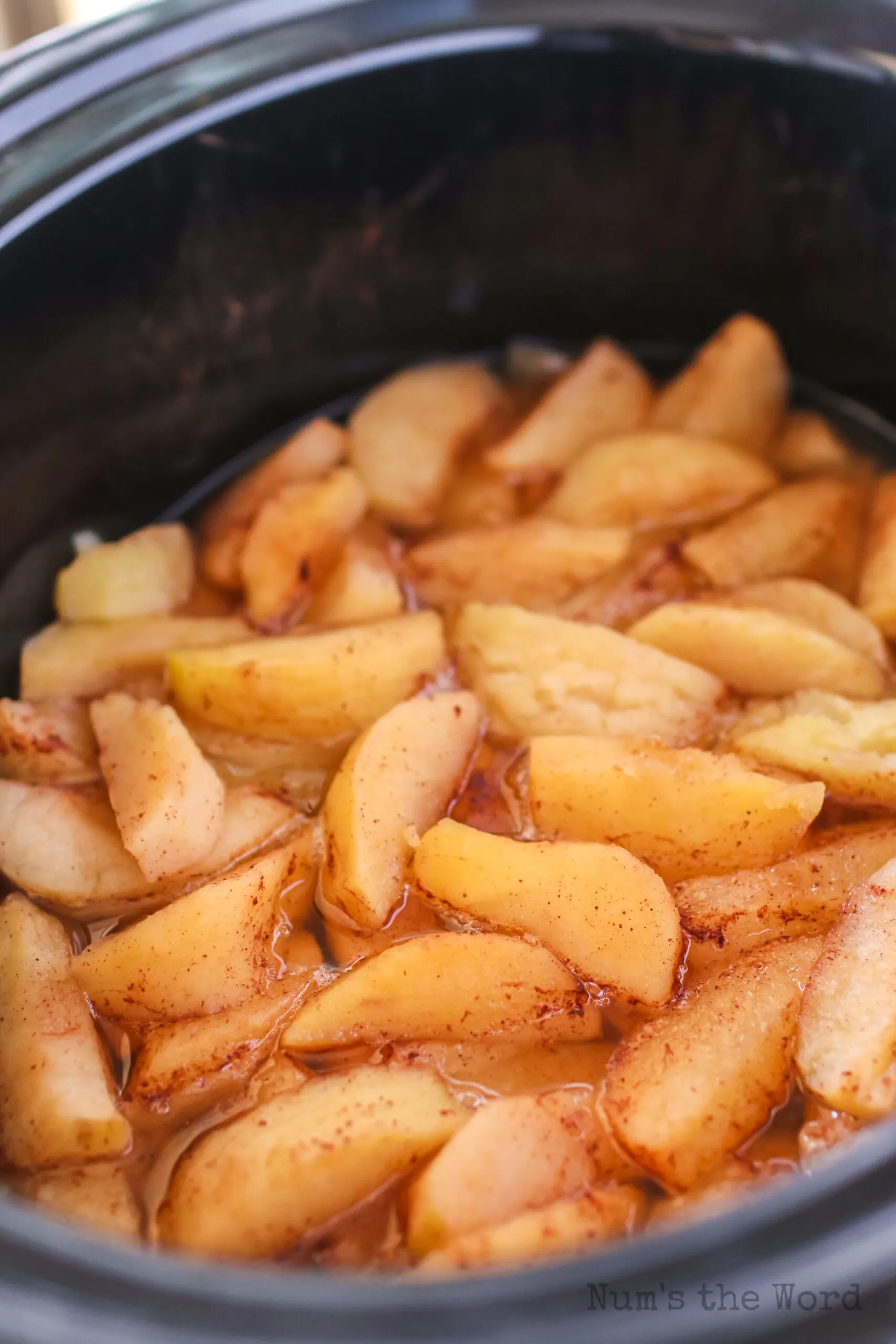 Do I Add Butter to Crockpot Applesauce?
No need to add butter to the crockpot applesauce.
Leaving the butter out of the applesauce means that if you decide to can it, you can do either water bath or pressure canner.
How Long Does Crockpot Applesauce Last?
Don't worry if you can't get to your homemade crockpot applesauce right away!
This crockpot applesauce recipe will stay good in the fridge for up to 10 days.
So pull out just a little every morning or gobble it all up at once. It'll taste great.
Just be sure to keep it in the fridge in an airtight container for best results.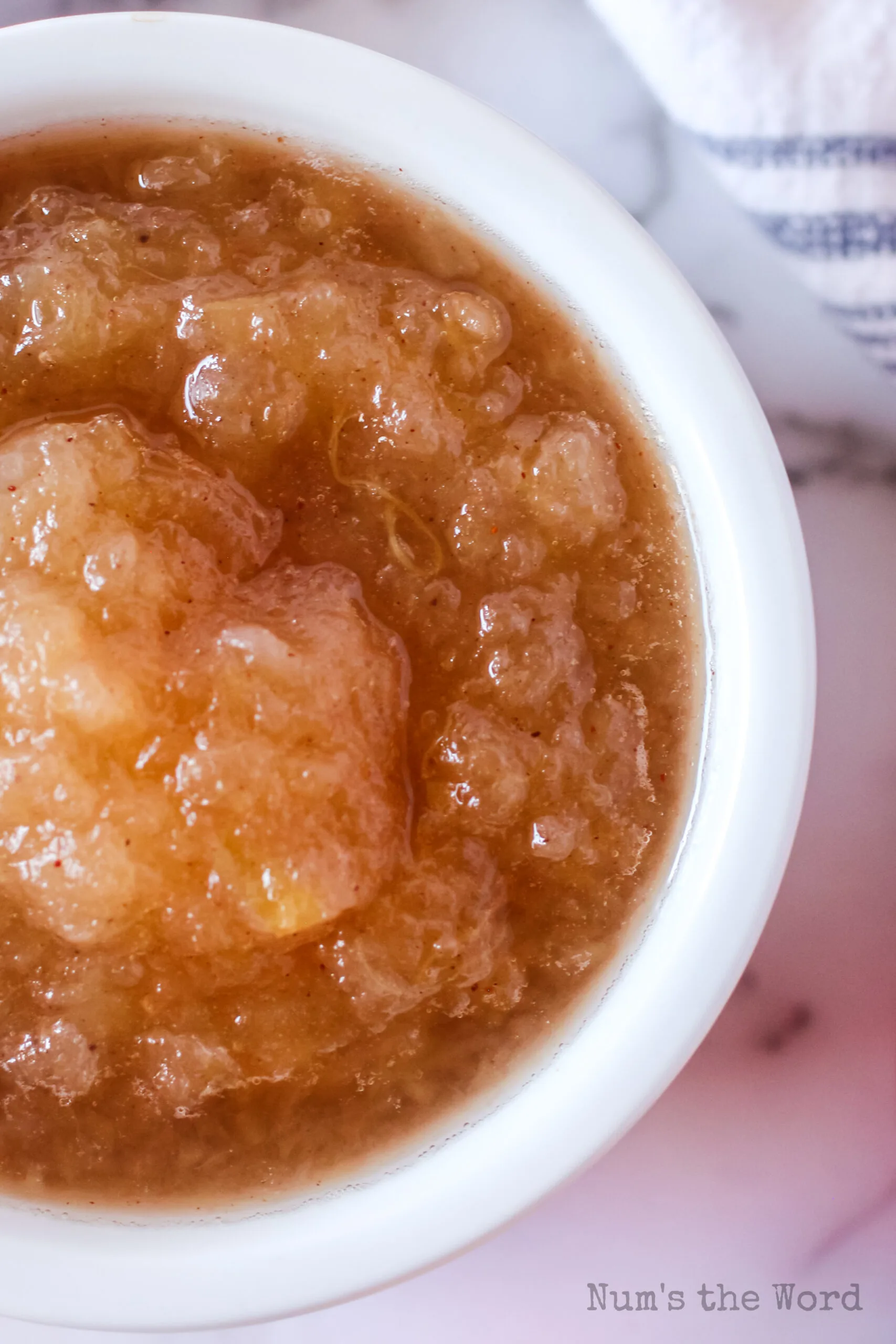 How to Freeze Crockpot Applesauce
Freezing homemade crock pot applesauce is super easy and a great way to make it last longer.
First, allow the applesauce to cool completely. You don't want to be putting a hot jar straight into the freezer.
Then place the homemade applesauce recipe in a sealable jar, freezer bags, or freezer-safe container.
Place the applesauce in the freezer and you're done!
Don't forget to label the jar so you aren't wondering what it is later!
The crockpot applesauce will stay good in the freezer for up to 3 months.
Thaw in the fridge overnight when you're ready to eat it.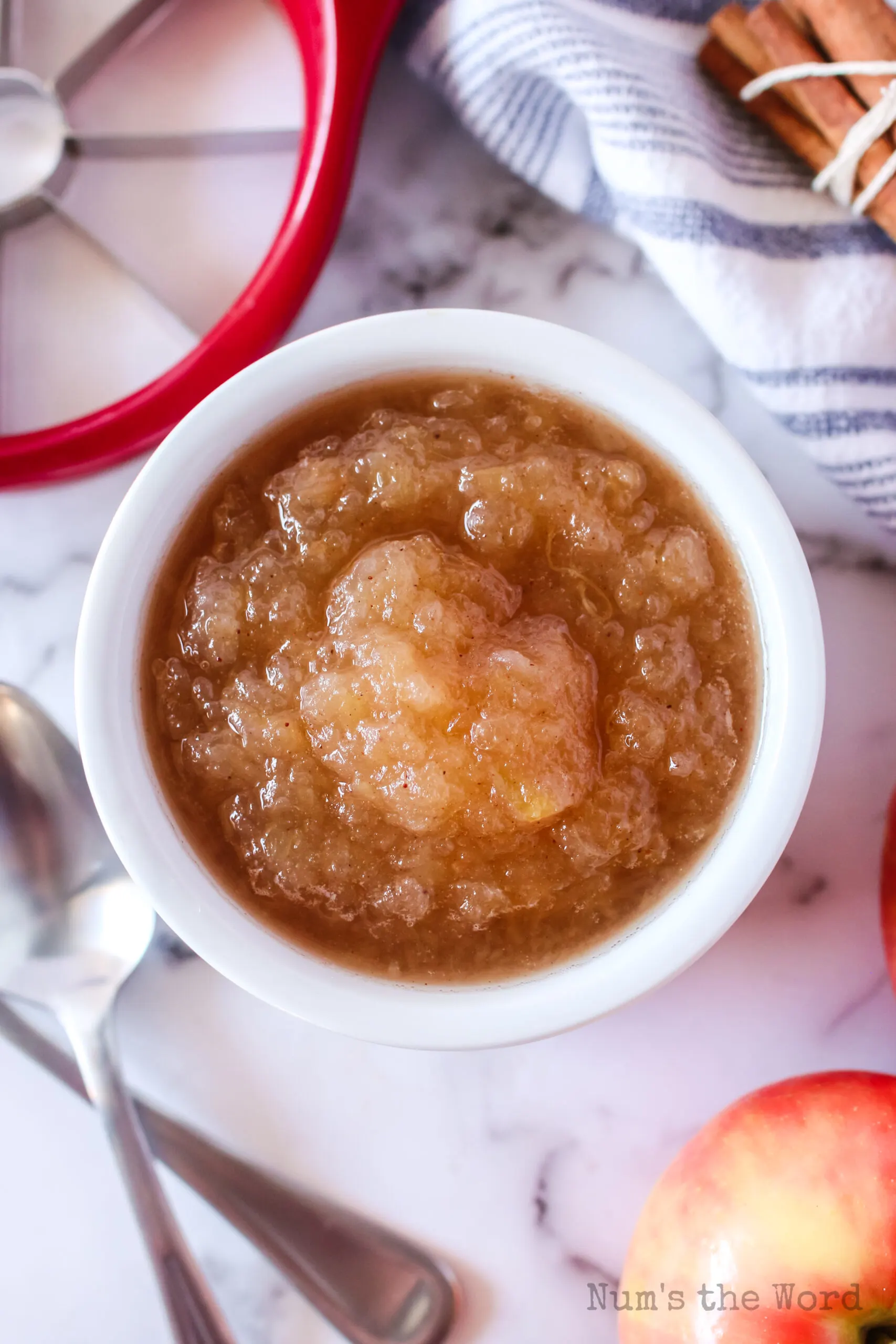 What Can I Make with Applesauce?
There's lots of ways you can use homemade apple sauce! While it's good as a snack, here's some other great options:
When cooking a pork roast, instead of using apple slices, use chunky applesauce.
Put applesauce on your pancakes in place of maple syrup for a healthier breakfast.
Substitute ¼ cup of applesauce for 1 egg when baking. Coconut Banana Bread has this applesauce as an option.
Baby food! Babies often can't get enough of applesauce. Make this one unsweetened applesauce for the babies.
Breakfast, snack, or dessert! Really, I could bring this out anytime and it'll be quickly consumed.
Applesauce Pancakes – an easy and healthier pancake!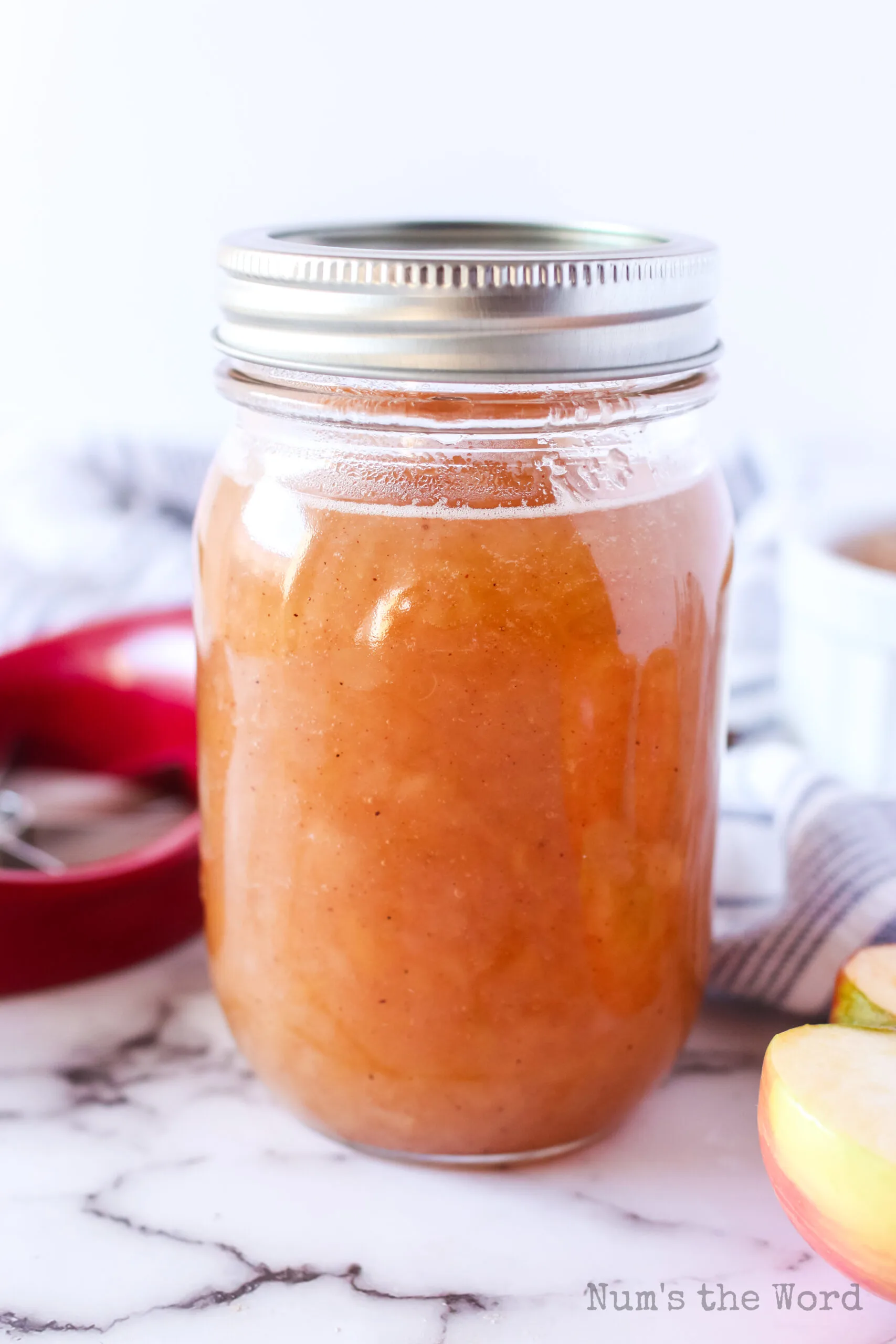 What's the Best Kind of Apple for Crockpot Applesauce?
Because crockpot applesauce can easily have the sweetness adjusted for taste, you can use almost any type of apple.
Here's some good ones.
Gala
Honey crisp
Fuji
Jonathan
Mcintosh
Cortland
Gravenstein
Golden Delicious
Rome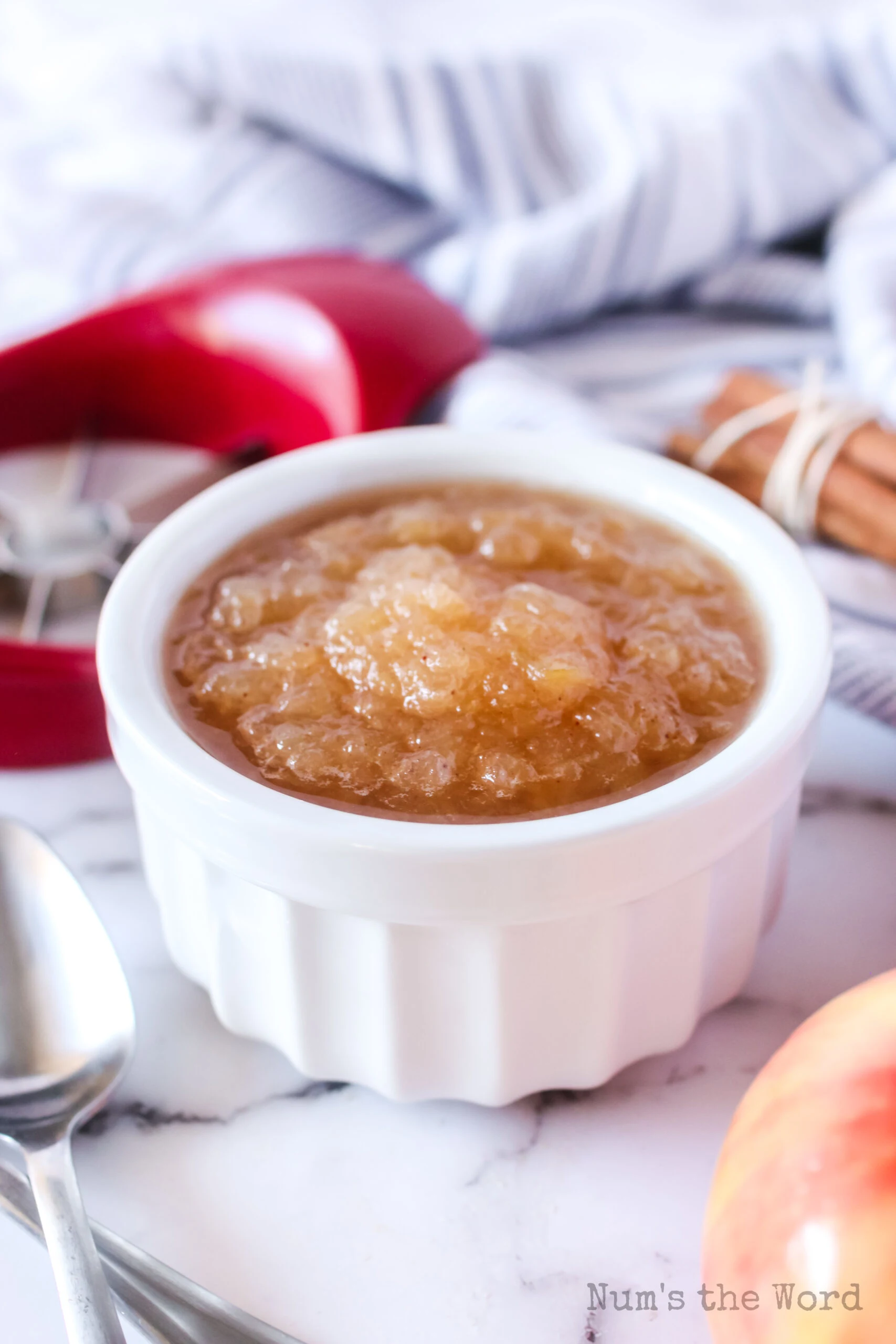 More Apple Recipes You'll Love…
Crockpot Applesauce is sure to be a family favorite for you just like it is for me. Enjoy this fall staple during the best time of year!
Yield: 12 Cups
Crock Pot Applesauce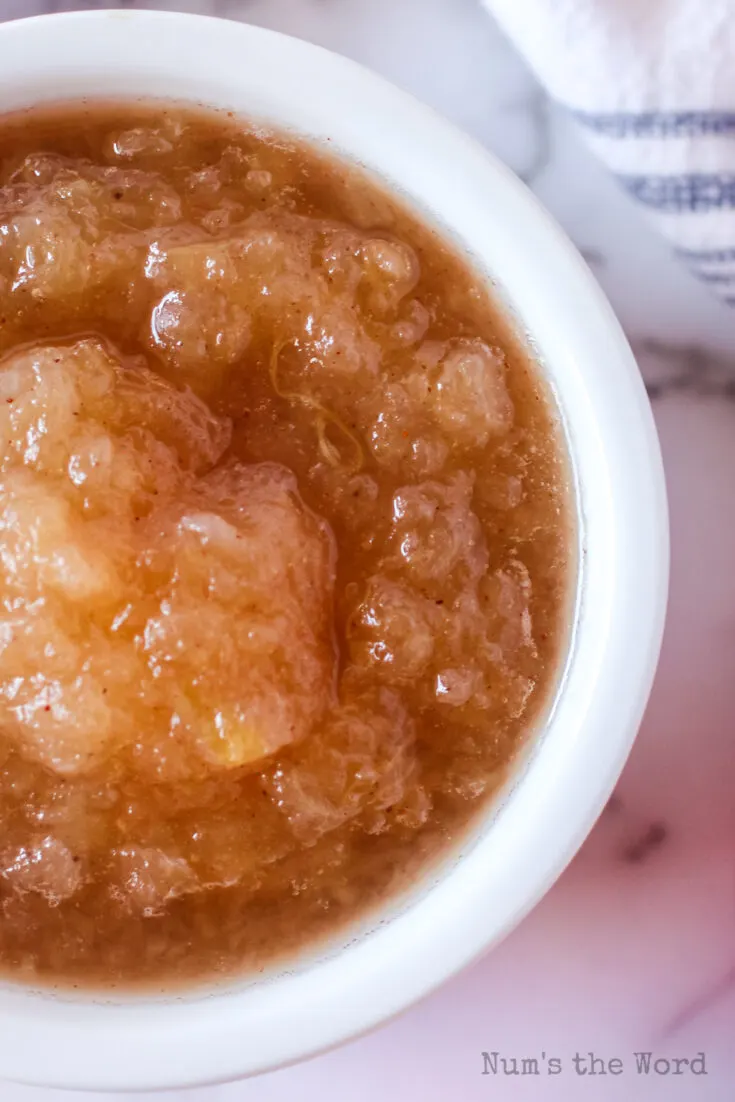 Crockpot Applesauce is made with only 5 ingredients and requires almost no work from you! It's the perfect fall treat and easier than you would have even thought possible.
Total Time
6 hours
20 minutes
Instructions
Toss all items into the crock pot. Mix well.
Cover and cook on low for 6 hours.
When apples are mushy, mash up with a potato masher until you reach your desired consistency.
If you like a pureed apple sauce, you can use an immersion hand blender or let cool and use a standard blender to reach desired consistency.
Store in jars in your fridge or freeze for later use.
Nutrition Information:
Yield:
12
Serving Size:
1
Amount Per Serving:
Calories:

171
Total Fat:

0g
Saturated Fat:

0g
Trans Fat:

0g
Unsaturated Fat:

0g
Cholesterol:

0mg
Sodium:

4mg
Carbohydrates:

45g
Fiber:

5g
Sugar:

38g
Protein:

1g
Originally Posted: October 4, 2016
Photos & Text Updated: February 25, 2023