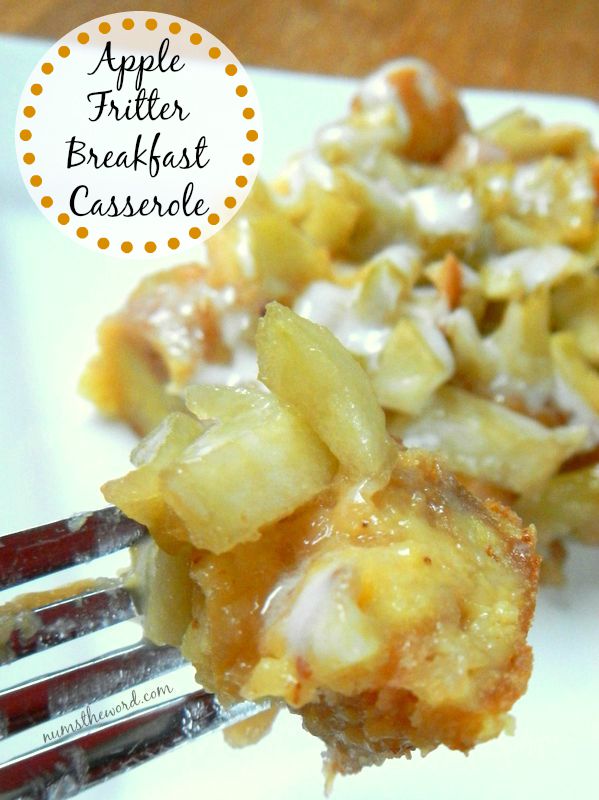 If there were one recipe that I absolutely love but can NEVER get photos of, it would be this apple fritter breakfast casserole.
Over the last year or so, I've made this at LEAST 5 times. And EVERY time I make it, it rains or is over cast or I've lost my camera or SOMETHING happens.
Not that I'm really complaining. It's delicious. I've made this apple fritter breakfast casserole to take to people, for a thank you, and for my family several times. It's absolutely delicious and super easy to make.
I love how the flavors blend so well together. Rich buttery croissants, sweet cinnamon apples and a tasty glaze really melt in your mouth.
When I think of fall foods, I think of this apple fritter breakfast casserole. This is perfect for a bridal shower, a baby shower, a brunch, or even Christmas morning.
However I will warn you, that once you make this, you'll be hooked too!
This post contains Amazon affiliate links as a free service to you!
Apple Fritter Breakfast Casserole
Ingredients
5 granny smith apples (the more spots, the better!), peeled, cored and diced
6 Tablespoons butter
1 cup packed brown sugar
1/2 teaspoon cinnamon
Pinch of nutmeg
1 teaspoon corn starch
2 Tablespoons warm water
----------------------
6 large croissants, chopped into chunks (these are pre-made croissants that I pick up at my local grocery store bakery section, not croissant dough).
1/2 cup heavy cream
1/2 cup cinnamon apple sauce (or 1/2 cup apple butter)
3 eggs, lightly beaten
1/8 teaspoon cinnamon
----------------------
3/4 cup powdered sugar
4 Tablespoons Heavy Cream
Instructions
Preheat oven to 375*F
In a large skillet, melt butter over medium heat.
Add brown sugar and stir until incorporated.
Add cinnamon and nutmeg, mix well.
Add diced apples and stir to coat. Simmer mixture for 5 minutes or until apples are soft and to the desired texture. I recommend tasting one to see if it's soft enough.
In a small bowl combine cornstarch and water. Mix well then add cornstarch mixture to apples and stir. Remove from heat and set aside.
In a 9x13 casserole dish, lay out croissant pieces, spreading out so they cover the bottom of the pan.
Top croissants with apple mixture. Spreading evenly over croissants.
In a separate bowl combine heavy cream, apple butter (or apple sauce), eggs and cinnamon. Mix well.
Pour apple butter mixture over croissants and apples. Drizzle over the top to cover apples.
Bake for 25 minutes.
When casserole is removed from oven, allow to sit for 5 minutes.
While casserole is cooking, in a small bowl combine heavy whipping cream and powdered sugar 1/4 cup at a time. Add more heavy cream 1/2 teaspoon at a time if needed. Mixture should be thick but should drip from spoon when held in air.
Drizzle casserole with icing and serve immediately.
https://numstheword.com/apple-fritter-breakfast-casserole/
Recipe adapted from Wonky Wonderful
Items used in this recipe include…
Another Recipe We Think You'll Love…