If you love apple fritters, you'll love this Apple Fritter Breakfast Casserole. Sautéed apples, croissants and icing all taste like fall! This easy breakfast casserole can be made ahead of time and is absolutely delicious!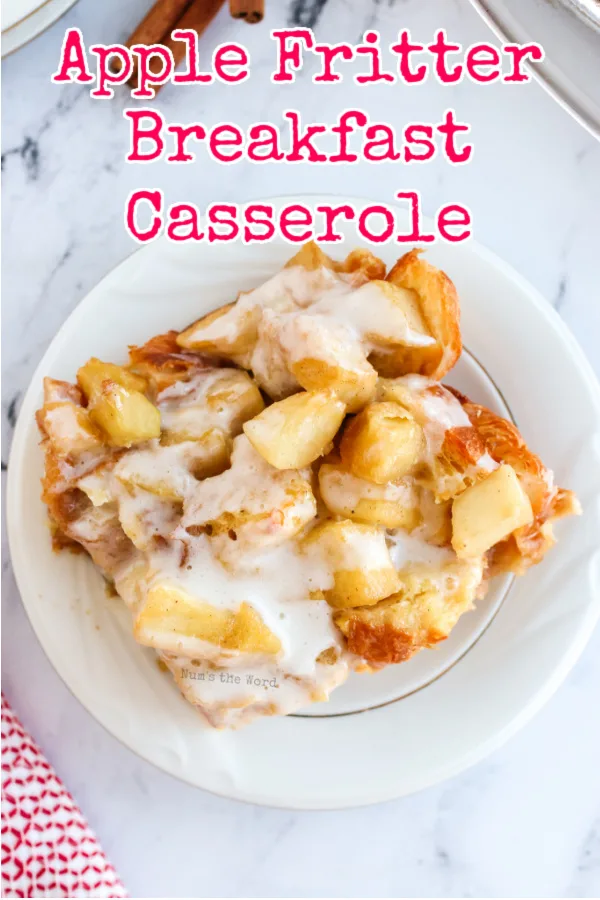 Apple Fritter Breakfast Casserole. Those four words. Just four little words that have the power to take me back to my childhood, eating apple fritters for breakfast with the family gathered around. These though…they are something else entirely. Oh. Man.
Dripping with delicious glaze, these rich buttery croissants, sweet cinnamon apples and a tasty glaze that really melt in your mouth. These are perfect for enjoying year round, at gatherings, parties, or in your own little home. Pajamas optional.
I love the big batch! It easily makes enough for 12 people to have a serving. Company or just my own hungry horde can fill up on these and not still be starving. I also love that I can pair it with almost anything! Bacon, eggs, fruit, hot cocoa, or hash browns. It goes well by itself or with whatever I have that I need to use up.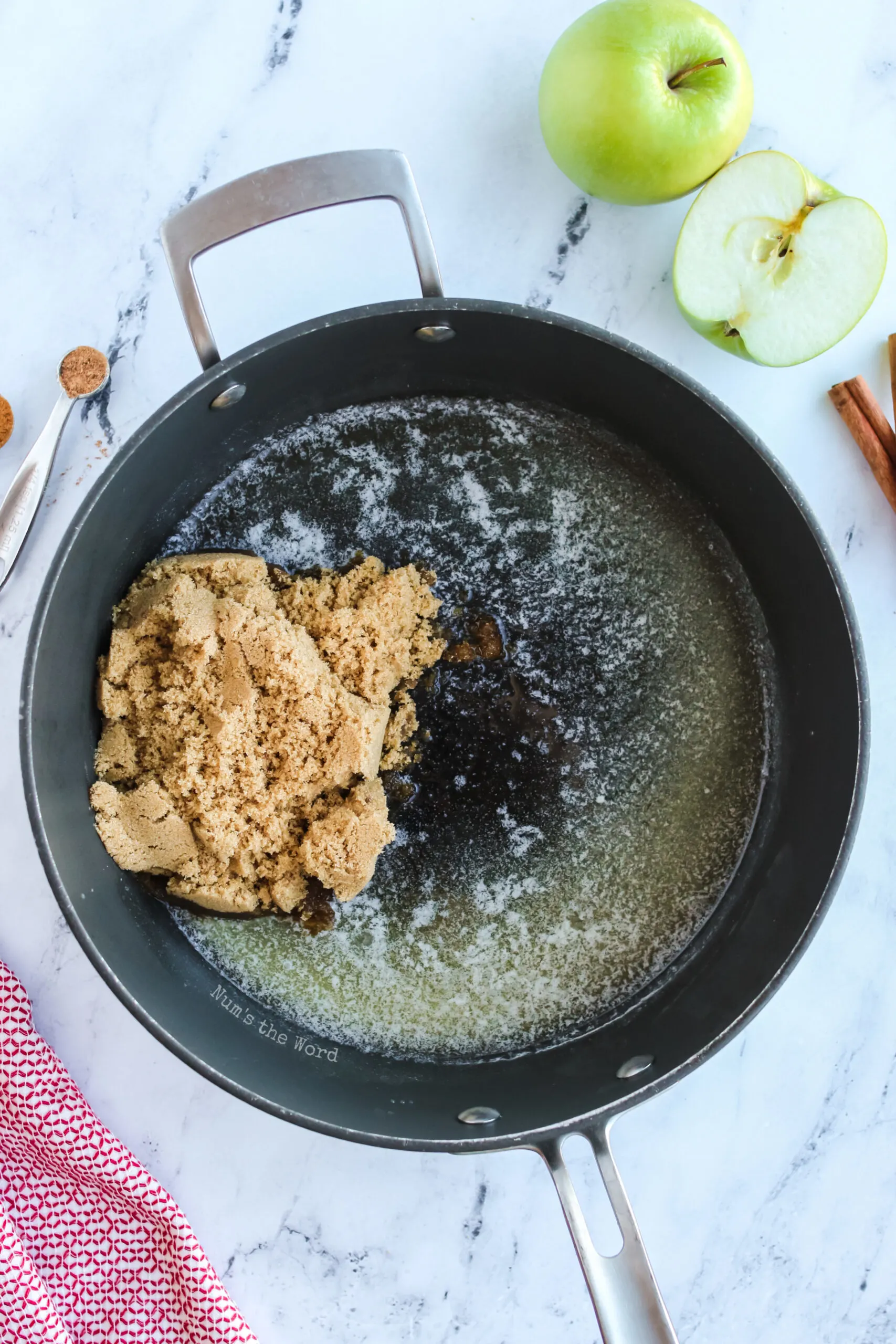 What is an Apple Fritter?
An apple fritter is often considered a type of donut and many people eat them for breakfast. It is basically an apple that is cut into rings similar to that of onion rings. Then the apple rings are deep fried in delicious batter and often served with syrup, honey, powdered sugar, cinnamon or icing.
We aren't making an exact apple fritter in this recipe. Instead think of taking all of that goodness and making it into a casserole. That's what we're doing here.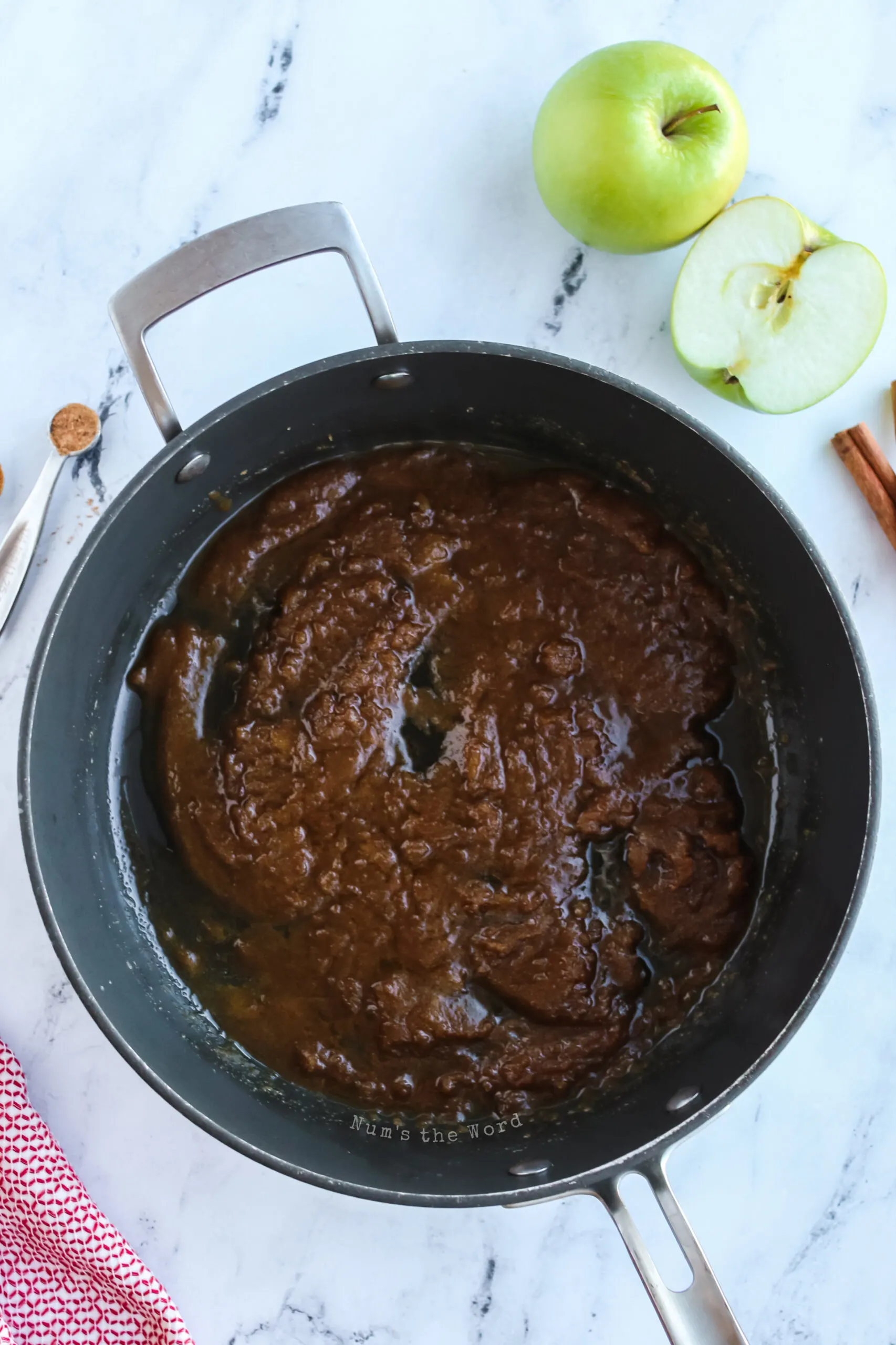 What is in an Apple Fritter Breakfast Casserole?
Apples:

My personal favorite apples for this are granny smith apples. Granny Smith apples are a sweet-tart apple making them very versatile for using in both savory and sweet dishes. Another good apple to use would be a Honey Crisp apple. You'll want to peel, core, and dice them.

Butter:

Love some butter! Don't swap for any other sort of oils. Pure butter is so rich and delicious you'll love this recipe so much more with real butter.

Brown Sugar: Sweet but also a deep flavor that is slightly mapley. Brown sugar is ideal when mixed with apples and butter.
Spices: Cinnamon and Nutmeg. Think apple pie or pumpkin pie. YUM!
Cornstarch: A starch that is derived from the corn grain, cornstarch is what thickens apple casserole sauce to a perfect consistency.
Croissants: Pick up pre-made croissants from the local grocery store bakery section or make some homemade if you want. Do not use croissant dough, these need to be cooked before they go in your recipe. Chop them into chunks.
Heavy Cream:

Sometimes also labeled as Heavy Whipping Cream, it's the fat part of the milk that rises to the top during processing.

Apple Sauce:

For this recipe I use cinnamon flavored applesauce. You could also use apple butter instead if you don't have applesauce.

Eggs:

When used in baking, eggs become the binder that keeps your Apple Fritter recipe together.

Powdered Sugar:

Imagine taking sugar and grinding it until you get a fine powder that you can sprinkle all over everything. Sounds delicious right? You're going to mix that with some heavy cream and create a delicious glaze. How could you serve apple fritters without the glaze?!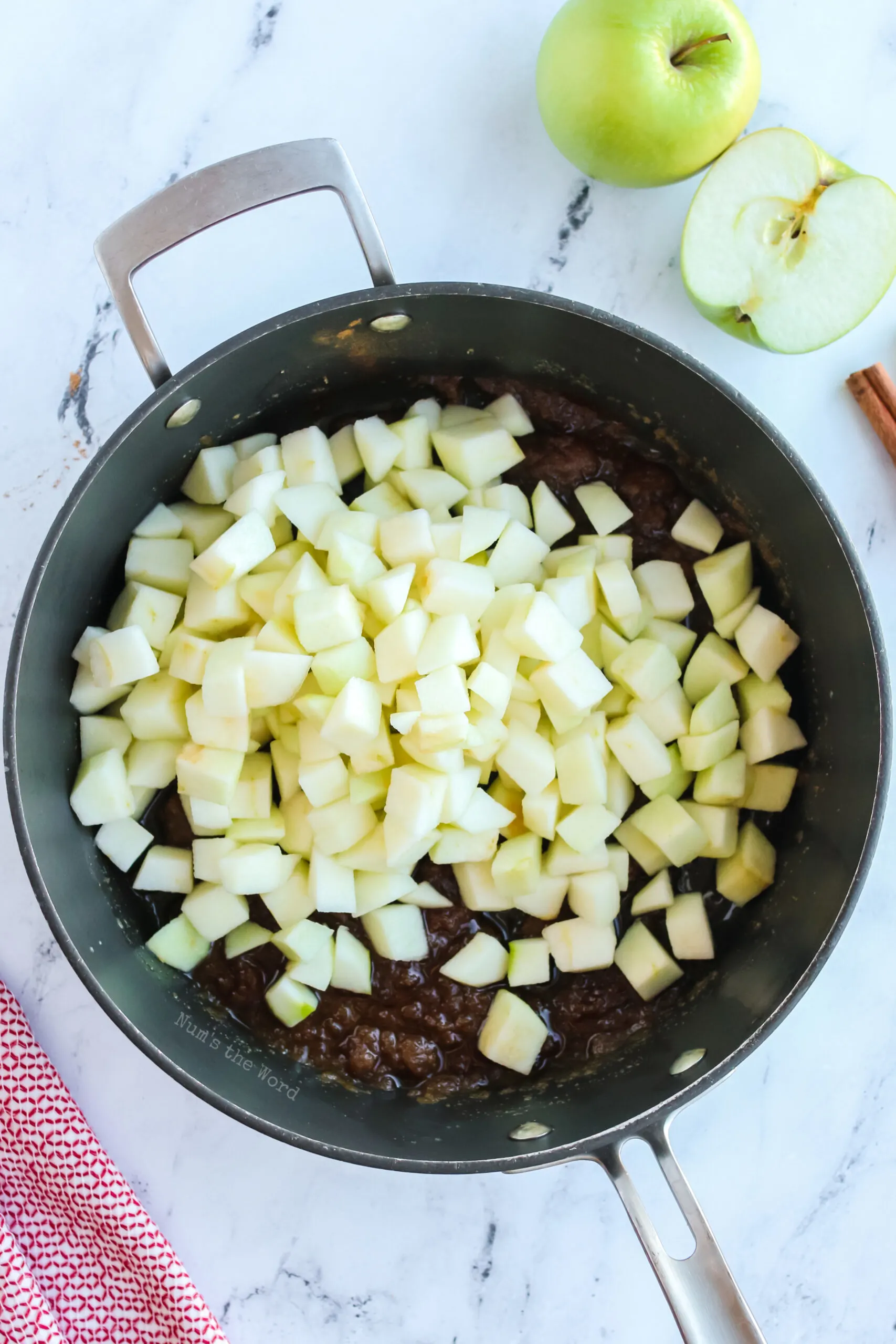 How to Make Apple Fritter Breakfast Casserole

Cook:

Mix together and cook your brown sugar, cinnamon, nutmeg, and diced apples. You want your apples to be soft so I recommend tasting it to see if it's your desired texture. Then mix in the cornstarch and water.

Bake:

Cover the croissant pieces with your apple mixture. Then drizzle (seriously saying the word drizzle gives me all the yummy feel goods. DRIZZLE). As I was saying, drizzle a heavy cream, applesauce, eggs and cinnamon mixture over the top and bake.

Glaze:

Your glaze should be thick but still drip from the spoon when you hold it in the air. Once again we are drizzling! Wait about 5 minutes after pulling from the oven though because otherwise your glaze is gonna drip right off the Apple Fritter Casserole.

Eat:

Yum Yum! I recommend serving up with a spoon instead of trying to slice with a knife as the casserole can be a little messy.
Pro Tip: This goes for all of my sticky sweet recipes: don't give your kids a bath right before they eat this! Guaranteed it's going to cover them if you do. I mean that's just tempting fate.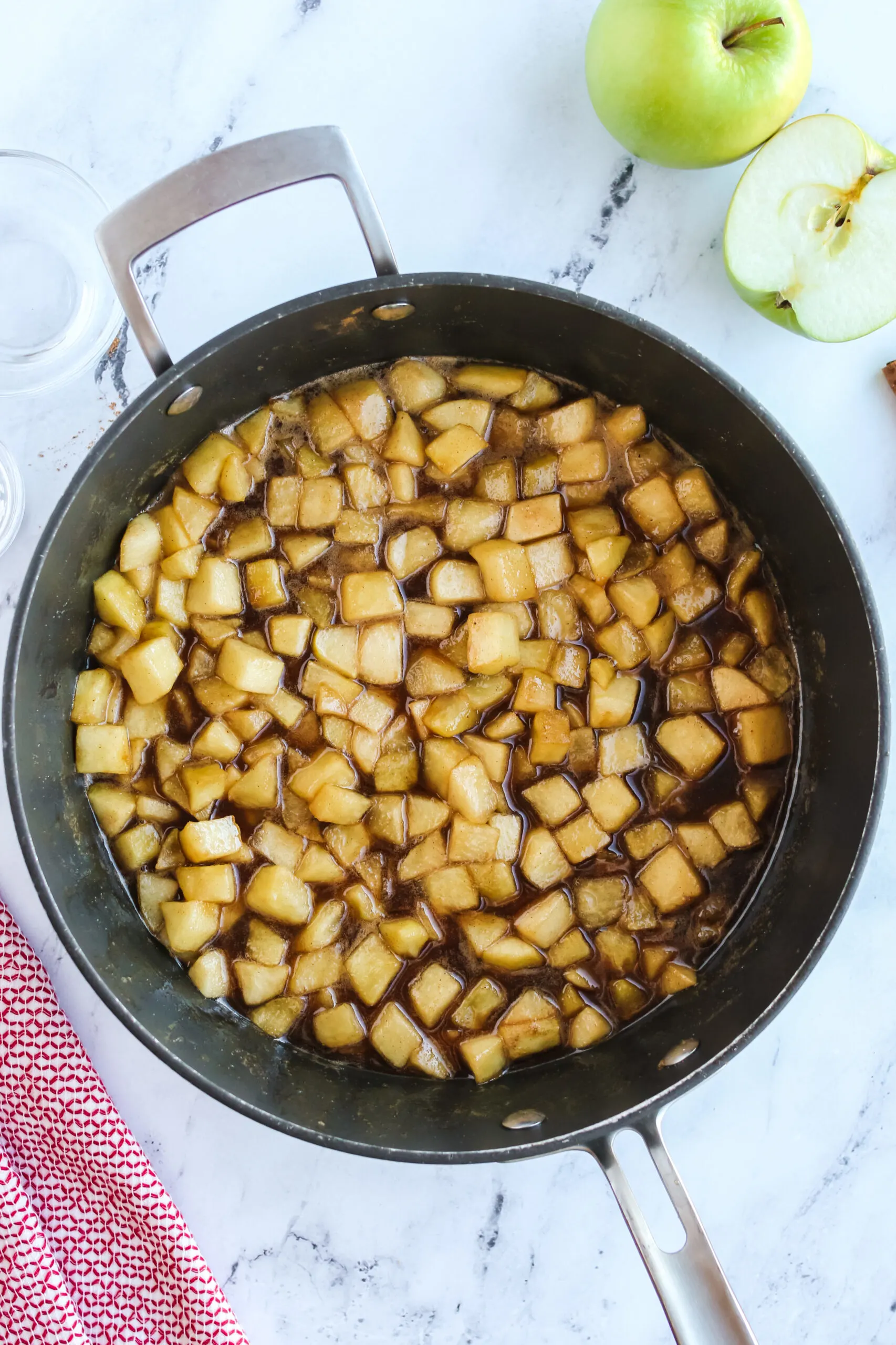 Can You Make Apple Fritter Breakfast Casserole Ahead?
There is nothing worse than waking up in the morning hungry and still needing to make breakfast while you gotta do all the normal things. Like my kids all need me to fix something and help them kind of stuff.
This is why I love things like Caramel Pecan Monkey Bread, Easy Blueberry Bread Pudding, or the Overnight Bagel French Toast Casserole. When I'm in a hurry, I don't want to cook breakfast too!
So yes! Please go ahead and prepare ahead of time. It's my favorite.
Make ahead by mixing it all together and baking the night before, but don't add the icing. Cover it and keep in the fridge until the next morning. Then the next morning, cover it so it doesn't get burned (not with plastic) and warm it up in the oven at 350 for 25 minutes. Ice it and eat it! Yum!
You can keep the casserole in the fridge for up to 4 days before you eat it. Any longer than that and you'll want to freeze it.

Can Apple Fritter Breakfast Casserole be Frozen?
Yes. Same as making ahead, only this time you're going to prepare the whole thing right up to the baking part. Then cover with a lid or aluminum foil, think freezer safe so it doesn't get freezer burned. Then keep it in your freezer for up to two months. After that it'll begin to lose its flavor.
When you are ready to make it, take it out of the freezer and allow it to thaw in your fridge overnight. Bake the following morning as directed.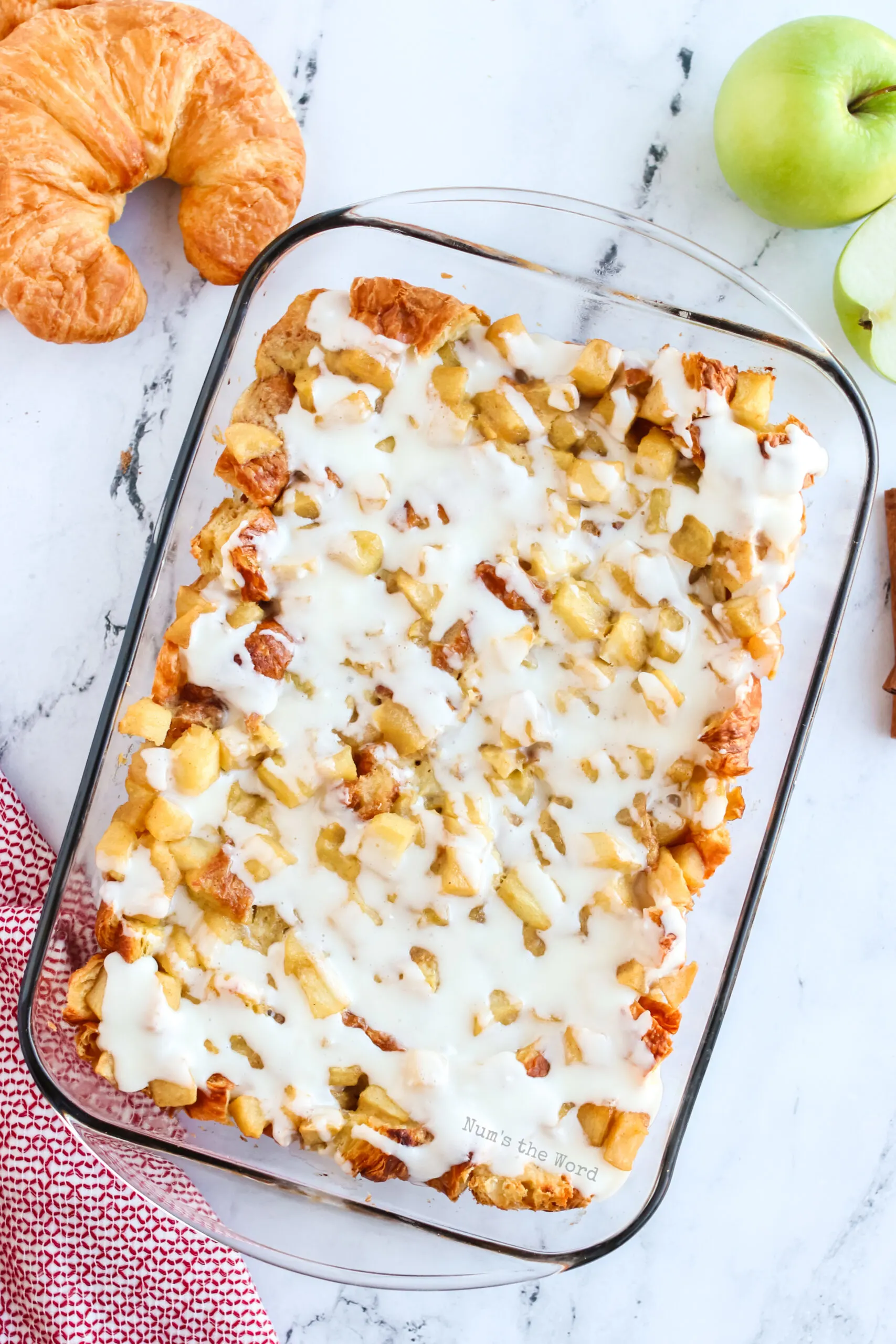 More Apple Recipes You'll Love: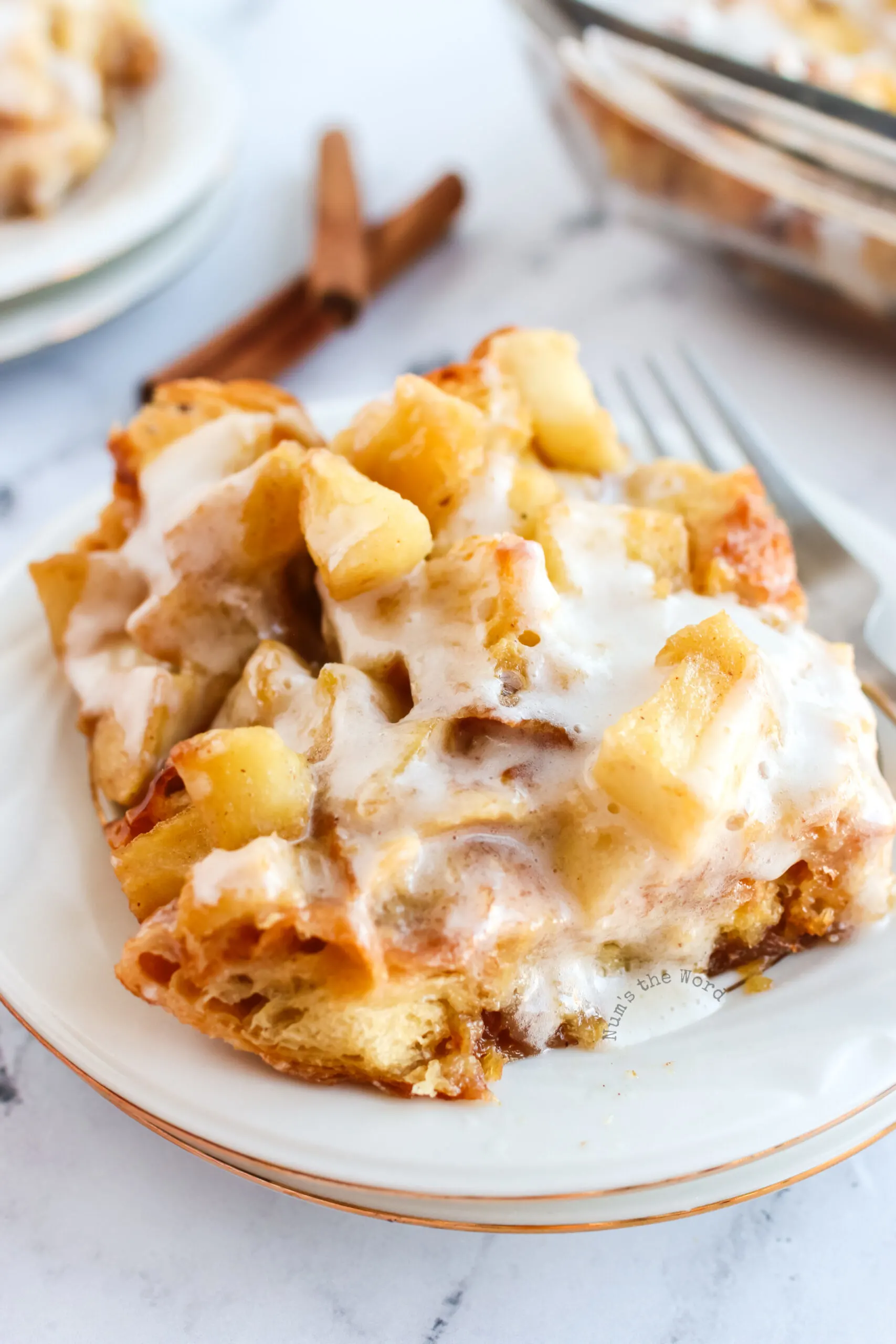 I am so excited for you to try this unique and mouth watering Apple Fritter Breakfast Casserole. It is a rich and scrumptious breakfast that is going to leave you licking your fingers and asking for more.
Yield: 12 Servings
Apple Fritter Breakfast Casserole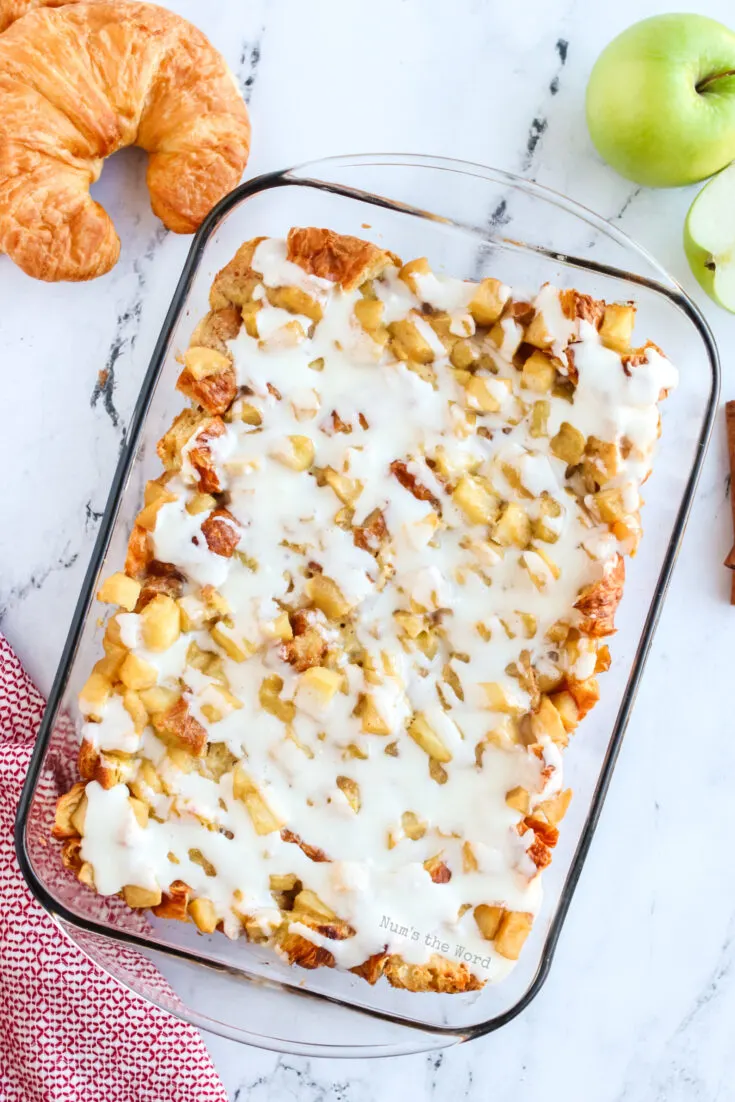 If you love apple fritters, you'll love this Apple Fritter Breakfast Casserole. Sautéed apples, croissants and icing all taste like fall! This easy breakfast casserole can be made ahead of time and is absolutely delicious!
Ingredients
5 granny smith apples (the more spots, the better!), peeled, cored and diced
6 Tablespoons butter
1 cup packed brown sugar
1/2 teaspoon cinnamon
Pinch of nutmeg
1 teaspoon corn starch
2 Tablespoons warm water
----------------------
6 large croissants, chopped into chunks (these are pre-made croissants that I pick up at my local grocery store bakery section, not croissant dough).
1/2 cup heavy cream
1/2 cup cinnamon apple sauce (or 1/2 cup apple butter)
3 eggs, lightly beaten
1/8 teaspoon cinnamon
----------------------
3/4 cup powdered sugar
4 Tablespoons Heavy Cream
Instructions
Preheat oven to 375*F
In a large skillet, melt butter over medium heat.
Add brown sugar and stir until incorporated.
Add cinnamon and nutmeg, mix well.
Add diced apples and stir to coat. Simmer mixture for 5 minutes or until apples are soft and to the desired texture. I recommend tasting one to see if it's soft enough.
In a small bowl combine cornstarch and water. Mix well then add cornstarch mixture to apples and stir. Remove from heat and set aside.
In a 9x13 casserole dish, lay out croissant pieces, spreading out so they cover the bottom of the pan.
Top croissants with apple mixture. Spreading evenly over croissants.
In a separate bowl combine heavy cream, apple butter (or apple sauce), eggs and cinnamon. Mix well.
Pour apple butter mixture over croissants and apples. Drizzle over the top to cover apples.
Bake for 25 minutes.
When casserole is removed from oven, allow to sit for 5 minutes.
While casserole is cooking, in a small bowl combine heavy whipping cream and powdered sugar 1/4 cup at a time. Add more heavy cream 1/2 teaspoon at a time if needed. Mixture should be thick but should drip from spoon when held in air.
Drizzle casserole with icing and serve immediately.
Nutrition Information:
Yield:
12
Serving Size:
1
Amount Per Serving:
Calories:

374
Total Fat:

19g
Saturated Fat:

11g
Trans Fat:

0g
Unsaturated Fat:

6g
Cholesterol:

101mg
Sodium:

229mg
Carbohydrates:

46g
Fiber:

2g
Sugar:

32g
Protein:

5g
Originally Posted: September 24, 2015
Photos & Text Update: February 17, 2021
Recipe adapted from Wonky Wonderful