Borscht is a classic Eastern and Central European soup that gets its distinct coloring from beets. This soup is fresh and delightful, bursting with flavor from a variety of produce. It's one of our favorite soups and once you taste it, you'll understand why!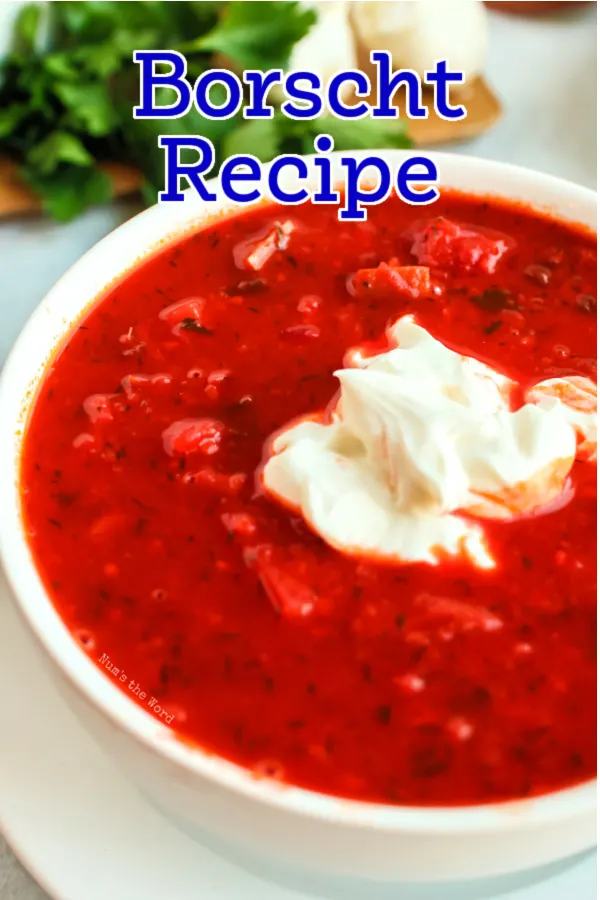 Don't let the list of ingredients scare you: cabbage and beets are transformed into the most delicious soup you'll ever try! I was doubtful when I was first introduced to borscht, but I can tell you with all sincerity that it is one of the tastiest soups I've ever had, and now my personal favorite.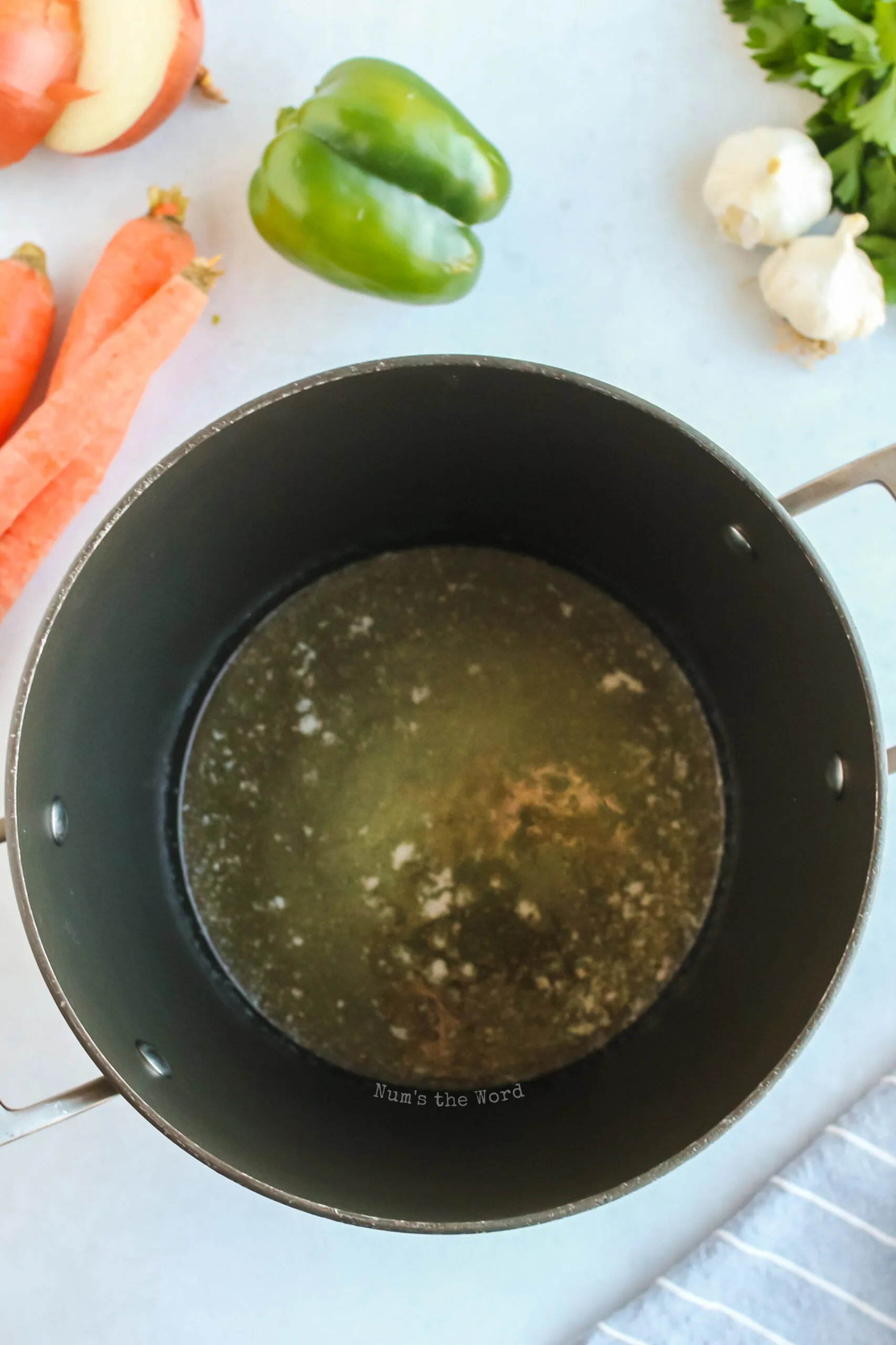 How do you spell borscht?
Let's get the basics out of the way and talk about the spelling of borscht. The standard way to spell it in English is what we're using here: borscht.
However, there are many variations because it is a food that is cooked throughout various different countries that speak different languages.
In the cyrillic alphabet, you'll see it as борщ. The Polish spelling is barszcz. Another phonetic spelling is sometimes borshch. But borscht should get you what you're looking for!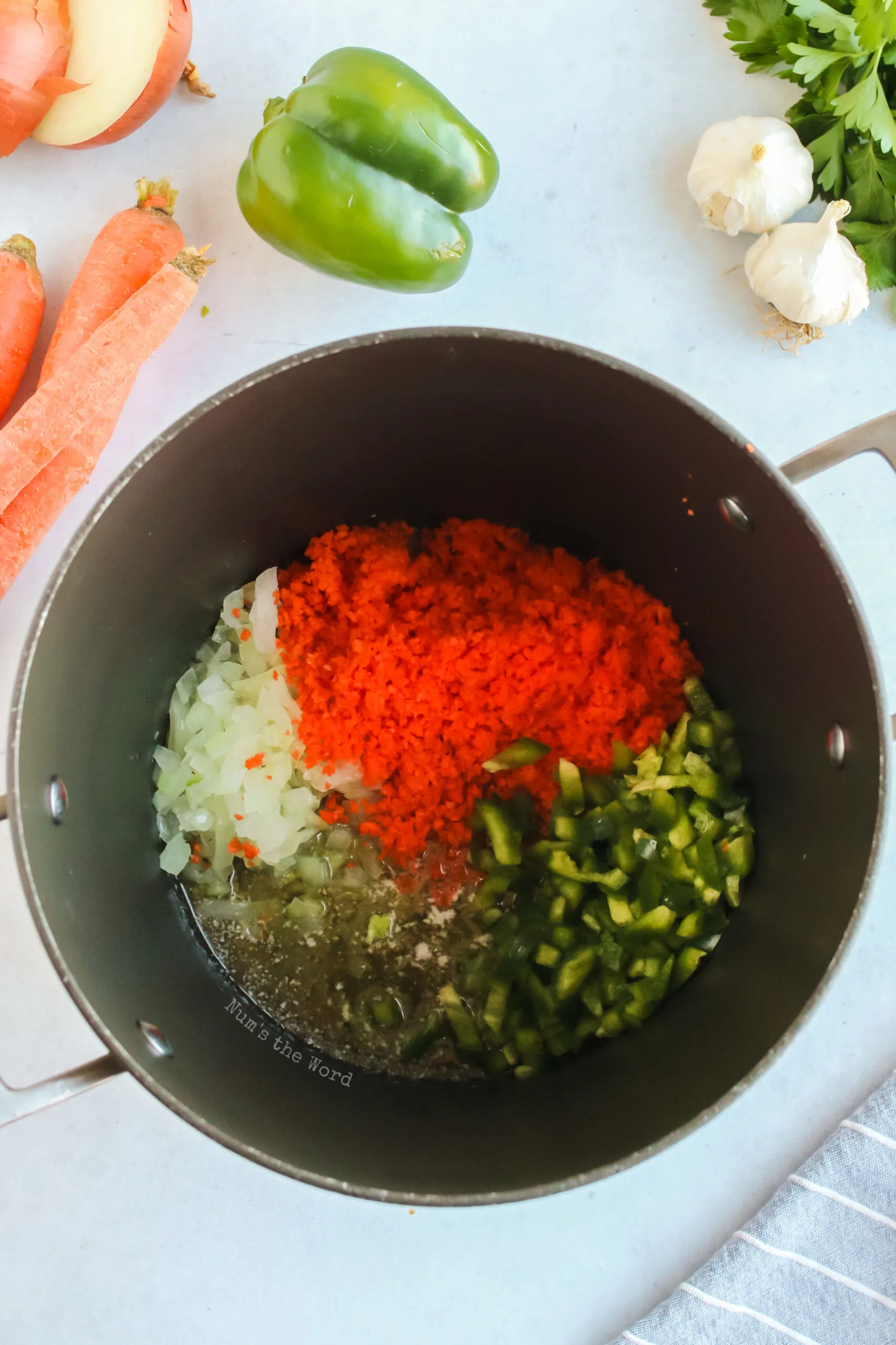 What is borscht?
Borscht is a classic Central and Eastern European soup or stew believed to have originated in Ukraine in the 14th century. It is best known for its brilliantly red, almost purple, color — a color that is derived from the beets that are a staple ingredient in the soup.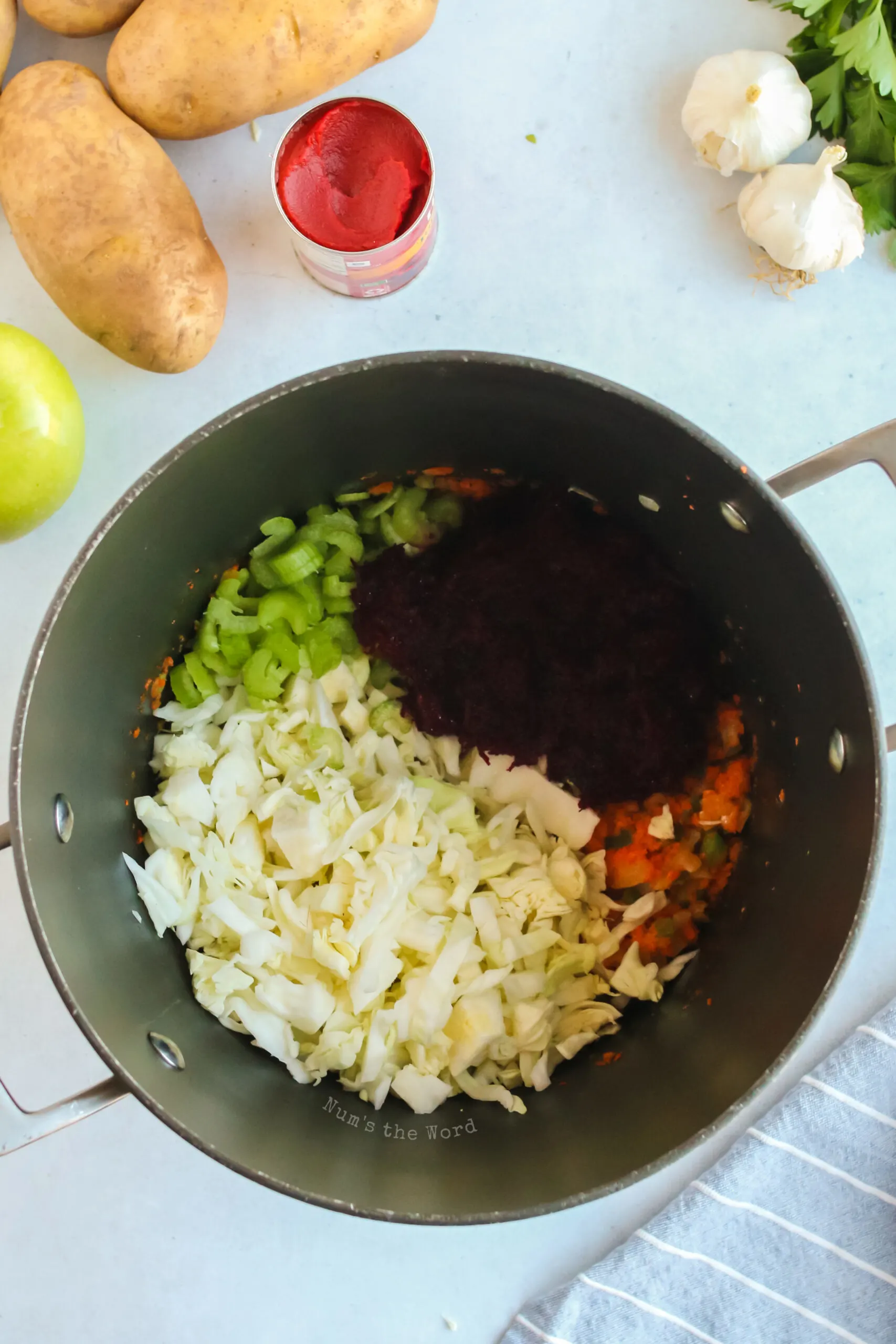 What is borscht soup?
The name "borscht" itself is derived from the Old Slavonic brsh, which means "beet;" therefore, calling it a "beet borscht" is a bit redundant. Another term "Borscht soup" is also unnecessary as the borscht definition is beet soup, ergo "borscht soup recipe" is saying beet soup soup recipe. Borscht is a name and description all unto its own!
Borscht was a staple of a villager's diet, and was traditionally prepared in mass quantities to last through the week. A traditional borscht is more like a stew, stuffed full of meat and vegetables and hearty broth, and tastes better with time.
This vegetarian recipe is still a traditional borscht in flavor and contents. It is much quicker to prepare, but still packs all the delicious and vibrant flavor!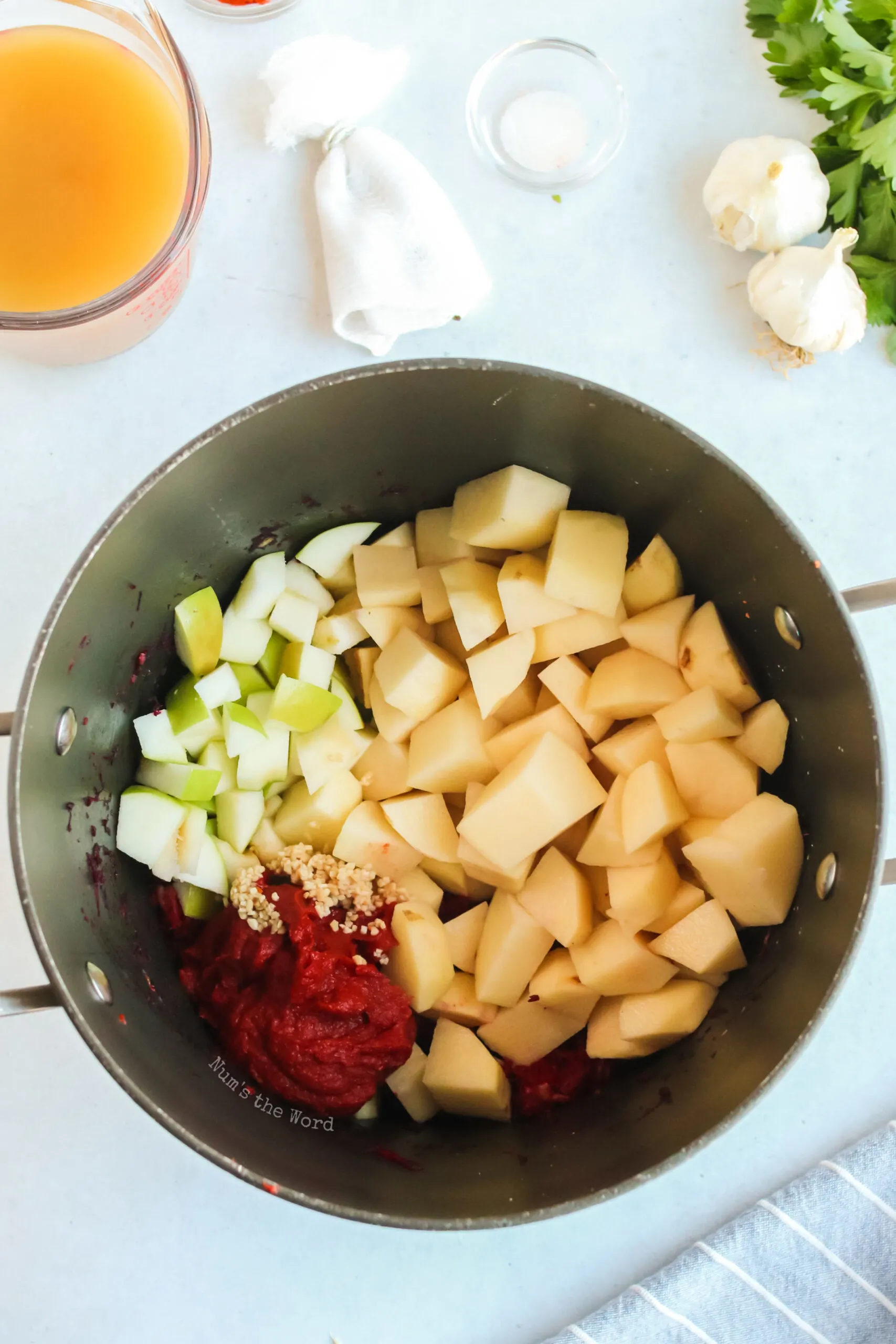 Is borscht Russian or Ukrainian?
While borscht is common in many different Eastern European countries, from Russia to Poland to Ukraine to Lithuania and beyond, it's origins are said to be from Ukraine in the 14th century.
Each region provides their own twists and variations on the classic recipe, but one thing remains constant: beets.
What is the difference between a Russian borscht and a Ukrainian borscht? Or a Ukrainian borscht and a Polish borscht? The short answer is: not much.
Borscht is served with so many different variations in each country that you'll find a great deal of overlap even among the "classic" borscht recipes of different countries.
A Polish borscht recipe sometimes starts with fermenting beets and using the resulting sour liquid. Many borscht recipes, including this one, will use lemon juice or vinegar to get a similarly "sweet and sour" flavor. The process might be slightly different from recipe to recipe, but the results are fairly standard.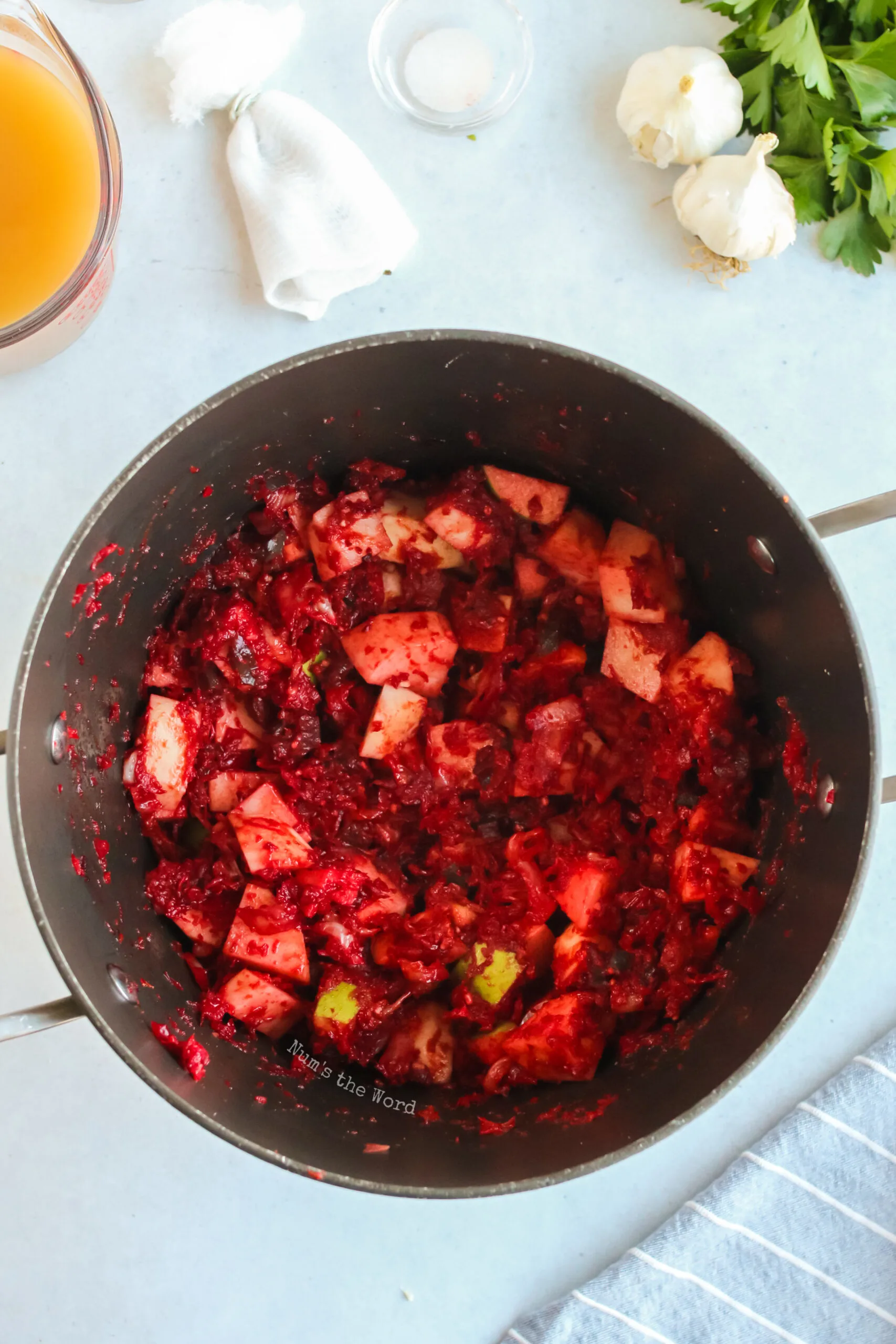 How to make borscht?
First off, I'll start by saying that I absolutely recommend using a food processor to prepare this borscht. It will save you time and energy and potentially a couple grated fingers if you're as clumsy as me.
There's a whole lot of grating and shredding and chopping and a food processor with a chop, slice, and grate attachment will be your BFF during the preparation of this soup!
Don't have a processor? Don't fret. You can make this borscht a labor of love using a knife and a good, old fashioned grater. That's how it's traditionally done!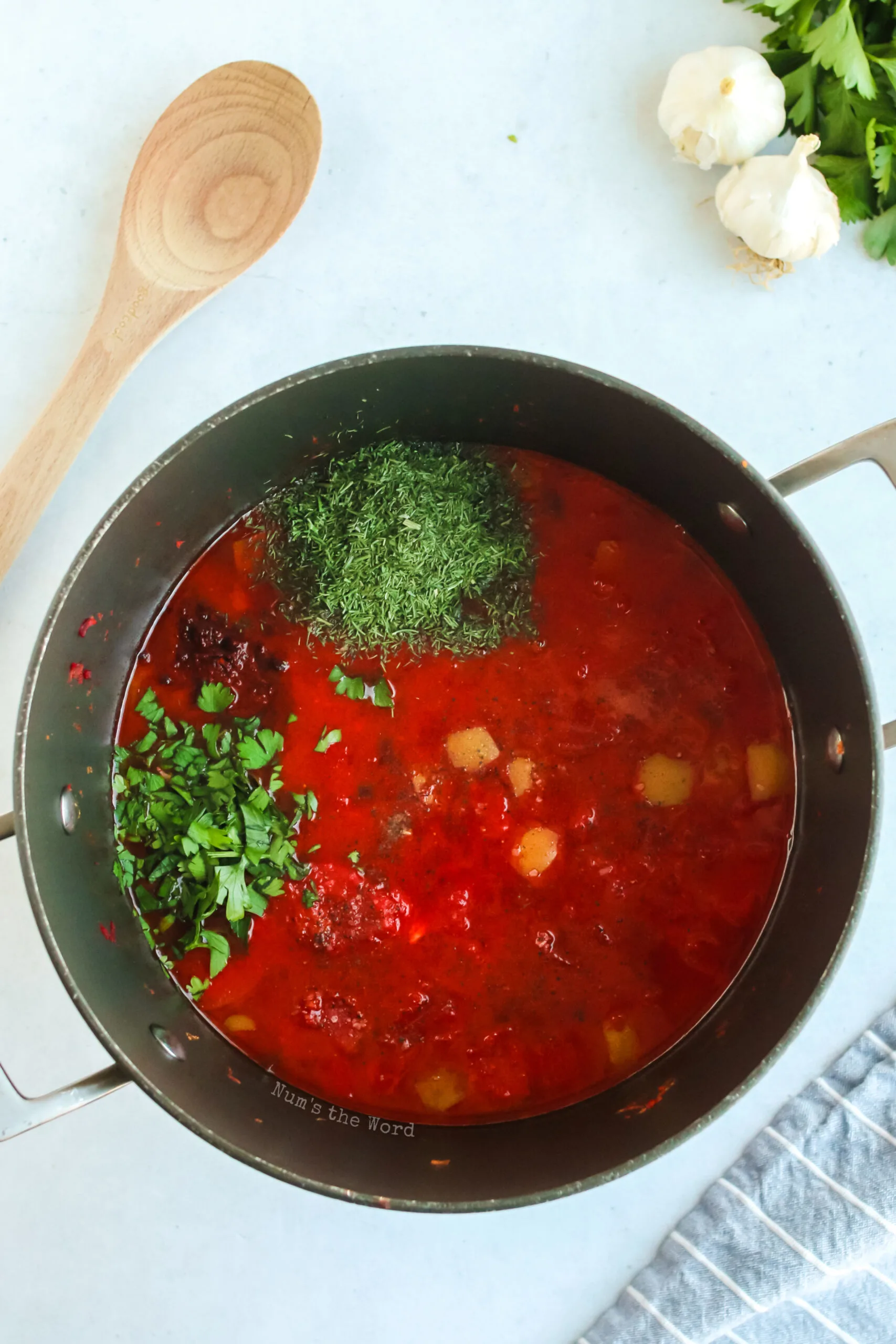 What Ingredients are in borscht?
To make this delicious borscht, you will need the following ingredients:
Butter

– this is the fat base you'll use to sauté the vegetables in this borscht

Onion

– the quintessential first ingredient in just about every soup, onion packs nutrition and flavor. Go ahead and give the onions a few pulses in your food processor using the chopper blade.

Carrots

– peeled and grated … again, grating carrots can take FOREVER, so here's a step where your food processor is your friend. Shove those orange babies down the chute and let the processor do the grating for you!

Green bell pepper

– cut into 1/4″ dice, this adds a splash of varying color in an otherwise red soup.

Green cabbage

–

about 1/2 a head of medium cabbage will do, but you can always add a bit more for a more stew-like soup. I like to cut the cabbage into wedges and put it down the food processor chute using the slicing attachment for quick and easy cabbage prep.

Beets

– peeled and grated (use that food processor grater again!) add the majority of the color to your soup. Borscht is beautiful, thanks to the influence of the beets!

Celery

– another one for the food processor slicer. So much quicker and easier to get a nice, thin slice!

Granny Smith apple

– apples are a common borscht ingredient, and the tart granny smith apples will lend the perfect bit of sour to your beet borscht.

Russet potatoes

– any potato will do. I typically use russet for soups, but I've also used red and yellow potatoes instead. I typically dice these the old-fashioned way using a knife and no food processor.

Tomato paste

– tomato paste gives the broth more of a tomato base, while lending an additional bit of red to the overall color of the soup.

Garlic

– I prefer to use the already minced garlic you can buy in a jar as it is quick, easy, and still provides the same spicy, savory flavor.

Vegetable stock

– if you're not worried about keeping it vegetarian, chicken stock works great as well!

Bouquet garni

– bouquet garni is 1 bay leaf and 8 peppercorns tied in a cheesecloth bag. Sometimes I don't feel like putting the extra effort of tying it all up in a cheesecloth bag and just throw in a bay leaf and grind up a generous amount of fresh peppercorns.

Smoked paprika

– sweet and smokey, you can't beat the almost meaty flavor this spice provides. You can use sweet or regular paprika, but take my word for it — smoked is king!

Salt and freshly ground pepper

– add to your tastes.

Sugar

– some borscht recipes are sweeter than others. This recipe only uses a little bit of sugar to counteract some of the acidity in the canned tomatoes and lemon juice. You can add more if you prefer, though I think this is a perfect amount.

Fresh lemon juice

– make it fresh! Lemon is a great ingredient to add to vegetable soups. It provides a bit of acid that helps enhance the various flavors. Don't leave this out!

Fresh parsley

– I'm a bit of a fresh herb snob when it comes to this recipe (who am I kidding, I'm that way with a lot of recipes). This borscht recipe is chock-full of fresh produce, so don't skimp on the fresh flavor by using dried herbs if you can help it!

Fresh dill

– at the risk of beating a dead horse, don't skimp on the fresh dill! Dill is a borscht staple and is best fresh!

Sour cream

– sour cream is absolutely necessary for an authentic borscht! This is the only topping you need. And I do mean NEED. Serve your borscht with a hearty dollop of sour cream!
Don't let the long list of ingredients scare you. This homemade borscht recipe is a cinch to make and comes together relatively quickly once you have your ingredients assembled and prepared. I like to dump my ingredients into the pot as I go.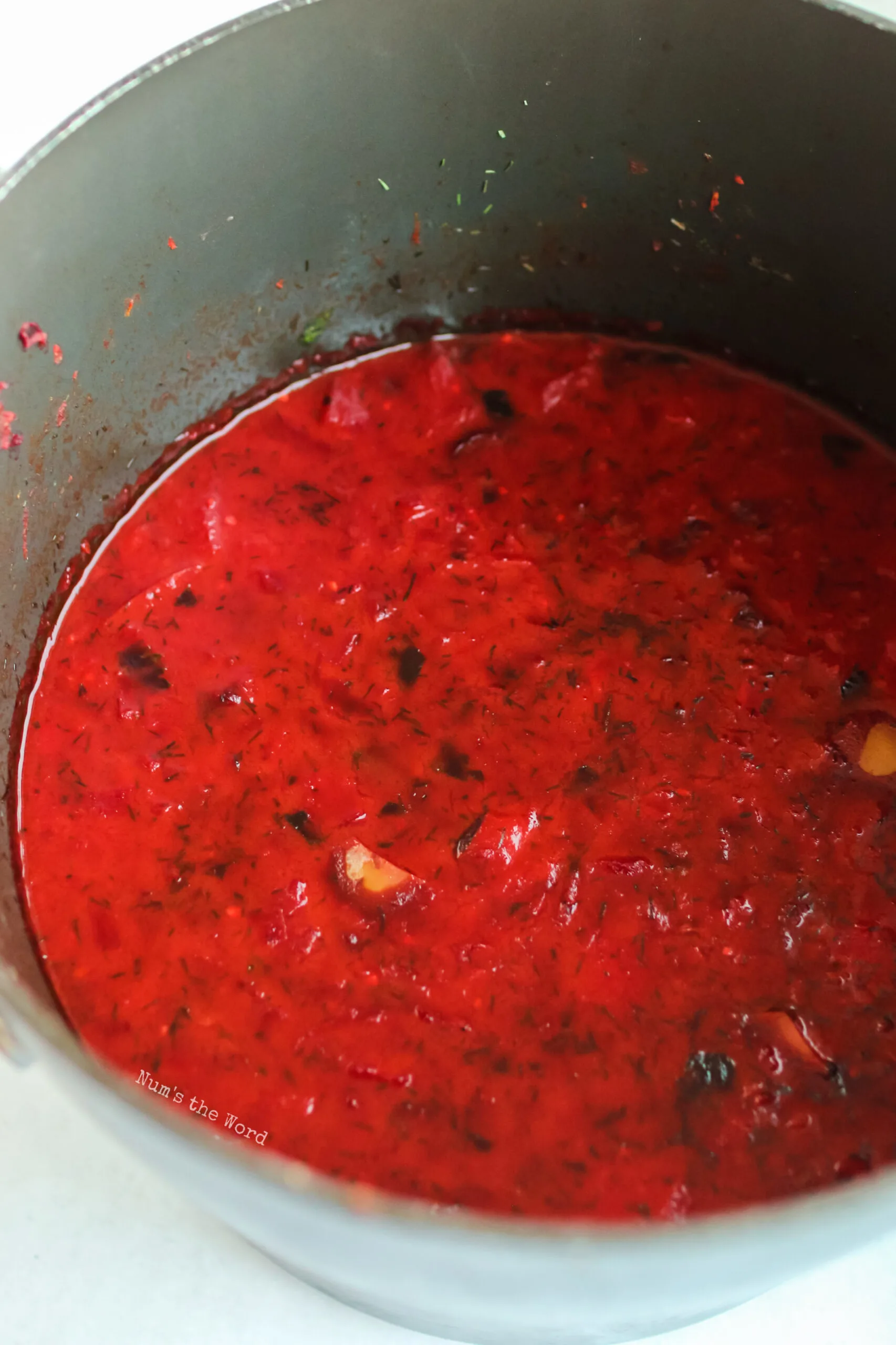 How to cook borscht?
Melt

the butter in the bottom of a large stockpot

Saute

vegetables, adding them to the pot as you get them prepared.

Simmer

Add

final seasonings.

Let stand

so flavors have a chance to blend and marry and get even BETTER with time!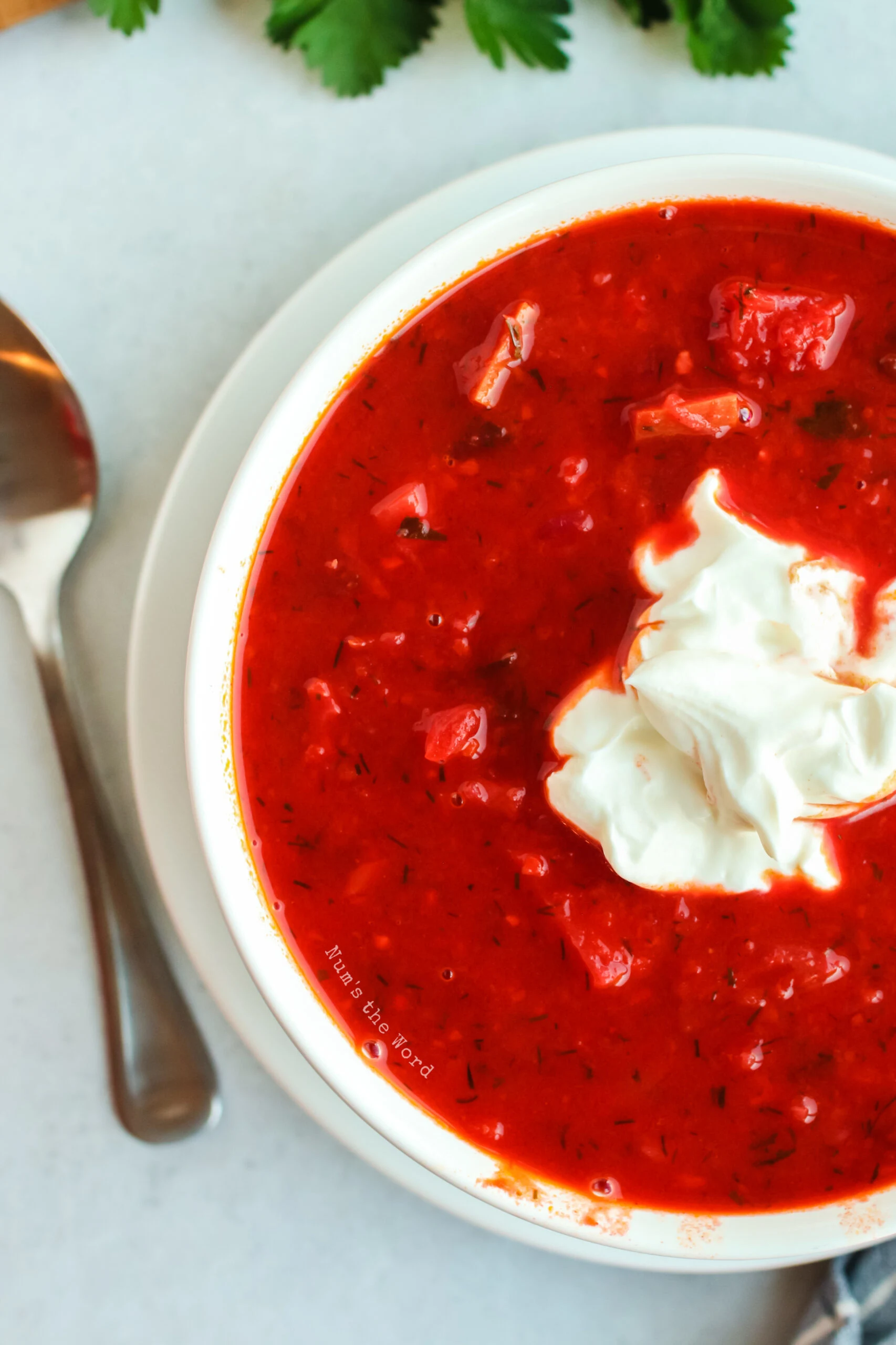 Is borscht healthy?
Borscht is very healthy! Look at all those nutritious ingredients! It's hearty and filling and still relatively low in calories. You can control the salt content and the sour cream topping. And it's packed full of vitamins and minerals and nutrients!
Can you make borscht with canned beets?
Nope. Not this recipe, at least. You're sacrificing a lot of fresh and light flavor when you used canned beets, not to mention some of the vibrant color of the dish.
There are some strong feelings on the subject on either side, but I'm going to say sub canned beets at your own discretion, but I don't recommend it.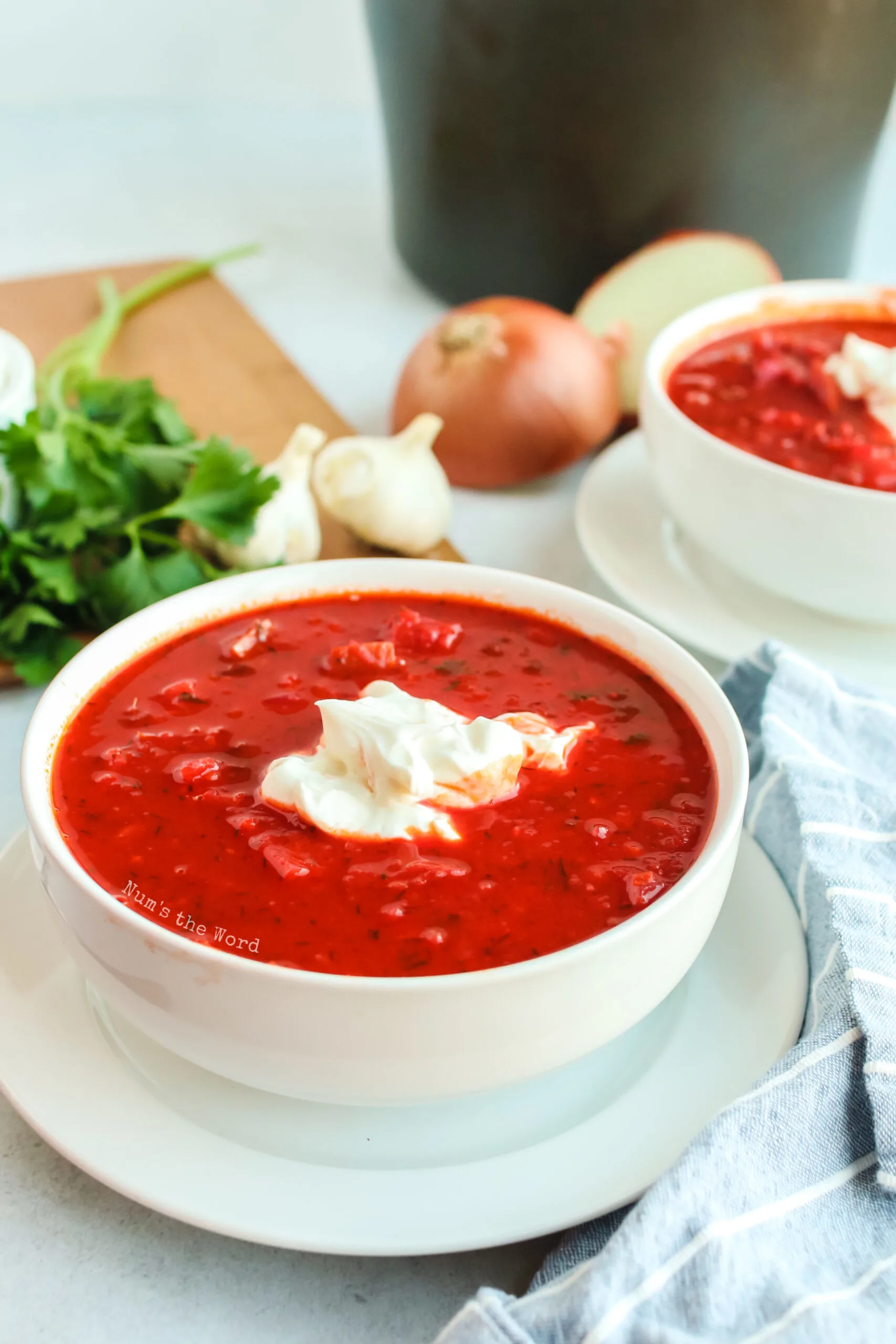 How to make cold beet borscht?
Cold borscht shares a main commonality with this hot soup version: the beets. The rest is quite different in terms of preparation and even ingredients.
Cold borscht recipes typically include a lot more "sour" from lemon juice and vinegar. They often have cucumber and radishes, among other varying ingredients.
That being said, as this is a meatless borscht, you COULD eat it cold if you desired. But it's really not the same thing as a cold borscht recipe.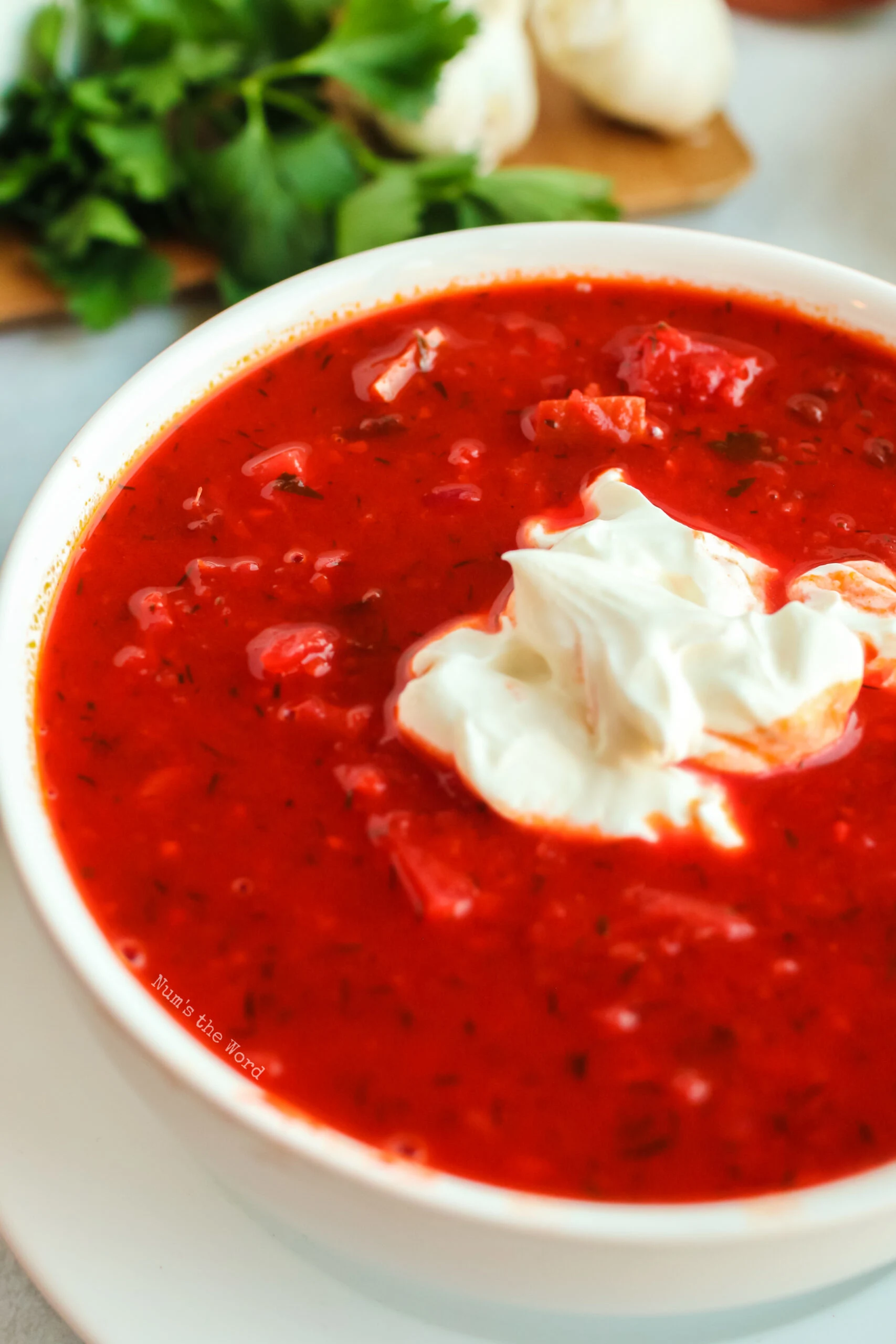 Is borscht served hot or cold?
As previously mentioned above, there are both hot and cold borscht recipes. This recipe is for a hot borscht. Cold borscht is different in preparation and flavor. But, to answer the question simply and vaguely: It depends on the borscht!
What to eat with borscht?
Always, always, the answer is sour cream. But also, a hearty slice of crusty bread is the way to go!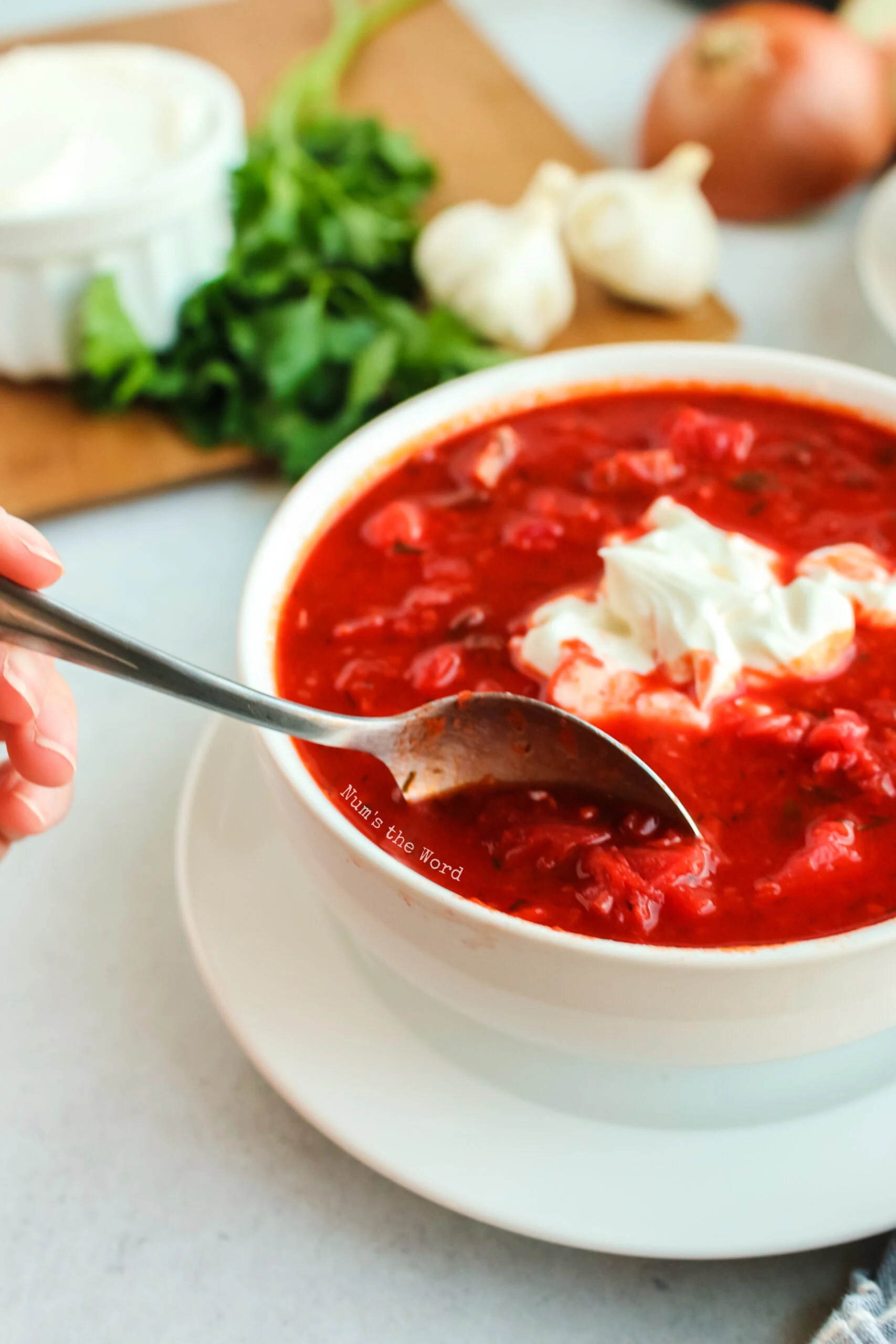 Can you freeze borscht?
Unfortunately, this borscht recipe does not freeze well (I've tried, and been very disappointed). It really comes down to the potatoes.
Potatoes have to be prepared in specific ways to maintain their texture after freezing. Boiled in a soup is not one of them. Your potatoes will break down into a mushy, grainy-textured. So don't freeze it.
Borscht gets better the longer it sits, though, so keep it in the fridge and heat up the leftovers for a second dinner or for lunches throughout the week!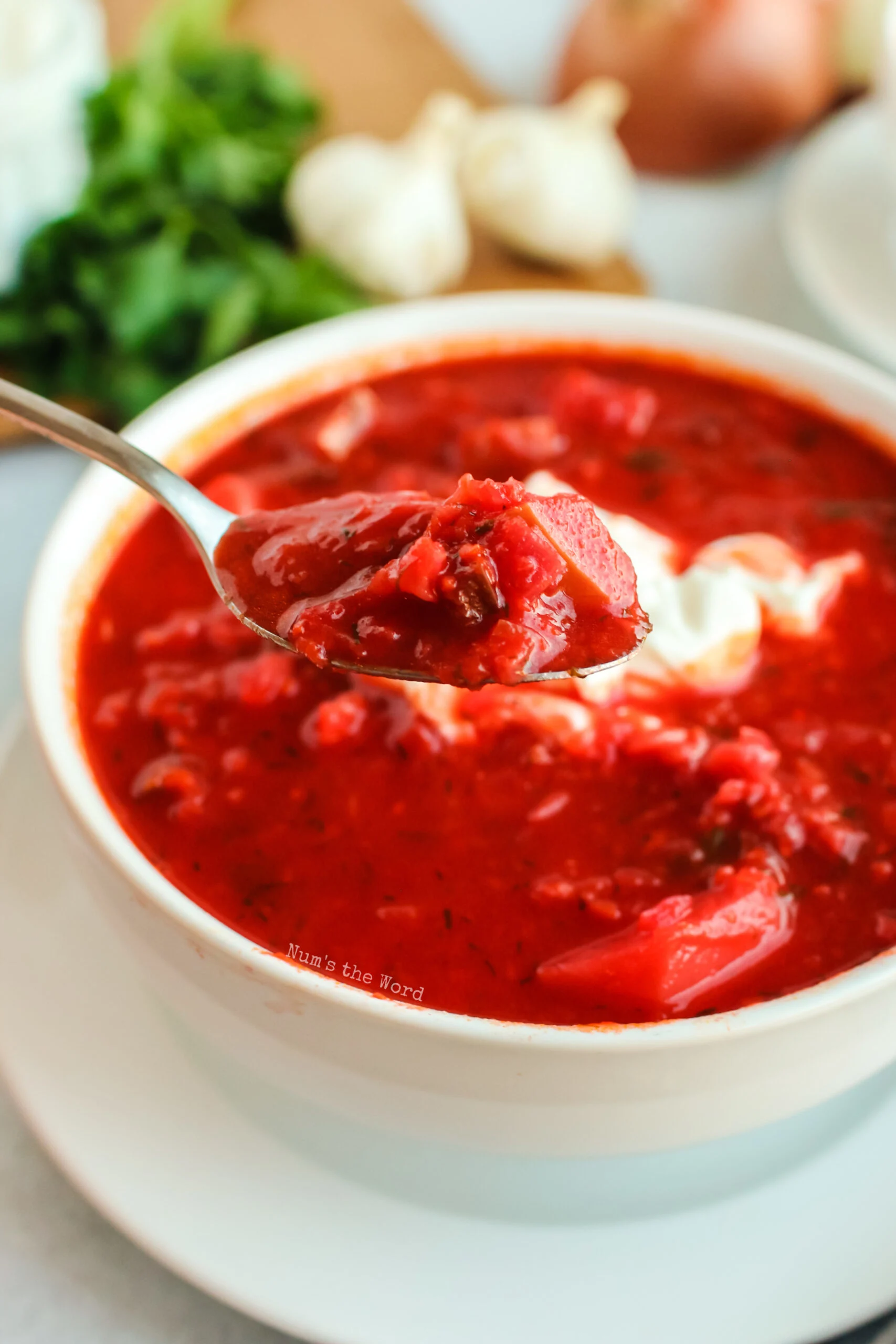 Whether you chopped your own vegetables or used a food processor, I know you'll love this vegetarian borscht recipe! Rich in nutrients and flavor, with a burst of beautiful color, you're sure to fall in love with this delicious soup.
Borscht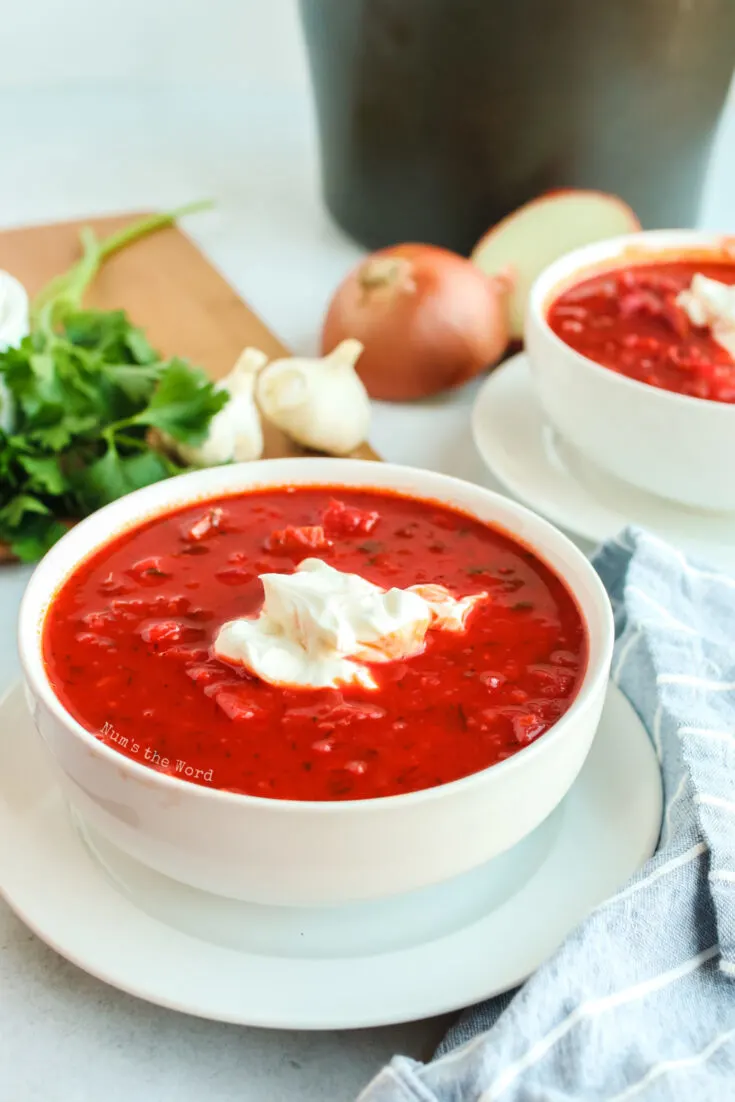 Borscht is a classic Eastern and Central European soup that gets its distinct coloring from beets. This soup is fresh and delightful and a family favorite recipe!
Total Time
3 hours
30 minutes
Ingredients
6 Tablespoons butter
1 large yellow onion, finely diced
3 large carrots, peeled and grated
1 large green bell pepper, cored, seeded and diced into 1/4" pieces
3 1/2 cups shredded green cabbage (about 1/2 a head of medium cabbage)
3 small beets, peeled and grated
2 celery stalks, thinly sliced
1 Granny Smith apple, cored and cut into 1" cubes
4 medium russet potatoes, peeled and cut into 1 1/2" cubes
6 ounce tomato paste
2 teaspoons minced garlic
6 cups chicken or vegetable stock
1 bay leaf
8 whole peppercorns
1 (6 inch square) piece of cheesecloth
1 teaspoon smoked paprika
1/2 teaspoon salt
1/4 teaspoon black pepper
1/2 teaspoon sugar
1 Tablespoon fresh lemon juice (about 1 small lemon)
1/4 cup fresh parsley, chopped for garnish
1 1/2 Tablespoons fresh dill, chopped for garnish
1 (16 ounce) sour cream
Instructions
Melt the butter in a large stock pot over medium heat.
Add the onion, carrots and bell pepper and sauté until the onion and bell pepper are slightly softened, about 5 minutes.
Stir in the cabbage, beet and celery and continue to sauté, stirring and tossing occasionally, 10-15 minutes.
Stir in the apple, potatoes, tomato paste and garlic. Mix well.
Tie bay leaf and peppercorns in cheesecloth. This is called a bouquet garni. If you don't have cheesecloth, see notes for substitute.
Add the bouquet garni to the soup pot and bring to a boil.
Once soup reaches a boil, reduce the heat and simmer, covered, for 20 minutes.
Add the paprika, salt, 1/4 teaspoon pepper , sugar, dill, parsley, and lemon juice to taste. Let stand for about 2 hours.
Remove the bouquet garni before serving.
Serve garnished with extra parsley and dill, if desired, and under no circumstances should you EVER leave out the sour cream! A large dollop stirred into each bowl should do nicely.


Notes
Save yourself some time and use a food processor to chop and shred the various ingredients. You can always cut by hand but it will take longer.
If you don't have a cheesecloth you can place the bay leaf into the soup, however do not add the lose peppercorns. Instead add 1 teaspoon black pepper. Note that after the soup has cooked, you'll want to remove the bay leaf.
Nutrition Information:
Yield:
8
Serving Size:
1
Amount Per Serving:
Calories:

475
Total Fat:

24g
Saturated Fat:

10g
Trans Fat:

0g
Unsaturated Fat:

11g
Cholesterol:

122mg
Sodium:

422mg
Carbohydrates:

37g
Fiber:

7g
Sugar:

11g
Protein:

30g
Recipe by Whitney Condie