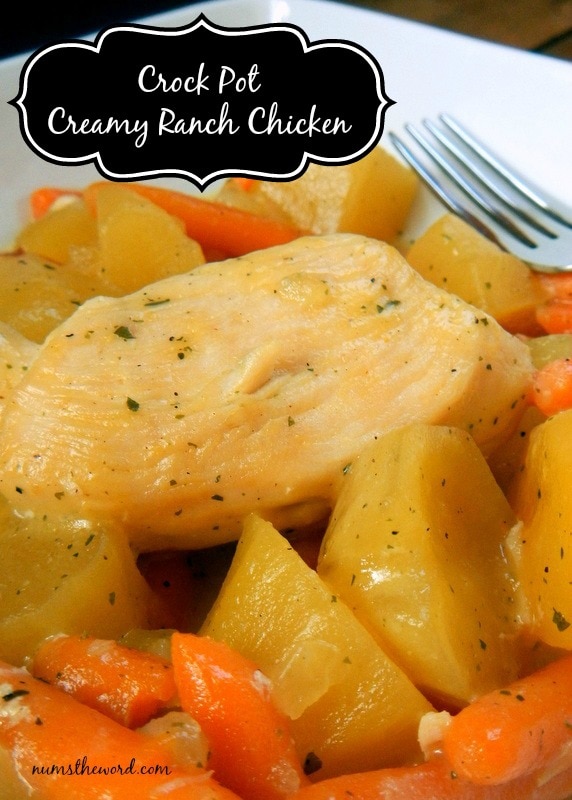 When it comes to summer meals, one things that I'm always interested in are crock pot meals. They are fantastic because they require zero stove or oven use, produce very little heat in the kitchen and are so easy to put together!
Crock pot meals also work great for busy weeknights where you can toss everything into the crock pot before you leave for work, set the timer and have a great meal waiting for you when you arrive home.
For this Crock Pot Creamy Ranch Chicken, the chicken comes out perfectly cooked, tender and flavorful. The potatoes and carrots are delicious and the sauce is the perfect balance of flavor.
This meal takes only 10 minutes to toss into a crock pot. 10 minutes of effort. 10 minutes of dirty hands. How easy does that sound?
This Crock Pot Creamy Ranch Chicken was a hit for everyone. And it tasted just as good the next day as it did the day of, making it a great next day lunch meal.
If you like crock pot meals and you like leftovers that reheat well, give this Crock Pot Creamy Ranch Chicken a try!
This post contains Amazon affiliate links as a free service to you!
Crock Pot Creamy Ranch Chicken
Ingredients
6 medium potatoes (russet or red or white)
2 1/2 cups baby carrots
4 chicken breasts
2 (10.75 ounce) cans cream of chicken soup
1 (8 ounce) package cream cheese
1 package dry ranch seasoning mix
1/2 cup milk
Instructions
Quarter potatoes and place in the bottom of the crock pot.
Top with carrots then with chicken.
In a bowl, mix cream of chicken soup, cream cheese, ranch seasoning & milk.
Pour over chicken.
Cook on low for 6 - 7 hours (depending on crock pot) or high for 4 - 5 hours.
https://numstheword.com/crock-pot-creamy-ranch-chicken/
Adapted from: Life in the Lofthouse
Items recommended for this recipe include…
One Year Ago, 2014