This Crock Pot Cranberry Pot Roast is packed with flavor and a great way to use up canned or homemade cranberry sauce. Not just for the holidays, this slow cooker recipe is tasty all year!
This post contains affiliate links.  If you click on an affiliate link and make a purchase, I will make a small percentage on your purchase. This helps keep this website running! Thank you!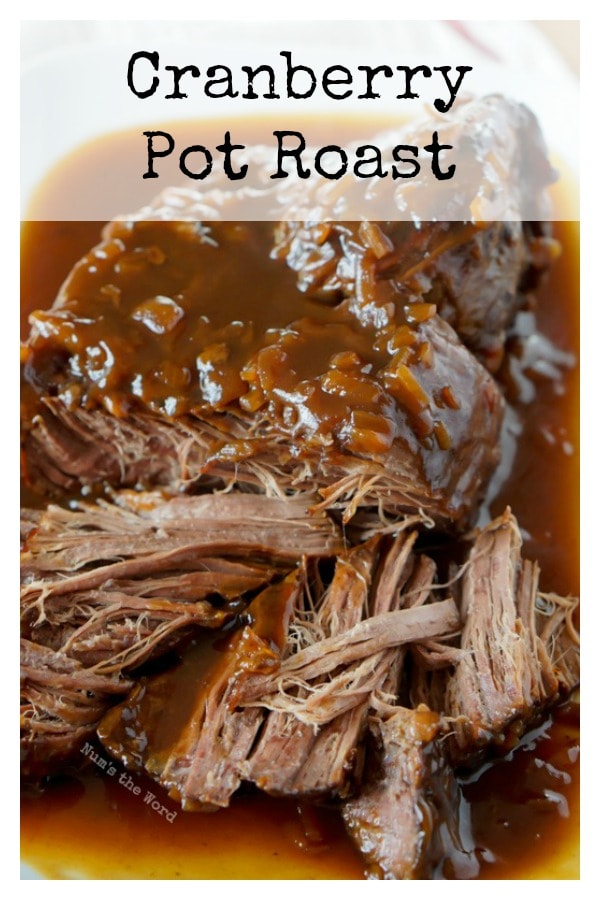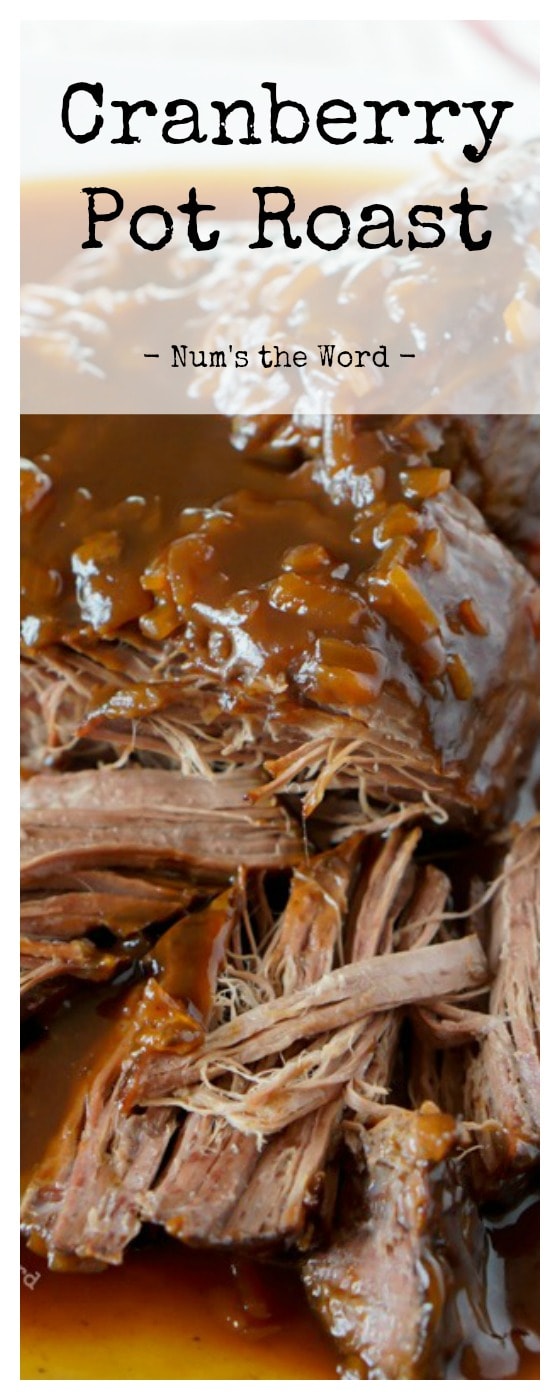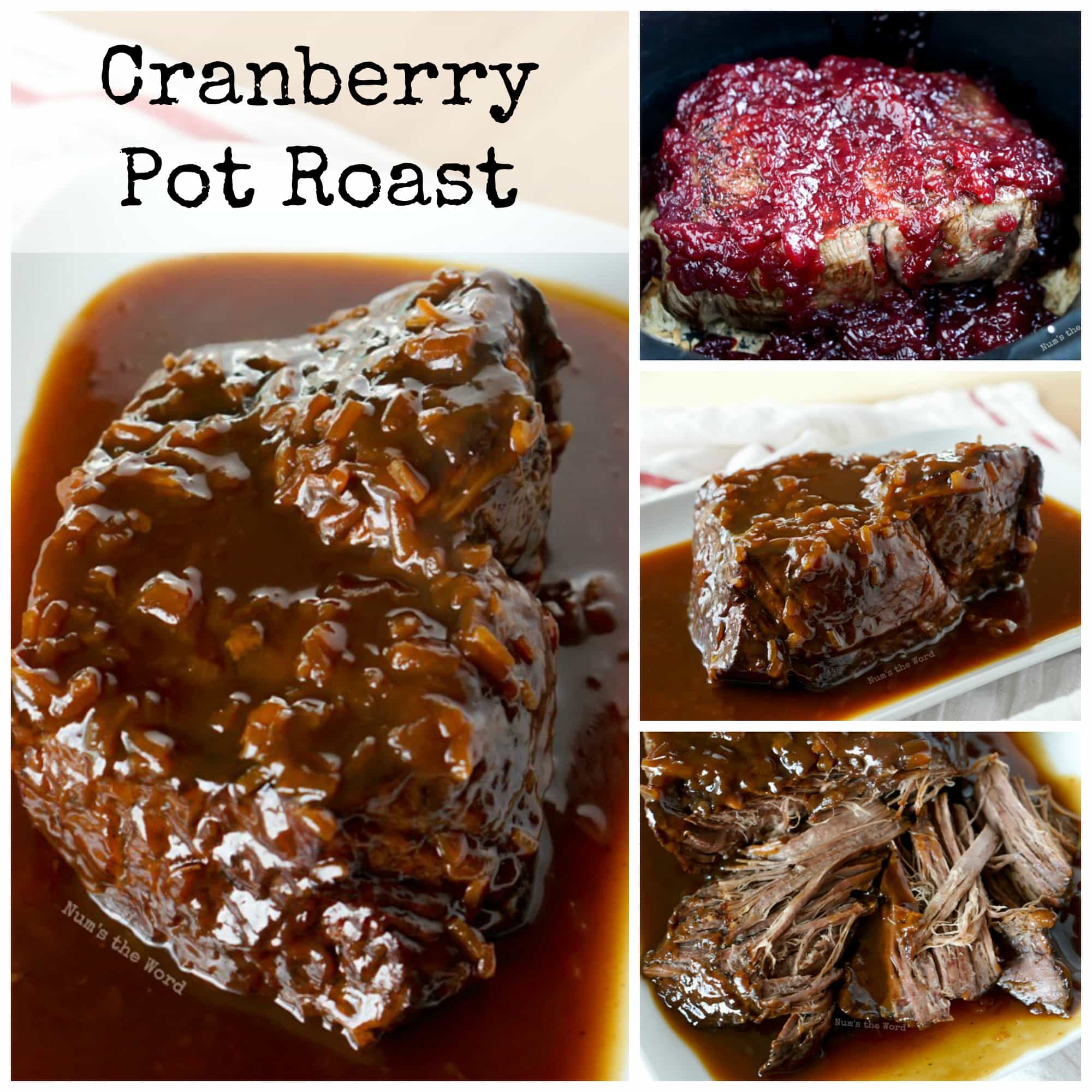 Did you know that cranberry sauce can be purchased all year round?
I really should have known this but I guess I never gave it much thought.
Of course you can buy it during the holidays as it's on every end cap and special display available in the store.
However, the thought of buying cranberry sauce when it wasn't the holidays never really occurred to me as something that could be done.
This of course is basic ignorance.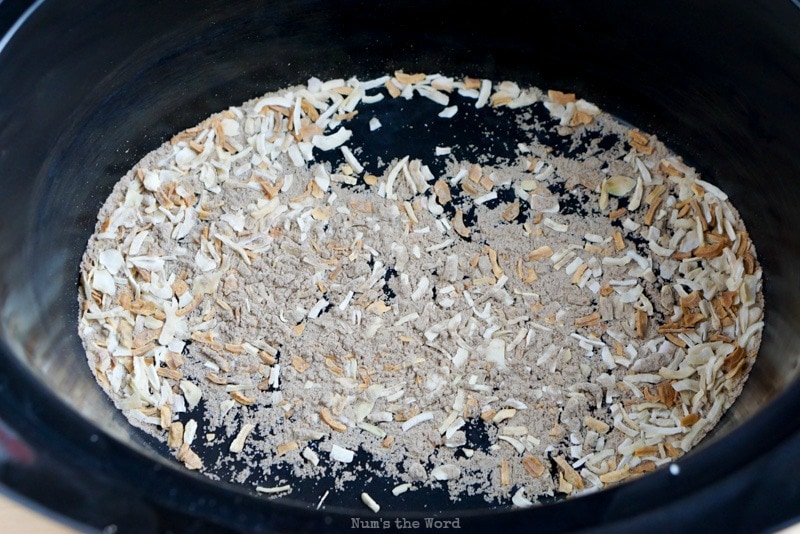 The thought just never crossed my mind.
However, after the holidays I found myself with a can of cranberry sauce in my cupboards and wanted to use it up.
And so I did on a different recipe and absolutely fell in love.
So much so that I really wanted to make it again.
However, I was out of cranberry sauce.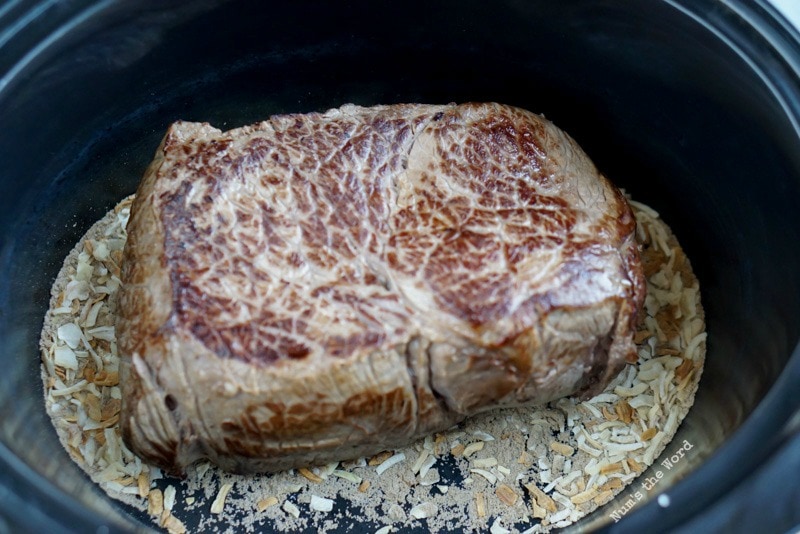 It was then that I discovered that you can indeed buy cranberry sauce all year as long as you know what isle it's hiding in.
Interestingly enough, cranberry sauce has become an ingredient I really enjoy cooking with.
It adds quite a bit of flavor to different dishes and is quite easy to keep on hand.
If you've not been following Num's the Word for the last few years, you'll have missed the fact that I'm striving to be a go-to website for different ways to use up leftovers.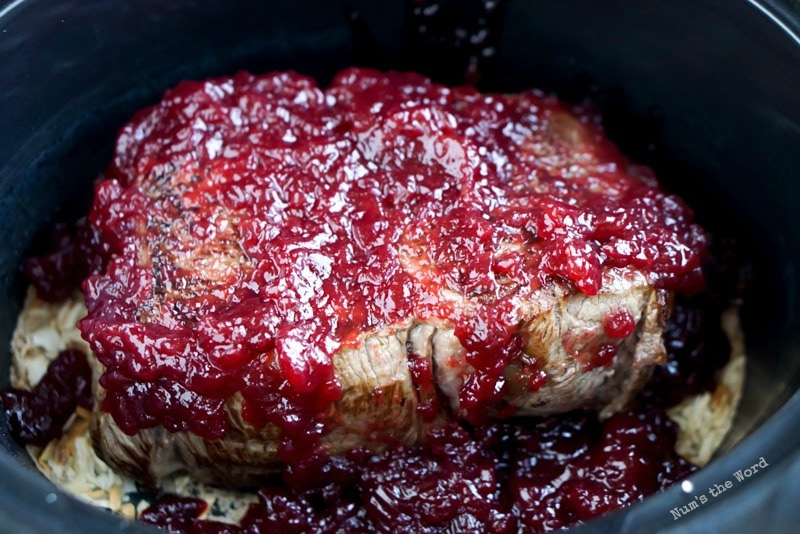 This Cranberry Pot Roast is one of the many ways you can use up Holiday leftovers.
Do you ever save your leftover cranberry sauce?
Or are you the person who passes it around the table and then promptly dumps it in the garbage can after dinner?
DON'T!  Save it and use it in this Cranberry Pot Roast!
You can use homemade or canned – both are great!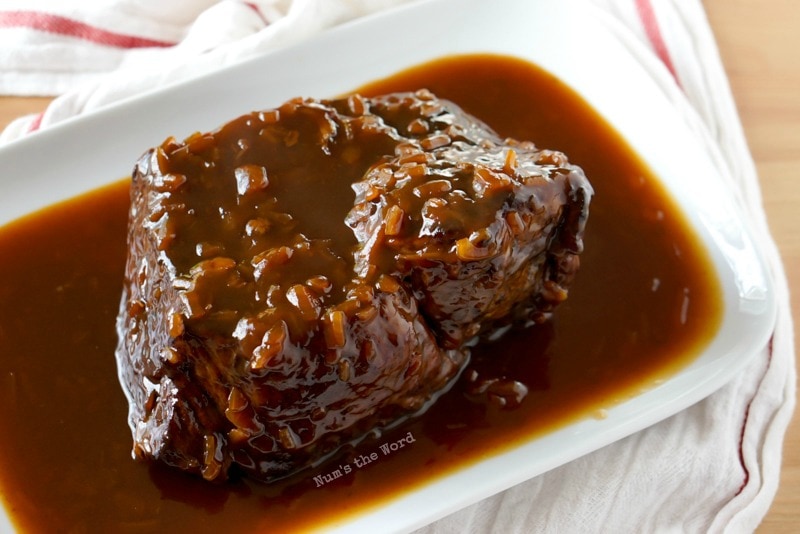 I've become obsessed these past two years on different ways to use leftovers and this is now a new favorite!
However, as I stated earlier, you do not have to make this around the holidays.
You can make it all year round because cranberry sauce isn't a seasonal ingredient!
I know some of you may be fans of freezing your leftover homemade cranberry sauce and this recipe works beautifully for that too!
I discovered this recipe in a church cook book that the ladies I grew up with put together years ago.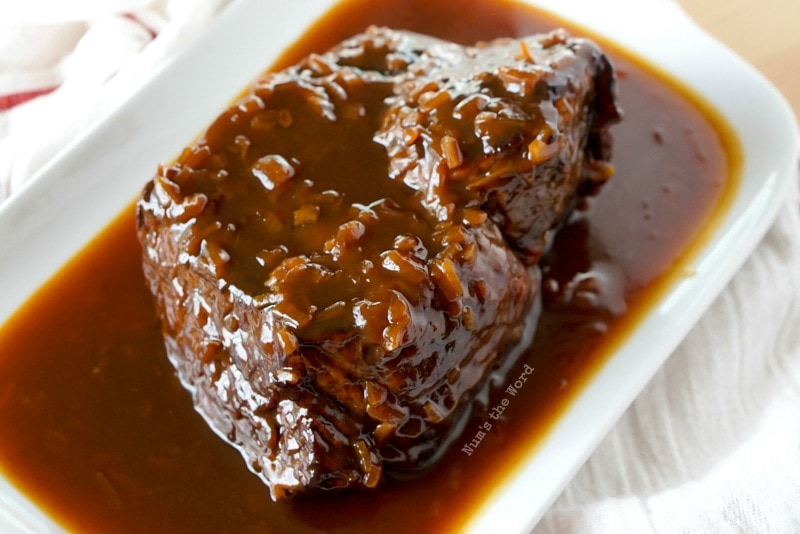 I'm in LOVE with that cook book.
Those ladies KNEW how to cook and they submitted their best recipes.
Thus far I've had almost all positive experiences with every recipe I've tried and this one is no exception.
I love that this is a simple 6 ingredient meal that works great any day of the week!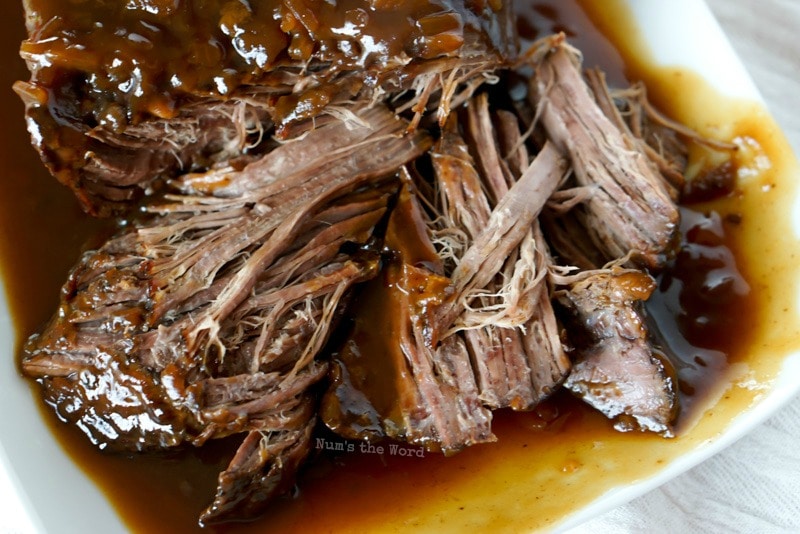 Now I have to be clear and tell you that my favorite part of making pot roast are the leftovers.
There is something scrumptious about leftover pot roast.
I love it leftover more than I like it fresh out of the crock pot.
If you love cranberry sauce and pot roast I hope you'll give this one a try!
Yield: 6 - 8 Servings
Cranberry Pot Roast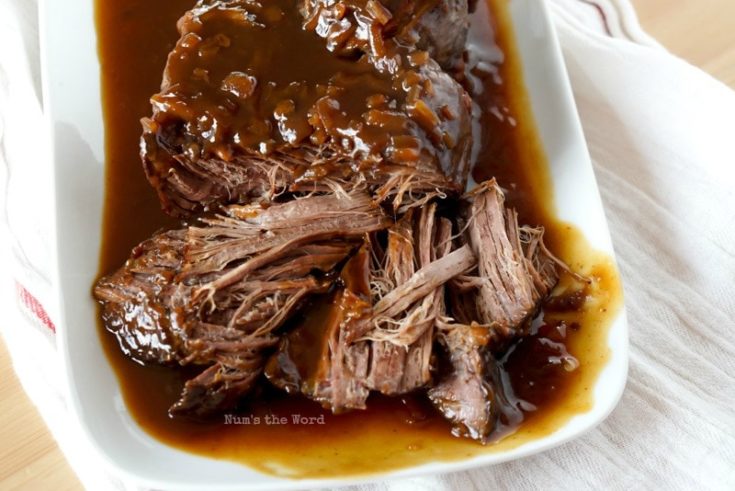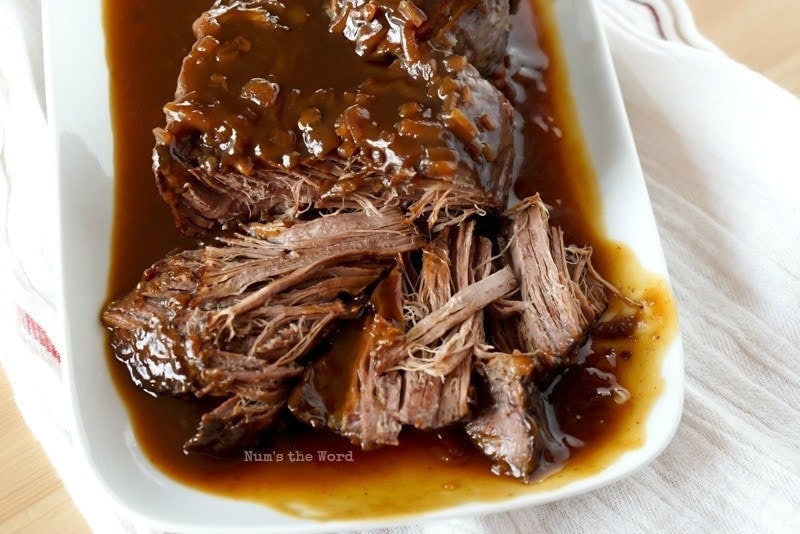 Total Time
9 hours
30 minutes
Ingredients
1 package dry onion soup mix
Salt & Pepper
1 (3 pound) roast (chuck or tri-tip, well marbled)
4 Tablespoons butter, divided (olive oil can also be used instead)
1 (14 ounce) can cranberry sauce (whole cranberry or Jellied, both work great or 2 cups of homemade)
1/2 cup water
3 Tablespoons corn starch
Vegetables (optional) such as carrots, quartered onion, and quartered potatoes
Instructions
Sprinkle onion soup mix on bottom of crock pot.
Sprinkle salt and pepper on each side of pot roast.
Preheat a large skillet over stove to medium high heat.
Once skillet is hot, add 2 Tablespoons butter or olive oil.
Once melted, add roast and sear on each side for approximately 2 minutes (depending on how hot your pan is). Add remaining 2 Tablespoons of butter before flipping roast.
Place seared roast into crock pot over onion soup mix.
Open can of cranberry sauce and gently blend it up in can. Then pour it over the pot roast.
Add 1/2 cup of water and vegetables if doing vegetables.
Cook on low for 9 hours or on high for 6 hours.
F after sitting for 15 minutes or for a medium done pot roast it should reach 160
Once cooked, remove from crock pot and allow to sit for 15 minutes.
While allowing meat to rest, pour juices into a sauce pan.
In a small bowl combine corn starch with 4 Tablespoons of water. Add this to meat juices.
Cook over medium heat stirring until thickened.
Pour over meat and serve.
Recipe by the talented Ruth Ann Brewer
Other Ways You Can Use Cranberry Sauce...